4 great places to catch a movie and wonderful views of the Big Apple. It's time for rooftop cinema!
New York City knows how to make its residents and visitors happy, passionate and constantly experiencing new adventures and entertainment. The great selection of outdoor cinema theaters is one of the best proofs of this. Some of them can also show off with cool rooftop cinema NYC.
And if you rather just would like to drink with a view, you should check out this full guide to the best NYC rooftop bars.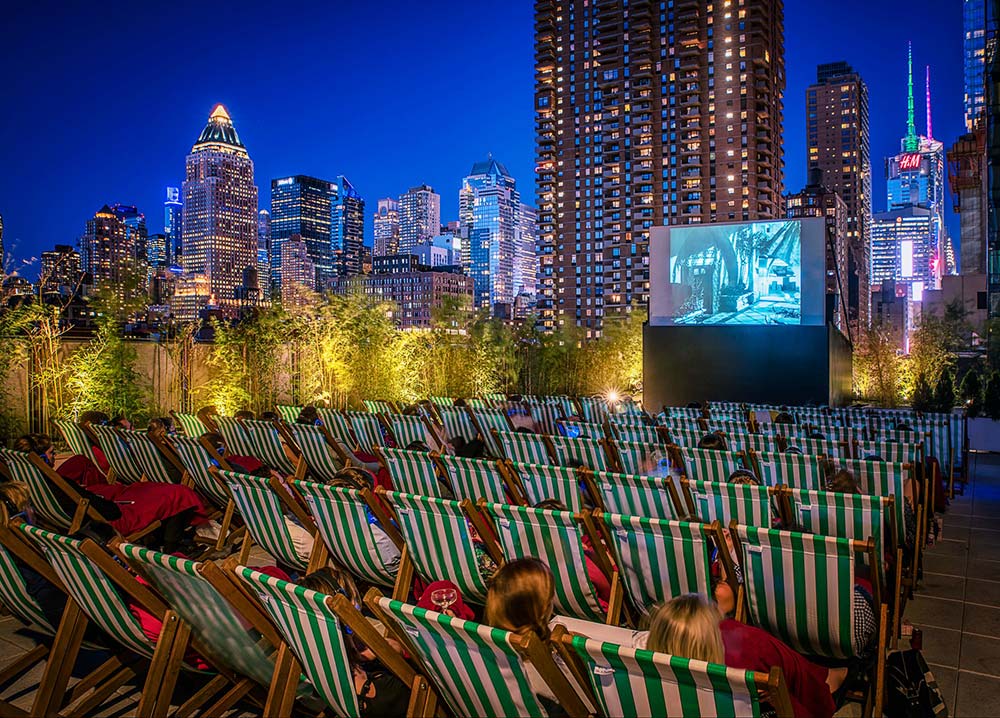 Photo: https://www.yotel.com
1.

The SkyLawn NYC

The SkyLawn NYC is a seasonal rooftop bar with an expansive outdoor space, tucked away in Midtown South on Manhattan. Set on the 3rd floor of the Embassy Suites Midtown Manhattan, the rooftop is home to craft cocktails, tasty bites and great atmosphere. And, this is also where Rooftop Cinema Club hold there NYC screenings.

Classic movies are mixed with the latest hits, all under the open sky and with views over the Empire State Building. Often there are two screenings per night, one at 7pm and a later one at 9.45pm. Before and during the movies you can indulge in drinks and snacks from the rooftop bar. To heighten the experience, all visitors also get personal headphones.

Tickets to the rooftop cinema start at $21.50 (or $25 for one including Bottomless Popcorn), and make sure to buy them in advance as this is a highly popular event. Understandably so, as this is a real top spot for a fun night out with some NYC rooftop cinema. Get to the rooftop early, and you can start the night with a game of giant Jenga.

Website: https://rooftopcinemaclub.com/new-york/

Address: 60 West 37th Street, New York
2.

Rooftop Films

Rooftop Films is not found at one venue, but bring outdoor cinema to a bunch of places around New York. Some of the venues are found on rooftops, like the most classic one at The Old American Can Factory.

Set in the heart of Brooklyn, where the lights shine the brightest, Rooftop Films introduces a wonderful selection of classic and modern movies. The staff is there to welcome you and take all your requests and ensure that you will spend a quality time with your friends and family. Perfect for some Rooftop cinema NYC.

Movies are usually screened between May to August, and tickets range from free to about $15. Check events on Rooftop Films FB-page for what is up next

Website: http://rooftopfilms.com/

Address: 232 Third St, Brooklyn, New York

TRG Clothing

Men & Women
Unique hand gesture t-shirts
Premium quality and premium design.
3.

Social Drink & Food at YOTEL

Social Drink & Food is the largest hotel terrace in NYC, set on the 4th floor of Yotel in Hell's Kitchen. And come Sunday's during summer, they usually take full advantage of all the space, when part of the terrace is transformed into a rooftop cinema.

The skyline of the big apple, accompanied by drinks and a good movie, is a recipe for a great night out. Do a regular check on their website on the titles they have planned, so that you can choose your favorite one.

The rooftop bar is also close to some of the best theatres in New York, so it is a great spot to enjoy some al-fresco cocktails before heading to an (indoor) show.

Website: https://www.yotel.com

Address: 570 10th Ave. New York
4.

Brooklyn Bridge Park

It might not be located on a rooftop, but it still does have the magical vibe and a magical view over the Manhattan skyline. It is even branded 'Movies With A View'. Brooklyn Bridge Park welcomes visitors for a calm and relaxing night out, spent laying or sitting on the freshly trimmed grass, while indulging on a basket of goodies and a great movie.

Going strong since 2000, showings are usually ones a week in July and August at Pier 1's Harbor View Lawn.

While it is an open air venue, no reservations are needed, but keep in mind the best spots in front of the large screen tend to run out fairly quick.

Website: http://www.brooklynbridgepark.org/

Address: 334 Furman Street, Brooklyn, New York
Collaboration