Melbourne is one of the best cities in the world when speaking about restaurants and bars. And the rooftop restaurants are no exception.
Here you can find some great rooftop venues suitable for a nice dinner. Romantics spots, vibrant restaurants or just some bar bites for an afterwork. Melbourne has it all!
This list of the 5 best rooftop restaurants in Melbourne is made by the world's leading experts on rooftops – The Rooftop Guide. Enjoy!
1.

Melina on the Rooftop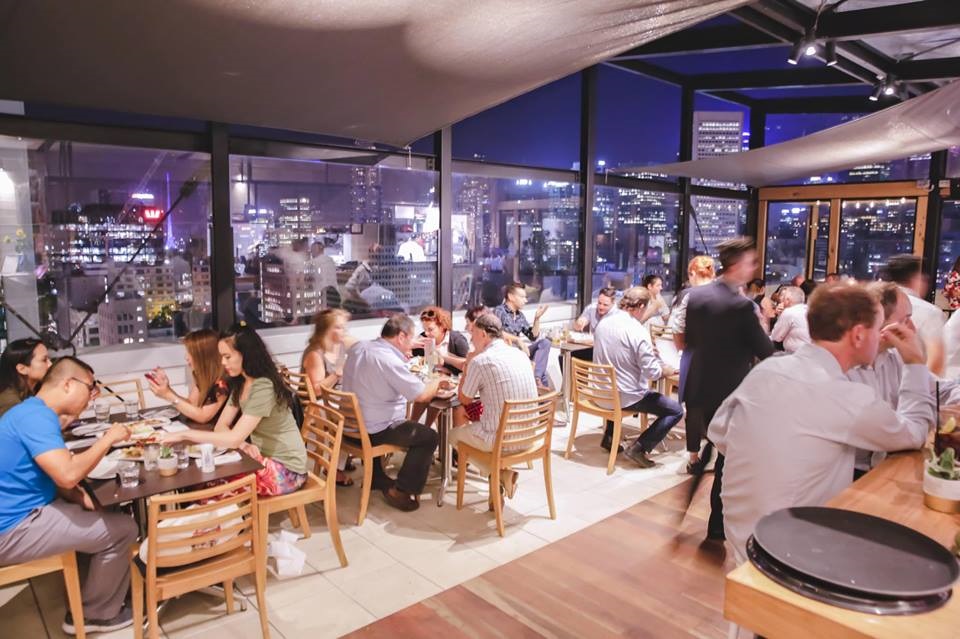 Rooftop restaurants Melbourne - Melina on the Rooftop | Photocredit: www.melinaontherooftop.com.au
This Mediterranean influenced rooftop restaurant and bar is located on top of the Greek Centre and offers jaw-dropping views of downtown Melbourne, as well as the city's skyline.
The roof terrace is modern and sleek, with plenty of natural light and protection for the elements, making it a fantastic destination no matter the time of the year.
There are even radiant outdoor heaters for chilly nights.
Open from lunch until late at night, Melina serves Greek food, made with fresh, seasonally available ingredients; the rooftop bar offers cocktails, wines from Australia and Greece, and an extensive collection of beers.
MELINA ON THE ROOFTOP
168 Lonsdale St, Melbourne VIC 3000
Daily: Lunch / Dinner
Greek
Main: ~$20
2.

Bomba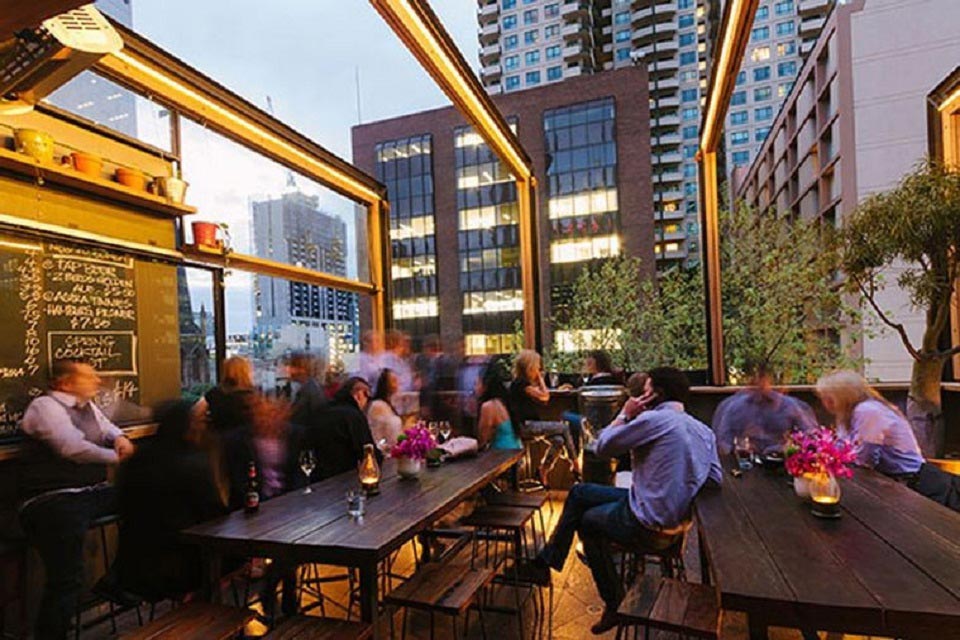 Rooftop restaurants Melbourne - Bomba | Photocredit: www.bombabar.com.au
This Spanish restaurant and rooftop bar can be found in the Central Business district of Melbourne and offers beautiful views of one of the busiest areas of the city, while still providing a sense of calm and relaxation.
Downstairs, you can enjoy a cozy atmosphere and a fantastic tapas atmosphere, while at the rooftop you can find expertly-mixed cocktails, excellent Spanish wines, unique Gin & Tonic combinations, and a beautiful collection of beers.
What's more, Bomba actually has sangría on tap, a true novelty in the city.
While the streets surrounding Bomba can be pretty busy, the rooftop offers a relaxing and lovely Spanish setting and vibe, complete with a retractable roof and comfortable seating options, making it an excellent alternative for those looking for a break at work, or a night out with friends.
BOMBA
Bomba Tapas Bar and Rooftop, Lonsdale Street, Melbourne
Daily: Lunch (weekdays) / Dinner
Spanish tapas
Tapas: ~$8
3.

Captain Baxter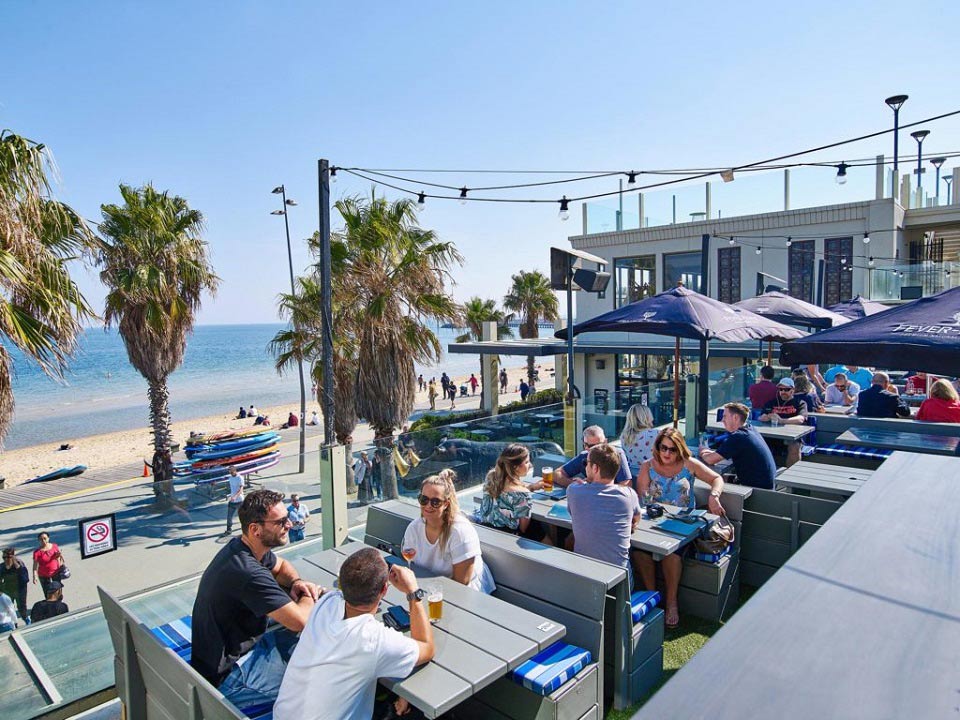 Rooftop restaurants Melbourne - Captain Baxter | Photocredit: www.captainbaxter.com.au
The only beachside venue in this list, Captain Baxter, was refurbished a couple of years ago and has quickly become one of the hottest spots in the city.
Delicious food, fresh cocktails, and jaw-dropping views of the ocean make any visit to Captain Baxter one to remember, but if that isn't enough, this fantastic rooftop venue also offers a peaceful yet classy atmosphere that you're sure to love.
Matching its location, Captain Baxter serves mainly seafood with Asian influence, as long as a long list of expertly crafted cocktails, wines, and beers.
Tasteful music, relaxing vibes, attentive staff, and more make Captain Baxter one of the best rooftop restaurants and bars, and no visit to the city is complete without watching a sunset from this venue.
CAPTAIN BAXTER
10-18 Jacka Boulevard, St Kilda VIC 3182
Daily: Lunch / Dinner
Seafood / Asian
Main: ~$30
Collaboration
4.

Imperial Hotel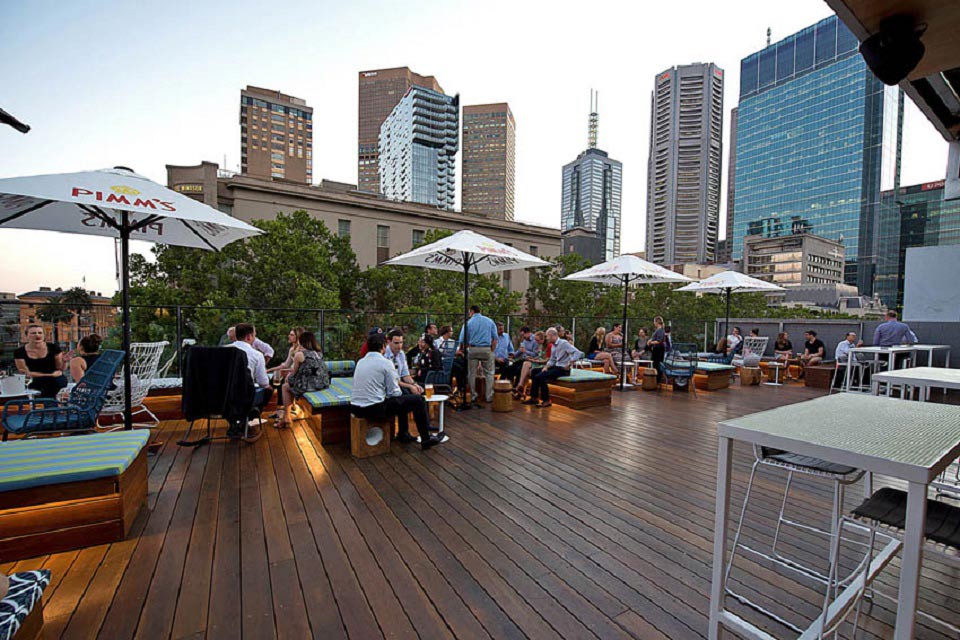 Rooftop restaurants Melbourne - Imperial Hotel | Photocredit: www.bourkestreetimperial.com
Don't be confused by the name; the Imperial Hotel isn't a hotel, but rather a three stories pub, as well as one of the oldest pubs in the city.
While the entire building is dedicated to eating and drinking, the rooftop terrace is the crown jewel, as it offers a fantastic view of the city and a lively atmosphere that keeps visitors returning for more.
The wooden deck terrace offers numerous seating options, large umbrellas to protect guests from the elements, outdoor heaters during the weekend, and a stylish outdoor bar.
While the terrace does offer a semi-roofed area, if the weather is particularly bad, it's recommended to retreat back indoors, but hey, "indoors" still means two stories of bar and lounge, so it's hardly a sacrifice.
Since the Imperial Hotel is a classic pub, it features a staggering collection of beers, but also cocktails and delicious and innovative pub food. From pizza and burgers to salads and bar bites. And on Saturdays, a bottomless and great rooftop brunch.
The atmosphere is laid-back yet classy, with no airs of grandeur. People who visit the Imperial Hotel do it to drink, eat and have fun, and that's precisely what they get.
IMPERIAL HOTEL
2/8 Bourke St, Melbourne VIC 3000
Daily: Lunch / Dinner
Pub food
Main: ~$22
5.

Good Heavens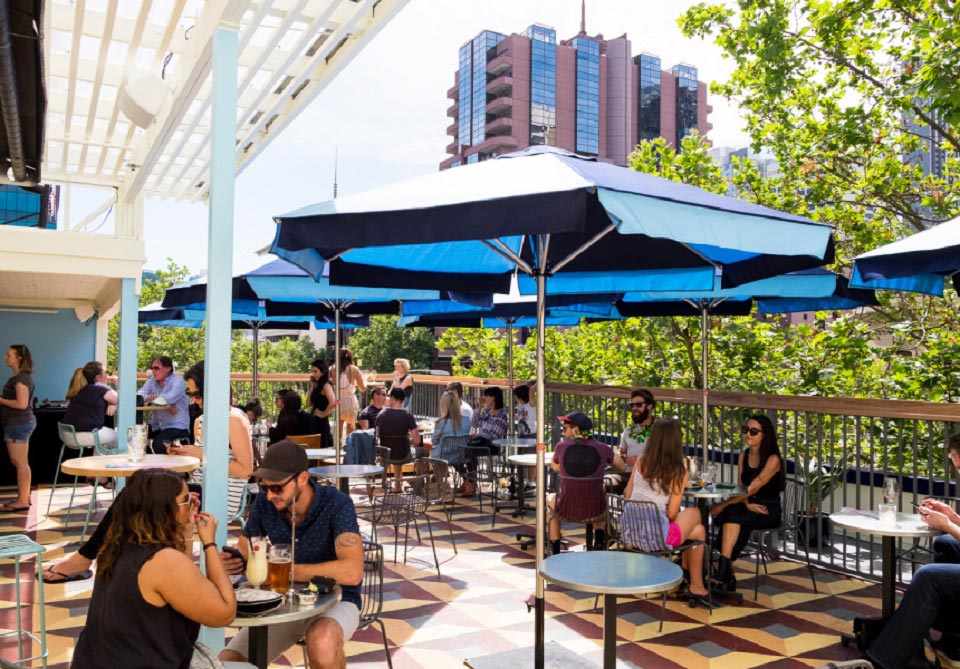 Rooftop restaurants Melbourne - Good Heavens | Photocredit: www.goodheavens.com.au
Perched on top of the famous American BBQ restaurant "Fancy Hank's", Good Heavens is mainly known for its creative signature cocktails and lively atmosphere. And while the restaurant downstairs is a more safe bet for the hungry ones most days, during weekends Good Heavens offers a great rooftop lunch.
Indulge in a Cubano or Brisket Sandwich, or dig into a Hank's Cheeseburger, all while taking in the beautiful views of Melbourne's skyscrapers and Bourke Street just below.
Chances are you won't be paying attention to the view only, as the bar's decoration is so colorful and charming it's bound to catch your attention. Pastel colors, bright pink signs, Hawaiian shirts on the staff, and eclectic furniture make this rooftop bar one you won't forget, and the retro-inspired signature cocktails are both creative and delicious.
If cocktails aren't your thing, you can also find beers on taps and a decent selection of wines, so chances are you'll find something you'll like.
Good Heaven's atmosphere is casual yet energetic, with live DJs showing off their skills and people mingling and dancing to the sound of music.
GOOD HEAVENS
Level 2, 79 Bourke St, Melbourne VIC 3000
Daily for drinks / Weekends for lunch
Burgers / Sandwiches / Bar snacks
Main: ~$15
Collaboration