Rome is probably one of the most beautiful cities in the world. And the luxury to see the whole city from a rooftop bar is one of the best things you can do here, and at many rooftop bars you can do this during the whole year.
During the mild wintertime in Rome there are less tourists and also a more unique experience. So, don't be afraid to go to Rome during the colder months as well.
Here's a list of the best winter open rooftop bars in Rome. Some fantastic winter terraces to enjoy drinks with a view at. Enjoy!
1.

Aroma Restaurant at Palazzo Manfredi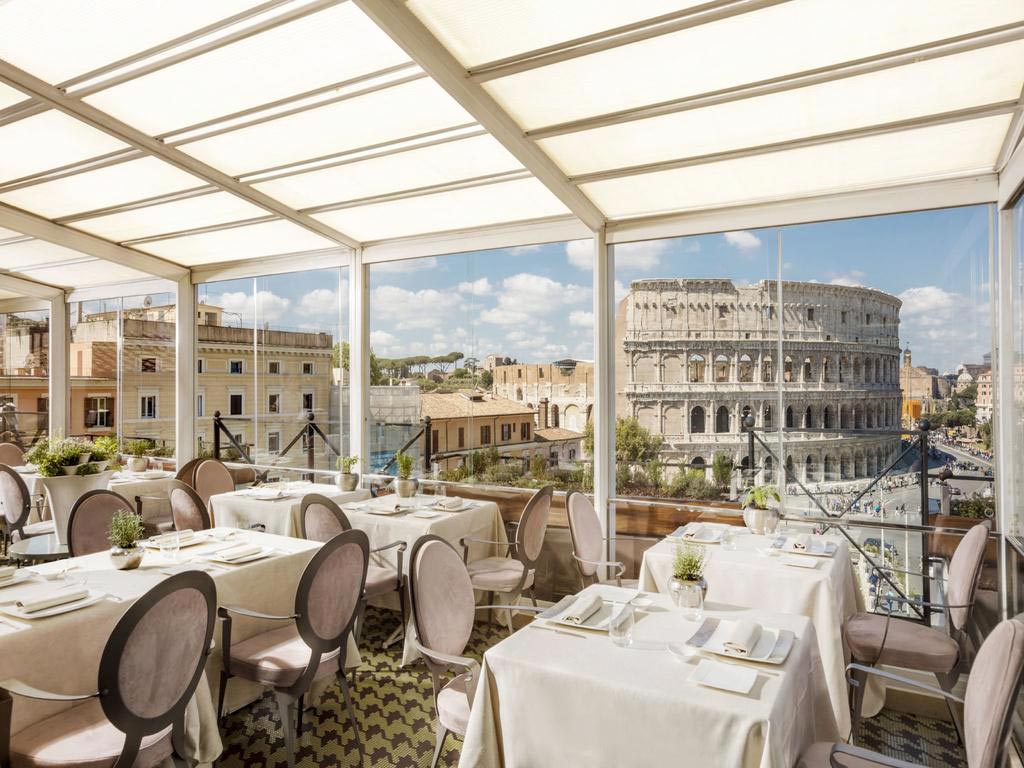 Aroma Restaurant | Photo: www.aromarestaurant.it
The only Michelin restaurant on this list, the Aroma has only 28 seats available at any given time and absolutely stunning views of the Colosseum.
As you can expect, the food is the star here, and the Chef Di Lorio's doesn't disappoint with his delectable gourmet creations; that said, the drinks are just as good, and the restaurant has professional sommeliers to help you pair your food with fabulous wines.
Reservations well in advance are a must, as you simply won't be able to eat here otherwise.
Set on top of Hotel Palazzo Manfredi the terrace is open to the public from breakfast through dinner, and thanks to its retractable roof and walls, the Aroma Restaurant and terrace is available year-round.
AROMA RESTAURANT
Via Labicana, 125, 00184 Roma
2.

Singer Palace Hotel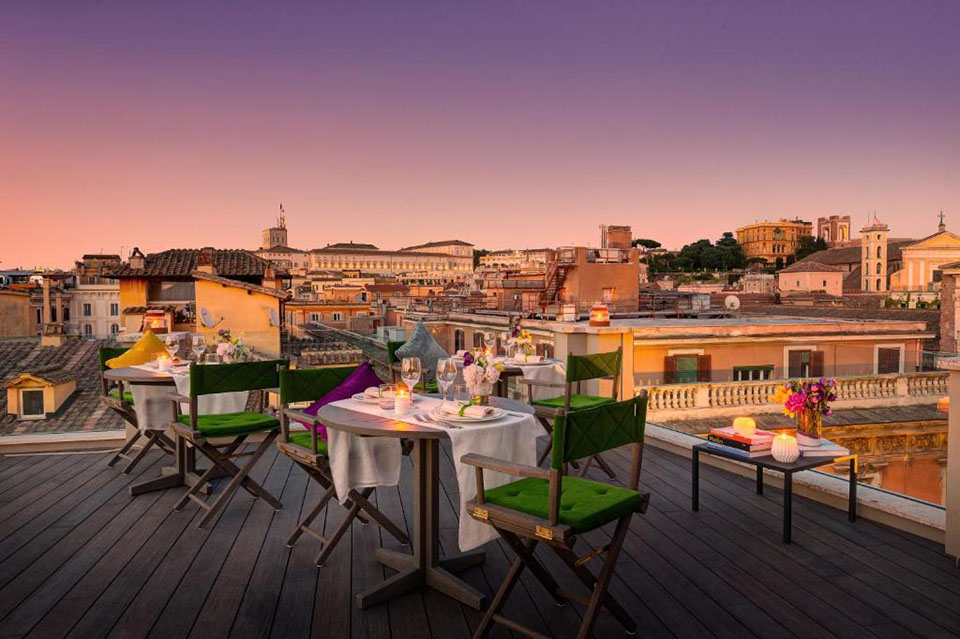 Singer Palace Hotel | Photo: https://singerpalacehotel.com/
The fantastic Singer Palace Hotel comes with a lovely, multi-level and dual rooftop setting, available to enjoy all year round.
The top floors of this historic palace includes both the rooftop bar Jim's Bar, and The Terraces rooftop restaurant.
Mixing stylish interior seating and charming outdoor terraces, both at the restaurant and at the bar, here you are surrounded with breathtaking views over the roman rooftops, monuments, churches and the neighboring Piazza Venezia.
Head to the bar and indulge in a drink list inspired by cocktails of the 1920's, featuring both the signature selection of a reinterpreted classics, as well as a large array of Gin's.
Or visit the rooftop restaurant for lunch or dinner, with a menu that includes simple and innovative cuisine, with influences from typical Roman and Mediterranean dishes.
Expect friendly service and a charming atmosphere.
SINGER PALACE
Via Alessandro Specchi, 10, Pantheon, 00186 Rome
3.

AquaRoof Terraza Molinari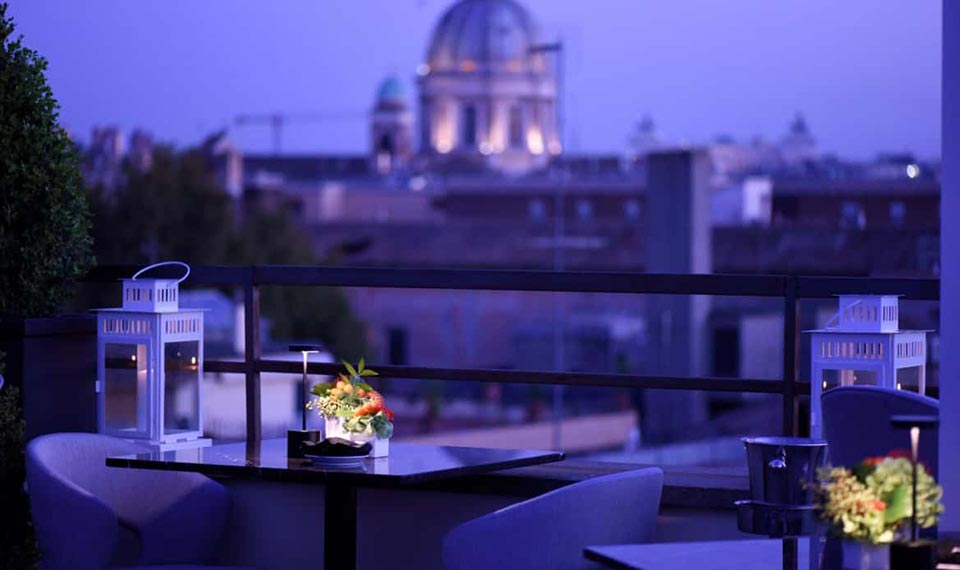 AquaRoof Terraza Molinari | Photo: www.thefirsthotel.com
A popular and well-known spot in the city, the Aquaroof is located at the The First Luxury Art Hotel and offers top-notch service you're sure to love.
Blessed with stunning views of Rome's most famous landmarks, including the Colosseum, this rooftop bar showcases a large selection of wines, champagne, and spirits.
What really stands out, however, are the bar's cocktails, which mix both the Southern and Northern hemispheres in a creative and playful way.
Though the drinks are the stars, the food isn't far behind; Expect seafood, tapas-inspired bites, and other sea-based creative offerings.
This terrace is open year-round, and thanks to its roofed area, you'll be able to enjoy the food and the views even if you're visiting during a cold winters day.
This is a modern and elegant venue. It doesn't have a strict dress code but expect to see people looking their best.
AQUAROOF
Via del Vantaggio, 14, 00186 Rome
4.

SETTIMO Roman Cuisine & Terrace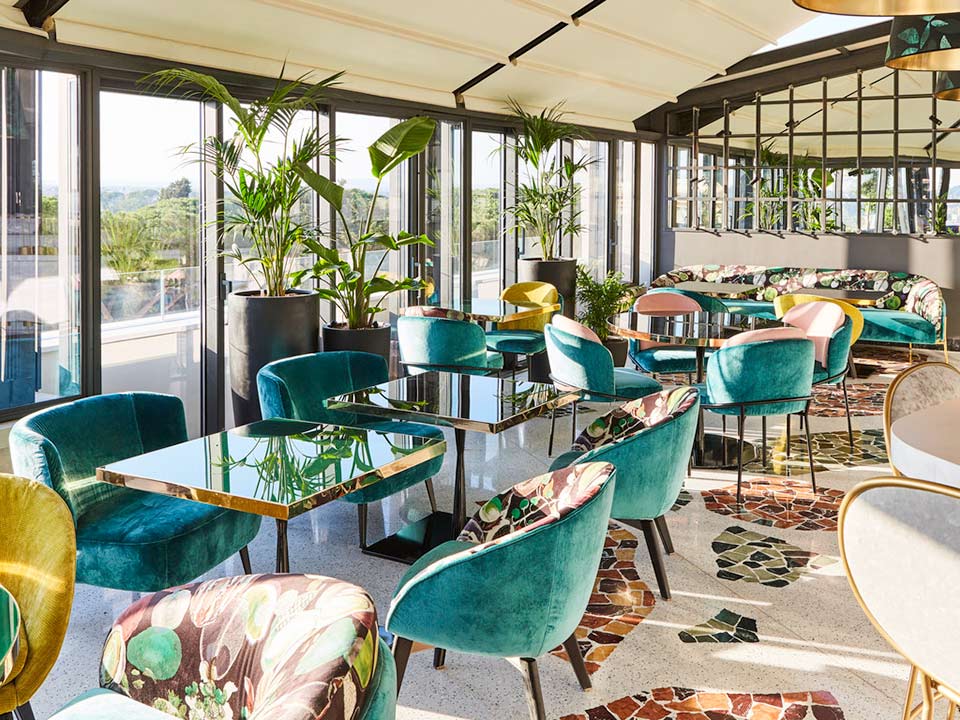 SETTIMO | Photo: https://sofitel.accorhotels.com
Located in the very heart of the city, just south of Villa Borghese gardens, SETTIMO offers breathtaking views that will have you pulling out your camera in a second.
Set on top of the newly re-decorated Sofitel Rome Villa Borghese, SETTIMO is split into two different areas: The restaurant and the lounge.
The lounge has a wide array of drinks for you to enjoy –including fine Italian wines– as well as small bar bites, like tapas and sampler dishes.
The restaurant has access to the same drinks but also enjoys a dedicated menu that mixes Mediterranean and French cuisine in an innovative and delicious way.
We rarely do this, but we recommend visiting the restaurant instead of the lounge if you can help it; the views are just as good in both places, but it'd be a shame to miss the food.
Most of the terrace is roofed, so you'll be able to enjoy the stylish settings and views year-round.
Just make sure to look good, as this restaurant do have a smart casual dress code.
SETTIMO
Via Lombardia, 47, Rome
5.

Mùn Rooftop Cocktail Bar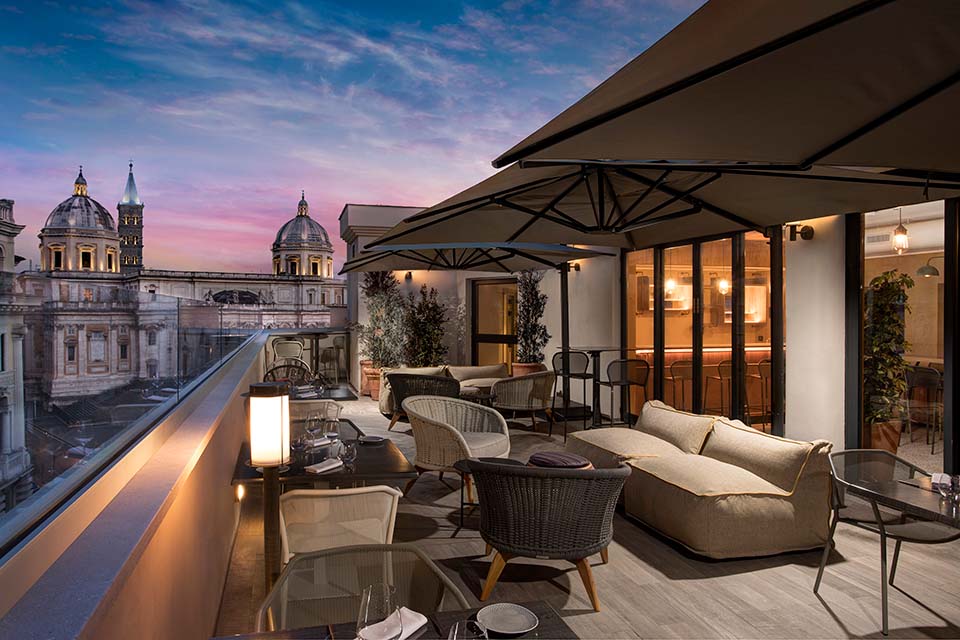 Mùn Rooftop Cocktail Bar | Photo: www.hilton.com/
Modern and exclusive, the stylish Mùn Rooftop Cocktail Bar on top of the DoubleTree By Hilton Rome Monti is a great addition to the Rome rooftop heaven.
Surrounded with warm colors, natural elements and fantastic views over the eternal city, the rooftop blends interior and outside seating, creating a year-round experience.
Open nightly, here you can enjoy an aperitif, a light dinner, or try some of the Italian mixology and contemporary drinks.
Located close to the Santa Maria Maggiore Basilica and Roma Termini, Mùn Rooftop Cocktail Bar is also bound to take you closer to the Rome sky.
MÙN ROOFTOP
P.za dell'Esquilino, 1, 00185 Rome
6.

Tiziano Terrace by Monti View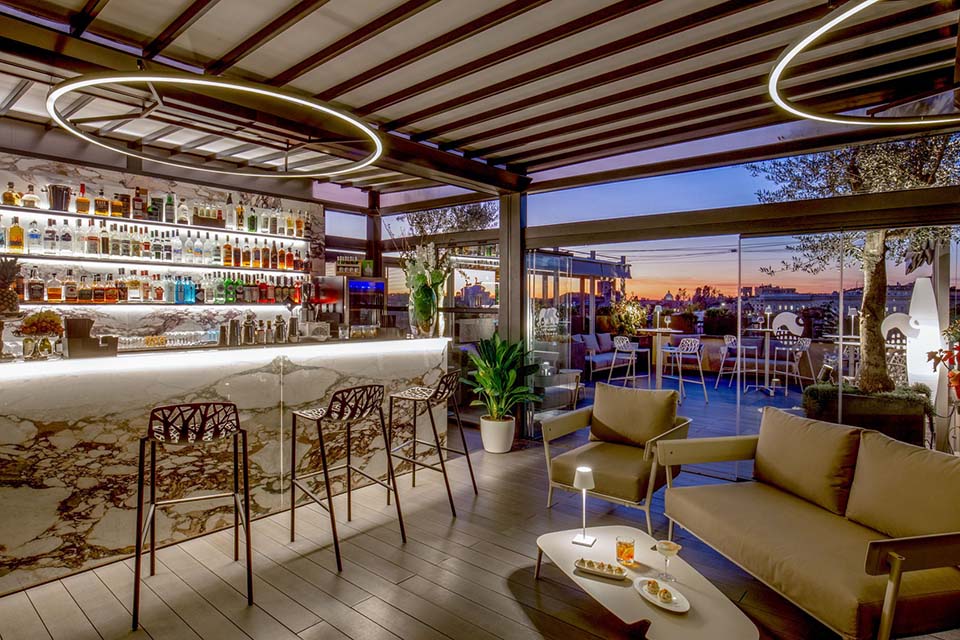 Tiziano Terrace by Monti View | Photo: www.montipalacehotel.com
Located on the top floor of Monti Palace Hotel, Tiziano Terrace Rooftop & Cocktail Bar offers amazing 180 degree views of the Monti district.
The rooftop houses a very stylish bar and interior lounge with tall windows, leading out to a charming open-air terrace.
A hidden gem open to all, the rooftop serves enjoy fine wines, crafted cocktails and Mediterranean-inspired bites. All you need for a night above Rome.
Reservations are recommended.
TIZIANO TERRACE
Via Cavour, 185, 00184 Rome