Rome is probably one of the most beautiful cities in the world. And the luxury to see the whole city from a rooftop bar is one of the best things you can do here, and at many rooftop bars you can do this during the whole year.
During the mild wintertime in Rome there are less tourists and also a more unique experience. So, don't be afraid to go to Rome during the colder months as well.
Here's a list of the best winter open rooftop bars in Rome. Some fantastic winter terraces to enjoy drinks with a view at. Enjoy!
1.

Aroma Restaurant at Palazzo Manfredi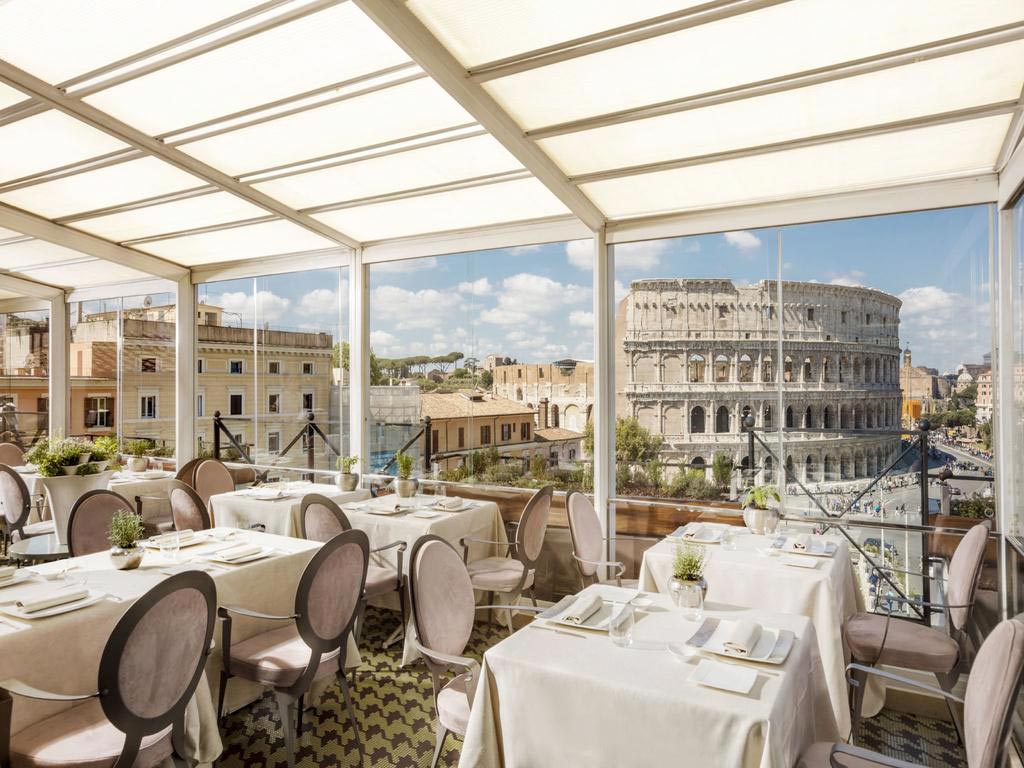 Aroma Restaurant | Photo: www.aromarestaurant.it
The only Michelin restaurant on this list, the Aroma has only 28 seats available at any given time and absolutely stunning views of the Colosseum.
As you can expect, the food is the star here, and the Chef Di Lorio's doesn't disappoint with his delectable gourmet creations; that said, the drinks are just as good, and the restaurant has professional sommeliers to help you pair your food with fabulous wines.
Reservations well in advance are a must, as you simply won't be able to eat here otherwise.
Set on top of Hotel Palazzo Manfredi the terrace is open to the public from breakfast through dinner, and thanks to its retractable roof and walls, the Aroma Restaurant and terrace is available year-round.
AROMA RESTAURANT
Via Labicana, 125, 00184 Roma
2.

AcquaRoof Terraza Molinari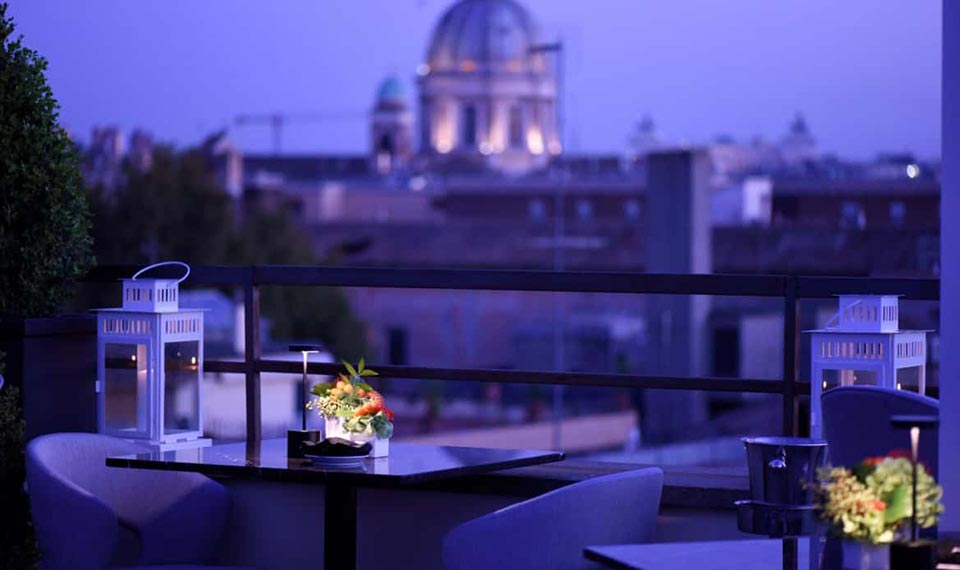 AcquaRoof Terraza Molinari | Photo: www.thefirsthotel.com
A popular and well-known spot in the city, the Acquaroof is located at the The First Luxury Art Hotel and offers top-notch service you're sure to love.
Blessed with stunning views of Rome's most famous landmarks, including the Colosseum, this rooftop bar showcases a large selection of wines, champagne, and spirits.
What really stands out, however, are the bar's cocktails, which mix both the Southern and Northern hemispheres in a creative and playful way.
Though the drinks are the stars, the food isn't far behind; Expect seafood, tapas-inspired bites, and other sea-based creative offerings.
This terrace is open year-round, and thanks to its roofed area, you'll be able to enjoy the food and the views even if you're visiting during a cold winters day.
This is a modern and elegant venue. It doesn't have a strict dress code but expect to see people looking their best.
AQUAROOF
Via del Vantaggio, 14, 00186 Rome
3.

SETTIMO Roman Cuisine & Terrace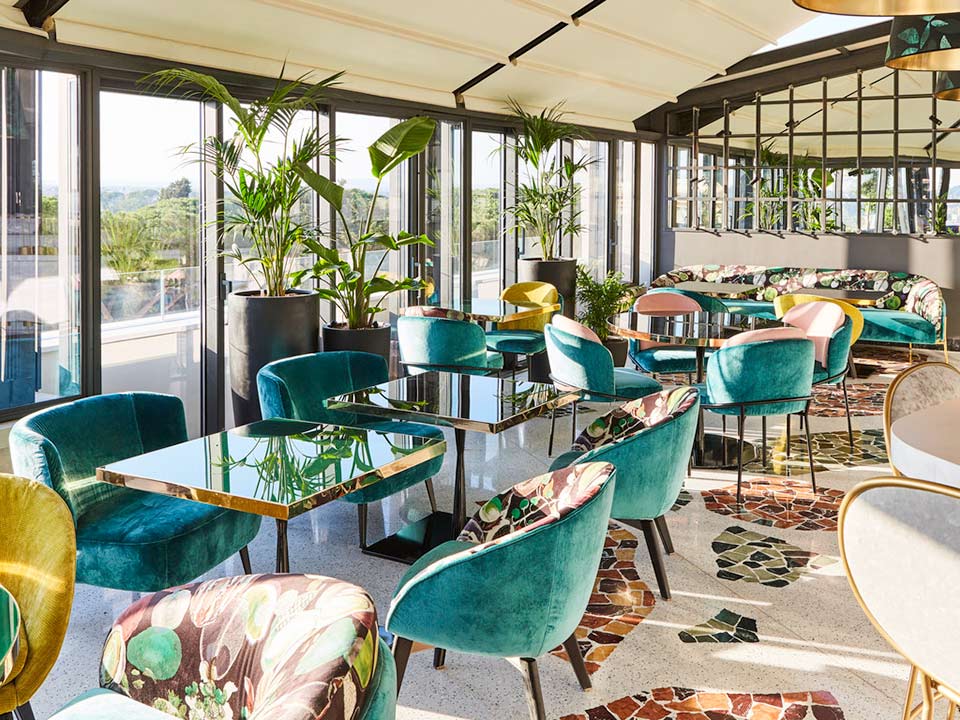 SETTIMO | Photo: https://sofitel.accorhotels.com
Located in the very heart of the city, just south of Villa Borghese gardens, SETTIMO offers breathtaking views that will have you pulling out your camera in a second.
Set on top of the newly re-decorated Sofitel Rome Villa Borghese, SETTIMO is split into two different areas: The restaurant and the lounge.
The lounge has a wide array of drinks for you to enjoy –including fine Italian wines– as well as small bar bites, like tapas and sampler dishes.
The restaurant has access to the same drinks but also enjoys a dedicated menu that mixes Mediterranean and French cuisine in an innovative and delicious way.
We rarely do this, but we recommend visiting the restaurant instead of the lounge if you can help it; the views are just as good in both places, but it'd be a shame to miss the food.
Most of the terrace is roofed, so you'll be able to enjoy the stylish settings and views year-round.
Just make sure to look good, as this restaurant do have a smart casual dress code.
SETTIMO
Via Lombardia, 47, Rome
4.

Posh Terrace at Palazzo Naiada Roma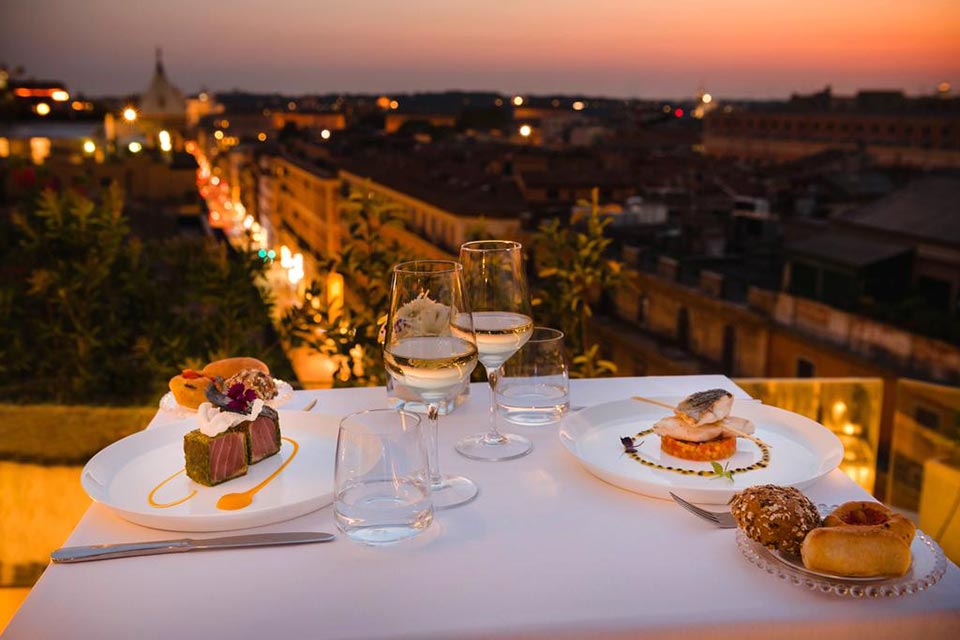 Posh Terrace | Photo: www.nh-hotels.com/
By far, one of the poshest spots in Rome, the Posh Terrace at Palazzo Naiada Roma is ready to entertain you with its infinity pool –one of the few in the city– and stunning views.
While the rooftop pool itself is for summer pleasure, the elegant pool-side lounge areas and cabanas ensure your comfort year round. Here you can enjoy the expertly-crafted drinks this bar has to offer, and if you get hungry, there's a small but delicious menu of bar bites as well.
This is a luxurious and high-end place, so expect a hefty price tag and a mostly formal dress code, but we assure you money spent on the terrace is money well-spent.
If you're visiting Rome during winter, make sure to reserve a spot for the Posh Terrace yearly New Year Party; it's an experience you won't forget.
POSH TERRACE
Piazza della Repubblica, 47, 00185 Roma
5.

The Flair Rooftop Restaurant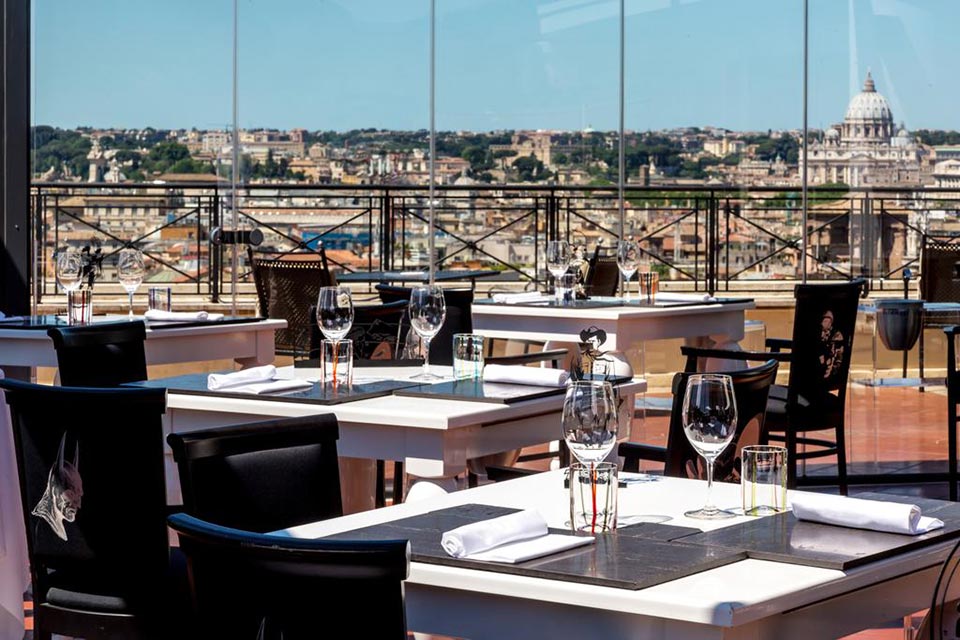 Flair | Photo: www.sinahotels.com
Rooftop restaurant, rooftop bistrot and rooftop bar. Inside lounge with panoramic windows, open-air terrace and fantastic views over Rome's most famous monuments.
The Flair, set on the 8th floor of Sina Bernini Bristol, really has a lot to offer, and does so year-round.
Then we haven't even mentioned the food. Made by chef Alessandro Caputo, it is of the highest class, served as á la carte or as a tasting menu.
The rooftop bar and bistrot is open for drinks and bites, from noon to late night, while the rooftop restaurant is exclusive for dinners.
Head on up and watch Rome in a winter dress from high above, while enjoying some of the best Italian tastes.
FLAIR
Piazza Barberini, 23, 00187 Roma