Rooftop restaurants in Rome
Published: May 15, 2018
Rome is the ancient city nobody gets tired of.
It's centuries of history, located in the heart of Italy, are worth the trip. If you want to truly experience the taste of Italy, maybe starting with its capital city is the best idea. There are plenty of Rome restaurants with view, to choose from.
And here's a great guide to things to do in Rome.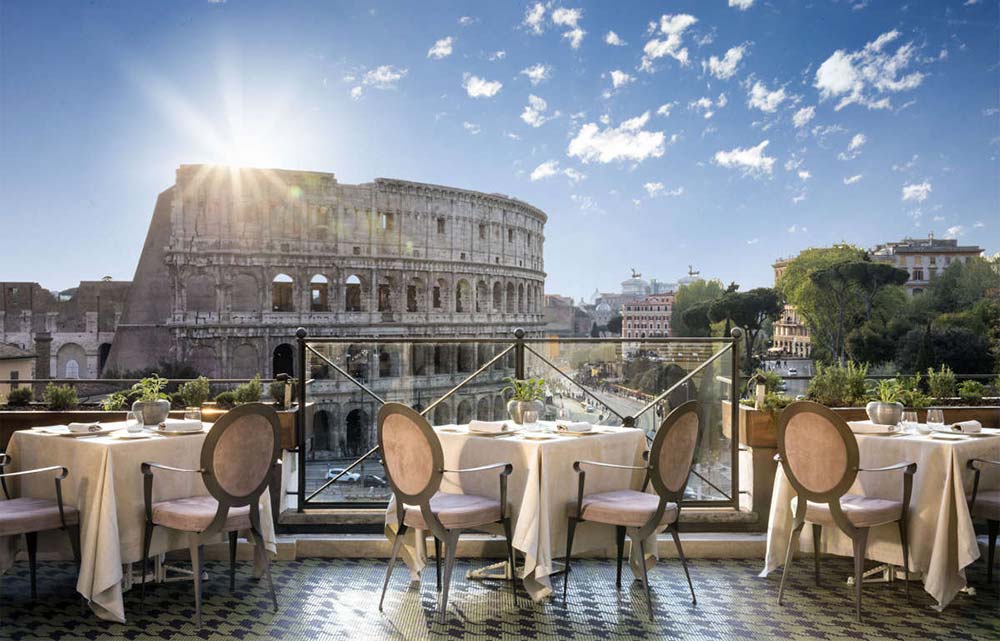 Aroma Restaurant | Photocredit: Aroma Restaurant
But what's a good trip without a decent meal? Italians are known for their excellent taste in food and wine, so joining the locals for a meal is possibly the best idea one can have when in Rome. And contrary to expectations, it is a wonderful way of practicing your skills in Italian language, while observing their native cuisine.
And if you're not hungry, you can drink or swim at any of the rooftop pools in Rome and rooftop bars Rome has to offer.
Delicious dinner is great, but a delicious dinner with exceptional wine and a breathtaking view is even better. So here are the best rooftop restaurants Rome that are worth checking out.
It's romantic. It's beautiful. It's Italian. Raphaël Hotel ranks amongst the top romantic places to visit, but is also leading the chart of the best rooftop restaurants in Rome.
The Italian hotel is located on Piazza Navona, exposing a 360-degree view of Rome's skyline. Along with its remarkable and delicious vegetarian, biological and biodinamic menu, the hotel's terrace restaurants provides a list of fine wines that go perfectly well with the food.
Combining a Michelin restaurant with up close and majestic views of the Colosseum, does it get more Rome than that? And does it get any better? It is hard to imagine.
The intimate 28 seat restaurant at the luxurious Palazzo Manfredi serves amazing classic italian dishes, created by Roman-born Chef Di Lorio. Choose between á la carte or go for a tasting menu with the option of a sommelier picking out the perfect wine for each dish. Pricey, yes, and reservation is required, but you will have a meal, memories and photos for a lifetime.
With it's stunning terrace, also known as Terrazza Dei Pappi, Mecenate Palace offers a first-class experience and a rooftop garden with a stunning view to Piazza di Santa Maria Maggiore. Having occupied a top position amongst the best rooftop restaurants in Rome ain't easy, but this one knows how to keep up with the competition.
If you're an "old soul", you enjoy a good traditional dish and a glass of exquisite wine to compliment the food, then hotel's Minerva rooftop garden is the perfect place to spend a calm night out while visiting the Italian capital city. A typical roof restaurant Rome.
Its spacious design, combined with a perfect location enables you to experience both the food and the city, having most tourist attractions a few meters of walking distance away from the hotel.
If a simple meal is not enough and you feel a bit adventurous, a bit sassy and a bit spontaneous, the Posh Terrace at Palazzo Naiada Roma shall introduce you to a new level experience while testing out the best rooftop restaurants in Rome. Enjoy a classy meal, served by the pool on the terrace. Hint: take a look at the cocktails menu and be sure to try the fish dishes.