Rome's centuries of history, located in the heart of Italy, makes it more than worth the trip. If you want to truly experience the taste of Italy, maybe starting with its capital city is the best idea.
But what's a good trip without a decent meal? Italians are known for their excellent taste in food and wine, so joining the locals for a meal is possibly the best idea one can have when in Rome. And contrary to expectations, it is a wonderful way of practicing your skills in Italian language, while observing their native cuisine.
Delicious dinner is great, but a delicious dinner with exceptional wine and a breathtaking view is even better. And luckily there are plenty of rooftop restaurants Rome with view to choose from.
For the rare moments when you're not hungry, you can drink or swim at any of the rooftop pools in Rome and rooftop bars Rome has to offer. Or check out this great guide of things to do in Rome.
But back to food and vistas:
Here are the 9 best rooftop restaurants Rome, all well worth a visit.
1.

AROMA at Palazzo Manfredi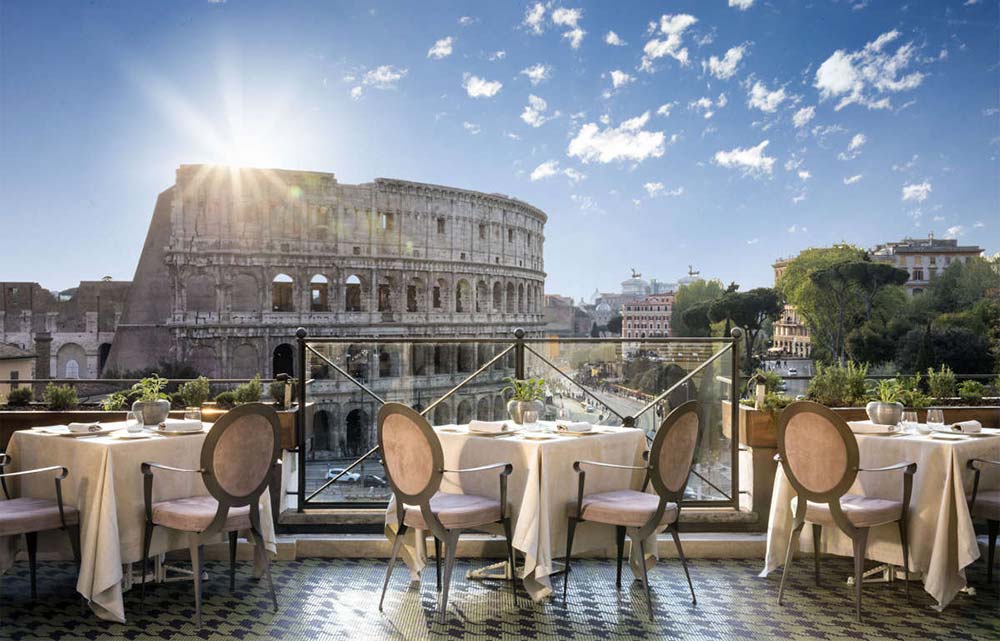 Rooftop restaurants Rome - Aroma Restaurant | Photocredit: Aroma Restaurant
Combining a Michelin restaurant with up close and majestic views of the Colosseum, does it get more Rome than that? And does it get any better? It is hard to imagine.
The intimate 28 seat restaurant at the luxurious Palazzo Manfredi serves amazing classic italian dishes, created by Roman-born Chef Di Lorio. Choose between á la carte or go for a tasting menu with the option of a sommelier picking out the perfect wine for each dish.
It is pricey, yes, and reservation is required, but you will have a meal, memories and photos for a lifetime. Enjoy a gastronomic journey and top class in everything, from presentation to service.
This 5th floor venue is truly a top pic among the restaurants in Rome with a view. Open year-round thanks to retractable walls and roof, and also open for both breakfast, lunch and dinner. A bit more casual during daytime, smart casual (and very romantic) at night.
AROMA RESTAURANT
Via Labicana, 125, 00184 Roma
Daily: Breakfast / Lunch / Dinner
Italian fine-dining
Main: ~€55 / Tasting menu: €180
2.

Mater Terrae at Raphaël Hotel
Rooftop restaurants Rome - Mater Terrae | Photocredit: www.raphaelhotel.com
It's romantic. It's beautiful. It's Italian. Raphaël Hotel ranks amongst the top romantic places to visit, but is also in the leading chart of the best rooftop restaurants in Rome.
The Italian hotel is located on Piazza Navona, and up top you find the Mataer Terrae restaurant. Stylish seating come both inside and out on the multi-level and classic rooftop terrace, exposing a fantastic 360-degree view of Rome's skyline.
Serving fine Italian cuisine, the restaurant has a unique touch: it only serves organic, vegetarian and vegan dishes, all made with natural seasonal products.
Along with the remarkable and delicious biological and biodinamic food-menu, the hotel's terrace restaurants provides a list of fine wines that go perfectly well with the dishes.
Open daily for both lunch and dinner, you can enjoy a fantastic Rome-meal with a view either as á la carte or as a tasting menu. Highly recommended to make reservations before visit.
MATER TERRAE
Largo Febo, 2, 00186 Rome
Daily: 12 noon-11pm
Vegetarian & Vegan Italian
Main: ~€32 / Tasting menu: €105
3.

Singer Palace Hotel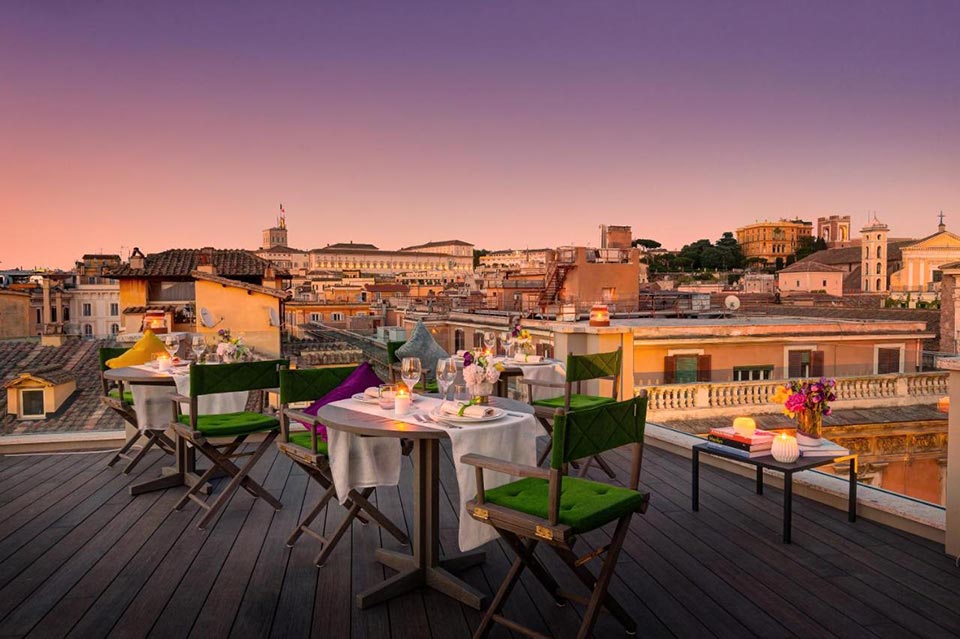 Rooftop restaurants Rome - Singer Palace Hotel | Photocredit: https://singerpalacehotel.com/
Centrally located in the heart of Rome, the chic boutique hotel Singer Palace comes with a dual setting, where you find both the Jim's Rooftop Bar and The Terraces rooftop restaurant .
Elegant and luxurious, the restaurant has seating both inside and out on the lovely rooftop terrace, where you are surrounded with views over the roman rooftops, monuments, churches and the neighboring Piazza Venezia.
Here you can indulge in simple and innovative cuisine, with typical roman and mediterranean dishes made with high quality ingredients.
Served daily as lunch and dinner, the rooftop menu changes monthly, so you can visit for new sensations time and time again.
To go with the food, The Terraces restaurant at Singer Palace Hotel also offers a fine selection of wine, and a very tempting dessert menu.
SINGER PALACE HOTEL
Via Alessandro Specchi, 10, Pantheon, 00186 Rome
Daily: 11.30am-midnight
Mediterranean
Main: ~€26
4.

SETTIMO Roman Cuisine & Terrace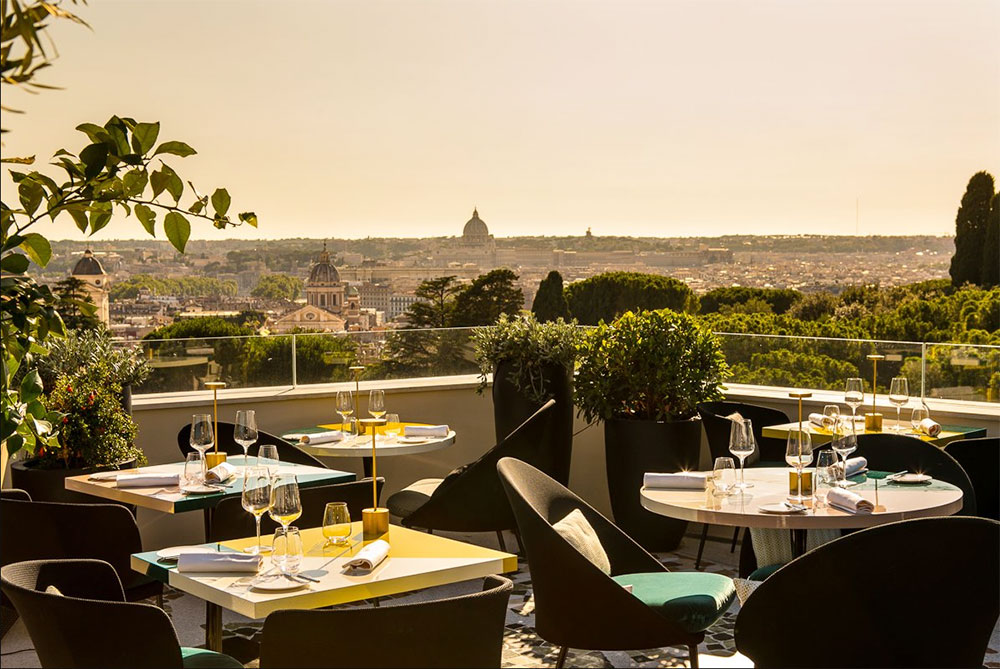 Rooftop restaurants Rome - SETTIMO | Photocredit: https://sofitel.accorhotels.com
Set in the outskirts of the beautiful Villa Borghese park, the newly re-furbished Sofitel Roma is equipped with one of the very best rooftop restaurants in Rome.
The rooftop restaurant is also re-styled, both with a new name (SETTIMO Roman Cuisine & Terrace instead of La Terrasse Cuisine & Lounge) and a modern and stylish decor. The stunning views over the park and Rome skyline is however just the same.
Here you can enjoy fantastic Italian cuisine, both as lunch and dinner. There are new daily specials each day of the week, and an á la carte menu with some true Roman classics. The nightly menu also includes some fine smaller bites, like Beef Tartare and Settimo Tempura.
While the food at Settimo rooftop restaurant is great, the cocktails served up here are also worthy of an honourable mention. Creative and crafted to perfection, they help make this venue the perfect start or end to an unforgettable and romantic Roman night.
SETTIMO
Via Lombardia, 47, Rome
Daily: 12 noon - midnight
Italian / Small bites
Main: ~€28
5.

Mirabelle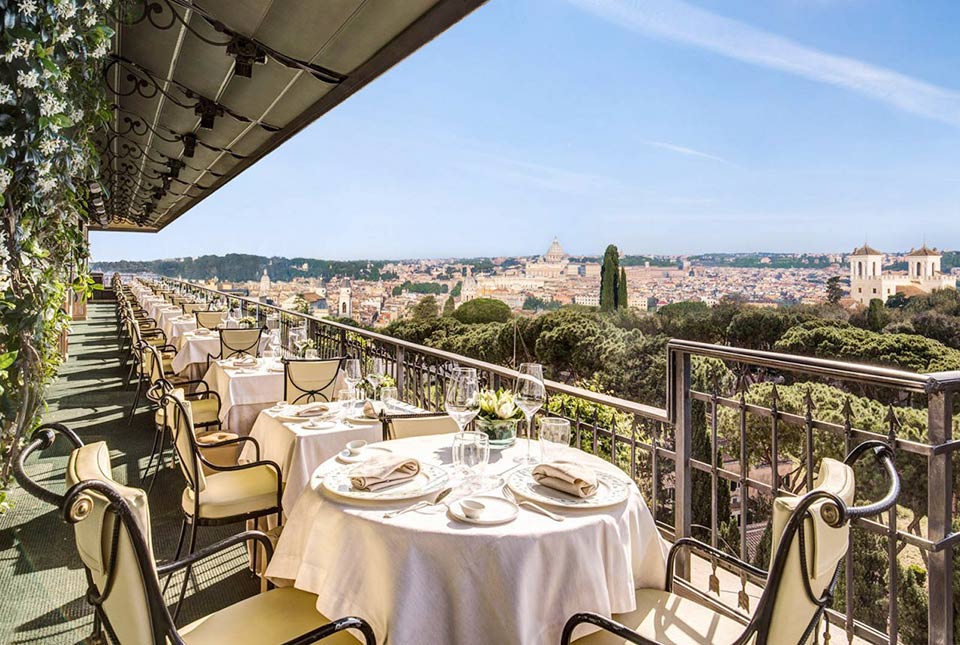 Rooftop restaurants Rome - Mirabelle | Photocredit: www.robertonaldicollection.com/
The setting: a rooftop garden on top of an ancient monastery turned into a top class hotel, located just steps away from the Via Veneto and Villa Borghese. Can you go wrong? The answer: no.
On the 7th floor of the luxurious Hotel Splendide Royal, Mirabelle offers a Rome rooftop restaurant experience out of the ordinary. Packed with classic charm and a rooftop garden feel, the indoor/outdoor restaurant has a setting that is just about as beautiful as the views over Villa Borghese, Trinità dei Monti and St. Peter's Basilica.
Made for special occasions, the Mirabelle rooftop restaurant serves lunch and dinner daily, where you can enjoy á la carte or tasting menu's by Executive Chef Stefano Marzetti, all characterized by the finest Italian products. Complementing the food is an impressive selection of wines, with over 900 labels available.
Up-scale, sophistiacted and romantic in setting and atmosphere, Mirabelle does come with quite a hefty price tag, but it is truly a great Rome rooftop restaurant for a special day or night out.
MIRABELLE
Via di Porta Pinciana, 14, 00187 Rome
Mon-Sun: 12.30pm-10.30pm
Italian
Dinner: ~€100
6.

47 Circus Roof Garden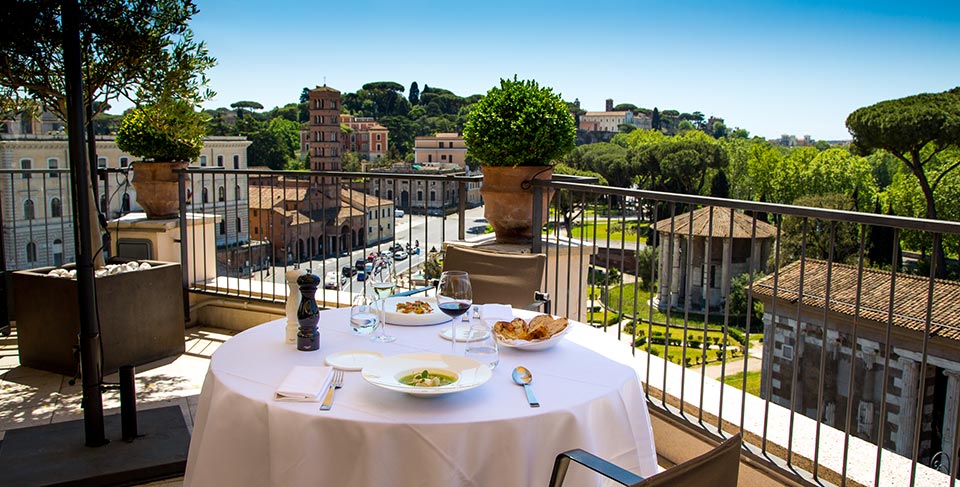 Rooftop restaurants Rome - 47 Circus Roof Garden | Photocredit: www.47circusroofgarden.com/
With both rooftop cocktail bar and and a great Mediterranean rooftop restaurant, 47 Circus Roof Garden sure has a lot to offer. Add breathtaking views over some of the most beautiful treasures of Rome, and you understand it is pretty much a 'must-visit'.
Perched on top of the 47 Boutique Hotel, right in front of the famous Piazza della Bocca della Verità, the terrace comes with a setting that is both charming and glamorous, and it is really a stylish oasis above the frenzy of the Italian capital.
Open daily for dinner and weekend lunch, the seasonal rooftop menu offers Mediterranean cuisine that is innovative, while still staying true to the traditional Roman. Both tasty and healthy, the food is made only with the best herbs and spices.
Created by executive chef Gabriele Enrico and resident chef Antonio Gentile, the menu is available as á la carte, but you can also rely on the chef's imagination and go on a several course tasting journey.
47 CIRCUS ROOF GARDEN
Via Luigi Petroselli, 47, 00186 Rome
Mon-Fri: 4pm-12.30am / Sat-Sun: 12pm-12.30am
Mediterranean
Tasting menu: €85 / Main: ~€30
7.

Zuma Rome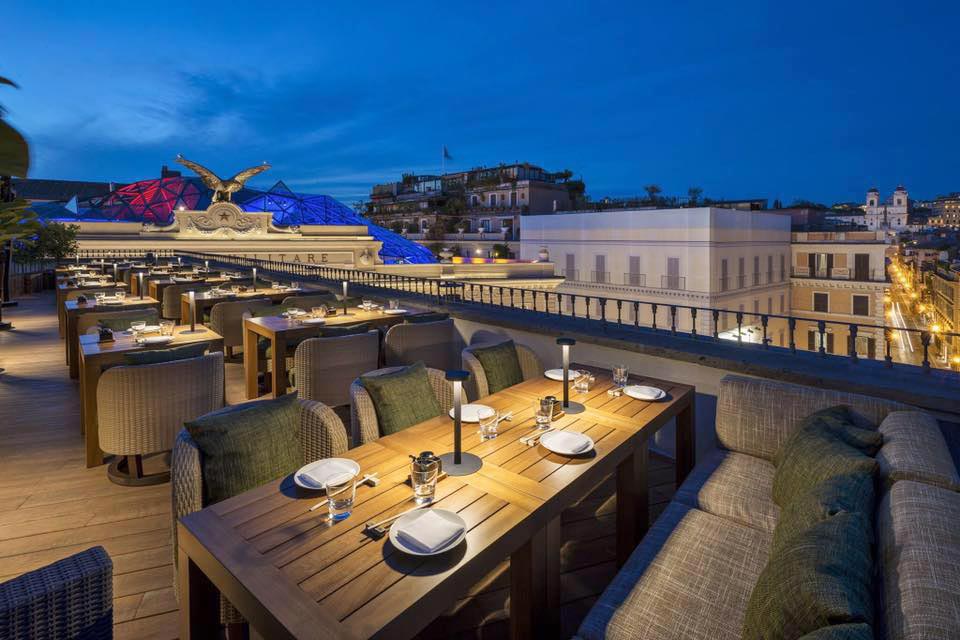 Rooftop restaurants Rome - Zuma | Photocredit: https://zumarestaurant.com/
Starting in London 2002, Zuma can now be found around the world, and since 2016 also on top of the iconic Palazzo Fendi in Rome.
Covering two entire floors, Zuma holds both a stylish indoor restaurant and a lush and beautiful outdoor terrace, surrounded with fantastic views over the Eternal City.
The given choice among the rooftop restaurants Rome has to offer if you are craving something from the Asian kitchen, as Zuma serves modern Japanese cuisine that is authentic but not traditional. Served izakaya-style, the dishes are made perfect to share, and you can also go for the Omakase Menu, with the chef making all the choices for you.
Open daily for lunch and dinner, Zuma comes packed with a hot and trendy atmosphere. Enjoy the good life and the great views, and make sure to make reservations for nightly visits.
ZUMA
Via della Fontanella di Borghese, 48, 00186 Rome
Mon-Sun: 12 noon-10pm
Japanese
Omakase menu: €90
8.

Terrazza Borromini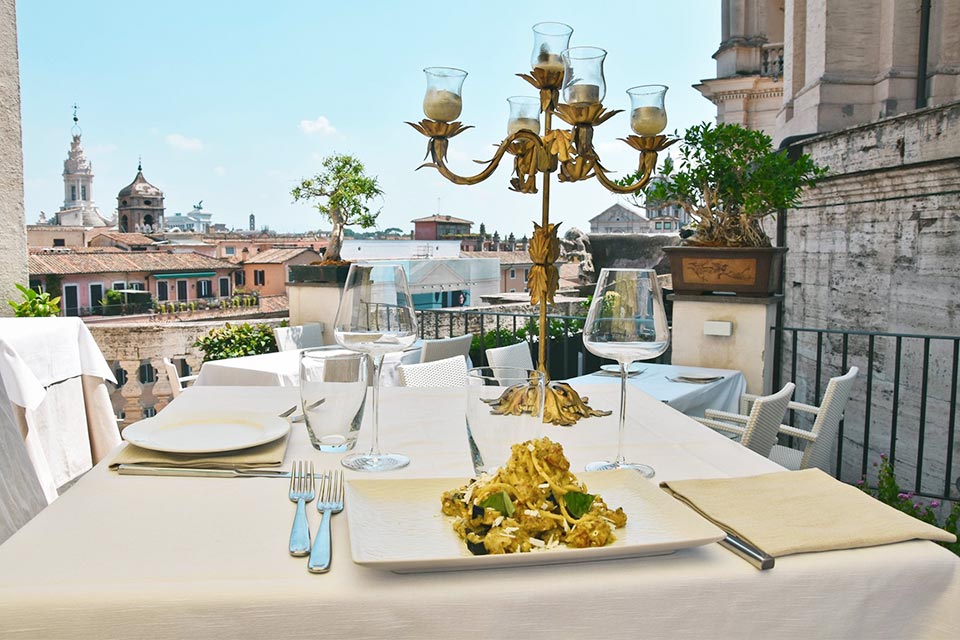 Rooftop restaurants Rome - Terrazza Borromini | Photocredit: www.terrazzaborromini.com
Terrazza Borromini comes filled with history and art, and offers both a 4th floor Rome rooftop restaurant and a 5th floor rooftop bar.
Found in a stunning 17th century building in Piazza Navona, the rooftop and restaurant is just about as lovely as the incredible 360-views over the city rooftops and the famous fountains in the piazza below, framed by frescoes.
High above it all you can enjoy Mediterranean flavors inspired by the classic Roman tradition, made with selected raw materials from all Italian regions, and served as both lunch and dinner.
With its dual setting, Terrazza Borromini works great for both a fine Rome dinner or some stylish sunset cocktails. Or even better, a mix of both.
TERRAZZA BORROMINI
Via di Santa Maria dell'Anima, 30, 00186 Rome
Mon-Sun: 12pm-11pm
Italian
Main: ~€40
9.

Acquaroof Terrazza Molinari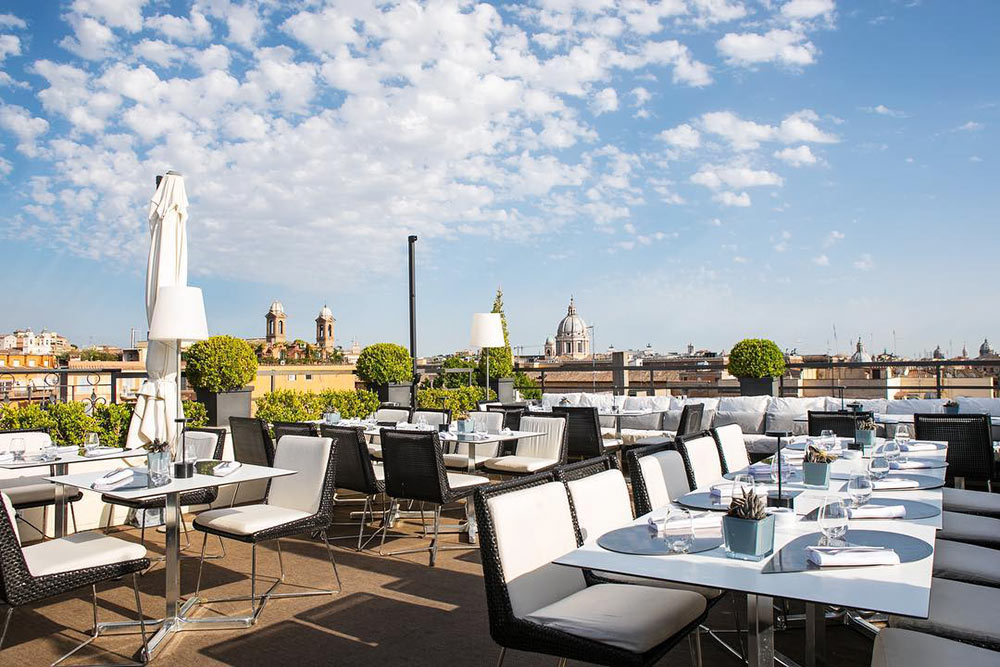 Rooftop restaurants Rome - Aquaroof | Photocredit: www.thefirsthotel.com
Finishing the list of amazing Rome rooftop restaurants is Acquaroof: a modern fine dining restaurant and bar, set on top of the fantastic boutique hotel The First Roma Arte. It is hard to say what is most pretty, the decoration or the amazing views over Rome.
Up here you can enjoy creativity, both in terms of food and drinks. The cocktail experience is something extra, with crafted creations taking inspiration from both the classics and the ocean.
And the touch of ocean continues in the restaurant with a Fishbar Menu. Lots of Italian seafood is mixed with other (less seafoodish) dishes from the Roman tradition. Oh, and of course, an Oyster-menu.
The food is served as both á la carte or tasting menus, but the most unique part are the 'Drops', similar to tapas. Available both as smaller ones and large, they are perfect to share.
Open from lunch through late dinner daily, Acquaroof is a great venue for a fine meal with amazing Rome views anytime of the day. Just make reservations. Or drop (no pun intended) by the rooftop bar for amazing cocktails in a modern and chic atmosphere.
AQUAROOF
Piazza Barberini, 23, 00187 Roma
Daily: 12.30pm-midnight
Italian seafood
Main: ~€25 / Drops: €15