Rome, the ancient capital of Italy, known for its rich cultural history and home to some of the greatest museums and architectural masterpieces, not to mention the paintings, sculptures, books, religious artifacts, and monuments on display that have been collected over the last ±3000 years!
Is there anything better than being served an ice-cold beverage poolside with a view of the magnificent Eternal City? To enjoy vistas that would inspire the finest renaissance artists, here is a selection of our favorite rooftop pools Rome.
Except lovely rooftop pools, you can also find a bunch of fantastic rooftop restaurants in Rome, along with a lot of fabulous Rome roof bars. And if you want more info about what to do in Rome, check out these amazing Rome tours.
But lets focus on finding the best rooftop pool Rome. The summer days in southern Italy can be very (very!) hot, so when finding a place to stay, it is a good idea to find accommodation with a pool, preferably one where you can mix blue water and lovely views.
Here's our list of the 5 best rooftop pools in Rome.
5.

Sky Blu Pool Terrace at Aleph Rome Hotel
Rooftop pool Rome at Aleph Rome Hotel | Photo: www.alephrome.com/
Located in the heart of Rome, near Trevi Fountain, Aleph Rome Hotel has one of the best rooftop swimming pools Rome has to offer. Called Sky Blu Pool Terrace, the rooftop is equipped with both luxurious beds and comfy lounge chairs.
Apart from swimming in the refreshing rooftop pools with sweeping city views, you can also enjoy delicious cocktails and a selection of tasty snacks. Or head to the next door Sky Blu Restaurant for contemporary Italian cuisine.
Both the rooftop bar and the restaurant is open to all, and as a non-guest of the hotel you can also pay a fee to get access to the rooftop swimming pool. Available from mid April until the mid of October, it is well worth it on any hot summer day in Rome.
Adress: Via di S. Basilio, 15, 00187 Roma
Availability: Free for hotel guests / Public: Mon–Thu €50, Fri–Sun €65
Hours: 10am - 6.30pm
Facts: Slippers and towels included
4.

Mercure Roma Centro Colosseo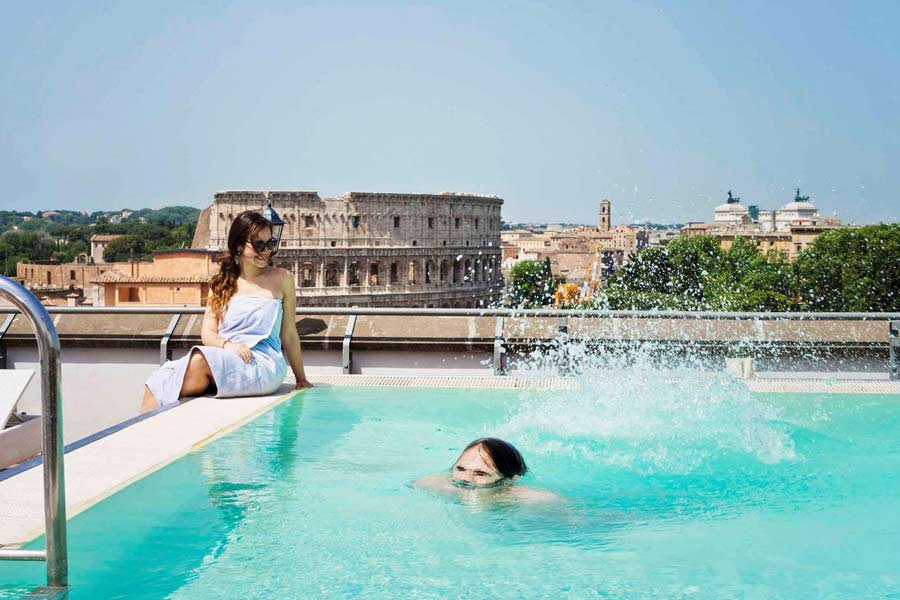 Rooftop pool Rome at Mercure Roma Centro Colosseo | Photo: www.accorhotels.com
From the moment you see the Colosseum you are mesmerized; it so strongly evokes the power of the former Roman Empire that you feel as if you have been transported in time. A great place to view this magnificent ancient ruin (though we highly recommend a tour) is from the rooftop pool of the 4-star Mercure Roma Centro Colosseo Hotel.
While the rooftop terrace is not huge, it is modern and stylish. And refreshing dips in the seasonal pool, while taking in the close-up views of Colosseum...well, what more can you ask from a Rome rooftop pool?
The hotel is in the Pantheon District and in close proximity to all the must-see sites, including the Trevi fountain, Forum and the Basilica di San Giovanni in Laterano.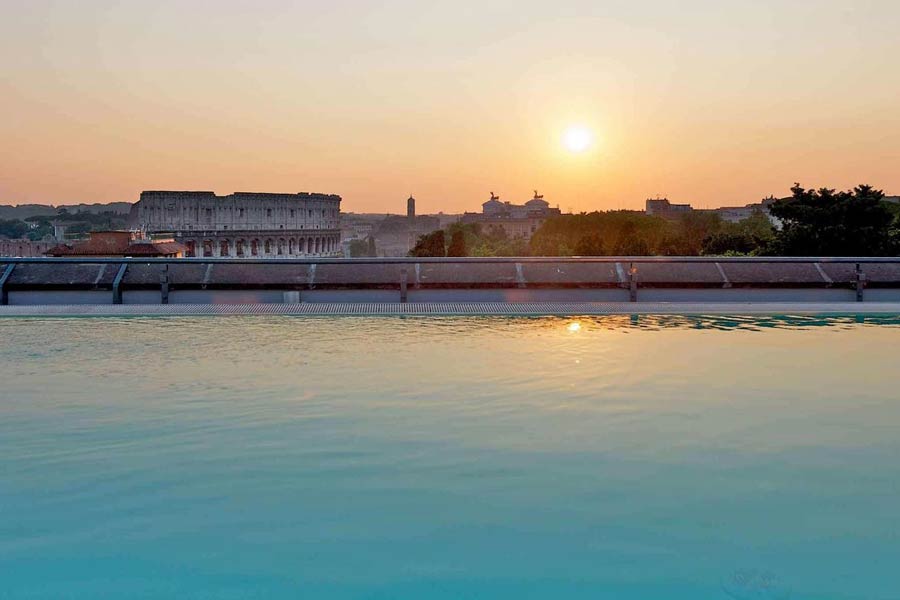 Adress: Via Labicana 144, Rome, Italy, 00184
Availability: Hotel guests only
Facts: Historical views
Collaboration
3.

Rome Cavalieri, Hilton Astoria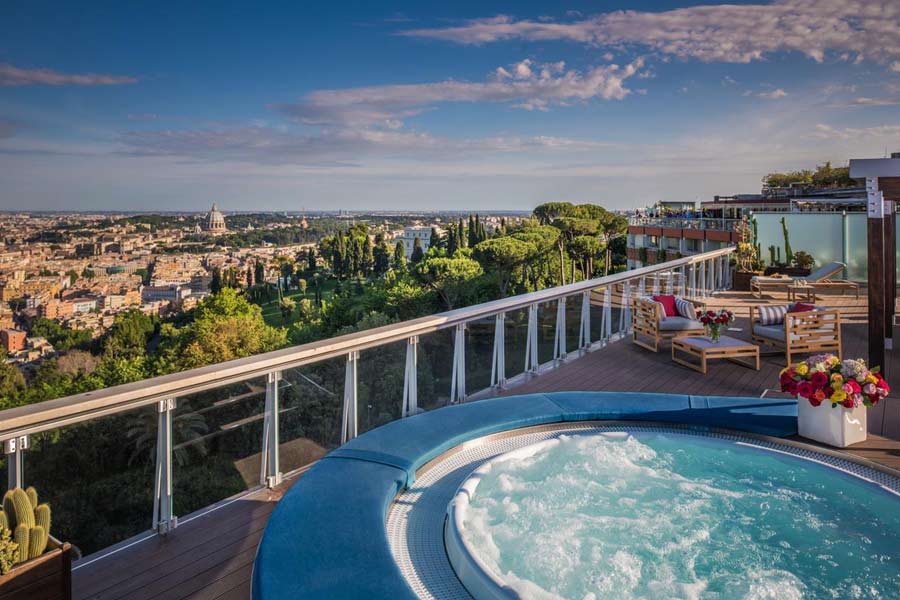 Rooftop pool Rome at Rome Cavalieri, Hilton Astoria | Photo: www.waldorfastoria3.hilton.com
Feel like a celebrity and take in the almost complete aerial view of Rome in one of the most exclusive rooftop pools Rome has to offer. Sure, it may be pricey and reservations are hard to get, but it totally feels worth it once you walk into the hotel lobby.
The amazing rooftop jacuzzi's at the luxurious Rome Cavalieri are only available if you book a Penthouse Suite. Do it, and you are set for the bubble-dip of a lifetime.
Even if you don't make it to the roof, there are a number of indoor and outdoor pools throughout the hotel/resort that are close to equally breathtaking. Available for both in-house guests and the public.
This 5-star hotel offers great service and free shuttles to town, though you can get a relatively cheap taxi as a backup plan.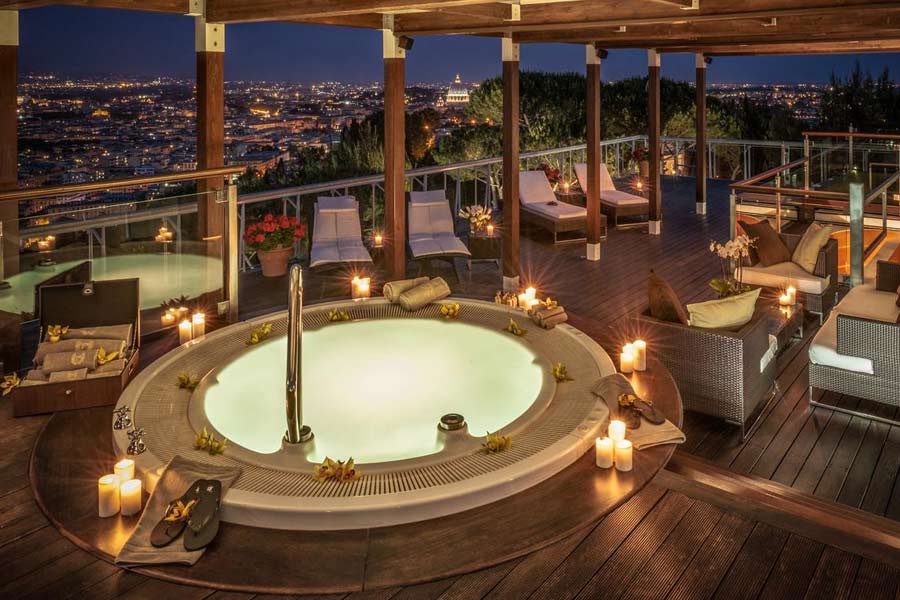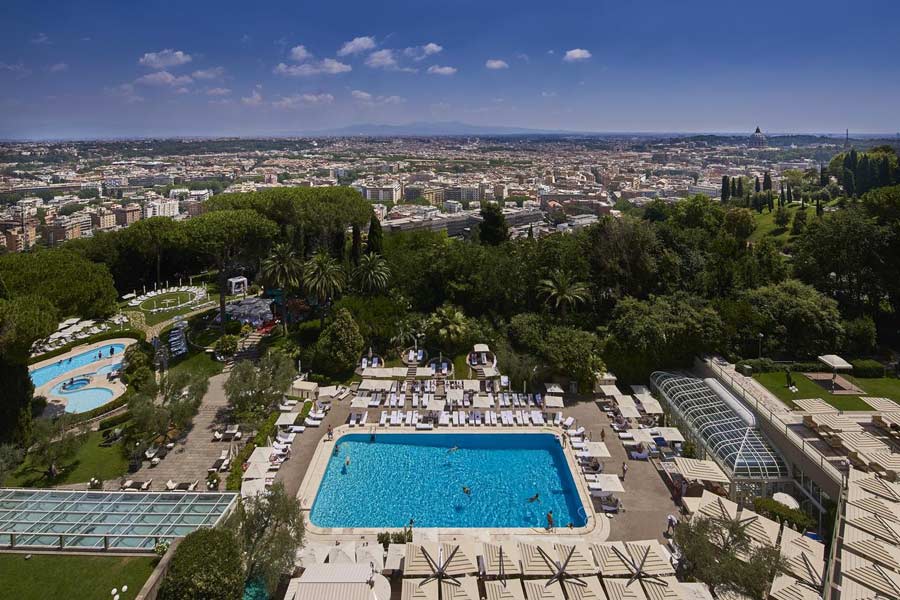 Adress: Via Alberto Cadlolo 101, Rome, 00136, Italy
Availability: Penthouse guests only
Facts: Luxurious
2.

Radisson Blu Es. Hotel Roma
Rooftop pool Rome at Radisson Blu Es. Hotel Roma | Photo: www.esconcept.it
So far as Rome rooftop pools go, the Radisson Blu Es. Hotel Roma rooftop terrazza with a large and modern swimming pool is definitely hard to beat. You may remember the location from a scene in Ocean's Twelve, and may even bump into a cast member while enjoying the view and some top-quality cuisine.
The wooden decked rooftop terrace is lush and modern, beautiful in itself, and the large azul pool in the middle is just the icing on the cake. Open daily during the summer season from 10am to 7pm, the rooftop pool is available to both hotel guests and the public at different rates.
Make your way here from the main Termini/train station after a long day of exploring.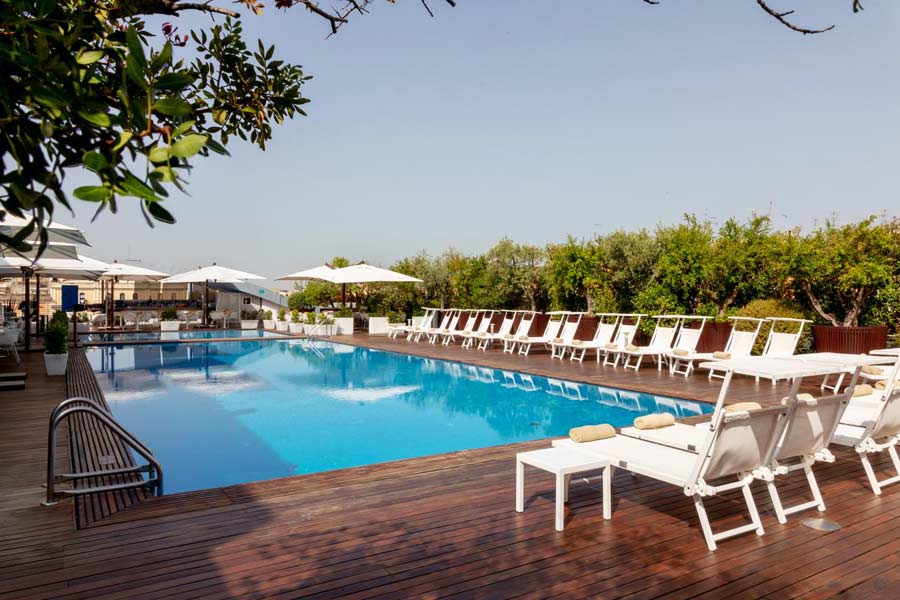 Adress: Radisson Blu, Via Filippo Turati, 171, Rome
Availability: Open for everyone
Price: Hotel guests enjoy a discounted rate. Public: €65 (Mon–Fri) and €90 (Sat–Sun/Holidays)
Towels included: Yes
1.

Anantara Palazzo Naiadi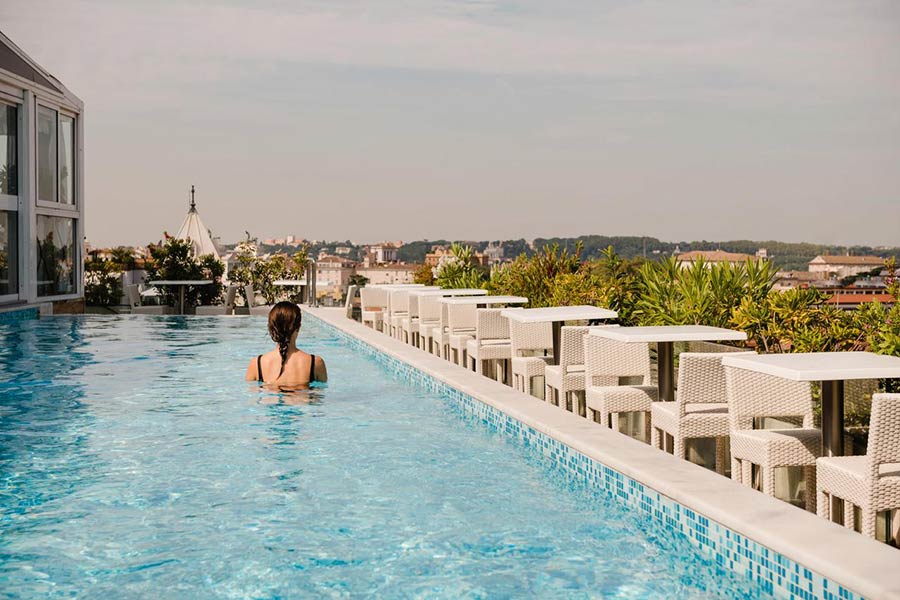 Rooftop pool Rome at Anantara Palazzo Naiadi | Photo: www.dahotels.com
The rooftop Posh Terrace bar of the Anantara Palazzo Naiadi is pure luxury. Take in the view of the Roman skyline while taking a dip in one of the most stunning infinity pools you've ever seen!
The hotel is conveniently located in the Plaza del la Repubblica, which is near both the main and metro train stations, so you can spend the money you saved on cab fare and order a delicious round of cocktails while you take in the sunset and architectural highlights- including the Baths of Diocletian and Michaelangelo's Basilica of Saint Mary of the Angels.
The rooftop pool is open seasonally to guests staying at the hotel. Surrounded with white pebbles and stylish lounge furniture, it is truly a luxurious and refreshing oasis, high above the Eternal City.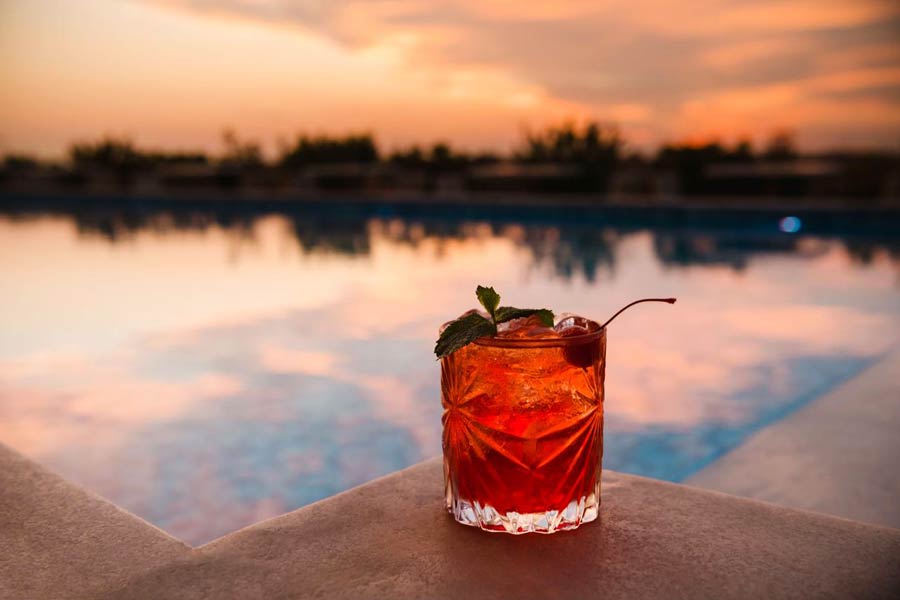 Adress: Piazza della Repubblica, 47, 00185 Roma
Availability: Hotel guests only
Facts: Popular venue for weddings and private parties
Collaboration