Article
10 best rooftop bars in Italy
The home of food and drinks - on Italian rooftop bars you can enjoy this with magnificent views
Published: March 19, 2020
Italy have some of the most cozy and beautiful rooftop bars in the world. The romantic setting, amazing food and beautiful views makes Italy a paradise for those who love to eat and drink with a view.
Here you can find both rooftop bars in the middle of buzzing cities, but also more relaxed rooftop bars located by the coastline. Enjoy our list of the 10 best rooftop bars in Italy here.
10 amazing roof terraces with everything one can ask for.
10.

Terrazza 241 at Hilton Lake Como

/ Como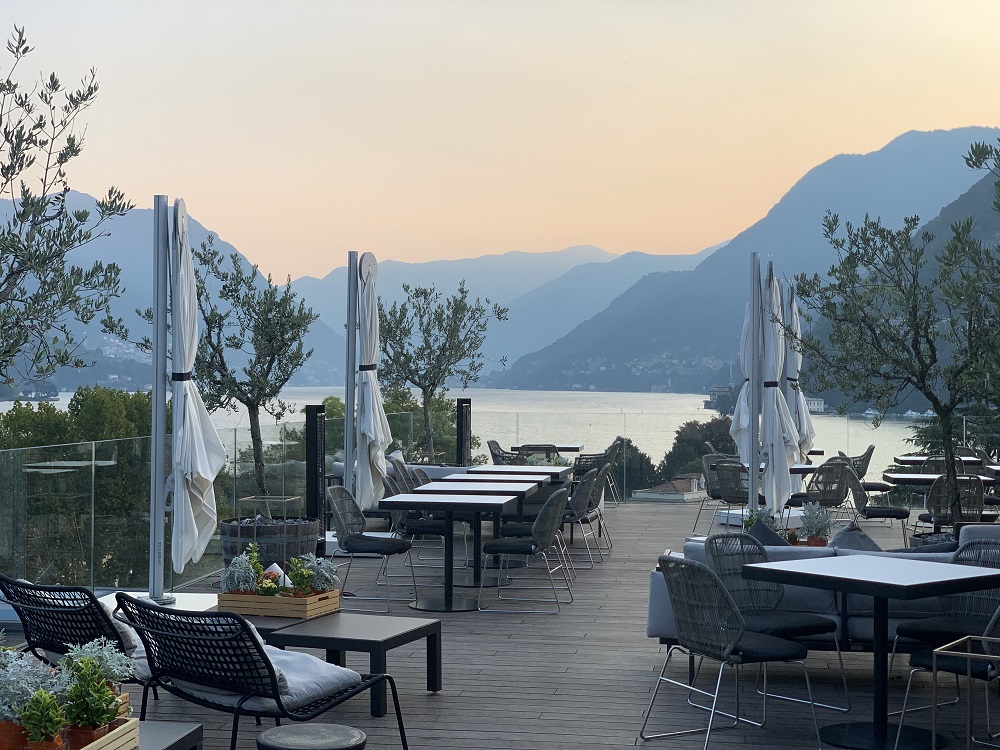 Terrazza 241 at Hilton Lake Como
Terrazza 241 as the rooftop bar at Hilton Lake Como is called is one of the best rooftop bars in Italy. And by far the best bar with a view in the city of Como. The view overlooking Lake Como is something special. Both beautiful, spectacular and mighty at the same time!
The rooftop is open a very day of the week. Make sure to book your table in advance as this is super popular place for both locals and tourists.
Except the magical view, Terrazza 241 have fantastic cocktails. Both classics and signature ones. The bar manager is one of the best cocktail makers in the country. Insider tip is to try the smoked Negroni. And for the hungry ones, the kitchen offers great food. Pasta, BBQ, fish and much more. A perfect place for a romantic dinner or just some family time.
And as a big bonus, there's also a rooftop pool available up here. You need to be a guest at the hotel to use it however. The pool area is open from 09:00 until 18:00 daily. Get here early to secure a great spot in one of many sun loungers available on the terrace.
TERRAZZA 241
Via Borgo Vico, 241, 22100 Como CO
Daily 09:00 - 01:00
9.

Romeo Hotel Naples

/ Naples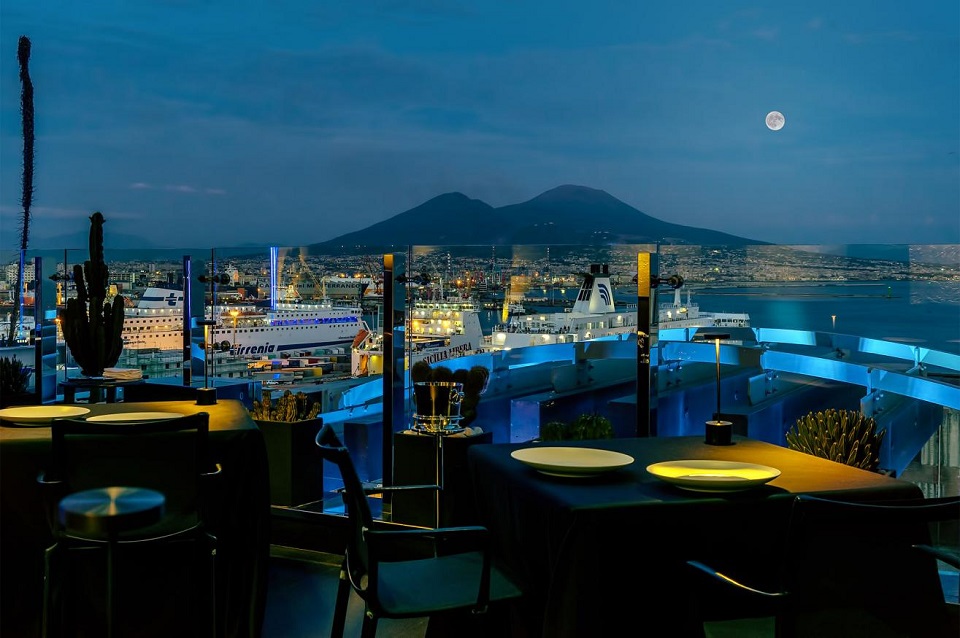 Romeo Hotel Naples - Photo: www.romeohotel.it
Naples is Italia's hidden gem. A perfect holiday resort, the city is a mix of culture, traditions and breathtaking views. Romeo Hotel Naples is a five-star venue to compliment the city. Its perfect location right by the Port of Naples makes it easy to access.
The hotel's top floor opens the doors to an upscale and luxury rooftop pool terrace, with two rooftop restaurants. The spacious deck offers a variety of experiences for any time of the day. The terrace is sleek in design and comfy in feel.
With a setting view overlooking the Bay of Naples, including Mount Vesuvius and Capri, Romeo Hotel Naples has thought of everything you might need on a rooftop in Italy. Perfect for sunbathing sessions under the hot Italian sun during the day, and even better for a refreshing afternoon delight with a glass of Italian wine, or a classic cocktail.
The rooftop pool is only available to guests of the hotel, so if you're visiting and wondering where to stay, maybe book a visit with the hotel. The 9th floor hides the Beluga Bistro & Terrace where everybody else is welcome to join for a semi-casual restaurant experience and a lounge atmosphere. Open for breakfast, lunch and dinner, with soft drinks in-between, the seating comes both inside on the more alfresco terrace, or outdoors.
The terrace has a retractable roof, so even if the weather serves a surprise, your visit will not be ruined. The Bistro-style menu is a mixture of Mediterranean cuisine and classic Naples recipes. A floor above is a Michelin-starred gourmet fine dining restaurant, everybody knows as Comandante. Lovers of fine dining are more than welcome to join.
Reservations, however, are necessary, as this restaurant is popular among the Naples crowd.
ROMEO HOTEL NAPLES
Via Cristoforo Colombo, 45, 80133 Napoli NA
Tue - Sat: 19.30 - 22.30
8.

The Flair at Sina Bernini Bristol

/ Rome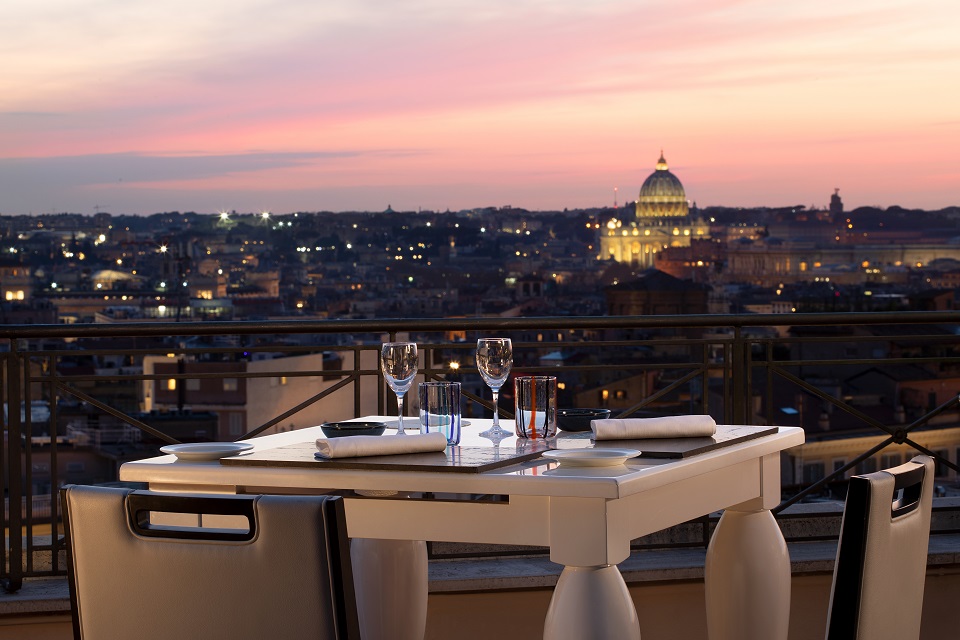 The Flair at Sina Bernini Bristol - Photo: www.sinahotels.com
Up on the 8th floor on Hotel Sin Bernini Bristol lies a rooftop bar that overlooks the beauty of Rome. Setup as a bistro and a fine dining restaurant, the roof area serves a mixture of classic Italian dishes, and some fine drinks.
The Flair, as it's called the premium restaurant, is a result of chef's Alessandro Caputo's years of experience. Choose between "Buio" a tasting menu which means darkness in Italian, and indulge in the flavours with your eyes closed. Or order a la carte. Both the bistro and the restaurant are open for lunch and dinner, but fans of cocktails are welcome to visit anytime for a drink with a view.
A mixture of classic cocktails, bubbles and wine is served with a twist. Fans of beer can choose between a few crafty brands, and enjoy their stay. The magnificent views across Rome and its vicinity, and the monumental vista surrounding the building, makes The Flair at Sina Bernini Bistrol a place to spend a special occasion at.
If you are wondering where to throw your next celebration, simply book the private 90sqm outdoor terrace and complete the experience with the rooftop pool and views of the eternal city around.
SINA BERNINI BRISTOL
Piazza Barberini, 23, 00187 Roma RM
Daily: 12:30 - 00:00
Collaboration
7.

Etnea Roof Bar and Restaurant

/ Catania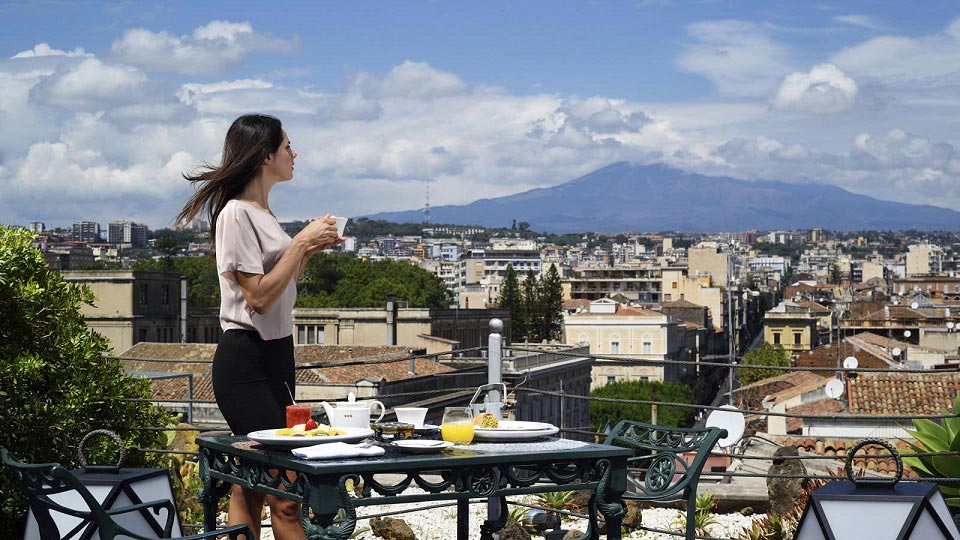 Etnea Roof Bar and Restaurant - Photo: www.gruppouna.it
Etnea Roof Bar is a la carte restaurant, laying atop the 7th floor of a central building in Catania. With its unique and spectacular view of the city's skyline, and the outline of Mount Etna to the north, the terrace allures visitors with a warm welcome and a night to tell stories about long after they leave.
The terrace is big enough so up to 30 people can feel comfortable at the same time. Although not spacious as other rooftop bars, it has a cozy interior design and a special menu with fine-tuned dishes. Chef's specialities are included. Prices start from €30 excluding drinks.
The same floor hosts a bar, so you can stop by for a welcome drink prior your dinner. The rooftop bar has a vista to the majestic Mount Etna, while serving well-made cocktails under the Catanian sky.
Try the ice cream or the special Italian chocolate instead of a desert. 7:30 is the start of a 3-hour long "happy hour" with a rich buffet of appetizers and exclusive cocktails.
ETNEA ROOF BAR AND RESTAURANT
Via Etnea, 218, 95131 Catania CT
Daily: 10.30 - 00.00
6.

SETTIMO Roman Cuisine & Terrace at Sofitel Villa Borghese

/ Rome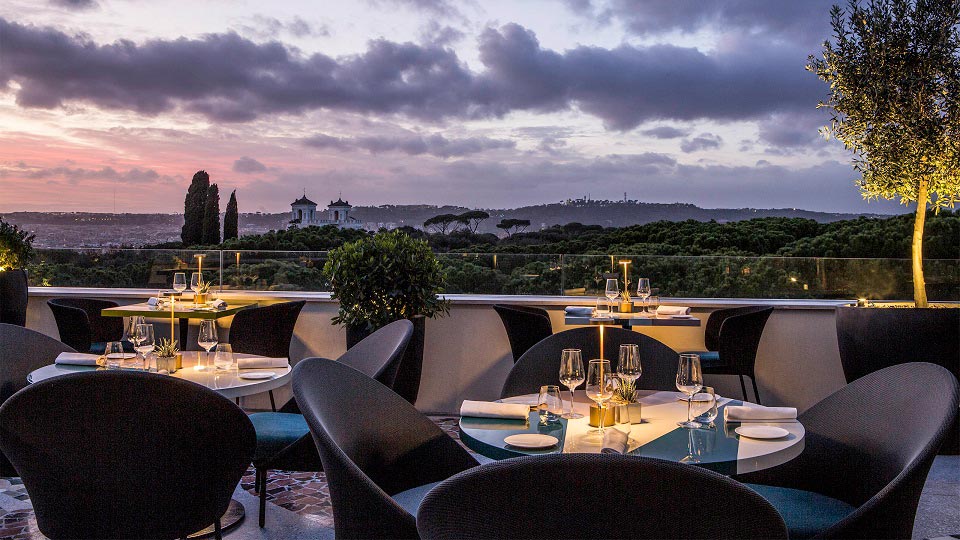 SETTIMO Roman Cuisine & Terrace - Photo: sofitel.accor.com
If your phone's map says you are outside the Villa Borghese park, look for Sofitel Villa Borghese, and climb the stairs to its rooftop deck. There you will find La Terrasse - a rooftop bar that is simply one of its kind.
Located atop the freshly-renovated Sofitel Villa Borghese , the rooftop deck has gathered the stylish flavor and a sense of luxury. Surrounded by the panoramic treasures of old Rome, you can take in the beauty of the St. Peter's Basilica in the backdrop, while sipping a glass of Prosecco.
Try a signature cocktail by Head Bartender Mirko Cagnazzo, complemented by a light meal or tapas with a twist. The rooftop restaurant has a fine dining lunch and dinner menus, consisting mostly of Mediterranean dishes.
The fantastic vistas over the eternal city are the perfect dessert to complete your meal with, although the menu itself has a spectacular choices to indulge in, too.
SOFITEL VILLA BORGHESE
Via Lombardia, 47, Rome
Daily: 10.30am - 12pm
5.

Restaurant Terrazza Danieli

/ Venice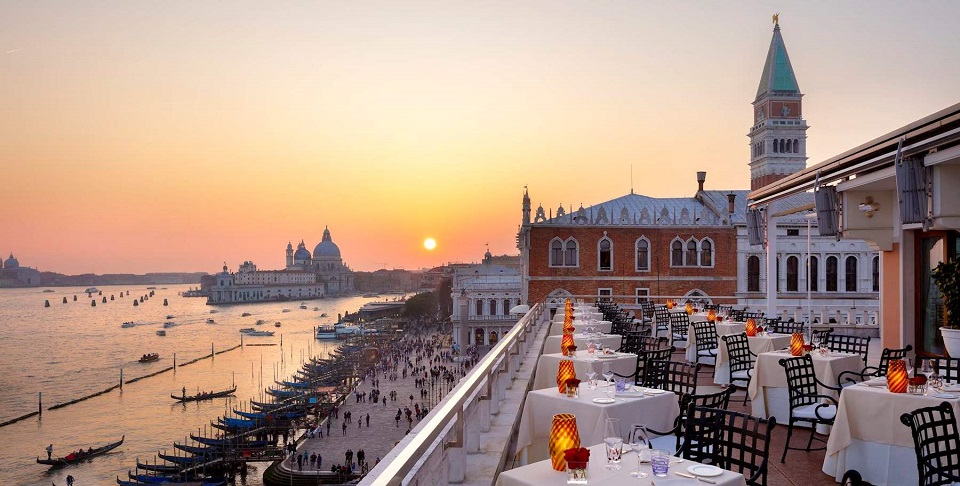 Restaurant Terrazza Danieli - Photo: www.terrazzadanieli.com
Venice is the most romantic Italian city you can visit. With its picturesque streets, ever floating gondolas in the canals and a million of historical venues, you can get lost.
While wandering around the center, stop by the five-star excellence that Hotel Danieli is. Only a short walk away from St. Mark's Square, you can climb to the rooftop and find Restaurant Terrazza Danieli. The rooftop, as the city itself, has a romantic, yet modern setting.
A postcard-worthy interior and an even more magnetic feel, Terrazza Danieli will serve you temptation in a plate. The luxurious feel is suggested at the entrance of the hotel and continues up to the rooftop and the restaurant. With a classic Italian fine dining setting, the staff will hand you a menu, and a welcome drink, while you wonder what to order.
Open for lunch and dinner service, restaurant serves guests all-year round. The rooftop bar on the side, has its own premium menu of handcrafted cocktails, an appetizer, a robust of martinis and more premium spirits, such as bubbles, champagne and some delicious bar bites and cigars to compliment your bourbon.
Both the bar and the restaurant are on the pricier side. We highly recommend reservations, as it is a more formal attire.
TERRAZZA DANIELE
Riva degli Schiavoni, 4196, 30122 Venezia VE
Lunch 12:00 PM - 3:00 PM, Dinner 7:00 PM - 10:30 PM, Bar (May - September) 3 PM - 6.30 PM
4.

Franco's Bar

/ Positano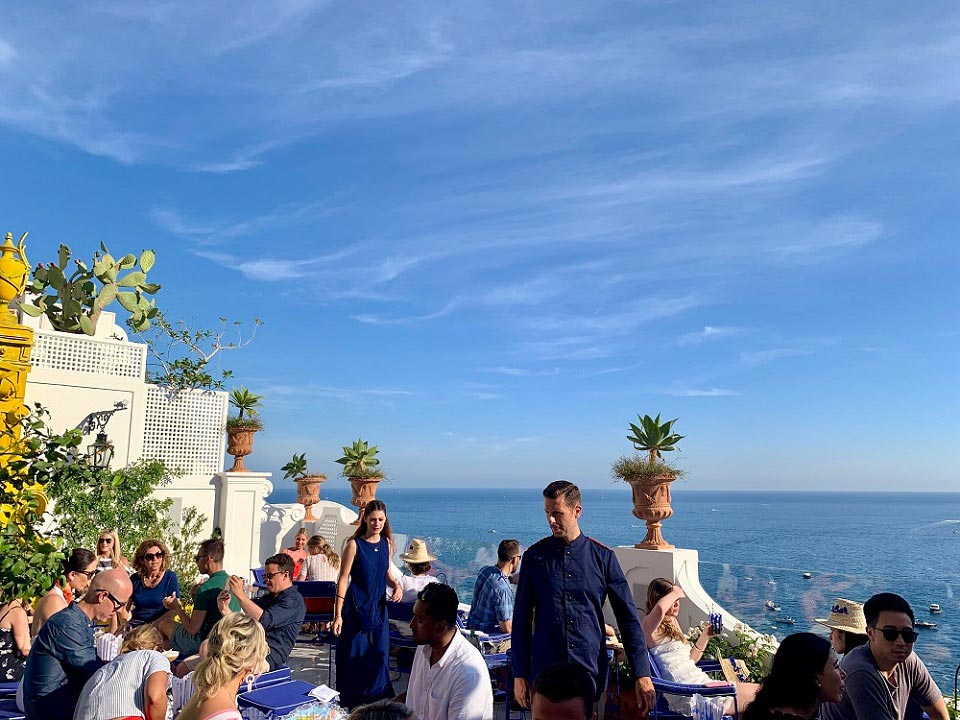 Franco's Bar - Photo: www.francosbar.com
Freshly opened, Franco's is one of Positano most hip places to visit this summer. In the heart of the Amalfi Coast, Franco's bar welcomes guests to a sleek and sophisticated setting of luxury and taste. The seaside bar has an old-fashioned top-notch beverages.
The bar's branding suggests a place to indulge in life's little treats, spend quality time with friends or sit by for a post-swim apéritif. Franco's Bar only serves drinks, so foodies and hungry guests might want to grab a bite before climbing the stairs to the rooftop deck.
There are, however, premium nibbles such as salted almonds or green olives. In a nutshell: you get a high quality drink with a high quality view. Cocktails are fine-tuned, poured to perfection and served in a classy manner, with a modern twist.
The minimalistic feel creates a sense of luxury, whilst a chill stream of lounge music fills the breezy air. Leave the flip-flops at your house and put your nicest clothes on. It is a place where people dress to impress.
FRANCOS BAR
Via Cristoforo Colombo, 30, 84017 Positano SA
Daily: 17:00 - 00:30
3.

Vista Sky Bar at Hotel Mediterraneo Sorrento

/ Sorrento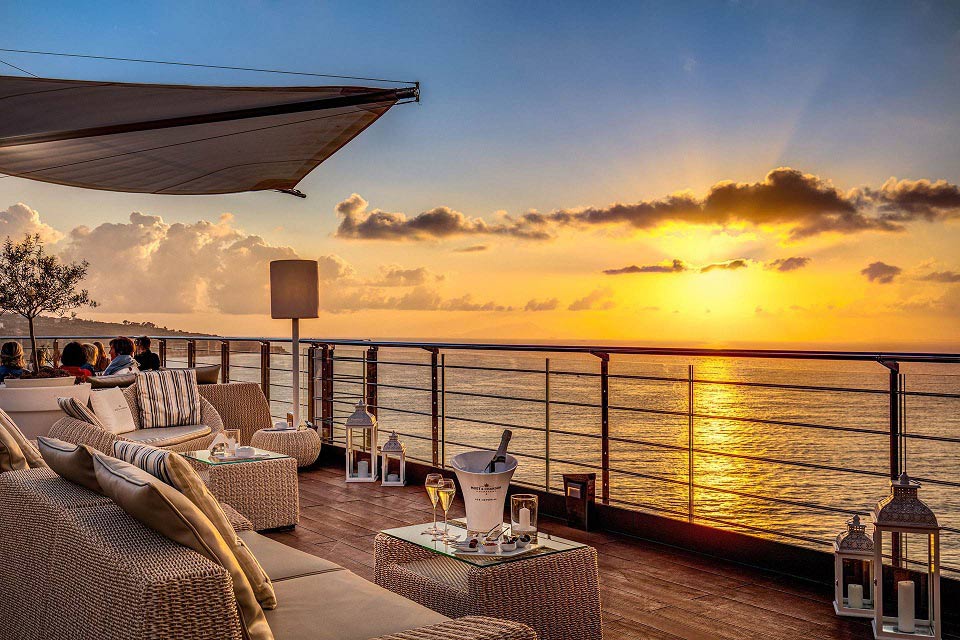 Vista Sky Bar at Hotel Mediterraneo Sorrento - Photo: www.mediterraneosorrento.com
Located just outside Sorrento, on the rooftop of Hotel Mediterraneo Sorrento hides a rooftop bar with a breathtaking view. The brand new Vista Sky Bar perches 6 floors above the ground, right by the ocean. Overlooking Naples bay, the islands and the Vesuvio Volcano, Vista Sky Bar creates a feeling of adventure, culture and delight.
Guests are welcomed to a stylishly designed rooftop lounge with comfortable furniture and charming little details. Although the bar is new, the recipes in the menu can be considered quite classic.
Widely-known bar master Arturo Laccarino has added a few innovative recipes, so you can pamper your senses with some liquid delight. Served in a cool atmosphere, and accompanied by live DJ sets or bossa nova bands, Vista Sky Bar is Sorrento's next exclusives-only spot to stop at. So be quick and pay your visit.
Open on Tuesday, Friday and Sunday, from 7:30 to 11:30, Vista Sky Bar takes reservations and promises an experience worth each second of your time. The venue offers organizing events such as weddings, birthday parties or business occasions, and includes services as photoshooting, product launches and catering.
Except Saturday, every night guests are welcome to join the nearby rooftop restaurant, called The Vesuvio.
VISTA SKY BAR
Corso Marion Crawford, 85, 80065 Sant'Agnello NA
Tuesday, Friday and Sunday: 19:30 - 23:30
Collaboration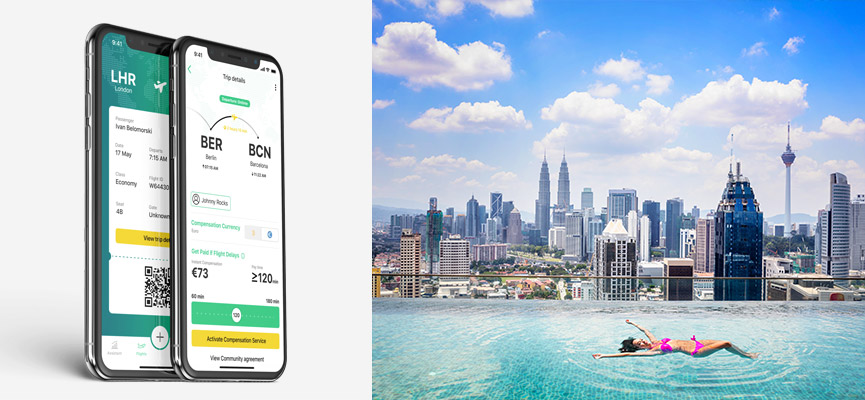 Smart travel
This app offers instant and 100% guaranteed compensation on flight delays
Colibra is a new app that gives you compensation EVERY time.
2.

Sky Bar Hotel La Palma

/ Stresa
Sky Bar Hotel La Palma - Photo: www.hlapalma.it
Hotel La Palma hosts one of Stresa's finest rooftop bars these days. Sky Bar, as the name suggests it, perches atop the building roof, inviting guests for a soft sunset drink.
While sipping on an Aperitivo, you can indulge in the sounds of the nearby Lake Maggiore with a soft music in the background. The excellent cocktail menu comprises crafty recipes and an evergreen mixologies.
Open every day from 12:30pm to around 1am (a seasonal opening usually May to October) the terrace offers event alternatives and private parties. Sky Bar is open also to the public and in this case accepts external reservations starting from 6 people.
On the side of the bar, there is also a rooftop pool, helping guests unwind when sunbathing outside. Sky Pool is reserved for hotel guests only. We recommend the revitalizing hot-water massage, if you stop by the rooftop pool before the cocktail hour.
SKY BAR HOTEL LA PALMA
Lungolago, Corso Umberto I, 33, 28838 Stresa VB
Open daily
1.

SE·STO on Arno at Westin Excelsior

/ Florence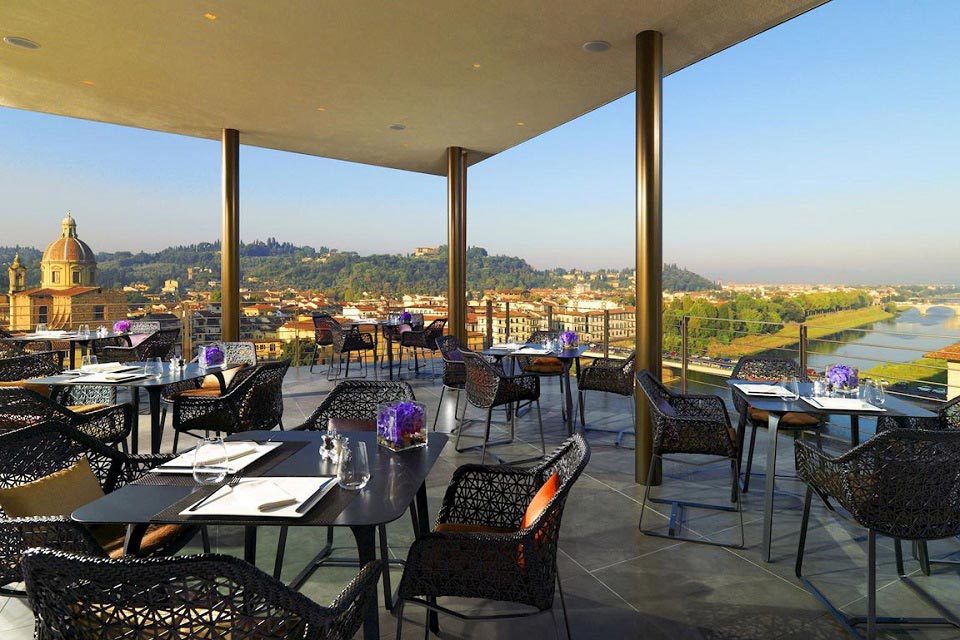 SE·STO on Arno at Westin Excelsior - Photo: www.sestoonarno.com
Located atop the top-notch Westin Excelsior hotel, SE-STO on Arno is an adventure to be experienced at least once when in Florence. Both a combination of an excellent rooftop bar and a rooftop restaurant, SE-STO on Arno overlooks the banks of the river Arno, exposing the eye over the entire old city of art.
The indoor interior reminds much of a "glass-hut". SE-STO is split in two, having two dedicated terraces to the restaurant, and the rooftop bar.
Reserve your spot for any of the lunch or dinner reservations and enjoy the described by many gastronomists "Tuscan cuisine with a touch of innovation", served by the executive chef and his dedicated team of professionals.
Or sip a glass of a signature and old-style cocktail while at the rooftop bar, enjoying the sunset over Florence. With a list of exclusive and premium wines, served every day between 7pm and 9pm, you can indulge in a mix of international and genuine Italian atmosphere.
SE·STO ON ARNO
Piazza Ognissanti, 3, 6th floor The Westin Excelsior, Florence
Daily: 12:00 - 02:00