Barcelona may seem like a warm city where all rooftop bars are open all year around. But that's not really the case.
In fact, most of the rooftops here closes in October and opens in April. But there are some terraces that are open 12 months/year. And the temperatures during winter can sometimes be 20+ celsius if you're lucky.
Here's a list of the best winter rooftops bars in Barcelona with an all year-round terrace available also during winter.
1.

Sky Bar at Grand Hotel Central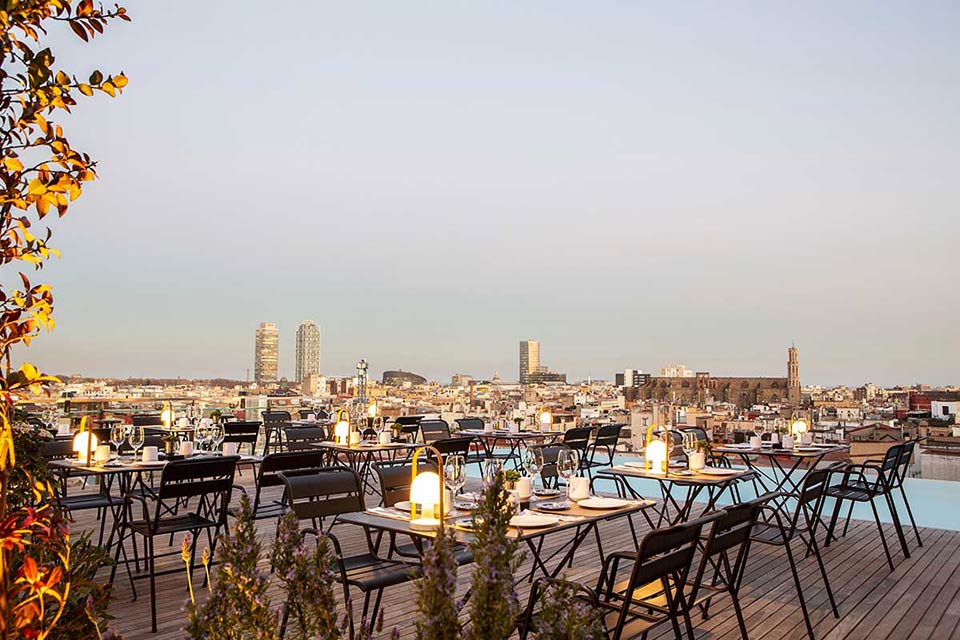 Sky Bar | Photo: www.grandhotelcentral.com
A straightforward yet elegant choice, the Grand Hotel Central is known for its thrilling infinity pool and its jaw-dropping views of Barcelona.
Though the infinity pool is exclusive for guests, visitors are free to mingle and enjoy the lounge areas and, of course, the bar.
Drink wise, the Sky Bar offers a large collection of beers, wines, and spirits, as well as expertly crafted seasonal cocktails that are often the talk of the city.
A hot-spot during summer nights, during winter (from November to March) the Sky Bar is only open to the public on weekends between noon to 6pm. Then you can enjoy 'Vermouth Con Vistas', cocktails and gastronomic tapas, complemented with live music.
This is a very popular destination, so reservations are highly encouraged, both for the restaurant and the bar.
The restaurant is located at ground level, so it doesn't offer the same stunning views, but the food is an attraction on its own!
The Grand Hotel Central also offers special Christmas and New Year dinners, so it's an excellent option to keep in mind if you're visiting Barcelona during the winter.
SKY BAR
Vía Laietana, 30, Ciutat Vella, Barcelona
2.

1881 per SAGARDI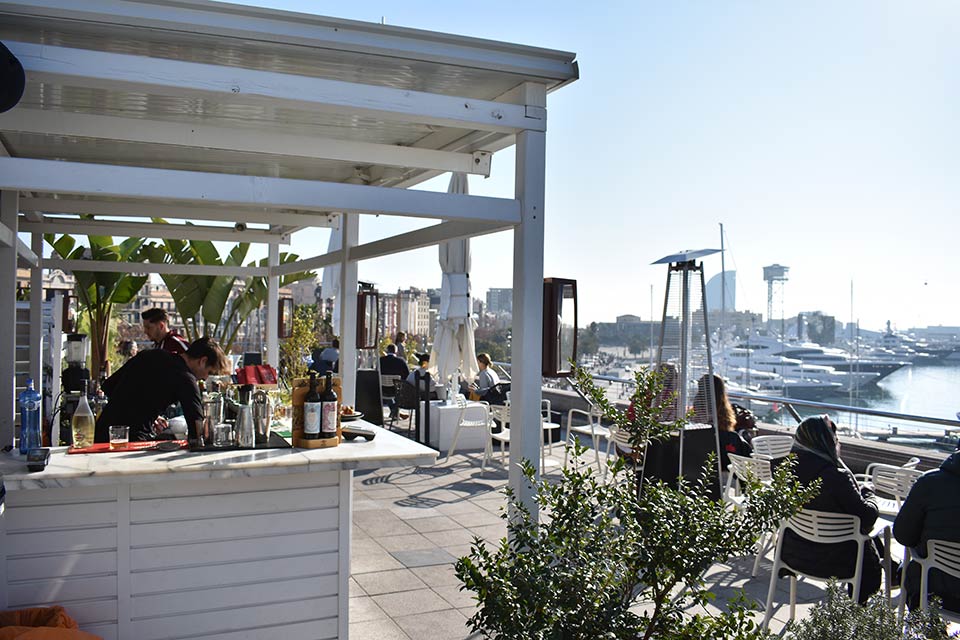 1881 per SAGARDI | Photo: www.therooftopguide.com
Located on top of the Museud'Historia de Catalunya, one of Barcelona's most famous museums, the 1881 offers a large outdoor terrace (called La Terrassa de les Indianes) with stunning views of the port of Barcelona.
The 1881 operates as both a restaurant and a bar, offering Mediterranean dishes and classical drinks.
Wines and beers are readily available, but this place is better known for its signature cocktails, so make sure to try them whenever visiting.
While the 1881 is open during the day, the real fun starts in the evening, with live DJ shows and a crowd of party-goers ready to have some fun.
The indoor reastaurant and bar is sure to keep you warm at all times, but the rooftop terrace is also a real "sun-trap" and stays open year-round.
1881 PER SAGARDI
Plaça de Pau Vila, 3
3.

Panoramic Terrace at Hotel Colón
Panoramic Terrace at Hotel Colón | Photo: https://hotelcolonbarcelona.es
A lovely destination for those looking for a place to relax, the Panoramic Terrace can be found on top of the Colón Hotel Barcelona.
Offering incredible views of the Barcelona Cathedral, as well as the rest of the Gothic quarter, this rooftop bar truly knows how to mix the old with the new.
Spread over two levels, the Panoramic offers an area open to the public and one reserved for guest hotels.
The public area has live music shows, as well as stools and tables. The private area boasts lounge chairs and a pool.
Drink wise; you can enjoy refreshing cocktails, sangría, wines, or beers, though we encourage you to try the signature cocktails.
Though not located on the terrace, the hotel also has a restaurant that serves traditional Spanish foods, though the menu changes every day, so we can't make any recommendations.
The restaurant also has Christmas and New Year dinners, so make a reservation if you'd like to attend!
PANORAMIC TERRACE
Av. de la Catedral, 7
4.

The ROOF at The Barcelona EDITION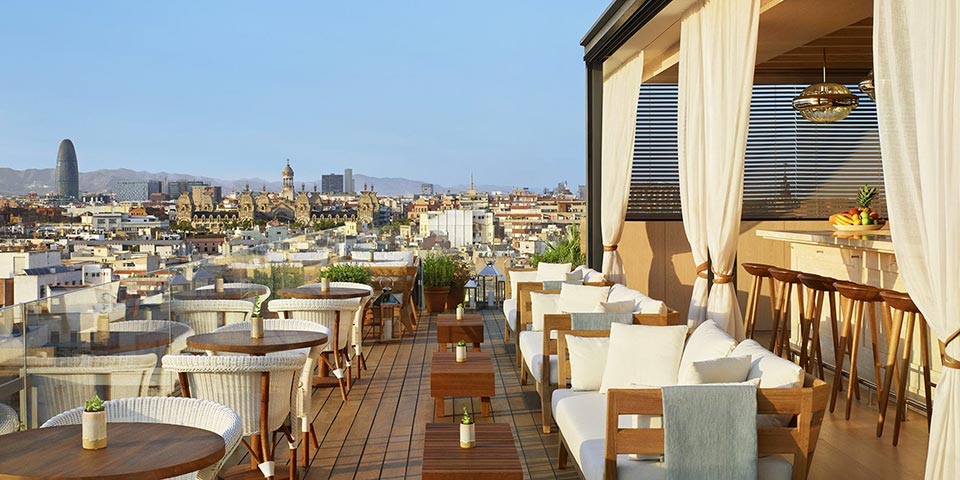 The ROOF | Photo: https://www.editionhotels.com
Created to become Barcelona's top hangout, The ROOF offers stunning views of the city and carefully crafted drinks and bar bites.
The made-to-share dishes mix Latin American cuisine with Asian flavors, and the drinks are both seasonal and organic.
Beers, wines and other spirits are available, but the stand-out drinks are the seasonal cocktails, as well as healthy juices and delicious smoothies.
This health-conscious, organic approach extends to the decoration, which can be better described as "hippie chic," down to copious greenery and wooden accents.
Despite this, the ROOF maintains a modern atmosphere and offers a wide variety of seating options with unrestricted, almost vertiginous views of the city.
The ROOF also has a retractable roof and slidable cristal doors, which makes it a year-round destination you can visit no matter how rainy or cold it is.
THE ROOF
Av. de Francesc Cambó, 14, 08003 Barcelona
5.

La Dolce Vitae at Majestic Hotel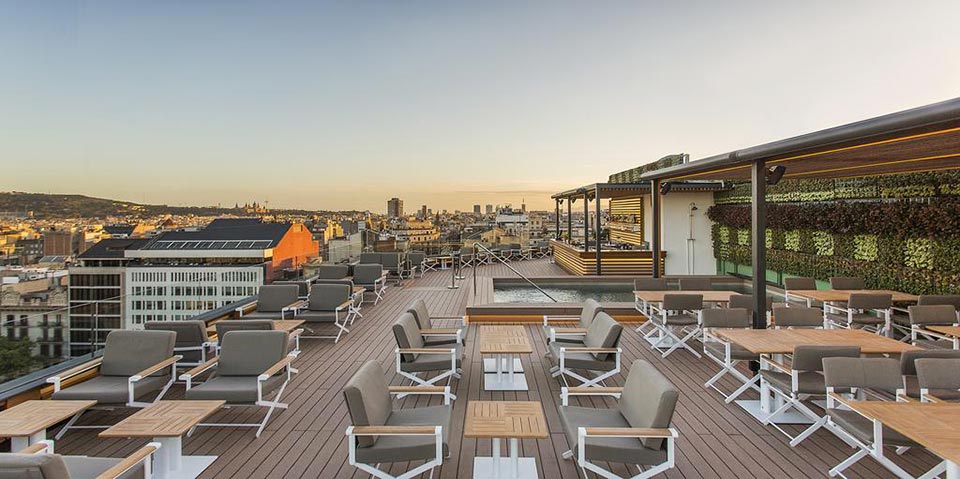 La Dolce Vitae | Photo: https://majestichotelgroup.com
An upscale and exclusive place, La Dolce Vitae offers 360-degree views of the Barcelona skyline and front-row seats to La Sagrada Familia and Montjuic.
La Dolce Vitae employs a Michelin rated chef that delivers truly mouth-watering food using local gourmet ingredients. Because of this, the menu tends to change according to the season.
The drinks aren't far behind, with fine wines, champagne, carefully crafted cocktails, and more readily available.
Though it's reserved for hotel guests, La Dolce Vitae also has a small, yet lovely pool that you're sure to love. Maybe more of a summer highlight, but the rooftop terrace is open year round.
Despite its position as one of Barcelona's top restaurants, there are no reservations required. Just show up and wait to be seated; Be ready to wait for a while, though.
That said, the entire terrace can be booked for events, but it can fetch quite a high price. In fact, the entire place is expensive, but any money spent here is money well-spent.
LA DOLCE VITAE
Passeig de Gràcia, 68-70, Eixample, Barcelona