Barcelona has a colorful, joyful and vibrant side that fascinates people from around the world. The beautiful and bright sky over the Catalonian city, combined with the magnificent and iconic gothic architecture, turn Barcelona into a leading destination for tourists, as well as one of the most desirable cities to live in.
With a pleasant Mediterranean climate, it is no surprise that there is a wide selection of Barcelona rooftop pools and Barcelona rooftop bars. But sometimes cocktails and snacks just are not enough and a more filling meal is needed: step in, Barcelona rooftop restaurants. From fine Peruvian cuisine to Mediterranean delights, at these elevated venues you can mix food and views in the best way.
Here's our guide to the 9 best rooftop restaurants Barcelona
1.

Terrat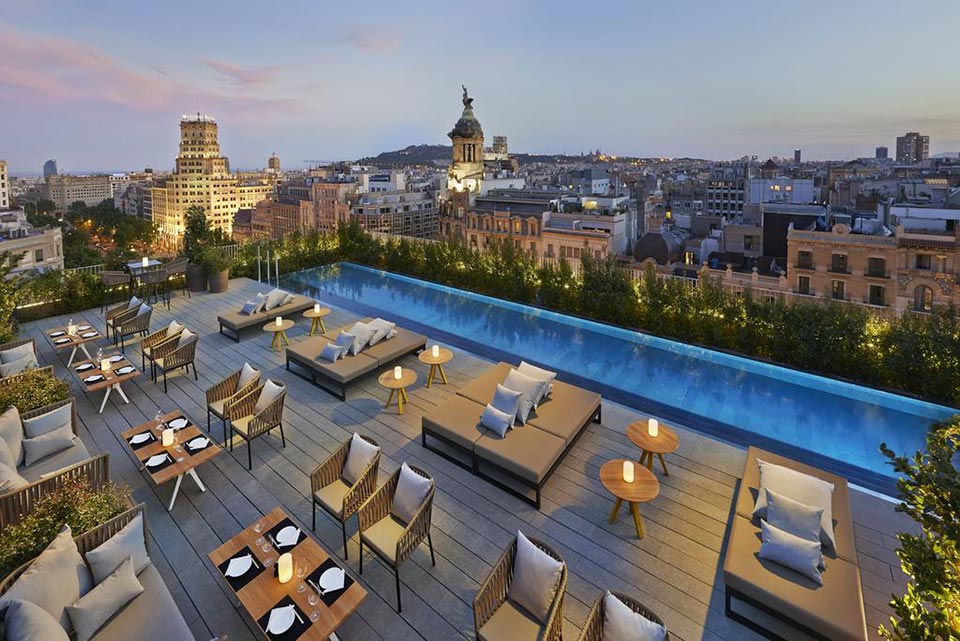 Terrat rooftop restaurant Barcelona | Photo: www.mandarinoriental.com/
Perched on top of the luxurious 5-star hotel Mandarin Oriental Barcelona, right in the heart of the city, Terrat offers top class food and magical 360-degree views over Barcelona.
The rooftop restaurant menu is filled with authentic Peruvian and Nikei cuisine, the encounter between the flavors of Peru and Japan. Created by Gastón Acurio, one of the world's most acclaimed chefs and also a native Peruvian.
Here you find everything from Cheviche and Tiraditos to Peruvian Makis, served both as both lunch and dinner.
Open from April to November, Terrat is a fantastic rooftop restaurant Barcelona for a stylish and sunny lunch, or a romantic dinner at sunset. You can also visit the rooftop bar for crafted cocktails and sophisticated vibes.
TERRAT
Passeig de Gràcia, 38-40, 08007 Barcelona
Peruvian
Lunch: €32 / Plates: ~€24
2.

Azimuth Rooftop Bar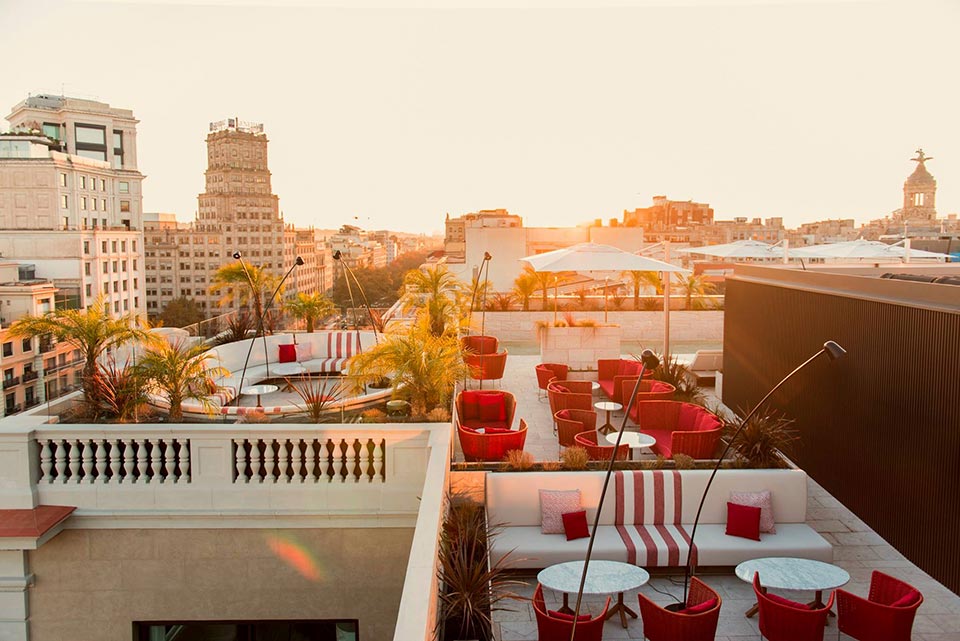 Azimuth Rooftop Bar | Photo: www.almanachotels.com/
Perched on top of the superb boutique hotel Almanac Barcelona, just a few steps from Plaza Catalunya, Azimuth Rooftop Bar is a lovely urban oasis to enjoy drinks and bites high above BCN.
Part glass enclosed lounge, and part lush and open-air terrace, here you are surrounded with some amazing panoramic views over Barcelona, including La Sagrada Familia.
Famous for its inventive, seasonal and crafted cocktail menu, Azimuth alos offers a great gastronomic selection. Divided into 'The Green Side' and 'The Classic Side', the food menu includes everything from Vegan cheese platter and Vegan pizza, to 100% Acorn fed iberian ham and Selection of smoked fish.
Open to all for dinner and drinks most nights of the week, this sophisticated and low-key rooftop is a great option for stylish and elevated evenings above Barcelona.
AZIMUTH
Gran Via de les Corts Catalanes, 619, 621, 08007 Barcelona
Vegetarian & Classic tapas
Tapas: ~€18
3.

La Terraza BCN Urban Club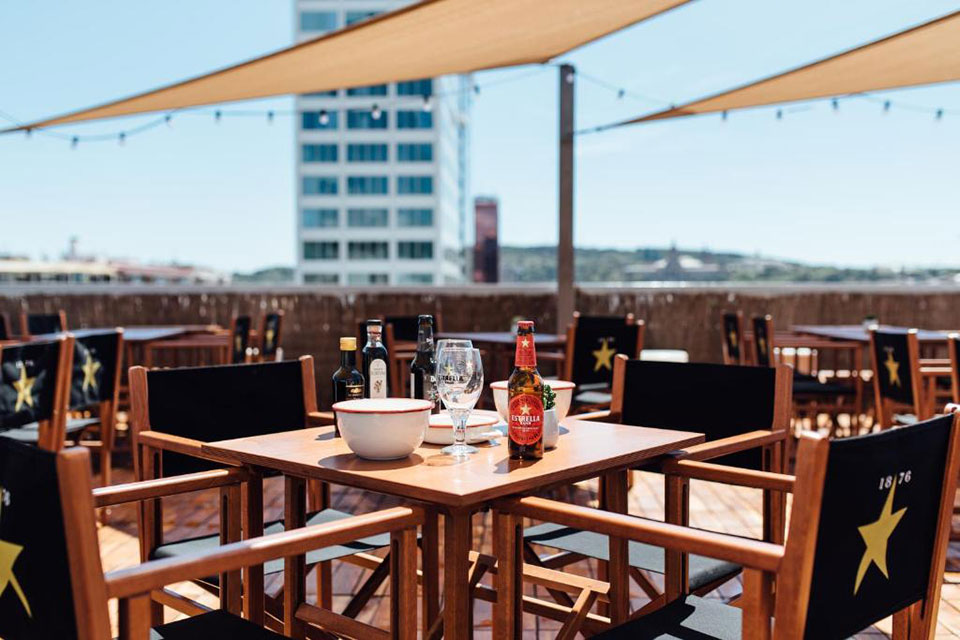 La Terraza BCN Urban Club | Photo: https://expohotelbarcelona.expohotels.com/
The urban Expo Hotel Barcelona, close to Plaça d'Espanya, offers a charming and seasonal rooftop terrace, branded as one of the best kept secrets in the city, and perfect for relaxing hours high above BCN.
Part of the rooftop is an exclusive pool terrace for guests staying at the hotel, but the major section is devoted to the trendy La Terraza BCN Urban Club, open to all from May to October.
Mixing comfy lounge spots with dining tables, and surrounded with panoramic views over the skyline and Montjuïc, this is both a Barcelona rooftop restaurant and a bar.
Chill-out with some cocktails or beers, or enjoy a full lunch or dinner from the pub-ish food menu, including a wide selection of gourmet burgers, as well as shareable bites, salads and desserts.
LA TERRAZA BCN URBAN CLUB
C/ de Mallorca, 1, 08014 Barcelona
Burgers, salads & shareables
Burger: ~€11
4.

La Terraza del Claris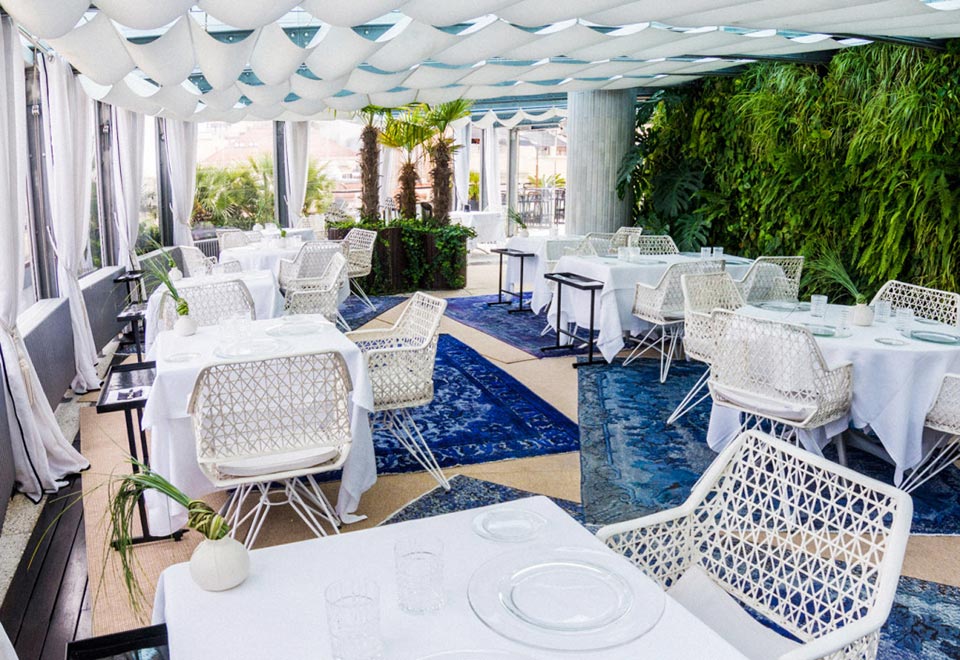 La Terraza del Claris rooftop restaurant Barcelona | Photo: www.hotelclaris.com/
Found at Claris Hotel & Spa, La Terraza del Claris is a rooftop restaurant run by Michelin-starred chef Aurelio Morales, offering innovative Mediterranean cuisine.
Elegant, discreet and intimate in setting and atmosphere, the food is served as lunch, tapas, à la carte and tasting menu. If you are not that hungry, you can just enjoy something from the extensive cocktail menu created by prestigious mixologist Daniel Madeddu.
La Terraza del Claris rooftop restaurant is open both summer and winter, thanks to glass walls closing of the restaurant during the colder months.
LA TERRAZA DEL CLARIS
Carrer de Pau Claris, 150, Eixample, Barcelona, 08009
Mediterranean
Tasting menu: €75
5.

Mood Rooftop Bar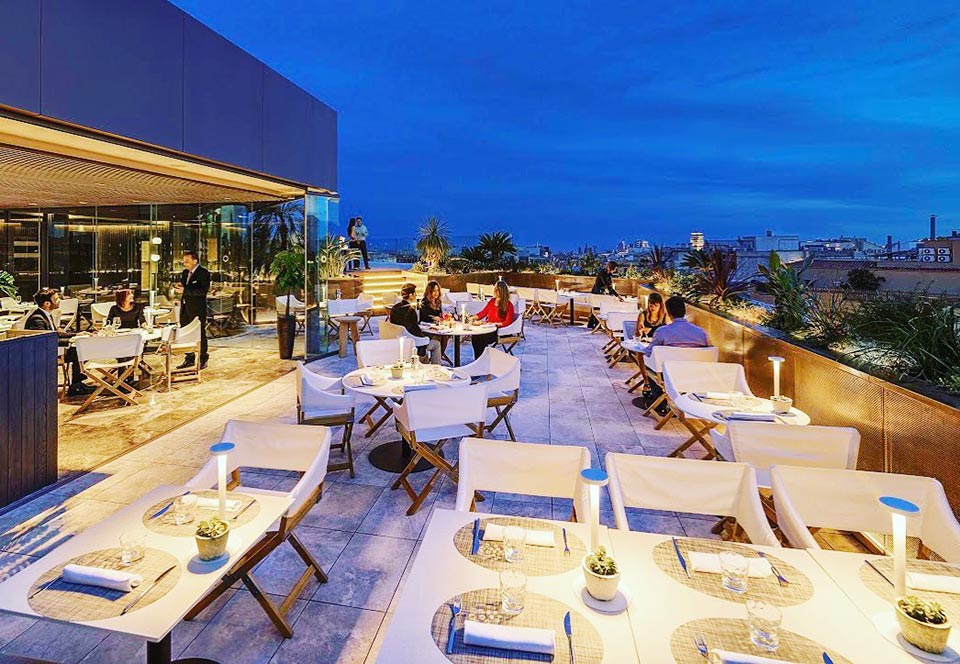 Mood rooftop restaurant Barcelona | Photo: www.h10hotels.com/
While the name says very much rooftop bar, Mood is actually divided into both bar and rooftop restaurant. And the restaurant is divided into interior dining room and a fantastic outdoor rooftop terrace, where you can enjoy beautiful views reaching La Pedrera, the cathedral, Montjuïc and the Mediterranean.
Found on the 9th floor of hotel The One Barcelona, the stylish restaurant is available both day and night during the warmer season, serving fresh Mediterranean cuisine created by Chef Miguel Muñoz. Presented as small plates perfect for sharing, there is everything from ceviches, tataki and oysters to grilled fish and skewers prepared in the Josper oven.
Sophisticated and modern in style and setting, but still with a relaxing and friendly atmosphere, Mood Rooftop Bar is a Barcelona rooftop restaurant well worth exploring.
MOOD
Carrer de Provença, 277, 08037 Barcelona
Mediterranean
Main: ~€25
6.

La Dolce Vitae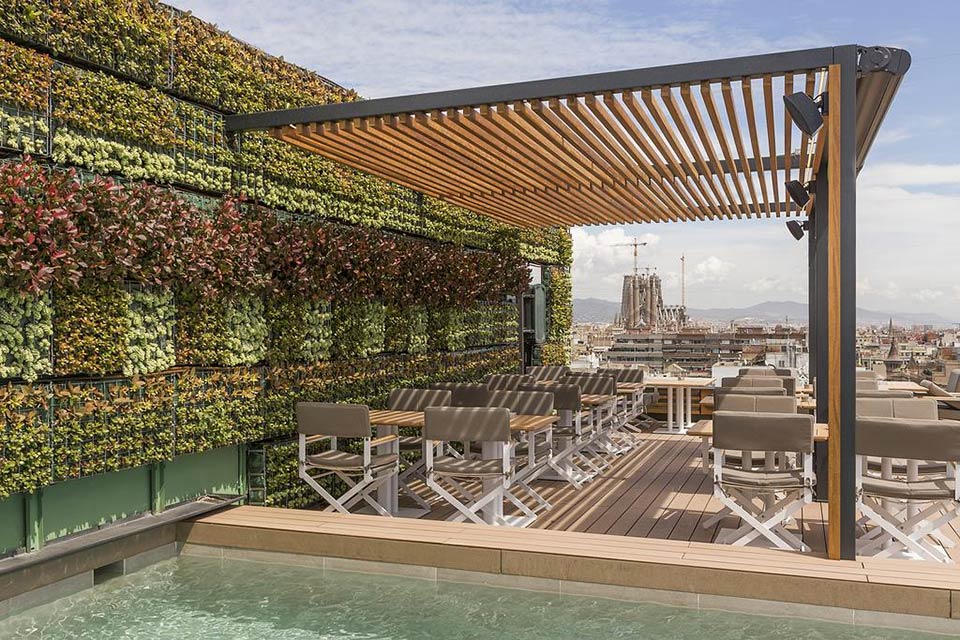 La Dolce Vitae rooftop restaurant Barcelona | Photo: https://majestichotelgroup.com/
Perched on top of the posh and elegant 5-star Majestic Hotel & Spa Barcelona, La Dolce Vitae really invites you to enjoy the good life.
Recently renovated, the wooden decked and bright rooftop terreace is just about as beautiful as the view, which is 360-degree over what feels like all of Barcelona, including la Sagrada Familia and Montjuic.
A fantastic rooftop for fine cocktails and sunset sessions with internationl DJs, but also one of the best Barcelona rooftop restaurants, thanks to consultant Michelin-star chef Nandu Jubany and his food menu. From Iberic Ham and pasta to Beef Burger, Veal Fillet Mignon and Salmon "a la Plancha", you can expect tastes of top class.
LA DOLCE VITAE
Passeig de Gràcia, 68-70, Eixample, Barcelona, 08007
Mediterranean
Main: ~€25
7.

The Rooftop at Serras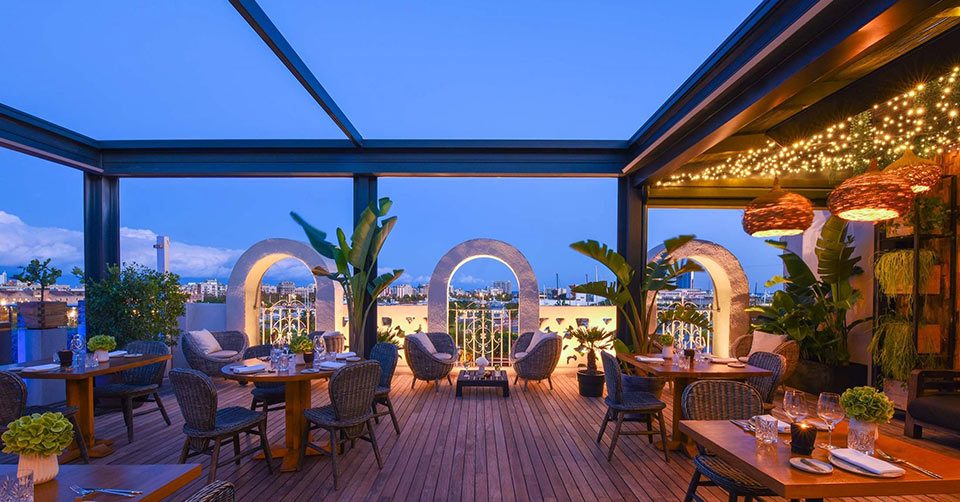 The Rooftop at Serras rooftop restaurant Barcelona | Photo: https://serrashotel.com/
On the sixth floor of the elegant 5-star Hotel The Serras you find a beautiful rooftop restaurant, with spectacular views over the Marina Port Vell, Barceloneta, the traditional fishing quarter and beyond to the Mediterranean.
Sharing space with the hotel´s rooftop pool, the intimate and informal restaurant terrace comes with a mix of stylish dining tables and comfy lounge sofas.
Here you can indulge in fresh, seasonal and traditional Catalan cuisine, created by Michelin-starred Chef Marc Gascons and available as both lunch and dinner.
Complementing the food is an impressive wine list, and there is also a coktail bar offering mixology coktails.
THE ROOFTOP AT SERRAS
Passeig de Colom, 9, 08002 Barcelona
Catalan
Main: ~€25
8.

173 Rooftop Terrace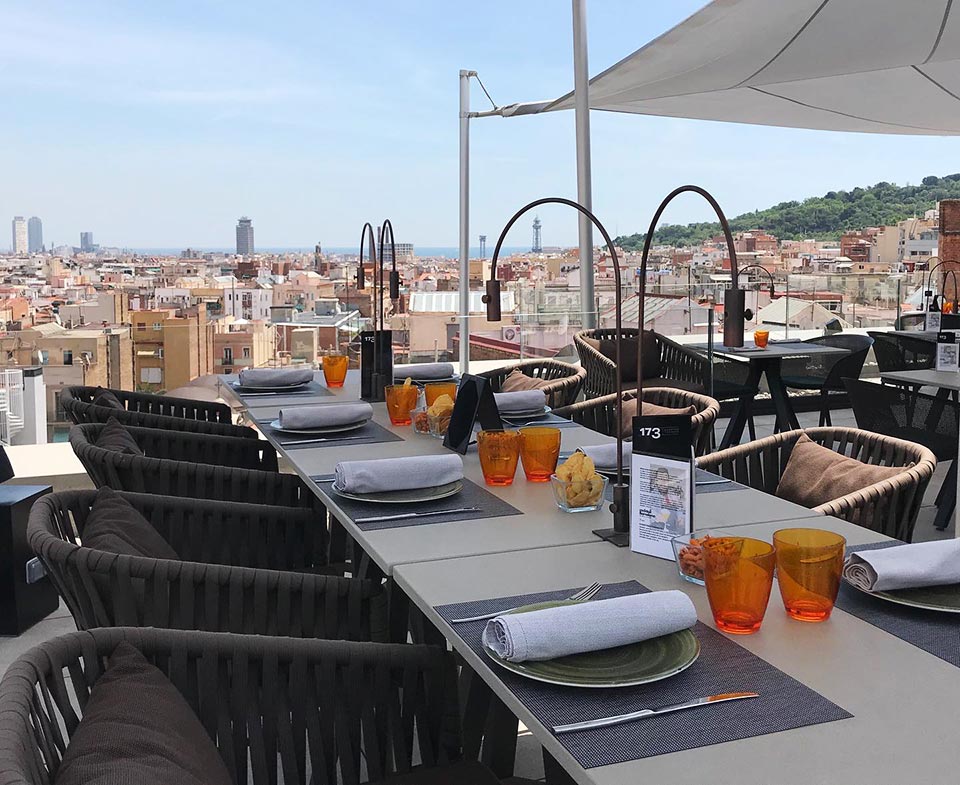 173 rooftop restaurant Barcelona | Photo: https://crowneplazabarcelona.com/
Namned after its altitude above sea level, the 173 Rooftop Terrace is found on top of the excellent hotel InterContinental Barcelona in Montjuïc.
From the charming, stylish and spacious terrace you get an amazing 360-degree view over Barcelona, and you can see everything from the Torre de Collserola and the Tibidabo to the Montjuïc cable car, the Sagrada Familia, Plaza España and the Palacio Nacional.
Equipped with both a lounge and a rooftop restaurant area, the 173 Rooftop Terrace menu includes authentic Mediterranean flavours, from tapas to grill, served as lunch, afternoon á la carte and the nightly 'Montjuïc Flavours' and 'Tapas Experience for two'. To go with the food, there is a carefully selected drink menu, including classic and signature cocktail creations and a wide array of Gin.
173 ROOFTOP TERRACE
Passeig de Gràcia, 68-70, Eixample, Barcelona, 08007
Mediterranean
Main: ~€22
9.

Rooftop at Arenas de Barcelona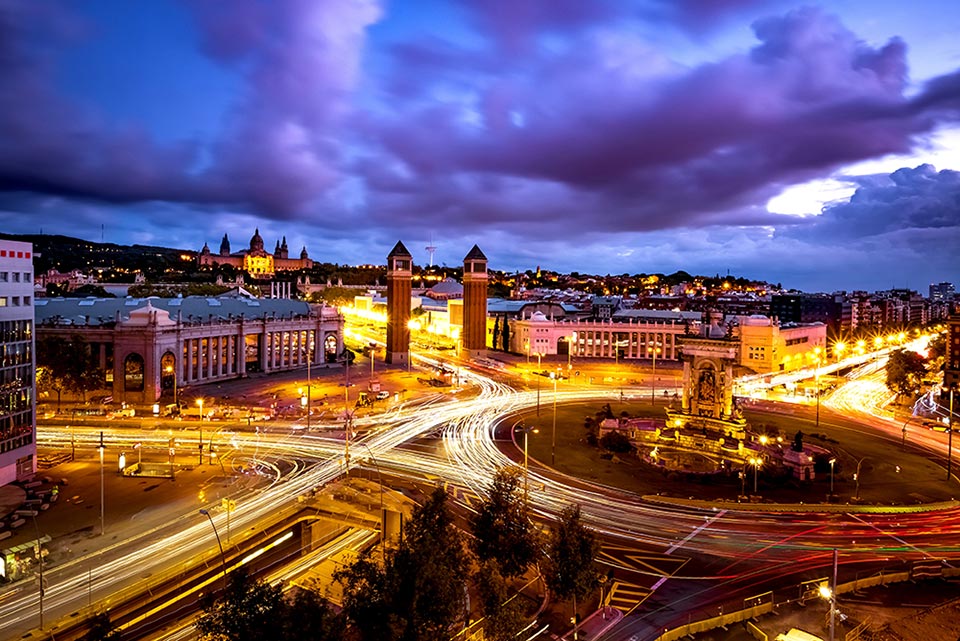 Arenas de Barcelona rooftop restaurant Barcelona | Photo: www.arenasdebarcelona.com/
In the mood for eating with some great Barcelona views, but not sure what kind of food you are craving? Then this is this is a great option for you!
Arenas de Barcelona Shopping Center is an iconic building located in the center of Barcelona, with an impressive rooftop where you can enjoy 360º panoramic views of city.
The rooftop has no less than 7 restaurants with different gastronomic offers: Mediterranean cuisine, paellas, tapas, grilled meat, fresh fish, Asian food, Italian restaurants, or even cocktails.
You cannot leave the rooftop without taking the iconic photo with Plaza de España, the Venetian Towers and the National Museum of Art (MNAC) in the background.
If you're looking for a 360º experience with close to endless options of food, Arenas de Barcelona is the place to go.
ROOFTOP AT ARENAS DE BARCELONA
Gran Via de les Corts Catalanes, 373-385, 08015 Barcelona
From Catalan to Japanese