Are you looking for a sunny roof terrace by the ocean or just a lively rooftop bar in the middle of the city? Spain is a great country for both kinds of rooftop bars.
Most rooftop bars in Spain are located in the bigger cities like Madrid, Barcelona, Sevilla etc., but you can also find some smaller more cozy rooftops by the Sunshine Coast (Costa del Sol).
The warm Mediterranean climate makes Spain a great rooftop destination all year round. Enjoy cava, beer and tapas to the views of this beautiful country
Here is the ultimate list of the best rooftop bars in Spain, made by the world's leading experts on rooftop bars, The Rooftop Guide
1.

Terrat at Mandarin Oriental

/ Barcelona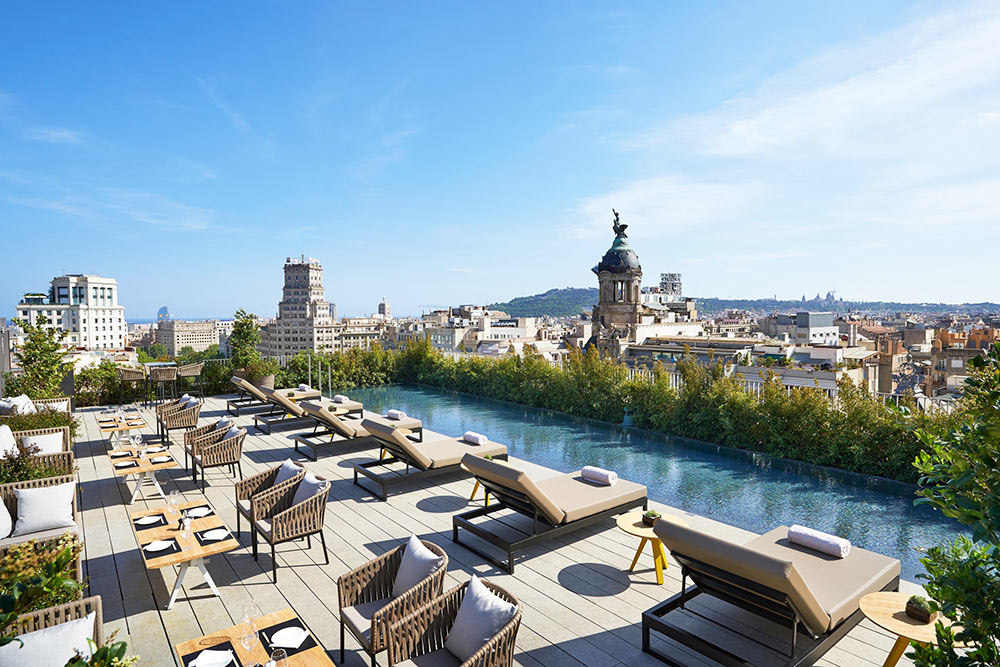 Terrat - Photo: https://www.mandarinoriental.com
Situated atop the 5-star Mandarin Oriental hotel, Terrat is exactly what you expect it to be - an upscale rooftop bar to spend quality time at while in Barcelona.
With a perfectly designed interior, the Terrat combines a 360-degree of Spain's old city, while alluring visitors to enjoy a drink at the stylish and comfy lounge chairs.
The rooftop's sophisticated vibe shines through the service, the menu, and is topped up with an extravagant pool experience right next to the bar. The pool, however, is only accessible for guests of the hotel.
The rooftop's restaurant offers an exotic Peruvian menu, all prepped by Chef Gastón Acurio - a Michlen star and one of the world's most acclaimed culinary masters. Stop for a classy Spanish terrace experience with a signature cocktail at hand, and the sunset in your eyes.
TERRAT
Passeig de Gràcia, 38-40, 08007 Barcelona
2.

Maymanta

/ Ibiza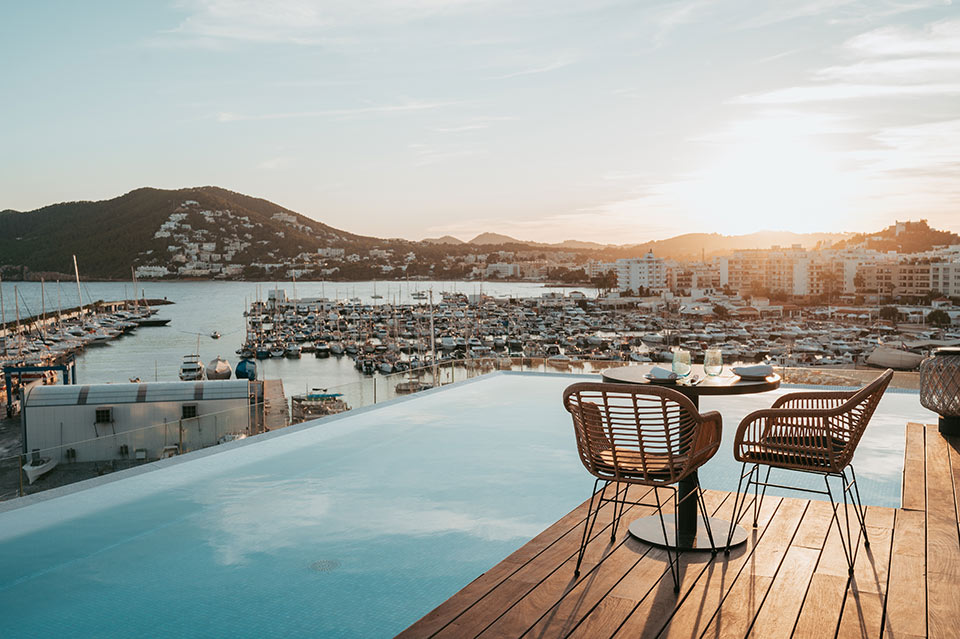 Maymanta - Photo: https://www.mandarinoriental.com
With panoramic views that are highly Mediterranean, the Maymanta rooftop offers a gastronomic journey going in another direction.
Up here, Peruvian chef Omar Malpartida let visitors travel to his native country, passing by the Amazon, the Andes and the Pacific, with a menu filled with surprises and created to share.
Perched on top of the luxurious Aguas de Ibiza Grand Luxe Hotel, the bright and trendy Maymanta terrace share space with the hotel's rooftop infinity pool, creating a natural and chic setting.
Mixing comfy lounge furniture and dining tables with boat rope pergolas and Huguet ceramics floor, surrounded with amazing vews over the ocean and the Ibiza coastline, this is a prime spot for days and nights above Ibiza.
Apart from amazing food, the Maymanta Pisco Bar also offers alchemist pisco cocktails, as well as more classics, and a wine menu chosen by a top class sommelier.
MAYMANTA
Salvador Camacho, 9, 07840 Santa Eularia des Riu, Ibiza
3.

Almaq Rooftop

/ Palma de Mallorca
Almaq Rooftop - Photo: www.esprincep.com/
Almaq Rooftop is truly a 7th heaven, perched on top of the fantastic Hotel Es Princep in Palma de Mallorca.
With the Mediterranean Sea and Palma's historic old town on a beautiful display, the rooftop terrace comes with a natural, lush and urban in setting. Tranquil and peaceful during the day, charged with a buzzy, lively atmosphere in the evenings.
The Almaq rooftop menu includes craft cocktails by the very talented mixologists, along with a nice selection of wines and spirits.
Food is served as both snacks perfect to combine with the drinks, or more filling and classic dishes like burgers and healthy salads.
Apart from a fantastic rooftop bar, the beautiful terrace also holds plenty of comfy sun loungers and a stylish rooftop swimming pool, where guests staying at the hotel can keep cool under the Mallorca sun.
ALMAQ ROOFTOP
Carrer Bala Roja, 1, 07001 Palma de Mallorca, Illes Balears
4.

Epic Infinity Lounge at Bless Hotel

/ Ibiza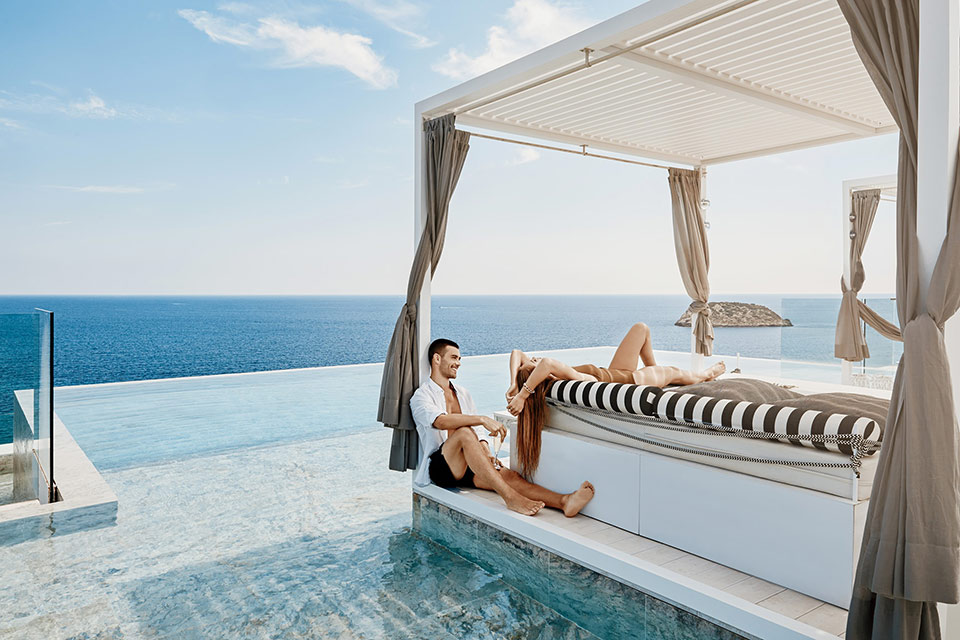 Epic Infinity Lounge - Photo: www.blesscollectionhotels.com/
The Epic Infinity Lounge is a luxurios rooftop sanctuary, found on top of the 5-star Bless Hotel Ibiza.
Open all day long, here you find comfy lounge spots and tables, as well as day beds by the amazing infinity pool, connecting the terrace with the surrounding Mediterranean.
Offering a great selection of food and drinks, the Epic serves a bites menu packed with flavours of Asia and Latin America, with a hand-picked selection of ceviches, salads, dim sum, chirashis, sashimis and tacos.
The drink selection includes crafted cocktails, both Epic signatures and classics, as well as Sangria, Micheladas, Vermouth, Sake, Pisco and a large selection of wines.
A venue easy to spend hour upon hour, just getting lost among the best beats and amazing views.
EPIC INFINITY LOUNGE
Cala Nova - Es Canar, 07849 Es Cana, Ibiza
5.

360º Rooftop Bar at Riu Plaza Espana

/ Madrid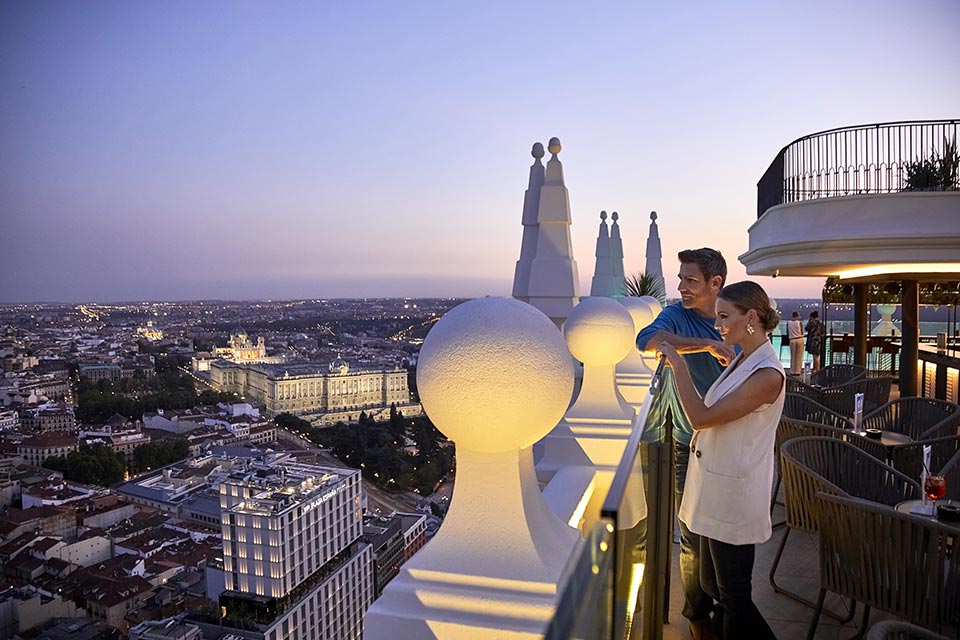 360º Rooftop Bar - Photo: www.riu.com/
On the 26th and 27th floor of the newly renovated Hotel Riu Plaza España, you find both 360º Rooftop Bar and the sky bar 'De Madrid al Cielo'.
While the later is a swanky, indoor sky bar/nightclub, the 360º Rooftop Bar is the highest open-air spot in Madrid to enjoy drinks and views.
And by views, we really mean VIEWS. The panoramics over Madrid are simply amazing, and as the name might tell you, in all and every direction.
The spacious terrace comes with a very modern and stylish decor. It is also equipped with a very cool glass walkway, which lets you take a stroll on air. And above Madrid.
With a rooftop menu serving all you could wish in terms of drinks, this is a great spot for a coffee during daytime, a cocktail to the magical sunset or some late night drinks with friends.
360º ROOFTOP BAR
Calle Gran Vía, 84, 28013 Madrid
6.

Azotea del Circulo

/ Madrid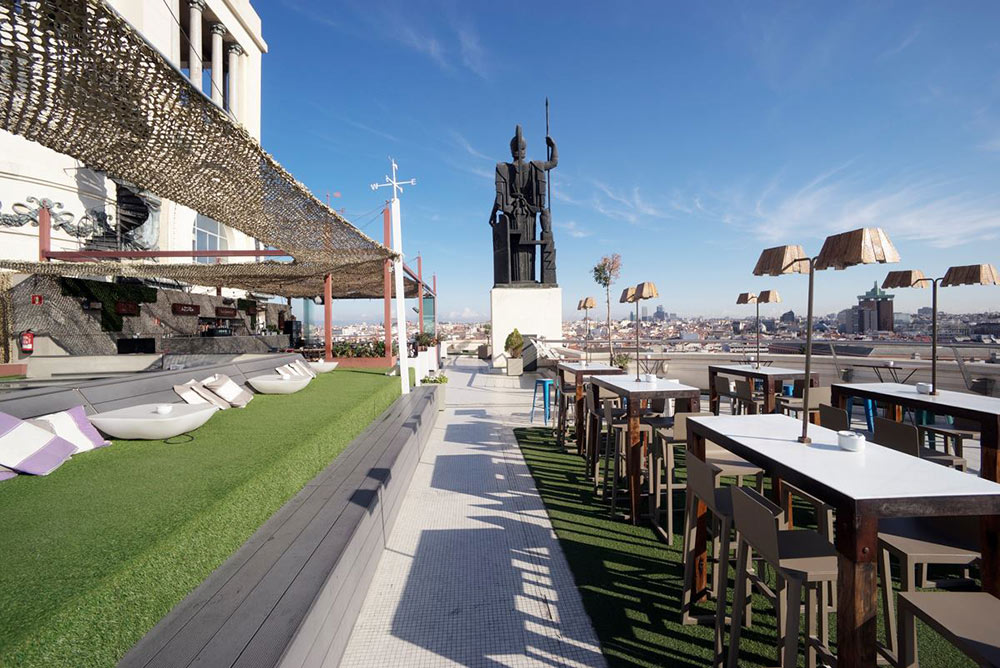 Azotea del Circulo - Photo: https://www.azoteadelcirculo.com/
If you stumble upon a hyped group of partying people nearby Círculo de Bellas Artes, they are likely going at Azotea del Circulo - Madrid's favorite rooftop venue.
Leader in all rooftop guides, and local's favorite spot to enjoy tapas and a weekend chilled-out brunch, Azotea is perhaps the rooftop bar with the best view in the Spanish capital.
With reasonable price list and accessible location, is hard not to get tempted to stop by for a cold beer or a glass of sangria. Serving Spanish and Mediterranean food throughout the day, Azotea del Circulo transforms into a classy bar with a robust of alcohol beverages.
Book your visit, and save a spot at the stylish lounge area at the large terrace and sink in the surroundings. It's worth every minute.
AZOTEA DEL CIRCULO
Calle del Marqués de Casa Riera, 2, 28014 Madrid
7.

Terracotta at Hotel Antigua Palma

/ Palma de Mallorca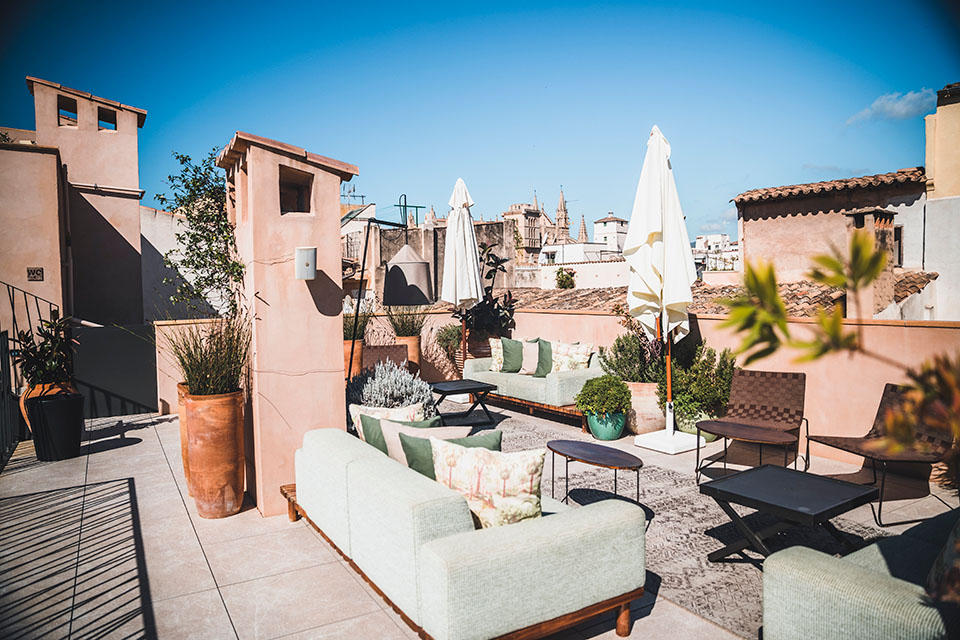 Terracotta at Hotel Antigua Palma - Photo: www.hotelantiguapalma.com/
The beautiful Hotel Antigua Palma is an oasis in the historic center of Palma, set in a completely renovated noble house from the 17th century.
Authentic and beautiful all around, the prime spot of the hotel is the top floor rooftop terrace, an 180 sqm open space, surrounded by lovely views over Palma's historic center and Sant Francesc.
Divided into three main areas, the terrace holds a rooftop bar and restaurant called Terracotta, a chillout zone full of plants, sofas, tables and a brazier, and a plunge pool with loungers made for some truly elevated relaxation.
The pool area at the top is exclusive for guests staying at the hotel, but everyone are welcome to visit the Terracotta rooftop bar and restaurant, offering a gastronomic selection adapted to any time of the day, as well as a fine array of wines, vermouths and cocktails.
TERRACOTTA AT HOTEL ANTIGUA
Carrer del Sol, 1, 07001 Palma, Illes Balears
8.

ATICO at AC Hotel Malaga Palacio

/ Malaga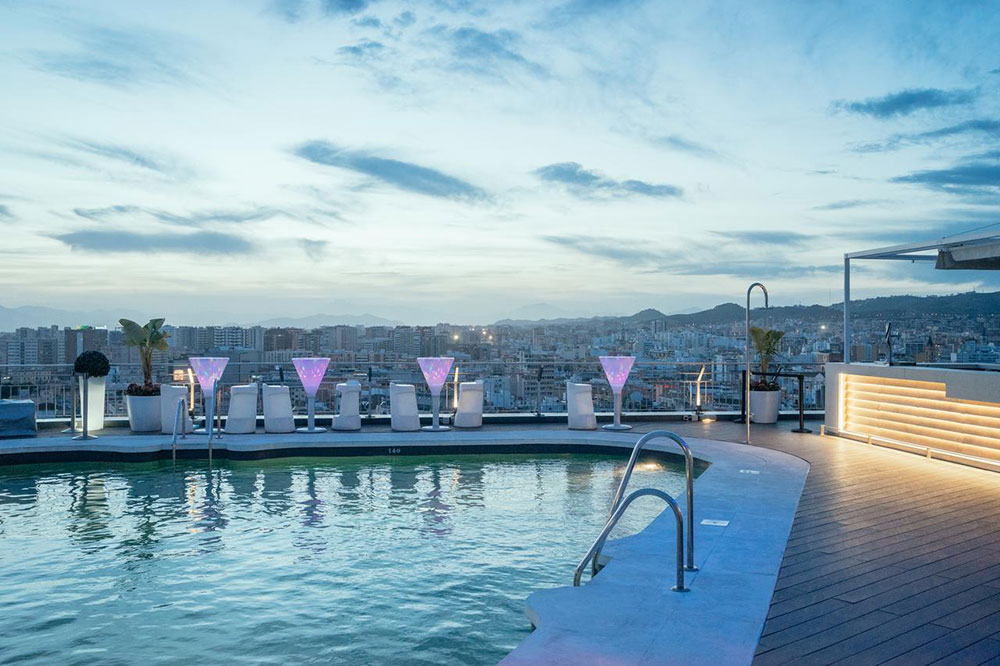 ATICO - Photo: http://www.marriott.com
Despite being one of the oldest rooftop bars in Malaga, ATICO Bar and Restaurant at AC Hotel Malaga Palacio still holds down to its fame. Stylish and sleek, this rooftop bar is the perfect spot to nail a business deal. Or spend quality time on a romantic date.
The fantastic terrace is located at one of the most upscale hotels in the city of Malaga. Standing tall 15 floors above ground, AC Hotel has a view to remember. Overlooking the harbor and the Mediterranean Sea, ATICO will serve you premium cocktails, fine wines, aperitifs of the highest class, complemented by the sophisticated atmosphere and the live music and regular flamenco shows.
With Mediterranean-inspired flavors, the restaurant's menu dishes have a signature twist that is a guarantee for a gastronomic delight. AC Hotel and its rooftop become an annual celebrity hub during the famous Spanish Film Festival.
Be sure to book a spot prior to your visit and dress to impress.
ATICO
Calle Cortina del Muelle, 1, 29015 Málaga
9.

La Dolce Vitae at Majestic Hotel

/ Barcelona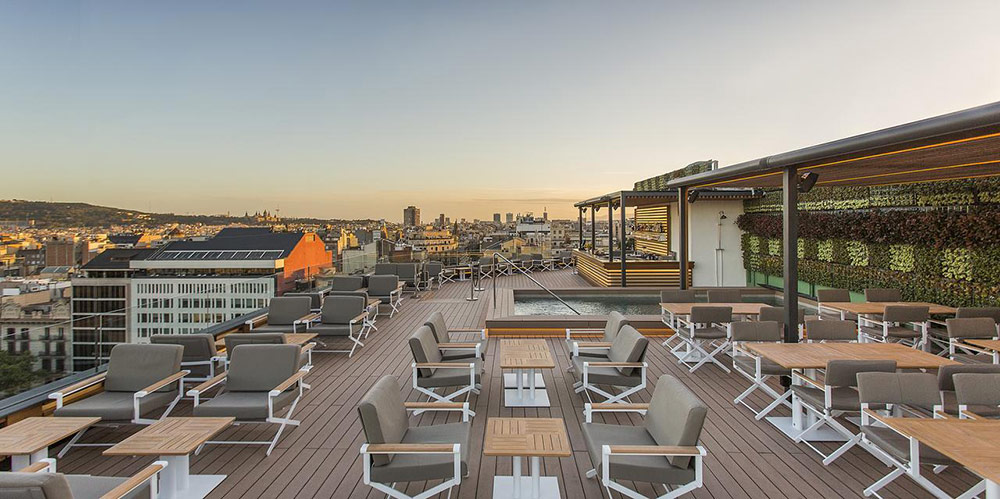 La Dolce Vitae - Photo: https://majestichotelgroup.com
Should you stumble upon a rooftop party in Barcelona, we are pretty sure it is one that is being held in La Dolce Vitae. Just as the name suggests, this rooftop delight is not one to miss.
Located atop the Majestic Hotel Barcelona, it breathes quality throughout. With a bird-eye view of la Sagrada Familia and Montjuic, you can feel the real Barcelona vibe.
To top that off, you can enjoy a relaxing day nearby the rooftop pool. Alongside, guests are welcome to sit and enjoy a dish prepared by Michelin-star chef, while indulging in a glass of fine beverage from their premium list. If you're wondering what to taste, Iberic ham as an addition to the beef burger is always a good idea. On the pricier side, you can get a cocktail for about €18.
Check out the rooftop's social media, as it often gets closed for private parties. Otherwise just show up, as the rooftop has a no-reservation policy. Just remember to dress appropriately. You can check out their "Majestic Sunset Sessions" with international DJs, or really, stop by anytime for a quick bite and a drink.
LA DOLCE VITAE
Passeig de Gràcia, 68-70, Eixample, Barcelona, 08007
10.

B-Heaven at Hotel Carmen

/ Granada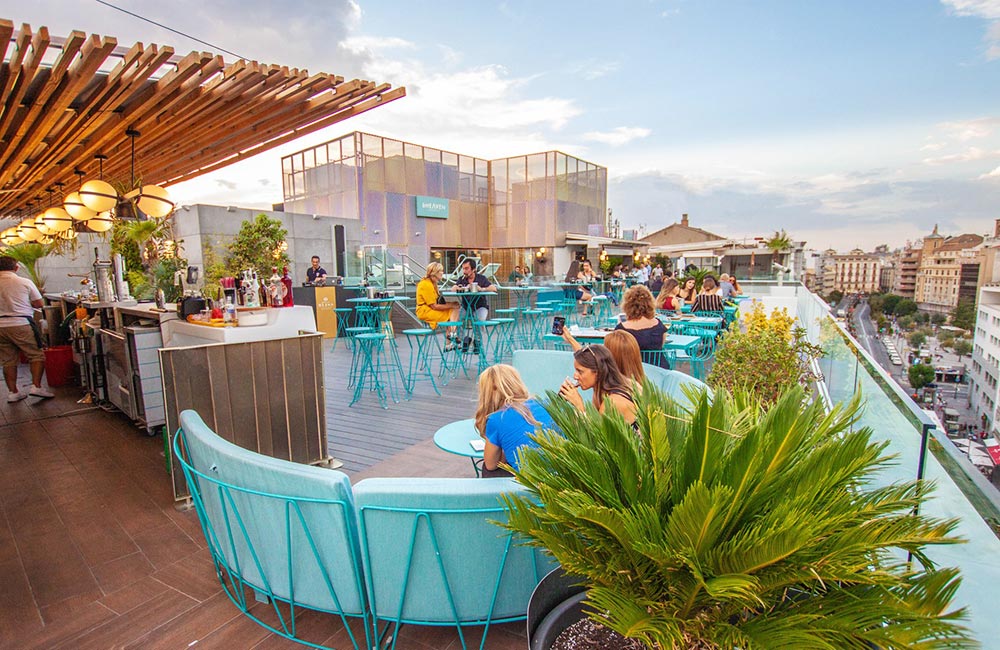 B-Heaven - Photo: https://www.barcelo.com
Stylish and sophisticated, the B-Heaven at Hotel Carmen is one of Granada's gems. With a 360-degree rooftop terrace, the Granada vista is a guarantee for a series of Instagram photos you can not not take.
Serving both snack bar and restaurant and cafe menus, the rooftop comes with an exclusive private terrace with a seasonal rooftop pool, only accessible to guests of the hotel.
The Spainsh rooftop oasis, situated at the heart of the town, features a large wooden deck with a minimal and sleek setting. Lounge sofas, dining furniture and plenty of greenery create a rooftop jungle vibes.
Try the fish and classic Andalusian dishes, or indulge in any of the snack bites, in combination with a handcrafted cocktail or a cold crafty beer. B-Heaven has a rich selection of Gin & Tonics, and plenty of delicious fruity juices, so everyone's taste will be taken care of.
Stop by at Friday for an "All Star Night" for a magic show, or try Saturday's "Showcooking" to witness the culinary mastery of the main Chef. Sundays are for brunch on the rooftop.
B-HEAVEN
Calle Acera del Darro, 62, 18006 Granada
11.

Rooftop Bar & Restaurant at Robinson Club Jandia Playa

/ Canary Islands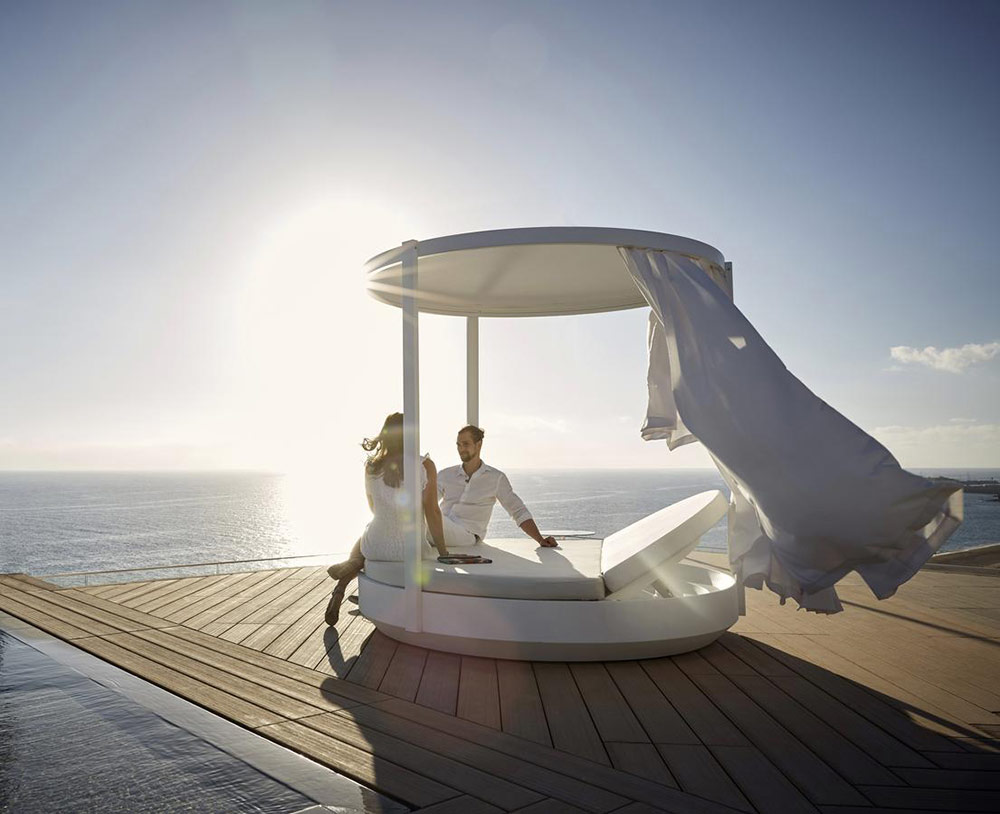 Robinson Club Jandia Playa - Photo: https://www.robinson.com
About 2 kilometers from Morro Jable, located in the heart of the southern part of Fuertevenetura, Robinson Club Jania Playa welcomes adult guests only.
To truly experience the magic of the Canary Islands, simply climb up to the 10th floor, where a rooftop excellence opens the doors to a stunning view over Morro Jable and the Atlantic Ocean from the edge of the rooftop infinity pool.
The Robinson Club is one of the few spots where you can both sunbathe and party. With a comfy daybed setting near the pool, you are guaranteed to get that tan you've been dreaming of the whole winter.
Sophisticated and chic, it transfers into a top-party destination, accompanied by live DJs and a selection of tapas.
ROOFTOP AT ROBINSON CLUB JANDIA PLAYA
Av. del Saladar, 6, 35626 Morro Jable, Las Palmas, Fuerteventura
12.

Picos Pardos Sky Lounge at Bless Hotel

/ Madrid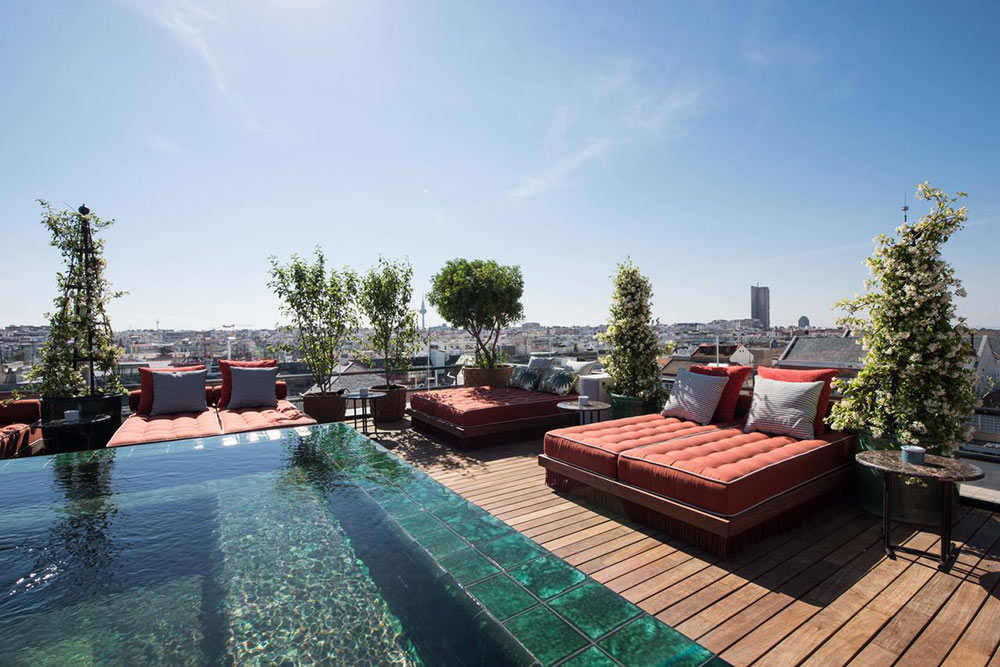 Picos Pardos Sky Lounge - Photo: www.blesscollectionhotels.com
Picos Pardos Sky Lounge is a sky-high rooftop spot, located atop the Bless Hotel. Whilst the hotel building underneath still has its 19-th century vibes in the Salamanca district of Madrid, the rooftop bar atop is an instant teleport to another world.
An urban escape from the bustling streets below, eight floors up you can get a spectacular and panoramic view over Madrid, while sipping on a drink near the rooftop pool. The pool is open daily from 11am to 8pm, both available for guests of the hotel and outside visitors. Prior visiting, be sure to make a reservation for a sunbed.
Few meters from the pool, there is the Picos Pardos Sky Lounge bar, open to guests all year round. Premium drinks, craft cocktails and an excellent wine menu is just a small bit of what you get.
Try any of the snacks, crafted by 10-time Michelin-awarded chef Martin Berasategui, and dive into that cosmopolitan getaway.
PICOS PARDOS SKY LOUNGE
Calle de Velázquez, 62, 28001 Madrid