10 best rooftop bars in Europe
Published: February 6, 2020
10 amazing Europe rooftop bars you should visit in 2020
Stretching from the colder part of the Atlantic in the north, to the much more pleasant Mediterranean in the south, Europe is a diverse continent. It is also home to a range of the world's largest and most historic cities, offering many superb rooftop bars.
There aren't that many high-rise buildings and skyscrapers in Europe (compared to Asia and America), but still you can find some of the best rooftops in the world here. Much thanks to the great food.
Another thing that's fantastic about the best rooftop bars in Europe is that they are often open for lunch. Something that is more rare in other parts of the world. The lunch-hangout is often the best rooftop experience: more relaxed, and the view is usually better in daylight.
While Europe holds much more than 10 fantastic rooftop bars, this is our hot-list of the 10 best rooftop bars in Europe you should visit in 2020.
1.

Sky Bar at Grand Hotel Central

/ Barcelona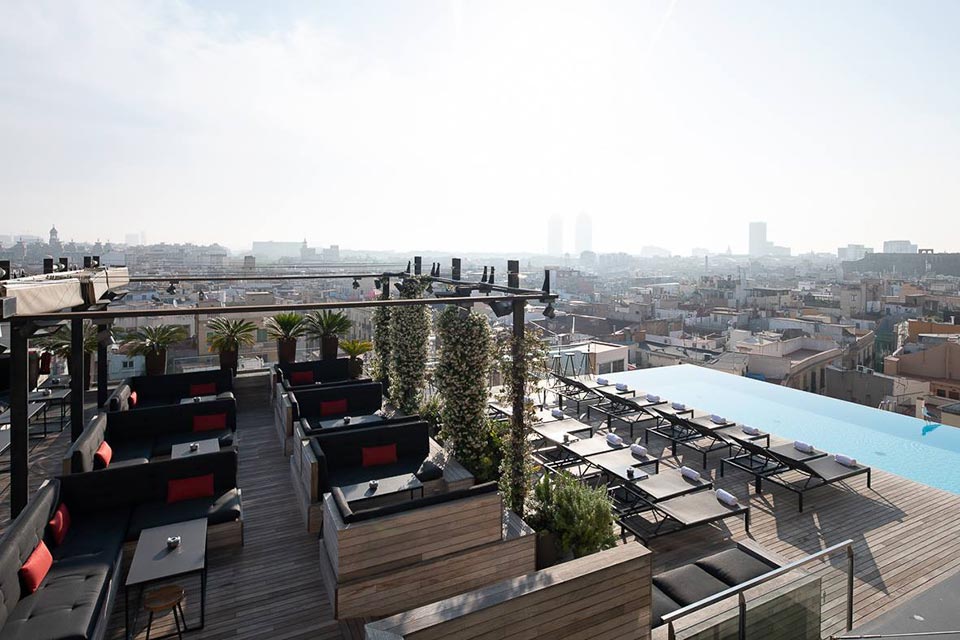 Sky Bar - Photo: www.grandhotelcentral.com/
Enjoy delicious drinks while taking in the entirety of Barcelona's skyline at the Sky Bar, a first-class destination located atop one of the city's best hotels, Grand Hotel Central.
With a fantastic rooftop pool, comfortable lounge area and world-class mixology, it's no wonder the Sky Bar is not only one of Barcelona's best bars, but also one of the best in Europe.
Quite an exclusive spot, and the rooftop pool is available only for hotel guests. Outside visitors can enter the lounge area or visit for poolside dinner after 8pm in summer, or for vermouth with views during winter weekends.
Open year long, the Sky bar isn't known only for its views, but also its fantastic team of mixologists and their extensive drink menu, which you're sure to enjoy.
SKY BAR
Vía Laietana, 30, Ciutat Vella, Barcelona
Daily for hotel guests / Public hours: April-Oct daily 8pm–1am, Nov-March weekends 12pm-6pm
2.

Vista Sky Bar at Hotel Mediterraneo Sorrento

/ Amalfi Coast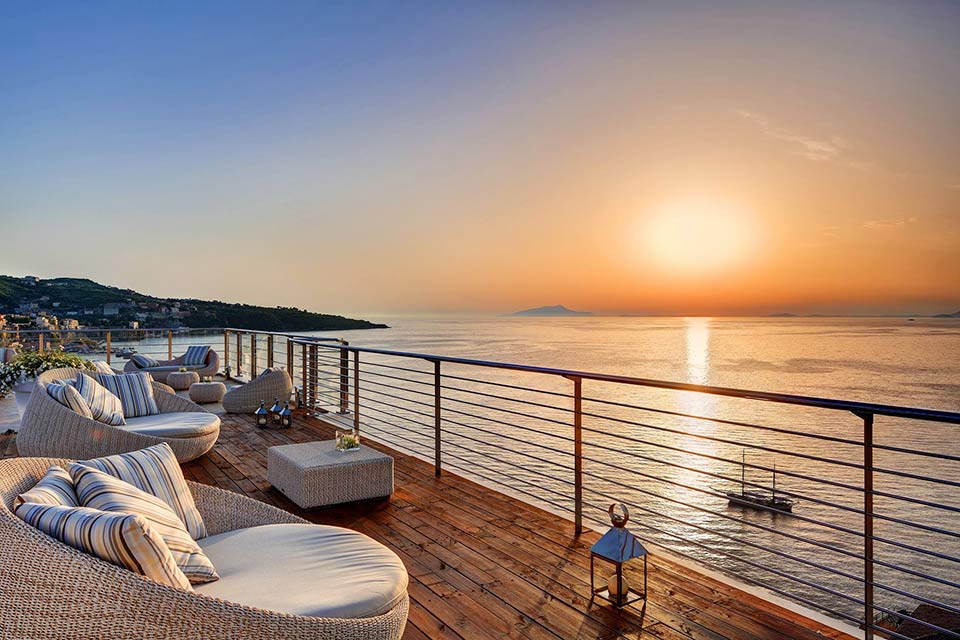 Vista Sky Bar - Photo: www.mediterraneosorrento.com/
Located just outside central Sorrento, Vista Sky bar offers jaw-dropping ocean views and a relaxing atmosphere that begs you to stay just a little while longer.
With live jazz and bossa nova music, comfortable lounge areas, a large drink selection that includes champagne and champagne based signature cocktails, you won't find a better spot to enjoy a drink while overlooking Naples Bay.
Available as a wedding or party venue, this rooftop bar has eclectic hours, so make sure to give them a call before visiting and maybe making a reservation in advance.
If you're hungry, the Vesuvio Roof Restaurant is right below and will provide you with delicious food and an unforgettable romantic atmosphere.
VISTA SKY BAR
Hotel Mediterraneo Sorrento, Corso Marion Crawford, 85, 80065 Sant'Agnello NA
June-September: Tue / Fri / Sun 7.30pm-11.30pm
3.

SE·STO on Arno

/ Florence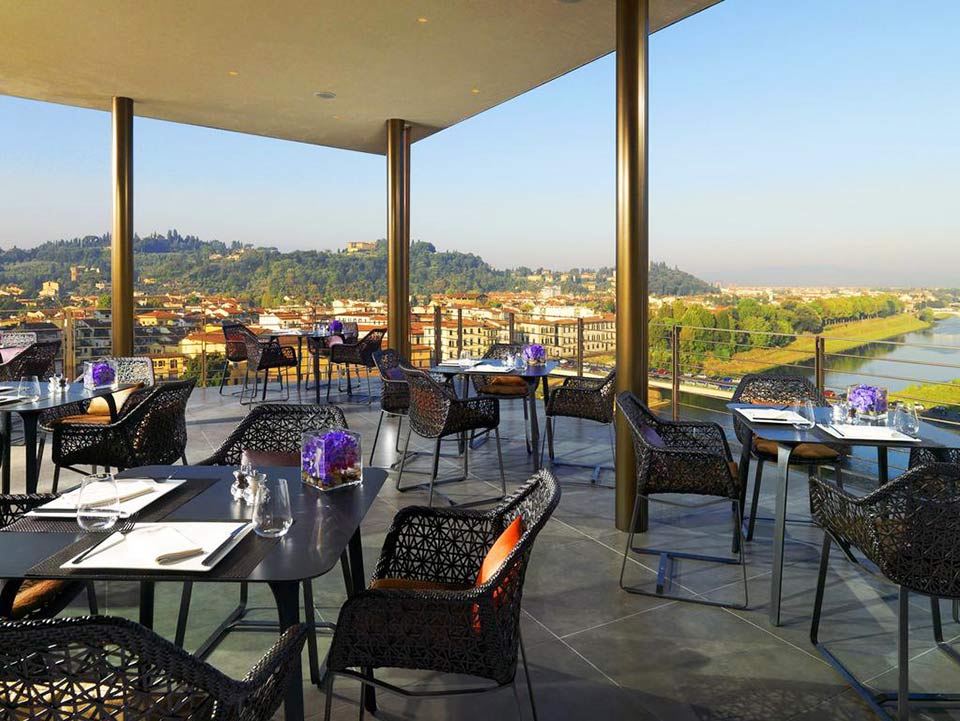 SE·STO on Arno - Photo: www.sestoonarno.com/
Perched on top of one of Florence's most luxurious hotels, The Westin Excelsior, this restaurant-bar combination is both cozy and high-end.
With magical views of the Arno river and the entirety of Florence, SE·STO offers innovative Tuscan cuisine for lunch and dinner.
The restaurant offers the classics, as well as exclusive Italian wines and signature cocktails made with local and fresh ingredients.
SE·STO is an ideal spot for both a relaxing and delicious lunch and a cozy yet memorable night out.
SE·STO
Piazza Ognissanti, 3, 6th floor The Westin Excelsior, Florence
Daily: 12pm-2am
4.

Rossio Gastrobar

/ Lisbon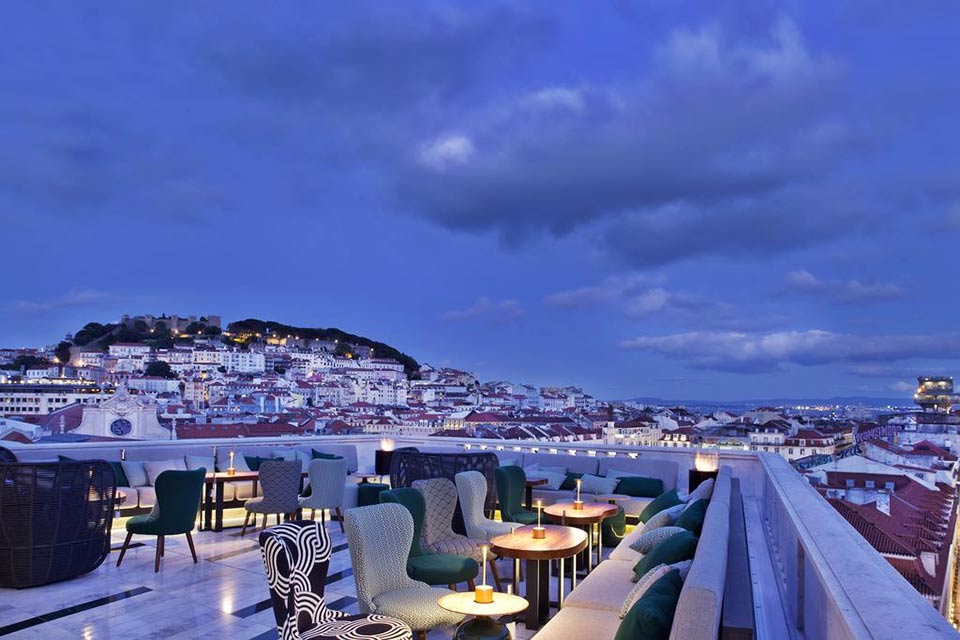 Rossio Gastrobar - Photo: www.altishotels.com/
Located at the Altis Avenida Hotel and overlooking Lisbon's famous Rossio Square, Rossio Gastrobar is a wonderful place for enjoying top-notch drinks and delicious food.
Known for its seasonal menu, the drinks and food offered in this gastro bar are always changing and are made with local and fresh ingredients, resulting in an unforgettable culinary experience.
With an Art Deco decor that still manages to be comfortable, you'll be able to kick back and relax while enjoying the views of Santa Justa, the Tagus River, and the Rua Agustina Arch.
The bar offers a comprehensive drink menu that covers all the basics, but for the adventurous, there's also a signature cocktail menu that brings together familiar tastes with a dash of the new.
Created by the Michelin star Chef, João Rodrigues, the food is some of the best you'll be able to find in Lisbon, which means you can't leave without having a bite or two.
Live DJ shows are available from Thursday to Saturdays, giving the terrace a lively, night-club like atmosphere that brings in local and foreign visitors alike.
ROSSIO GASTROBAR
Altis Avenida Hotel, 120 Rua 1º Dezembro, Lisbon
Tue-Fri: 5pm-1am / Sat: 12.30pm-1am
5.

Sushisamba

/ London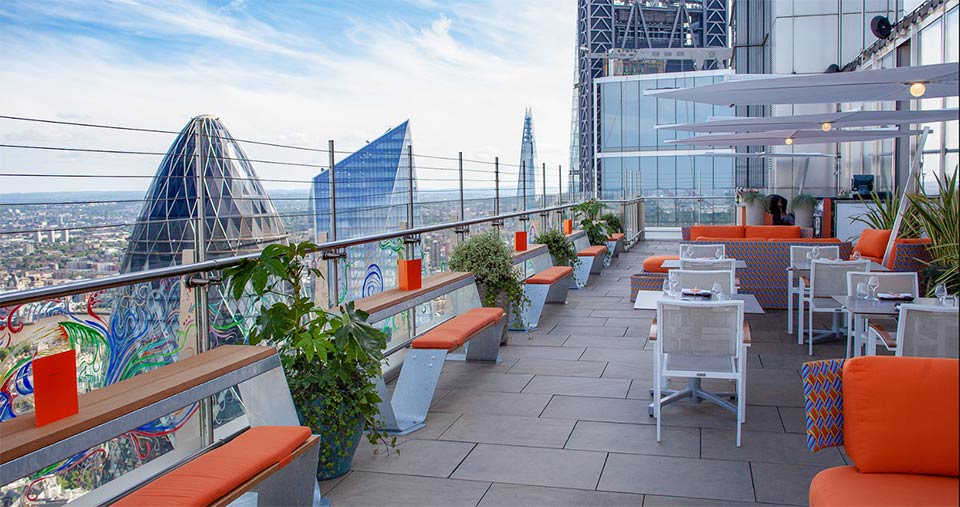 Sushisamba - Photo: www.sushisamba.com/
Located in one of London's tallest buildings, Sushisamba is a fun, stylish and creative restaurant bar that mixes tastes from Asia, Brazil, and Peru.
With fantastic service, delicious and creative food, and one of the best sake selections in the entire city, Sushisamba has more to offer than just the views, but make no mistake; you can see most of London's landmarks from this bar.
Open year-round, weather permitting, Sushisamba has two outdoor terraces. A small and cozy one with a slight backyard feel to it, and a larger one with stunning views over the city skyline.
Offering a vibrant atmosphere and the highest outdoor dining terraces in Europe, Sushisamba is a must-visit for rooftop bar lovers and foodies alike.
SUSHISAMBA
Heron Tower, 110 Bishopsgate, London
Sun-Tue: 11.30am–1.30am / Wed-Sat: 11.30am-2am
6.

Azotea del Círculo

/ Madrid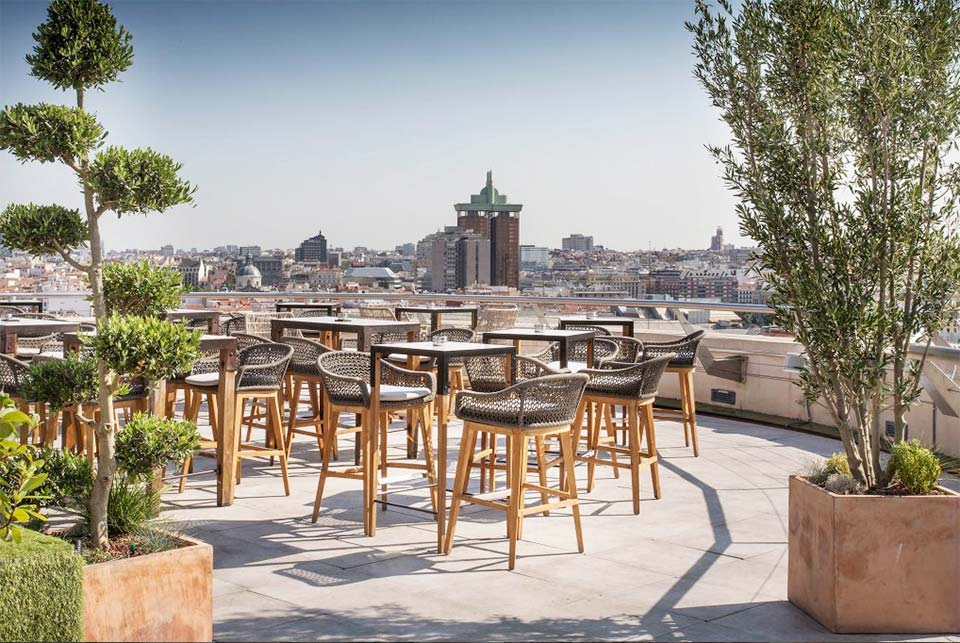 Azotea del Círculo - Photo: www.azoteadelcirculo.com/
Hands down, one of the best rooftop bars in Spain, Azotea del Círculo boasts an unbeatable location, generous opening hours, and jaw-dropping views of the Madrid skyline.
Reasonably priced, Azotea offers Mediterranean and Spanish food for breakfast, lunch, and dinner, as well as a special weekend brunch that's famous in the city.
European beers, sangría, wine, champagne, and cocktails are all readily available, and the stylish loungers and bar stools are the best seats to enjoy them.
There's a small 4€ fee to take the elevator up top, which is surprisingly low, considering the views alone are worth the admission.
AZOTEA
Calle del Marqués de Casa Riera, 2, 28014 Madrid
Mon–Fry: 9am–midnight / Sat-Sun: 11am-midnight
7.

High Note SkyBar

/ Budapest
High Note SkyBar - Photo: https://highnoteskybar.hu/
Perched on top of the fantastic Aria Hotel Budapest, the High Note Skybar offers creative cocktails, tasty bites and lovely views all day and all year round.
While the panormic 360 views over Budapest skyline are fantastic, the coolest 'view-feature' is probably that the majestic St. Stephen's Basilica is within arms reach.
Spacious and open-air rooftop lounge in summer, cosy and charming winter-wonderland during the colder months, High Note is definitely a year round destination.
You can visit the rooftop bar for daily lunch, but the best bet is probably the later hours, preferably combined with a magical sunset. Then you can indulge in creative and top class cocktails and tasty bites, all served in a beautiful and very stylish setting.
HIGH NOTE SKYBAR
Aria Hotel Budapest, Hercegprímás 5, 1051 Budapest
Daily: 12am-midnight
8.

TaKeT

/ Gothenburg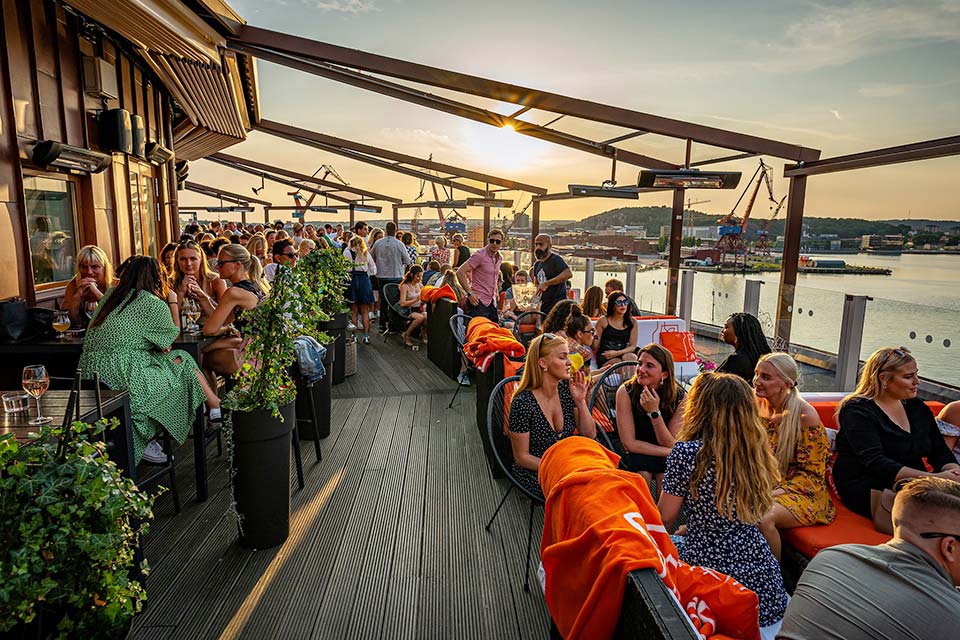 TaKeT - Photo: http://ogbg.se/
One of the newest rooftop bars in the city, TaKeT (The Roof), offers beautiful views of the Göta Älv river and the dockyards, as well as a variety of events that make it one of Gothenburg's most popular destinations.
With a friendly and relaxing atmosphere, TaKeT is often the chosen venue for live DJs, yoga classes, brewery takeovers, art exhibitions, and more, meaning there's always something to be found when visiting!
Equipped with comfortable lounge areas, as well as the more traditional bar stools, TaKeT knows how to entertain all kinds of people, and that extends to its food and drink menu.
Cocktails, both classic and signature, wines, craft beer, street food and BBQs, there's no denying the people behind TaKeT sure know how to set the mood!
Visit for sunshine views and a fantastic atmosphere.
TAKET
Skeppsbroplatsen 1, 41121 Gothenburg
Open when the weather allows, around 3pm-midnight
9.

The Flair at Sina Bernini Bristol

/ Rome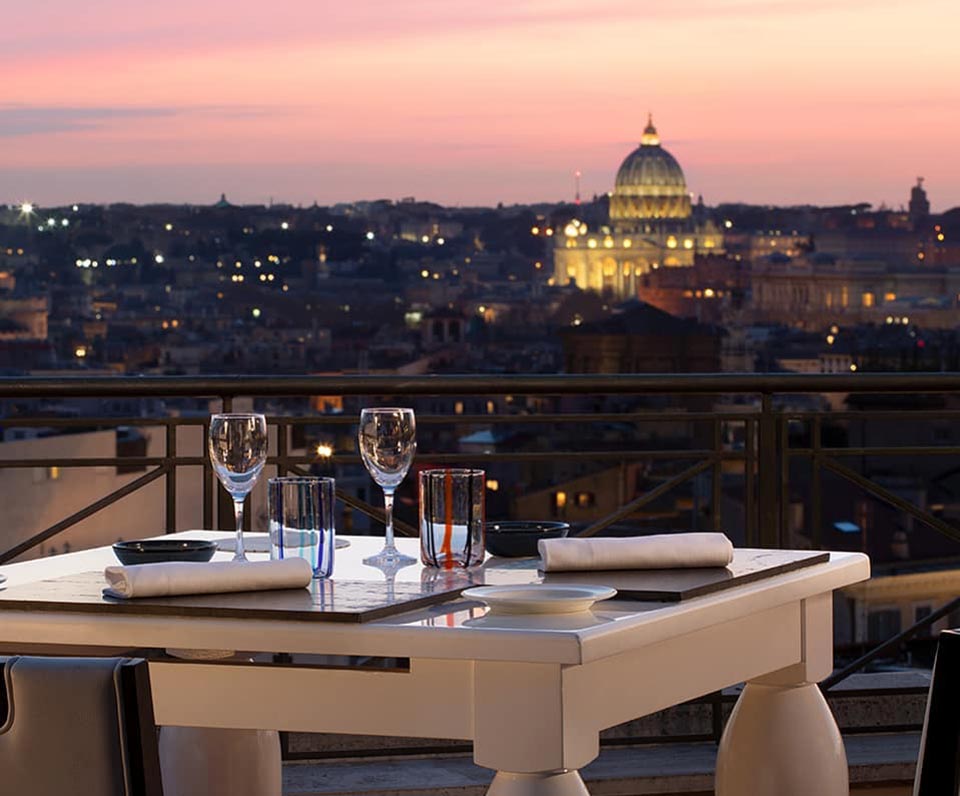 The Flair - Photo: www.sinahotels.com/
Known for its views and unique culinary experiences, The Flair is a popular spot amongst locals and visitors alike.
Created by Alessandro Caputo, the food served at The Flair aims to captivate all your senses, both with traditional dishes and innovative creations that must be enjoyed in a specific way to get the full effect.
Open for lunch and dinner; this is an ideal place for a relaxing lunch or a romantic night out, thanks not only to its service but also the fantastic views it offers of Rome and all of its famous monuments.
The drink menu offers all the classics, including a wide variety of Italian wines, but you'll also be able to enjoy more innovative drinks if that's what you're after.
THE FLAIR
Piazza Barberini, 23, 00187 Rome
Daily: 12.30pm-midnight
10.

SkyLounge

/ Amsterdam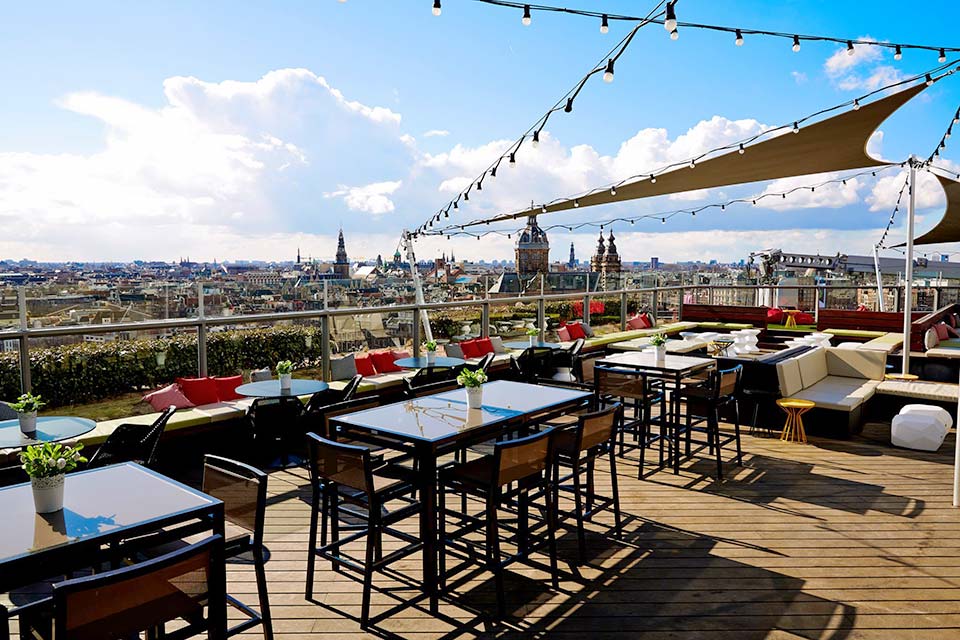 SkyLounge Amsterdam - Photo: www.skyloungeamsterdam.com/
A top destination amongst visitors and locals alike, the SkyLounge is well known for its stunning panoramic views and world-class mixology.
Located within walking distance of the Amsterdam Central Station, the SkyLounge is open year-round, and it's usually crowded, so it pays to arrive early.
Open for lunch and dinner; the SkyLounge provides a small but tasty menu and a much bigger drink menu.
Wine, draft beer, world spirits, and signature cocktails put you in the mood to enjoy the live DJs and lively atmosphere, making this the perfect place to kick-off a wild night out.
SKYLOUNGE AMSTERDAM
DoubleTree by Hilton Amsterdam Centraal Station, Oosterdoksstraat 4, 1011 DK Amsterdam
Sun-Tue: 11am-1am / Wed-Thu: 11am-2am / Fri-Sat: 11am-3am