Mexico is a highly popular destination for travelers all over the world. Much thanks to the warm climate, paradise beaches, food and history. But you can also find some fantastic rooftops here.
Many of the terraces come with beautiful ocean views, often with a kitchen offering superb mexican food.
Here's the list of the 10 best rooftop bars in Mexico, made by The Rooftop Guide. Enjoy!
1.

Quince Rooftop

/ San Miguel de Allende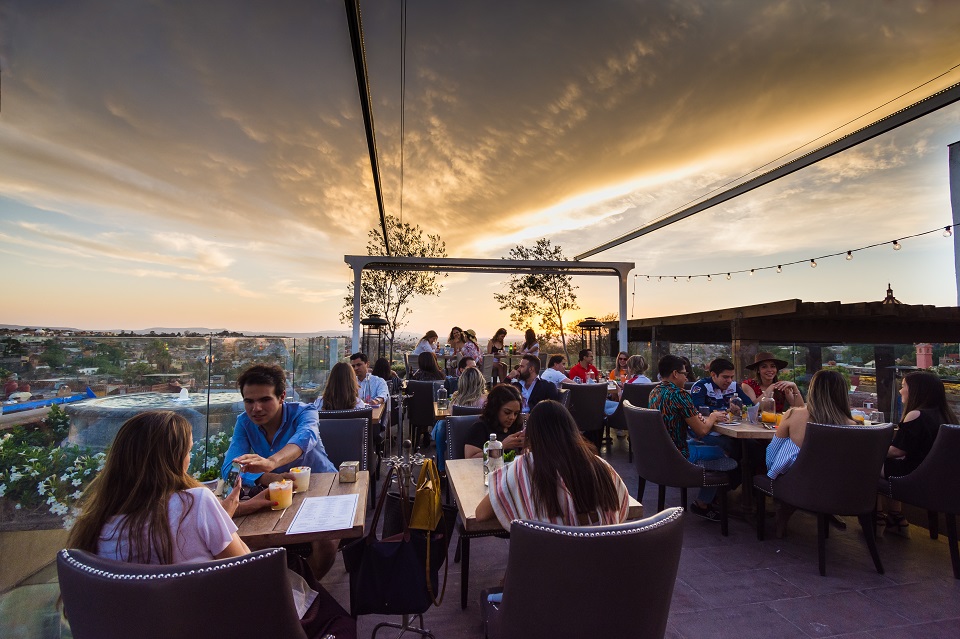 Quince Rooftop - Photo: https://quincerooftop.com/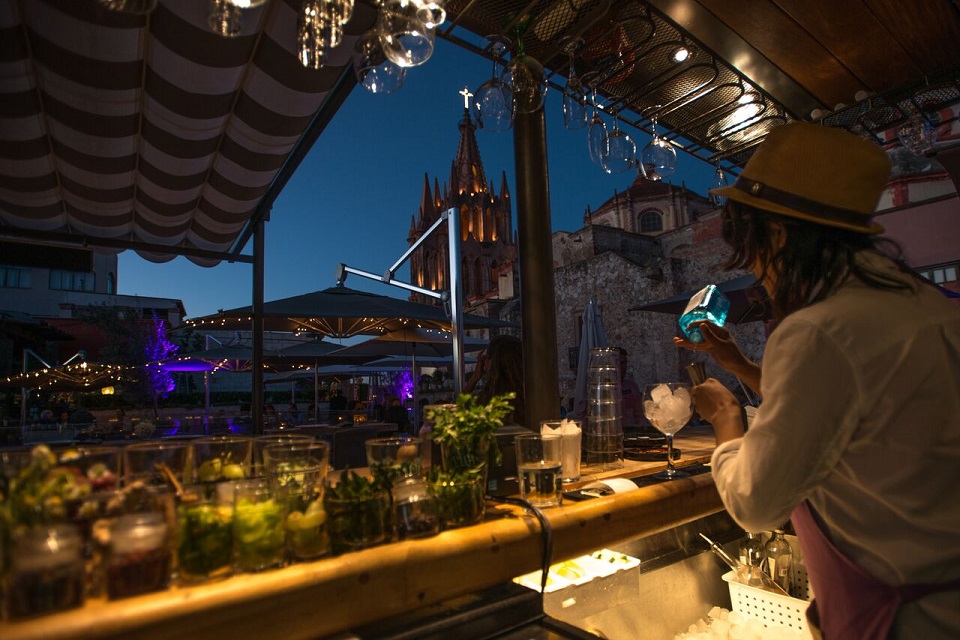 Quince Rooftop - Photo: https://quincerooftop.com/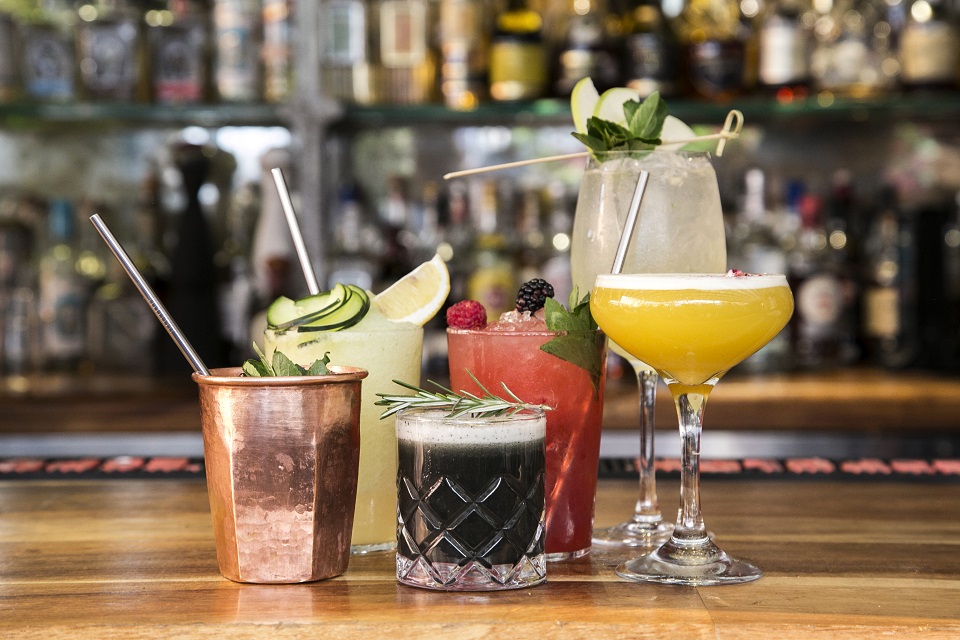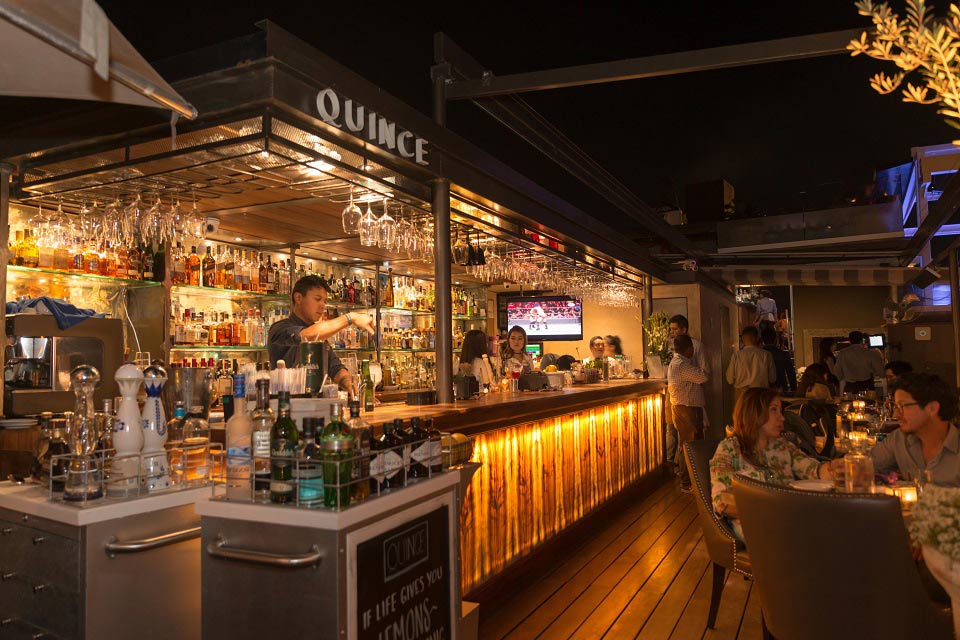 Leading this impressive list of rooftop bars in Mexico is Quince in San Miguel de Allende. It's so much more than a bar or restaurant, it is a true destination. Quince has it all. First-time guests may initially come just for a cocktail or a casual Comida with friends overlooking San Miguel's iconic church but often end up staying to eat late-night sushi while dancing to the beat of the DJ.
The food, music, service, cocktails, atmosphere, and clientele come together to make "The Quince Experience." Both elegant and hip, Quince caters to a diverse crowd offering casual fare, fine dining and French pastries.
After helping to make Quince "the #1 Rooftop Destination in the World", according to Robb Report, the owner and chef have continued to evolve Quince's international menu. Stuffed lobster drizzled with chile Manzano cream, crispy kale leaves atop black truffle risotto, and the Texas steakhouse filet are just some of the highlights of the menu.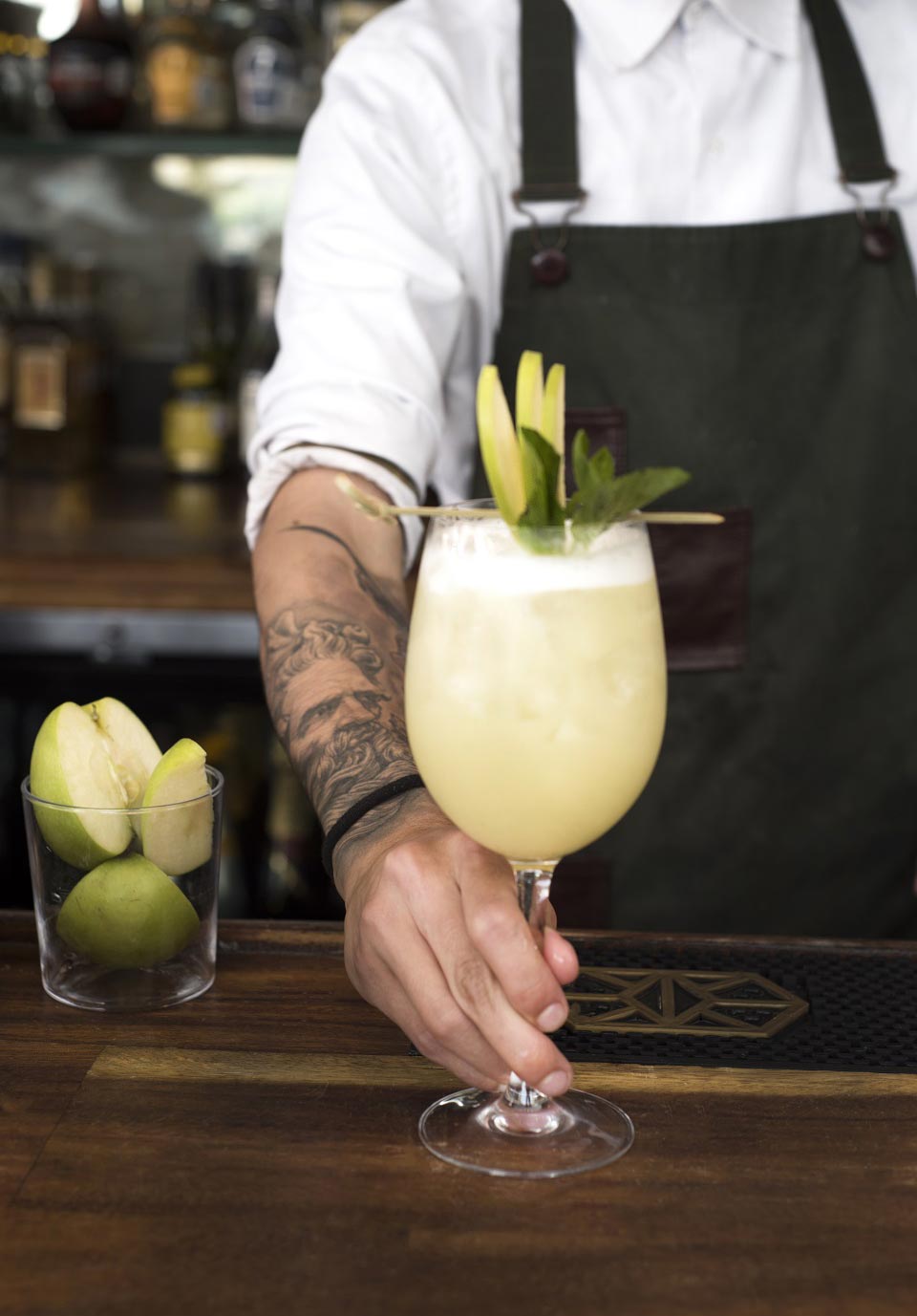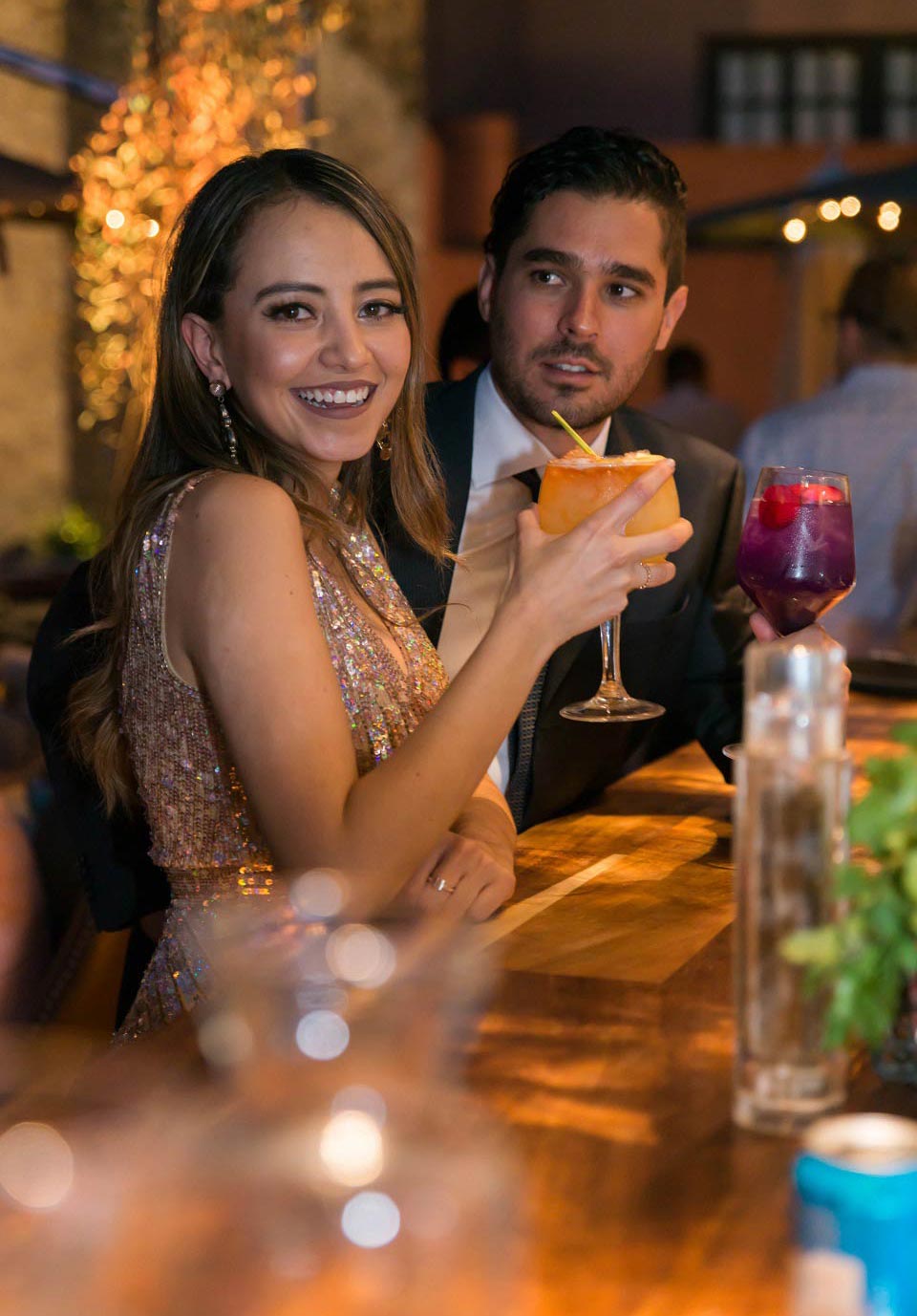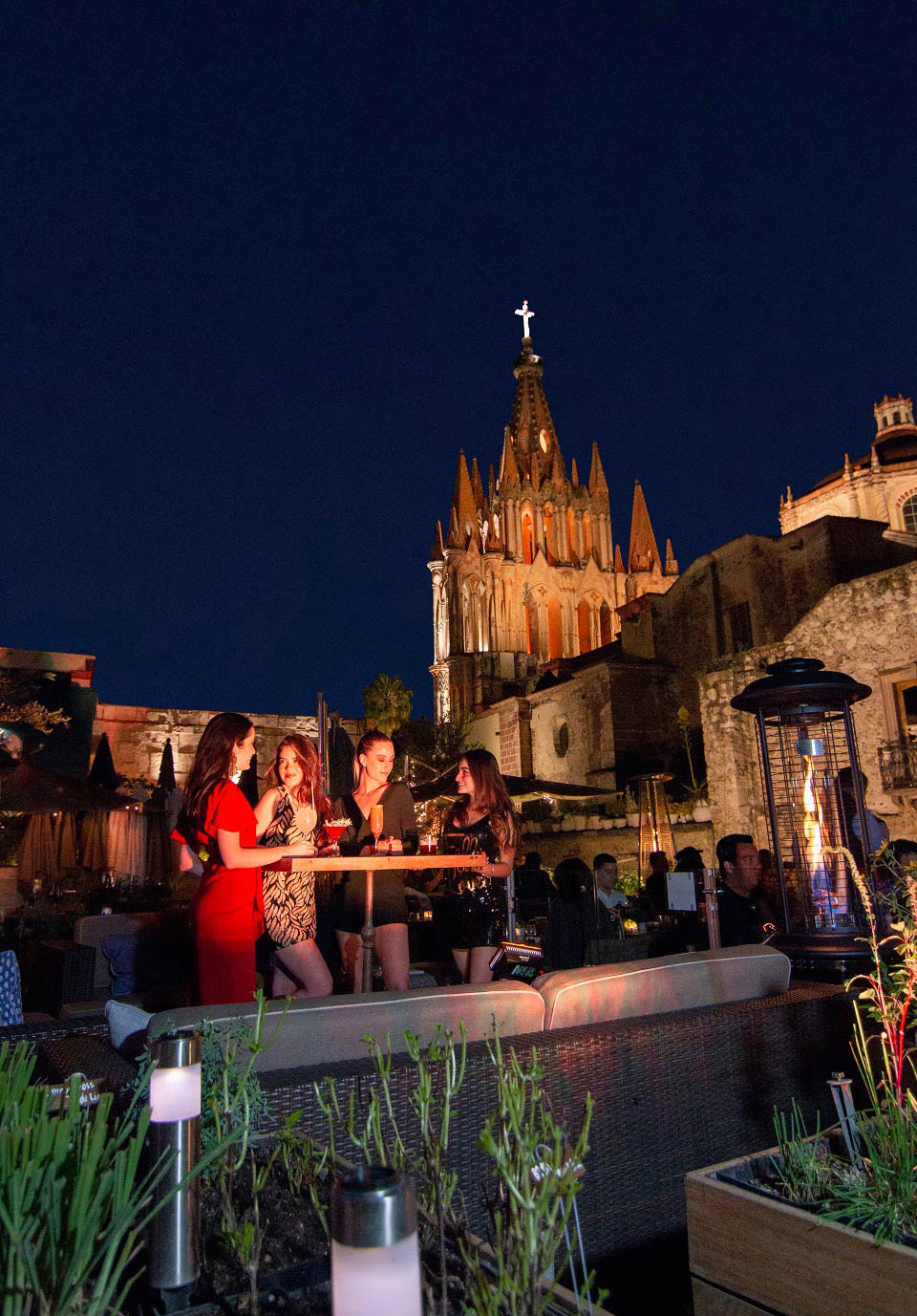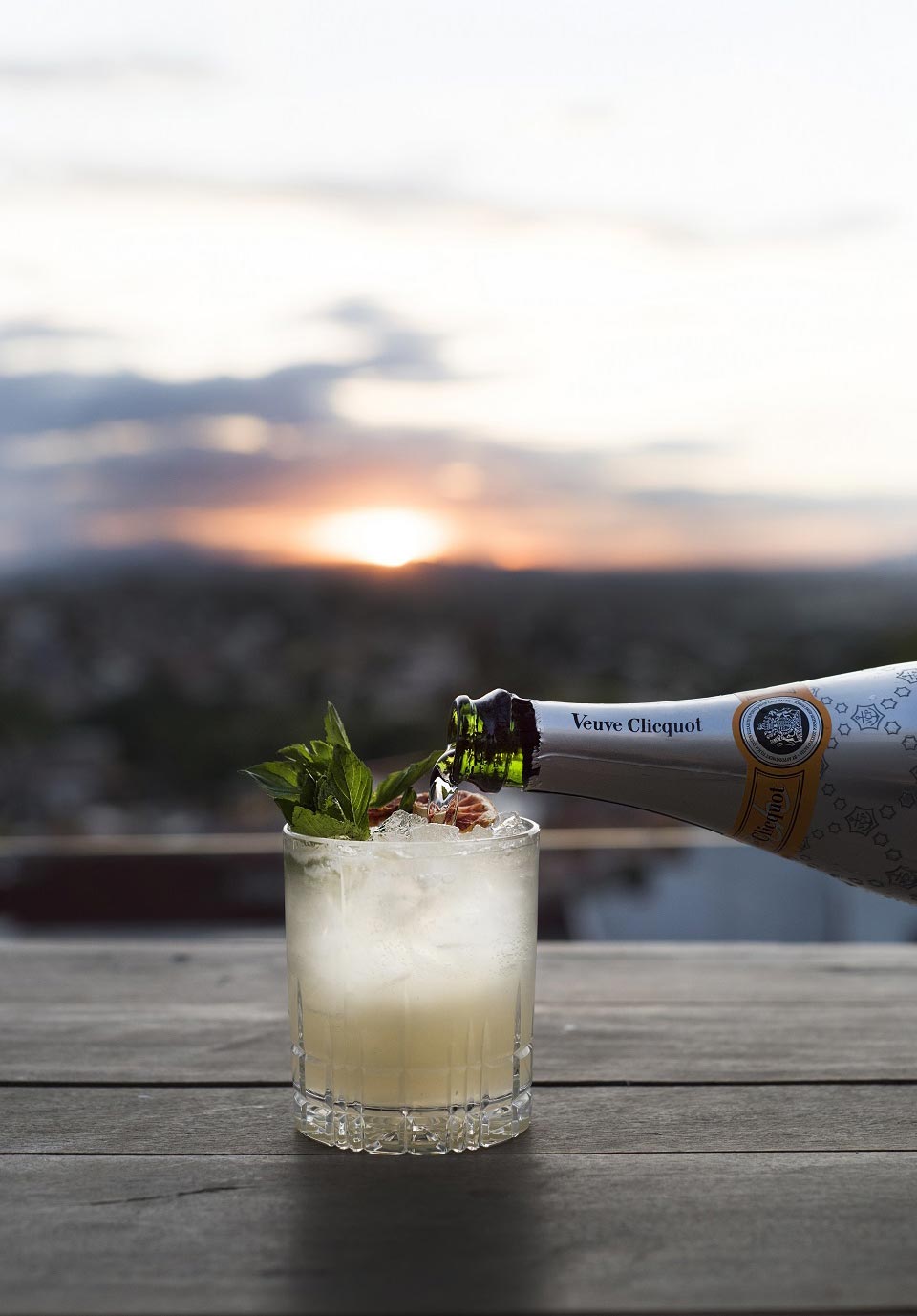 Quince's lead partner hosts his chefs every few months in one of his favorite culinary cities, including Lima, New Orleans, New York and Mexico City, just to name a few. These global stops have provided unique inspiration for Quince's menu. After visiting Peru, Quince's culinary team created a menu of delectable sushi creations that use Japanese techniques, Peruvian spices, and sometimes include some Mexican pepper heat or Texas-style accents.
As the evenings progress at Quince, stunning sunsets appear, and the energy escalates. The music is happy, hip, and familiar to most generations, and ushers a multicultural clientele into the night. Quince's mixology, rated top 10 in Mexico, is prepared while the mixologists showcase their tricks and impress guests with uniquely curated cocktails.
Quince is not only a bar or a rooftop destination, it's a complete experience and a gift to one's soul.
QUINCE ROOFTOP
Cuna de Allende 15, Zona Centro, Centro, 37700 San Miguel de Allende, Gto
Monday – Thursday: 12pm–1am | Friday: 12pm–2am | Saturday: 11am–2am | Sunday: 11am–1am
Website: www.quincerooftop.com
Instagram: @quincerooftop
Facebook: Quince Rooftop
2.

Cityzen Rooftop Kitchen

/ Mexico City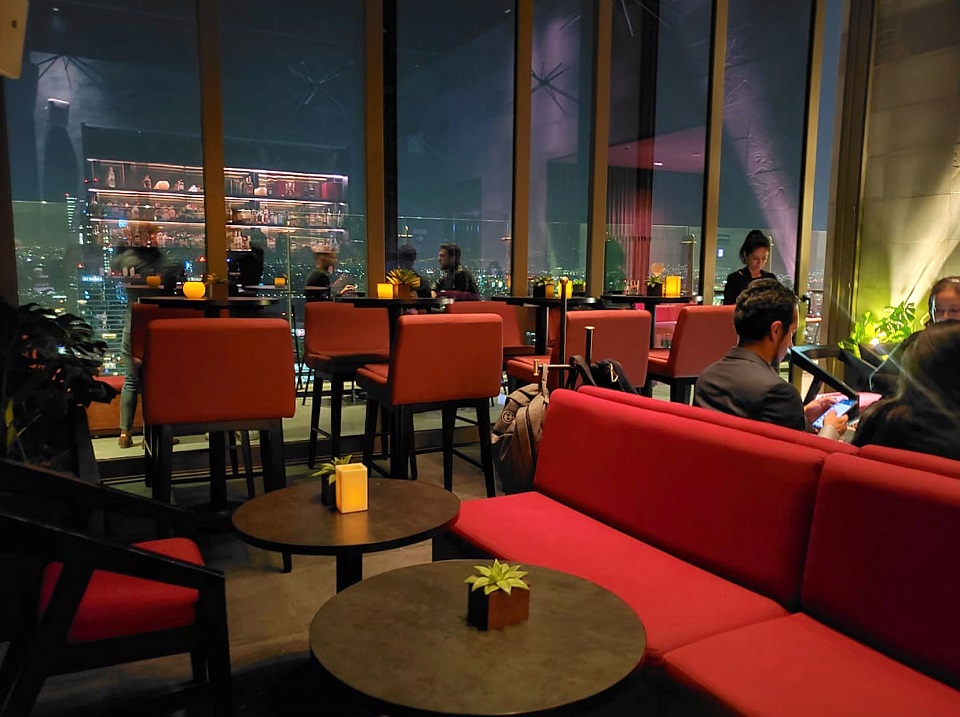 Cityzen Rooftop Kitchen - Photo: www.sofitel-mexico-city.com
Located on the 38th floor of Mexico City's famous Hotel Sofitel, Cityzen Rooftop Kitchen offers both an exclusive atmosphere and jaw-dropping views of one of the world's busiest cities.
Cityzen Bar has both indoor and outdoor seating, as well as a large semi-open terrace from which you can enjoy unimpeded 180-degree views to the Chapultepec Castle, the Paseo de la Reforma, and the Angel de la Independencia.
Open Mon-Fri from 1:00 pm to 1:00 pm and Sat-Sun from 10:00 am to 12:00 am, Cityzen boasts an exclusive atmosphere, relaxing music, minimalist and tasteful decoration, as well as a rooftop pool, though the latter is reserved for clients of the hotel.
Helmed by award-winning mixologist Riester Morales, who won the Grand Marnier award in 2018, Cityzen offers high-end spirits, delicious tequilas, mezcals, and a collection of both classic and signature cocktails.
Cocktails like the Montparnasse and Mexican Eagle, mix French-style mixology techniques and Mexican ingredients and spirits to create innovative and adventurous signature cocktails that can be enjoyed by the glass or by the jug.
Cityzen also offers a food menu with luscious French and Mexican cuisine, offering both mains and dishes perfect to share.
The bar also features a small but delicious menu of mocktails and smoothies, in case you want to enjoy the atmosphere without drinking.
CITYZEN ROOFTOP KITCHEN
Av. Paseo de la Reforma 297, Cuauhtémoc, 06500 Ciudad de México, CDMX
3.

Casa del Rector

/ Guanajuato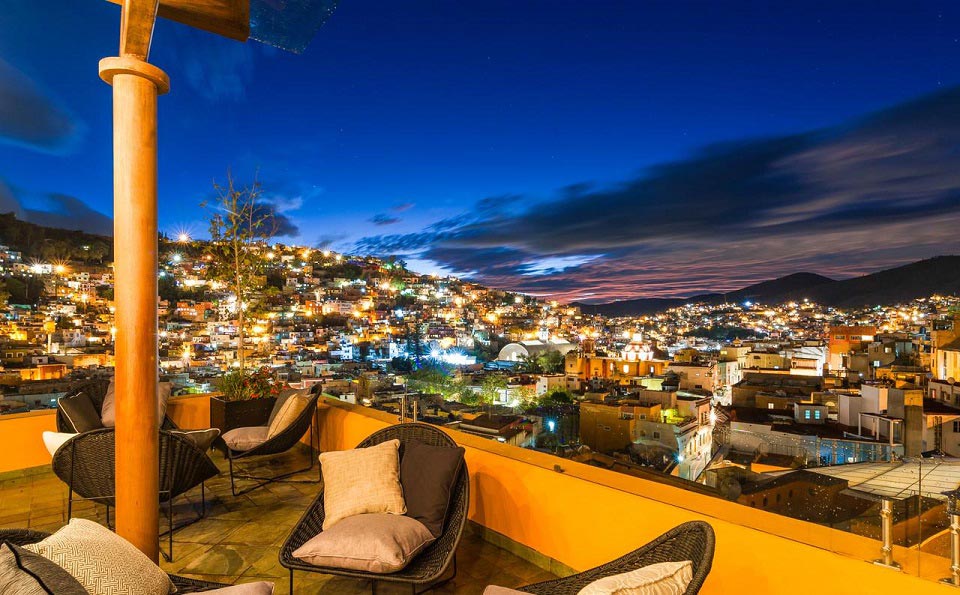 Casa del Rector - Photo: www.casadelrector.com
Overlooking one of Guanajuato's most famous streets, and boasting jaw-dropping views of the colorful city, Casa del Rector is an adult-only boutique hotel that offers not only amazing service but one of the city's coolest rooftop bars, called Bartola Sky Bar.
Casa del Rector is also home to one of Guanajuato's few rooftop pools, which only adds to the appeal of this 19th-century refurbished and repurposed boutique hotel.
Equipped with both indoor and outdoor seating, furnished with simple yet comfortable areas, and decorated with lush greenery and green walls, Casa del Rector Rooftop Bar is a pleasure to visit no matter the time of the day.
Start your visit to Guanajuato with a delicious coffee, drop by in the middle of the day for a splash, and a fresh cocktail or dine while overlooking one of Mexico's most romantic cities. The choice is yours to make.
Up here, the atmosphere is exclusive and relaxed, providing an oasis and a perfect place for relaxation that you won't find elsewhere in the city.
While the on-site bar has a wide selection of beers, cocktails, and world-spirit, wines are the true star of the show, with an extensive collection with wines from all over the world that you can enjoy while overlooking a sunset over the city.
CASA DEL RECTOR
Positos 33, Zona Centro, 36000 Guanajuato, Gto
4.

Fives Rooftop

/ Playa del Carmen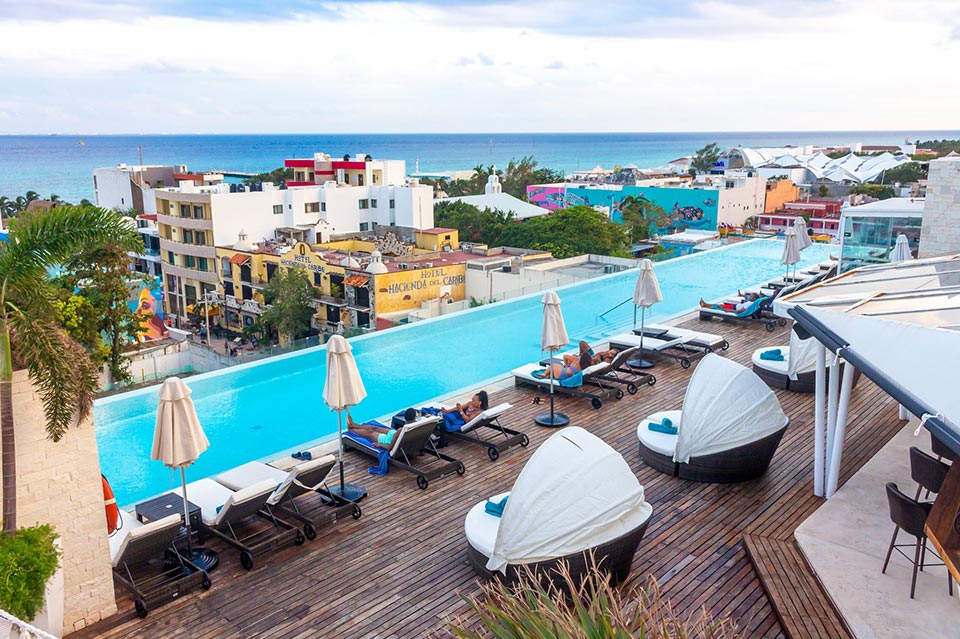 Fives Rooftop - Photo: www.fivesrooftop.com
One of the very best spots to enjoy Playa del Carmen from above is the Fives Rooftop, found on top of The Fives Downtown Hotel & Residences in the heart of the city.
Overlooking the Caribbean Sea, this poolside oasis is made to indulge in ultra-laid-back luxury.
Stylish in decorations, with comfy lounge spots and dining tables, the very best part of the terrace is the fantastic rooftop infinity pool. Stretching pretty much all of the edge, here you really can enjoy the feeling of swimming in and above the ocean.
From the rooftop bar you can order expert mixology drinks, as well as innovative dishes by the renowned chefs.
Enjoy long days under the Mexican sun, or visit for vibrant nights, when the DJ amps up the atmosphere.
FIVES ROOFTOP
10 Avenida Nte. s/n, Centro, 77710 Playa del Carmen, Q.R.
5.

The Rooftop at The Cape

/ Cabo San Lucas
The Rooftop at The Cape - Photo: www.thompsonhotels.com
Opened in 2015, The Rooftop at the Cape offers excellent service, incredible views, and one of the best nightlife atmospheres in the entire city.
Located on top of the Thomson Hotel at Sunset Point, this sixth-floor venue is known for its beautiful architecture, chic furnishings, fantastic sunset views, and its drinks.
World beers, local craft beers, world spirits, a variety of signature and classic cocktails, and even some wines make a visit to The Rooftop one that won't be easily forgotten.
Live music and DJs are a common sight, as are private events, so make sure to call and inquire about availability before visiting.
The Rooftop opens from 6 pm until late at night, which means the atmosphere is relaxed and private in the early afternoon but picks up tremendously once night falls.
Though the bar is at its busiest during the nights, it's a good idea to show up early if you want to enjoy the views; The Rooftop is a well-known spot for sunset watching, and coupled with its delicious signature cocktails, it may be hard to score a terrace table.
THE ROOFTOP AT THE CAPE
México 1 Km 5, Misiones del Cabo, 23455 Cabo San Lucas, B.C.S
6.

Supra Roma Rooftop

/ Mexico City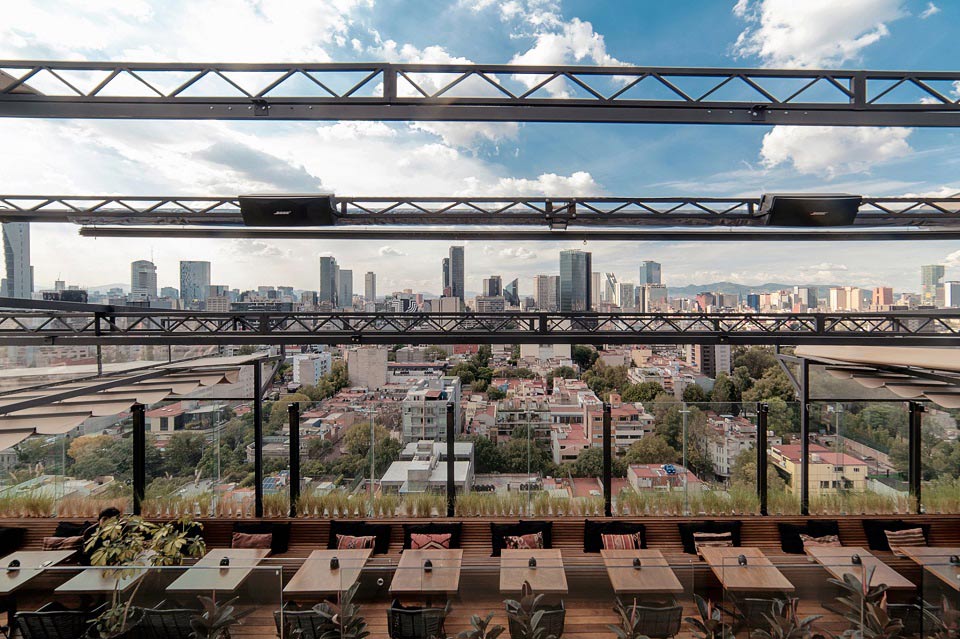 Supra Roma Rooftop - Photo: https://supraroma.com/
Opened in 2019, Supra Roma Rooftop is one of Mexico City's latest and most exclusive rooftop bars, as not only do you need a reservation to visit, but you also need an invitation.
This casual, yet high-end venue offers awe-worthy views of the Colonia Roma, one of Mexico City's most exclusive neighborhoods, as well as truly unique drinks and food that mix elements of Mexico and the Middle East.
Boasting both indoor and outdoor seating options, as well as a large terrace, Supra is a tasteful and comfortable venue where you can kick back and relax in style, overlooking the city while enjoying the live DJ shows available for your enjoyment.
Decoration and furnishing-wise, expect earthy tones, comfortable lounge areas, dining tables artfully organized around the terrace, and lush greenery.
Food-wise, expect daring and rich combinations, as well as filling portions and reasonable prices.
Though Supra operates as a restaurant first and as a bar second, they boast a large drink menu that includes beers, wines, tequila, mezcal, world-spirits and a variety of cocktails, including signature cocktails that mix the best of Mexican and Middle Eastern mixology.
Reservations are a must, so call well-beforehand and prepare to wait.
SUPRA
Av de los Insurgentes Sur 34, Cuauhtémoc, 06600 Ciudad de México, CDMX
7.

Luna Rooftop Tapas Bar

/ San Miguel de Allende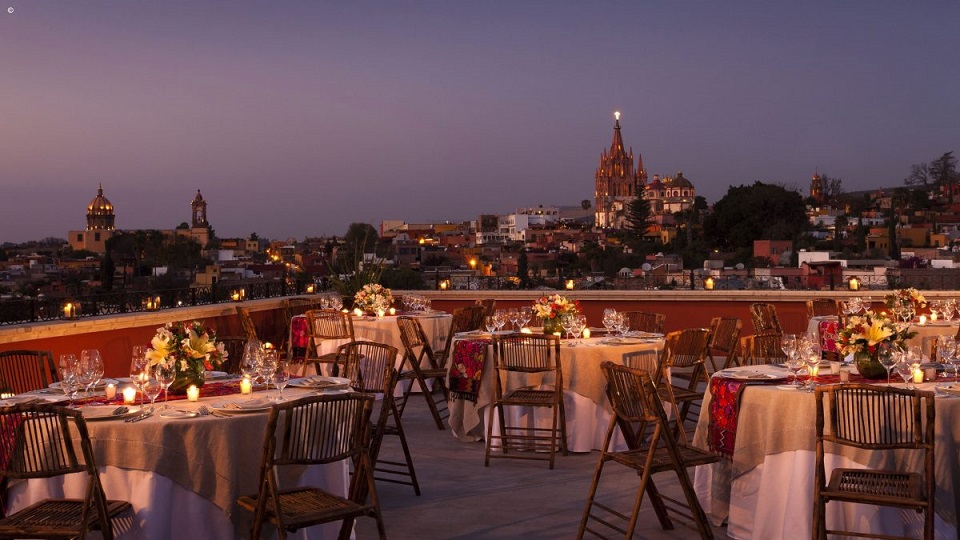 Luna Rooftop Tapas Bar - Photo: www.rosewoodhotels.com
Located on top of one of San Miguel's most luxurious hotels, the Rooftop Bar Rosewood offers great views of San Miguel's historic and modern skyline.
Located on the 5th floor, the terrace is a small and exclusive affair, providing both indoor and outdoor seating options, as well as a fantastic rooftop pool with great views to the city.
Comfortable sun loungers, large lounge sofas, plush chairs, and coffee tables adorn all corners of this beautiful rooftop terrace. If you're not a fan of the sun, large umbrellas protect you from it, and there are roofed areas without walls where you can enjoy a more refreshing experience without sacrificing the views.
The rooftop bar is small and straightforward, offering cocktails, world-spirits, beers, and wines, the latter coming from Hotel Rosewood's own reserve.
The hotel has a second, much larger bar available, though this one is located underground, which makes it the perfect choice for those looking to experience yet another unique venue.
LUNA ROOFTOP TAPAS BAR
Nemesio Diez 11, Zona Centro, Centro, 37700 San Miguel de Allende, Gto
8.

Thompson Hotel

/ Playa del Carmen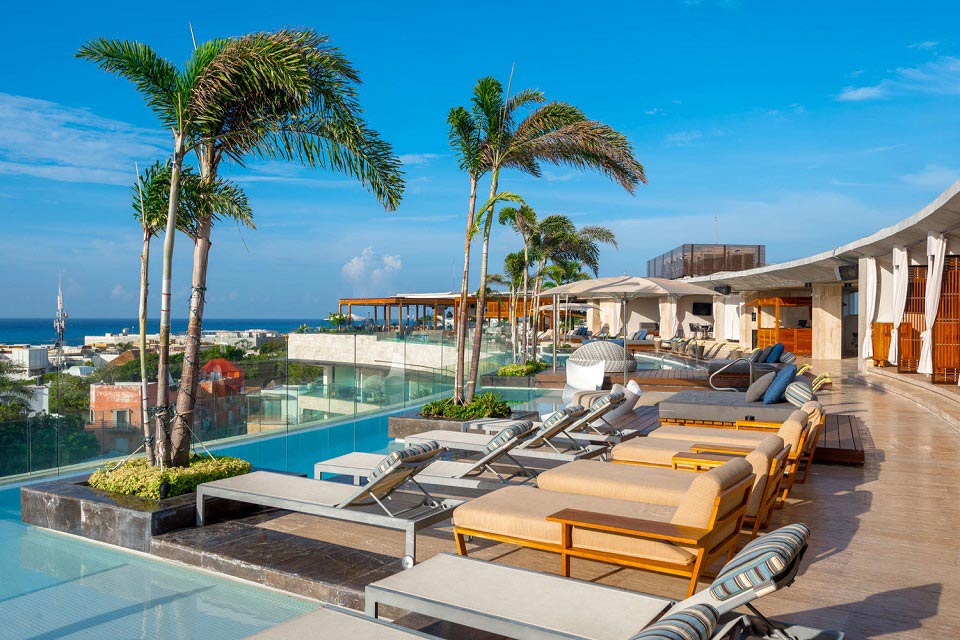 Thompson Hotel - Photo: www.thompsonhotels.com
A relatively new addition to Playa del Carmen's modest skyline, the Thompson Hotel takes ultra-modernity and style to the next level, and that goes double for its fantastic rooftop pool and bar.
Equipped with a variety of seating options, like sun loungers, pool loungers, lounge sofas, recliners, dining tables, and offering both indoor and outdoor seating options, the Thompson rooftop bar is one of the best venues the city has to offer.
The pool is rather peculiar, as it's very long but also narrow, resembling a river rather than a traditional pool. Its location right next to glass walls only adds to the charm and gives it beautiful views of the nearby ocean.
Though the Thomspon Hotel isn't a beachfront property, its palm-trees, luscious greenery, comfortable installations, relaxing atmosphere, and top-notch service more than makes up for it.
As with everything else, the Thompson also excels when it comes to its drinks and food. Drink wise, expect world-spirits, beers, wines, and a fantastic collection of expertly mixed cocktails.
Food-wise, you can enjoy traditional bar bites, or order seafood-based dishes from the hotel's restaurant, Catch.
Speaking of the terrace, The Rooftop has both indoor and outdoor seating, as well as a variety of seating options. Barside stools, small standing tables, lounge sofas, private and public areas, etc.
Some offer shade for those who need it, and others are out in the open, to ensure you get a fantastic tan.
THOMPSON HOTEL
Calle 12 entre 5ta Ave. y 10 S/N, Centro, 77710 Playa del Carmen, Q.R.
9.

The Fives Oceanfront - Puerto Morelos

/ Puerto Morelos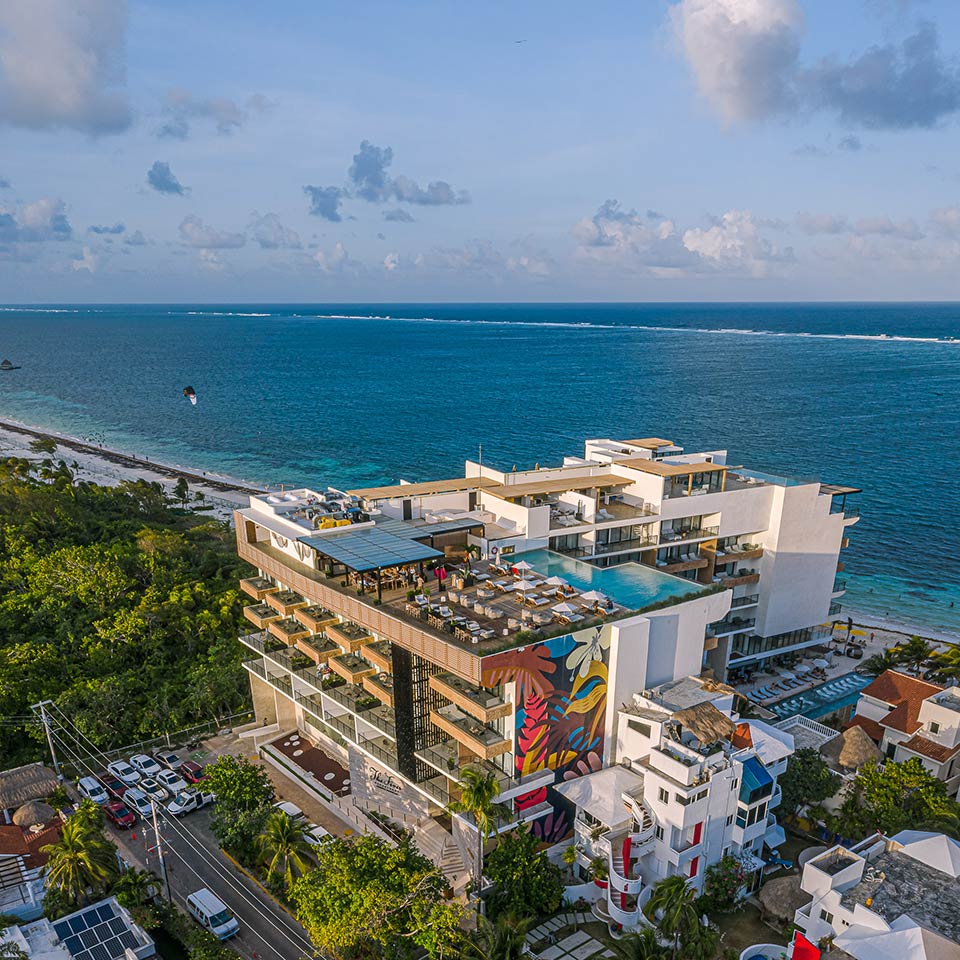 The Fives Oceanfront - Puerto Morelos - Photo: www.thefiveshotels.com/
In the charming fishing village of Puerto Morelos in Riviera Maya you find The Fives Oceanfront Hotel & Residences, which is truly a perfect spot to unplug and escape.
Located right by the Caribbean Sea, the hotel offers a private beach club, a spa, four restaurants and a fantastic rooftop setting.
On the top floor you can enjoy two amazing infinity pools, surrounded with comfy loungers and the azul ocean.
There is also a rooftop bar and natural stylish lounge area where you can sip crafted cocktails while taking in the panoramic views.
THE FIVES OCEANFRONT
Av. Javier Rojo Gomez Nte. SM-02 MZ-25 LOTE-01 Centro, 77580 Puerto Morelos, Q.R.
10.

Terraza Cha Cha Chá

/ Mexico City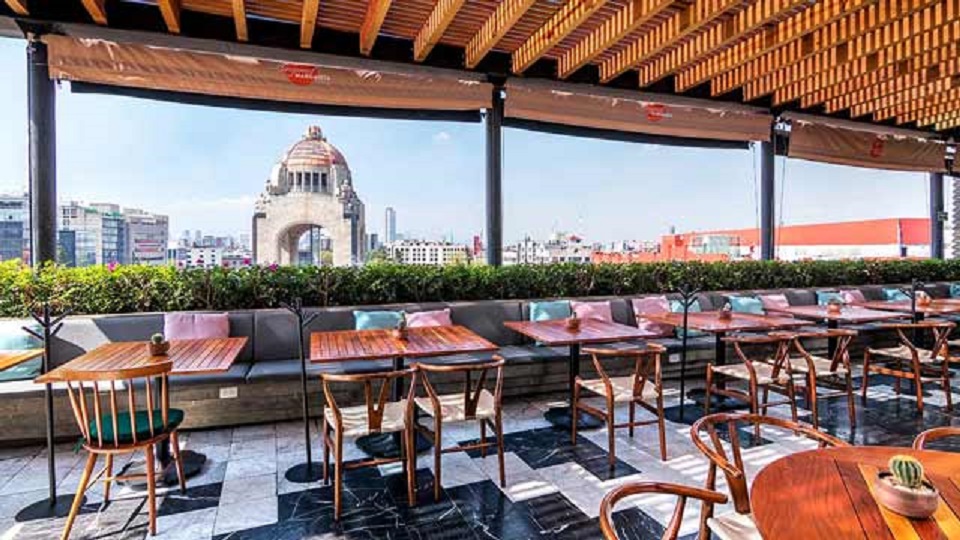 Terraza Cha Cha Chá - Photo: www.grupopalmares.com.mx
Elegant, chic, great food and drinks, plus fantastic views over the the Revolution Monument. Terraza Cha Cha Chá rooftop bar and restaurant has pretty much all one can wish for.
Set up on the sixth floor, right by Plaza de la República, Terraza Cha Cha Chá comes with seating both inside and out on the lovely terrace. Trendy and tropical, the decoration is just about as fine as the views.
Up here you can enjoy tasty Mexican dishes with an international touch, most of them made perfect to share. There are tacos, meats and delicacies from the sea, all served with a side of cactus salad.
To complement the food, the rooftop bar offers unique and crafted cocktails, a wide variety of Mexican beer, lots of mezcals and tequilas and a nice selection of wines.
Open from around noon to late at night, Terraza Cha Cha Chá is a fantastic spot for both a long and relaxing lunch (with cooling drinks, of course), as well as for late night gatherings when the atmosphere really gets going.
Good service and a very attentive staff, nice music from the speakers and a trendy yet casual vibe all around. Terraza Cha Cha Chá rooftop bar and restaurant is truly a great spot for gathering a group of friends and enjoy days and nights out with lovely views.
TERRAZZA CHA CHA CHÁ
De La República 157, Tabacalera, 06030 Cuauhtemoc, CDMX