Mexico is a highly popular destination for travelers all over the world. Much thanks to the warm climate, paradise beaches, food and history. But you can also find some fantastic rooftops here.
Many of the terraces come with beautiful ocean views, often with a kitchen offering superb mexican food.
Here's the list of the 13 best rooftop bars in Mexico, made by The Rooftop Guide. Enjoy!
1.

Rooftop by Amatte

/ San Miguel de Allende
Rooftop by Amatte - Photo: https://amatte.com.mx/
There are 71 steps that lead you to the highest point of the spectacular Amatte Community, where you can experience a sensory journey through several different areas.
A beautiful meeting terrace for locals and visitors of San Miguel de Allende, surrounded with a spectacular 360° view of the city, the Rooftop by Amatte holds an exquisite restaurant, 4 bars and 1 oysters island, plus an organic backyard, and the Amatte SPA circuit (comming soon).
The rooftop restaurant is called Hacmans a wood kitchen, a Baja California and Mediterranean cuisine restaurant with an international touch, where the mission is to elevate sustainable food through culinary techniques focused on the use of firewood and smoke. The menu includes everything from oysters and fresh octopus, to high-quality cuts of meat and a selection of grilled vegetables from the rooftop garden.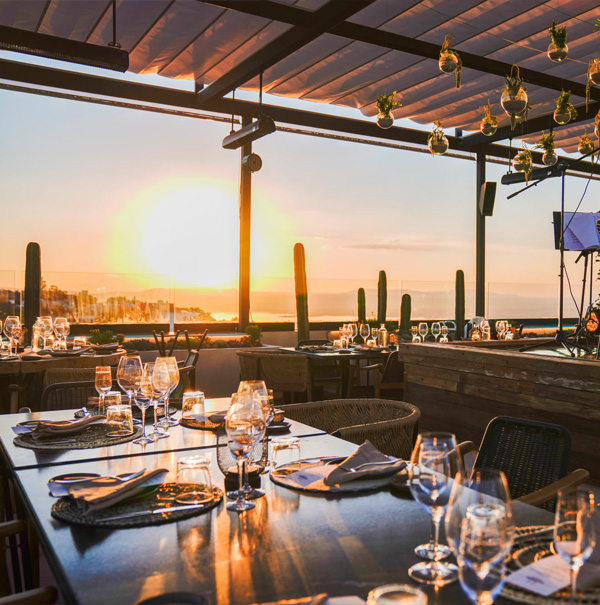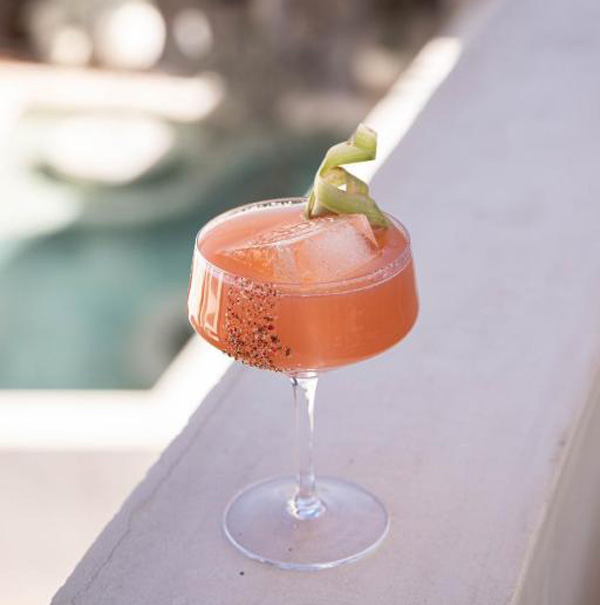 Aruma cocktail bar lets the creativity of the rooftop mixologists flow, presenting combinations of distillates and other spirits. The master mixologist Mike Espinoza create the most vanguard cocktails in town, month after month, and it is also one of the first bars in all Latinoamerica to have Draft Cocktails specialized in gin.
The Bubble Bar offers a careful selection of sparkling wine and champagne, while the Dragons Bar is one of the most exclusive artisanal tequilas in Mexico, serving exclusive pairings and minimalist & sophisticated cocktails.
Last but not least, at the Spanish Corner you will be transported to Spain and the flavors of the Mediterranean, including the best acorn-fed ham, as well as a wide variety of beers, wines and vermouths.
Easy to tell, Rooftop by Amatte offers an elevated multi-venue experience out of the ordinary, where the options avialable are as impressive as the views.
ROOFTOP BY AMATTE
Salida Real a Querétaro 168, Zona Centro, 37700 San Miguel de Allende, Gto
2.

Panorama Rooftop

/ Colima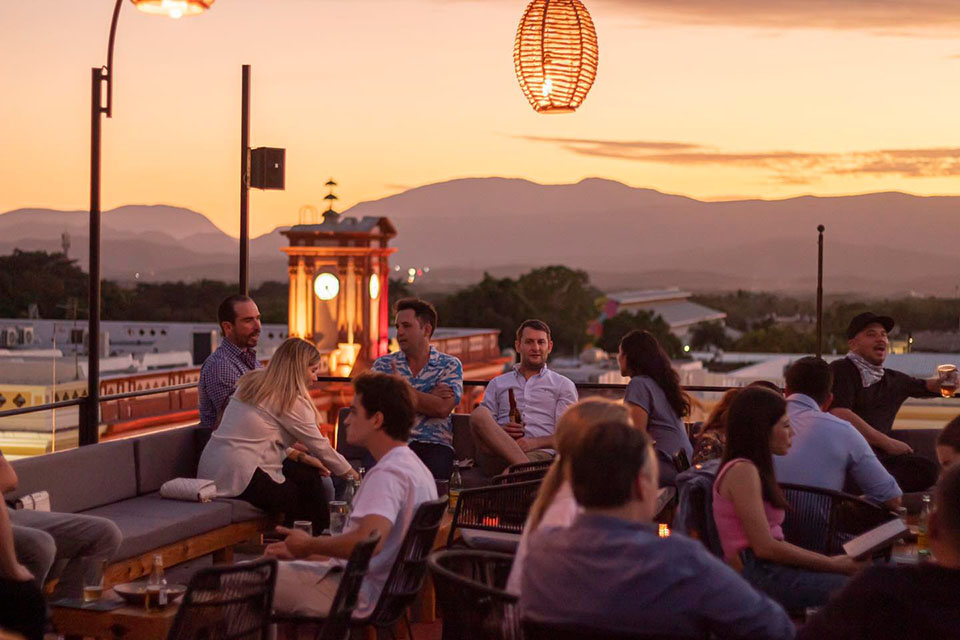 Panorama Rooftop - Photo: https://panoramarestaurante.mx/
Found in the heart the historic city center, Panorama Rooftop Colima is a prime spot to enjoy gastronomy, mixology and music with a view.
Perched on top of Hotel Concierge Plaza, set in a 150 year old building, here you are surrounded with panoramic 360° views over the beautiful old town, as well as over the majestic volcanoes in the horizon.
The vistas are great from the multi-level and intimate restaurant area, but even more so from the 360° lounge terrace, dressed with comfy sofas and high top tables.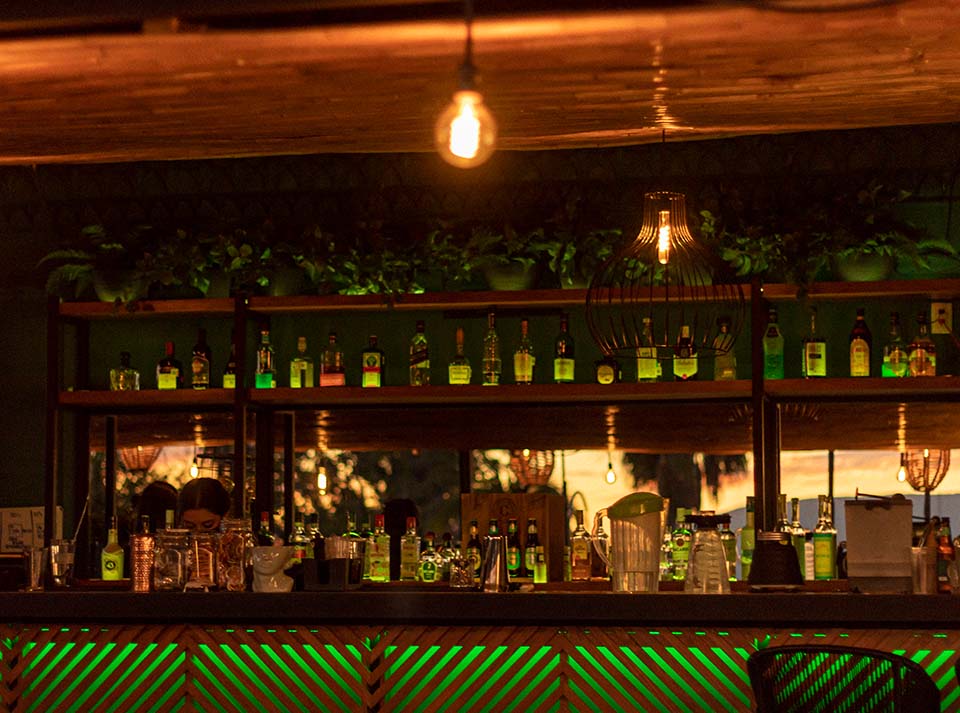 Panorama Rooftop - Photo: https://panoramarestaurante.mx/
The Panorama Rooftop menu includes a great selection of both haute cuisine and tasty drinks. Sip mixology signature cocktails, where mexican spirits like mezcal, tequila, and chili liquors take the protagonist role, and indulge in Mexican and Mediterranean inspired dishes, filled with locally sourced products.
With attentive service and a fun and sophisticated atmopshere, Panorama Rooftop invites you to create elevated and memorable Colima experiences every evening. Either to the tunes of house and techno music in the background, or with live music sessions, like jazz bands or local folk artists.
PANORAMA ROOFTOP
Portal, Medellín 12, Centro, 28000 Colima, Col.
3.

Zumo Rooftop

/ San Miguel de Allende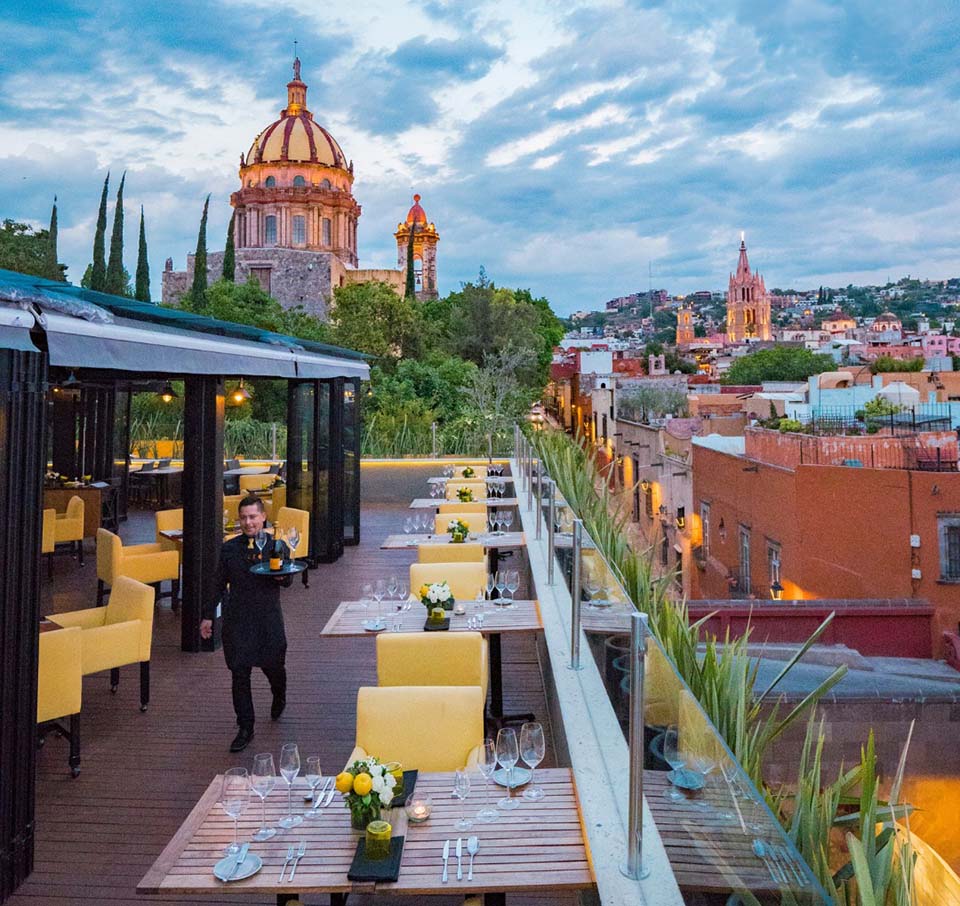 Zumo Rooftop - Photo: https://zumosma.com/
Found on top of the Luxury Boutique Hotel Villa Limon in downtown San Miguel de Allende, Zumo Rooftop offers a tranquil, first-class rooftop experience.
Rooftop restaurant and bar, mixing interior seating with a lush, charming and stylish outdoor terrace, here you are surrounded with an impressive 360° view of San Miguel de Allende.
Up here you can enjoy a global menu filled with international flavors with a Latin touch, served as both á la carte and tasting menu, and made using only the freshest, highest quality products from local purveyors.
The food is complemented with an impressive selection of wine pairings, and from the rooftop bar you can order from a fine array of handcrafted cocktails.
Expect a great ambience, view and attentive service, perfect for anything from beautiful sunset drinks, to special dinners above SMA.
ZUMO ROOFTOP
Quebrada 93, Zona Centro, Centro, 37750 San Miguel de Allende, Gto
4.

The Rooftop 360

/ Cabo San Lucas
The Rooftop 360 - Photo: www.corazoncabo.com/
Not only the highest rooftop in Cabo San Lucas, but also one of the very best, Rooftop 360 is the perfect spot to sit back, wine and dine.
Perched on top of the Corazón Cabo Resort & Spa on Medano Beach, the 9th floor terrace offers an amazing 360-degree view, overlooking both the Sea of Cortez and city skyline.
Urban and natural in decor, the beautiful rooftop is flanked by sparkling infinity pools, creating a luxurious and tropical-chic experience.
Open for lunch, dinner and evening fun, the rooftop offers a global menu filled with everything from Mexican bites and salads to sushi rolls, complemented with refreshing and crafted signature cocktails, beer and wines.
Reservations are highly recommended, and you can also book the terrace to host special and private events.
THE ROOFTOP 360
Pelicanos 225, El Medano Ejidal, 23453 Cabo San Lucas, B.C.S.
5.

La Sirena

/ Puerto Morelos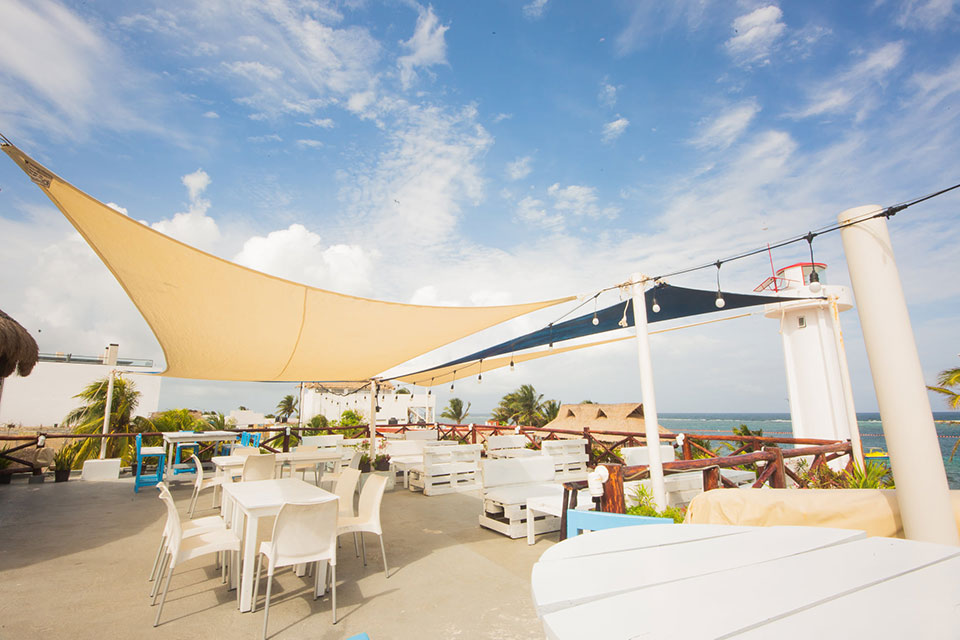 La Sirena - Photo: http://lasirenapm.com/
Situated directly behind the Puerto Morelos lighthouse, La Sirena Resturant and Lounge offers global food, live music and rooftop views. Among other things...
At the downstairs restaurant you can enjoy a full international menu, including plenty of locally inspired Mediterranean Cuisine, made with local ingredients.
One floor above, the airy rooftop lounge offers a dedicated tapas menu, along with special, tropical and classic cocktails, crafted beers, wine, and (of course) plenty of tequila.
With panoramic views of the Carribbean Sea, the La Sirena rooftop is a great spot for both sunny afternoons and elegant evenings, relaxing with a pre-or post dinner cocktail.
But, this is also a vibrant venue filled with a familiar atmosphere, offering live music every day, from salsa and reggae to bossa nova, sazz and funk, as well as showing NFL and all things live sport.
Every Monday, La Sirena also host a Tequila University on the rooftop, where you will learn about different tequilas in an interactive tequila + food pairing.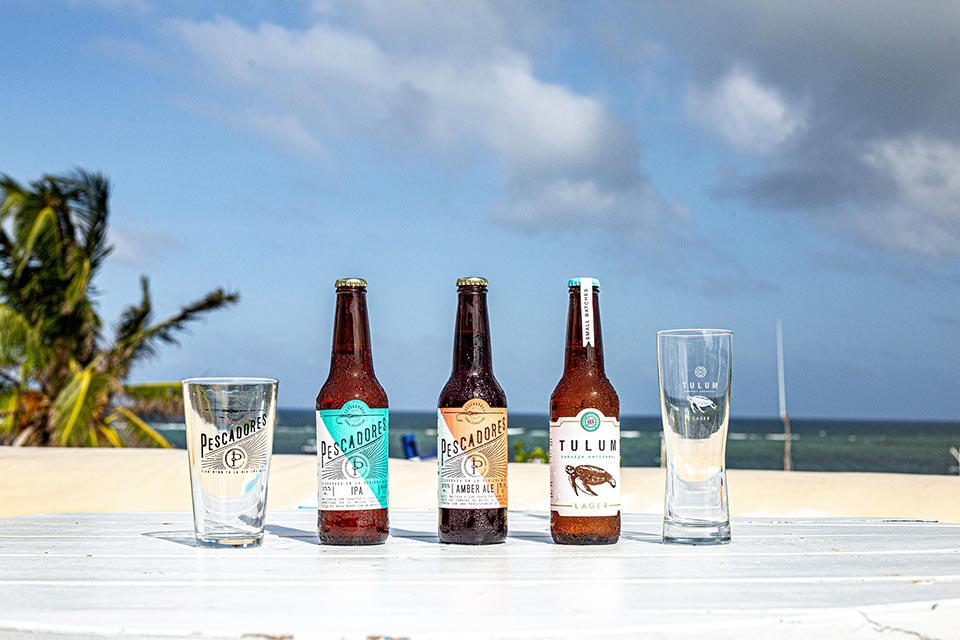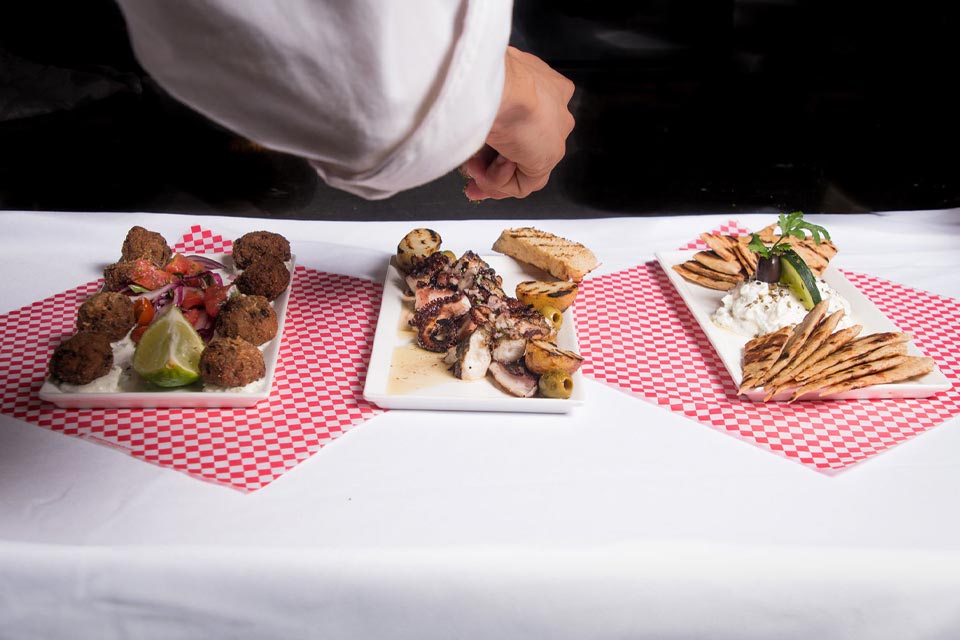 LA SIRENA
Calle Jose Maria Morelos Mz 4, 77580 Puerto Morelos, Q.R.
6.

Bar del Patrón at Sayulinda Hotel

/ Sayulita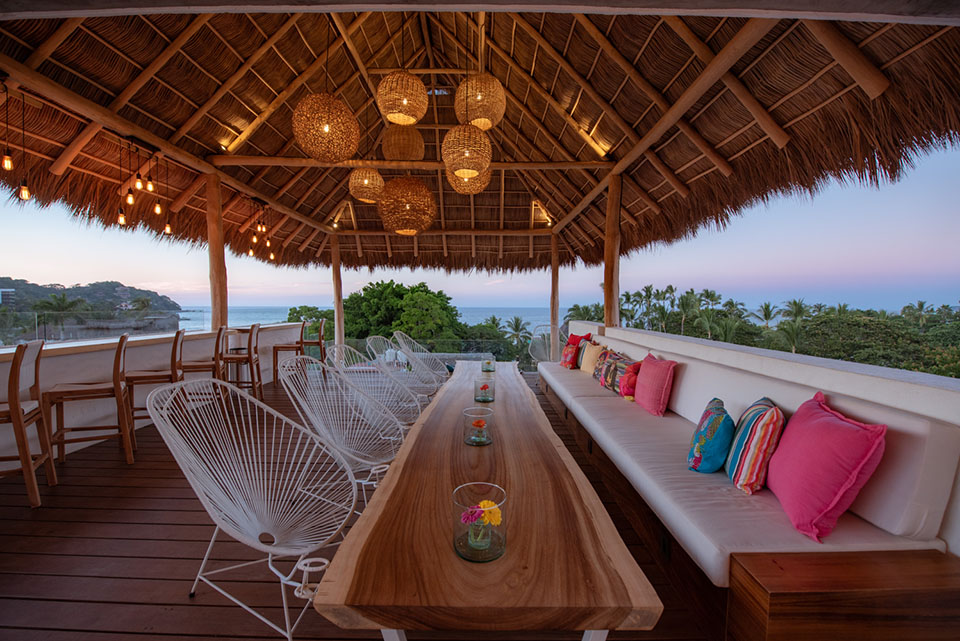 Bar del Patrón at Sayulinda Hotel - Photo: https://sayulindahotel.com/
Located right in the heart of the magical surf town of Sayulita, the lovely and chic Sayulinda Hotel houses an amazing rooftop to relax in style, and enjoy the beautiful surroundings from above.
Up here you find Bar del Patrón, a tropical-chic oasis, filled with comfy loungers and swinging hammocks, where you can settle down and enjoy panoramic 360° views, stretching from the Pacific Ocean and up to the mountains.
Opean daily from 10am to 10pm, the rooftop bar is the perfect place to wind down after a busy day exploring Sayulita, indulging in an extensive selection of innovative mixology cocktails and unique house blends.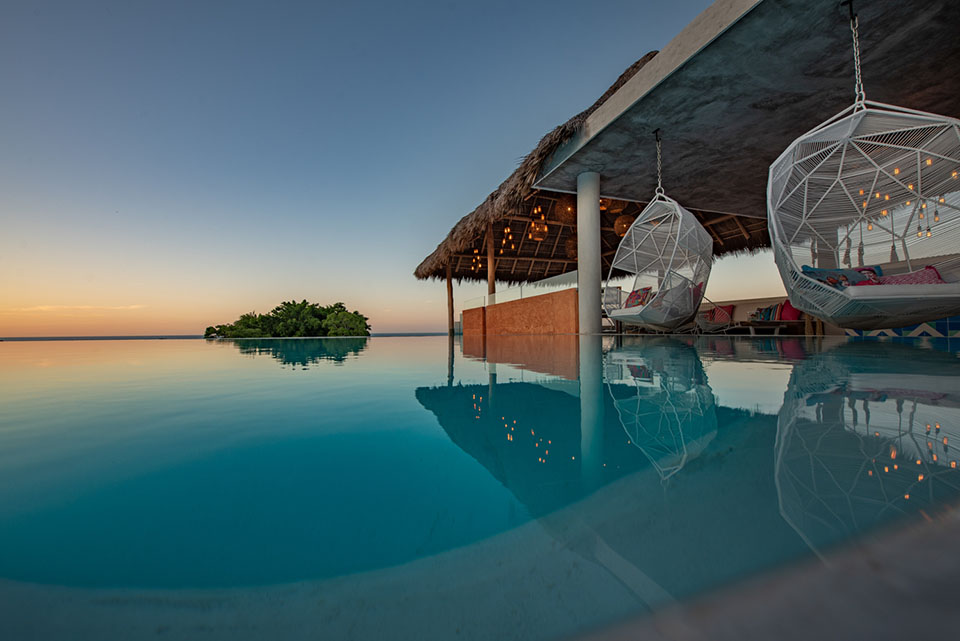 Bar del Patrón at Sayulinda Hotel - Photo: https://sayulindahotel.com/
The rooftop bar is located right next to Sayulinda Hotel's glittering rooftop pool. Surrounded with the same amazing views, as well as luxurious cabanas and sun loungers, this is a truly elevated spot for prime poolside hours.
If you buy a Day Pass, you can lounge and swim with a view as much as you want, all while enjoying refreshing drinks from Bar del Patrón. Pretty much the perfect combo.
BAR DEL PATRÓN
Av. Revolución 36, 63734 Sayulita, Nay..
7.

El Mayor

/ Mexico City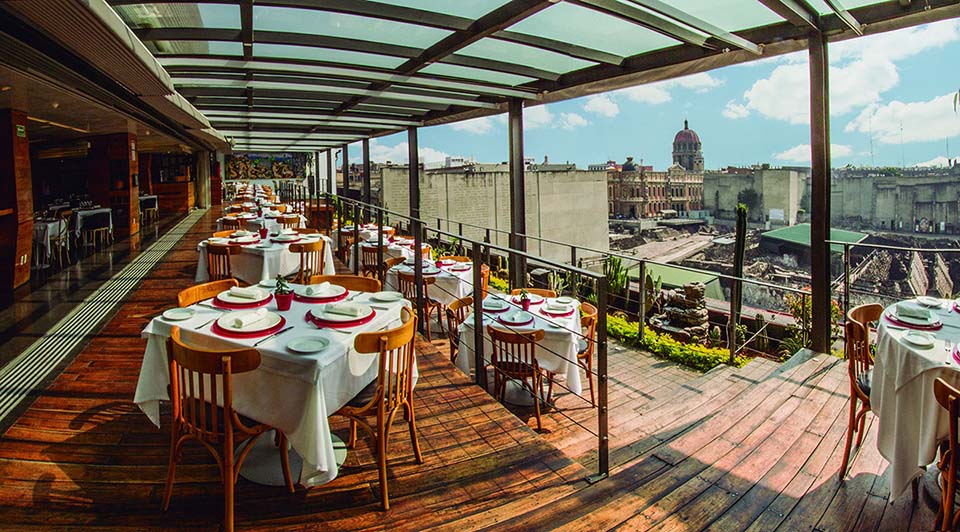 El Mayor - Photo: https://elmayor.com.mx/
Found on the corner of República de Argentina and Justo Sierra, in the heart of the historic center of Mexico City, El Mayor is a great spot for mixing tasty Mexican food with fantastic views.
Located on top of the traditional publishing house and the Porua Bookstore, the rooftop restaurant and bar holds an historical in location, but comes with a contemporary in design.
Cacti originating from Mexico, granite and wood floors, and modern furniture, all surrounded with fantastic views over the Metropolitan Cathedral, the ruins, the city main square and the buildings of colonial and modern Mexico.
Up here you can enjoy tasty and classic Mexican food with a contemporary touch, creating unique dishes with a fusion of flavors.
The food is complemented with everything from cold beer and classic cocktails, to premium spirits and lemonade.
With great service and a lovely ambience, El Mayor rooftop is a fantastic spot for a breakfast, a lunch, or just some sunny cocktails with a view.
EL MAYOR
Av. República de Argentina 15, Centro Histórico, 06020 Ciudad de México
8.

Quince Rooftop

/ San Miguel de Allende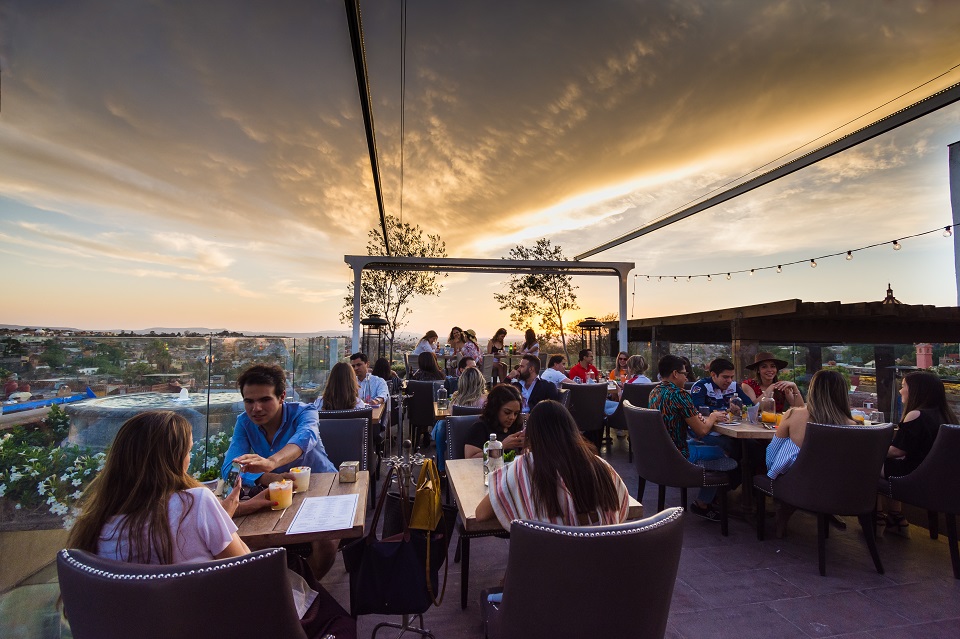 Quince Rooftop - Photo: https://quincerooftop.com/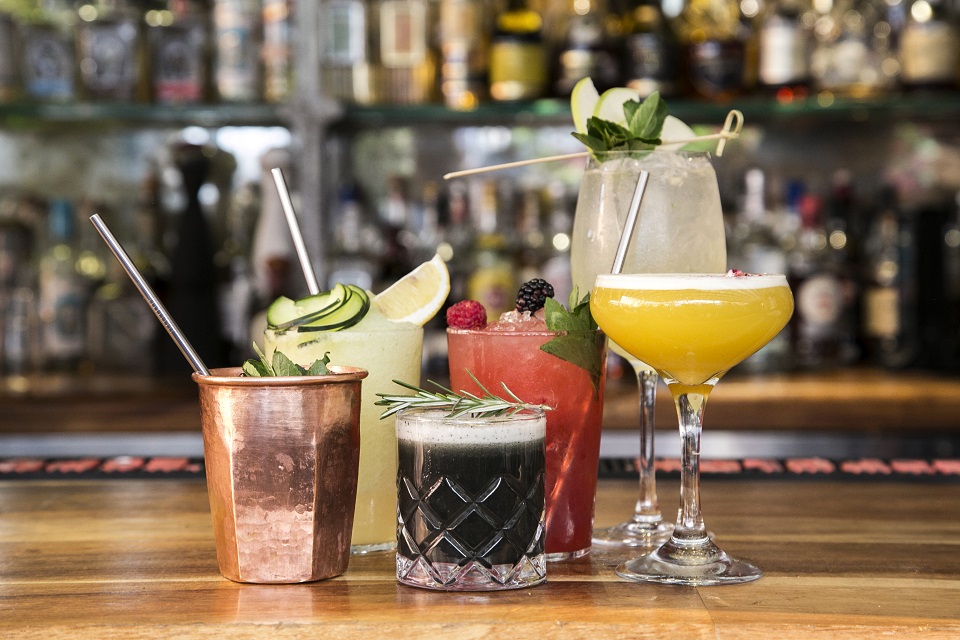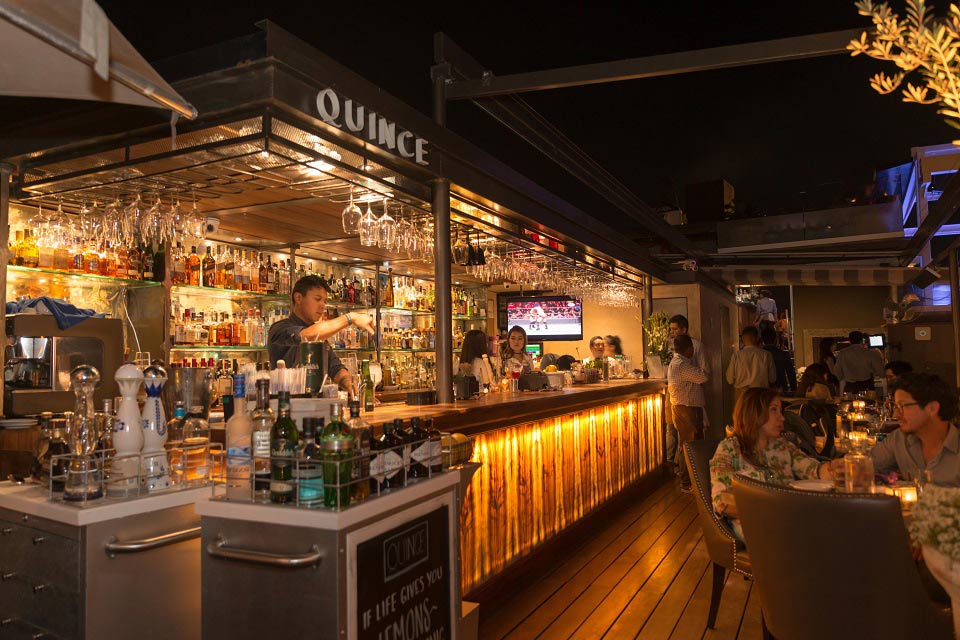 Much more than a bar or restaurant, Quince Rooftop is a true destination. First-time guests may initially come just for a cocktail or a casual Comida with friends overlooking San Miguel's iconic church but often end up staying to eat late-night sushi while dancing to the beat of the DJ.
The food, music, service, cocktails, atmosphere, and clientele come together to make "The Quince Experience." Both elegant and hip, Quince caters to a diverse crowd offering casual fare, fine dining and French pastries.
After helping to make Quince "the #1 Rooftop Destination in the World", according to Robb Report, the owner and chef have continued to evolve Quince's international menu. Stuffed lobster drizzled with chile Manzano cream, crispy kale leaves atop black truffle risotto, and the Texas steakhouse filet are just some of the highlights of the menu.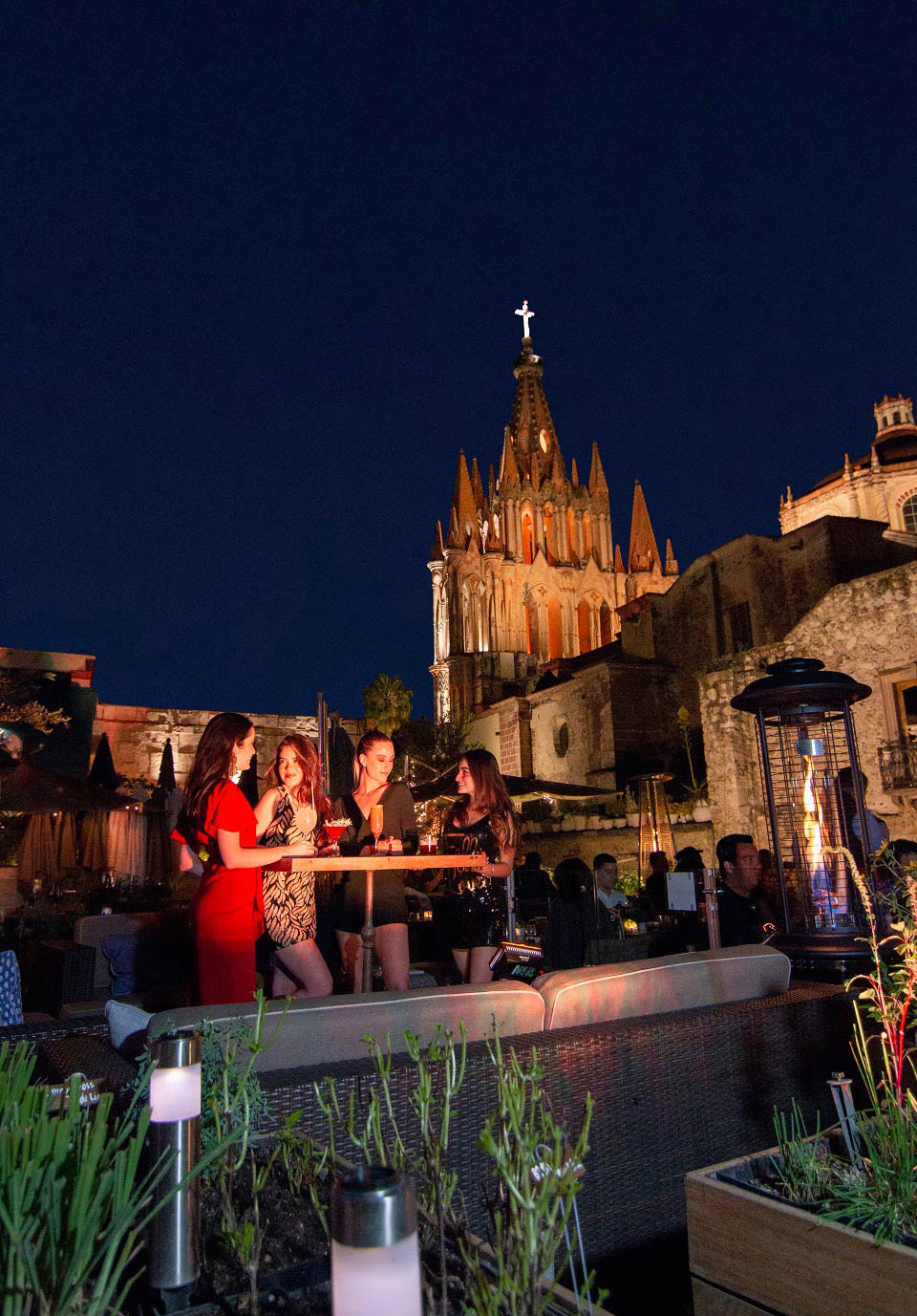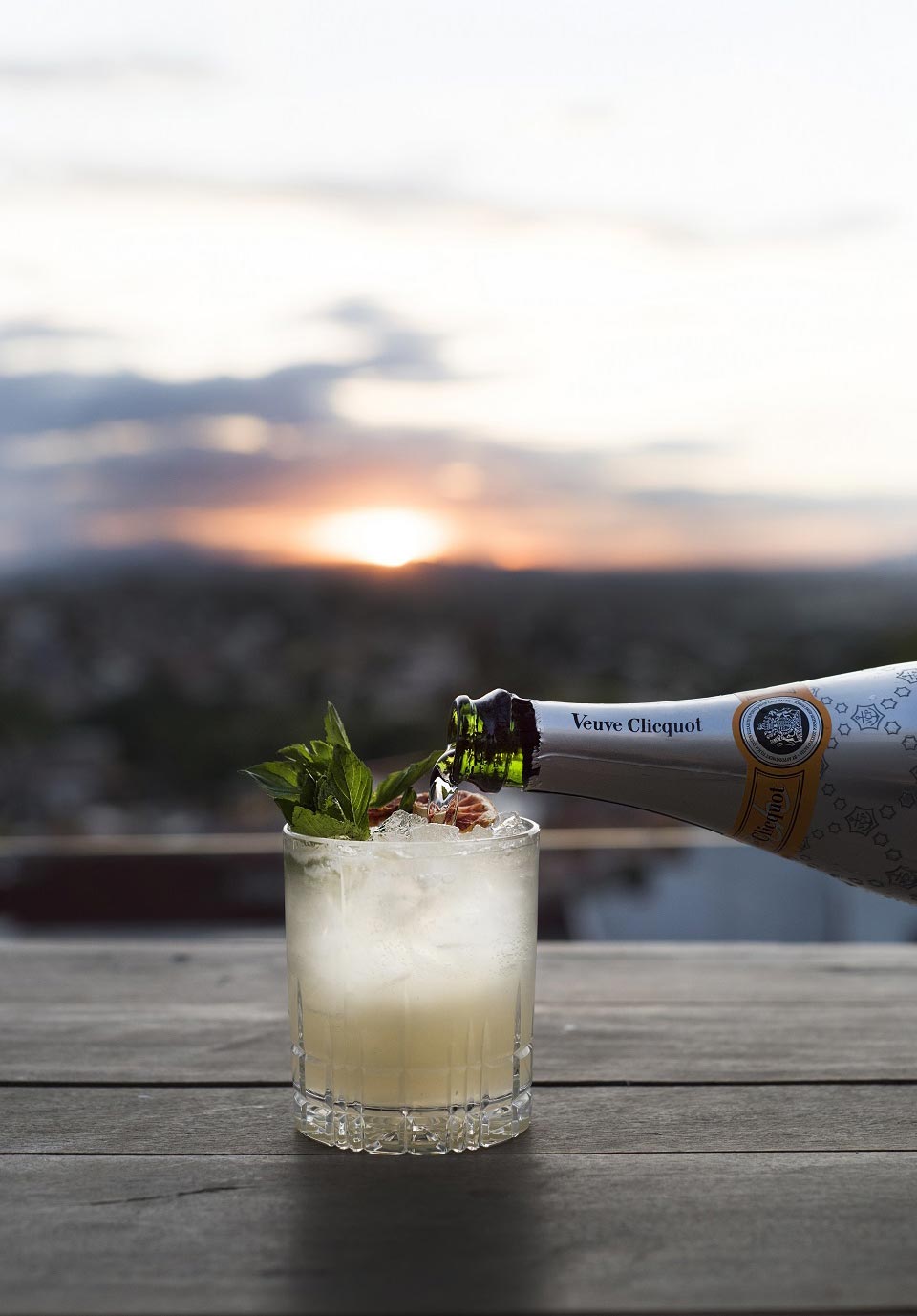 Quince's lead partner hosts his chefs every few months in one of his favorite culinary cities, including Lima, New Orleans, New York and Mexico City, just to name a few. These global stops have provided unique inspiration for Quince's menu. After visiting Peru, Quince's culinary team created a menu of delectable sushi creations that use Japanese techniques, Peruvian spices, and sometimes include some Mexican pepper heat or Texas-style accents.
As the evenings progress at Quince, stunning sunsets appear, and the energy escalates. The music is happy, hip, and familiar to most generations, and ushers a multicultural clientele into the night. Quince's mixology, rated top 10 in Mexico, is prepared while the mixologists showcase their tricks and impress guests with uniquely curated cocktails.
Quince is not only a bar or a rooftop destination, it's a complete experience and a gift to one's soul.
QUINCE ROOFTOP
Cuna de Allende 15, Zona Centro, Centro, 37700 San Miguel de Allende, Gto
9.

Breathless Cancun Soul Resort & Spa

/ Cancun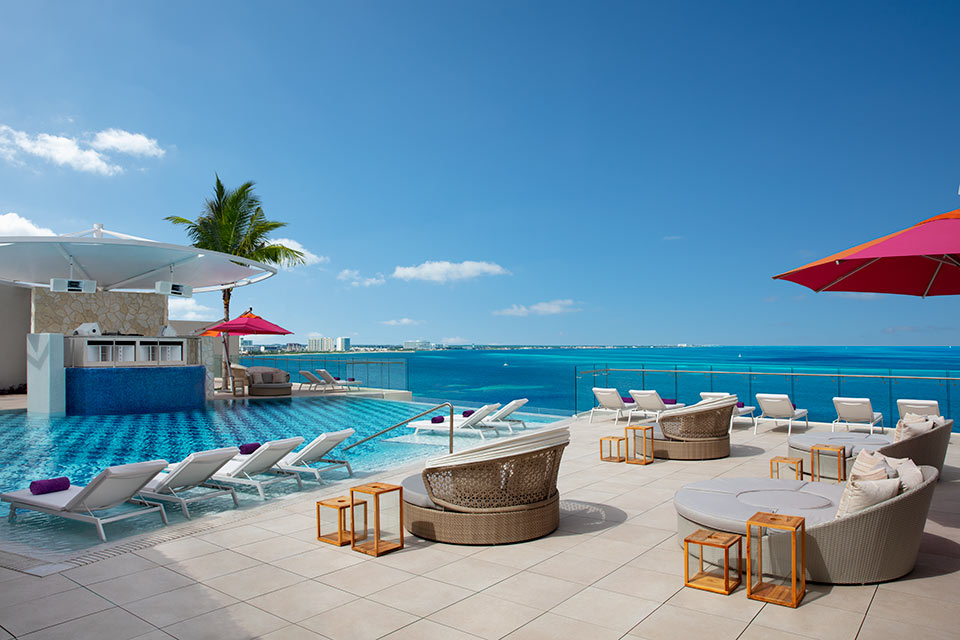 Breathless Cancun Soul Resort & Spa - Photo: www.amrcollection.com
Breathless Cancun Soul Resort & Spa, nestled between the Caribbean Sea and Nichupte Lagoon, is auxurious and cosmopolitan beachfront haven, equipped with several amazing rooftop venues.
To start with, the resort is set over two buildings, which means two rooftops and double the elevated excitement.
The lower rooftop is called Xcelerate Rooftop, and this is the most spacious one. Here you find a beautiful and glittering infinity pool, which also holds the Deep swim-up bar, serving cool and refreshing cocktails while a DJ plays the best mixes of today's hits.
Next to the pool is the exclusive Fizz Iced Champagne Bar, as well as the poolside grill Bare Buns, offering delicious burgers and snacks.
All of this with some truly breathtaking views over both the Caribbean Sea and the Nichupte Lagoon.
Moving on up, the other Breathless Cancun Soul rooftop is set on top of the skyline tower. Here you find another fantastic infinity pool with a swim-up bar, called Purple Bar, which is exclusive for xhale club members.
Next to the pool, the elegant Silk City restaurantoffers tasty Pan-Asian cuisine as dinner every night.
Almost needless to say, the rooftop comes surrounded with absolutely amazing views, to the hotel zone, over the water and to Cancun city.
All in all, Breathless Cancun Soul Resort & Spa is truly a rooftop heaven.
BREATHLESS CANCUN SOUL RESORT & SPA
Blvd. Kukulcan, Km. 4.5, Num Ext: MZ 34 LT 3-C Seccion C Int SN, Col, 77500 Cancún, Q.R.
10.

Cityzen Rooftop Kitchen

/ Mexico City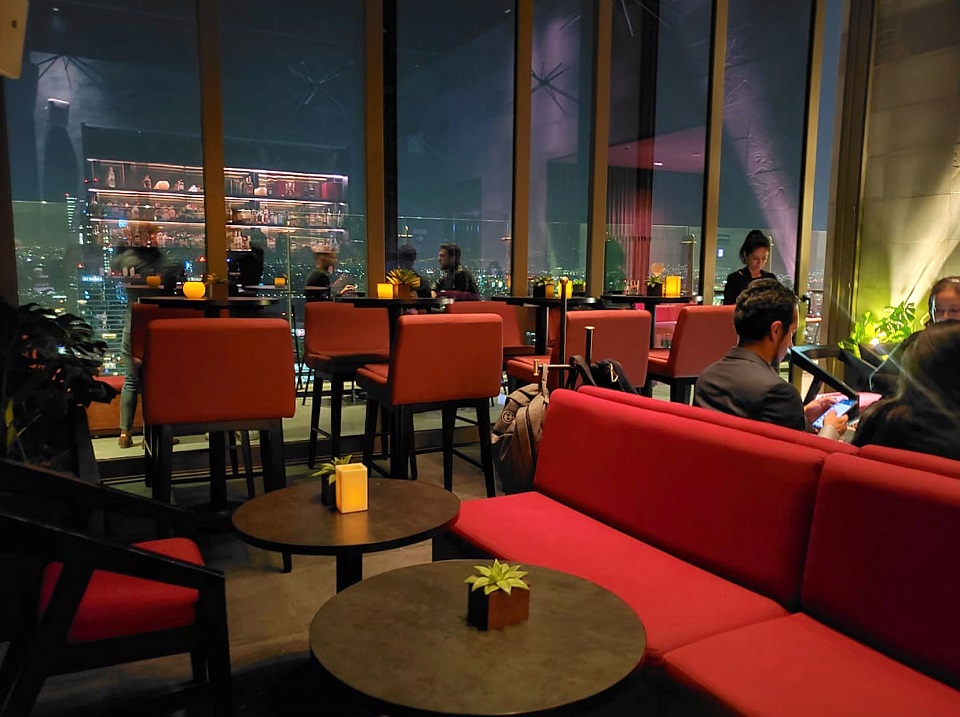 Cityzen Rooftop Kitchen - Photo: www.sofitel-mexico-city.com
Located on the 38th floor of Mexico City's famous Hotel Sofitel, Cityzen Rooftop Kitchen offers both an exclusive atmosphere and jaw-dropping views of one of the world's busiest cities.
Cityzen Bar has both indoor and outdoor seating, as well as a large semi-open terrace from which you can enjoy unimpeded 180-degree views to the Chapultepec Castle, the Paseo de la Reforma, and the Angel de la Independencia.
Open Mon-Fri from 1:00 pm to 1:00 pm and Sat-Sun from 10:00 am to 12:00 am, Cityzen boasts an exclusive atmosphere, relaxing music, minimalist and tasteful decoration, as well as a rooftop pool, though the latter is reserved for clients of the hotel.
Helmed by award-winning mixologist Riester Morales, who won the Grand Marnier award in 2018, Cityzen offers high-end spirits, delicious tequilas, mezcals, and a collection of both classic and signature cocktails.
Cocktails like the Montparnasse and Mexican Eagle, mix French-style mixology techniques and Mexican ingredients and spirits to create innovative and adventurous signature cocktails that can be enjoyed by the glass or by the jug.
Cityzen also offers a food menu with luscious French and Mexican cuisine, offering both mains and dishes perfect to share.
The bar also features a small but delicious menu of mocktails and smoothies, in case you want to enjoy the atmosphere without drinking.
CITYZEN ROOFTOP KITCHEN
Av. Paseo de la Reforma 297, Cuauhtémoc, 06500 Ciudad de México, CDMX
11.

Rooftop Bar at HUNAB Tulum

/ Tulum
Rooftop Bar at HUNAB Tulum - Photo: https://www.hunabtulum.com/
With a privileged location on the intersection of Cobá Avenue and the entrance to the biggest residential zone in Tulum, the impressive HUNAB Lifestyle Center is a modern hot-spot to enjoy the best of jungle fun.
The 4 300m2, sustainable designed, outdoors commercial lifestyle center offers a wide range of gastronomical options, accommodation, entertainment, shopping, wellness and services over several floors, where the spacious rooftop is the most elevated experience.
Up here you find coastal chic restaurant and bar, as well as amazing infinity pools, chillout areas and rooftop fitness center. Not to mention, amazing views over the surrounding jungle.
To enjoy the prime relaxation in the comfy sun beds by the infinity pools, you can either go for a Day Pass ($500mxn, with $400mxn food & drinks credit), or book nights at the Motto By Hilton Tulum.
Otherwise, all are welcome to indulge in sublime cocktails, tasty food with friends, great music and jungle sunsets at the rooftop restaurant and bar.
ROOFTOP BAR AT HUNAB
Esquina Entrada, Avenida Coba, Aldea Zama, 77765 Tulum, Q.R.
12.

Bartola Sky Bar

/ Guanajuato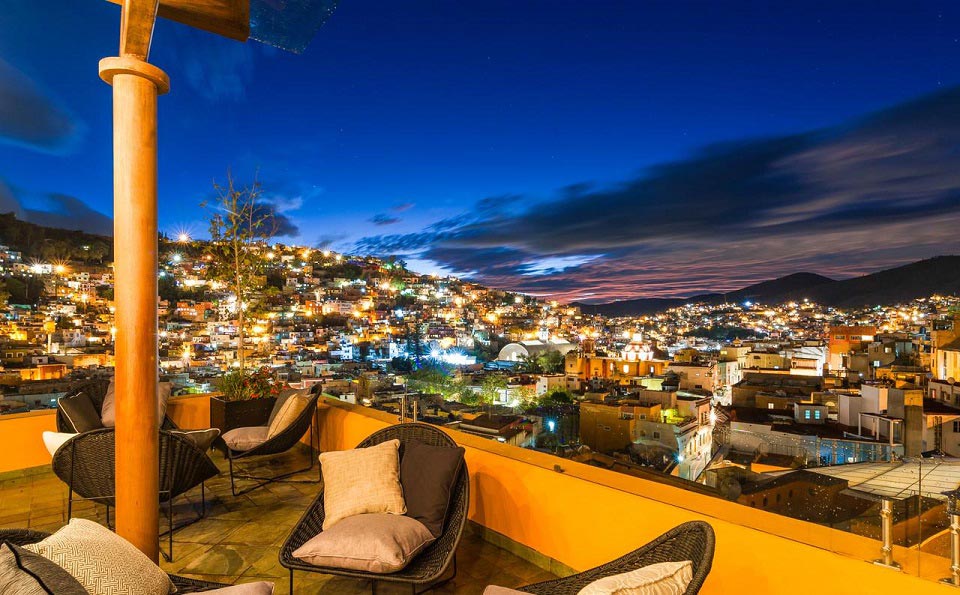 Bartola Sky Bar - Photo: www.casadelrector.com
Overlooking one of Guanajuato's most famous streets, and boasting jaw-dropping views of the colorful city, Casa del Rector is an adult-only boutique hotel that offers not only amazing service but one of the city's coolest rooftop bars, called Bartola Sky Bar.
Casa del Rector is also home to one of Guanajuato's few rooftop pools, which only adds to the appeal of this 19th-century refurbished and repurposed boutique hotel.
Equipped with both indoor and outdoor seating, furnished with simple yet comfortable areas, and decorated with lush greenery and green walls, Casa del Rector Rooftop Bar is a pleasure to visit no matter the time of the day.
Start your visit to Guanajuato with a delicious coffee, drop by in the middle of the day for a splash, and a fresh cocktail or dine while overlooking one of Mexico's most romantic cities. The choice is yours to make.
Up here, the atmosphere is exclusive and relaxed, providing an oasis and a perfect place for relaxation that you won't find elsewhere in the city.
While the on-site bar has a wide selection of beers, cocktails, and world-spirit, wines are the true star of the show, with an extensive collection with wines from all over the world that you can enjoy while overlooking a sunset over the city.
BARTOLA
Positos 33, Zona Centro, 36000 Guanajuato, Gto
13.

Breathless Cabo San Lucas

/ Los Cabos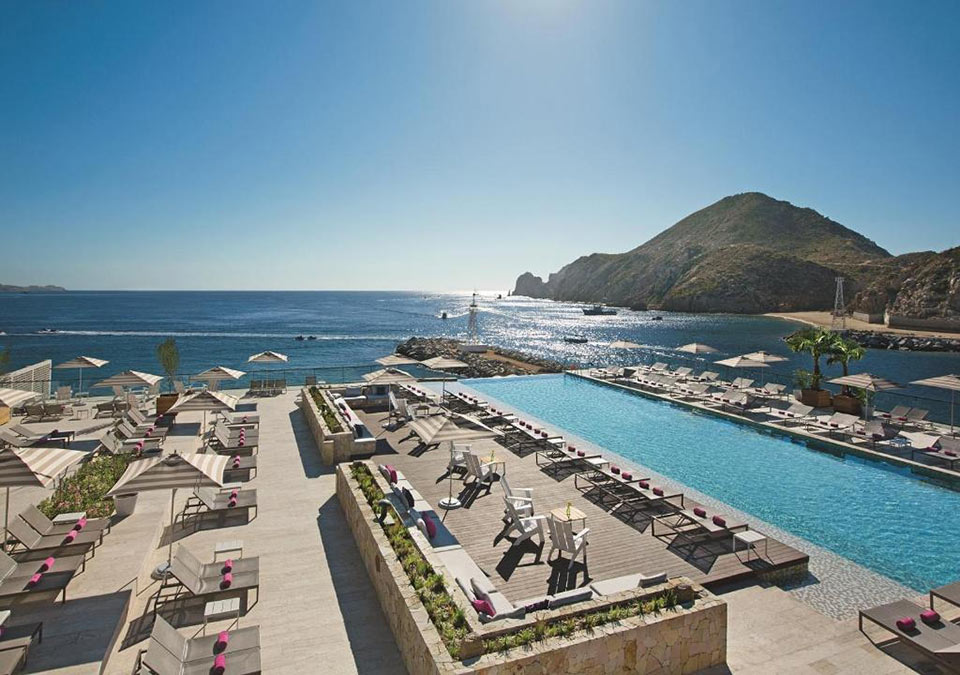 Breathless Cabo San Lucas - Photo: www.amrcollection.com
Located in front of Médano Beach, just next to the Marina Los Cabos, Breathless Cabo San Lucas Resort & Spa offers an ultra-chic, all inclusive and adults only experience, filled with elevated venues, vibes and amazing views.
To stay refreshed under the Cabo sun, there are two beautiful infinity pools. One more relaxing overlooking the marina, and one more upbeat in the Freestyle Entertainment Zone, with views of Medano Beach, the ocean and the bay.
Among the seven uniquely social eateries and four chic bars and lounges, there are two more elevated ones to enjoy food and drinks with a view.
One is Kibbeh restaurant, a romantic and exciting Eastern Mediterranean restaurant with striking panoramic views, open for dinner nightly.
The other is the award-winning Purple VIP Rooftop Lounge, where you can enjoy the sun and the stunning rooftop views of the Marina and the Sea of Cortez with a cool drink during the day, and join the party on the rooftop and dance with local DJs in the evening.
BREATHLESS CABO SAN LUCAS
P.º de La Marina 4750, El Medano Ejidal, 23453 Cabo San Lucas, B.C.S.