5 Best Rooftop Pools in Sydney
Guide
5 Best Rooftop Pools in Sydney
A summer in Sydney is hard to beat!
Published: January 9, 2020
What better way to spend a summer day than at a rooftop, swimming in a pool with the view of the city skyline and famous monuments. This list is made so that you could find your favorite Sydney rooftop pool to relax at.
There is not an abundance of rooftop pools in Sydney, but don't despair, we have made a list of the 5 best rooftop pools Sydney has to offer right here.
And if you rather drink with a view, you can find the best rooftop bars Sydney has available here.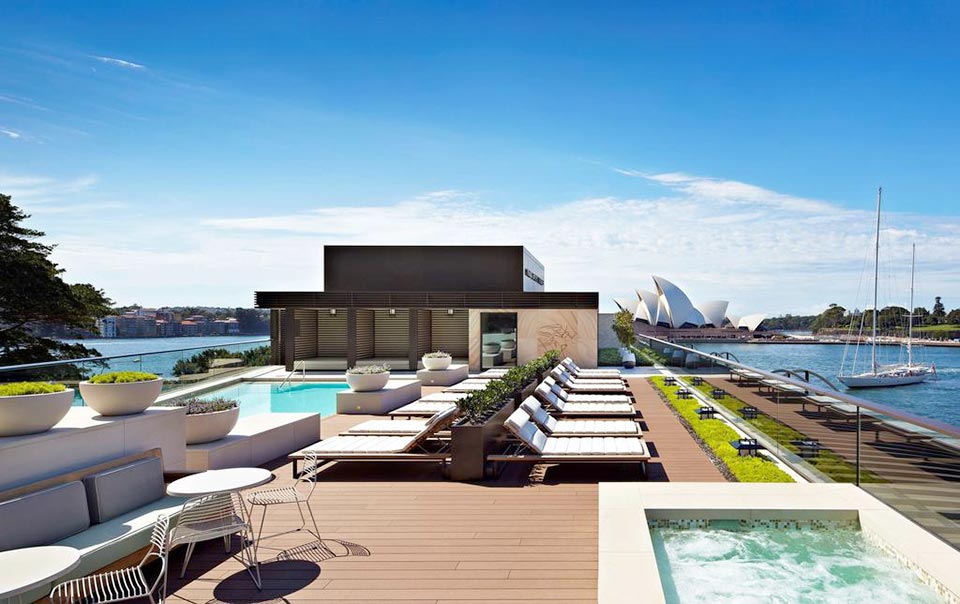 Park Hyatt | Photo: www.hyatt.com/
Park Hyatt Sydney is home to one of the most luxurious and private rooftop pools you can find in this city. With beautiful views of the Opera House and the Sydney Harbour, you'll feel like you're right in the middle of everything here.
But despite the central location, this is a true oasis in the middle of Sydney.
The terrace is equipped with a stylish and heated swimming pool, a spa, cabanas and a private sun deck. Like almost all other Sydney rooftop pools, it's only available for the guests of the hotel.
Heated, so open year round, the rooftop pool alone is well worth booking a stay at the fantastic and five star Park Hyatt Sydney.
Adress: 7 Hickson Road, Sydney CBD, 2000 Sydney
Availability: Pool only available to guests at the hotel
Open: Sunrise to sunset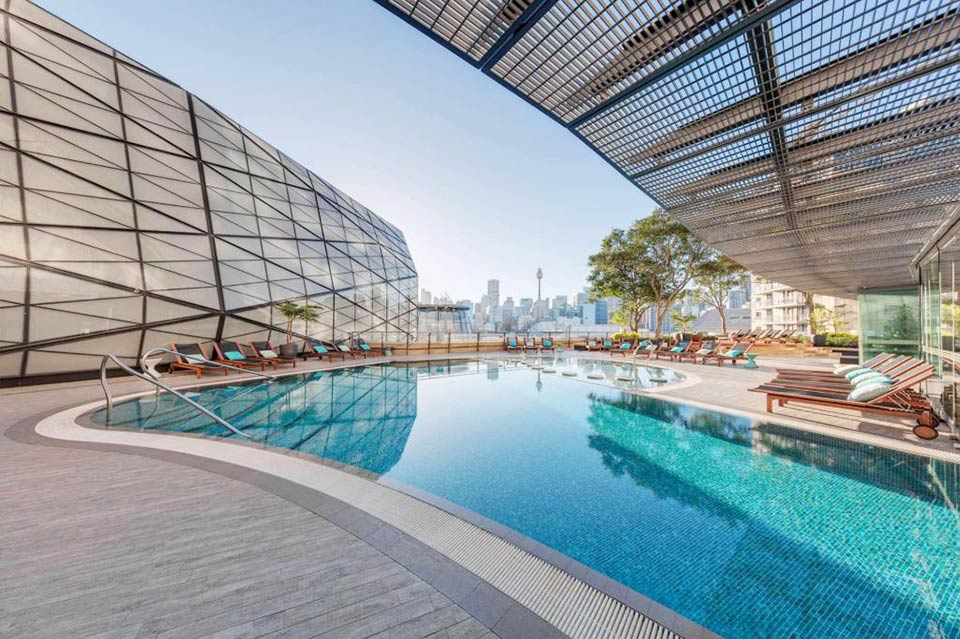 The Star Grand Hotel | Photo: www.star.com.au/
One of the biggest rooftop pools in Sydney is found at The Star Grand Hotel and Residences Sydney. And the pool is not only big, but also well designed, making it look very luxurious and inviting.
To put a finishing touch to the beautiful pool, it is also framed with a lovely view over the harbour and Sydney skyline. As with many other rooftop pools, you have to be a guest at the superb hotel The Star to use it.
As a guest, you'll have access to complimentary towels, newspapers and water all day long. And if you should forget your swimwear, you can buy a pair of new ones right by the pool.
Situated in The Star Entertainment Complex, so after some laps in the rooftop pool or just relaxing in a sun lounger, you are just a short walk away from the casino, a variety of high-end restaurants, bars and loads of other entertainment.
Adress: 80 Pyrmont Street, Pyrmont, 2009 Sydney
Availability: Pool only available to guests at the hotel
Open: 6am-9pm
Location: Level 5
InterContinental Double Bay | Photo: https://doublebay.intercontinental.com/
Located in Double Bay, a bit outside the city center, the rooftop swimming pool at InterContinental Sydney Double Bay is not the largest in Sydney. But what it lacks in size, it delivers in setting, views and atmosphere.
Crafted with limestone rock walls, the rooftop pool is surrounded with stylish day beds and comfy cabanas, where guests staying at the hotel can relax, while admiring the beautiful views over the Double Bay harbour.
Available from 7am to 1 hour after sunset, the terrace is also equipped with a rooftop bar, serving delicious cocktails all day long. The staff at hand is also ready to help you with towels, sunscreen, or whatever you might need. Truly relaxing, and worthy of a five star venue.
Adress: 33 Cross Street, Double Bay, Double Bay, 2028 Sydney
Availability: Pool only available to guests at the hotel
Open: 7am-1 hour past sunset
Collaboration
Pullman Sydney Hyde Park | Photo: www.pullmansydneyhydepark.com.au/
Given the name, it should come as no surprise that this Pullman Hotel is located right by Hyde Park. The five star establishment holds a very famous Sydney rooftop pool, mainly because it's been featured in several movies and TV shows.
The swimming pool at Pullman Hyde Park is super luxurious and offers premium views in the central parts of Sydney amidst the downtown skyscrapers. Only available for the hotels guests, who also can enjoy some poolside dining.
The rooftop actually holds a full recreation area, and in addition to the pool there is alos a fully equipped gym, jacuzzi and a sauna. Perfect mix of energy and relaxation, combined with the breathtaking view of the city rooftops and glimpses of Wolloomooloo Bay.
Adress: 36 College St, Sydney CBD, 2000 Sydney
Availability: Pool only available to guests at the hotel
Notable: Full recreation rooftop: pool, gym, jacuzzi, sauna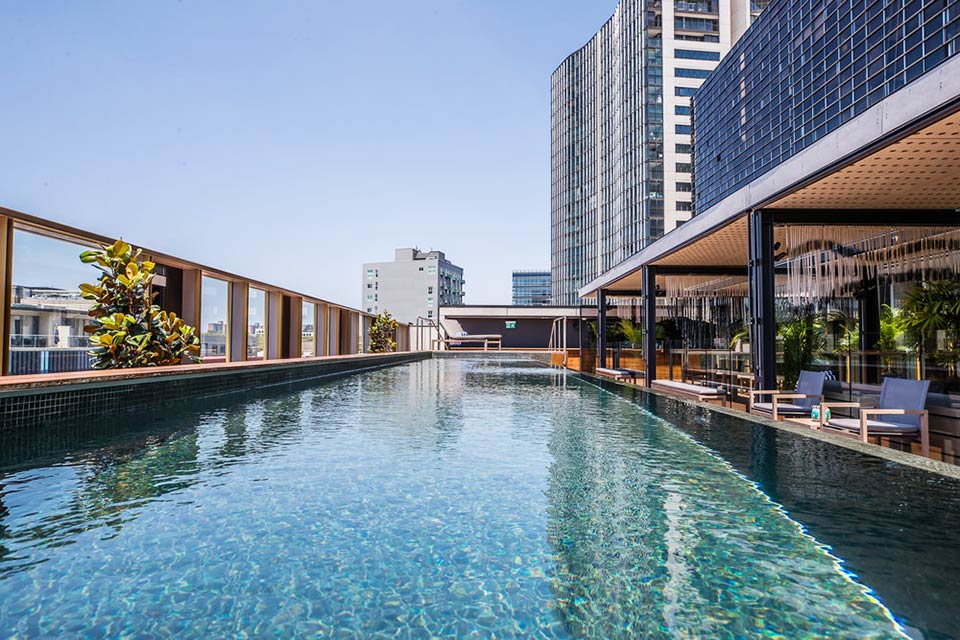 The Old Clare Hotel | Photo: www.theoldclarehotel.com.au/
One of the newest rooftop pools Sydney has to offer. Set on the 4th floor of the industrial-chic Old Clare Hotel, the rooftop pool and terrace offers a bird's eye views of the city and its rooftops.
A sophisticated roof terrace with a harmonious atmosphere, located right by the Central Station. So a very central rooftop oasis.
The main feature of the terrace is the amazing 14-metre rooftop pool, which is heated and pleasant for a swim year round. The pool is usually only available for the guests staying at the hotel, but there is also a rooftop bar, open to all from Wednesday to Sunday.
So mixing drinks and bites with a swim is definitely not a problem at the Old Clare Hotel. And since the superb hotel and beautiful hotel was recently refurbished, booking some nights here should mean no problems either. Quite the opposite, actually.
Adress: 1 Kensington Street, Chippendale, Sydney CBD, 2008 Sydney
Availability: Pool only available to guests at the hotel (sometimes public events)
Rooftop bar: Open to all, Wed-Sun 3pm-9.30pm
Collaboration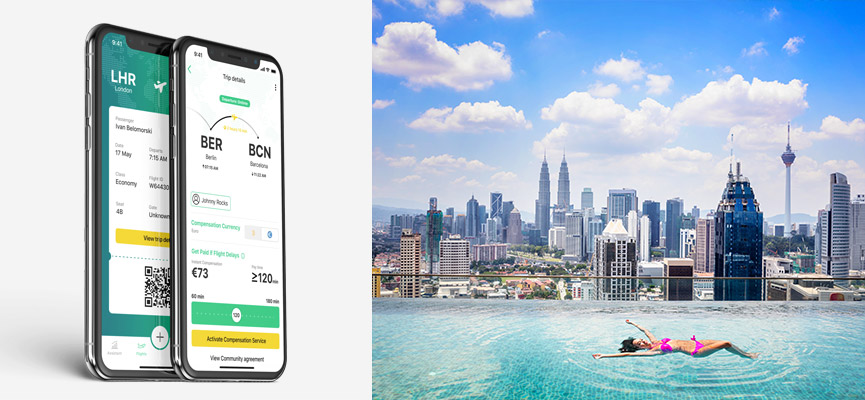 Smart travel
This app offers instant and 100% guaranteed compensation on flight delays
Colibra is a new app that gives you compensation EVERY time.