Article
Rooftop restaurants in Sydney
Dine with ocean views in a lively and vibrant atmosphere
Published: November 5, 2020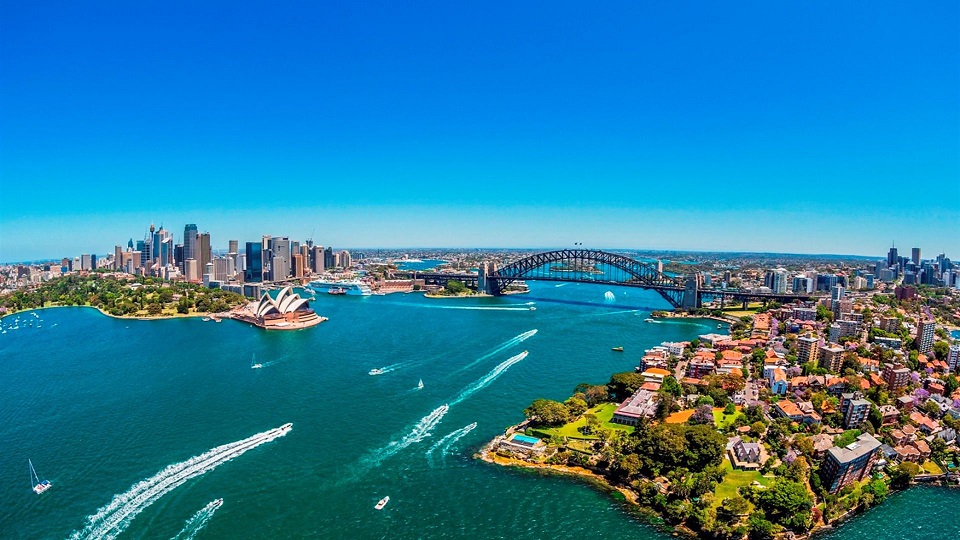 Sydney is one of the most popular cities in the world. And it is easy to understand why. For people with a love of food and drinks, this is paradise.
And of course you can find some great restaurants with a view here. We have assembled a list of the 6 best rooftop restaurants in Sydney.
A list with a great variety in both view, atmosphere and food. Find the rooftop restaurant that suit your needs best.
1.

The Bristol Arms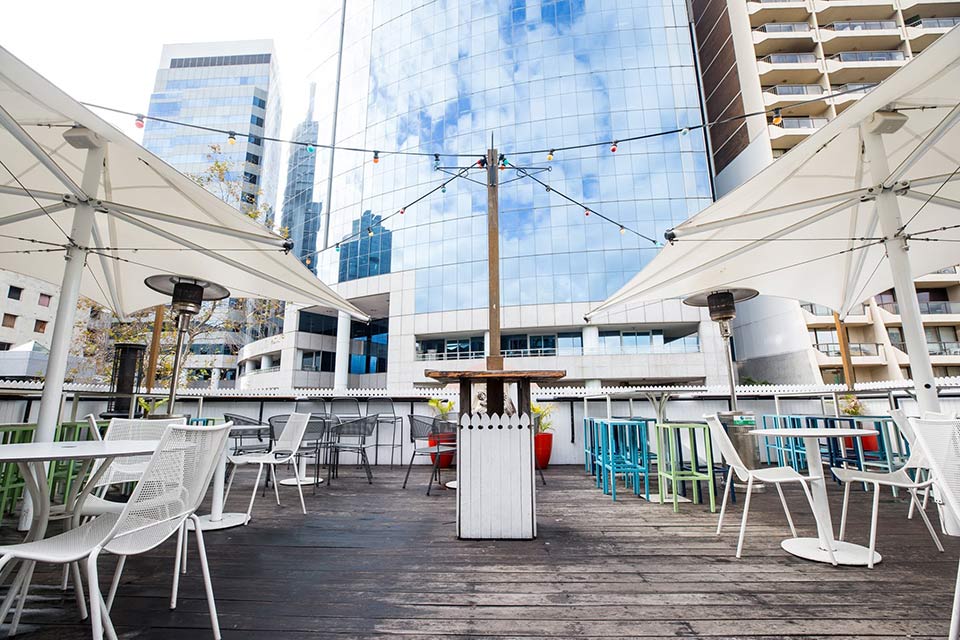 The Bristol Arms | Photocredit: www.thebristolarms.com.au
A classic pub, popular amongst locals and visitors alike, The Bristol Arms boasts one of Sydney's most beautiful rooftop terraces.
Located close to Darling Harbor and offering gorgeous views of the city's downtown, The Bristol offers both indoor and outdoor seating, as well as dining spaces on the lower levels.
Here, you can expect classic pub foods and burgers, as well as a wide range of beers, wines, and cocktails.
The entire venue has a laid-back and casual atmosphere, as The Bristol Arms is a pub without pretenses, despite its popularity.
This is the perfect location for food and drinks with friends, watching the big game, and enjoying live music during the late afternoon.
THE BRISTOL ARMS
81 Sussex Street, Sydney 2000
Daily: Lunch / Dinner
Classic pub food
2.

Coogee Pavilion
Coogee Pavilion | Photocredit: www.merivale.com.au
A popular location, particularly in the last few years, the Coogee Pavilion is a huge rooftop terrace, large enough to hold four different bars and a wrap-around balcony to ensure every guest gets a spot.
One floor down, you can find a fantastic restaurant known as "the Pav," a family-friendly venue complete with scrabble, ping pong, and an in-house theater, perfect for entertaining children and adults alike.
Though it's completely roofed, the bar still offers beautiful views of Sydney and the Australian coastline, as well as an extensive food menu inspired by Eastern Mediterranean cuisine.
The rooftop bar is exclusive for adults and serves a fantastic collection of wines, cocktails, beers, and world-liquors, as well as comfortable seating options and a lively yet fashionable atmosphere.
Whether you're visiting the Coogee Pavilion for drinks or food, keep in mind that this venue is remarkably popular, which means you should get to the venue early or else get comfortable to wait for a while.
COOGEE PAVILION
169 Dolphin St, Coogee 2034, Sydney
Daily: Lunch / Dinner
Mediterranean
3.

The Light Brigade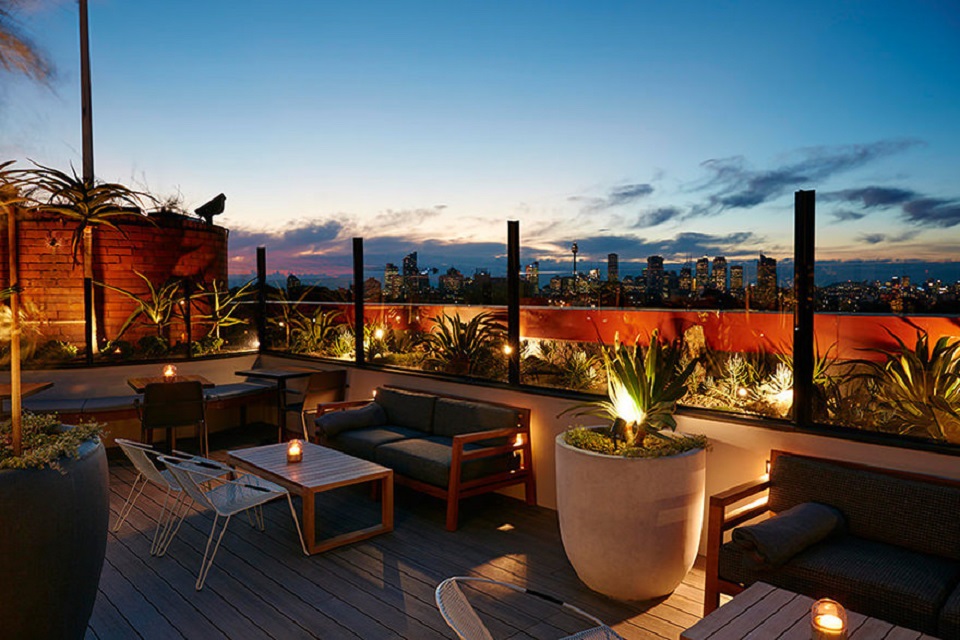 The Light Brigade | Photocredit: www.lightbrigade.com.au
Located on a 4th floor, roughly around 83 meters above sea level, The Light Brigade might not be the tallest building in this list, but it still offers spectacular views of the Sydney skyline.
What's more, the entire four-story building belongs to The Light Brigade, which means you can find four different settings in total, to ensure the fun doesn't run out.
The ground floor is where the Brigade Bar is located. This quaint sports bar shows live sports and serves pub classic in a lively yet traditional atmosphere.
The second floor, Brigade Bistro, is a fantastic casual dining destination. Perfect for eating before or after watching the big game.
The third floor, the Brigade Lounge, is a posh cocktail bar with a chic 1920's Art Deco feel that specializes in classic and signature cocktails and is the perfect place for people looking for something more exclusive.
The fourth floor is where Brigade Rooftop is, and up here; you can enjoy wood-fire pizzas, delicious burgers, classic cocktails, beers on tap, and wines.
Though the best views can be found in the rooftop, there's still plenty to see in the entire building, making The Light Brigade an excellent destination to visit over and over again.
THE LIGHT BRIGADE
2A Oxford St, Woollahra NSW 2025
Daily: Lunch/ Dinner
Pizza and bar menu
Collaboration
4.

Watsons Bay Boutique Hotel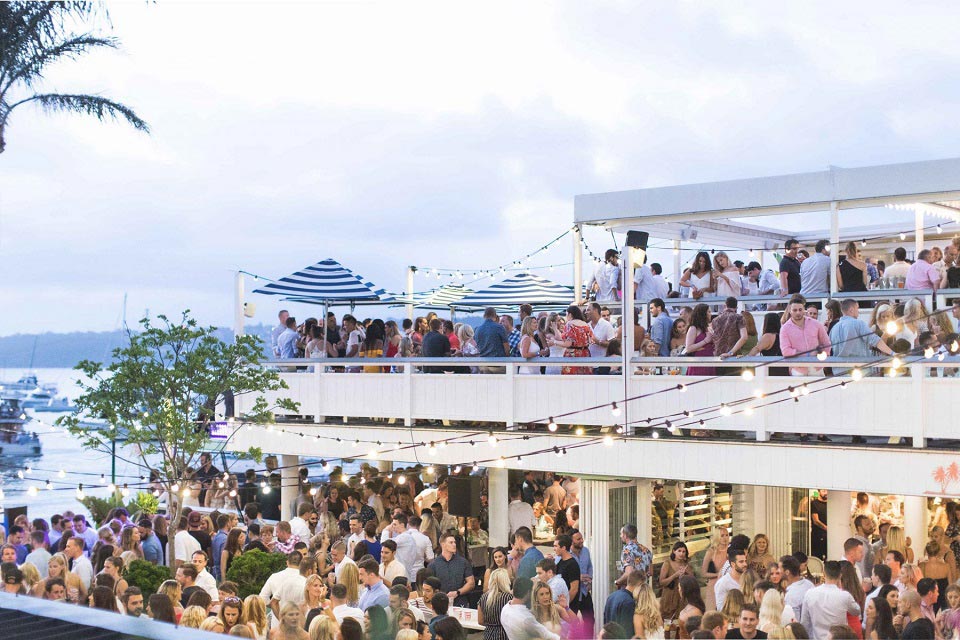 Watsons Bay Boutique Hotel | Photocredit: www.watsonsbayhotel.com.au
While the Watsons Bay hotel is a sight to behold, with its 31 exquisitely furnished rooms and top-notch service, today, we'll be focusing on its beach club and its gorgeous second-floor terrace.
From up here, you can enjoy beautiful views of the Sydney skyline, as well as the bay and all the boats outside.
Since Watsons Bay Boutique Hotel is located in one of Sydney's most iconic harbor beaches, the beach club is the perfect choice for relaxation and enjoyment.
Decorated with classical maritime decor, comfortable furnishings that run the range between large lounge sofas and dining tables, as well as huge umbrellas to protect guests from the elements, this rooftop venue is prepared to entertain throughout most of the year.
Besides the tasteful decor, you can find an open kitchen that focuses on European and seafood-inspired dishes and a well-stocked bar that specializes in expertly-mixed cocktails, European wines, and beers.
Because of its location by the harbor and its casual, laid back atmosphere, the Watsons Bay rooftop is a popular spot, particularly during the weekends, where live DJs and lively crowds arrive to get the party started.
WATSONS BAY BOUTIQUE HOTEL
1 Military Rd, Watsons Bay NSW 2030
Daily: Breakfast / Lunch / Dinner
Seafood / European
5.

Café del Mar Sydney
Café del Mar Sydney | Photocredit: www.cafedelmar.com.au
A luxurious venue that aims to bring a slice of Ibiza to the Darling Harbor, Café del Mar operates both as a restaurant and a rooftop bar, offering gorgeous views of the city, and delicious Mediterranean influenced food.
The indoor restaurant is stylish, furnished with large dining tables, and equipped with floor to ceiling windows that give you a great view of the ocean.
The rooftop terrace boasts modern and comfortable lounge furniture, tasteful decor, and a beach club vibe that invites you to sit back and relax.
The rooftop terrace also serves tapas, but if you're looking for a more substantial fare, you'll have to move to the restaurant.
Café del Mar serves wines, champagne, an extensive collection of both classic and signature cocktails, as well as ice-cold beer, all accompanied by live DJ shows, and excellent service.
CAFE DEL MAR
Cockle Bay Wharf / Roof Top Terrace, Sydney
Daily: Lunch / Dinner
Mediterranean
6.

Strawberry Hills Hotel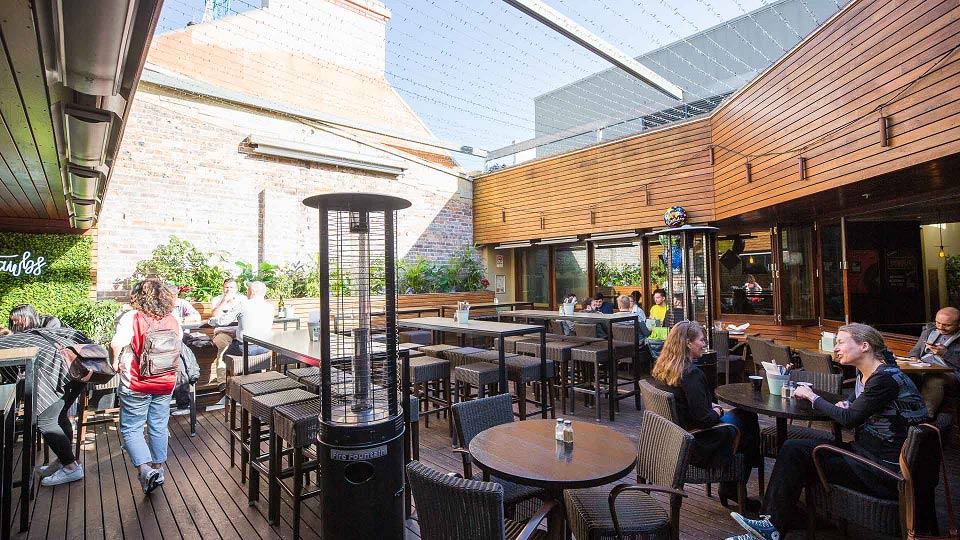 Strawberry Hills Hotel | Photocredit:www.strawberryhillshotel.com.au
Having recently undergone a refurbishment to get a modern look, Strawberry Hills Hotel is one of Sydney's most well-known pubs, attracting a hip and youthful crowd thanks to its fantastic rooftop beer garden.
This venue offers three different areas: A ground floor Aussie pub, an indoor restaurant, and a rooftop terrace.
The pub is the perfect place for a few drinks and to catch up with friends while watching sports; the restaurant serves a variety off meals, like burgers, pizza, lamb shanks, and steaks.
The rooftop beer garden focuses on, you guessed it, beer, and it's by far the most popular area of the establishment, attracting vibrant crowds and live DJs, particularly during the weekends.
STRAWBERRY HILLS HOTEL
452 Elizabeth St, Surry Hills 2010, Sydney
Daily: Breakfast / Lunch / Dinner
Pub food