Swimming pools and Stockholm is not the most common combo. But during recent years, more and more rooftops have popped up in the Swedish capital and it was only a matter of time before the rooftop pools made their entry.
Now you can find three magical rooftop pools in Stockholm. All of them located at classy hotels, and for access to the great pools, you'll need to be a guest at the hotel and/or pay a fee.
Given that the climate in Stockholm is not really rooftop friendly year-round, you will be happy to know that during the colder season, the rooftop pools listed are heated, so you can get your swim on no matter the weather.
Here's our list of the best rooftop pools in Stockholm.
1.

Downtown Camper by Scandic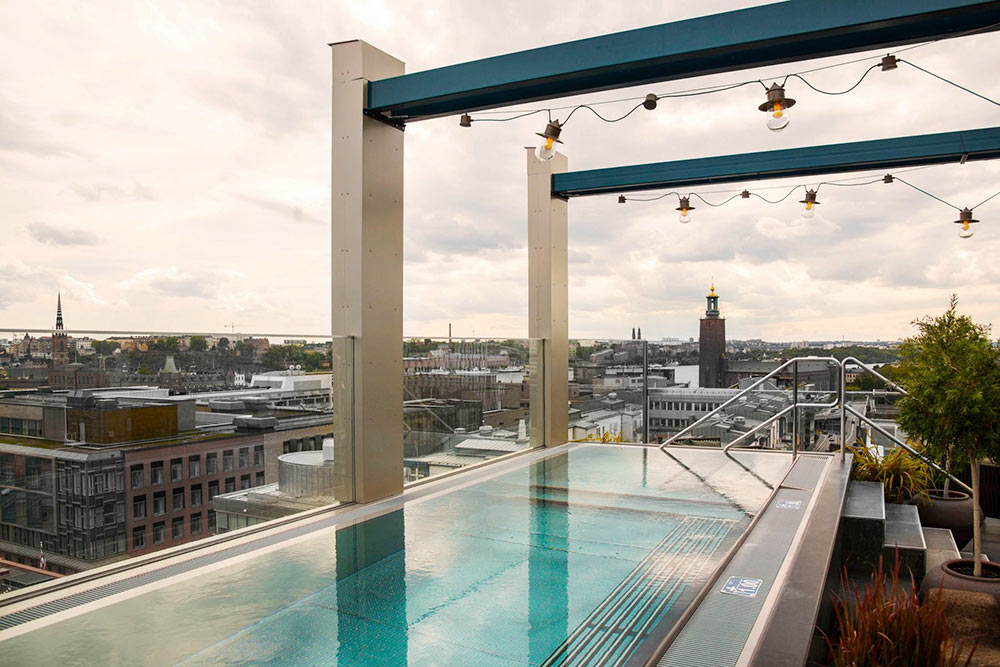 Rooftop pool Stockholm at Downtown Camper by Scandic | Photo: www.scandichotels.se
The Downtown Camper is a beautiful boutique hotel that aims to offer a place to stay and a wellness environment, promoting exercise, relaxation, and the chance to be one with nature while in the middle of the city.
With this in mind, it's easy to see why the hotel's rooftop has quickly transformed into one of Stockholm's most beloved rooftop venues amongst those who are looking to relax and have a few drinks.
Called The Nest Wellness, the rooftop spa-area includes comfy seating both indoor and outdoors, as well as relaxation rooms, sauna and experience showers. But the true gem is the amazing outdoor rooftop pool. Heated to about 38 degrees all year, and surrounded with fantastic views over the Stockholm skyline.
Remember that reservations to enter the wellness-area are mandatory, even if you are staying at the hotel.
Next door you also find The Nest Cocktail Lounge, open from afternoon to late evening to all, serving signature cocktails and refreshing mocktails in a great atmosphere.
2.

The Winery Hotel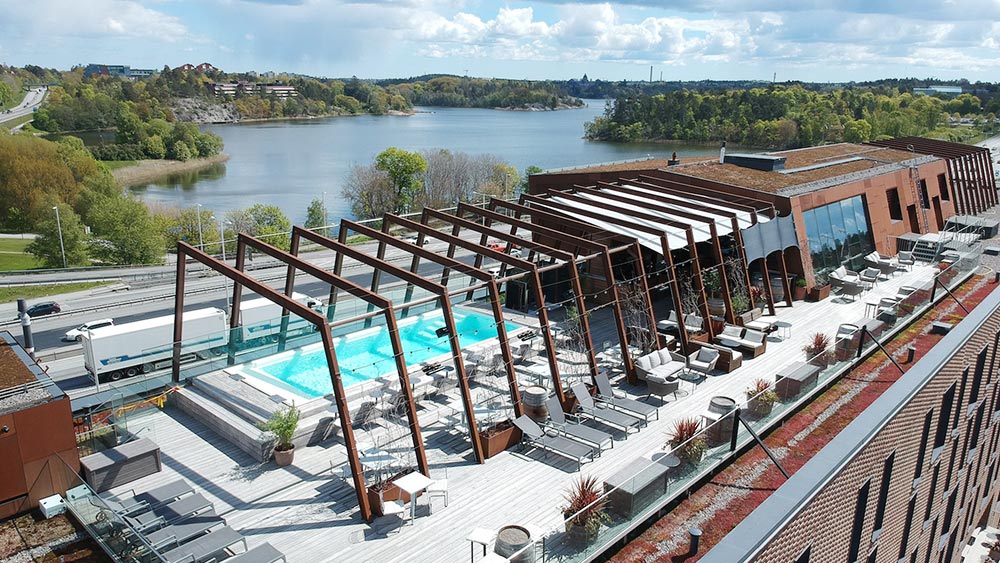 Rooftop pool Stockholm at The Winery Hotel | Photo: www.thewineryhotel.se
Opened in 2016, The Winery, as its name implies, is heaven for wine lovers.
The hotel not only has an extensive wine collection from all over the world, but it also produces and sells its own wine, which means they take anything wine-related seriously.
The hotel's rooftop terrace is the perfect place to enjoy a glass of wine, as it comes equipped with sunbeds, bar stools, regular tables, and a large heated rooftop pool from which you can enjoy beautiful views over the water in Brunnsviken, as well as over Solna and the national arena Friends.
The terrace is open for all to enjoy some drinks, Italian bites and views during summer, but the rooftop pool is exclusive to guests staying at the hotel. And while service stops during the colder months, the heated pool stays open, offering a crispy and quite amazing rooftop experience.
3.

Selma City Spa at Clarion Sign
Rooftop pool Stockholm at Selma City Spa at Clarion Sign | Photo: www.selmacityspa.se/
Located just a few minutes away from Stockholm's Central Station, the Clarion Sign hotel is known not only for its fantastic rooms, but also for its dual rooftop setting.
Up on one side of the hotel's 8th floor you can find the Rooftop Garden Bar, a green oasis serving drinks and sustainable food to all during summer. On the other side, Selma City Spa is a Pool Club with a touch of spa, complemented with amazing views over the Swedish capital.
Offering a range of different treatments, the real unique selling point is the heated outdoor rooftop pool. Perfect to stay refreshed during summer, cosy and surrounded with even cosier rooftop igloos during winter.
Open and available to all, there is a fee to enter Selma City Spa (reduced if you stay at the hotel). During summer there are also free events by the rooftop pool, from afternoon tea and after work to vibrant pool parties.