Stockholm and Sweden are very famous for it's beautiful and cold winters. This is however no obstacle for some of the rooftop bars located here.
Instead of being open 5 months during summer, some of the venues can boost with a nice, winter open roof terrace. You can even swim with a view at two rooftops here during winter. A cool and unique experience.
Here's our list of the 5 best winter open rooftop bars in Stockholm.
1.

The Nest at Downtown Camper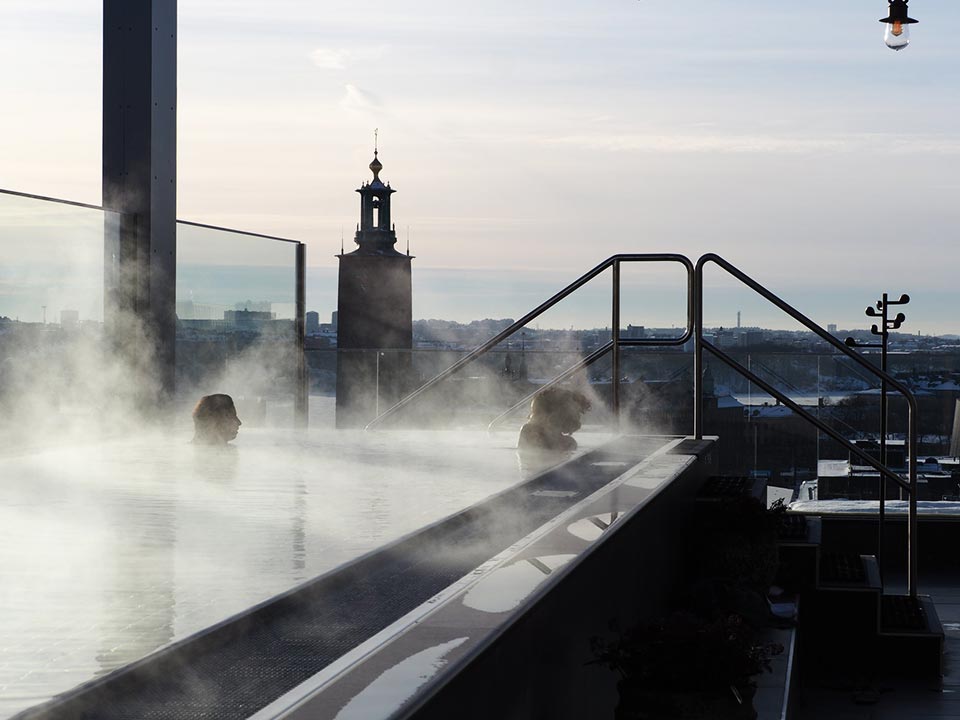 The Nest at Downtown Camper | Photo: www.scandichotels.se
Located at Brunkebergstorg in central Stockholm, Downtown Camper by Scandic offers both a rooftop cocktail bar and a rooftop wellness area.
The bar is called The Nest Cocktail Lounge, a cosy and stylish venue where you can enjoy both signature cocktails, snacks and grand views over the Stockholm rooftops.
All indoors, the bar is open year round for afternoon / nightly drinks and a relaxed and fun atmosphere.
The real gem at the hotel is however the outdoor rooftop pool. Always heated to about 38 degrees celcius, it is maybe even better in winter than in summer.
The pool is part of The Nest wellness area, which also includes sauna, spa treatments, adventure showers and relaxation rooms.
There is a fee to access the wellness area, but add some fresh food and drinks and you will for sure have a day to remember.
Swimming in the warm pool while looking out over a Stockholm in winter dress is an experience highly recommended.
DOWNTOWN CAMPER
Brunkebergstorg 9, 111 51 Stockholm
2.

Capital at Scandic Continental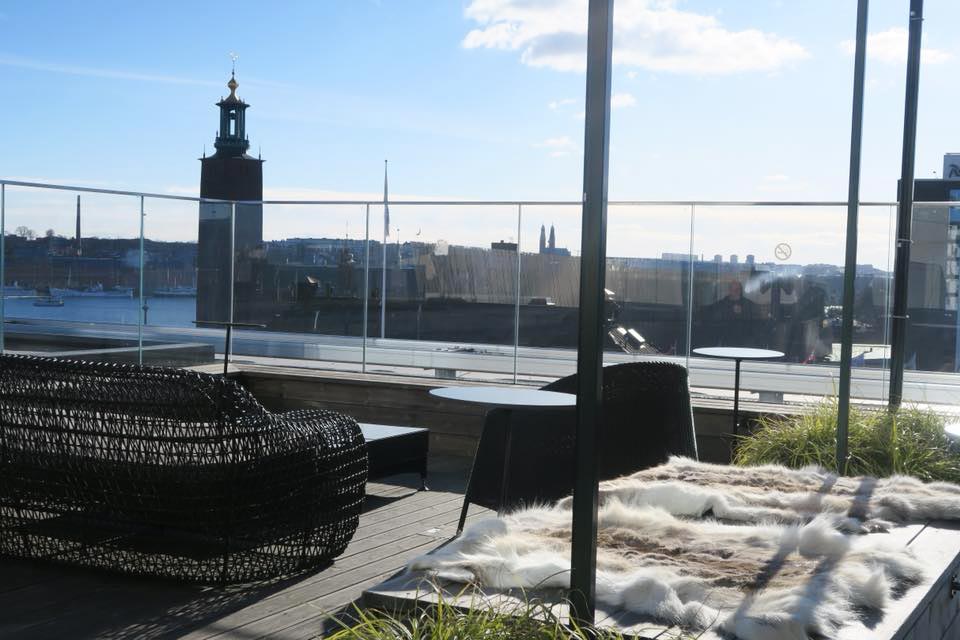 Capital at Scandic Continental | Photo: www.scandichotels.se
Modern and mysterious, the Capital stands just in front of Central Station, which makes it an ideal place to meet new people from all over the world.
Located on the 8th floor, this isn't the tallest bar in Stockholm, but it still offers stunning views to Södermalm, the City Hall, and Kungsholmen.
Capital's wooden terrace is exquisitely decorated with comfortable lounge areas that give the bar an air of elegance and professionalism.
Speaking of professionalism, Capital takes pride in their large selection of beer and wine.
Their pride and joy, though, are their expertly crafted signature cocktails, which are a must-order whenever visiting this bar.
Though not as noteworthy, Capital also offers a small but satisfying menu of bar foods –mostly composed of burgers and salads– that are sure to take away any cravings you may have.
Capital is a popular spot for citizens and travelers alike, so it's better to visit during the afternoon or the early evenings.
The outdoor terrace is a real suntrap, and on a good winter's day you might even be able to work on a tan. Otherwise, heaters are there to help, and if it is to cold, the stylish indoor lounge with panoramic windows is always available.
CAPITAL
Vasagatan 22, 111 20 Stockholm
3.

Tak Stockholm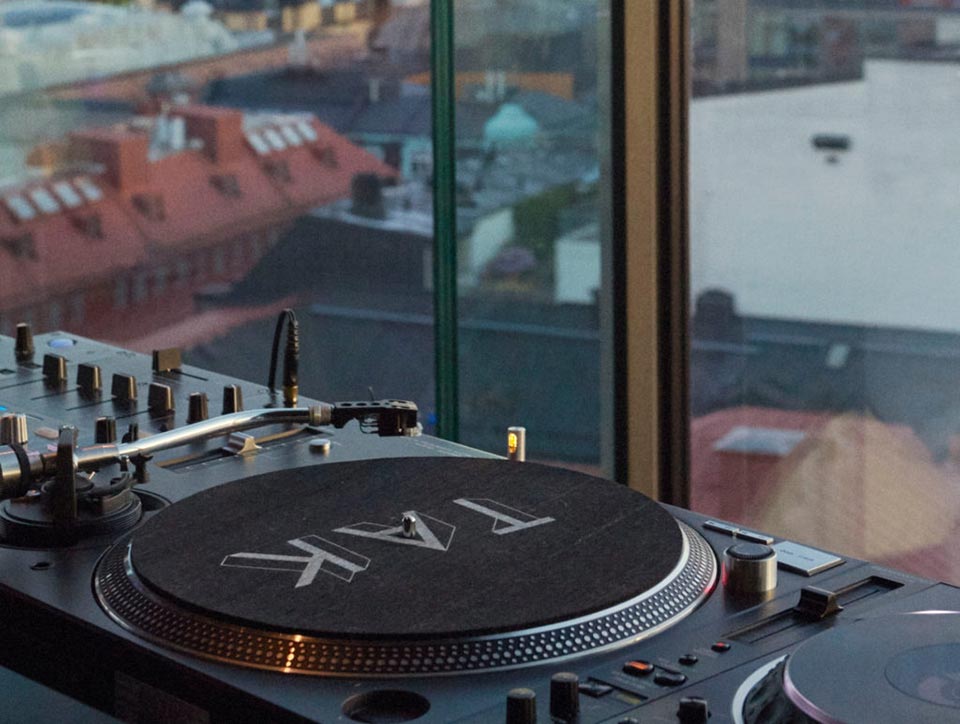 Tak Stockholm | Photo: https://tak.se
Located on a 13th floor and with the motto "one place, four venues," Tak strives to offer something for everyone:
A restaurant, a raw bar, a sky bar and a terrace with amazing views of the city.
What else could you ask for?
The food offered at Tak is a mix of Scandinavian and Japanese cuisine, and though the combination may seem odd to some, it works wonders.
The food also mixes amazingly with the offered drinks, which include beer, wines, and the bar's signature cocktails.
Tak is also one of the few places in Stockholm where you can find both European and Asian beers and wines.
Large enough to fit up to 220 people and with an open-air terrace known for its stunning views and rooftop yoga classes, Tak aims to be more than just a one-time destination.
During summer, Tak is particularly popular, as it offers BBQ, seasonal drinks, and a lively vibe.
Winters aren't far behind.
Thanks to its roofed areas and indoor lounges, Tak is open year-round, and though the crowds may thin out during the winter months, the fun sure doesn't.
Live DJ's and music, extraordinary cocktails, two different restaurants with seasonal menus and spectacular sights make Tak a great place to visit no matter the time of the year.
TAK
Brunkebergstorg 4, 111 512, Stockholm
4.

The Winery Rooftop Terrace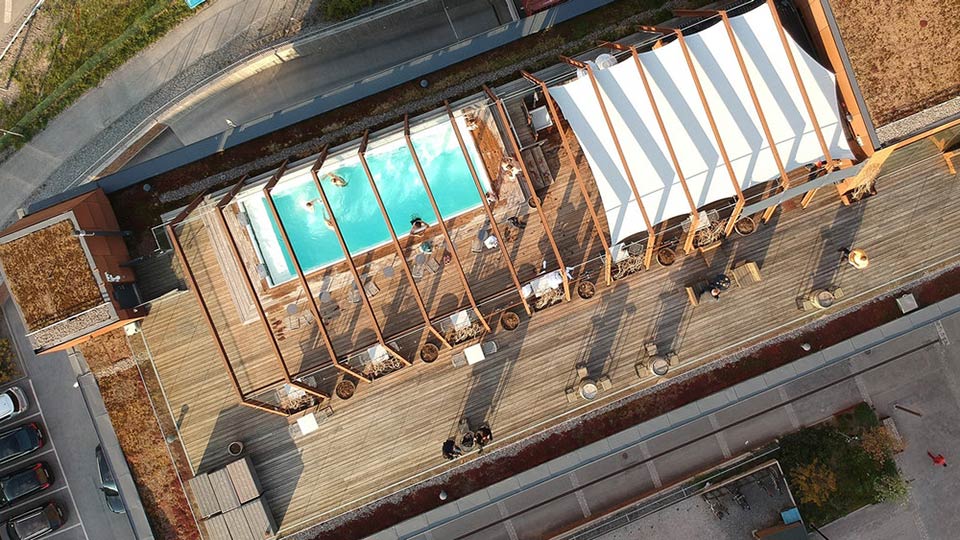 The Winery Rooftop Terrace | Photo: www.thewineryhotel.se
Open in 2016; the Winery Rooftop Terrace is well known for, you guessed it, wines.
Though the bar offers its fair share of beers and carefully-crafted cocktails, the extensive collection of wine more than steals the show.
With an industrial yet cozy decor and a welcoming atmosphere, it's easy to relax while enjoying the views of the Solna neighborhood.
In summer that is. During winter, the Winery Terrace has just one real attraction. But it is an impressive one: The Winery rooftop pool, heated and open year round.
What could be better than taking a dip in a heated pool while enjoying unmatchable views of a snow-covered Stockholm?
To enjoy this winter-magic, you need to book your stay at The Winery Hotel. A great idea if you ask us.
Did we mention that the hotel even has its own winery?
WINERY ROOFTOP TERRACE
Rosenborgsgatan 20, 16974 Solna
5.

Arc at Blique by Nobis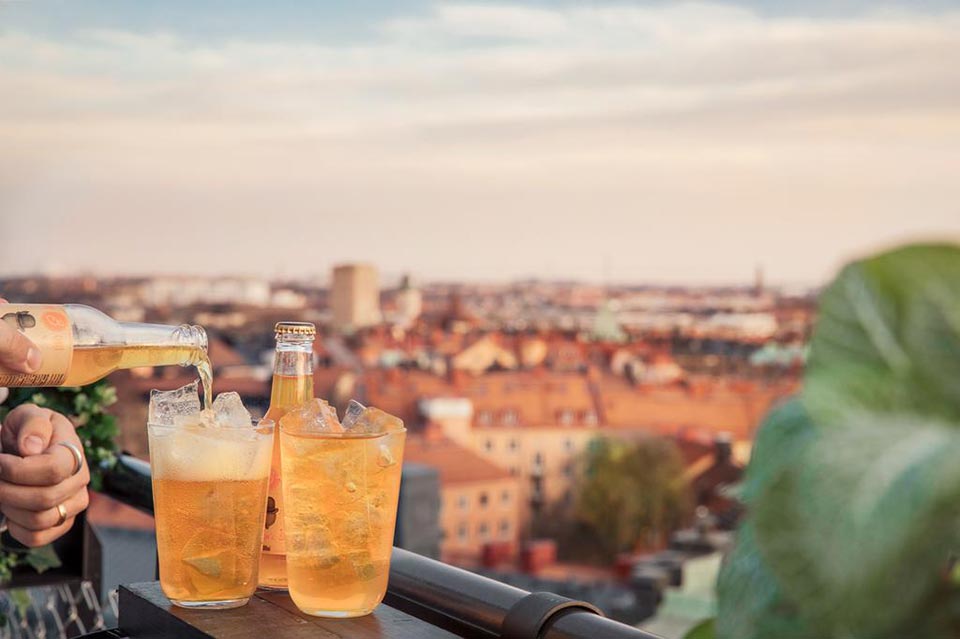 Arc | Photo: www.bliquebynobis.se
Opened in early 2019, the Arc is located in one of Stockholm's newest hotels, Blique by Nobis.
Its privileged 11th-floor location gives guests incredible views of Vasastan, a residential area rarely frequented by tourists.
This secluded location gives Arc a more exclusive and private environment that people who are looking to elude large crowds will surely enjoy.
The multi-level bar and restaurant offer unparalleled views of the city, including one of Stockholm's newest landmarks, the Norra Tornen (Northern Towers).
Champagne, wines, beers, and amazing cocktails are readily available at the Arc, as well as an extensive menu that mixes Asian and European cuisines.
While the multi-level outdoor terrace might be closed if the winter weather is not at its best, the indoor restaurant is open year round and well worth a visit alone.
It is however not huge, so reservations are highly recommended.
ARC
Gävlegatan 18, 113 30 Stockholm