While Scandinavia is not famous for its warm and fuzzy year-round weather, the beautiful spring and summer months are rooftop friendly and well worth waiting for.
The colder winter also means that when the sun finally arrives, Scandinavians make sure to make the the most of it. So on any given warm day you can expect the rooftop bars (and pretty much all outdoor terraces) to be filled with a large crowd and a great atmosphere.
Recent years has seen a boom of rooftop bars in Scandinavia, and there are new ones opening up every season. Here is our list of the 10 best rooftop bars in Scandinavia 2023.
1.

TaKeT

/ Gothenburg
TaKeT - Photo: http://ogbg.se/
Opened in 2016, TaKeT can be found on the 7th floor of Comfort Hotel Gothenburg, offering a relaxed and laid-back atmosphere enjoyed by locals and tourists alike.
Serving jaw-dropping views of the nearby river and Gothenburg's skyline, TaKeT is known not only because of its delicious drinks but also because of its events, which cover anything from live DJ shows to rooftop yoga sessions.
TaKeT is a fantastic destination for the summer, as its open and airy feel helps visitors keep fresh, while a retractable roof also offers cover if needed. Have a seat in one of the comfy loungers, or mingle around the vibrant rooftop bar.
Up here, you can enjoy a fantastic variety of cocktails, wines, beers on tap or by the bottle, and even a small offering of champagne.
During the weekends, you can also find a selection of street food and freshly made BBQ, though if you're hungry, you can always head downstairs to the hotel's restaurant.
TAKET
Skeppsbroplatsen 1, 41121 Gothenburg, Sweden
2.

SUS - Stockholm Under Stjärnorna

/ Stockholm
SUS - Photo: www.sthlmunderstjarnorna.com/
Also known as Stockholm Under the Stars, SUS is one of Stockholm's best-known bars, as well as one of the most famous rooftop destinations in the entire country.
This large rooftop venue offers roughly 1200 square meters of space for casual celebrations, parties, and relaxations, as well as three bars, a rooftop gym, a radio station booth, and jaw-dropping views of the city and the Lake Mälaren's inlet.
The SUS atmosphere can better be described as "upscale but without pretentions," thanks in part to its casual chic atmosphere and its first-come, first-served policy.
The rooftop's three bars are well-stocked, offering cocktails, wines, champagne, beers, international street food, and SUS's famous Frozé slushies, which are remarkably popular during the summer.
In fact, Stockholm Under the Stars is one of the city's favorite summer destinations, thanks to its open floor plan and seasonal events, like BBQs, rooftop cinema, and rooftop yoga.
SUS
Brunkebergstorg 2-4, 111 51 Stockholm, Sweden
3.

THIEF ROOF Bar

/ Oslo
THIEF ROOF Bar - Photo: https://thethief.com/
Trendy, modern, and located on one of Oslo's most unique hotels (The Thief), this rooftop venue offers genuinely amazing panoramic views of the city's skyline, the Holmenkollen Hills, and the Aker Brygge.
Open from April to late autumn, Thief Roof Bar features comfy lounge furniture and traditional stools for your comfort.
Though the bar features an airy, almost entirely open floor plan, portable glass walls, a sliding roof, and heater lamps are readily available if the night turns cold.
Thief's atmosphere is vibrant and casual, perfect for drinks with friends and after-work cocktails.
Drink-wise, expect beers, wines, liquors and signature cocktails, as well as small but delicious summer dishes.
If you're looking for something heartier to eat, you can also find the Thief Roof Grill on the same floor, where you can enjoy delicious grilled meats and more.
THIEF ROOF BAR
Landgangen 1, 0252 Oslo, Norway
4.

Takbaren at Strand Hotel

/ Visby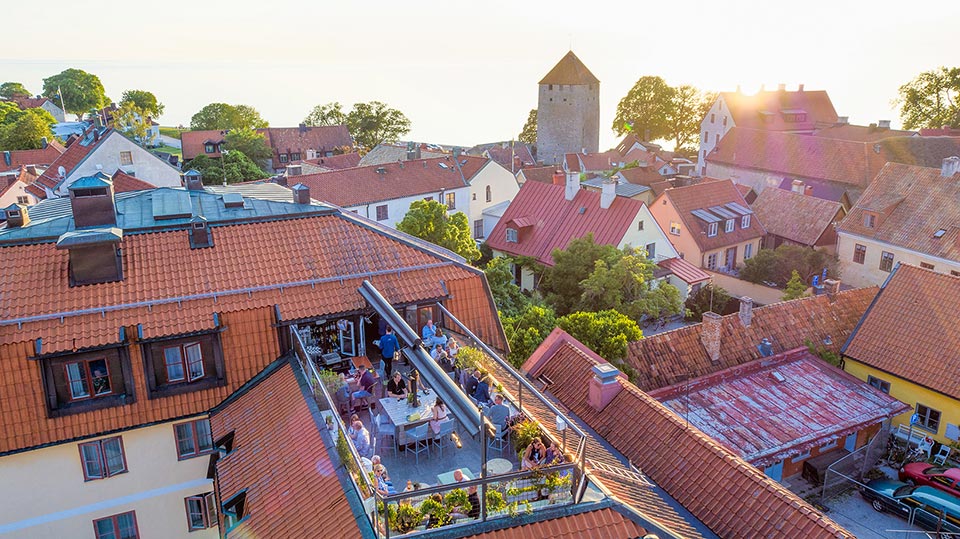 Takbaren at Strand Hotel - Photo: www.matsalenvisby.se/
The World Heritage town of Visby on Gotland Island is known as one of the true hot-spots to enjoy the best of Swedish summer. And there is one hidden gem where the summer vibes are a bit more elevated than anywhere else.
We are talking about Takbaren (the Rooftop Bar), perched on the 4th floor of Best Western Strand Hotel, right in the heart of the city and inside the city wall.
Intimate, lush and charming, the rooftop comes surrounded with fantastic views over the historical rooftops and church ruins in Visby, as well as over the ocean.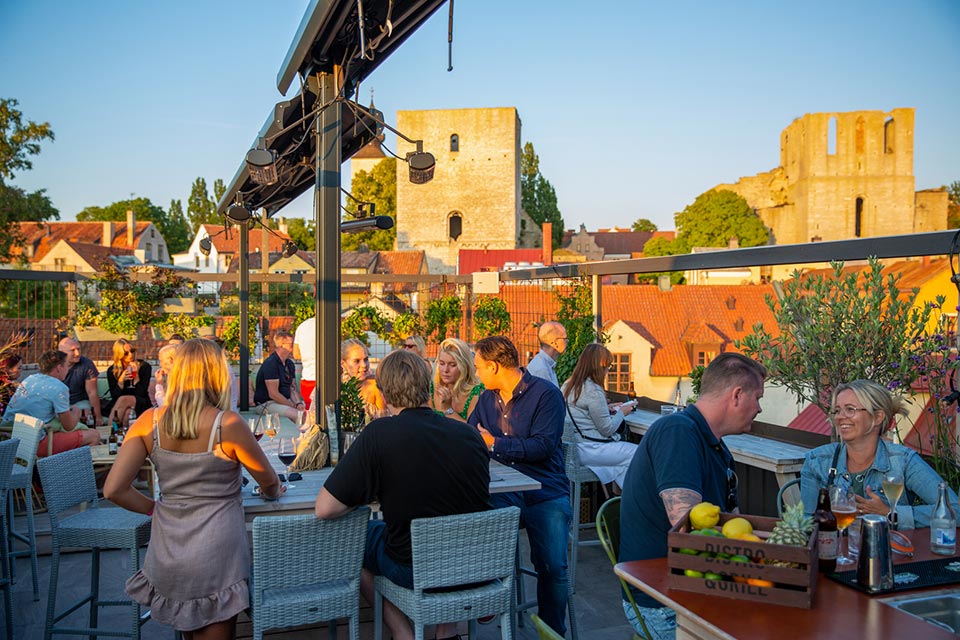 A true summer hot-spot, this is a perfect venue start the evening with a refreshing cocktail or some sparkling wine, before continuing out into the hustle and bustle of Visby.
The 2022 season at Takbaren will start May 27 with weekend openings, and from June 26 to August 20, when the Swedish summer is really in full swing, it is open to enjoy daily from 4pm.
5.

The Terrace at Clarion Hotel Malmö Live

/ Malmö
Illum Rooftop - Photo: https://theterrace.se/
At the third floor of the modern Clarion Hotel Malmö Live, next to Malmö Central and a stone's throw from the pulse around Lilla Torg, you find The Terrace, a summer hot-spot for elevated fun.
Overlooking the Malmö rooftops, this stylish oasis of greenery take visitors on a trip to the beating heart of downtown Miami.
Open during the warmer months, the rooftop bar always offer spritzy cocktails and cold beers. During summer 2023 there will also be a takeover by MASTIO, which will mean a pizza oven on the terrace, and pizzas "without compromise" for all to enjoy.
The Terrace is a great spot for any summer afternoon or evening, also hosting several fun-filled and vibrant happenings during the season.
THE TERRACE
Fiskehamnsgatan 4, 211 18 Malmö, Sweden
6.

Arc at Blique by Nobis

/ Stockholm
Arc - Photo: www.bliquebynobis.se/
One of Stockholm's newest rooftop venues, Arc, is located on the 11th floor of the modern Blique by Nobis hotel and offers jaw-dropping views of Vasastan and Stockholm's skyline.
This rooftop bar's location makes it a popular destination amongst locals, which makes it a fantastic choice for when you need a private spot away from the most hectic tourist-areas.
This gorgeous rooftop venue boasts a sleek and natural design, with multilevel options, indoor and outdoor seatings, tasteful decoration, and a classic and stylish atmosphere you're sure to love.
The indoor rooftop restaurant is a year-round destination, while the open-air terrace is reserved for the warmer months.
Up at Arc you can enjoy seasonal dishes based on local ingredients, inspired by European and Asian cuisine.
Like the food, drinks are a mix of European and Asian-inspired cocktails, as well as more traditional drinks like beers, wines, champagne, and sake.
ARC
Gävlegatan 18, 113 30 Stockholm, Sweden
7.

Rooftop Bar at Clarion Hotel Sea U

/ Helsingborg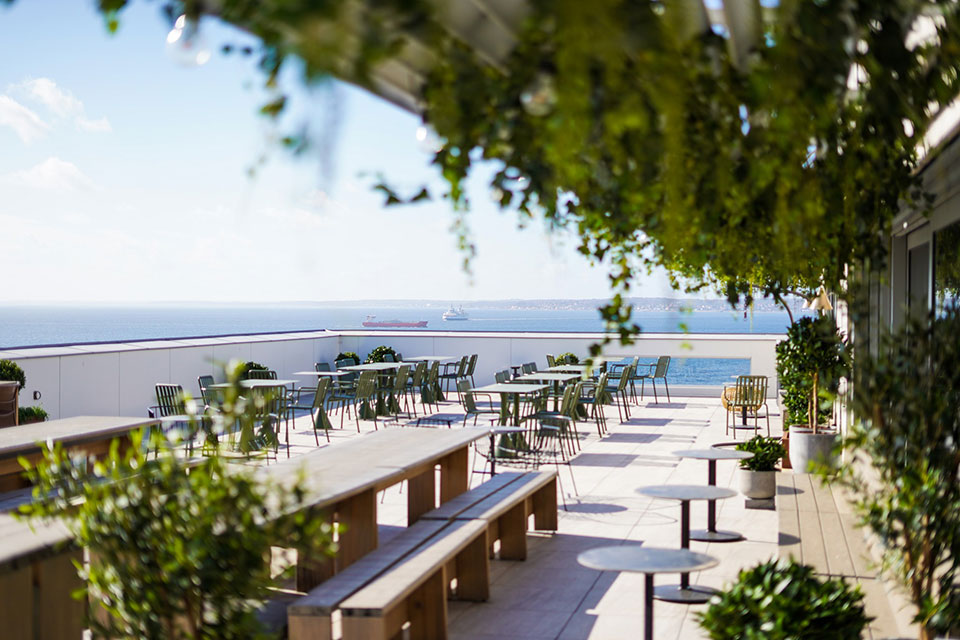 Rooftop Bar at Clarion Hotel Sea U - Photo: www.nordicchoicehotels.se/
Set on top of the modern and stylish Clarion Hotel Sea U, Rooftop Bar is a lush urban oasis, and the very first rooftop in Helsingborg.
Eight floors above the central part of the city, here you are surrounded with amazing views over the ocean, but also over pretty much all of Helsingborg.
Part stylish indoor lounge and bar, where you can enjoy the views year-round through the panoramic windows, the best time is the warmer months, when the spacious outdoor terrace opens for day to night fun.
Bright and trendy, the terrace mixes community tables, dining tables and lounge spots, and it's a perfect spot for elevated drinks, bites and music with friends and family.
The rooftop bar is known for its great selection of crafted signature cocktails, but the menu also inlcudes plenty of wine, bubbles, beer and refreshing bar food.
ROOFTOP BAR AT CLARION HOTEL SEA U
Kungsgatan 1, 252 21 Helsingborg
8.

Capital at Scandic Continental

/ Stockholm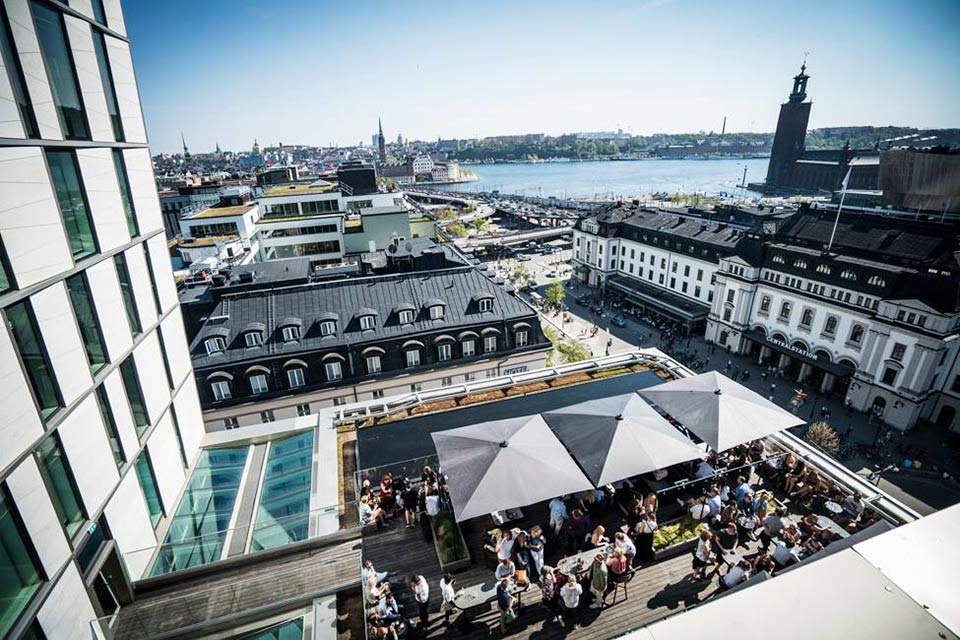 Capital - Photo: www.scandichotels.se/
A modern rooftop bar with an international touch, set on the 8th floor of Scandic Continental Stockholm, right opposite the city central station.
With location right in the herat of the city, the outdoor terrace offers fantastic views over Södermalm, Kungsholmen and the City Hall, as well as being a sun-trap during pretty much all day during summer.
Thanks to the stylish inddor sky bar, Capital can also welcome guests for relaxing afternoons and vibrant nights all year round.
While the rooftop bar offers an impressive wine list and a large selection of beers and bar food, the true pride are the well-crafted and unique signature cocktails.
Come early to enjoy drinks in the Stockholm sun, and stick around through the night for party vibes with a large and festive crowd.
CAPITAL
Vasagatan 22, 111 20 Stockholm, Sweden
9.

Kasai in the Sky

/ Malmö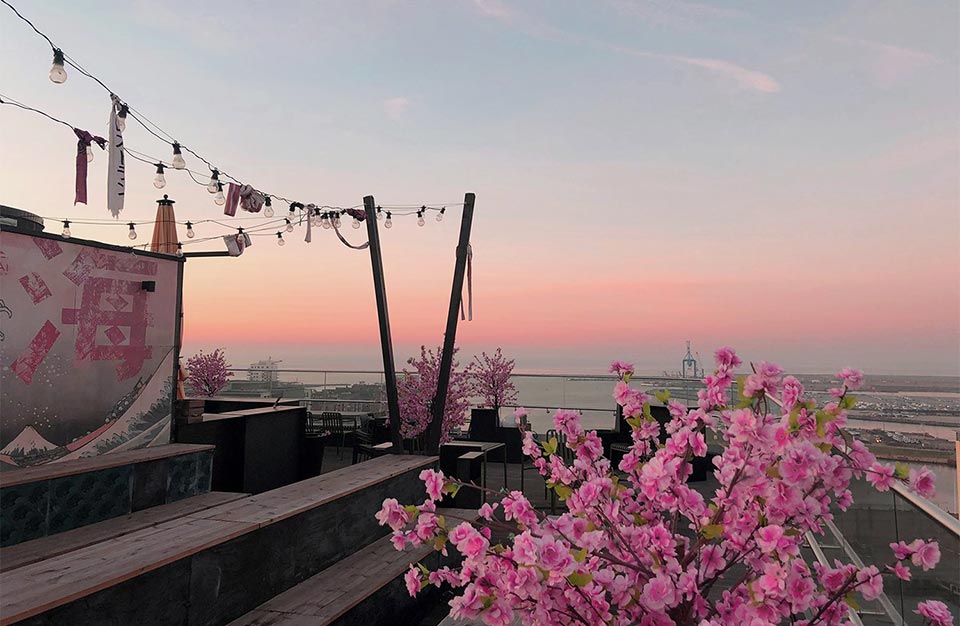 Kasai in the Sky - Photo: https://kasai.se/
Are you're looking for a sleek, modern, and sophisticated venue where you can enjoy a fantastic atmosphere and impress a special someone?
Then head over to Kassai in the Sky, set on top of the fantastic Story Hotel Studio Malmö, where you'll find one of the best Japanese restaurants in Malmö, as well as one of the best views.
The menu is split into three categories, Sushi, Robata, and Izakaya, ensuring variety and quality in every bite, meaning you'll be able to visit this fantastic restaurant even if you don't like fish.
While sushi is featured heavily, you can also find Japanese BBQ, edamame, and other traditional dish and snacks alongside fantastic Japanese-inspired drinks that use exotic spices and herbs for a special touch.
Kasai offers both indoor and outdoor seating, as well as an exclusive atmosphere and jaw-dropping views, making it a must-visit for Japanese food lovers out there, as well as those who are looking for a brand new experience.
KASAI IN THE SKY
Tyfongatan 1, Norr, 211 19 Malmö, Sweden
10.

Winery Rooftop Terrace

/ Stockholm
Winery Rooftop Terrace - Photo: https://www.thewineryhotel.se/
To put it simply, when it comes to enjoying a fantastic glass of wine, there's no better place than The Winery Hotel. Or more precise: the Winery Rooftop Terrace.
The venue comes with its very own winery, as well as an enormous collection of wines from all over the world: that and the opportunity to drink in just about every area of the hotel.
For a fantastic drinking experience, though, you can't beat the hotel's rooftop; Up here, you can enjoy not only awe-worthy views of Solna and Friends Arena, but also the hotel's heated rooftop pool and one of the city's coolest outdoor bars.
The atmosphere during summer is relaxed and enjoyable, sometimes more lively thanks to live DJs and music, entertaining the diverse crowd.
While the rooftop bar is a summer destination, the rooftop pool is open year-round. Just peep in mind that the pool is for guests only, though in summer all can use it by getting a day pass, which gives you access to the pool and a room to change and relax.
WINERY ROOFTOP TERRACE
Rosenborgsgatan 20, 16974 Solna (Stockholm), Sweden