Best rooftop pools in Florence
4 best rooftop pools in Florence
Published: January 1, 2020
4 amazing venues for a mix of historical views and refreshing dips
Florence is not only beautiful and historical buildings, it is also a great city for rooftop pools. You can find some amazing swimming pools with views over the Tuscany Hills and history filled rooftops.
What the rooftop pools all have in common is that they are located at luxurious hotels and they're only available for the guests at the hotel. That's a standard rule when speaking of hotel pools.
Here's our list of the 4 best rooftop pools in Florence. Made by the world's leading experts on just rooftops and rooftop pools. Enjoy!
Plaza Hotel Lucchesi | Photo: http://www.hotelplazalucchesi.it
A relatively new addition to Florence's skyline, Hotel Lucchesi's rooftop terrace offers jawdropping views of the city, delicious drinks, an exclusive atmosphere, and a one-of-a-kind place to swim.
Open only during the summer; the rooftop pool is available only for guests, which transforms Hotel Lucchesi's spacious terrace into a peaceful oasis for those looking for exclusivity.
The entire rooftop is guest-exclusive for most of the day, though the terrace bar (called Empireo) opens to the public at 7:30 pm, after which the oasis transforms into a trendy nigh spot.
Location near Florence's heart ensures you'll get amazing views, no matter where you look! Both the bar and the rooftop pool overlook the Duomo, Florence's local stadium, as well as the Arno River and the Tuscany Hills, making it the perfect place to swim, relax (or enjoy night time coctails), in style.
Adress: Lungarno della Zecca Vecchia, 38, 50122 Florence
Availability: Only guests at the hotel
Towels included: Yes
Grand Hotel Minerva | Photo: www.grandhotelminerva.com/
Grand Hotel Minerva's rooftop terrace offers stunning three-sixty degree views of Florence skyline and the nearby landscapes.
The heated rooftop pool is open from April to October, when the weather is gentle enough to allow visitors to relax on one of the poolside loungers.
The pool is available only for hotel guests, so if you want to enjoy the amazing views and the sunbeds, make sure to book a room.
While the entire rooftop is closed to the public throughout most of the day, providing guests with privacy and a sense of exclusivity, it does open to the public around 7:00 pm, after which it becomes a first come-first, served affair.
Called Three-Sixty, the rooftop bar has a small kitchen, which translates to snacks, salads, and cold dishes, as well as a collection of delicious signature cocktails and world spirits.
For those looking to maintain the air of exclusivity this rooftop pool is known for, there's a small private area just above the swimming area called the Sky Lounge, which needs to be booked in advance.
Adress: Piazza di Santa Maria Novella, 16 50123 Florence
Availability: Only guests at the hotel
Hours: April to October, 9am-7pm
Towels included: Yes
Glance Hotel Florence | Photo: www.glancehotelflorence.com/
Open from May to October, The Glance rooftop is set on the sixth floor and provides guests with sweeping views of the city, a relaxing atmosphere, comfortable furniture, and a beautiful heated rooftop pool you won't want to leave.
Flanked by shaded lounge areas, a well-equipped poolside bar, and offering a luxurious yet welcoming ambiance, Glance Hotel in Florence is a fantastic spot for relaxation after a busy day exploring the city.
The Glance is also an excellent romantic destination, thanks not only to its simple, modern, and elegant decoration, but also its exceptional service and top-notch drinks.
Its minimalistic style and enviable views make the Glance a rather famous event avenue, so for nightly visits it's essential to call before and ensure availability, as the entire rooftop is available to rent for private events.
Adress: Via Nazionale, 23, San Lorenzo, 50123 Florence
Availability: Only guests at the hotel
Hours: May to October, 10am-8pm
Towels included: Yes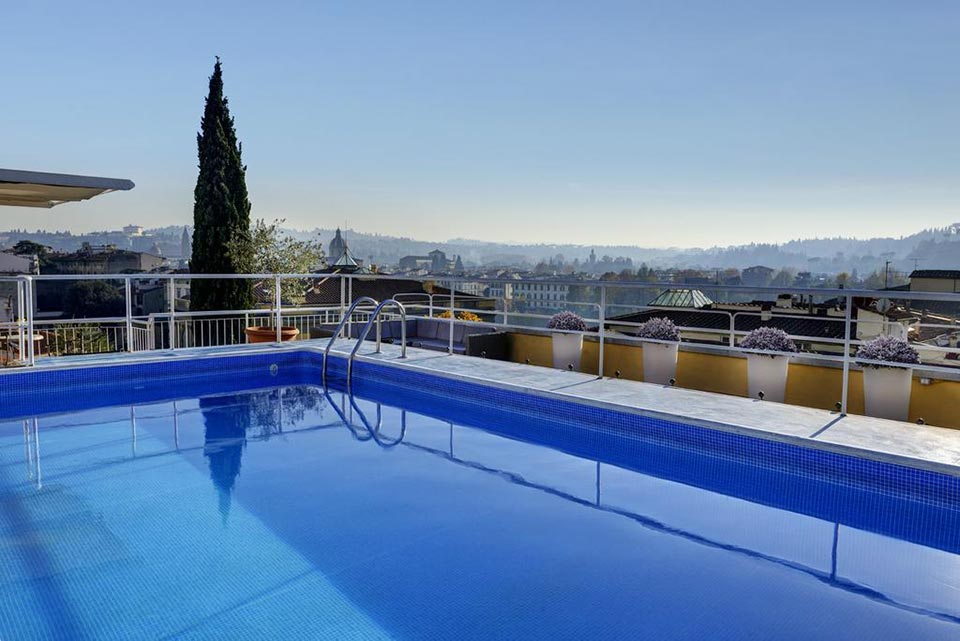 Hotel Kraft | Photo: www.krafthotel.it/
If you're looking for a comfortable and tasteful place to relax in for a few hours while enjoying the sights Florence has to offer, then book a night at Hotel Kraft and prepare to experience something amazing.
A perfect choice for those looking to swim and relax, the hotel's rooftop pool is not only heated in fall and winter, but is also equipped with a hydromassage system, made even more enjoyable by the stunning views you can enjoy from the comfort of its depths.
Overlooking the Brunelleschi, Giotto's Bell Tower, and the Arno River, Hotel Kraft's rooftop is the place to visit when you want to immerse yourself in Florence's architecture while basking in the comfort provided by its oversized lounge areas and the hotel's world-class service.
While the rooftop pool is undoubtedly fantastic, the terrace doesn't fall behind, as it's not only exquisitely decorated, but is also a rooftop garden.
It comes with its own pine, olive and cypress trees, all providing shade, fresh air, and giving guests an incomparable sense of peace.
Access to the rooftop pool is reserved for hotel guests, but outside visitors can head up to the rooftop restaurant, called Terraza Rossini, which is located right by the pool and focuses on Tuscan food with a high-end twist.
The on-site bar provides a small but delectable menu of classic cocktails, a carefully curated list of Italian wines, and world-known spirits, as well the kind of service Hotel Kraft is known for.
If you're visiting the restaurant, even as a hotel guest, make sure to dress to impress and make reservations, as Terraza Rossini is a popular spot around the city, particularly for anniversaries, dates, and other joyous occasions.
Adress: Via Solferino, 2, 50123 Florence
Availability: Only guests at the hotel
Hours: Open year round
Towels included: Yes