Article
Rooftop restaurants in Florence
Romantic spots with beautiful and historical views
Published: May 6, 2020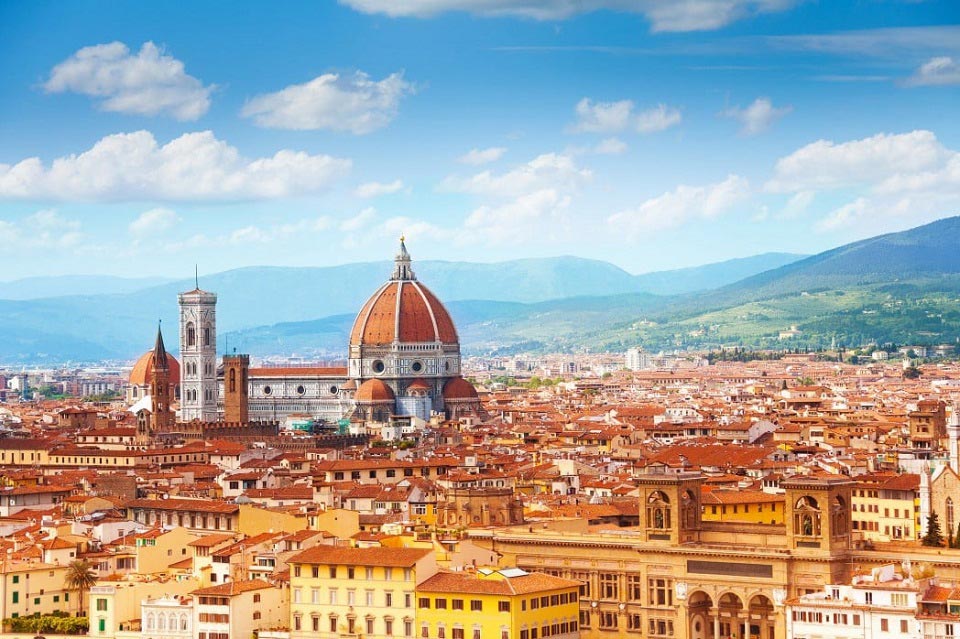 Florence, one of the most popular and visited cities in the world. Much thanks to the rich history and beautiful buildings.
But also, thanks to the fantastic restaurants and bars you can find here. What's better than eating premium Italian food, with great wines and great views over the city and surrounding landscape of Tuscany? That's right, not much.
There are many rooftop restaurants in Florence. Some best suited for a long wine lunch, some better for a vibrant, casual meal, and some for a romantic sunset dinner.
We have assembled a list of the 5 best rooftop restaurants in Florence. Enjoy!
1.

SE·STO on Arno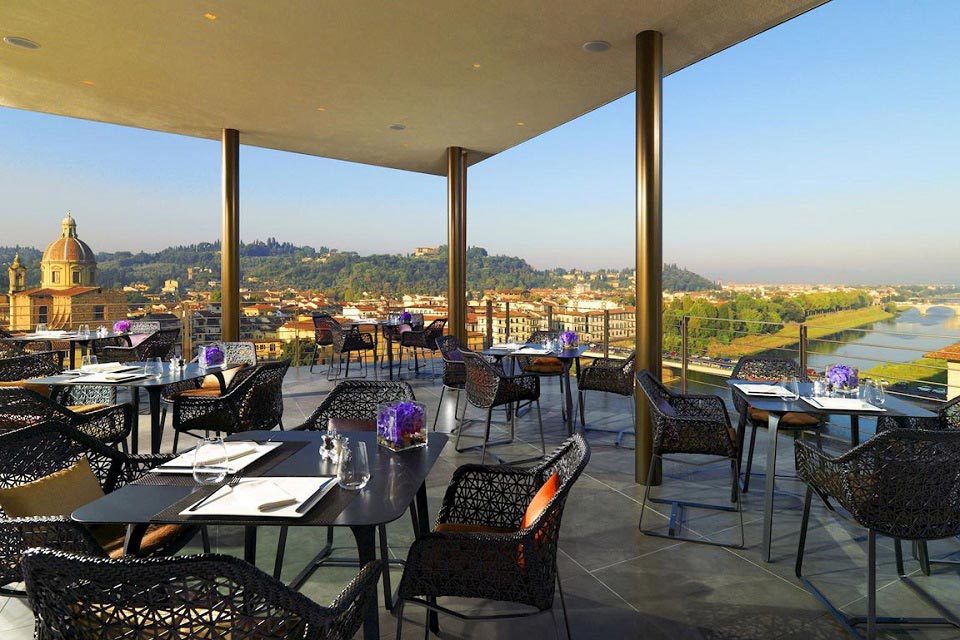 SE·STO on Arno | Photocredit: www.sestoonarno.com
Located at the luxurious The Westin Excelsior, SE·STO is both a fantastic rooftop restaurant and a cozy rooftop bar.
Overlooking the Arno river, and offering magical views of Florence's skyline, SE·STO is known for its innovative approach to Tuscan cuisine and fantastic wine menu.
This rooftop restaurant/bar serves lunch and dinner, and offers both indoor and outdoor seating, with two spacious terraces and floor-to-ceiling windows to give visitors front-row seats to the restaurant's amazing views.
Enjoy signature and traditional cocktails, as well as a fantastic aperitif, served every day between 7pm and 9pm.
With a casual, global atmosphere and relaxing music, SE·STO is a fantastic place to visit for a sunny lunch, afternoon cocktails or a delicious dinner.
SE·STO ON ARNO
Piazza Ognissanti, 3, 6th floor The Westin Excelsior, Florence
Daily: Lunch / Dinner
Italian fine dining
Main: ~€20-40
2.

Antica Torre Tornabuoni
Antica Torre Tornabuoni | Photocredit: www.tornabuoni1.com
A classic rooftop restaurant that will submerge you in Italian culture, the Antica Torre Tornabuoni offers both indoor and outdoor seating, as well as absolutely stunning views of Florence and its surroundings.
From up here, you can see not only the Arno river but also the surrounding mountains and plains of Tuscany, as well as a variety of historic buildings that give Florence its charm.
Since this fantastic rooftop restaurant is open only to hotel guests, the atmosphere is as relaxed as it gets, away from the crowds Florence is known for and accentuated by relaxing music and the kind of silence you can only enjoy in a rooftop.
The Antica Torre is open for breakfast, lunch, and dinner, and boasts both delicious food and incredible drinks.
The bar's drink menu covers all the familiar spirits, cocktails, and a truly excellent wine list that we can't recommend enough.
Some of the terraces of the Antica Torre can be reserved for private events, like weddings or birthday parties. Truly a spot for a memorable event.
ANTICA TORRE TORNABUONI
1 Residenza d'Epoca via Tornabuoni 1, 50122 Florence
Daily: Breakfast / Lunch / Dinner
Italian
Main: ~€22
3.

Terrazza Rossini at Hotel Kraft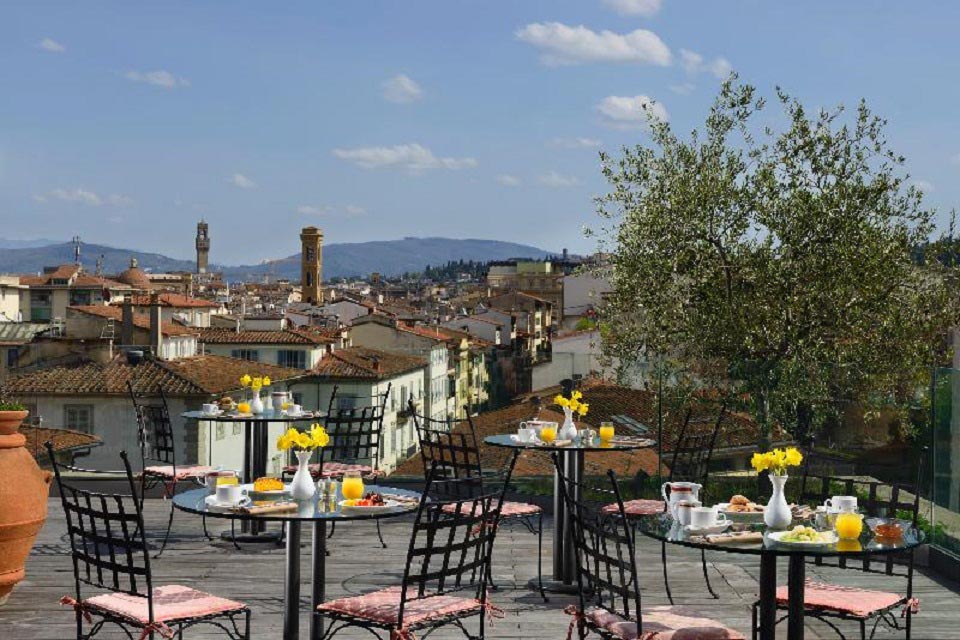 Terrazza Rossini at Hotel Kraft | Photocredit: www.terrazzarossini.it
Located in a quiet residential area of Florence, close to the River Arno, the Terrazza Rossini is a fantastic choice for when you want to get away from the crowds.
Overlooking the Arno river and the old town, this large rooftop terrace is split between two areas, one where the restaurant is located, and a smaller one where hotel guests can relax all day long.
There's also a small rooftop pool, surrounded by sun loungers and beautiful architecture, though this one is exclusive to guests staying at Hotel Kraft.
Terrazza Rossini offers fresh and seasonal Italian cuisine, though some of its most popular dishes include an international touch, like the "Hamburger Rossini".
Drink wise, Terrazza Rossini offers a fantastic selection of wines, plenty of specialty cocktails, aperitifs, and a dedicated martini menu, the latter being one of the few in Florence.
Open throughout the day, Terrazza Rossini is the perfect spot for those looking for a quiet atmosphere to escape the hustle and bustle of the city.
TERRAZZA ROSSINI
Via Solferino, 2, 50123 Firenze
Daily: Breakfast / Lunch/ Dinner
Italian
Collaboration
4.

B-Roof at Hotel Baglioni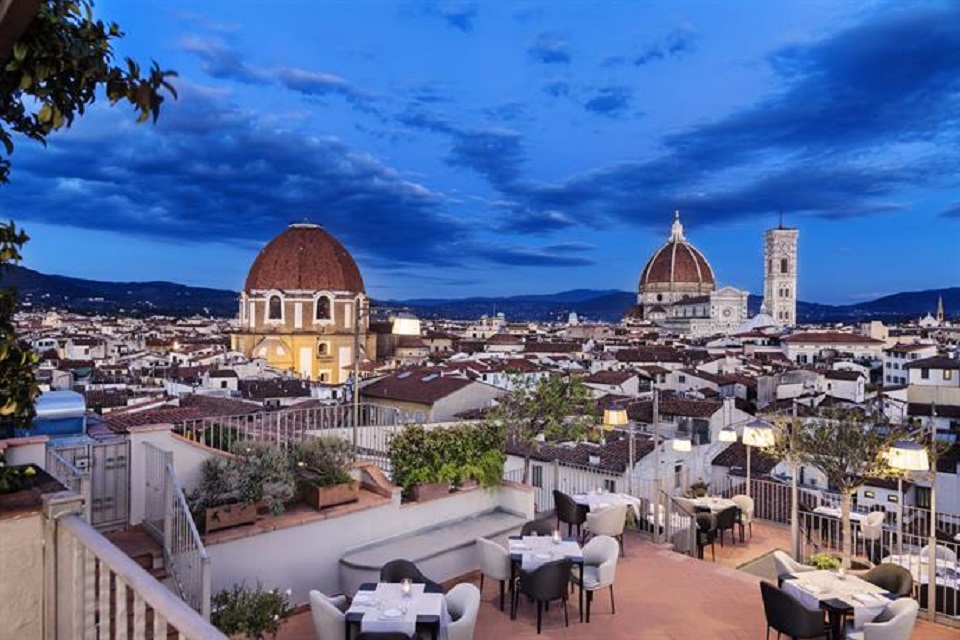 B-Roof at Hotel Baglioni | Photocredit: www.b-roof.it
Located on the 5th floor of the fabulous Grand Hotel Baglioni, the B-Roof offers gorgeous views of the heart of Florence and a multi-level terrace from which you can enjoy it all.
Offering both indoor and outdoor seatings, including a terrace full of lush greenery, the B-Roof is known for is traditional Tuscan cuisine and its fantastic Italian wines. However, you can also find cocktails, aperitifs, and other spirits.
With both dining tables and lounge sofas, strategically placed so that you can enjoy the scenery, the B-roof is a fantastic destination for those who love drinking with a view.
Reservations are encouraged, particularly during the weekends, as this fantastic restaurant and bar attract quite the crowd.
B-ROOF
Piazza dell'Unità Italiana, 6, 50123 Firenze FI
Daily: Lunch / Dinner
Italian
Main: ~€32
5.

Angel Roofbar at Hotel Calimala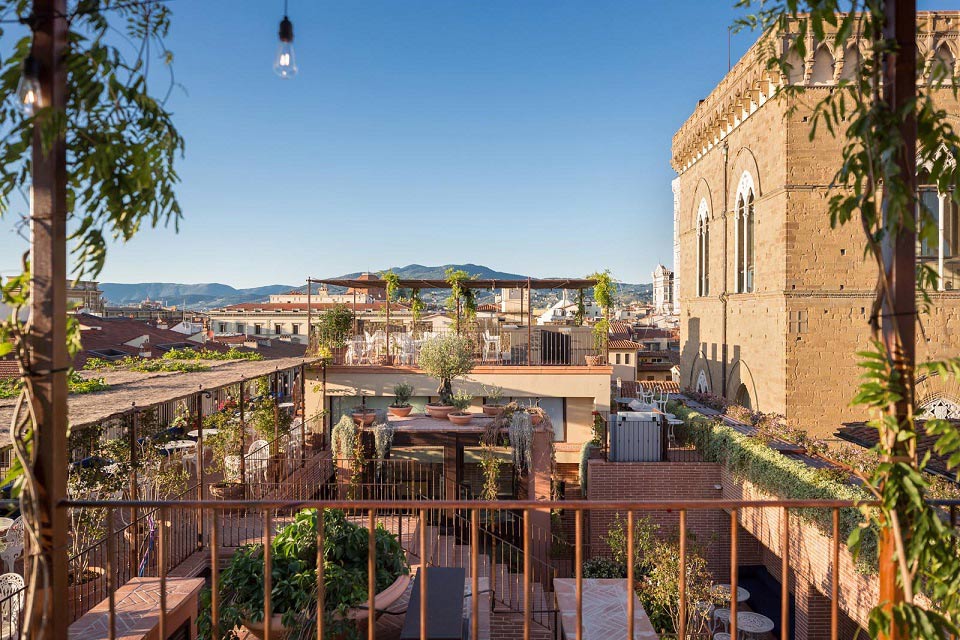 Angel Roofbar & Restaurant at Hotel Calimala | Photocredit: www.hotelcalimala.com
You can find the Angel Roofbar & Restaurant on top of the beautiful Hotel Calimala, located smack in the middle of Florence.
This lovely, multi-level oasis offers jaw-dropping 360 degrees views of Florence and all of its famous landmarks, as well as a tasteful interior design that will impress almost as much as the view.
The Angel Rooftop offers both indoor and outdoor seating, as well as comfortable lounge areas and relaxing music that will put you in the mood to stick around and enjoy the moment.
Open from morning to midnight, here you'll be able to enjoy delicious breakfasts, sunny lunches, early afternoon cocktails, and a romantic dinner, all while gazing at the City of Lillies.
While the Roofbar & Restaurant offers a relaxed atmosphere for most of the week, the weekends are a lot livelier, with live DJ shows and larger crowds, so reservations are encouraged.
ANGEL ROOFBAR & RESTAURANT
Via Calimala, 2, 50123 Firenze
Daily: Breakfast / Lunch / Dinner
Italian
Main: ~€20