Chicago is a city full of culture, history and diversity. The modern influence the city has, brings people around the globe together to celebrate the American Dream. Joy, happiness and intellectual stimulation is what you can easily achieve if you happen to find yourself wondering around the streets of Chicago.
But in terms of relax, what do most people with hectic and busy lifestyle do? Some of the quite enjoy hitting up the gym few times a week, others like spending time outdoors, surrounded by nature and trees. The golden middle is a simple yoga experience on a nice rooftop under the bright blue sky.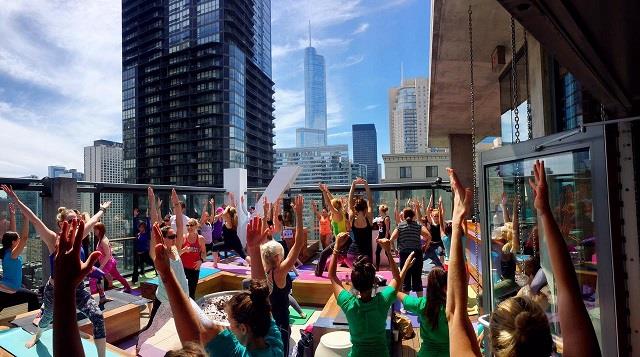 Photo: https://amped.ticketleap.com
Other things to do than yoga att a rooftop in Chicago is to visit any of the Chicago rooftop pools or a rooftop restaurant in Chicago on this list.
Where are the best places to go for a rooftop yoga in Chicago?
1. Bottom Line Yoga
Although it says "bottom line", Bottom Line Yoga is one of the finest yoga studios in the Chicago area. The place is fully equipped and modern, having a funky and chilling vibe. The staff is nice and friendly, always ready to satisfy your needs or requests.
It is located atop the building, on the seventh floor. You can choose from different styles of yoga, strength exercises and a rejuvenation class.
Website: http://bottomlineyoga.com/
2. Yoga Six Lincoln Park
Yoga Six Lincoln Park introduces a variety of classes, ranging from yoga to guided meditation. The place is located in the heart of the city, on 2105 N Southport Ave Suite 200 and takes reservations prior. You can rest assured that qualified instructors shall navigate you throughout the class.
Website: http://yogasix.com/studio/lincoln-park/
3. Ritz-Carlton
The Ritz-Carlton Hotel provides relaxing rooftop yoga classes in Chicago for its guests. The spectacular view and first-class service ensures all visitors are warmly welcomed. The rejuvenating yoga exercises held atop the hotel are the best way to jumpstart your day or simply lay the foundation of a very calm and relaxing weekend.
Website: http://www.ritzcarlton.com/en/hotels/chicago/
spa/fitness-center
4. Pop-up Yoga at Dusk
Pop-up Yoga is a great yoga program that is often held atop the River North (Lasalle & Kenzie) in Chicago. The class introduces visitors to core techniques of practicing the art of yoga. Classes are suitable for beginners and more advanced yoga admirers. Reservations and tickets prior the event are mandatory.
Website: https://pop-up-yoga-chicago.ticketleap.com
5. CorePower Yoga
This power yoga class is one of the most popular yoga classes in Chicago. Held atop the building on 555W Roosevelt Rd in Chicago, this yoga class will help you strengthen up your body, tone your muscles and improve your breathing teqniques.
Website: https://www.corepoweryoga.com/yoga-studios/illinois/chicago/uptown-chicago