It's actually pretty hard to distinguish the best rooftop restaurant in Singapore. The city is so bright and vivid, so full of energy and countless entertainment, shopping and dining venues, it is a difficult task to simply choose one.
That's why we've decided to bring to you a full list of fantastic and elevated venues, where you can indulge in traditional Asian cuisine, Italian flavours or a fusion-driven dish or two. All to fantastic views of the Singapore skyline.
If you rather just want to grab a drink, or maybe swim with a view, you should check out the best rooftop pools in Singapore and our full guide to the best rooftop bars Singapore.
Here are our top 7 choices for a rooftop dinner close to the Singapore sky.
1.

Artemis Grill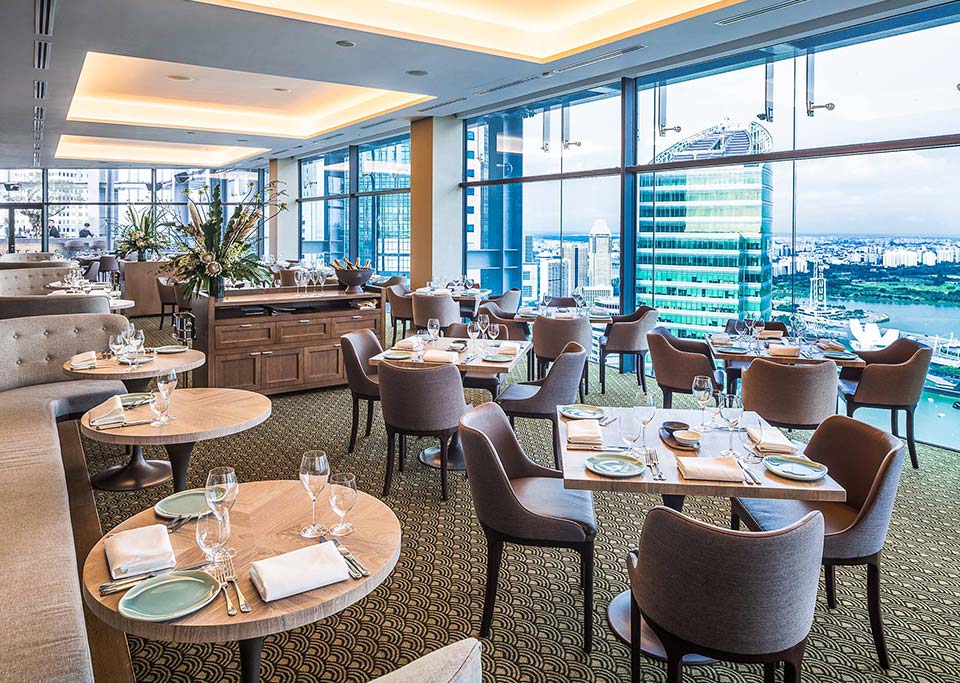 Artemis Grill rooftop restaurant Singapore | Photo: https://artemisgrill.com.sg
Set on the 40th floor of the CapitalGreen building in downtown Singapore, Artemis Grill is a very stylish destination, perfect for both rooftop dining and drinks.
Inside, you find a beautiful rooftop restaurant, seating 120 guests and with panoramic windows offering amazing views over Marina Bay and the city skyline. This is complemented with a very cool and breezy outdoor terrace and sky bar, circulating a 100 year old olive tree.
Filled with Mediterranean influences, Chef Fernando Arevalo offers a fresh and unique menu, ranging from 'Parsley Spelt Risotto' and 'Mediterranean Seabass' to the more grill-ish 'Wagyu Bone-in Ribeye'.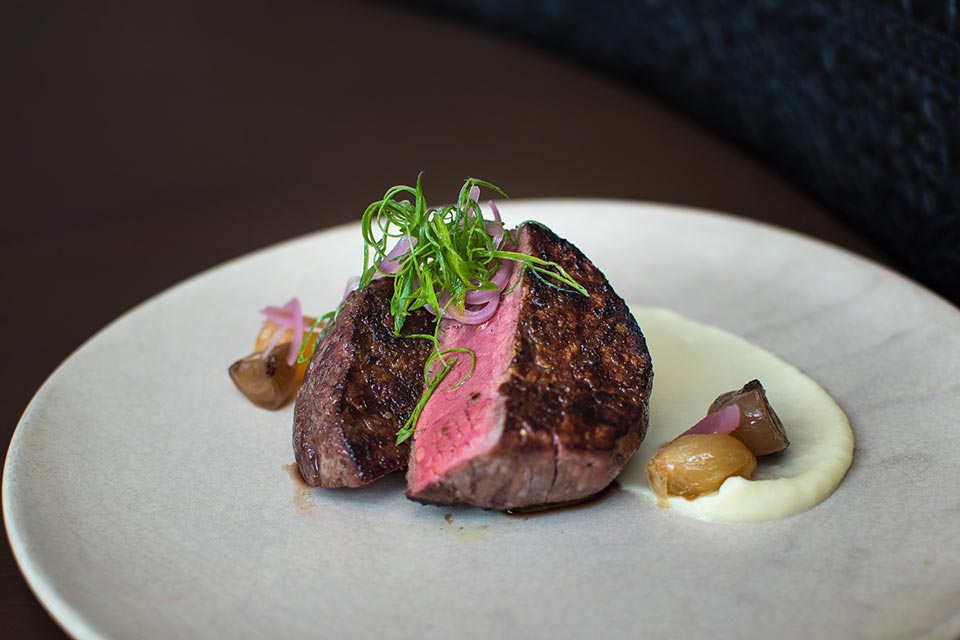 Artemis Grill rooftop restaurant Singapore | Photo: https://artemisgrill.com.sg
The very fine and tasty food is complemented with an equally great rooftop bar menu. A large selection of wines, craft beers and well-made mixology cocktails are available.
Open 6 days a week, Artemis rooftop restaurant and bar is a great venue for a weekday business lunch, a romantic / special occasion dinner or fine drinks and bites anywhere in between.
Sophisticated and cosy in atmosphere, and with a great service, Artemis is a venue towards upscale, so you should dress up to feel right at home. And reservations are recommended, especially to grab one of the tables with the very best views.
ARTEMIS GRILL
138 Market Street #40-01, Singapore
Mon-Fri: 11.30am-10pm / Sat: 6pm-10pm / Sun: closed
Mediterranean fine-dining
Main: ~S$50
2.

CÈ LA VI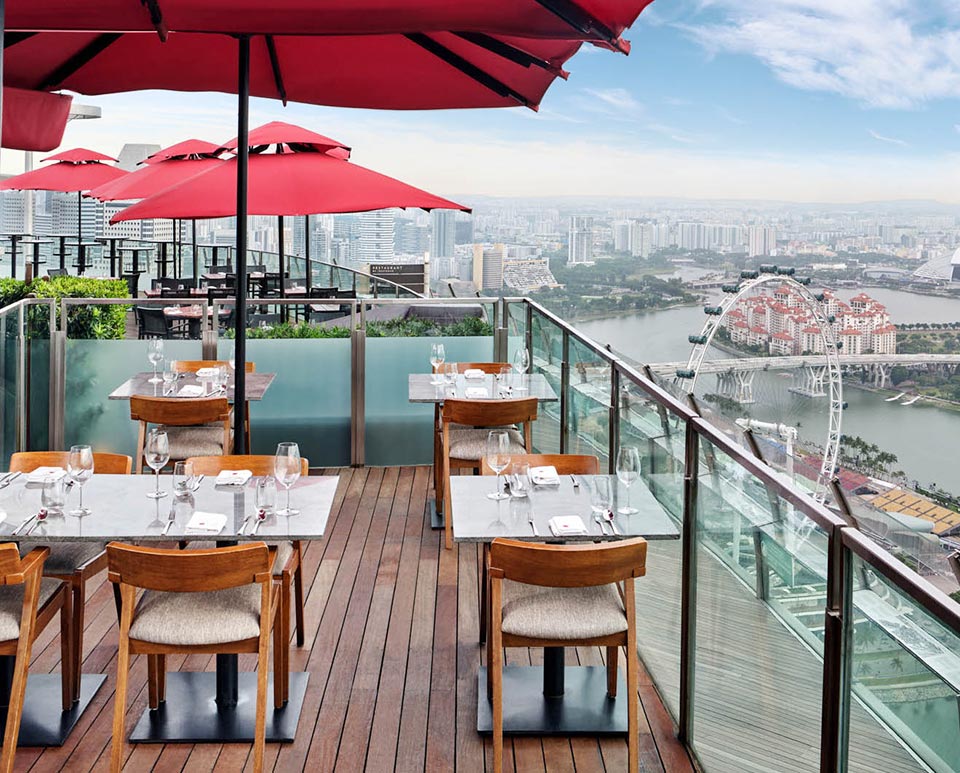 CÈ LA VI rooftop restaurant Singapore | Photo: www.celavi.com/
Perched on top of the famous Marina Bay Sands, CÈ LA VI is known for both its playful and iconic name, and its impeccable menu of food and drinks.
Divided in two, this 57th floor venue comes with both a rooftop restaurant/sky bar and a sky deck/club lounge. Together they offer amazing 360-degree views over the Singapore skyline, the Gardens by the Bay and out over the ocean.
While the SkyBar and Club Lounge are open for drinks, bites and party vibes late into the night, the CÈ LA VI rooftop restaurant is "only" open for lunch (12pm-3pm) and dinner (6pm-11pm).
Serving modern Asian cuisine, the menu ranges from selections of Sushi & Sashimi to mains from both land and sea. Like the 'Smoked Black Cod' or a 'David Blackmores Wagyu Beef'.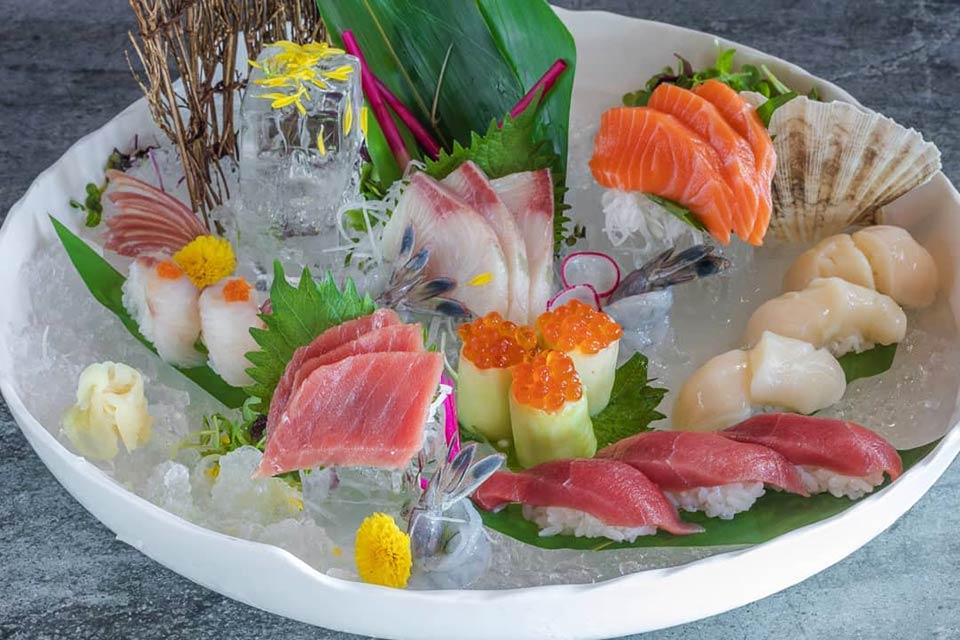 CÈ LA VI rooftop restaurant Singapore | Photo: www.celavi.com/
Pair your lunch or dinner with some Saké, a selection from the extensive wine list, or go for one of the rooftop bar's signature CÉ LA VI cocktails.
Surrounded by greenery, the classic red CÈ LA VI umbrellas and a view very hard to beat, this rooftop restaurant really promises a meal to remember.
Very stylish and with top notch service, it is no surprise that CÈ LA VI rooftop restaurant is very popular, so reservations are higly recommended. And note that the dress code is smart casual.
CÈ LA VI
1 Bayfront Ave, Singapore 018971
Daily: 12pm-11pm
Modern Asian
Main: ~S$55
3.

LeVeL33
LeVeL33 rooftop restaurant Singapore | Photo: www.level33.com.sg/
Located in the Marina Bay Financial Center, LeVeL33 is most famous for being the world's highest urban microbrewery. But brews aside, this is also one of the best rooftop restaurants in Singapore.
Refurbished during 2019, the venue is now split into Dining Room, Social & Terrace. And while the open-air terrace is the top spot for views, panoramic windows make sure the majestic vistas over Marina Bay and the Singapore skyline can be enjoyed all around.
The Social and Terrace part of LeVeL33 was designed for social interaction, with a menu made for sharing, a Raw Bar and high energy. The Dining Room has a more mellow ambience, and is great for special occasions when you want some more privacy.
Surrounded by the copper brew house kettles you can indulge in rustic dishes, often spiced with some of the in-house beers. Or go all the way with a nine-course degustation dinner that is a culinary reflection of the beer brewing journey.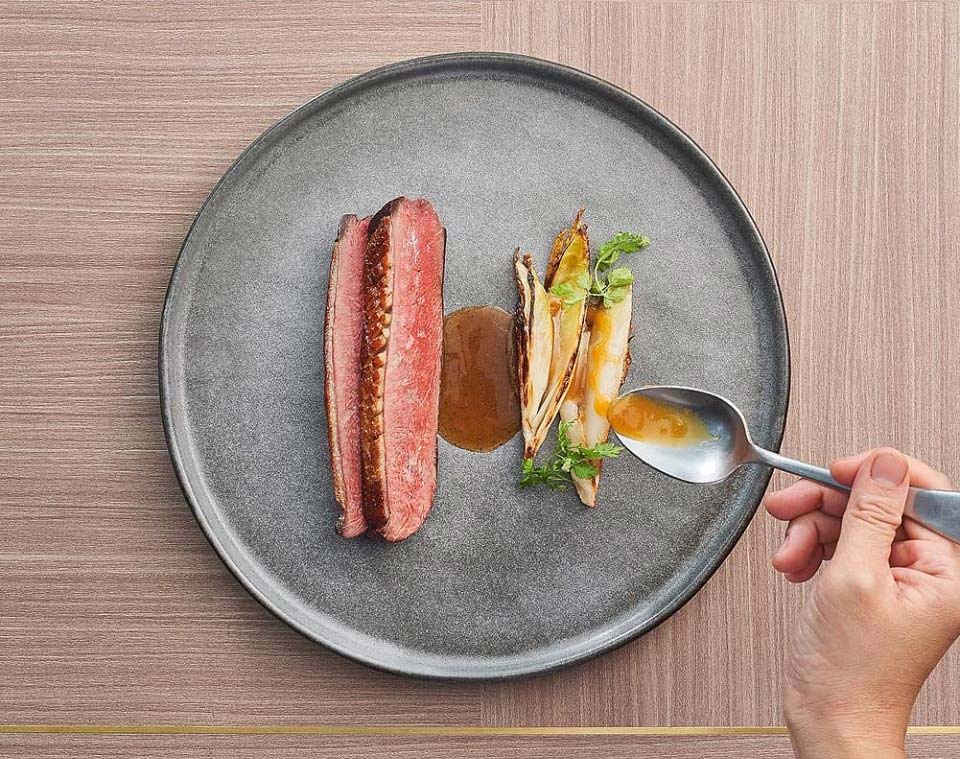 LeVeL33 rooftop restaurant Singapore | Photo: www.level33.com.sg/
Open daily for lunch, dinner and beyond, you can visit LeVeL33 rooftop restaurant and bar for a wide array of occasions. A business lunch or a special dinner in the dining room, some oysters in the raw bar. Or maybe the most obvious option: some beer tasting out on the terrace.
Worth noting: if you reserve a table for dinner in the dining room, you will be guaranteed a table out on the terrace to enjoy the rest of your the evening.
Mixing up a casual and urban atmosphere with sophisticated dining, LeVeL33 for sure is a vibrant place to be. Dress smart casual to feel right at home.
LEVEL33
8 Marina Boulevard #33-01, Marina Bay Financial Centre Tower 1, Singapore
Mon-Thu: 11.30am-midnight / Fri: 11.30am-2am / Sat: 12pm-2am / Sun: 12pm-midnight
Contembrewery dining
2-course main: S$68 / Degustation menu: S$135
4.

Art
Art rooftop restaurant Singapore | Photo: www.artrestaurant.sg/
The space that used to host Aura Restaurant and Sky Lounge has been taken over by sister concept Art, a sleek and neo-Italian rooftop dining destination.
Located on top of the Singapore National Gallery, this is the perfect place to combine some of Singapore's best culture with one of its finest dining options. Also add: some of the best views. While you are only five floors up, the panoramic windows and the long outdoor terrace offers some magnificent sights over Padang, Marina Bay and the surrounding skyline.
Art rooftop restaurant Singapore | Photo: www.artrestaurant.sg/
Contemporary and luxurious, the rooftop restaurants offers a menu created by Executive Chef Daniele Sperindio, exploring the rich Italian tradition, using top quality produces and technical innovations.
Art is open for both executive set lunches and tasting menu dinners, where you can go on a seven-course gastronomic journey. Before or after dinner (or on any given night) you can also visit the alfresco bar for fine cocktails and wines, complemented with lighter bar snacks.
Given the location, Art is of course the perfect Singapore rooftop restaurant to mix with a visit at the Singapore National Gallery. But it is well worth a visit for a fine lunch or romantic evening without checking out the art.
ART
1 Saint Andrew's Road, 05-03 and 06-02 National Gallery Singapore, Singapore 178957
Tue-Sun: 12pm-2pm, 6pm-10pm
Italian
Seven course menu: S$208++
5.

LAVO Italian Restaurant & Rooftop Bar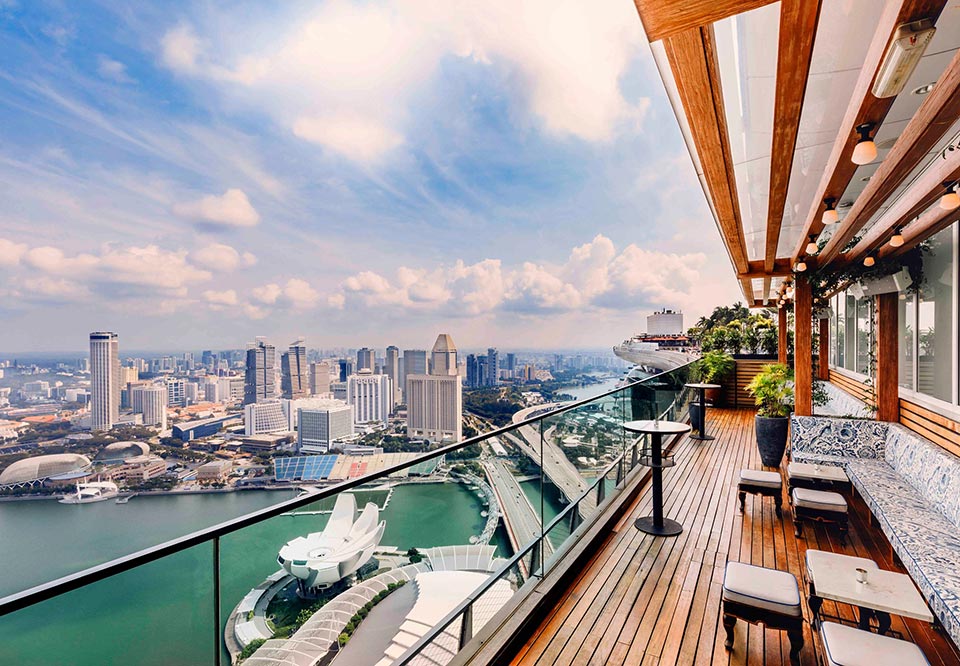 LAVO Italian rooftop restaurant Singapore | Photo: http://lavosingapore.com/
Atop the 57-stories tall Marina Bay Sands, with amazing 180-degree views of Singapre, LAVO really is a rooftop restaurant with a view.
Opened in 2018, this Italian-meets-American restaurant is one of Marina Bay Sands latest addition of fantastic and luxurious venues.
Chef Ralph Scamardella and his team offers dishes like the classic Chicken Parmigiano and the famous LAVO Meatball, made of fresh Imperial Wagyu Beef and Italian sausage. If you still have room, maybe finish it off with a 20-Layer Chocolate Cake made with peanut butter mascarpone.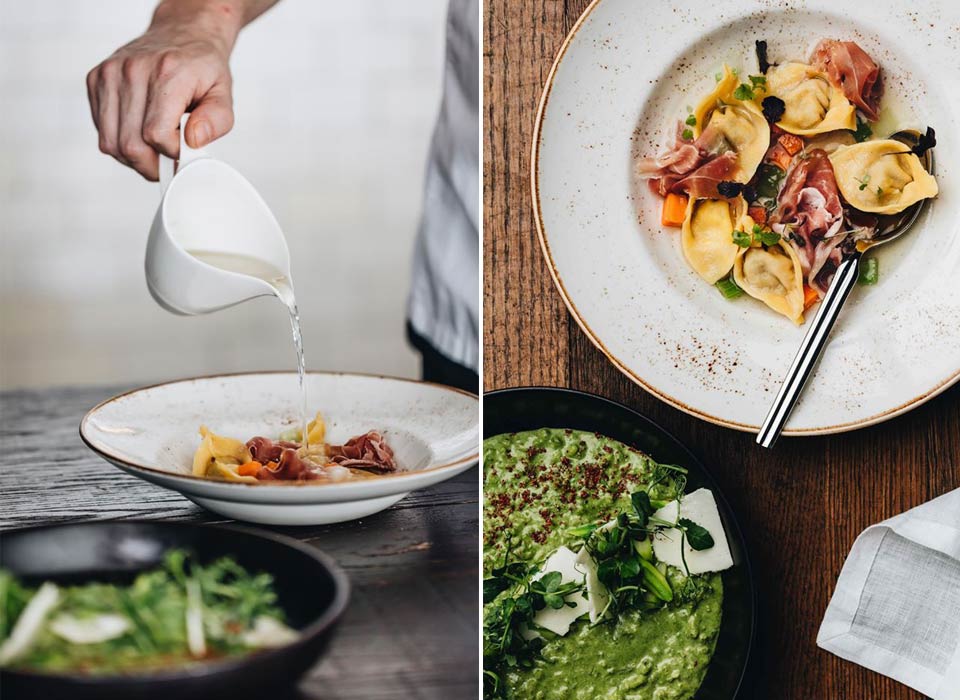 LAVO Italian rooftop restaurant Singapore | Photo: http://lavosingapore.com/
LAVO is open daily from lunch to late at night, and the very stylish venue comes with seating both inside and on the fantastic and lush outdoor terrace.
Very much both a rooftop restaurant and a rooftop lounge, with a vibrant atmosphere, you can visit LAVO for a relaxing lunch or a stylish dinner, as well as Saturday all-night fun. Or a 'Sunday Champagne Brunch'.
For drinks on the terrace you can usually just drop by, but if you want a dining table, reservations are recommended. The LAVO dress code is smart casual, a bit less so during the day, but for nightly visits gentlemen should leave the shorts at home.
LAVO
1 Bayfront Ave, Singapore 018971
Daily: 10.30am-2am
Italian
Main: ~S$50
6.

VUE
VUE rooftop restaurant Singapore | Photo: www.vue.com.sg/
Perched on top of the OUE Bayfront on Collyer Quay, VUE rooftop bar and grill opened its doors late 2019, inviting you to gaze, wine, and dine.
With both a stylish indoor dining room with panoramic windows and a long outdoor terrace, VUE is home to Singapore's first rooftop spritz bar, as well as a rooftop restaurant serving mouth-watering meats and the freshest seafood. All surrounded with scenic views over Marina Bay and the city skyline.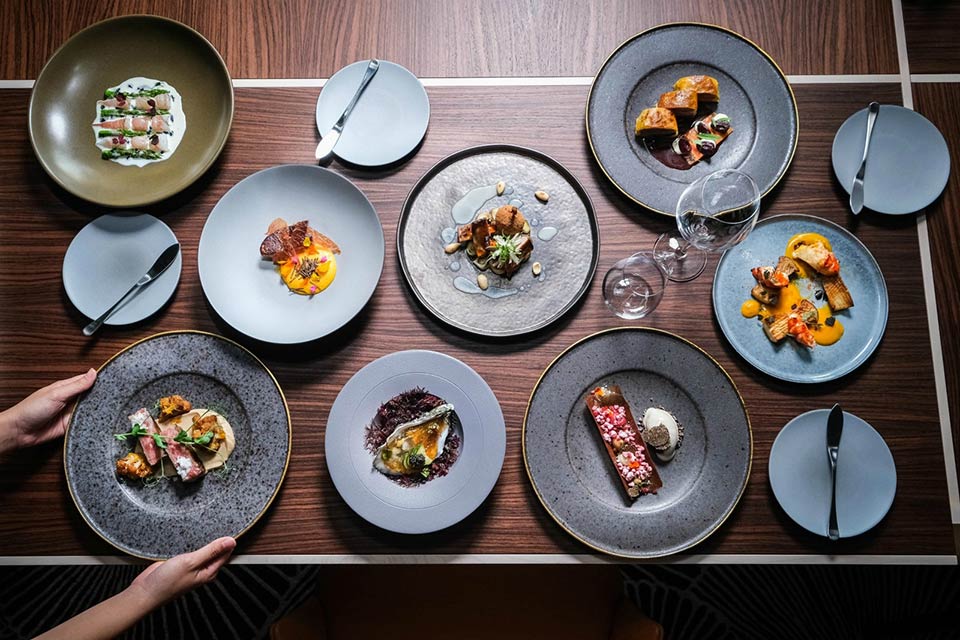 VUE rooftop restaurant Singapore | Photo: www.vue.com.sg/
Run by Executive Chef Sam Chin, the VUE kitchen blend flavours from the East and West, where the binchōtan-smoked Kokuou Wagyu beef is a given highlight. Complemented with other cuts, fresh seafood and an impressive selection of wines, VUE promises a Singapore rooftop restaurant experience out of the ordinary.
Open for weekday lunch, weekend Surf & Turf and dinner all week long, you can choose between á la carte, set menus or go omakase style and let the chef take you on a tasty journey.
VUE
OUE Bayfront, 50 Collyer Quay Rooftop Level 19, Singapore 049321
Daily: 12pm-10.30pm
Grill
Six course dinner: S$388
7.

Dusk Restaurant & Bar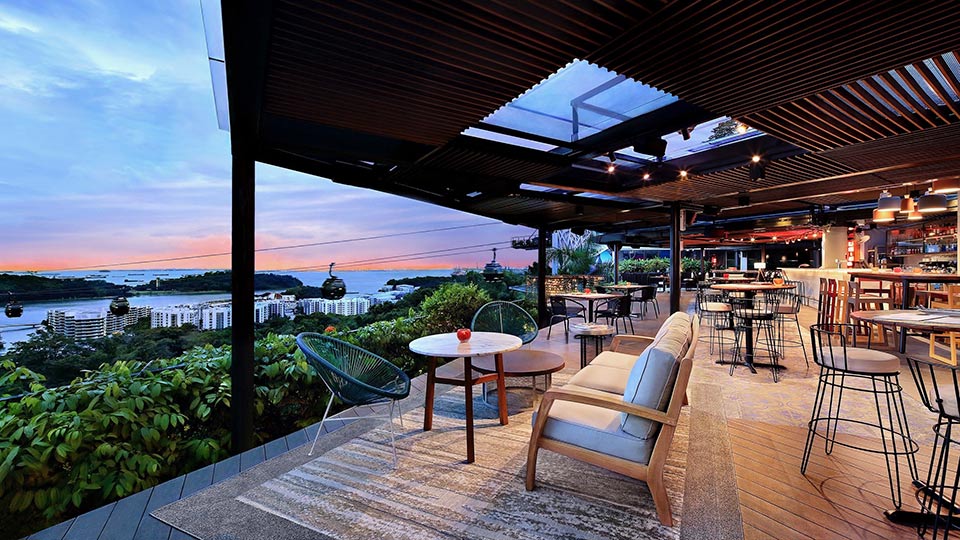 Dusk rooftop restaurant Singapore | Photo: www.onefabergroup.com/
Only elevated to the second level, Dusk Restaurant & Bar still offers some of the best views in Singapore. This thanks to its position on top of Mount Faber, 100 meter above sea level, resulting in panoramic views of of the Harbourfront and Sentosa Island.
Located next to the Mount Faber Station, the given option to get to the restaurant is by cable car, making a special dining experience even more special.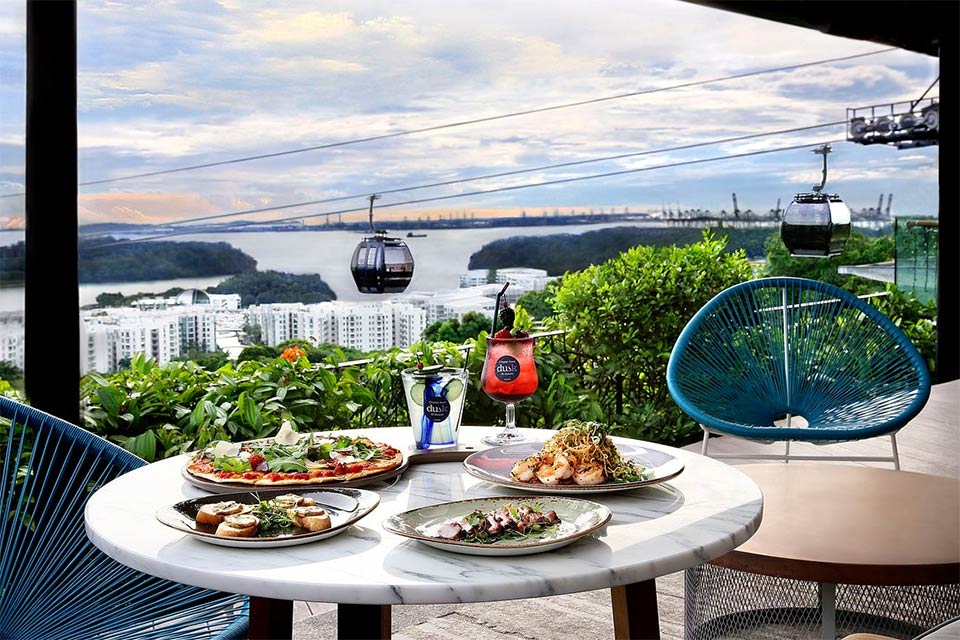 Dusk rooftop restaurant Singapore | Photo: www.onefabergroup.com/
Surrounded by lush rainforest, the comfy and alfresco rooftop restaurant serves European tapas, mains of both meat and seafood, along with specially curated wines and cocktails. Available daily as á la carte dinner, there is also a 3-course set menu and a small kids' menu.
Enjoy fantastic sunset views and a comfy and relaxing atmosphere at this Singapore rooftop restaurant, perfect for both date nights and casual get-togethers.
DUSK
Faber Peak Singapore, Level 2, 109 Mount Faber Road, Singapore 099203
Sun-Thu: 4pm-11pm / Fri-Sat: 4pm-2am
European
Main: ~S$30