It's called Melbourne and it is located on the coast of southeastern Australia. The great amount of indoor and outdoor activities let you choose from endless hiking trails to the hottest clubs in town.
But in between, there is always some time for... a movie. There fore, we have resambled a list of the best places for a rooftop cinema in Melbourne.
And if you like to drink with a view, you can check out the best Melbourne rooftop bars here. Otherwise, here's the list of rooftop cinemas Melbourne: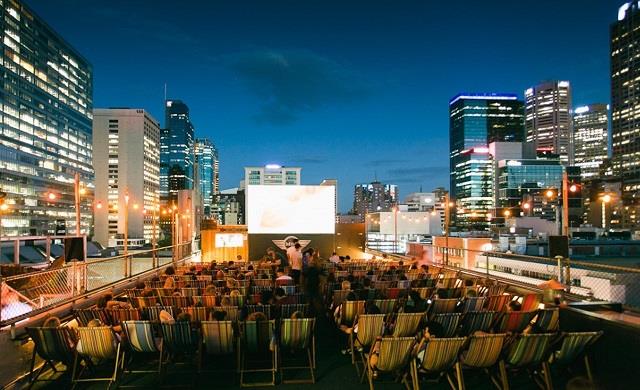 Photo: http://concreteplayground.com
1. Rooftop Cinema at the Curtin House
Rooftop Cinema is possibly the most popular rooftop cinema in Melbourne. This wonderful and hip place is located on the rooftop deck on 252 Swanston Str. It does have the view, the atmosphere and definitely – the great movie collection to choose from.
Bring your date for an incredible movie night and indulge on a tasty cocktail served with style.
Website: https://www.rooftopcinema.com.au/
2. Lido's Rooftop Cinema
As the summer starts approaching, the open-air locations begin to pop and bloom, full of vibrant colors, great music and loud laughter. Lido's rooftop cinema welcomes visitors to sit back and relax on the comfortable chairs, while the hosts choose from either movie classics, or the latest and hottest titles on the Hollywood scene.
Weekend dates come up with a tasty selection of cheese and a bottle of fine wine for only $15.
Website: https://www.lidocinemas.com.au
3. Moonlight Cinema
Moonlight Cinema is literally cinema under the moonlight. Even though it is not located on a rooftop deck, it sure does have the fresh vibe of the open-air space.
This magnificent cinema under the moon has the Melbourne Botanical Gardens for its home and welcome visitors for about $19 per seat.
Website: https://www.moonlight.com.au/melbourne
4. Cameo Outdoor Cinema
Another garden cinema blooms during the warm evenings in Melbourne. The natural outdoor surrounding, as well as the very best of the latest movie scene, shall bring you an incredible outdoor cinema experience.
The big screen, accompanied by the latest Dolby headphones is brining the outdoors movie experience to another level. Bring a warm blanket to finish up the movie night out.
Website: https://www.cameocinemas.com.au
5. The Shadow Electric
Bold, bright and definitely exciting new outdoor cinema is shining bright amongst the rest of the night Melbourne city lights. This awesome funky space offers and impressive technology and interior design.
As a compliment, you can grab a drink from the bar or have some fun at the Ping-Pong table. Tickets cost about $21.
Website: http://www.shadowelectric.com.au/
Also, check out the best rooftop bars in Melbourne.