Italy, and Milan in particularly, have some great rooftop restaurants. Here you find both romantic restaurants, fine dining restaurants, relaxed bar-restaurants and places suitable for a business rooftop lunch.
The Milan rooftop restaurants are spread out over the city, with the vast majority in the city center.
Bring your date, friend or business partner to any of these spots, and you'll be in for a treat.
This list of the best rooftop restaurants in Milan is made by the world's leading experts on rooftops – The Rooftop Guide - with more than 800 rooftop visits. Enjoy!
1.

Terrazza Triennale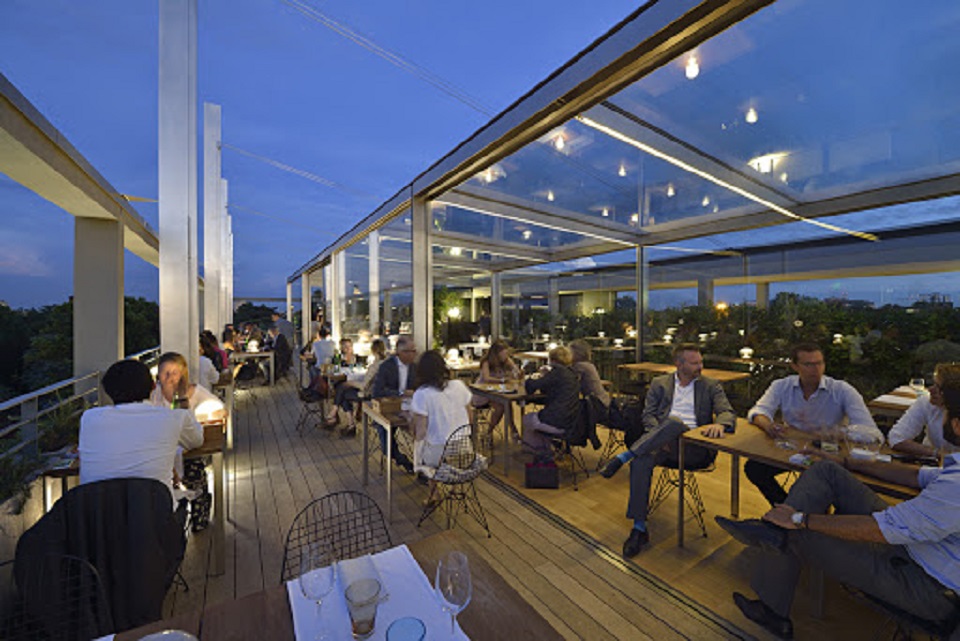 Rooftop restaurant Milan - Terrazza Triennale | Photocredit: www.osteriaconvista.it
A luxurious option for those looking for high quality and an exclusive atmosphere, the Terrazza Triennale offers Italian cuisine of the highest class and some of the best views in the city.
While the restaurant's specialty is the food, the drinks don't fall far behind, thanks to the restaurant's long list of Italian wines, signature mixology cocktails, and craft beers.
Located on the Palazzo dell'Arte in downtown Milan, the views of this restaurant are second to none, as you can overlook the Sempione Park, the Sforza Castle, and Milan's skyline.
If the view wasn't enough, the Terraza Triennale is located in a greenhouse, which means the weather is always perfect in there, and you're surrounded by nature without leaving the city.
Are you looking for a top-notch romantic destination? You've found it.
TERRAZZA TRIENNALE
Viale Alemagna Emilio, 6, 20121 Milan
Daily: Lunch / Dinner
Italian fine dining
Main: ~€20-40
2.

La Rinascente
Rooftop restaurant Milan - La Rinascente | Photocredit: www.rinascente.it
Located just outside the Cathedral in central Milan, La Rinascente isn't actually a restaurant, but rather a shopping mall with an enormous rooftop food court, offering one of the best views of the city.
Featuring several restaurants and bars, terrace seating, indoor seating, and views so stunning you'll want to reach out and touch the nearby Duomo, La Rinascente is the perfect choice for those who want good food, but can't settle on a style.
With stylish Italian decor, an attentive staff, delicious food, and incredible drinks, La Rinascente is a beautiful spot for afternoon cocktails or a shopping break.
LA RINACENTE
Via Santa Radegonda 1, 20121 Milan
Daily: Breakfast / Lunch / Dinner
Italian
Main: ~€22 - Tasting menu €75-95
3.

A Riccione Terrazza 12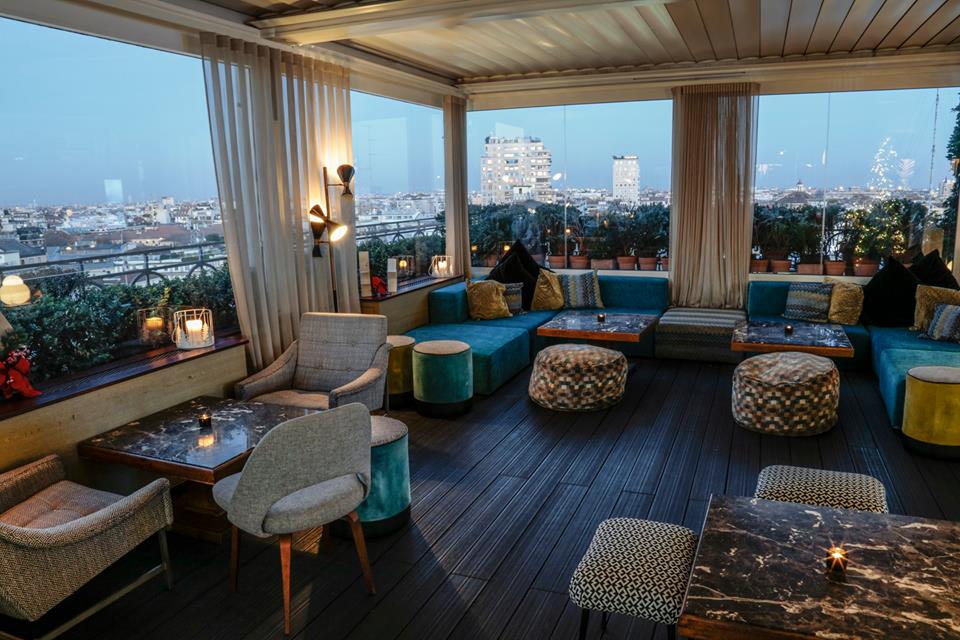 Rooftop restaurant Milan - A Riccione Terrazza 12 | Photocredit: www.ariccionemilano.it/
Terrazza 12 offers a homely and retro ambiance, with colorful designs, 50's inspired decor, comfortable lounge furniture, and relaxing music.
While the Terraza 12 is a restaurant, it evokes the feeling of a comfy living room, making it the ideal spot for a casual meal or after-work drinks with friends.
Surrounded by a beautiful rooftop terrace that overlooks the Madonnina and Milan's new skyline, this high-mixology bar aims to deliver a unique experience that lets people focus on the company as well as the fares.
Wines, beers, and cocktails are readily available, as is a small menu of classic Italian cuisine.
What makes Terrazza 12 such an appealing venue is that thanks to its location and looks, it's mostly frequented by locals, which makes it an excellent alternative for when you want to escape the tourists.
A RICCIONE TERRAZZA 12
10th Floor, Via Durini, 28, 20122 Milan
Daily: Lunch/ Dinner
Bar bites
4.

The Roof Milano
Rooftop restaurant Milan - The Roof Milano | Photocredit: www.deicavaliericollection.com
Located on a 10th floor, this terrace used to be called La Terraza dei Cavalieri, but during 2020 it transformed into The Roof Milano. The panoramic views of Milan, that reach as far as the eye can see, are however just the same.
The terrace operates as a restaurant for two different hotels, and with that kind of popularity, you bet the restaurant's Italian dishes are something to write home about.
Drink-wise, you can enjoy aperitifs, classic cocktails, fantastic Italian wines, straight liquors, and strong coffee, all while overlooking the Piazza Guiseppe Missori and lounging on one of the restaurant's comfortable sofas.
The atmosphere is relaxed but sophisticated, and while the prices are high, the experience is more than worth it.
Reservations are encouraged, though walk-ins are welcome.
THE ROOF MILANO
Hotel Dei Cavalieri Milano, 1 Piazza Missori, Milan 20123
Daily: Breakfast / Lunch / Dinner
Italian fine dining
5.

Terrazza Duomo 21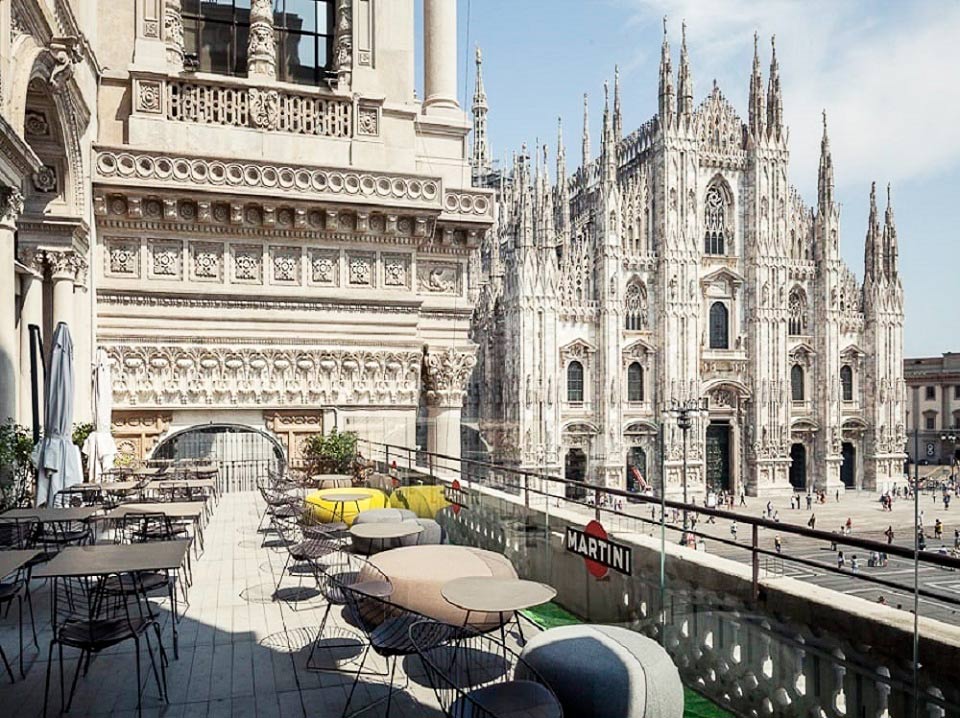 Rooftop restaurant Milan - Terrazza Duomo 21 | Photocredit: www.duomo21.it
A relatively new addition to Milan's rooftop scene, Duomo 21 works as a cocktail lounge and a restaurant.
Offering front-row seats of the historical Duomo, from which it gets its name, and Milan's streets, the Duomo 21 Terrace is the perfect spot to relax while enjoying the scenery, away from the crowds and the noise.
During the early afternoons, the terrace boasts a relaxing atmosphere, with delicious martinis, cocktails, bar bites, and a full food menu featuring excellent dining entrees.
Come night, live DJs and other music shows take the scenery, transforming Duomo 21 into one of Milan's coolest rooftop nightclubs.
TERRAZZA DUOMO 21
Piazza del Duomo, 21, 20121 Milan
Daily: Lunch / Dinner
Italian pub food