Milan have some superb rooftop bars for the warmer months. But what many don't know is that some of these rooftops also are open during winter.
Milan can be quite rough and cold during wintertime, but despite this you can find some great winter open rooftop bars here. The typical Italian rooftop bar serves great food and drinks (no surprise there). Perfect hangout for lunch or afternoon cocktails.
Here's our list of the best rooftop bars open year round in Milan.
1.

La Rinascente Rooftop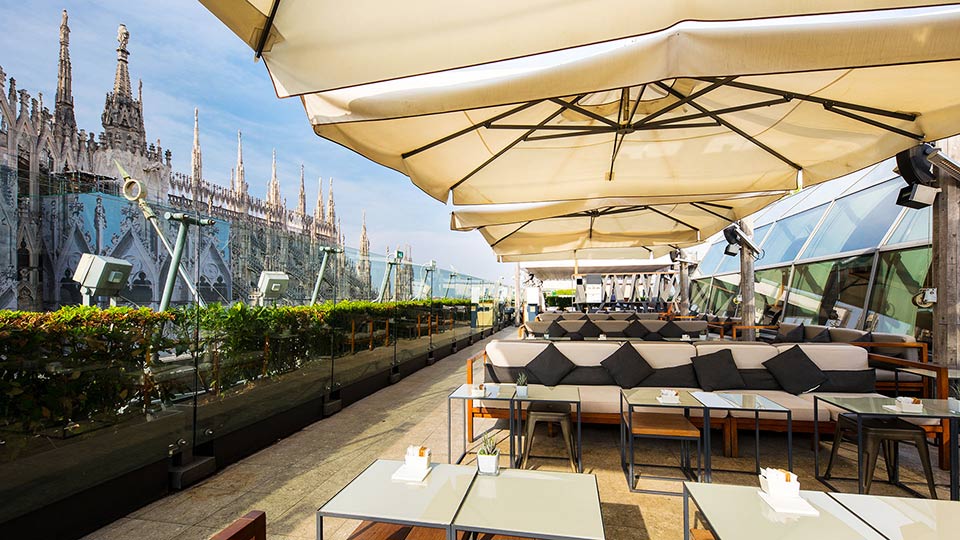 La Rinascente Rooftop | Photo: www.ilbarmilano.it
Located on top of the luxurious shopping mall La Rinascente, that will make your jaw drop just by looking at it, you find a rooftop venue that offers numerous food and drink options for you to enjoy.
The rooftop bars and restaurants offer both indoor and outdoor seating, along with some of the best views of Milan's Cathedral, as well as the Doume.
Not only that, but the spacious construction allows for seating plenty while letting everyone enjoy the view.
Though La Rinascente operates more as a food-court than as a bar, it's still a high-end destination with delicious drinks and high-quality food. Enjoy fine meals at Maio Restaurants or an apertivo in Il Bar.
Whether you're looking for a low-key place to enjoy the views or you're in dire need of some rest after a busy day shopping, rest assured La Rinascente has something for you.
LA RINASCENTE
Via Santa Radegonda 1, 20121 Milan
2.

Terrazza Triennale
Terrazza Triennale | Photo: www.osteriaconvista.it/
Located smack in the middle of Milan's historic district, this modern and luxurious rooftop restaurant/bar serves delicious, high-end Italian cuisine alongside a collection of incredible drinks.
With its vast selection of Italian wines, European beers, and modern mixology cocktails, you're bound to find a drink that you'll like.
If the food and the drinks aren't enough, the views certainly make the experience, as the Sempione Park and central Milan spread out under your feet, giving you one of the best sights in the city.
The views can be enjoyed either from the open-air terrace (if the weather allows), or otherwise from the very cool and transparent terrace greenhouse.
A cozy, yet sophisticated ambiance make the Terrazza a great choice for romantic dinners and small but relaxed gathering with friends.
The goal of this place isn't only to party, but rather to provide an experience that can be enjoyed with all senses.
TERRAZZA TRIENNALE
Viale Alemagna Emilio, 6, 20121 Milan
3.

Radio Rooftop Bar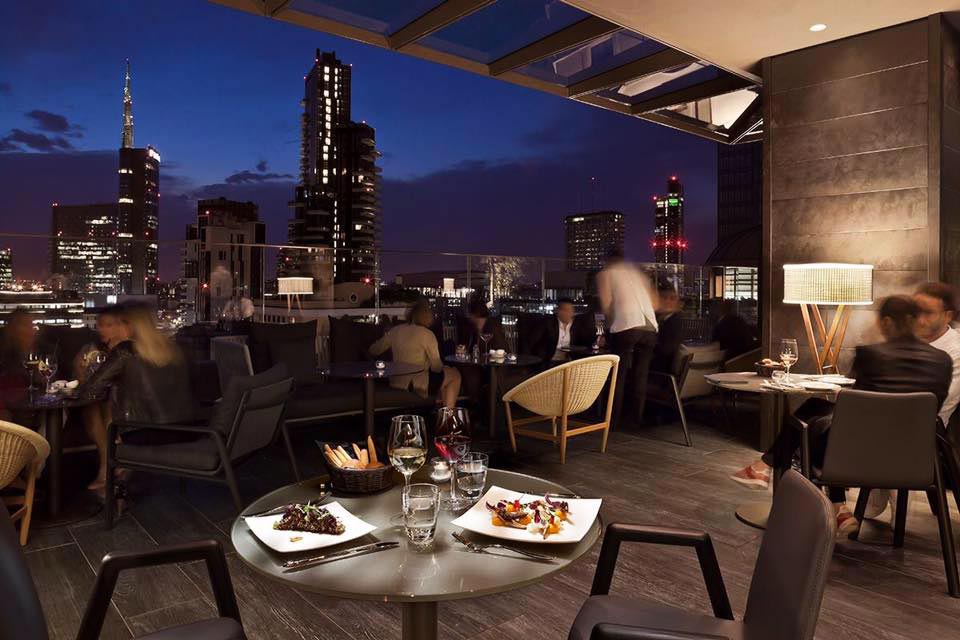 Radio Rooftop Bar | Photo: http://radiorooftop.com
With sleek and modern furniture, amazing views of Milan's more contemporary side, and large and comfortable lounge areas, the Radio Rooftop brings a slice of the Big Apple to The Fashion Capital of the World.
Open day and night, the Radio Rooftop Bar is a stylish, multicultural, and high-energy cocktail lounge that aims to provide a fun experience to everyone involved.
With both indoor and outdoor seating areas, as well as a large roof, this is also an ideal place for cold and rainy days alike.
While beers and wines are readily available at the Radio Rooftop, the show-stealers are the signature cocktails, crafted with modern mixology techniques and unique ingredients.
If you're hungry, the bar offers a small but delicious menu of tapas that go great with the drinks.
This vibrant and energetic bar is a cornerstone of Milan's nightlife scene, so reservations are encouraged if you'd like to have a private table.
Due to the high-end and vibrant atmosphere of the Radio, you'll want to dress your best if you're aiming to impress.
RADIO ROOFTOP
Piazza della Republica, 13, 20124 Milan
4.

A Riccione Terrazza 12
A Riccione Terrazza 12 | Photo: www.ariccionemilano.it/
A colorful and welcoming ambiance embraces you the moment you set foot on A Riccione Terrazza 12, located smack in the middle of the city.
Part rooftop bar, part rooftop restaurant, this cool getaway offers what they call "high mixology" and delicious Italian cuisine.
As can only be expected from a mixology bar, their expertly crafted cocktails are a must-try, particularly when it comes to their signature creations; however, beer, wine, and other drinks are readily available for those who ask.
From the comfort of the lounge chairs, you can enjoy fantastic views of Milan's skyline and front-row seats to the Madonnina, all while listening to relaxing music and basking in the afternoon sun.
Retractable roof and glass walls, along with a spacious interior, makes this a great rooftop for all seasons.
The A Riccione Terrazza 12 is the ideal place for those looking for a low-key evening, rather than a wild night full of partying.
A RICCIONE TERRAZZA 12
Via Durini, 28, 20122 Milan