Kuala Lumpur is a super popular city for epicureans all over the world. And even on the rooftops you can find some amazing restaurants where you'll get food and drinks of absolute highest class.
The fine dining scene has really made it to the rooftop restaurants in Kuala Lumpur, which is why this is one of the best cities in the world if you want to eat with a view.
We've made a list of the 5 best rooftop restaurants in Kuala Lumpur with a great variation of both fine dining, relaxed dining, party dinner and romantic dates. Check it out!
1.

Troika Sky Dining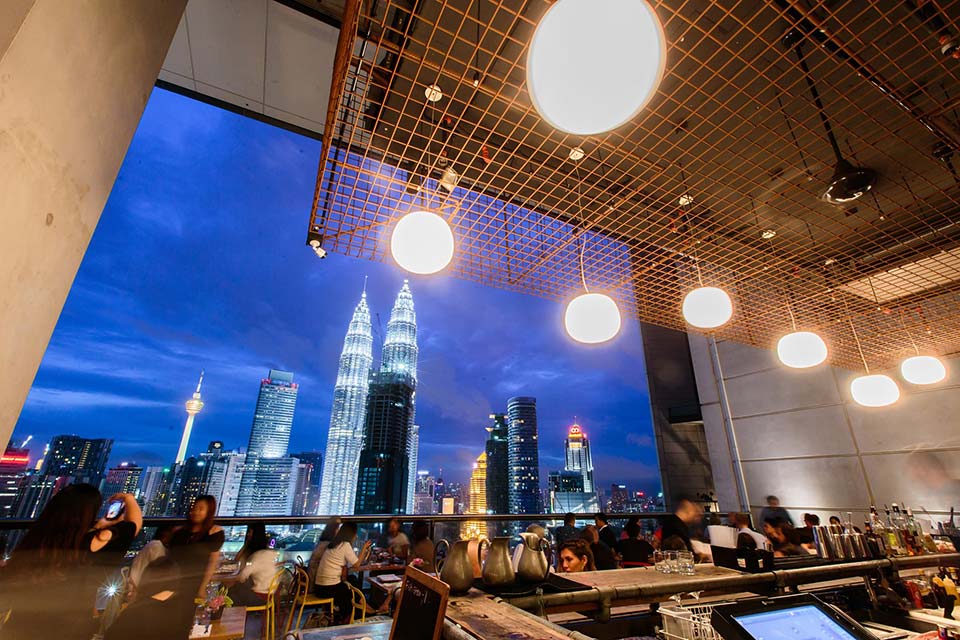 Rooftop restaurant KL - Fuego at Troika Sky Dining | Photo: www.troikaskydining.com/
Located in the heart of Kuala Lumpur, just a short walk away from the world-famous Petronas Tower, this beautiful terrace offers both stunning views and delicious food, making it a fantastic choice to start any visit to the city.
What makes Troika so unique is that it's not a restaurant, but rather a food paradise. This enormous rooftop terrace has five different restaurants and bars, ensuring there's plenty to choose from.
Cantaloupe is a fantastic fine dining restaurant; Strato is an Italian restaurant specializing in homemade pasta and pizza; Mr Chew's Chino Latino Bar is a fun and creative restaurant and bar, serving a Latin take on Asian cuisine and cool cocktails; Brasserie Fritz is a bistro serving a menu that fuses traditional French cuisine with global influences; Fuego is a restaurant focused on South American food.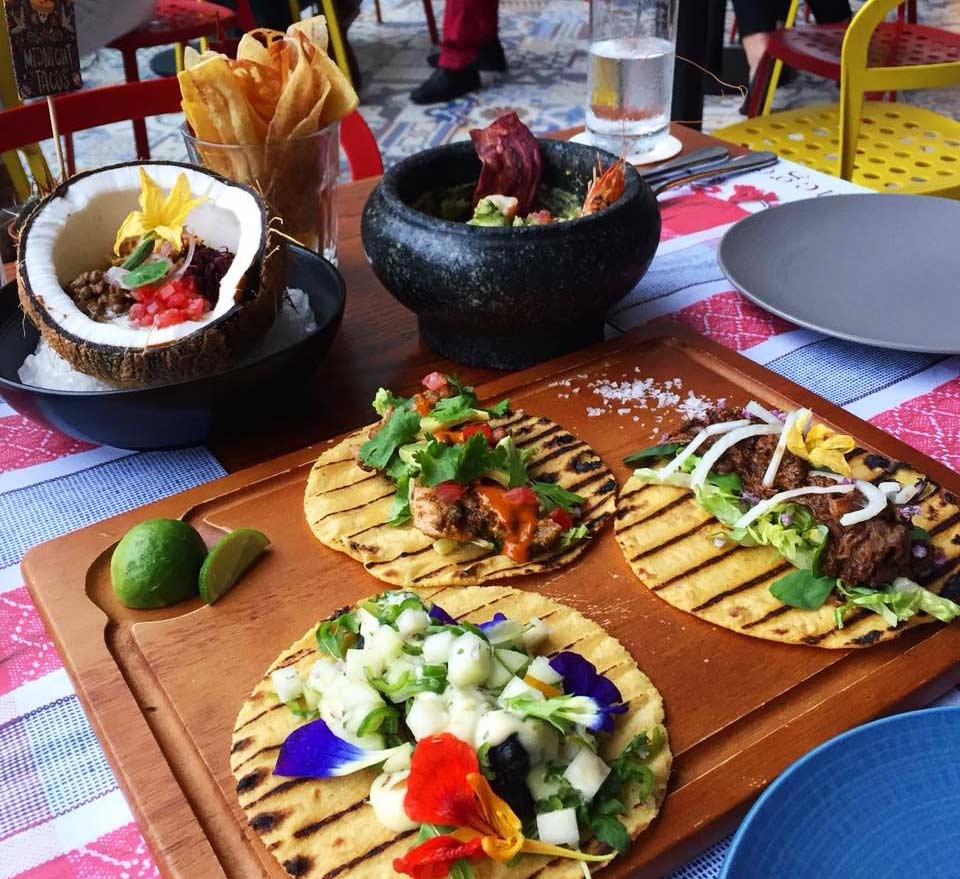 Fuego at Troika Sky Dining | Photo: www.troikaskydining.com/
Fuego, in particular, boasts some of the best views in the city, as well as a festive atmosphere and delicious food.
Tapas, guacamole, ceviche, tacos, and more. Each dish crafted to perfection and large enough to share.
The restaurant is colorful, with a bright South American feel, and jaw-dropping views of the Petronas Towers.
Fuego's bar menu offers beers, spirits, and cocktails, both signature and classic. Fuego's signature cocktails have a South American twist to them and are the perfect complement to the stunning sunsets you can catch up here.
TROIKA SKY DINING
The Troika, Persiaran KLCC, Kuala Lumpur
Fuego: 18.00-00.00 / Cantaloupe: 18.00-22.30 / Mr Chew's Chino Latino Bar: from 18.00 / Brasserie Fritz: 17.00-00.00 / Strato: 18.00-23.00
South American / Italian / International fine dining
From small plates RM30 to big plates RM140
2.

Marini's on 57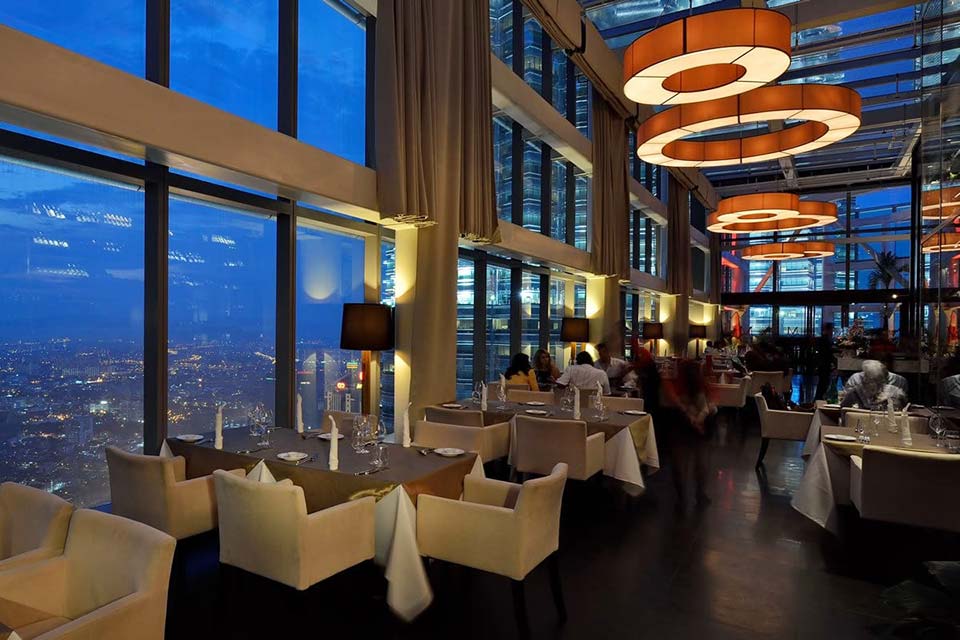 Rooftop restaurant KL - Marini's on 57 | Photo: https://marinis57.com/
An upscale Italian restaurant, a vibrant rooftop bar and a cigar lounge, all located right next to the world-famous Petronas Towers. Marini's is definitely a locale to remember.
Offering jaw-dropping panoramic views of Kuala Lumpur's skyline, a trendy atmosphere, and top-notch drinks and food, this destination is perfect for those looking to dine in style.
Handmade pasta, delicious pizzas, and other traditional Italian dishes make up the food menu, while champagne and wines populate the drinks menu.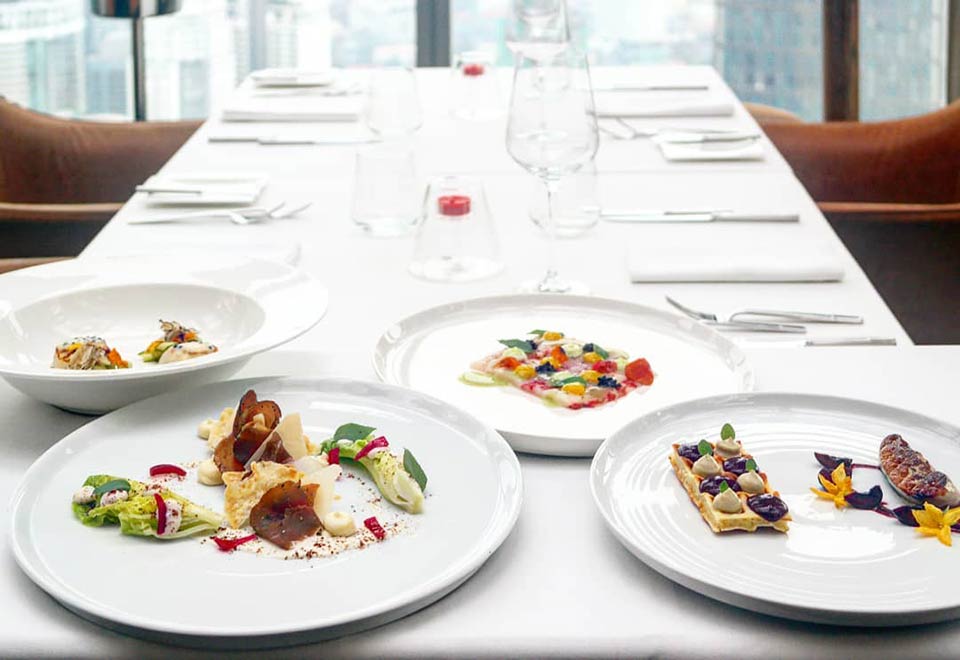 Marini's on 57 | Photo: https://marinis57.com/
You can also enjoy delicious signature cocktails made by award-winning mixologists, as well as classic spirits.
Marini's rooftop restaurant features a large interior with floor to ceiling windows that let you gaze at the city below, as well as a large rooftop bar terrace that, while not wholly open-aired, does feel like it.
As you can imagine, this is a rather expensive and exclusive location, so if you're visiting, make reservations in advance and dress to impress.
MARINI'S ON 57
Menara 3 Petronas, Persiaran KLCC, 50088 Kuala Lumpur
Restaurant: Tue-Sun 18.30-00.00 / Rooftop bar: Tue-Sun 17.00-00.00
Italian
Main: ~MYR180
3.

Horizon Grill at Banyan Tree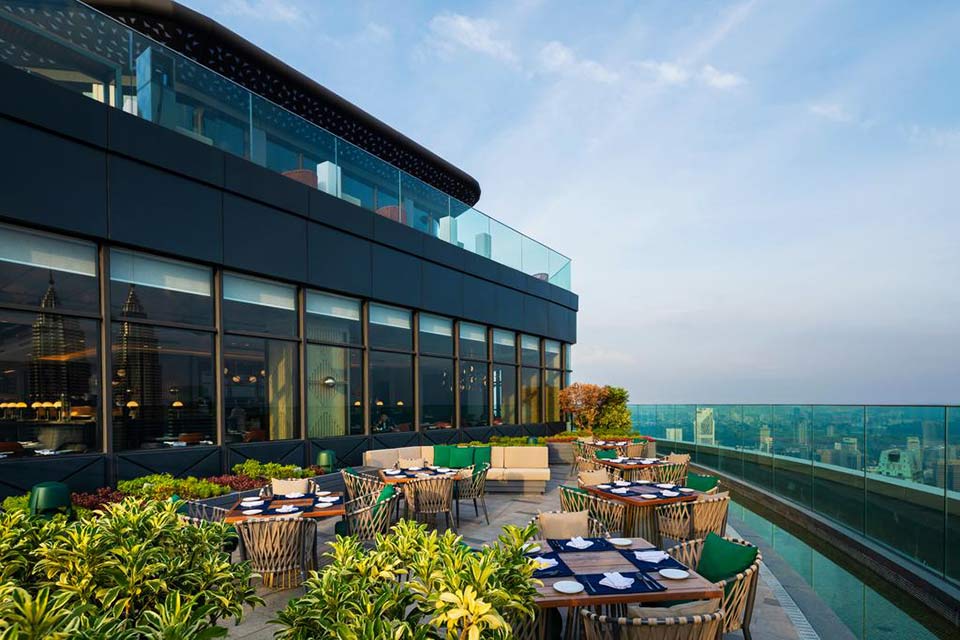 Rooftop restaurant KL - Horizon Grill | Photo: www.banyantree.com
A relatively new inclusion to Kuala Lumpur's skyline, Horizon Grill is a lovely rooftop restaurant that offers jaw-dropping views of the city, as well as both indoor and outdoor seating options.
Perched on the 58th floor of the fantastic Banyan Tree Kuala Lumpur, this stylish venue is an all day destination.
Open for breakfast, lunch and dinner, the rooftop restaurant offers fresh seafood and premium steaks, along with a nice selection of wines. All served in a sophisticated atmosphere and with great service.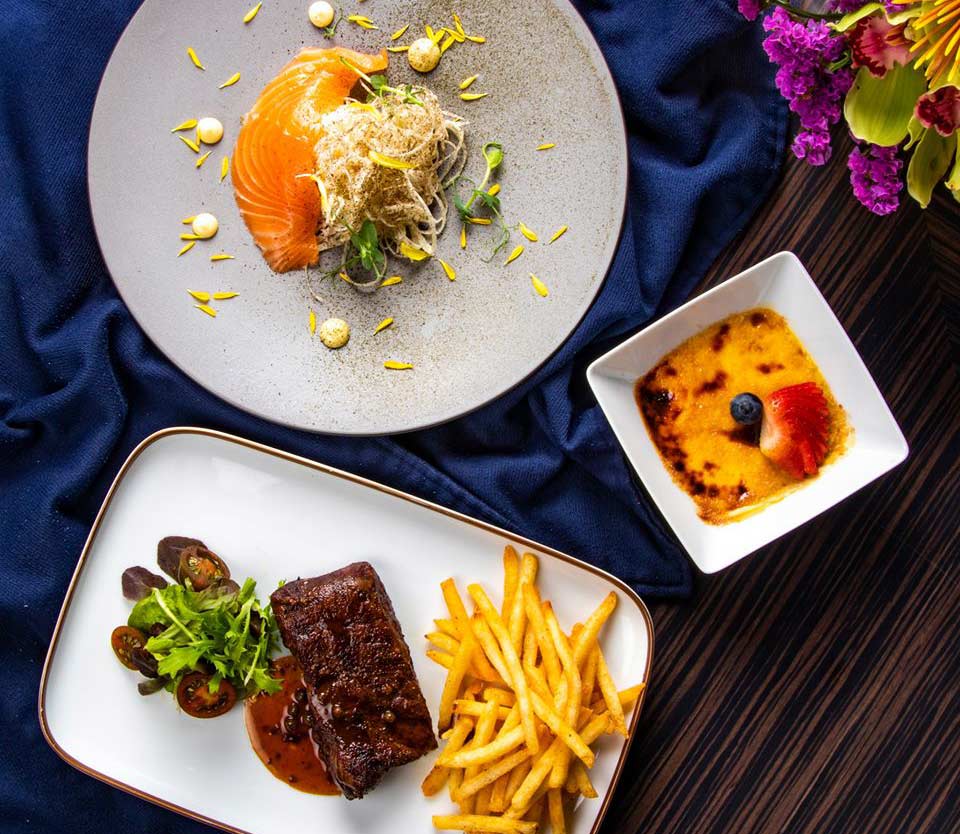 Horizon Grill | Photo: www.banyantree.com
One floor above Horizon Grill, you also find the Vertigo rooftop bar. Offering even more impressive 360-views over KL, this is a great and vibrant spot for pre- or post dinner cocktails.
A combo of dinner and drinks at the two venues will have you filled up on views (and amazing photos) for quite some time.
HORIZON GRILL
2 Jalan Conlay, 50450 Kuala Lumpur
Horizon Grill: 06.30-22.30 / Vertigo: 18.00-00.00
Seafood & Steaks
Main: ~MYR200
4.

CIELO KL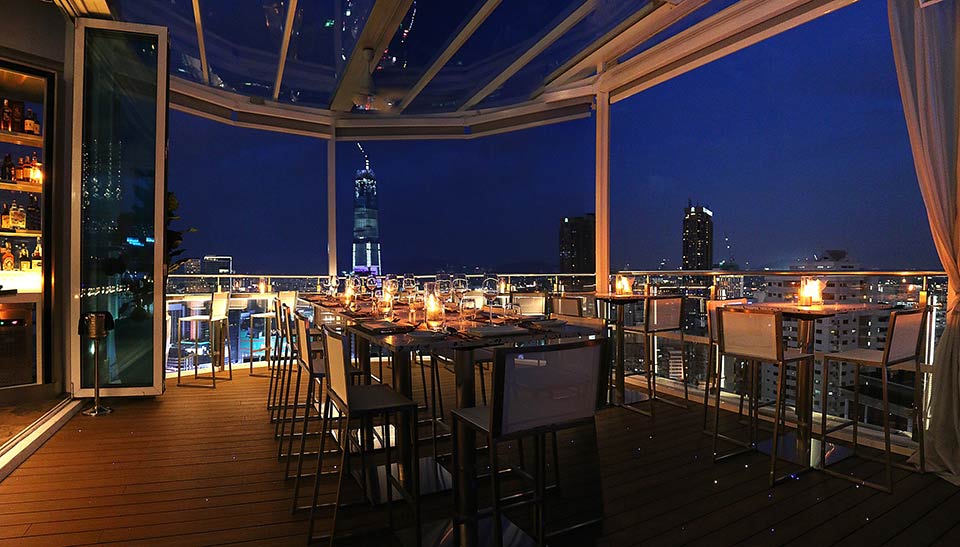 Rooftop restaurant KL - Cielo KL | Photo: https://cielokl.com/
CIELO is a rather new steak & seafood restaurant that offers a true and full Kuala Lumpur downtown experience.
Located on top of the VIDA Bukit Ceylon Serviced Residence, and serving fresh seafood and steaks, CIELO flawlessly pairs the dining and lounging experiences and delivers something new.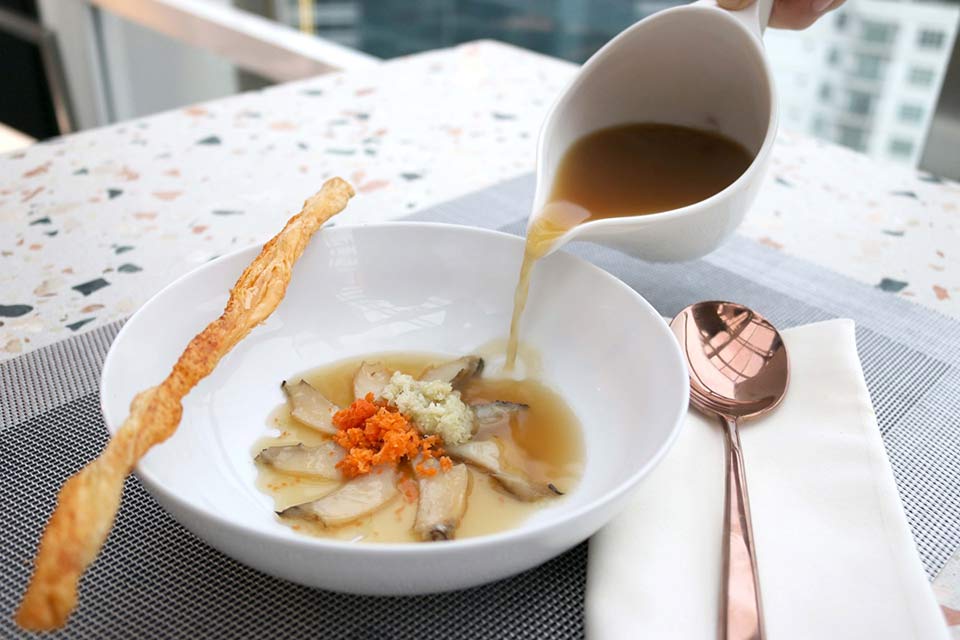 Cielo KL | Photo: https://cielokl.com/
With multiple indoor and outdoor spaces to ensure privacy and intimacy, room for booking private events, and a focus on delivering a distinctive lounge nightlife vibe, CIELO easily stands out from other rooftop restaurants in the city.
With accessible prices and a trendy crowd, CIELO is a fantastic choice for younger travelers out there who are looking both for food, fun and amazing skyline views.
CIELO
23-01 VIDA Bukit Ceylon, 1D Jalan Ceylon, 50200, Kuala Lumpur
Mon-Sun: 18.00-00.00
Seafood & Steaks
Main: ~MYR125
5.

Cedar on 15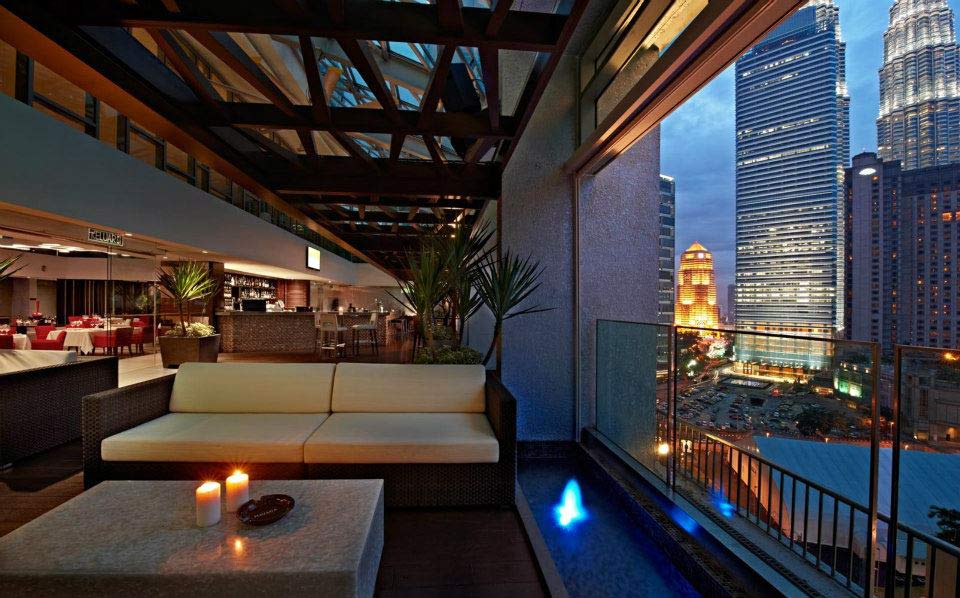 Rooftop restaurant KL - Cedar on 15 | Photo: https://kualalumpurhotels.impiana.com.my/
Offering contemporary cuisine and a relaxing and chic atmosphere, CEDAR is the kind of restaurant that focuses on creating unforgettable dishes.
A small, yet incredibly attractive option, CEDAR boasts a fantastic location, amazing views, sumptuous food, and a refined and relaxed ambiance that's difficult to find in the city.
The kitchen is headed by Austrian WACS National Global Master Chef, Helmut Lamberger, and the food mixes premium ingredients with humble, down-to-earth preparation to deliver some of the best food you'll find in the city.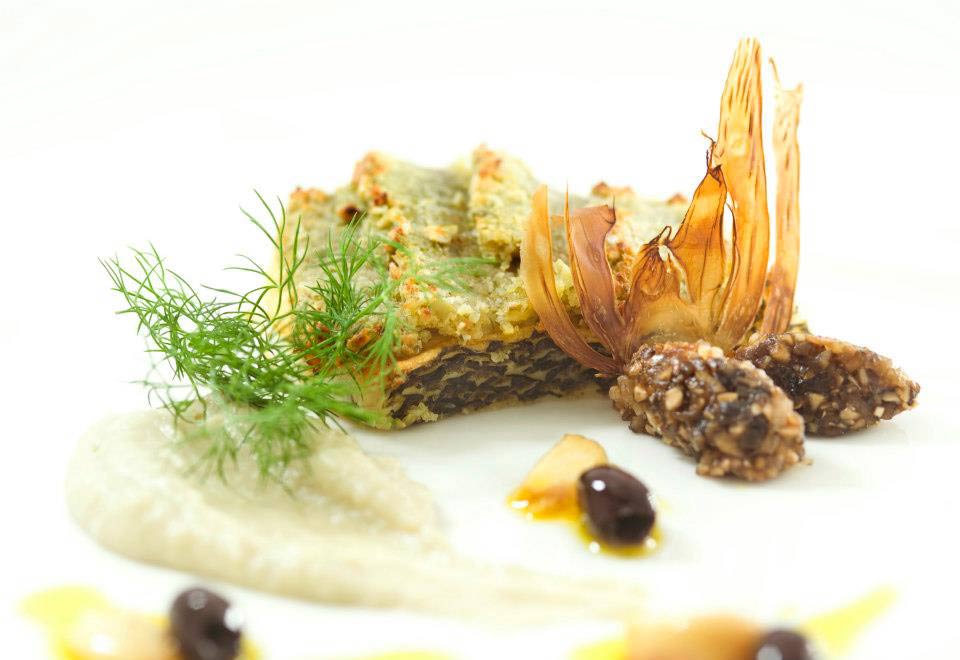 Cedar on 15 | Photo: https://kualalumpurhotels.impiana.com.my/
Open for business set lunches on weekdays and dinner all days of the week, Cedar on 15 offers seating both at the indoor restaurant and out on the al fresco bar terrace.
The venue is on the smaller side (though it does include a private area), so reservations are encouraged, particularly in the evenings.
Mixing dinner in the restaurant with drinks at the rooftop bar is a perfect combo. Thursday to Saturday you can also stick around and enjoy the vibe from live DJs, starting at 9pm.
CEDAR ON 15
Impiana KLCC Hotel, 13 Jalan Pinang, 50450 Kuala Lumpur
Mon-Sun: 11.00-00.00
Western Asian Fusion Cuisine
Main: ~MYR80