Dubai – the fastest growing city in the world during the last 15 years. And the number of great bars and restaurants are increasing by each day.
More and more places get their alcohol permission from hotels, which has made this issue a non-problem nowadays.
Now you can find a lot of great rooftops here, with many of the Dubai rooftop restaurants located at hotels, offering grand views over both the city and the ocean.
A tip is to try and book your table during sunset, as you will get some amazing views during this time of the day.
Enjoy our list of the 5 best rooftop restaurants in Dubai. Made by rooftop experts.
1.

Tomo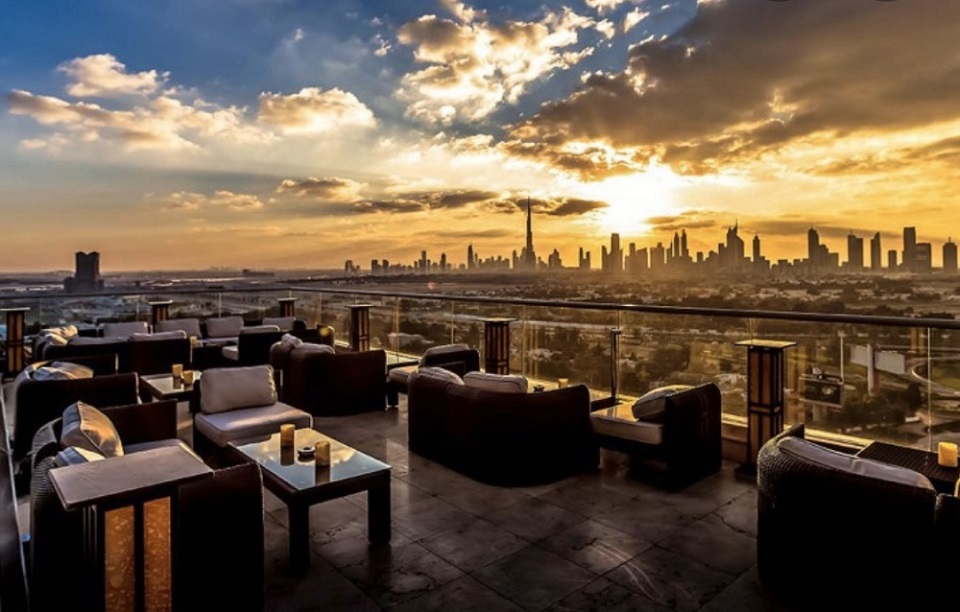 Rooftop restaurant Dubai at Tomo | Photocredit: www.tomo.ae
Located on the 17th floor of the world-famous Raffles Hotel, Tomo is equal parts a restaurant and an experience.
Serving Japanese food of the highest class, and offering jaw-dropping views of Dubai's new skyline, Tomo is the kind of restaurant you visit when you want to impress, but also when you want to pamper yourself.
The atmosphere is exclusive, yet private and relaxing, with indoor and outdoor seating sections, both with Japanese inspired decorations.
The food is delicious and well worth the visit, with traditional Japanese dishes and new, more modern inventions. Here, you'll be able to find delicious noodles and rice dishes, as well as world-class Wagyu beef, cooked to perfection by chef Chitoshi Takahashi.
Drink wise; you'll be able to enjoy wines, traditional spirits, and champagne, as well as a fantastic selection of Sake and Shochu, and delicious signature cocktails that showcase these Japanese drinks.
If eating isn't in your plans, and you want to enjoy some drinks while watching an absolutely stunning sunset, you're more than welcome: Tomo is furnished with tables and comfortable lounge areas to satisfy all needs.
TOMO
Sheikh Rashid Road Wafi City, Dubai
Daily: Lunch / Dinner
Japanese
2.

Clap Dubai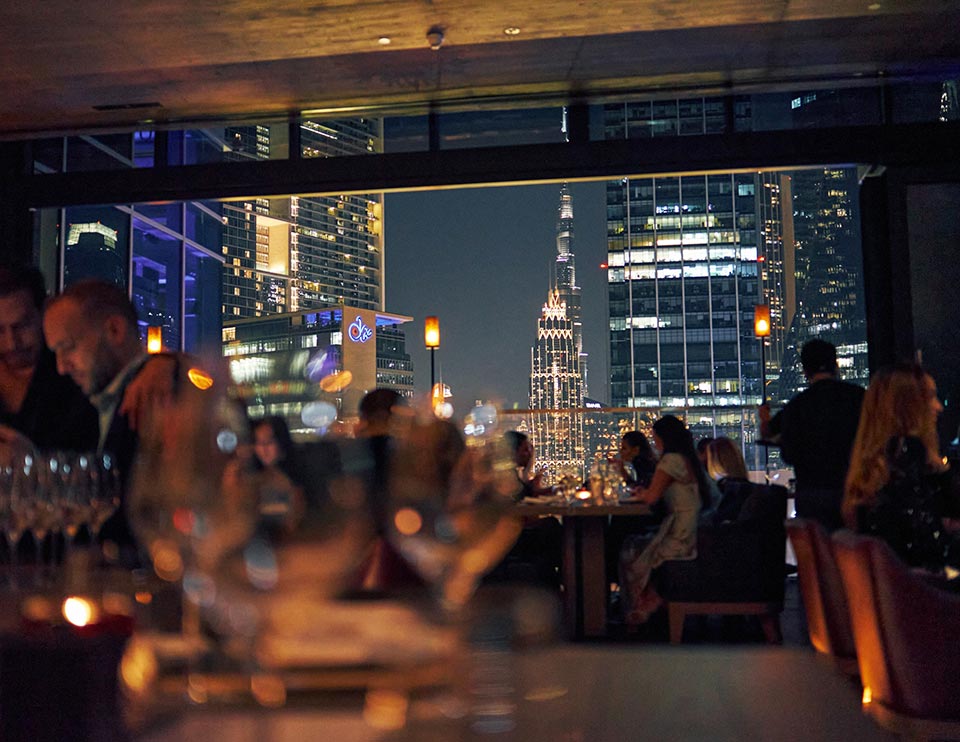 Rooftop restaurant Dubai at Clap Dubai | Photocredit: https://claprestaurant.com/
Located on the rooftop of Dubai International Financial Centre (DIFC), pretty much right in the heart of Duabai, Clap Dubai combine authenticity with innovation to create a sensory Japanese dining experience.
Born in Beirut, Clap opened in Dubai during 2020, and has quickly become a hot-spot for elegant and vibrant days and nights.
With a beautiful, sleek and eclectic decor, Clap Dubai is a spacious 300-seat venue which includes indoor restaurant, outdoor terrace and two lounge bars under one roof. Complemented with great views over the city skyline.
The rooftop menu ranges from smaller plates to more indulgent mains, all curated to offer the best of Japanese cuisine. For the full Clap dining experience, go Omakase and leave it up to the chef.
Apart from fine Japanes food, Clap also serves crafted mixology cocktails inspired by the nightlife of Tokyo, along with an extensive selection of champagne and wine.
Open from lunch to late at night, Clap Dubai is a venue easy to spend hour upon hour, with the best of house music turning vibrant dinners into full nights with cocktails and views.
CLAP DUBAI
Dubai International Financial Centre, Gate Village Building 11, Level 9, Dubai
Daily: Lunch / Dinner
Japanese
3.

Atelier M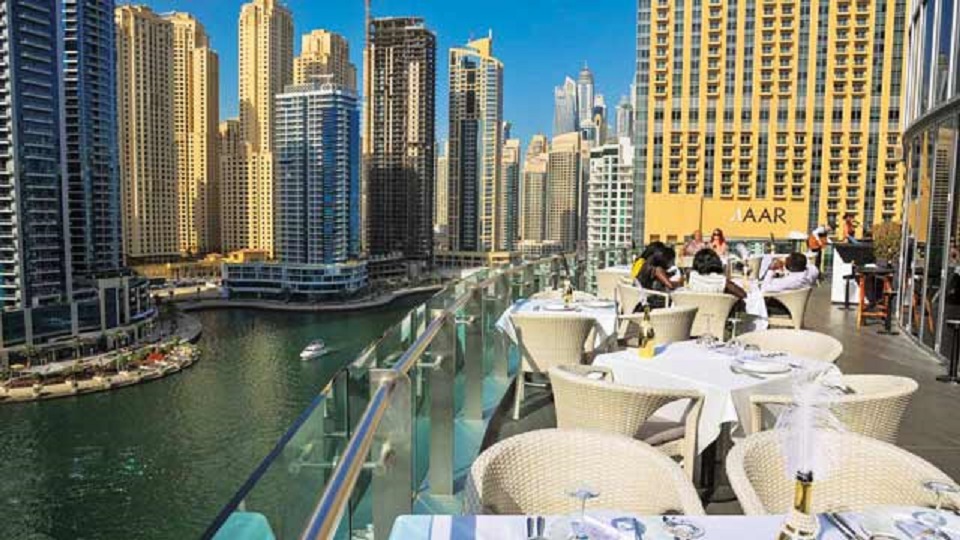 Rooftop restaurant Dubai at Atelier M | Photocredit: www.atelierm.ae
Are you looking for a fun venue? You've found it.
Atelier M occupies the top three floors of the Pier7 building at the Dubai Marina, and works as a restaurant, an indoor lounge, a rooftop terrace, and a bar, making it a perfect choice for just about anyone.
The restaurant, located on the 7th floor, offers Asian-Mediterranean fusion cuisine, born out of the imagination of chef Mohammad Islam.
The food can be eaten indoors, at the restaurant or outside on the terrace, enjoying beautiful views of the Marina and the surrounding buildings.
On the 8th and 9nth floor, you'll be able to find the indoor lounge and another terrace, both decorated to the nines in a classic Art Deco style, featuring lots of gold and crystal.
From up here, you'll be able to enjoy sweeping views of the ocean, as well as fantastically crafted cocktails, classic spirits, buckets of beer, and delicious champagne.
While the restaurant tends to have a sophisticated and relaxed atmosphere, the lounge is a lot more energetic, with large crowds, live DJs, ladies nights, and other fantastic events and services.
ATELIER M
Floor 7/7M, Pier 7, next to Marina Mall PO Box 643720, Dubai
Daily: Dinner
À la carte
Collaboration
4.

Asia Asia at Pier 7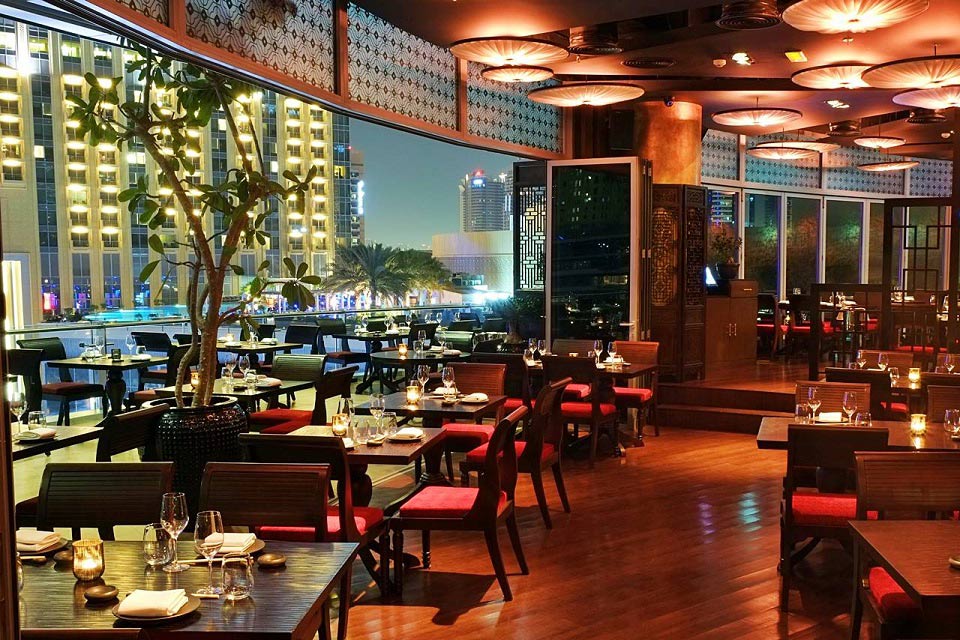 Rooftop restaurant Dubai at Asia Asia at Pier 7 | Photocredit: www.asia-asia.com
If what you're looking for are award-winning food and jaw-dropping views, then head out to Asia Asia, as this fantastic restaurant is capable of offering that and more.
Located on the 6th floor of the Pier 7 building, Asia Asia may not be the highest restaurant on this list, but it sure is one of the most delicious, with mouth-watering Pan-Asian specialities and fantastic Asian-inspired signature cocktails.
The food can be ordered both á la carte or in small samplers, meaning you can drop by to have some drinks and try some of the food before deciding to dine there or not. (Trust us, you'll want to stay).
With Asian-inspired decor, featuring dark wood and comfortable lounge sofas, this fantastic destination boasts an elegant and upbeat vibe, as well as an exclusive atmosphere.
Asia Asia is also known for its fantastic events, like 'Ladies Nights,' 'Spice Route Brunch,' and even live saxophone shows, making it a great place to visit, no matter the day of the week.
ASIA ASIA PIER 7
Dubai Marina Mall - Dubai Marina
Daily: Dinner
Pan-Asian
5.

Uptown Bar & Restaurant
Rooftop restaurant Dubai at Uptown Bar & Restaurant | Photocredit: www.jumeirah.com
A relaxed and sophisticated venue located on the 24th floor of the luxurious Jumeirah Beach Hotel, the Uptown Bar & Restaurant is the place to be when you want to bask in stunning ocean views.
The Uptown Bar & Restaurant has a relatively small menu, which features tapas heavily and is designed to share. This is, in part, to emphasize the venue's drinks, and in part to invite guests to relax and have fun, milling around, and getting to know other people.
Operating on a first-come, first-served basis, and serving vintage wines, artisanal beers, and designer cocktails, the Uptown Bar is a fantastic choice for when you want to mingle with a trendy crowd and enjoy quality service.
This venue offers both indoor and outdoor seating options, and while the ocean views are what draws people in, it also provides excellent views of the Burj Al Arab, the Jumeirah Beach, and the Dubai skyline.
UPTOWN BAR
Jumeirah Beach Hotel, 3 Umm Suqeim, Dubai
Daily: Dinner
Light tapas
Collaboration