Dubai – the fastest growing city in the world during the last 15 years. And the number of great bars and restaurants are increasing by each day.
More and more places get their alcohol permission from hotels, which has made this issue a non-problem nowadays.
Now you can find lots of great rooftops here, with many of the Dubai rooftop restaurants located at hotels, offering grand views over both the city and the ocean.
A tip is to try and book your table during sunset, as you will get some amazing views during this time of the day.
Enjoy our list of the 12 best rooftop restaurants in Dubai. Made by rooftop experts.
1.

Asia Asia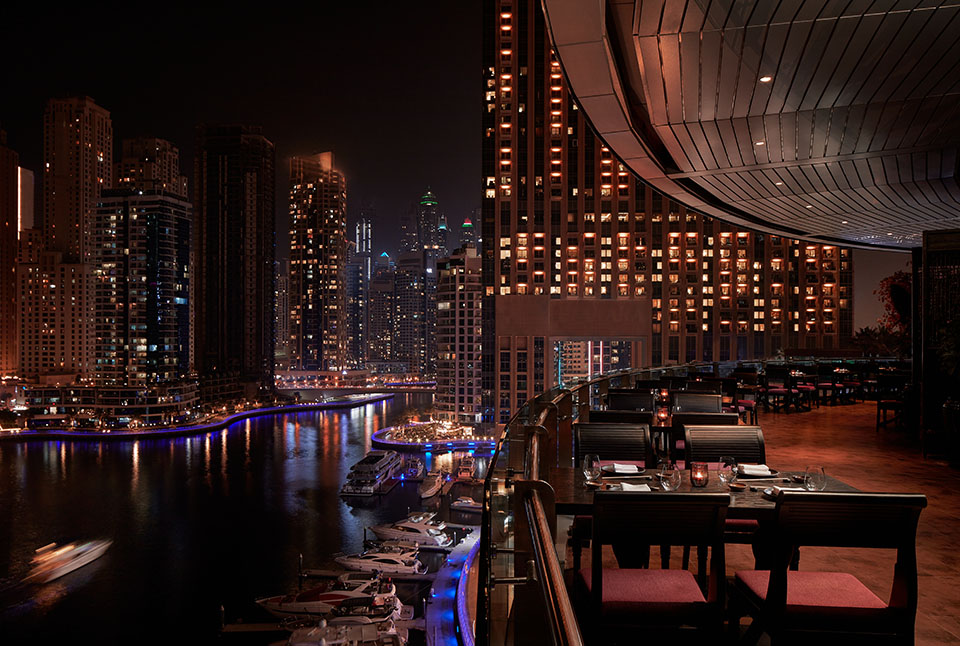 Rooftop restaurant Dubai at Asia Asia | Photocredit: www.asia-asia.com
If what you're looking for are award-winning food and jaw-dropping views, then head out to Asia Asia, as this fantastic restaurant is capable of offering that and more.
Located on the 6th floor of the Pier 7 building, Asia Asia may not be the highest restaurant on this list, but it sure is one of the most delicious, with mouth-watering Pan-Asian specialities and fantastic Asian-inspired signature cocktails.
The food can be ordered both á la carte or in small samplers, meaning you can drop by to have some drinks and try some of the food before deciding to dine there or not. (Trust us, you'll want to stay).
With Asian-inspired decor, featuring dark wood and comfortable lounge sofas, this fantastic destination boasts an elegant and upbeat vibe, as well as an exclusive atmosphere.
Asia Asia is also known for its fantastic events, like 'Ladies Nights,' 'Spice Route Brunch,' and even live percussionist shows, making it a great place to visit, no matter the day of the week.
ASIA ASIA
Dubai Marina Mall - Dubai Marina
Daily: Dinner / Weekend: Brunch & Lunch
Pan-Asian
2.

CouCou Dubai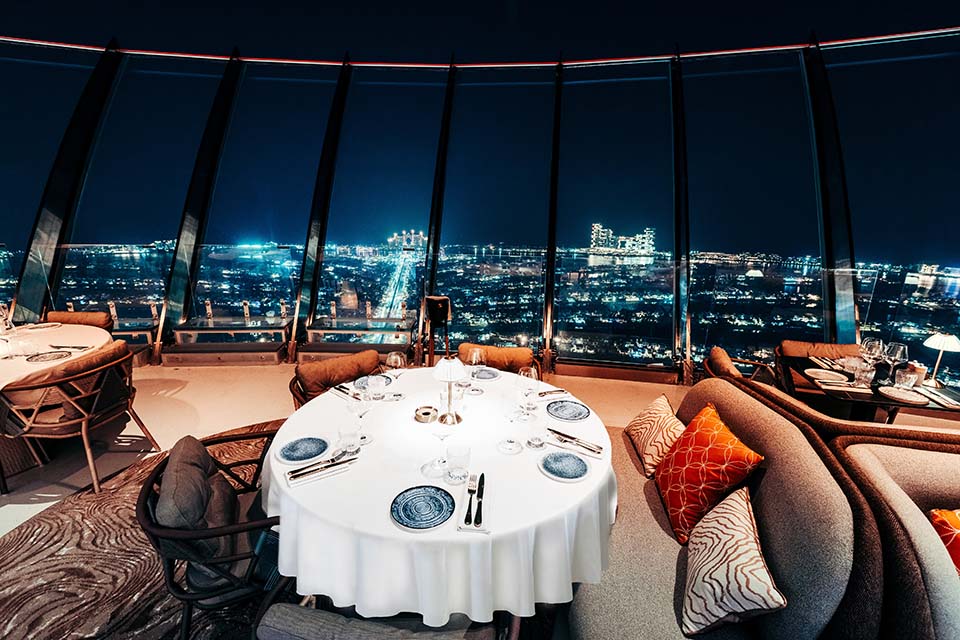 Rooftop restaurant Dubai at CouCou Dubai | Photocredit: https://coucou-dubai.com/
Inviting you to rise above the city for an immersive nocturnal experience, CouCou Dubai is found on the 52nd floor of the impressive Palm Tower.
Surrounded with a spectacular 360° panorama of Palm Jumeirah, the Dubai coast and beyond, this modern and luxurious rooftop restaurant and bar is made for special evenings.
The rooftop menu comes packed with Mediterranean inspiration, ranging from caviar to pasta and pizza, all made with the highest quality ingredients.
The food is complemented with a fine selection of wine and champagne, and from the rooftop bar you can also order mixology signature cocktails and mocktails, as well as shisha.
Filled with plenty of energy, CouCou Dubai an ideal venue for every occasion. Be it a romantic date, a celebration, a family gathering, or a late night filled with socializing, dancing and outlandish acts.
COUCOU DUBAI
The Palm Tower Level 52, The Palm Jumeirah, Dubai
Daily: Dinner
Mediterranean
3.

Barfly Dubai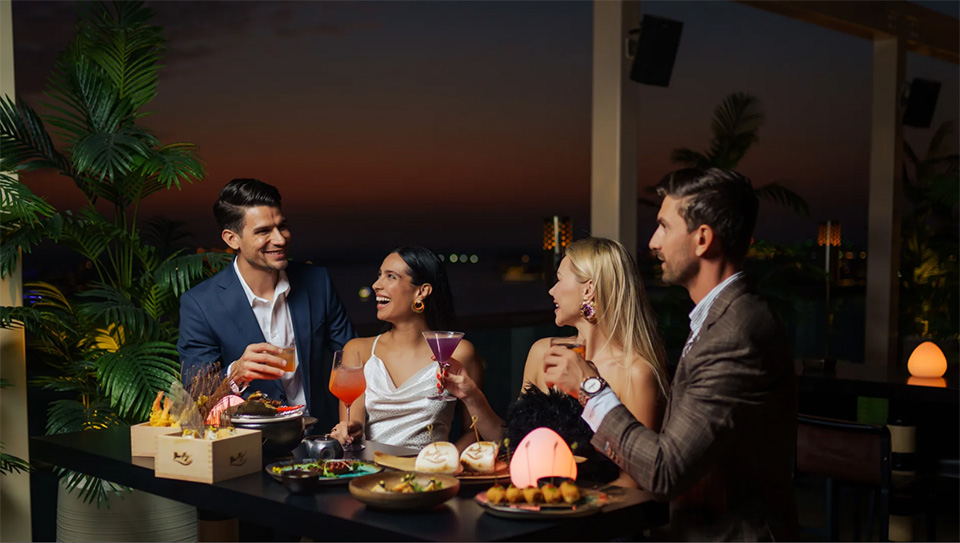 Rooftop restaurant Dubai at Barfly Dubai | Photocredit: https://barflydubai.ae/
Barfly by Buddha-Bar is Dubai's latest rooftop hotspot, found on the 13th floor of the luxurious Hilton Dubai Palm Jumeirah.
This Paris-born and internationally-renowned concept is ready to take Dubai indulgence to a new level, with a neo-baroque design, an expertly created menu, and panoramic views.
Mixing immersive and mystic interiors with a lush and expansive outdoor terrace, Barfly comes surrounded with spectacular vistas over Palm Jumeirah land and seascape, stretching to Dubai Marina and the horizon.
In an exclusive, upscale and energetic vibe, here you can indulge in a menu filled with a mixture of palates that comprises an array of international dishes infused with Asian flavours.
Bao Buns, Ceviche and sizzling dishes from the grill are mixed with Sushi and Wagyu Rib Eye, complemented with a great selection of smooth, crafted and creative drinks by mixology experts.
Start your night with an elevated, tasty and relaxed meal, and then stay for dancing to the live DJ.
BARFLY
Level 13 Palm West Beach - The Palm Jumeirah - Dubai
Daily: Dinner
International / Asian fusion
4.

Attiko Dubai
Rooftop restaurant Dubai at Attiko Dubai | Photocredit: www.theattiko.com/dubai
Perched on top of the impressive W Dubai Mina Seyahi you find Attiko Dubai, and new high energy addition to the Dubai rooftop scene.
Mixing a beautiful interior lounge inspired by an Asian garden, and a spacious alfresco terrace, this sleek and 31st floor rooftop dining destination offers breathtaking panoramic views of Dubai's skyline.
Perfect for sundowners to late-night gatherings, and charming dinners in bewteen, Attiko Dubai offers something for everyone.
The rooftop menu includes plenty of tasty Pan-Asian cuisine, from sashimi and Attiko signature sushi, to wagyu sliders, lobster and oysters.
Come early for social sunset views with bites and drinks, and stay late for live DJs and sky-high vibes. During Saturdays you can also enjoy the fun-filled and luxurious 'Sky Brunch'.
ATTIKO DUBAI
King Salman Bin Abdulaziz Al Saud W, Dubai Marina, Dubai
Daily: Dinner / Saturday: Brunch
Pan-Asian
5.

Tomo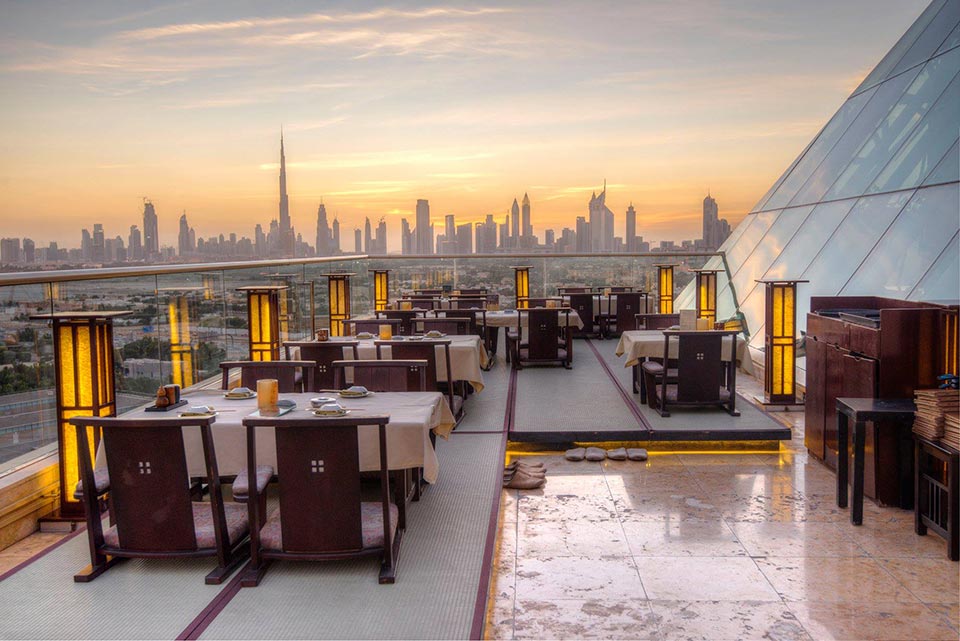 Rooftop restaurant Dubai at Tomo | Photocredit: www.tomo.ae
Located on the 17th floor of the world-famous Raffles Hotel, Tomo is equal parts a restaurant and an experience.
Serving Japanese food of the highest class, and offering jaw-dropping views of Dubai's new skyline, Tomo is the kind of restaurant you visit when you want to impress, but also when you want to pamper yourself.
The atmosphere is exclusive, yet private and relaxing, with indoor and outdoor seating sections, both with Japanese inspired decorations.
The food is delicious and well worth the visit, with traditional Japanese dishes and new, more modern inventions. Here, you'll be able to find delicious noodles and rice dishes, as well as world-class Wagyu beef, cooked to perfection by chef Chitoshi Takahashi.
Drink wise; you'll be able to enjoy wines, traditional spirits, and champagne, as well as a fantastic selection of Sake and Shochu, and delicious signature cocktails that showcase these Japanese drinks.
If eating isn't in your plans, and you want to enjoy some drinks while watching an absolutely stunning sunset, you're more than welcome: Tomo is furnished with tables and comfortable lounge areas to satisfy all needs.
TOMO
Sheikh Rashid Road Wafi City, Dubai
Daily: Lunch / Dinner
Japanese
6.

Fi'lia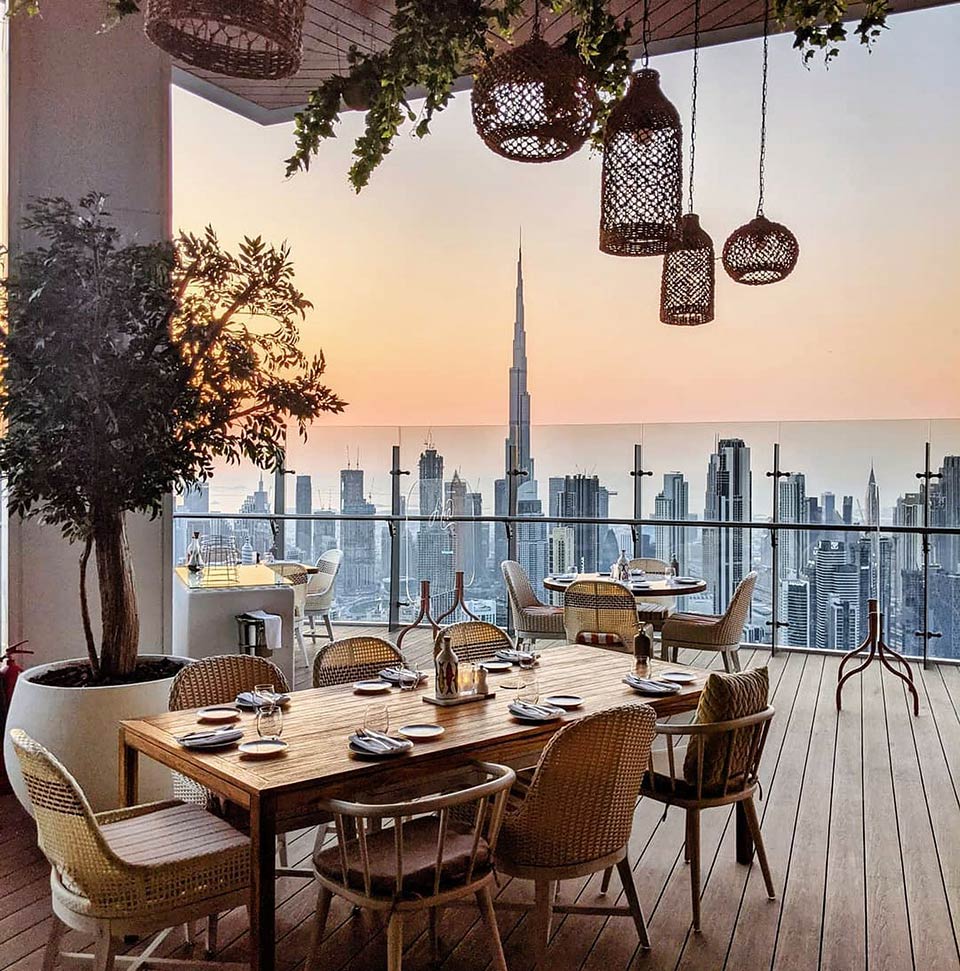 Rooftop restaurant Dubai at Fi'lia | Photocredit: www.sbe.com/
Perched on the 70th floor of the SLS Dubai Hotel in Business Bay, Fi'lia offers a great mix of authentic Italian cuisine and amazing views.
Fi'lia, which means daughter, is a female led restaurants, where Chef Sara Aqel and her team of strong women from all over the world aims to present memories of food that evoke a smile on your face.
The concept of the restaurant comes from the Italian tradition of women passing recipes down through generations, and the menu is divided into three sections: 'Nonna' (grandmother), with traditional Italian flavors your grandmother would make, Mamma (mother), with contemporary twists on namesake classic, and 'Figlia' (daughter), the daughter's modern approach to a generational masterpiece.
Open daily for lunch and dinner, the dishes can be enjoyed on the charming and beautiful rooftop terrace, where you are surrounded with amazing views over the Dubai skyline. Including the towering Burj Khalifa.
To go with the food, there is (of course) a great selection of wine, as well as signature cocktails divided into the three same sections as the dishes.
FI'LIA
SLS Dubai Hotel & Residences, Marasi Dr, Business Bay, Dubai
Daily: Lunch / Dinner
Italian
7.

Akira Back Dubai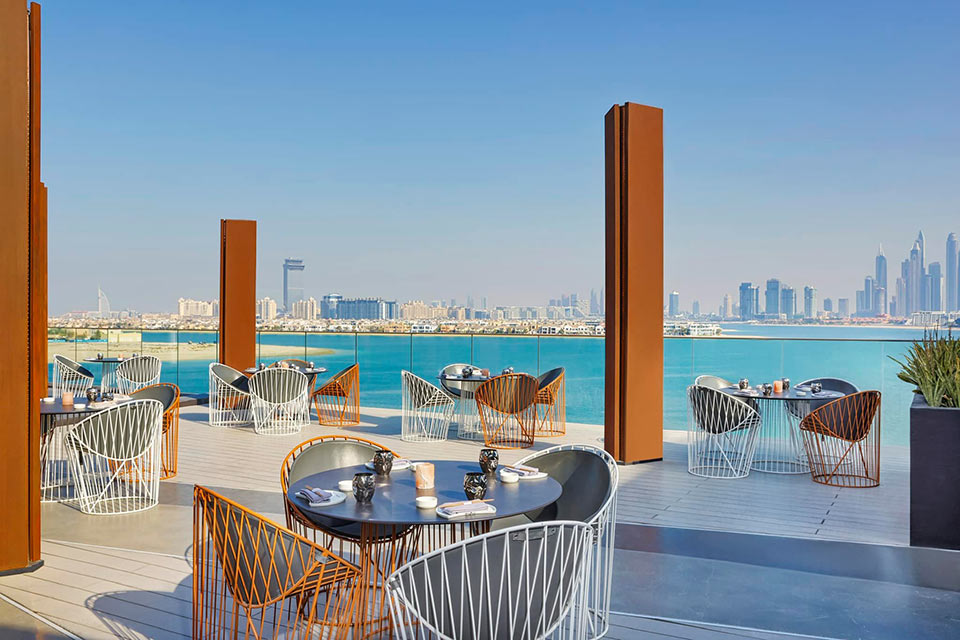 Rooftop restaurant Dubai at Akira Back Dubai | Photocredit: www.akirabackdubai.com/
Set on the 5th floor of the amazing W Dubai - The Palm, Akira Back Dubai is one of several locations around the globe created by internationally renowned Chef Akira Back.
Bright, modern and stylish, here you find a slick interior with booths and floor-to-ceiling windows, mixed with a magical outside terrace, surrounded by fantastic views over the water and the Dubai skyline.
Selected as one of the Michelin Guide Dubai 2022 recommended venues, here you can indulge in adrenaline-fueled Japanese cuisine prepared with Korean and International flavors. This means everything from signature rolls, caviar service and combo platters, to tuna pizza and the highest grade of Japanese Wagyu.
Make reservations for a special dinner in a luxurious and vibrant atmosphere, or visit for a sunny Saturday brunch.
AKIRA BACK
W Hotel, The Palm Jumeirah, Dubai
Dinner daily & Saturday brunch
Japanese
8.

INTI Dubai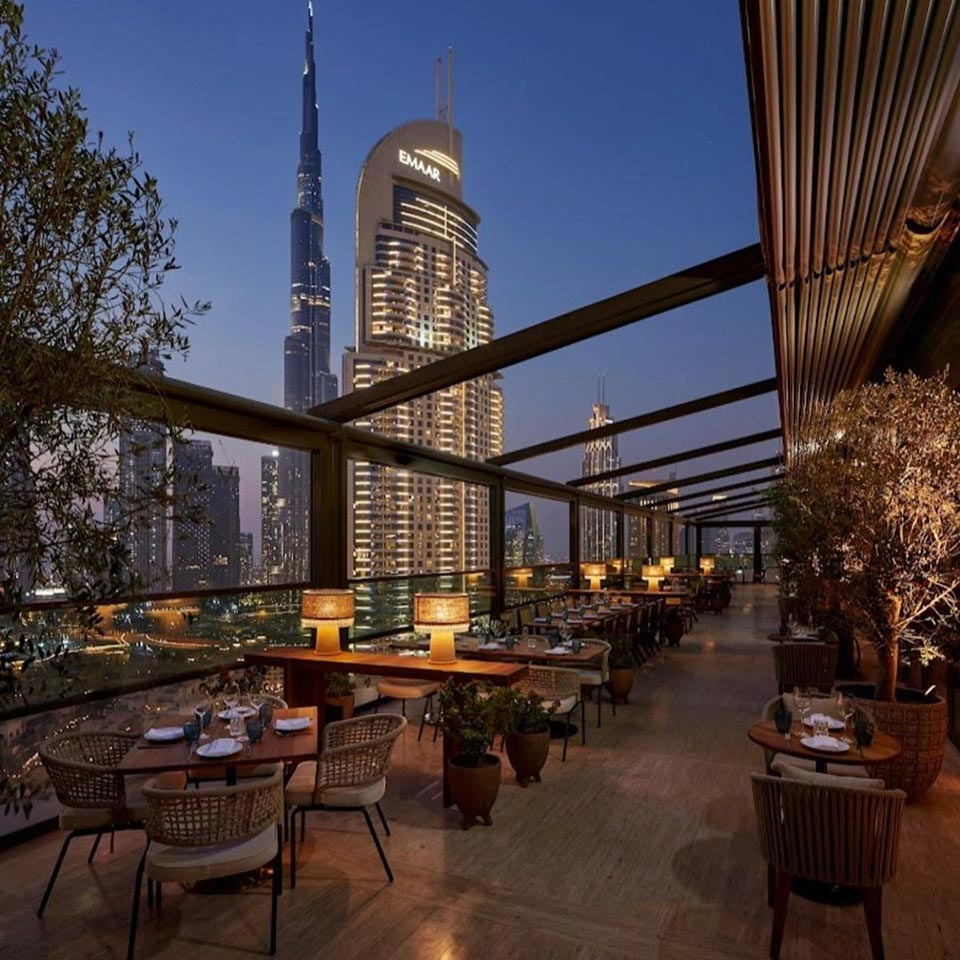 Rooftop restaurant Dubai at INTI Dubai | Photocredit: www.inti-restaurants.com/
Perched on top of The Dubai EDITION, high abobe the heart of downtown Dubai, INTI invites to an elevated Nikkei experience out of the ordinary.
With stylish signature panels and a multi-layered seating arrangement, the rooftop restaurant is a Latin sanctuary from the buzzing city streets below. Blending indoor and outdoor dining spots, here you are surrounded with amazing views over the downtown Dubai skyline.
The creative rooftop menu is filled with Peruvian-inspired cuisine combined with Japanese flavours, where seafood is the prime star, including original and non-traditional ceviche dishes. The food is complemented with crafted cocktails and an impressive selection of wine.
Sophisticated, luxurious and vibrant, INTI Dubai is a one of the true hot-spots for an elevated and impressive dinner. If you just want a smaller taste of the vibe, you can also grab a spot at the bar for some drinks and bar bites.
INTI DUBAI
The Dubai EDITION, Downtown Dubai Complex, 11788 Dubai,
Daily: Dinner
Peruvian-Japanese
9.

Clap Dubai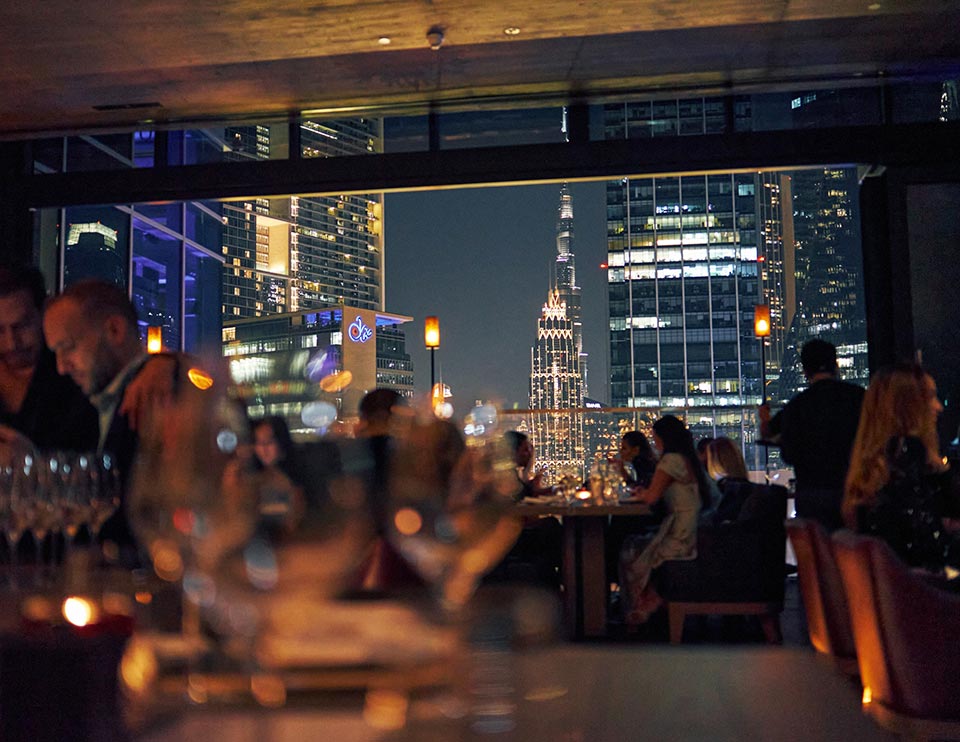 Rooftop restaurant Dubai at Clap Dubai | Photocredit: https://claprestaurant.com/
Located on the rooftop of Dubai International Financial Centre (DIFC), pretty much right in the heart of Duabai, Clap Dubai combine authenticity with innovation to create a sensory Japanese dining experience.
Born in Beirut, Clap opened in Dubai during 2020, and has quickly become a hot-spot for elegant and vibrant days and nights.
With a beautiful, sleek and eclectic decor, Clap Dubai is a spacious 300-seat venue which includes indoor restaurant, outdoor terrace and two lounge bars under one roof. Complemented with great views over the city skyline.
The rooftop menu ranges from smaller plates to more indulgent mains, all curated to offer the best of Japanese cuisine. For the full Clap dining experience, go Omakase and leave it up to the chef.
Apart from fine Japanes food, Clap also serves crafted mixology cocktails inspired by the nightlife of Tokyo, along with an extensive selection of champagne and wine.
Open from lunch to late at night, Clap Dubai is a venue easy to spend hour upon hour, with the best of house music turning vibrant dinners into full nights with cocktails and views.
CLAP DUBAI
Dubai International Financial Centre, Gate Village Building 11, Level 9, Dubai
Daily: Lunch / Dinner
Japanese
10.

CÉ LA VI Dubai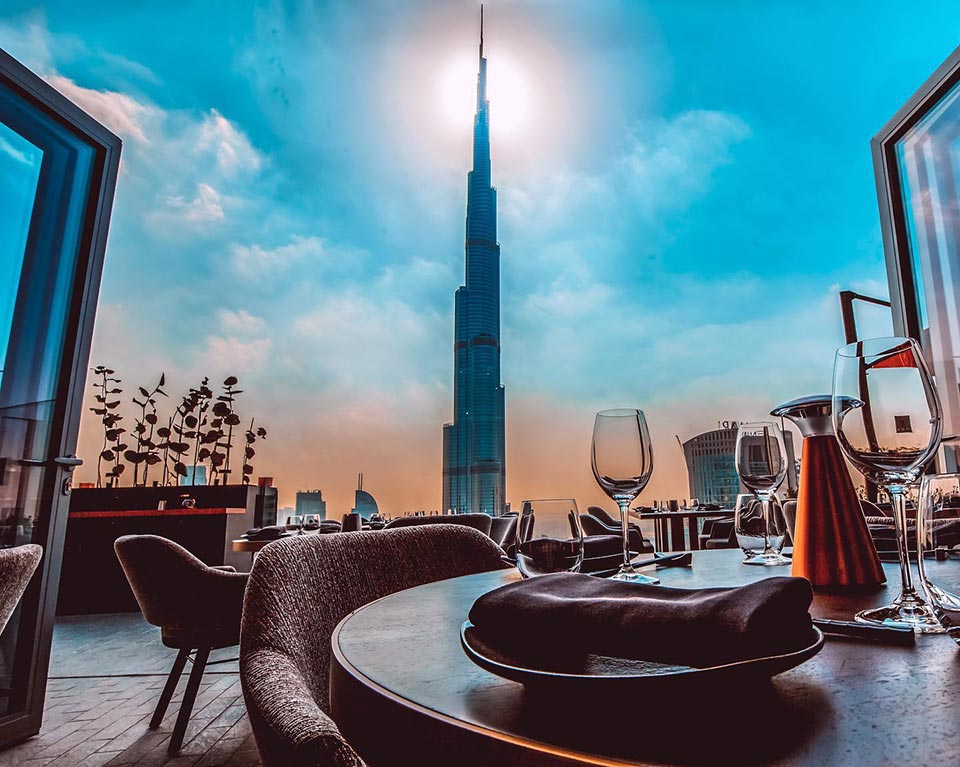 Rooftop restaurant Dubai at CÉ LA VI Dubai | Photocredit: www.celavi.com/
With a prime location, right next to the amazing infinity pool at the Address Sky View in Downtown Dubai, CÉ LA VI is a versatile and vibrant rooftop venue.
Divided into lounge, skybar, impressive pool deck and restaurant, the later is one of the top spots in Dubai to enjoy top cusine with top views.
With elegant indoor and outdoor seating blending together, here you are surrounded with picture-perfect, breathtaking and panoramic views over pretty much all of Dubai.
Created by Chef Howard Ko, the rooftop restaurant menu takes you on an unforgettable culinary experience, with a wide selection of contemporary Asian cuisine. From 'Imperial Caviar and Wagyu Beef Tartare' to 'Korean Braised Short-ribs'.
Serving everything from set lunch and sky-high dinners, to a vibrant Friday brunch, there is always a reason to visit CÉ LA VI Dubai. Before or after meals, the rooftop bar and club lounge will offer all the mixology signature cocktails, high-end whiskey, flavourful shisha and atmosphere you need.
CÉ LA VI
Tower 2, Address Sky View Hotel, Sheikh Mohammed bin Rashid Blvd, Dubai
Daily: Lunch / Dinner
Contemporary Asian
11.

Atelier M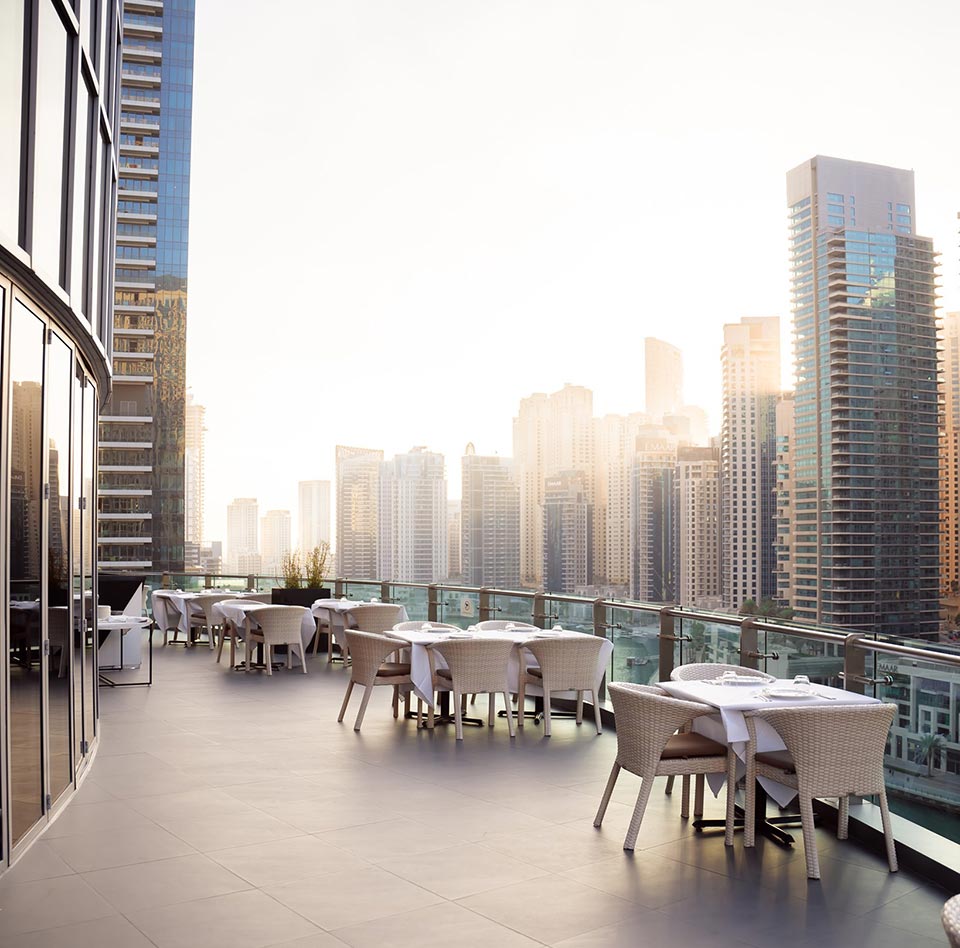 Rooftop restaurant Dubai at Atelier M | Photocredit: www.atelierm.ae
Are you looking for a fun venue? You've found it.
Atelier M occupies the top three floors of the Pier7 building at the Dubai Marina, and works as a restaurant, an indoor lounge, a rooftop terrace, and a bar, making it a perfect choice for just about anyone.
The restaurant, located on the 7th floor, offers contemporary Mediterranean cuisine, with a Japanese influence, born out of the imagination of chef Mohammad Islam.
The food can be eaten indoors at the restaurant, or outside on the terrace, served with a side of beautiful views of the Marina and the surrounding buildings.
On the 8th and 9th floor, you'll find the indoor lounge and another terrace, both decorated to the nines in a classic Art Deco style, featuring lots of gold and crystal.
From up here, you'll be able to enjoy sweeping views of the ocean, as well as fantastically crafted cocktails, classic spirits, buckets of beer, and delicious champagne.
While the restaurant tends to have a sophisticated and relaxed atmosphere, the lounge is a lot more energetic, with large crowds, live DJs, ladies nights, and other fantastic events and services.
ATELIER M
Floor 7/7M, Pier 7, next to Marina Mall PO Box 643720, Dubai
Daily: Dinner
Mediterranean
12.

Eve Penthouse & Lounge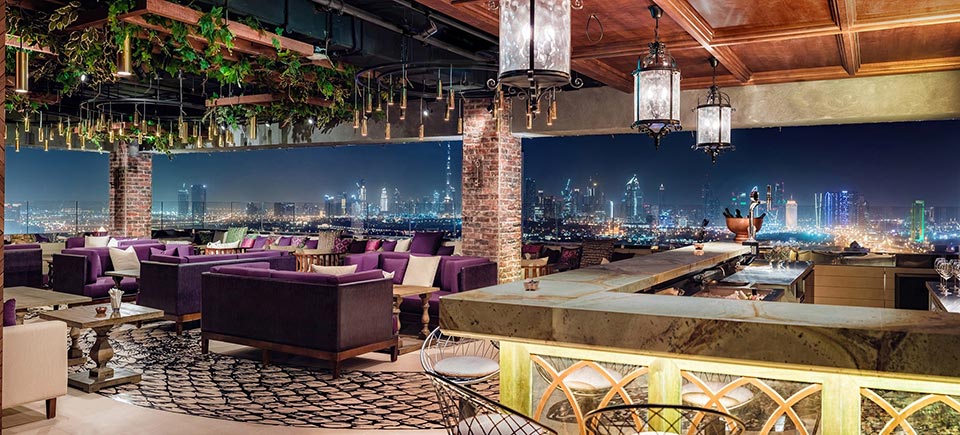 Rooftop restaurant Dubai at Eve Penthouse & Lounge | Photocredit: www.hyattrestaurants.com/
Eve Penthouse & Lounge is a unique and elegant Dubai rooftop restaurant and bar, offering a luxurious setting to dine with complete and unrivalled 360° views over the majestic skyline.
The rooftop is located in Old Dubai, on the 34th floor of the Hyatt Regency Dubai Creek Heights, which means you get some distance to the 'new' skyline and can watch it in all its glory, with a glittering Burj Khalifa in the middle.
Dressed in a very stylish and elegant suit, Eve Penthouse & Lounge blends indoor and outdoor seating, with floor-to-ceiling door-windows opening up to the outdoor terrace during winter, and keeping the cool inside during summer.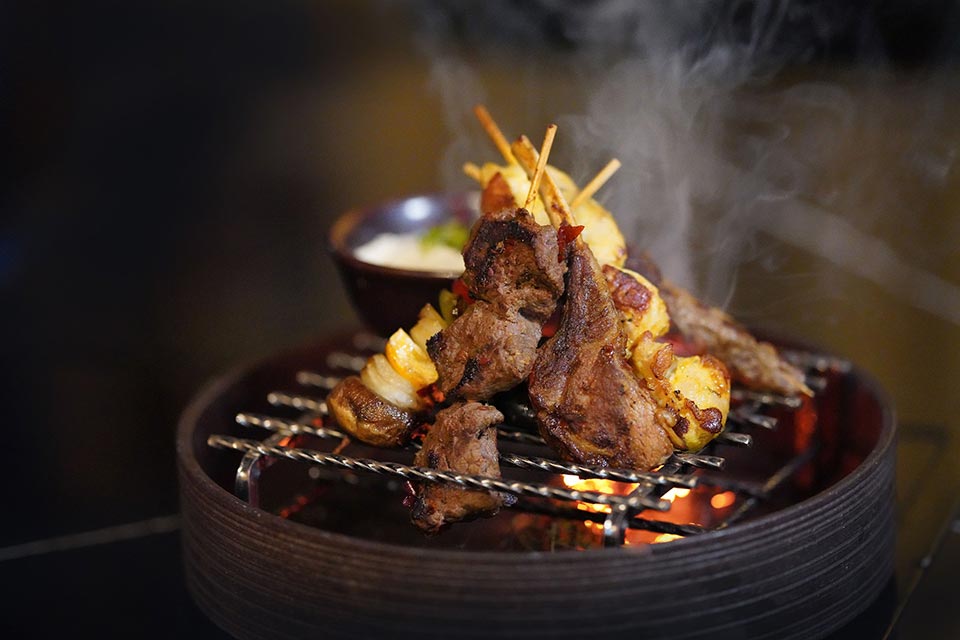 Rooftop restaurant Dubai at Eve Penthouse & Lounge | Photocredit: www.hyattrestaurants.com/
Offering a wide range of fancy drinks and shisha, the rooftop menu also includes plenty of cosmopolitan bites. With a modern twists on international dishes, here you can enjoy starters like Spicy Edamame and Vegetable Tempura, a fine selection of Sushi & Ceviche, as well as more filling mains like Arabic Grill and Salmon Teriyaki.
Surrounded with a great and friendly ambience, Eve Penthouse & Lounge is a spot where you can have both a secluded and romantic dinner, as well as more casual dining with friends, maybe combined with a game of pool.
EVE
Hyatt Regency Dubai Creek Heights, Dubai Healthcare City, Dubai
Daily: Dinner
International