Bangkok is a city filled with a lot (A LOT) of great rooftop bars. But sometimes the stomach craves something more than fine drinks and light bites. Luckily, there is also a great selection of Bangkok rooftop restaurants, where you can please your cravings for both food and views.
Many of the rooftop restaurants Bangkok has to offer is found at luxurious hotels, and they are usually more towards fine dining. But the spectrum is wide, and you can find elevated venues serving both Michelin dishes and authentic Thai food.
Be prepared to spend some cash, because the price tag at a rooftop restaurant Bangkok is much higher than a similar place on street level. But when you are served with fantastic 360-degree views over the city and its skyline, we would say it is well worth it.
Enjoy our list of the 11 best rooftop restaurants in Bangkok, and also check out our full guide to the best Bangkok rooftop bars, with over 45 places to drink with a view in BKK. And while browsing about Bangkok, you should also read this Bangkok travel guide.
1.

Vertigo at Banyan Tree Bangkok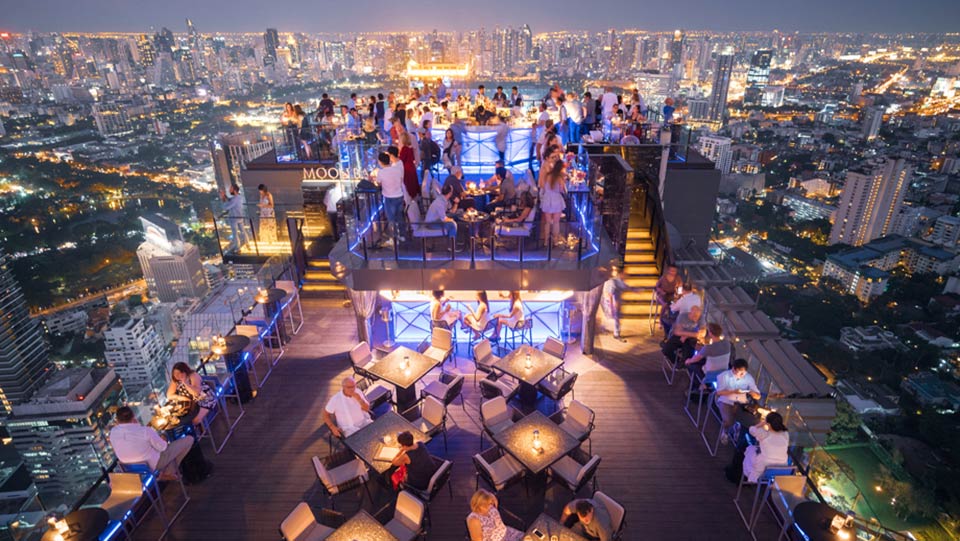 Vertigo Rooftop Restaurant Bangkok | Photo: www.banyantree.com
Vertigo rooftop restaurant share space with Moon Bar, up on the 61st floor of Banyan Tree Bangkok. Together they crate a grill-and-bar experience that is really something special.
So while Moon Bar is a great place for rooftop cocktails, Verigo is a grill restaurant with amazing seafood, steaks and BBQ's. Actually, this is the first BBQ-venue on a rooftop in Bangkok.
Here you can order premium steaks and fresh seafood to the views of the city skyline. This rooftop restaurant Bangkok truly offers a stunning 360-degree view over Bangkok and its surroundings.
The international food menu comes both as á la carte or as a set menu, from the more 'regular' 3- or 4-course, to a 'Create your own 5 or 7 Tasting Menu' at the Vertigo Chef's Table.
Book your table at the Vertigo rooftop restaurant in advance, and you'll be in for a dinner to remember for the rest of your life!
VERTIGO
Banyan Tree Bangkok, 21/100 South Sathorn Road, Bangkok
Daily: 6pm-10.30pm (Moon Bar: 5pm-1am)
International (meats, seafood, vegetarian)
Main: ~THB 2500 / Tasting menu: THB 4100 and up
2.

Red Sky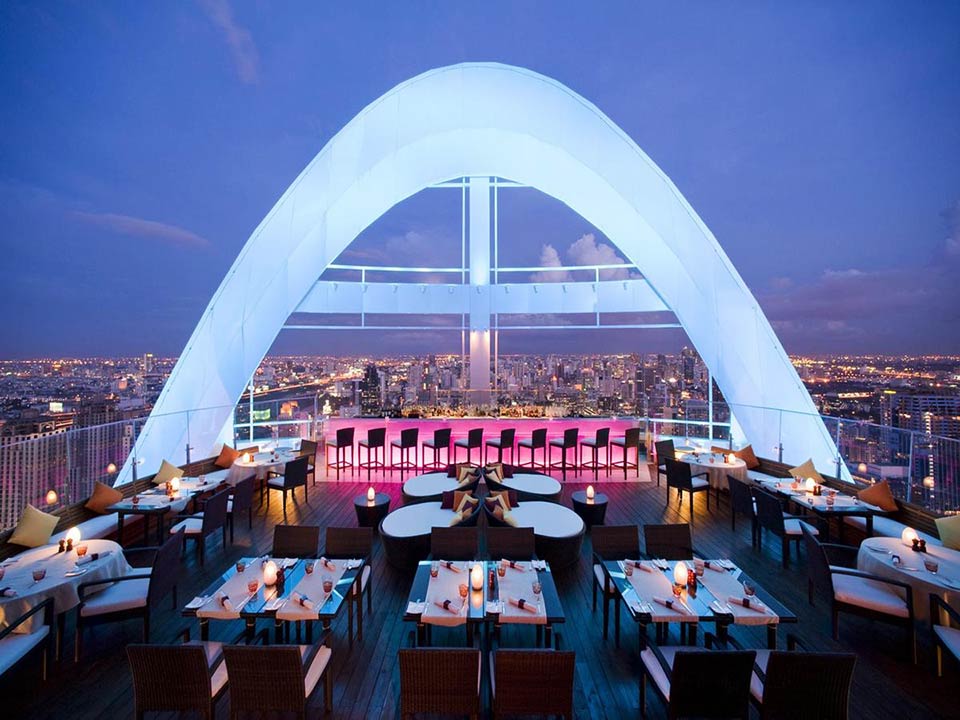 Red Sky Rooftop Restaurant Bangkok | Photo: www.bangkokredsky.com
Red Sky is an urban bistro, working both as a rooftop bar and a rooftop restaurant in Bangkok. A sky-high venue on top of the 5-star Centara Grand At Centralworld, where the bar is on the 56th floor and the restaurant 'only' on the 55th.
Here you can combine creative cuisine with the stunning skyline views, in a setting sure to create an unforgettable dinner. Seating comes both indoors and outdoors, so it is up to you what is more imprtant: air-condition or dramatic views.
Offering an international and seasonal menu, the signature dishes at Red Sky are the chefs own truffle infused Wagyu Beef Tenderloin Rossini and the Surf & Turf, featuring fresh seafood and prime steaks. To go with the food, you can choose from a wide selection of fine wines from the in-house wine cellar.
Reservations are required for the 55th floor rooftop restaurant, while the rooftop bar above works on a first come, first served basis.
RED SKY
Centara Grand, Central World, 195 Phayathai Rd, Bangkok
Daily: 5pm-midnight
International (meats, seafood, grill)
Main: ~THB 2000
3.

Cielo Sky Bar & Restaurant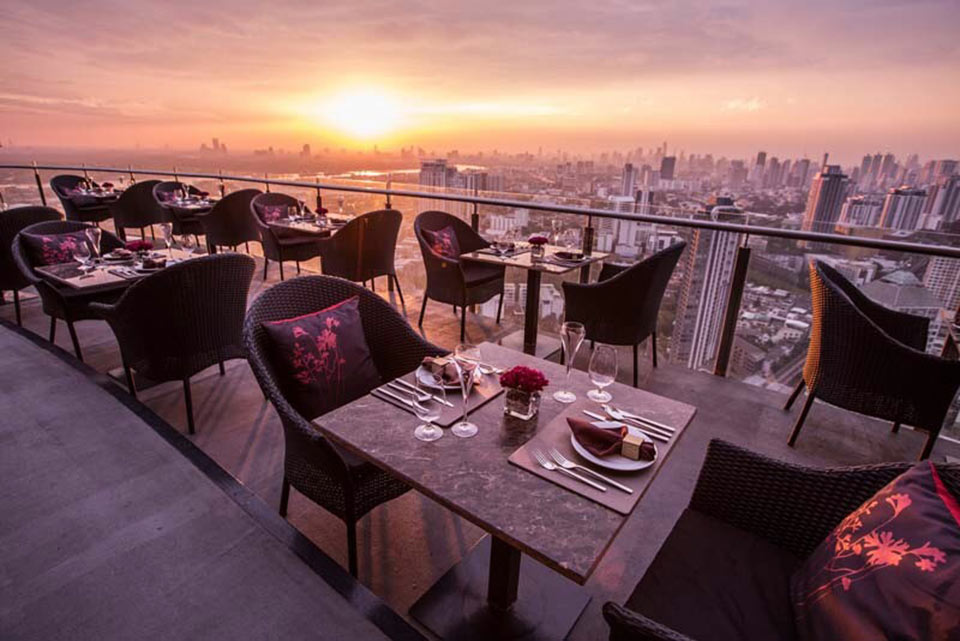 Cielo Rooftop Restaurant Bangkok | Photo: www.cieloskybar.com/
Located on top of the Skywalk Condominium on Sukhumvit Road, Cielo is a Bangkok rooftop restaurant and sky bar, blending Art Deco and the elegance of the 1960s with amazing 360° views over the Bangkok skyline.
Not only blending styles and views, the rooftop restaurant also offers a mix of tasty Thai and Western cuisine. At very decent prices you can get both some Deep Fried Shrimp Dumplings as well as Norwegian Salmon or Spaghetti Pesto.
To go with the food, there is a large selection of fine wines, including sommelier recommendations. And from the rooftop bar you can order a wide range of amazing cocktails, from creative creations to old and loved classics.
Friendly and warm in atmosphere, Cielo is a great spot for a relaxing rooftop dinner in Bangkok. Reservations are recommended to get one of the really cool close-to-the-edge tables and the best sunset views.
CIELO
Sky Walk Condominium, W District, Sukhumvit 69-71, Phra Khanong, Bangkok
Tue-Sun: 6pm-midnight
Thai & Western
Main: ~THB 500
4.

Nimitr at 137 Pillars
Nimitr Rooftop Restaurant Bangkok | Photo: www.137pillarsbangkok.com/
The urban and luxurious 137 Pillars Suites & Residences are mostly famous for holding two of the world's best rooftop infinity pools. But there are also some great, and more undiscovered, public rooftop destinations here.
One of them is the fine-dinig rooftop restaurant Nimitr, which means 'Special Dream' in Thai. And a "dreamy" location it is for sure.
Found on the 27th floor, the restaurant is part beautiful and intimate indoor dining room, but also holds a stylish rooftop terrace, where you can enjoy amazing panoramics over the Bangkok skyline.
The restaurant menu focuses on elegant, Asian-inspired dishes, served as both tapas and more filling mains. To go with the food, there is a nice selection of wines, and also a bar serving crafted mixology cocktails.
Somewhat a hidden gem, and a fantastic option for a sophisticated and relaxing dinner with a loved one, watching the sun set over Bangkok.
NIMITR
59, 1 Soi Sukhumvit 39, Khlong Toei Nuea, Watthana, Bangkok 10110
Wed-Sun: 12pm-10pm
Asian
Main: ~THB 1000
5.

SEEN Restaurant & Bar Bangkok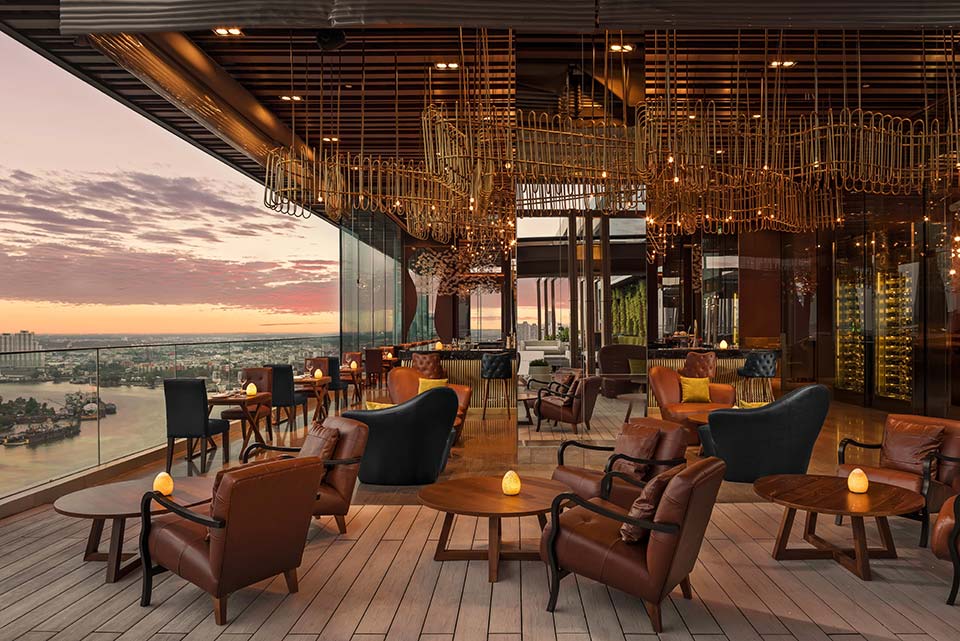 SEEN Rooftop Restaurant Bangkok | Photo: www.seenrooftopbangkok.com/
SEEN-venues can be found in both Sao Paulo and Lisbon, and since early 2019 also on top of the AVANI Riverside Bangkok Hotel. This very stylish and art déco inspired rooftop bar and restaurant offers amazing views over the Bangkok skyline and the Chao Phraya River.
While the top and 27th floor is a very open-air rooftop bar, the 26th floor is an indoor-outdoor rooftop restaurant, mixing stylish dining tables with comfy leather chairs.
Here you can indulge in a modern Portuguese-Brazilian menu from celebrity chef Olivier da Costa. How about a Seafood Risotto or a Wagyu Steak? Or maybe order some pieces from the Sushi Bar?
Whatever your choice is, you can expect food of the very highest class. After dinner you should (of course) head up to the rooftop bar for some beats and amazing cocktails by the award-winning mixologist team.
Very stylish in setting and luxurious in vibe and service, the prices at SEEN Bangkok are still very human. And given the views on display, you could even call it a bargain.
SEEN
257 Charoennakorn Road, Thon Buri, Bangkok 10600
Daily: 11am-midnight
Portuguese-Brazilian
Main: ~THB 1000
6.

Yào Restaurant & Rooftop Bar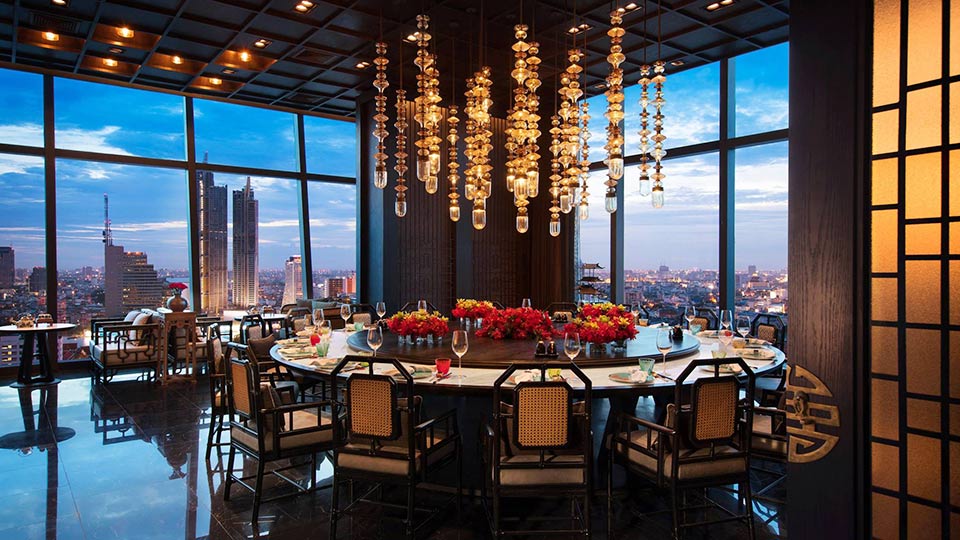 Yào Rooftop Restaurant Bangkok | Photo: www.yaobangkok.com/
Yào Restaurant & Rooftop Bar is a sky-high Chinese dining destination and lounge overlooking Bangkok, perched on top of the smashing Bangkok Marriott Hotel The Surawongse.
Set over several levels, Yào offers both a very stylish indoor restaurant on the 32nd floor, and a spacious open-air rooftop bar and terrace above. All surrounded with breathtaking 360-degree views over the Bangkok skyline.
The top floor Yào Rooftop Bar is the given nightly destination to mix lighter bites with drinks and al fresco vibes, with a menu including both refreshing signature cocktails and a tasty selection of modern Chinese Dim Sum. But for a more filling lunch and dinner, make reservations at the indoor Yào Restaurant.
Here you can indulge in contemporary Cantonese and Shanghainese cuisine created by Chef Bruce Hui, served as express lunch, á la carte dinner or a special set menu. During weekend afternoons you can also enjoy Chinese Afternoon Tea.
Whether for lunch or dinner in the rooftop restaurant, or lounging drinks at the rooftop, Yào Restaurant & Rooftop Bar offers a fantastic experience all around. For a truly special night, book one of the five private and intimate dining rooms available.
YÀO
262 Thanon Surawong, Si Phraya, Bang Rak, Bangkok 10500
Lunch: 11.30am-2.30pm / Dinner: 6pm-10pm / Afternoon Tea: Sat & Sun: 2.30pm-5pm
Chinese
Main: ~THB 1500
7.

Mahanakhon Bangkok SkyBar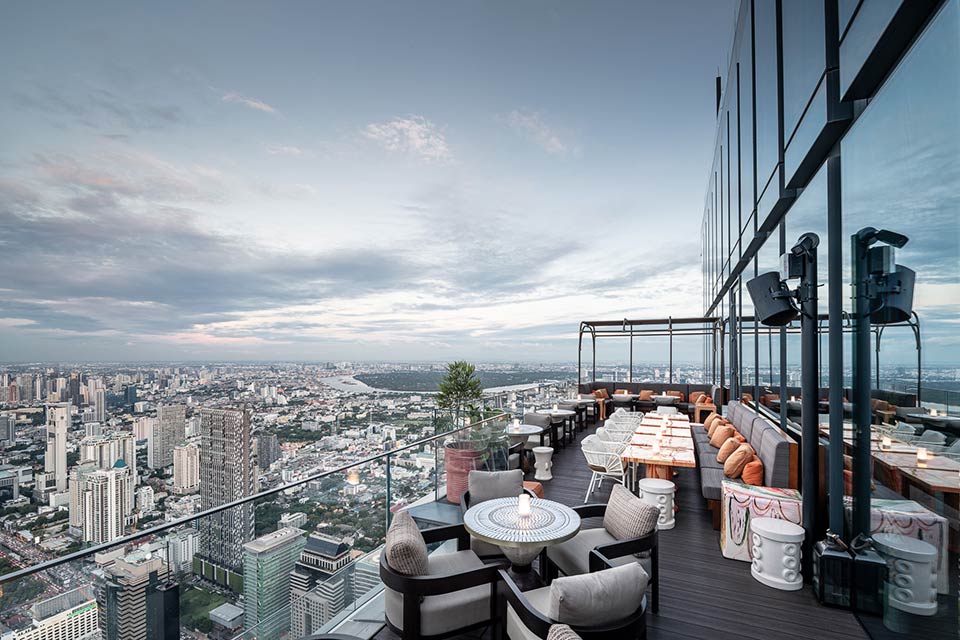 Mahanakhon Rooftop Restaurant Bangkok | Photo: www.mahanakhonbangkokskybar.com
Mahanakhon Bangkok SkyBar is found on the top floors of the King Power Mahanakhon, and this modern brasserie is actually Thailand's highest restaurant.
With a location 76 floors above the busy streets of Bangkok, it is no surprise that the views are simply breathtaking. 360-degree panoramics over what feels like pretty much all of the city.
Designed by Tristan Auer, this rooftop restaurant Bangkok is really something special, mixing modern, intimate and tasteful indoor and outdoor seating areas with exclusive VIP lounges.
A great venue for fine drinks and stylish vibes, but Mahanakhon also offers a kitchen of top class. Run by Executive Chef Joshua Cameron, here you can enjoy a sophisticated selection of Western and Asian dishes. Either as a 3-course set lunch menu, or á la carte dinner with a mix of Thai staples and selections from the charcoal grill and oven.
MAHANAKHON
114, 1 Naradhiwat Rajanagarindra Rd, Silom, Bang Rak, Bangkok 10500
Daily: 11.30am-1am
Modern Western & Asian
Main: ~THB 1000
8.

Belga Rooftop Bar & Brasserie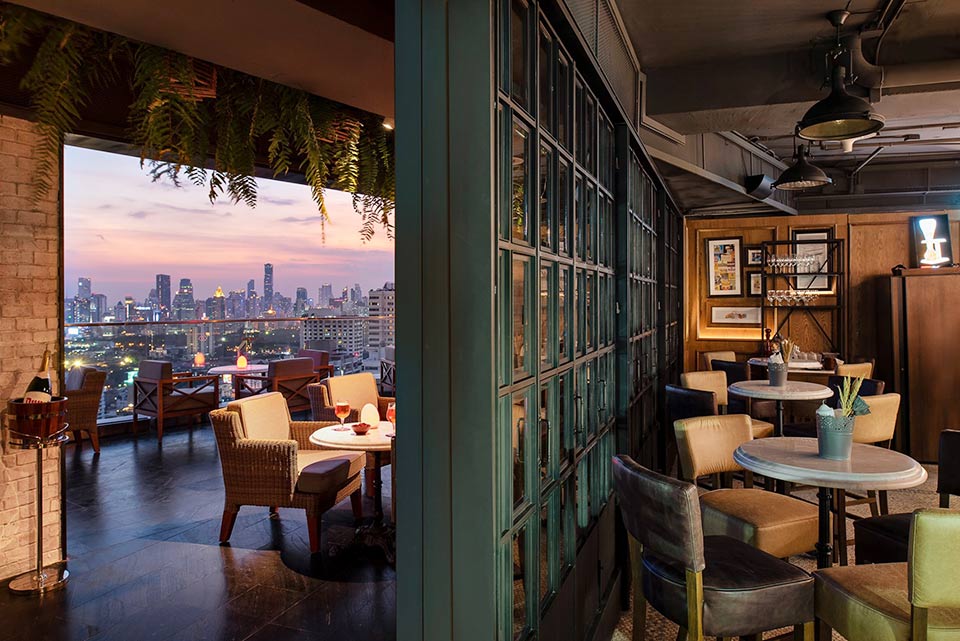 Belga Rooftop Restaurant Bangkok | Photo: https://belgarestaurantbangkok.com/
Quite a unique venue, the Belga Rooftop Bar & Brasserie is most likely the only rooftop restaurant Bangkok that brings a large slice of Belgian influences to the Thai captial.
Perched on the 32nd floor of Sofitel Bangkok Sukhumvit, where a dedicated express lift takes you to a modern and stylish setting of indoors dining room and open-air terrace. All surrounded with amazing and panoramic views over the Bangkok skyline.
In the heart of the brasserie you find a lovely open kitchen, where Executive Chef Nicolas Basset and his team creates the best of Belgian cuisine. From Moules Frites, Croquettes and Liegeoise Salad, to the famous Belgian Waffles.
Keeping up with good Belgian tradition, the food is of course complemented with a large selection of Belgian brews (10 on draught and 50 bottled), but also a fine selection of wine and crafted cocktails.
For any European missing home, or for anyone else who just wants to try a taste of Belgium, Belga Rooftop Bar & Brasserie is the place to go. The bonus of great atmosphere and fantastic views doesn't hurt either.
BELGA
189 Sukhumvit Road, Soi 13-15, Klongtoey-Nua, Wattana, 10110 Bangkok
Daily: 5pm-11pm
Belgian
Main: ~THB 800
9.

Scarlett Wine Bar & Restaurant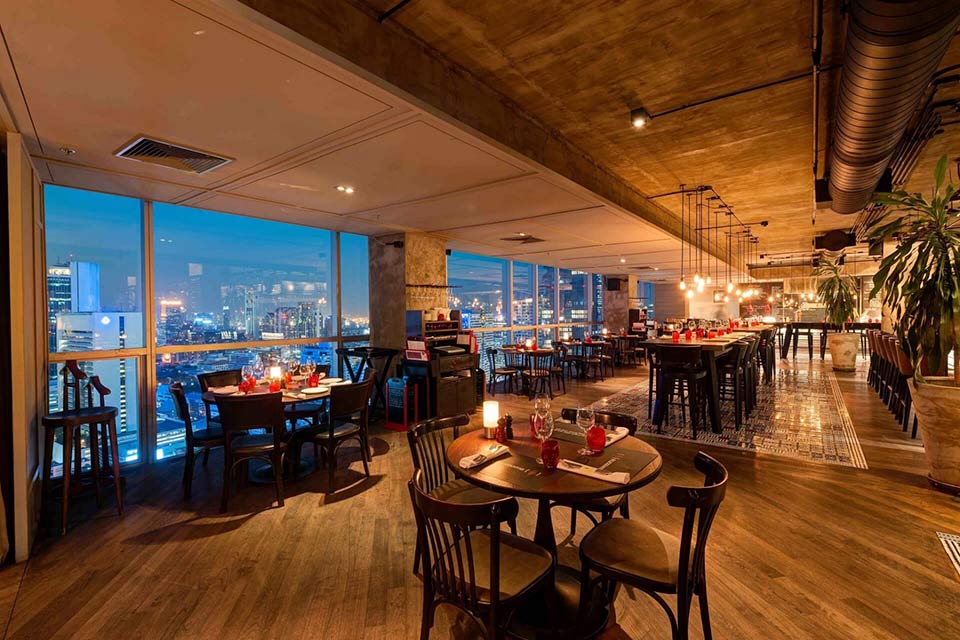 Scarlett Rooftop Restaurant Bangkok | Photo: www.pullmanbangkokhotelg.com
37 floors up at the Pullman Bangkok Hotel G you find Scarlett, a stylish and intimate Bangkok rooftop restaurant. Offering a great mix of French cusine, an extensive wine list and amazing views over the skyline and Chaopraya River, this is a venue easy to spend hours at.
While the main part of Scarlett is an elegant and spacious indoor lounge, there is also a lush outdoor terrace. Open nightly, you can visit for both lighter dishes like charcuterie & cheese and tapas, to more filling plates of steak or selections from the ocean.
Cocktails and beers are of course available, but given the name, your selected drink should be: wine. Scarlett holds one of the more impressive wine lists among the Bangkok rooftop restaurants, and among the red & white's from all over the world, you are sure to find something you like.
Stylish, friendly and vibrant all at once, Scarlett Wine Bar & Restaurant works great for both a romantic night out or some relaxing dinner and drinks with a group of friends.
SCARLETT
188 Silom Rd, Khwaeng Suriya Wong, Khet Bang Rak, Krung Thep Maha Nakhon, Bangkok
Daily: 5pm-midnight
French
Main: ~THB 900
10.

Sirocco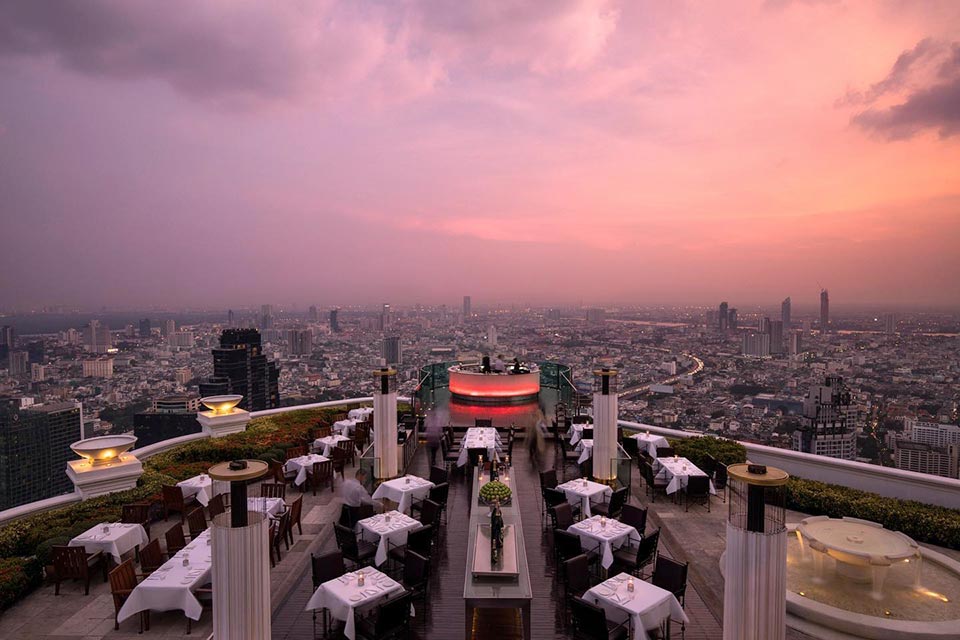 Sirocco Rooftop Restaurant Bangkok | Photo: https://lebua.com/
Part of the vertical experience found on top of the 5-star hotel Lebua at State Tower, Sirocco is probably one of the most famous rooftop restaurants in the world. Along with one of the highest alfresco restaurants in the world.
Located on the 63rd floor, next to the equally famous Sky Bar, Sirocco serves a great mix of fine food and unbeatable 360-degree views over Bangkok.
Up here you can indulge in authentic Mediterranean cuisine, served as á la carte or Chef's/Vegetarian Tasting Menu. There is also a snack menu of Oyster & Caviar, along with a fine selection of wines, digestifs and cigars.
Easy to tell, Sirocco is a rooftop restaurant Bangkok for the connoisseur. Expect quite a hefty price tag, and since it is a well-known and popular spot, make sure to get reservations. Then you are in for a very special dinner.
SIROCCO
The Dome at Lebua, Silom Road, Bangrak, Bangkok, 10500
Daily: 5pm-11pm
Mediterranean
Main: ~THB 3000
11.

Bangkok Heightz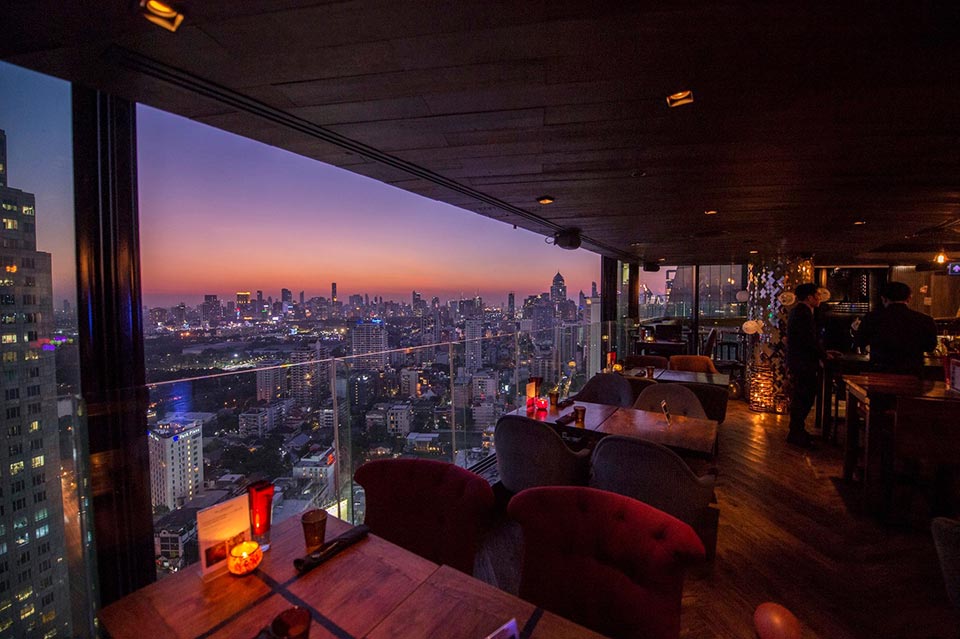 Bangkok Heightz Rooftop Restaurant Bangkok | Photo: www.thecontinenthotel.com/
Bangkok Heightz is a modern Thai rooftop restaurant and bar, found on top of The Continent Hotel. This is the rooftop restaurant in Bangkok to visit if you want to mix authentic Thai dining with panoramic city views.
Perched on the 39th floor, the rooftop space is semi-open, with a covering roof but open-air on the sides. So while you don't get the total alfresco fell, you are on the other hand well covered if bad weather should hit.
The rooftop menu takes inspiration from classic street food, and includes everything from seafood favorite 'Pu NimPad PrikThai Dam' to lamb shank in massaman curry. And just as with the food, the creative signature cocktails from the rooftop bar take inspiration from local herbs and spices.
Casual, cosy and friendly in atmosphere, Bangkok Heightz is a fantastic destination to enjoy an elevated night with a local flavor.
BANGKOK HEIGHTZ
413 Sukhumvit Road, Klongtoey Nua, Wattana, Bangkok 10110, Thailand, Bangkok 10110
Tue-Sat: 6pm-11pm
Thai
Main: ~THB 800