Despite being a rather cold country with a quite short rooftop season, Sweden has become a great destination for rooftop bars. Most of the best rooftop bars in Sweden are located in the bigger cities like Stockholm, Gothenburg and Malmoe.
But there are also great ones in the smaller cities as well. Most of these rooftops have both views over the city and surrounding water. From April – September you can enjoy drinks with a view from rooftop bars all over the country.
Here's the list of the best rooftop bars in Sweden according to the world's leading experts on rooftop bars – The Rooftop Guide.
7.

Cielo Rooftop Bar at Hotel Bellora

/ Gothenburg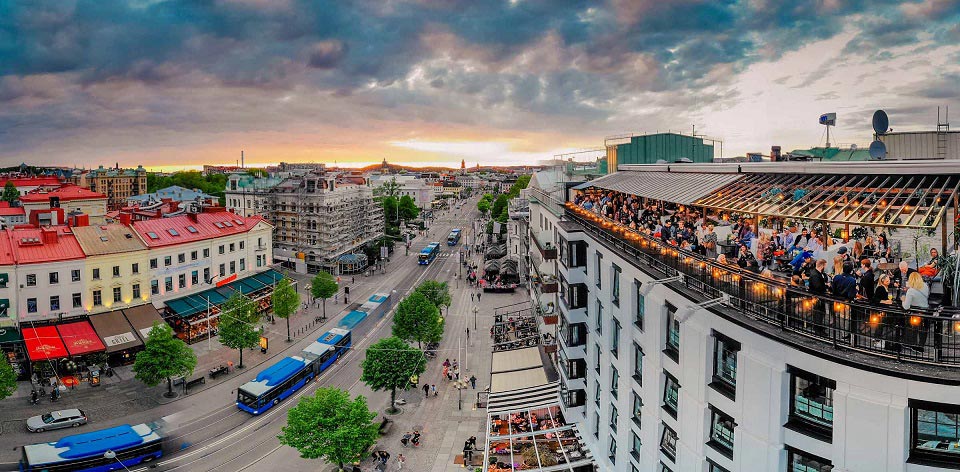 Cielo Rooftop Bar at Hotel Bellora - Photo: www.hotelbellora.se
Chasing for an Italian romance in Gothenburg is possible. While wandering around the city's main street Avenyn, your gaze falls onto a hotel. It is a combination of a rooftop restaurant and an upscale Italian accommodation in the heart of the city.
Hotel & Ristorante Bellora is a home to one of Gothenburg's best rooftop bars - Cielo. After a short 7-story ride to the top, you are welcomed by the city's majestic skyline.
Cielo is a go-to spot for a tasty cocktail in a casual atmosphere. We recommend the fantastic Margaritas they craft. If after a couple of cocktails you are in a party spirit, on your way out, you can check 8eight - a club, linked to the hotel's ground floor.
The rooftop itself features a fantastic terrace with a lounge setting. The inside bar has a comfy and cozy smaller tables that bring out that intimate feel.
Hotel Bellora is considered a cosmopolitan and unique hotel, and so is its rooftop bar, blending classic style with modern twists.
CIELO ROOFTOP BAR
Kungsportsavenyen 6, 411 36 Gothenburg
Sun - Wed 16:00 - 00:00, Thur - Fri 16:00 - 01:00, Sat 14:00 - 01:00
6.

Kasai in the Sky

/ Malmoe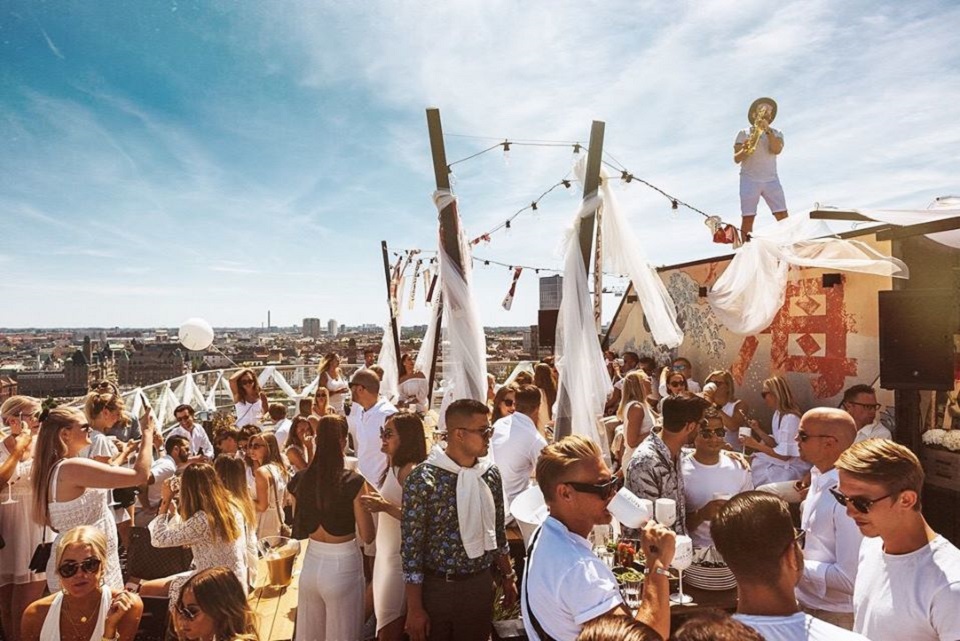 Kasai in the Sky - Photo: www.kasai.se
From an upscale restaurant, to a chain of the highest class. Kasai just opened their second restaurant in Malmoe, featuring the city's highest outdoor seating area.
With 250 square meters and a 360-degree viesta over the gothic-looking city, you can indulge in an entirely different cuisine experience.
The menu consists of mostly Asian fusion dishes, served with a style. We recommend you give the sashimi a try.
Once the dinner service is over, Kasai transforms into one of Malmoe's go-to party spots. With internationally-known DJ sets and vibrant lights, you are guaranteed to have a perfect night out in the vibrant city.
KASAI IN THE SKY
Tyfongatan 1, 211 19 Malmö
Daily 12:00 - 23:00
5.

Steam Hotel

/ Västerås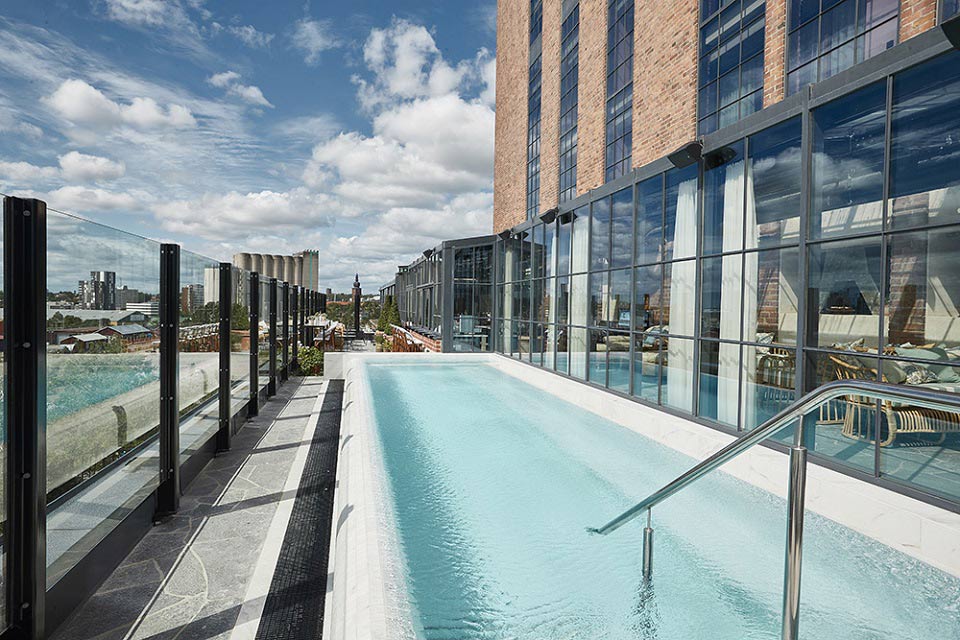 Steam Hotel - Photo: www.steamhotel.se
If you've ever visited a skyscraper's rooftop, you will know the feeling. 18th stories up, you can join the Steam Hotel for a spectacular view of Lake Mälaren, and invite your closest ones for an outside summer extravaganza.
With both options to spend time indoors or on the open deck, the feeling of warmth shines through every aspect of the Steam Rooftop bar's concept.
Named Locavore Sky Bar & Restaurant, offering a mixture of Asian-inspired flavors, each dish, and member of the staff has an interesting story to share. For instance, one of the bar's truly unique features is the large bar table - all built on an old firearm.
Dishes are served in a casual manner, suggesting to do what delicious food does to people - get closer, and share.
There's also a luxe rooftop swimming pool, only open to the guests staying at the hotel.
STEAM HOTEL
Ångkraftsvägen 14, 721 31 Västerås
Daily 16:00 – 01:00
Collaboration
4.

The Winery Hotel

/ Stockholm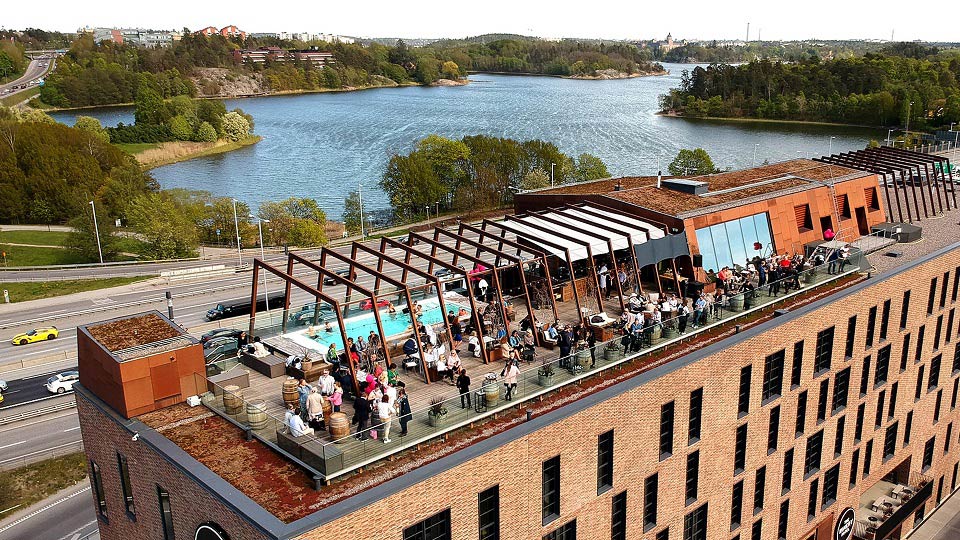 The Winery Hotel - Photo: www.thewineryhotel.se
When The Winery Hotel in Stockholm opened in 2016, nobody expected it would turn into Stockholm's favorite wine hotspot.
Swing by and enjoy a glass of fine wine over the setting sun, shining over Friends Arena. The decadent terrace is hip and modern, with industrial-themed decor.
The comfortable sunbeds allure visitors to stay longer than anticipated, whilst the edgy bar stools suggest a relaxing afternoon high above the suburb Solna.
Guests of the hotel can lounge by (and in) the heated rooftop pool. As a non-guest you can pay a daily pass for access to the pool, as well as a changing room and a trendy relax zone.
From the rooftop bar you can order simple pleasures such as pizza, cold beer and fresh juices, coming straight from the rooftop kitchen.
While the rooftop pool is open year round, the Winery rooftop bar is a summer destination. As a proof of quality, The Winery Rooftop was recently included in Forbes top ten new hotel rooftop bars in the world.
THE WINERY HOTEL
Rosenborgsgatan 20, 16974 Solna
Daily: 11:00 - 00:00
3.

SUS - Stockholm Under Stjärnorna

/ Stockholm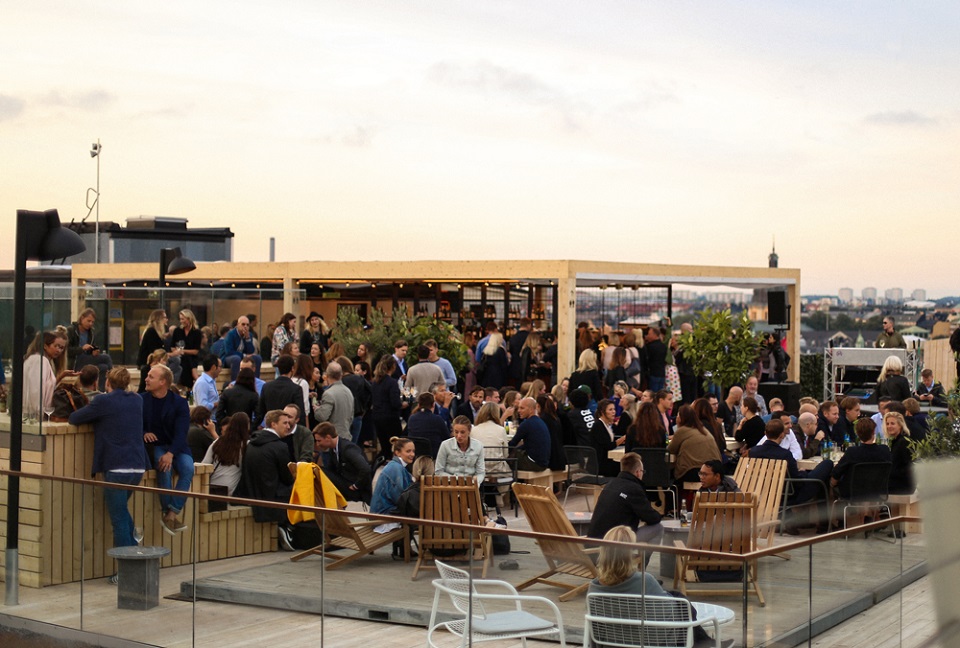 SUS - Photo: www.stockholmunderstjarnorna.com
SUS, as locals call it, or Stockholm Under Stjärnorna rooftop bar is one of the newest above-ground spots to visit for a casual drink at Stockholm.
While the city itself is an endless fairytale to discover, with its gothic-inspired roofs, historical buildings and the surrounding water, SUS adds up to the underground jazz vibe while being perched atop the five star At Six hotel.
Located right in the middle of the city's old district - between T-Centralen and the Royal Castle, SUS translates into Stockholm Below the Stars.
Featuring a 1200-square meter terrace with three bars, a rooftop gym, radio station booth and hidden panoramic spots, perfect for a casual chit-chat, it is one of Stockholm's best viewpoints.
While taking in the beauty of the Swedish capital, choose between the differently themed areas within the bar - Molnet - sophisticated space that serves top-notch cocktails or Djungeln - an urban paradise with palm trees and sand in the middle of the Scandinavian capital!
Choose from a classical recipe, or try the Frozé Slushie. Foodies can indulge in an international street food.
SUS reminds of a rooftop park and has a fairly casual feel. The rooftop space doesn't take reservations, so consider joining in early to catch some sunlight with a drink.
Later on, the vibes are high, and internationally-renowned DJs have landed for an unforgettable Stockholm party experience below the stars.
S.U.S - STOCKHOLM UNDER STJÄRNORNA
Brunkebergstorg 2-4, 111 51 Stockholm
Tue - Wed 15:00 - 23:00, Thur 15:00 - 00:00, Fri - Sat 15:00 - 01:00, Sun 13:00 - 22:00
2.

Arc at Blique by Nobis

/ Stockholm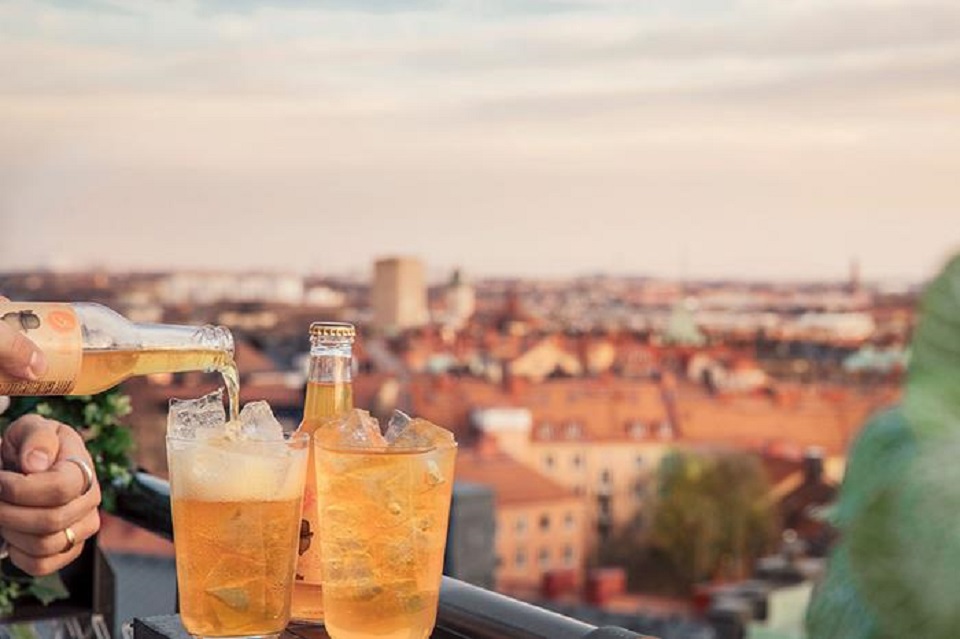 Arc at Blique by Nobis - Photo: www.bliquebynobis.se/
Opened in the spring of 2019, hotel Blique by Nobis features an 11th floor rooftop restaurant and bar called Arc.
Located in Vasastan, off the heavy tourist track, it is the perfect spot to enjoy cool drinks under the hot Stockholm sun.
The indoor restaurant is open all year round, welcoming guests for a delicious lunch and dinner reservations. The rooftop bar, however, is in its full swing when the weather is warm.
The 360-view over Stockholm exposes pretty musch all there is to see, including the not so far Norra Tornen (Northern Tower) - one of Sweden's capital most notable new landmarks.
The menu comprises mixed cuisines, inspired by Europe and Asia. Enjoy a set of signature cocktails, wines, bubbles, beers, and traditional Japanese sake.
ARC - BLIQUE BY NOBIS
Gävlegatan 18, 113 30 Stockholm
Tues - Fri 16:00 - 00:00, Sat 13:00 - 00:00
1.

TaKeT

/ Gothenburg
TaKeT - Photo: www.facebook.com/TaKeT-811217515699636/
Yet another party destination has been added to the Gothenburg rooftop scene. TaKeT (the Roof in English), is located on the 7th floor of Comfort Hotel Gothenburg.
Opened back in 2016, and located right next to the water, both the hotel and its rooftop have breathtaking views over the river Göta Älv.
Having stored the feel and vibes of old Gothenburg, the rooftop bar has a diversity of social events - from early yoga sessions to fine arts exhibitions. One of the most visited social activities is the brewery takeovers.
Friendly and relaxing in atmosphere, TaKeT has classic bar stools and tables, and a bunch of comfy lounge sofas. When the weather makes a sudden surprise, the retractable roof covers the naked area to keep all of its guests dry and comfy.
From up here you'll get one of the best rooftop sunsets in Scandinavia. Add top notch service and vibe and you know that this rooftop is something extra! A must visit when in Sweden and Gothenburg.
TAKET
Skeppsbroplatsen 1, 41121 Göteborg
Mon - Thur 16:00 - 00:00, Fri - Sat 15:00 - 01:00, Sun 17:00 - 22:00
Collaboration