Madrid is one of the best cities in Europe when speaking of rooftop bars. There are many superb terraces to visit here, both during summer and winter.
Madrid can get very cold during wintertime, but you can still enjoy the city views from some rooftop bars here. Some of them equipped with Tubbo and others without.
Here's the list of the best winter open rooftop bars in Madrid. A list made by the world's leading experts on rooftop bars.
1.

Gymage Lounge Resort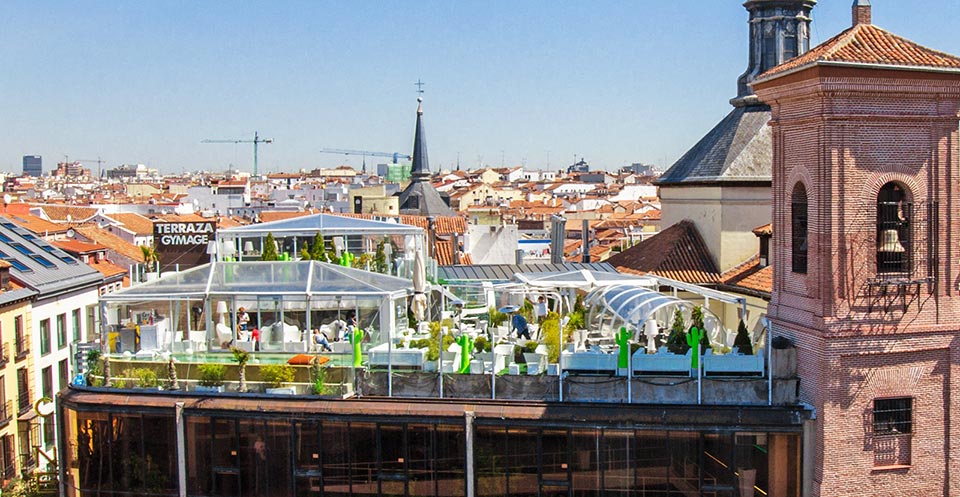 Gymage Lounge Resort | Photo: www.gymage.es/
If you're looking for a one-of-a-kind experience, then head out to the Gymage because what this place offers is unmatched.
Is it a gym? A bar? A restaurant? A little bit of everything?
This unique concept mixes wellness with enjoyment by splitting an entire building into five different areas: The terrace, a restaurant, a gym, a shopping center, and an event venue.
The terrace offers ample seats for relaxing as well as a small but charming pool. It also includes a rooftop bar, from which you can order smoothies, coffee, and cocktails.
On the same floor, the restaurant offers burgers, sandwiches and tapas, all with a healthy twist that you're sure to enjoy.
While the Gymmage is particularly popular during the summer, it's open year-round, making it an enjoyable destination for winter as well.
Thanks to Tubbo's and large rooftop tents with plastic windows, everyone can stay warm and cosy while still enjoying the grand views.
Reserve an entire day for this one, because we're sure you won't want to leave anytime soon!
GYMAGE LOUNGE
Calle de la Luna, 2, 28004 Madrid
2.

El Viajero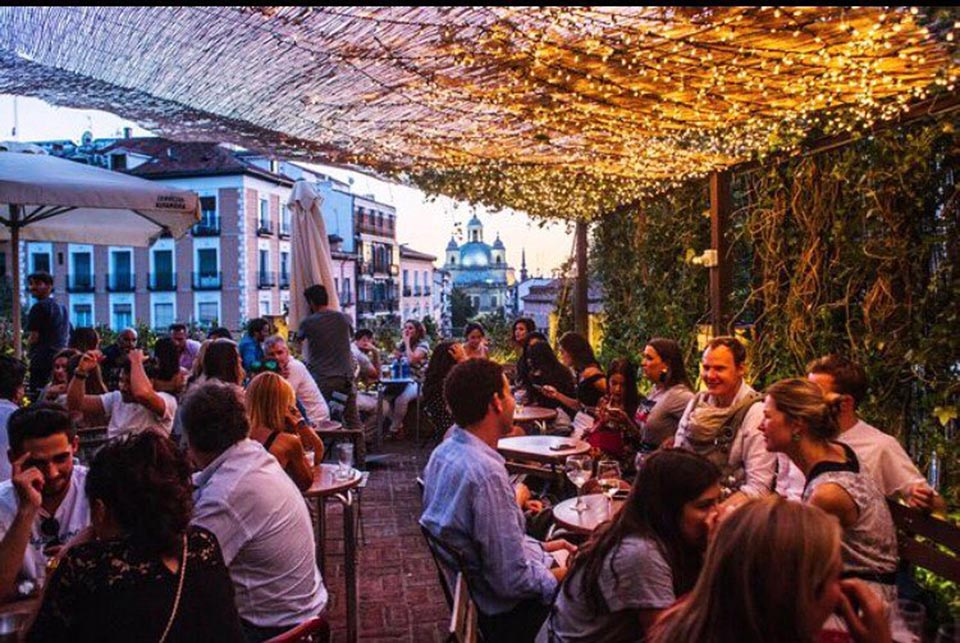 El Viajero | Photo: www.facebook.com/ElViajeroMadrid
Located in a nineteenth-century building, this restaurant/bar has kept as much charm of the original construction as possible, resulting in a quaint yet modern area that we can't help but to love.
Though El Viajero occupies the entire building, its small and cozy rooftop garden is the restaurant's most popular area, thanks not only to the stunning views of Madrid but also its numerous cocktails, wines, and beers.
The restaurant and the bar –located on the first and second floors respectively– operate separately, but they come together on the third floor, where you can enjoy delicious tapas and pizzas alongside your drinks.
Reservations are only available for the restaurant, so if you want to sit on the rooftop area, make sure to arrive early.
EL VIAJERO
Plaza de la Cebada, 11, 28005 Madrid
3.

Doña Luz
Doña Luz | Photo: https://donaluzmadrid.com/
An old-fashioned terrace in all the senses of the world, Doña Luz is a spacious restaurant/bar with jaw-dropping views of Madrid and a charming architecture we're sure you'll love.
Its South-American inspired decor and food make Doña Luz a unique place in Madrid, and its airy construction and relaxed atmosphere make it a great place to relax.
Lunch and dinner are particularly popular in this restaurant, so reservations are recommended.
As far as drink goes, Doña Luz offers the expected beer, wine and spirits choices, but mixes it up with South-American inspired cocktails.
Located right in the heart of Sol and with an easy to miss entrance that translates to privacy, this is a great spot to enjoy a relaxed conversation alongside your drinks.
If you're visiting Madrid during the winter, rest assured. This restaurant has plenty of open areas, but it also has heaters that will keep you warm.
DOÑA LUZ
Montera, 10-12. Azotea, 28013 Madrid
4.

La Terraza de Oscar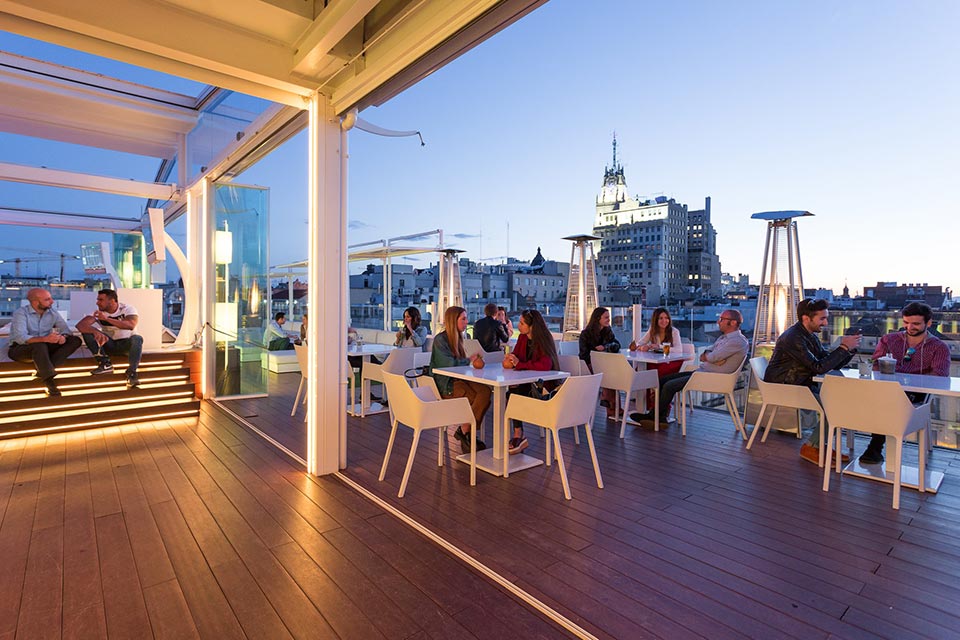 La Terraza de Oscar | Photo: https://room-matehotels.com
A modern and luxurious bar located in the heart of Madrid, this place offers stunning 360-degree views of the city and front-row seats to the Gran Via.
Equipped with comfortable lounge furniture, Balinese beds, a private swimming pool, and both outdoor and indoor seating areas, La Terraza de Oscar is a popular spot no matter the season.
The rooftop pool is open to the public (during summer season), though you do need to pay a rather hefty fee. That said, it does includes a towel and a glass of cava.
The rooftop bar is open year-round and offers a large menu of drinks, all complemented by the great lounge atmosphere and jaw-dropping views.
LA TERRAZA DE OSCAR
Plaza de Vázquez de Mella, 12, Madrid
5.

Azotea del Círculo
Azotea del Círculo | Photo: www.azoteadelcirculo.com/
Known as one of Madrid's best bars, Azotea del Círculo is famous for its unbeatable location, amazing views, and generous opening hours.
With a vast terrace, 360-degree views of the city, and comfortable seating options, this is a favored destination for locals and tourists alike, so make sure to arrive on time.
Stylish lounge areas, stools, and even poolside beds make this bar an ideal destination for those who are in no rush whatsoever, as the atmosphere of the Azotea invites you to stay for hours on end.
Open from morning to night, the Tartan's restaurant offers Mediterranean-inspired food for breakfast, lunch, and dinner, as well as plentiful and delicious brunches during the weekend.
The Azotea del Círculo has an extensive selection of drinks, including wines and beers from all over Europe, as well as several cocktails for your enjoyment.
There's a small 4€ fee that you need to pay before getting in, but the foods and drinks are reasonably priced, so the fee is more than worth it.
AZOTEA DEL CIRCULO
Calle del Marqués de Casa Riera, 2, 28014 Madrid