Article
10 best rooftop bars in UK
Pints (or cocktails) with a view!
Published: January 23, 2021
The United Kingdom, the home of pubs and bars. If you'd like your pint with a view, there are some great rooftop bars available here.
Despite the rainy and cold weather that often hits Great Britain, UK is one of the most popular rooftop destinations in the world. Much thanks to the big popularity in London. There aren't many high skyscrapers either, but you can still get some amazing views from man rooftop bars in UK.
But it's not only London that can showcase some great rooftops, many other cities in the UK have a great variety of different places to eat and drink with a view.
Here are the 10 best rooftop bars in the UK according to The Rooftop Guide – the world's leading resource about rooftops worldwide.
10.

12th Knot

/ London
12th Knot - Photo: www.seacontainerslondon.com
12th Knot Rooftop Bar is one of London's most recent hidden treasures. Now being hosted where Rompus Room used to have its home, 12th Knot is 12 floors above the Sea Containers (known as Mondrian London).
With an extraordinary view of the river and the city's urban landscape, it is a spot to add to your London visit list.
Recently refurbished, 12th Knot welcomes guests to a chic and eclectic setting of plush sofas and comfy lounge spaces. With a decently sized terrace, the outdoor sitting area is simple in design, yet very spectacular in terms of views overlooking London.
With live music events every Wednesday, 12th Knot can become your favorite spot to have a good time while at London.
If you find yourself nearby the rooftop bar on a weekend night, check their live DJ set and choose something from the selection of wine, champagne, beer and a selection of iconic American and British mixes. Seasonal bites are being served with the drinks, but suffice to fill up a hungry belly.
For a more filling meal, you can stop by the restaurant on the ground floor of the building.
12TH KNOT
20 Upper Ground, South Bank, London SE1 9PD
Tue - Wed 17:00 - 01:00, Thu - Sat 17:00 - 01:30
9.

Tower Restaurant

/ Edinburgh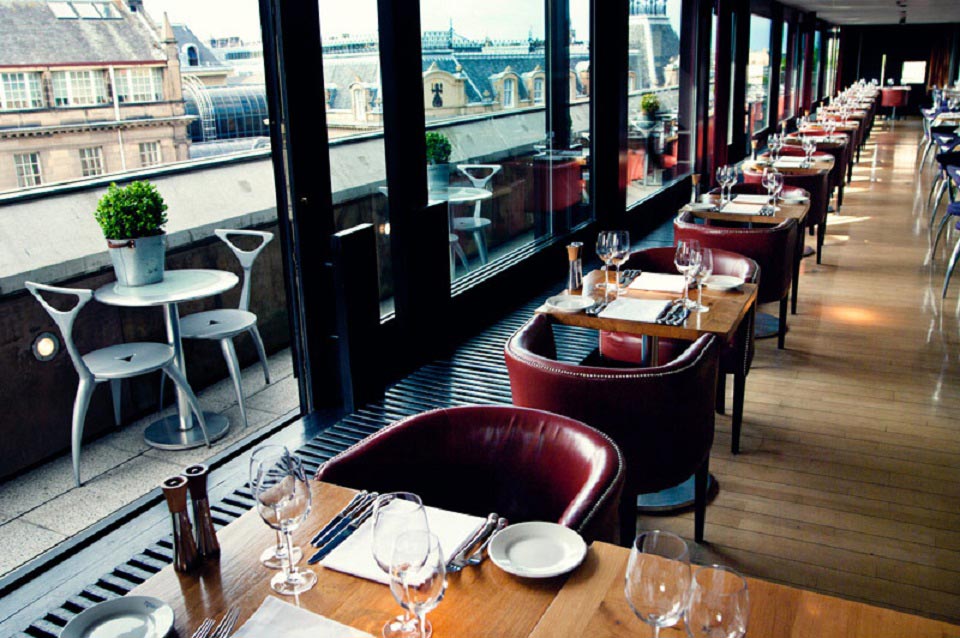 Tower Restaurant - Photo: www.tower-restaurant.com
Edinburgh - a city of castles and never ending greenery. Also, a home to Tower Restaurant - an upscale panoramic rooftop spot.
The restaurant has gathered the authentic Edinburgh spirit through its picturesque vistas overlooking the National Museum of Scotland, Edinburgh Castle and the Royal Mile.
James Thompson's restaurant is an example of how to run an upscale fine dining venue. With impeccable taste, he serves only locally sourced food. Tower restaurant's inventive menu and deft service make guests come back for more.
The view, however, is what attracts them at first. With a contemporary design, the Tower makes a statement of luxury with its colorful and very club-inspired interior. The striking aluminum furniture, velvet hangings and the futuristic mosaic bar and curvaceous tweed banquettes, each of these elements adds a special touch that only compliments what's being served.
TOWER RESTAURANT
National Museum of Scotland, Chambers St, Edinburgh EH1 1JF
Daily 10:00 - 22:00
8.

Carpathia Rooftop Bar

/ Liverpool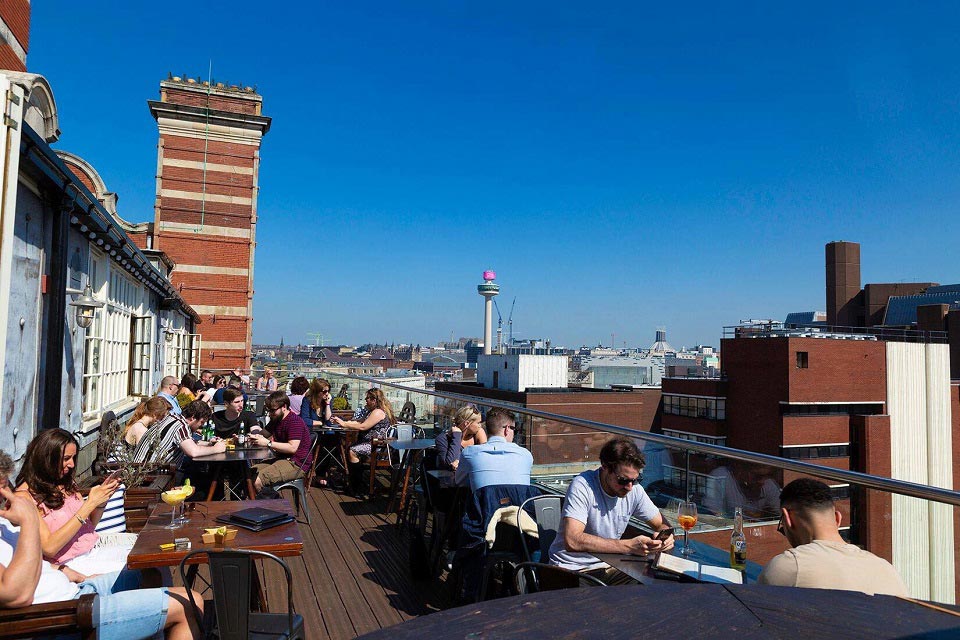 Carpathia Rooftop Bar - Photo: www.rmstitanichotel.co.uk
Overlooking Liverpool waterfront, the Carpathia Rooftop Bar is a go-to spot in Liverpool for cocktail aficionados.
This stunning rooftop bar invites you to admire the Three Graces from a different angle, having Liver Building on your doorstep.
Carpathia's talented mixologists have been crafting signature cocktails for their guests, each drop poured to perfection. When visiting, you can choose from a robust of classic cocktails, or be brave and order something new, risky, and delicious.
Perfect for a stylish yet casual night out, or a family catch up.
CARPATHIA ROOFTOP BAR
30 James St, Liverpool L2 7PQ
Daily 12:30 - 22:00
Collaboration
7.

Roof Garden Playground

/ Manchester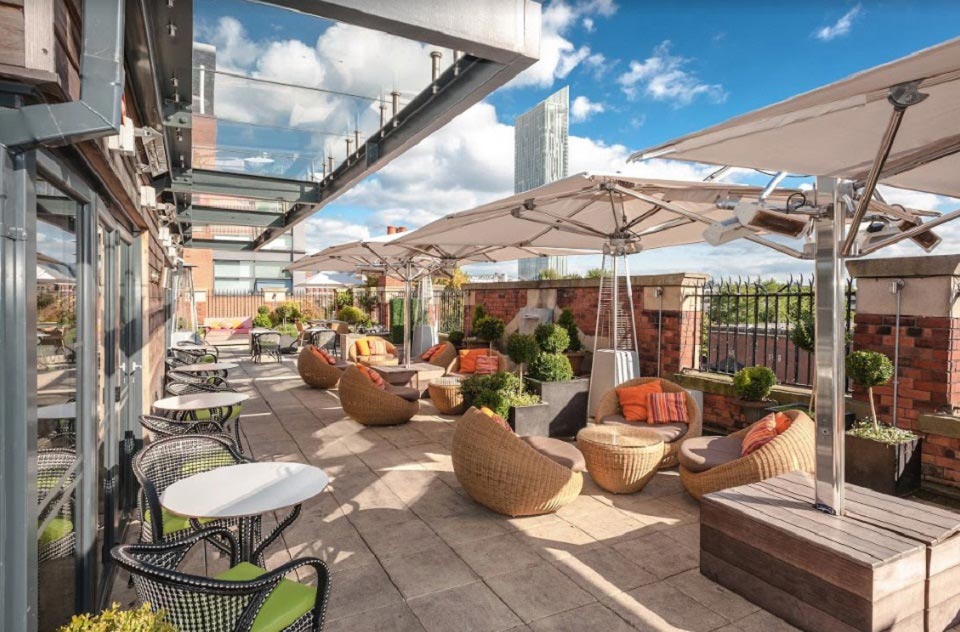 Roof Garden Playground - Photo: www.eclectichotels.co.uk
Casual and chill. If you're looking for such a place, stop by the Roof Garden Playground in Manchester.
On the roof of the Great John Street Hotel, this hip bar serves BBQ and cocktails, champagne and a selection of craft beers and wines.
Perfect for a party, the deck overlooks the city center from its Deansgate perch.
Trendy and sleek, the seating area has been designed in a fashion that allows the natural light to be the center element of the environment during the daytime. Once the sun sets, the Roof Garden Playground goes afire with hundreds of romantic candles.
Private Hire of their terrace and hot tub area is available in conjunction with The Great John Street Hotel's other rooftop terrace, called Rooftop Lounge. Manchester locals often host BBQ summer parties, thus the spectacular view transforms each event from a casual getaway to a picturesque experience to remember.
ROOF GARDEN PLAYGROUND
Great John Street Hotel, Great John St, Manchester M3 4FD
Daily
6.

Aqua Spirit

/ London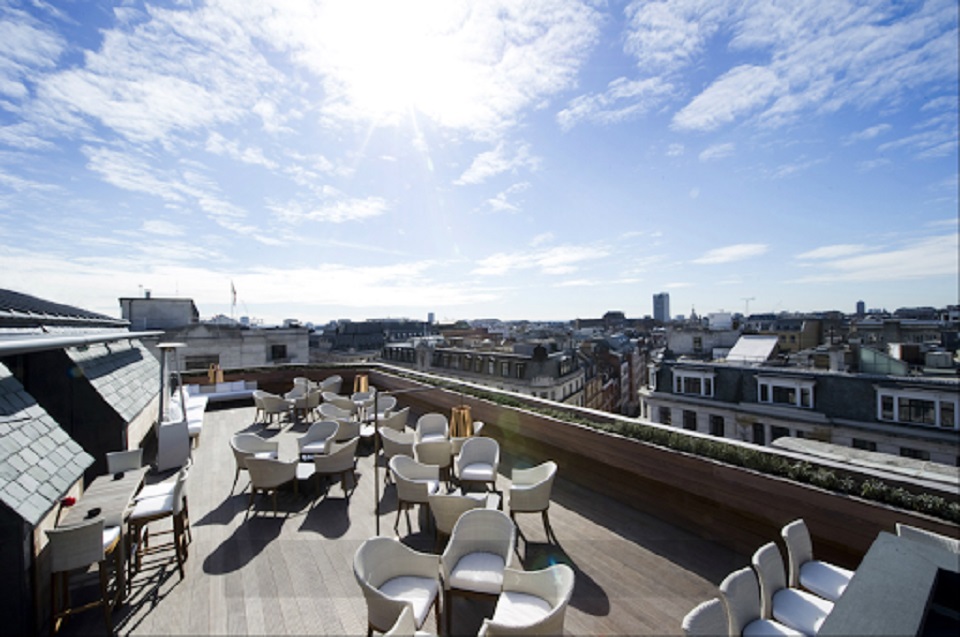 Aqua Spirit - Photo: www.aquaspirit.co.uk
London's underground vibe allures globetrotters from afar to come and dive into the city's layers of culture, art and nightlife. Aqua Spirit is just a stop from your next cosmopolitan experience while in the British capital.
Aqua Spirit features two stylish rooftop decks. Well hidden, despite of the central location right next to Oxford Circus, Aqua Spirit's twin terraces are home to a few top-class restaurants inside, whilst the outdoor area is made for light drinks and snacks.
Both terraces - Aqua Kyoto and Aqua Nueva, serve classic cocktails with a palette of Japanese- and Spanish-inspired bar bites.
Dress comfy, but not too sporty. Guests are welcome to take their drinks on the decks outside and indulge in the London skyline.
AQUA SPIRIT
5th, 240 Regent St, Soho, London W1B 3BR
Mon - Sat 12:00 - 01:00, Sun 12:00 - 20:00
5.

Sushisamba

/ London
Sushisamba - Photo: www.sushisamba.com
Located at one of London's tallest buildings, Sushisamba is a trendy Asian-themed rooftop bar in the British capital.
The real experience begins at the elevator door, when the machine lifts you up, exposing the eye to a superb landscape through its glass walls.
Dressed to impress, guests are hip and up for a good time. The pricing is on the more expensive side, but it justifies what you get. Sushisamba's rooftop bar ranks as one of the finest places not only in London, but in Europe too.
Ruling the lists of fine places to wine and dine, it is also the highest outdoor dining terrace on the old continent. Having achieved two records, it's time to talk about the real deal - the food, drinks, and the atmosphere.
Open for guests all year round, it has a stylish indoor dining space with floor-to-ceiling glass windows. Two large outdoor decks allure guests to join the sky jungle and indulge in what they've ordered.
A large orange tree in the middle of one of the decks gives a vibe of freshness and greenery, whilst the surrounding views keep everyone inspired.
The menu has a robust of flavors and has gathered multiple international cuisines, creating the perfect fusion mix. Enjoy tastes from Asia, Peru and Brazil, all crafted with attention to detail and passion for excellence.
SUSHISAMBA
110 Bishopsgate, London EC2N 4AY
Wed - Sat 11:30 - 02:00, Sun - Tue 11:30 - 01:30
4.

20 Stories Manchester

/ Manchester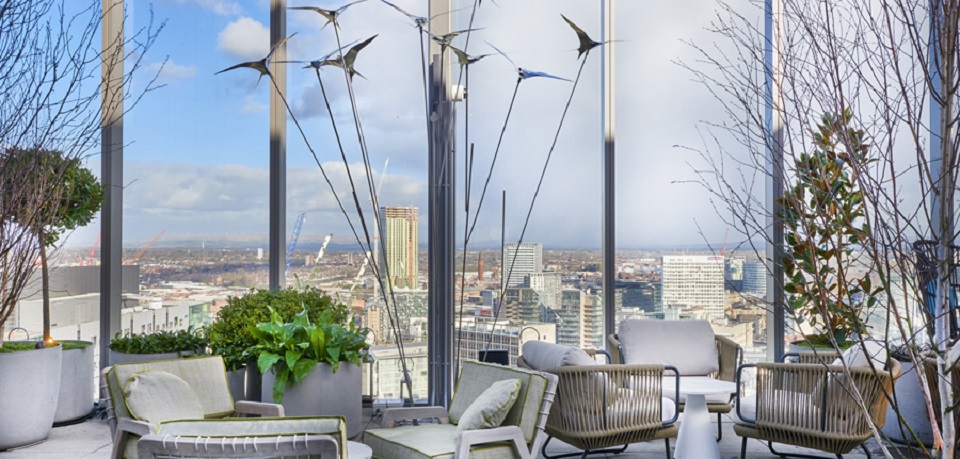 20 Stories Manchester - Photo: www.20stories.co.uk
Alluring guests from all over, 20 Stories is a mixture of dramatic lights, a canopy of trees and a spectacular outdoor lounge bar.
With a modern outside BBQ and alfresco fireplaces, the terrace cozy atmosphere gets accompanied by the stunning backdrop of Manchester's majestic skyline.
20 Stories Manchester takes reservations for 10 people or more, so consider this the perfect spot for a group getaway.
While taking in the views of the city, 20 Stories will serve guests a sumptuous array of delicate finger sandwiches and delicious signature treats. We encourage you to try the homemade scones with clotted cream and strawberry and gooseberry jam.
20 STORIES MANCHESTER
NO. 1, 1 Hardman Square, Manchester M3 3EB
Mon - Wed 12:00 - 00:00, Thu - Sat 12:00 - 02:00, Sun 12:00 - 18:00
3.

Goodness Gracious Roof Garden

/ Liverpool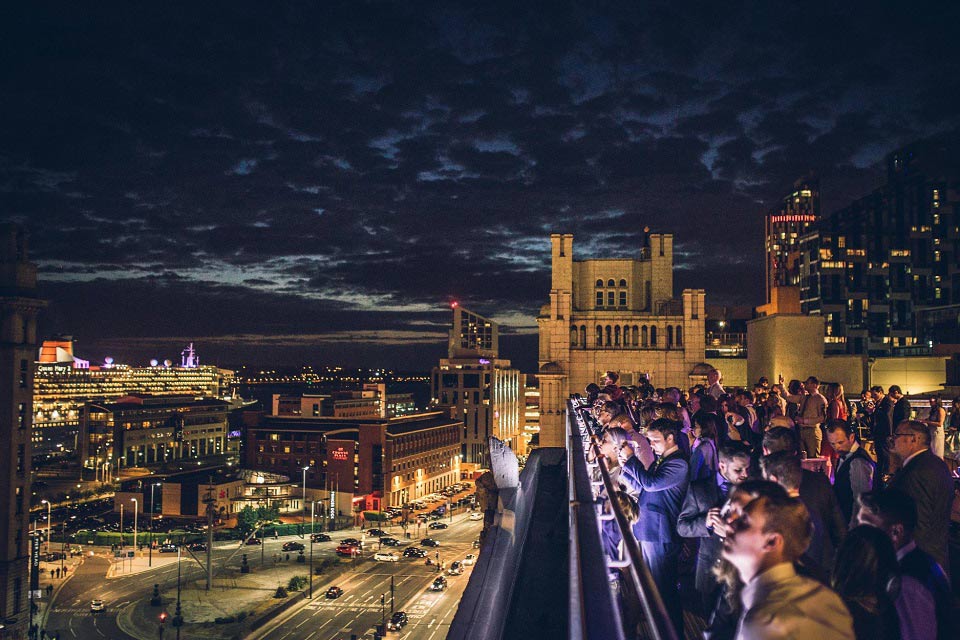 Goodness Gracious Roof Garden - Photo: www.ohmeohmyliverpool.co.uk
We have to admit it - Goodness Gracious Roof Garden owners have a sense of humor. With a dramatic name, this rooftop goodness is a rare heaven under the Liverpool sky.
Guests are welcomed by a floral door decoration which is yet another spectacular element, and serves as an entrance to the elevator. The garden door opens and you are entering another world.
With lots of sunshine (and a complimentary sunscreen), you can chill on any of the soft cushions while gazing at the picturesque floral surroundings.
With a chilled-out music sets, Goodness Gracious Roof Garden is the perfect spot for a date night with a loved one. If you are single and ready to mingle - than join some of the rooftop's fine BBQs and taste the delicious summer tipples with gin.
GOODNESS GRACIOUS ROOF GARDEN
WEST AFRICA HOUSE, 25 WATER STREET LIVERPOOL, L2 0RG
Daily: 12:00 - 19:00
Collaboration
2.

Sky Lounge

/ Leeds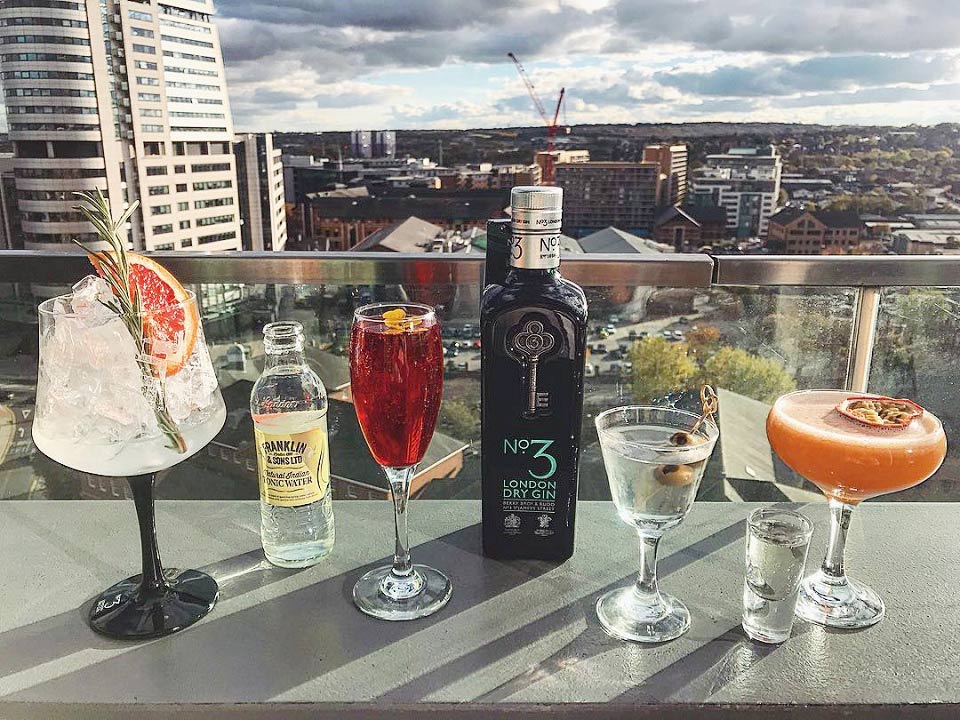 Sky Lounge - Photo: www.leedsskylounge.co.uk
Experience Leeds's finest rooftop bar - the luxurious Sky Lounge, at sunset. With a breathtaking panorama of Yorkshire and the city of Leeds, the 13th floor becomes a true urban escape from the busy streets below.
Stop by for an early breakfast and enjoy a chilled morning under the UK sun, or save a spot for a bubbly afternoon teas to live music with Sky@ Night every weekend.
Sky Lounge has a tight, yet very precise menu of delicious bites and fine beverages to ensure a good time.
Once the weekend knocks on the door, Sky Lounge transforms into a lively DJ location and Leeds's favorite spot to go partying. Perfect for family celebrations, and a casual evening date.
SKY LOUNGE
Granary Wharf, Leeds LS1 4BR
Daily: 12:00 - 01:00
1.

Jin Bo Law Skybar

/ London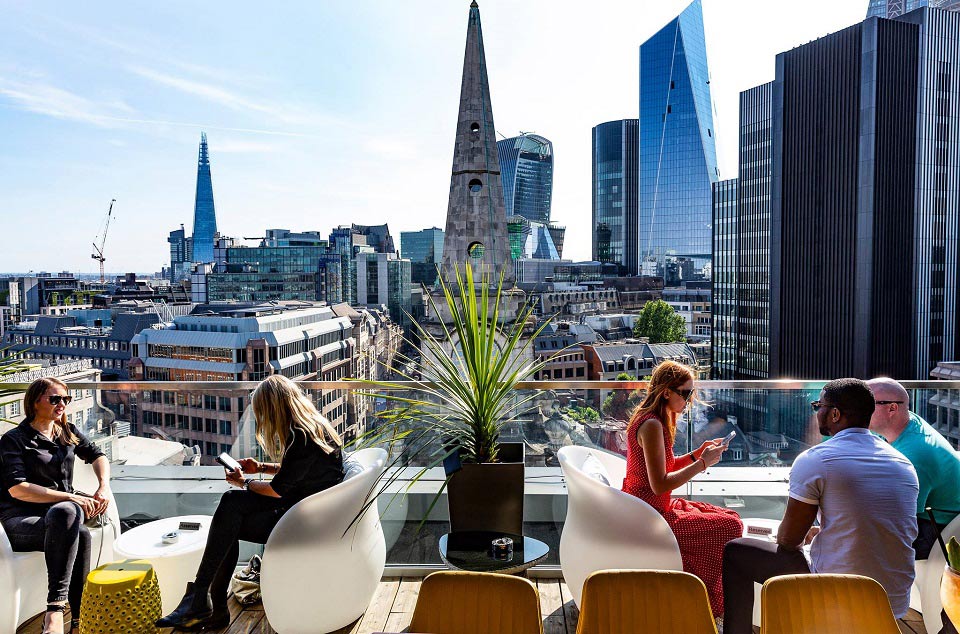 Jin Bo Law Skybar - Photo: www.jinbolaw.co.uk
Ask any Londoner where to go for views, and most of them will advise you to check the fantastic Jin Bo Law Skybar.
Opened back in early 2018, Jin Bo Law Skybar features a luxurious cocktail lounge and a spectacular view of the British capital's skyline. Overlooking a handful of landmarks - Tower Bridge, the Shard, and the Gherking, Jin Bo Law Skybar has mixed the perfect balance of bronze and marble.
With a spacy bar, and a sleek outdoor deck, guests can choose from plenty front row spots. It is safe to say that Jin Bo Law is London's next viewpoint to take in the old city with all of its beauty and madness.
The bar offers an upscale menu of curated, unique and well-prepared cocktails. Pro tip: try the "Butterfly Punch" - a mix of traditional punch with Jasmine tea.
If you want to mix up with the hip crowd, join the "Moet & Chandon Summer Series" with live house music and high vibes.
JIN BO LAW
Dorsett City London, 9 Aldgate High Street, London, EC3N 1AH
Mon - Wed 17:00 - 01:00, Thur - Sat 12:00 - 01:00, Sun 12:00 - 00:00