The United Kingdom, the home of pubs and bars. If you'd like your pint with a view, there are some great rooftop bars available here.
Despite the rainy and cold weather that often hits Great Britain, UK is one of the most popular rooftop destinations in the world. Much thanks to the big popularity in London. And while not filled with high skyscrapers either, you can still get some amazing views from man rooftop bars in UK.
But it's not only London that can showcase some great rooftops, many other cities in the UK have a great variety of different places to eat and drink with a view.
Here are the 10 best rooftop bars in the UK according to The Rooftop Guide – the world's leading resource about rooftops worldwide.
10.

Jin Bo Law Skybar

/ London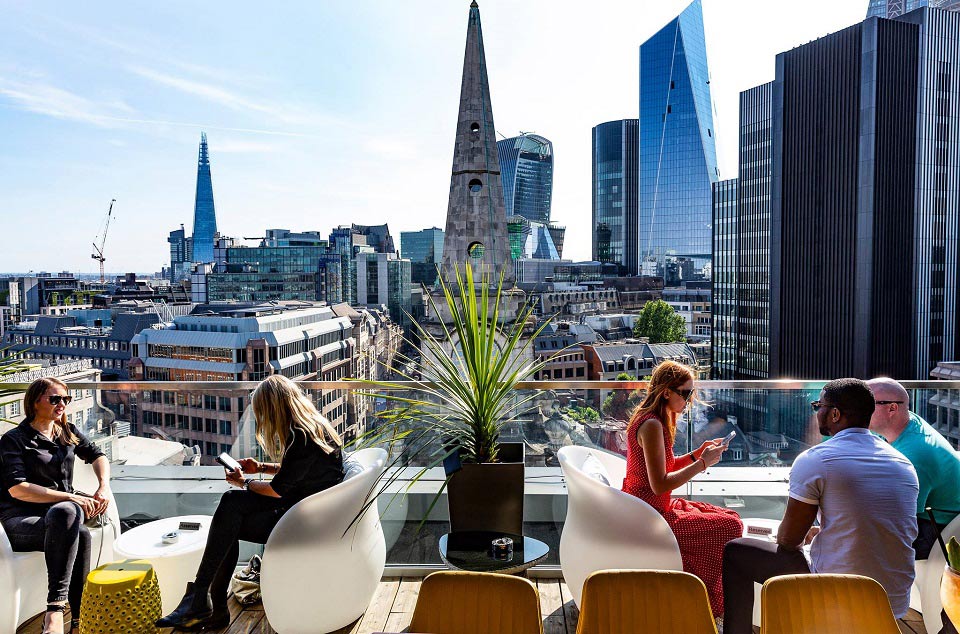 Jin Bo Law Skybar - Photo: www.jinbolaw.co.uk
Ask any Londoner where to go for views, and most of them will advise you to check the fantastic Jin Bo Law Skybar.
Opened back in early 2018, Jin Bo Law Skybar features a luxurious cocktail lounge and a spectacular view of the British capital's skyline. Overlooking a handful of landmarks - Tower Bridge, the Shard, and the Gherking, Jin Bo Law Skybar has mixed the perfect balance of bronze and marble.
With a spacy bar, and a sleek outdoor deck, guests can choose from plenty front row spots. It is safe to say that Jin Bo Law is London's next viewpoint to take in the old city with all of its beauty and madness.
The bar offers an upscale menu of curated, unique and well-prepared cocktails. Pro tip: try the "Butterfly Punch" - a mix of traditional punch with Jasmine tea.
If you want to mix up with the hip crowd, join the "Moet & Chandon Summer Series" with live house music and high vibes.
JIN BO LAW
Dorsett City London, 9 Aldgate High Street, London, EC3N 1AH
9.

20 Stories Manchester

/ Manchester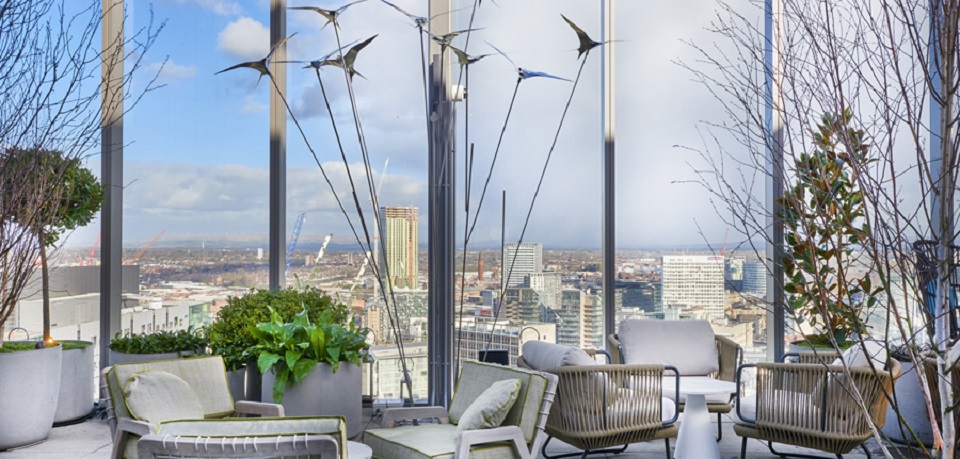 20 Stories Manchester - Photo: www.20stories.co.uk
Alluring guests from all over, 20 Stories is a mixture of dramatic lights, a canopy of trees and a spectacular outdoor lounge bar.
With a modern outside BBQ and alfresco fireplaces, the terrace cozy atmosphere gets accompanied by the stunning backdrop of Manchester's majestic skyline.
20 Stories Manchester takes reservations for 10 people or more, so consider this the perfect spot for a group getaway.
While taking in the views of the city, 20 Stories will serve guests a sumptuous array of delicate finger sandwiches and delicious signature treats. We encourage you to try the homemade scones with clotted cream and strawberry and gooseberry jam.
20 STORIES MANCHESTER
NO. 1, 1 Hardman Square, Manchester M3 3EB
8.

Garden Rooftop

/ London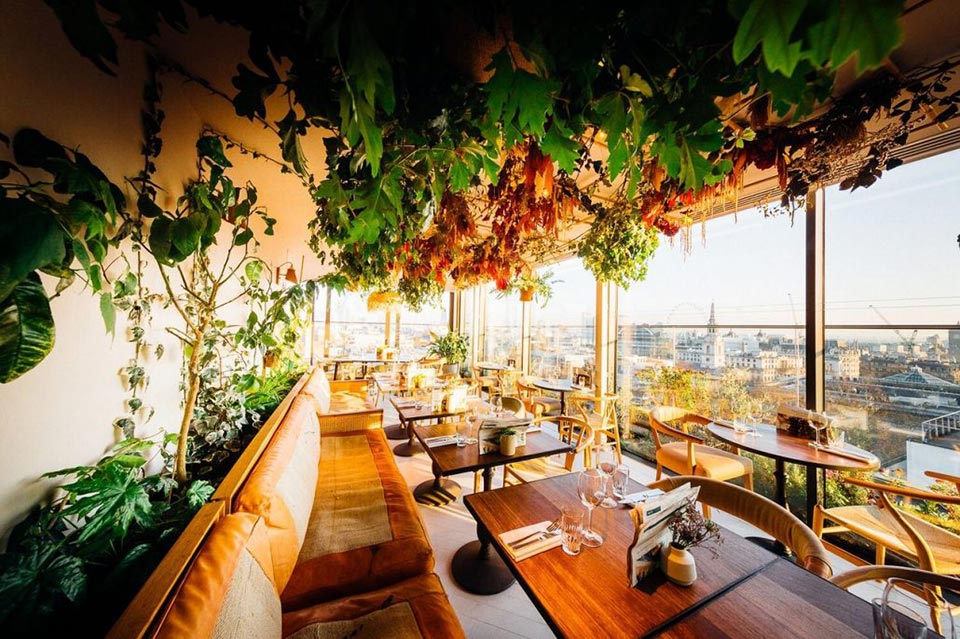 Garden Rooftop - Photo: www.gardenrooftop.uk/
Just behind Leicester Square in the heart of central London, the Assembly Hotel comes fitted with one of the must lush rooftop settings found in the UK.
The 10th floor botanical inspired Garden Rooftop bar and restaurant does not only offer plenty of greenery both inside and outside the retractable floor to ceiling glass windows, it also offers some amazing panoramic views over the London skyline.
Open daily, here you can enjoy a quick pint after work, a refreshing cocktail during some sightseeing, or a special dinner, from the menu fillde with both tapas and cicchetti.
During weekends, Garden Rooftop also opens the door for a vibrant bottomless brunch and Saturday evenings with the ultimate Supper Club.
GARDEN ROOFTOP
31 Charing Cross Rd, London WC2H 0LS
7.

London Bridge Rooftop

/ London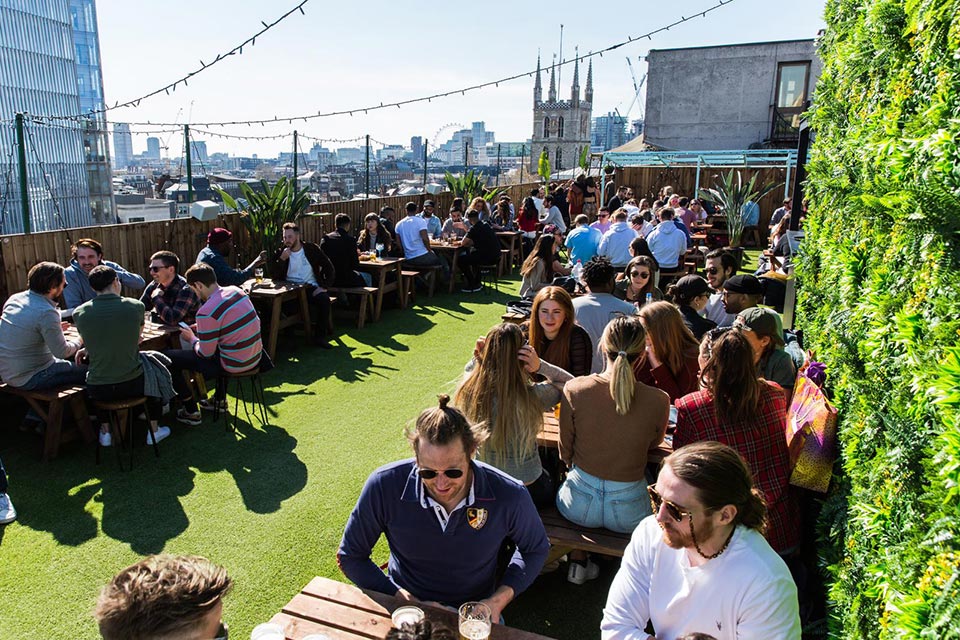 London Bridge Rooftop - Photo: www.londonbridgerooftop.com/
Opened in 2021, and 'Here for a good time, not a long time', London Bridge Rooftop continues to be a great addition to the UK rooftop scene.
Perched on top of the Colechurch House on London Bridge Walk, the casual and charming rooftop terrace comes surrounded with majestic views over the London skyline, as well as close-ups of the nearby Shard.
Here you can enjoy the sun and indulge in a menu packed with pints, house cocktails, champagne & fizz, and authentic Spanish food by The Black Pig with White Pearls.
With daily DJs on rotation and a great atmosphere, London Bridge Rooftop is a highly popular venue.
LONDON BRIDGE ROOFTOP
Colechurch House, Bridge Walk, London SE1 2SX
6.

Sky Lounge

/ Leeds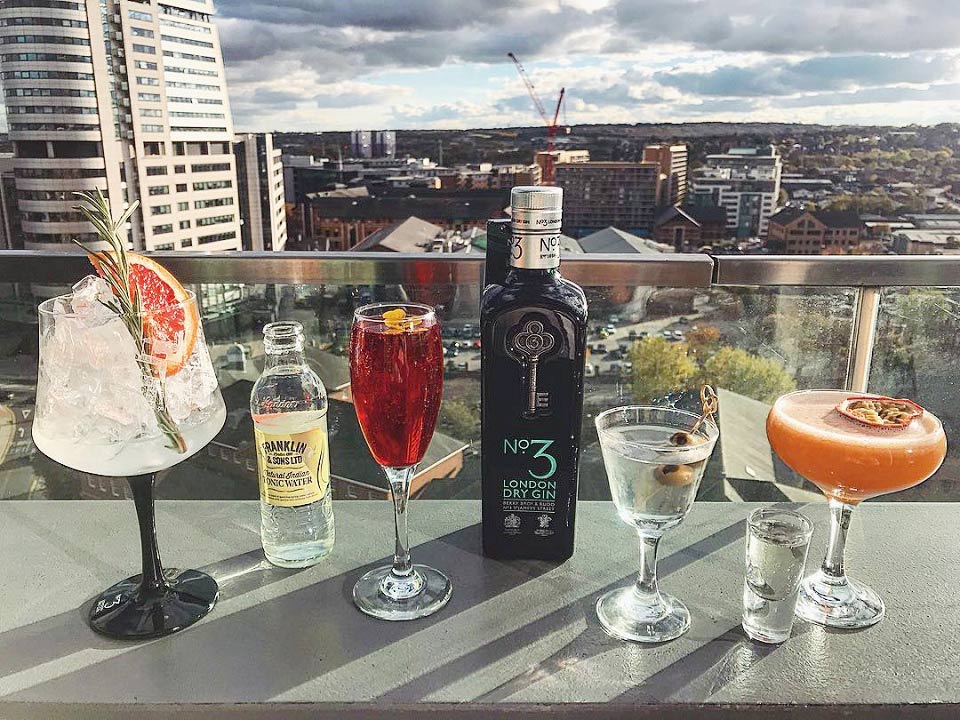 Sky Lounge - Photo: www.leedsskylounge.co.uk
Experience Leeds's finest rooftop bar - the luxurious Sky Lounge, at sunset. With a breathtaking panorama of Yorkshire and the city of Leeds, the 13th floor becomes a true urban escape from the busy streets below.
Stop by for an early breakfast and enjoy a chilled morning under the UK sun, or save a spot for a bubbly afternoon teas to live music with Sky@ Night every weekend.
Sky Lounge has a tight, yet very precise menu of delicious bites and fine beverages to ensure a good time.
Once the weekend knocks on the door, Sky Lounge transforms into a lively DJ location and Leeds's favorite spot to go partying. Perfect for family celebrations, and a casual evening date.
SKY LOUNGE
Granary Wharf, Leeds LS1 4BR
5.

The Phoenix

/ Stratford-upon-Avon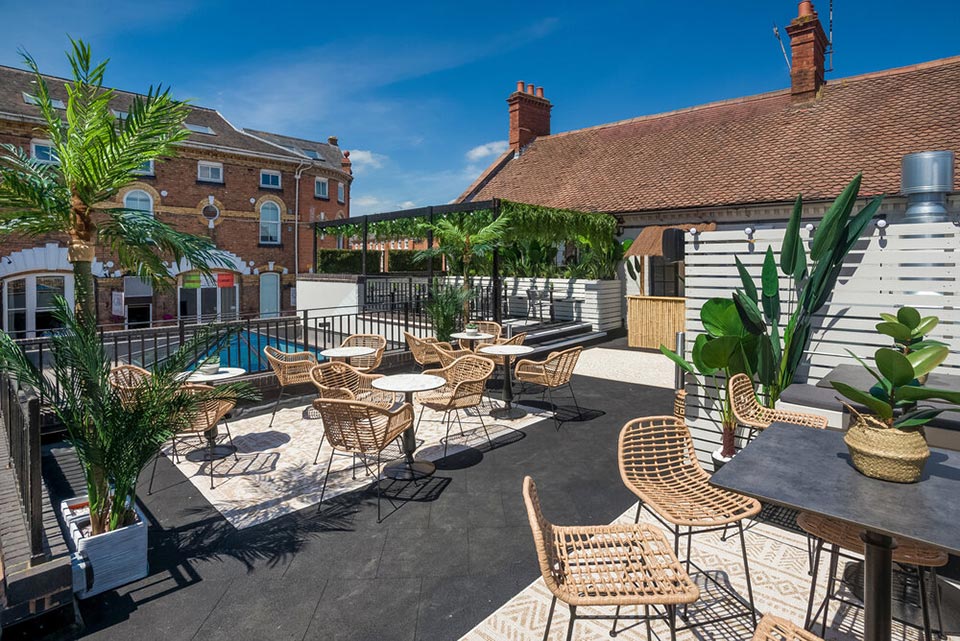 The Phoenix - Photo: www.phoenixstratford.co.uk/
Located just a short walk from Shakespeare's Birthplace, in the heart of Stratford-upon-Avon, The Phoenix is a modern, fun and buzzy neighbourhood bar, with a beautiful rooftop terrace made for sunny days.
Called The Rosé Terrace, the rooftop is a lush and gorgeous venue, where you can settle down under the palm trees and enjoy delicious food and even better cocktails.
The generous Phoenix menu includes everything from snacks & platters, stonebaked sourdough pizzas, salads and burgers, to crafted cocktails, fizz, wines and a full selection of spirits.
Or why not got for a bottle of rosé, and share with some loved ones.
Filled with friendly and feel good vibes all around, the rooftop at The Phoenix is a fantastic spot to relax in a chilled atmosphere, and pretend you're on holiday for an hour or a day.
THE PHOENIX
38 Guild St, Stratford-upon-Avon CV37 6QY
4.

1539 Restaurant & Bar

/ Chester
1539 Restaurant & Bar - Photo: www.restaurant1539.co.uk/
Located right next to the Chester Racecourse, recognized as the world's oldest still in operation, 1539 Restaurant & Bar is named after the year racing first began in Chester.
Offering several beautiful spaces, here you find both an award-winning restaurant and a botanical rooftop bar with breathtaking views across the iconic racecourse.
The lush rooftop, called The Roof at 1539, comes with cosy nooks and a range of high and low seating, and it's a great spot to catch up with close ones, have a well-deserved date night, or celebrate any occasion in style.
Indulge in a menu featuring seasonal twists on British classics, alongside dishes inspired by flavours from across the globe, as well as a range of signature cocktails and an impressive wine list.
A prime, and quite unique UK rooftop bar, to enjoy drinks and delicious meals with friends, in comfortable and vibrant surroundings.
1539 RESTAURANT & BAR
The Racecourse, Nuns Rd, Chester CH1 2LY
3.

LEVEL8IGHT The Sky Bar

/ Bournemouth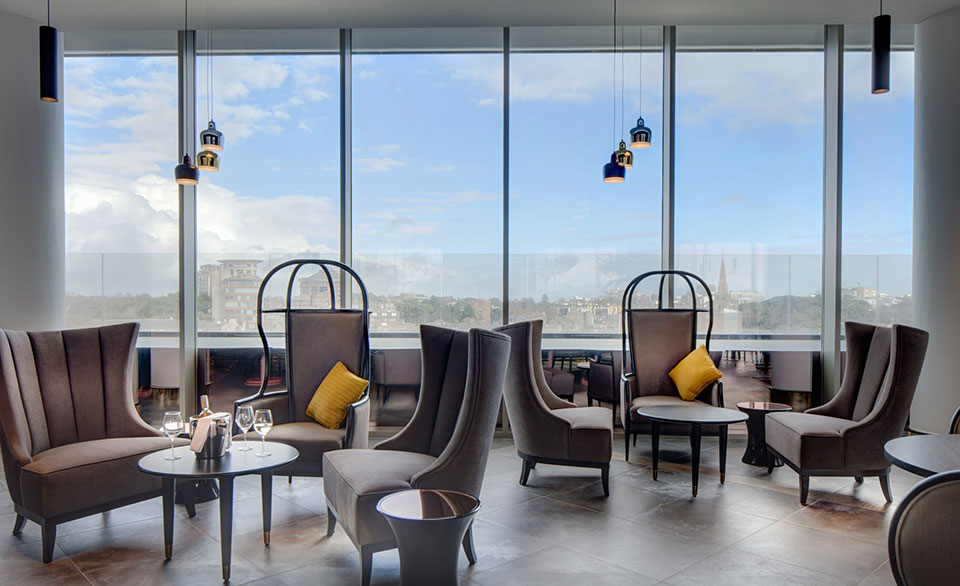 LEVEL8IGHT The Sky Bar - Photo: www.level8skybar.com/
LEVEL8IGHT The Sky Bar is the highest bar in the South West, located in the heart of Bournemouth.
Set on the 8th floor of Hilton Bournemouth, this swanky rooftop lounge comes surrounded with amazing views over the city, and out over the English Channel. Both through the panoramic windows inside, and from the outdoor terrace.
Open daily for drinks and bites with a view, the rooftop menu includes everything from crafted signature and classic cocktails, to fine wines, premium spirits and tapas-style small plates. Come weekend, you can also enjoy the elegant and elevated Afternoon Tea.
LEVEL8IGHT is a year-round venue for chill-out afternoons with a view, or nights with sky-high vibes.
LEVEL8IGHT
Terrace Rd, Bournemouth BH2 5EL
2.

Sora Sky Bar

/ York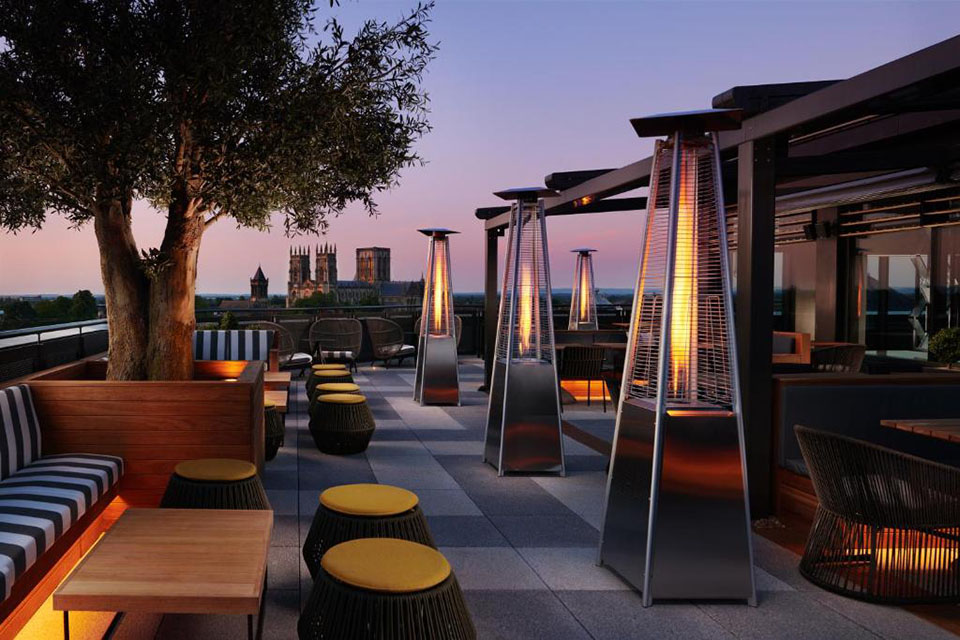 Sora Sky Bar - Photo: www.malmaison.com
Sora Sky Bar is an elevated and seductive rooftop restaurant and cocktail bar, found on top of the lovely boutique hotel Malmaison York, set on the corner of Rougier Street in the heart of York.
Blending a sleek interior dining room with a partly covered / pertly open-air lounge terrace, the rooftop comes surrounded with amazing and panoramic views over York.
Inviting to delicious dining and sassy cocktails, the Sora menu includes an irresistible selection of sushi, Robatayaki and pan-Asian style tapas dishes, complemented with seasonal signature cocktails, as well as a fine selection of wine, champagne and sake.
Paired with exquisite entertainment from resident DJs and guest musicians every weekend, Sora Sky Bar is as fantastic York venue for stylish sunset drinks, a romantic dates, an easy going yet elegant dinner, or a grand night out.
SORA SKY BAR
2 Rougier St, York YO90 1UU
1.

LSQ Rooftop

/ London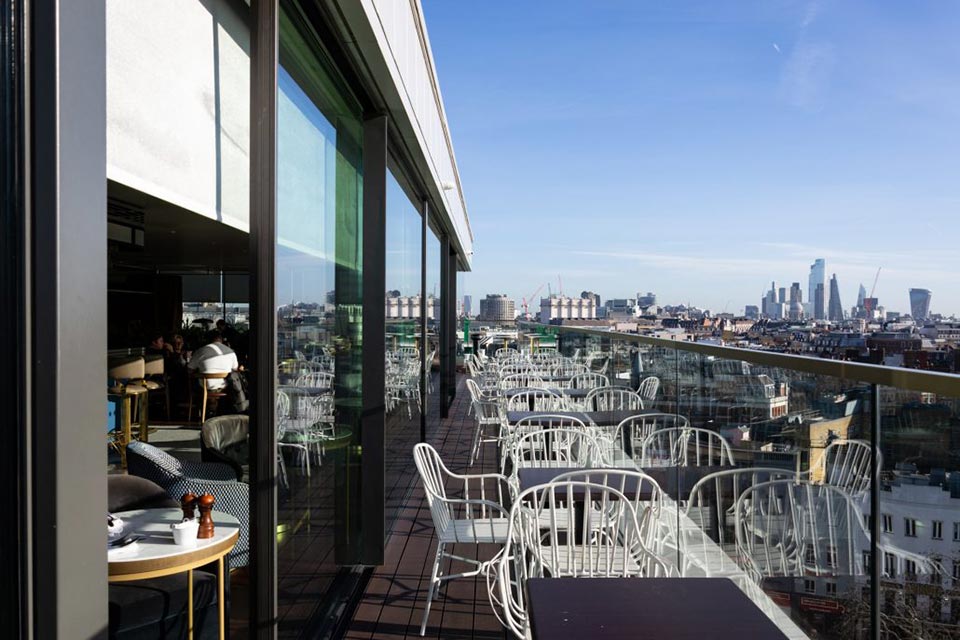 LSQ Rooftop - Photo: www.lsqrooftop.com/
LSQ Rooftop serves one of the best skyline views London has to offer, both day and night.
Perched on the 9th floor of Hotel Indigo at one of London's most iconic address – 1 Leicester Square - the rooftop comes with both an indoor lounge with floor-to-ceiling windows, as well as an outdoor rooftop terrace.
With both generous opening hours and an equally generous menu, LSQ Rooftop is a great spot for everything from a sunny lunch to some post work cocktails, or weekend drinks with friends.
The rooftop serves a European-style á la carte menu , as well as a selection of smaller bites made perfect to share, complemented with fine signature and classic cocktails, champagne, wine and beers.
LSQ ROOFTOP
1 Leicester Square, London WC2H 7NA