3 Best Rooftop Pools in Cape Town
3 Best Rooftop Pools in Cape Town
Published: January 9, 2020
3 great venues for some refreshing rooftop pool hangout
Cape Town! The financial and legislated centrum of South Africa. Here, were the Atlantic and the Indian Ocean meets, you will find Africa's hot spot and a city full of vibes.
Western Cape Province is the most developed region and here you also find the wine making industry. Don´t miss a stop in Cape Town when you visit South Africa. It is a must!
From a rooftop pool point of view, the city has some to offer. Since Cape Town has an international touch you will find great sites for some rooftop pool hangout. Imagine a nice dip in the rooftop pool, a nice view over the city and a good drink with some nice company – nothing more, nothing less.
Also check out some of the best Cape Town rooftop bars here. And here is a good tip for a hotel with a rooftop bar in this lovely city. But back to the water up top:
Here's out list of the 3 best rooftop pools in Cape Town
1.

The Silo Hotel
Photo: www.theroyalportfolio.com/the-silo
A truly exceptional hotel, and one of the world's best rooftop pools. The Silo Hotel really delivers! Not that old, but already feels like an iconic landmark at the Waterfront in Cape Town.
This rooftop pool has pretty much all you can wish for. With a stunning view over the ocean, mountains and the city, a stop here is something you must put on the bucket list.
The rooftop pool is exclusive to guests staying at the hotel. So book your stay, or visit the The Silo Rooftop Bar. Just remember that you have to make reservations before arrival.
But once you have found your way up top, you are in for a treat. A nice selection of food and beverage, combined with a stunning rooftop pool and majestic views, makes a visit here unforgettable.
Adress: Silo Square, V&A Waterfront, Waterfront, 8001 Cape Town
Availability: Only guests at the hotel
Towels included: Yes
Additional information: Outside guests are welcome to the rooftop bar, with prior reservation
2.

Cloud 9 Boutique Hotel and Spa
Photo: www.hotelcloudnine.com/
Located in the heart of Tamboerskloof, the very nice Cloud 9 Boutique Hotel and Spa comes with a dual level rooftop. While the upper deck offers couches and the most breathtaking views over Table Mountain, the lower level comes with a crystal clear rooftop plunge pool.
A fantastic spot to cool down during the warm summer days in Cape Town. And unlike many other rooftop pools on top of a hotel, this one is also available to the public.
Integrated with the Cloud 9 rooftop bar, anyone can go for a swim. However, if you are not a guest at the hotel, there is a minimum spend requirement of R150 to dive in. Well worth it, especially if the sun is strong.
If you don't feel like swimming, you can just visit the rooftop bar and enjoy fine signature cocktails, local wine, delicious sourdough pizzas or some snacks.
Adress: 12 Kloof Nek Road, Tamboerskloof, Gardens, 8000 Cape Town
Availability: Open to all, minimum spend for non-hotel guests
Hours: 1pm-11pm
Collaboration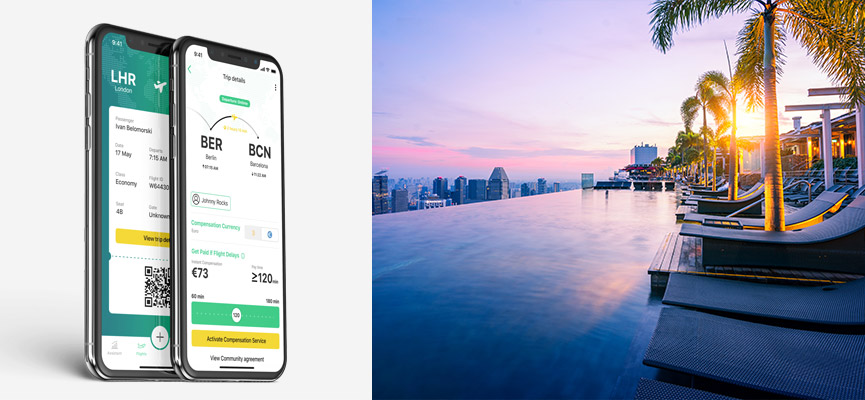 Smart travel
Colibra is a new app that gives you compensation EVERY time.
3.

Park Inn by Radisson Cape Town Foreshore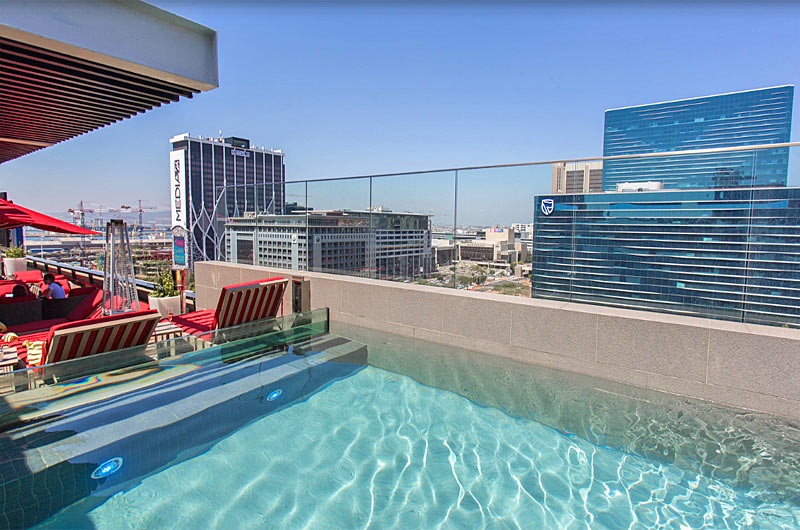 Photo: www.parkinn.com/hotel-capetown
If you need a luxury styled rooftop pool you have come to the right place. The rooftop pool at Park Inn by Radisson has something extra. It is not the largest pool in town, but you have a perfect view over the Table Mountain when you are here.
Surrounded with comfy sun loungers and umbrellas / awings to stay nice and shady, the rooftop terrace is a great spot for rooftop relaxation.
Take some time to cool off in the rooftop pool and dream away. You can also order food and drinks from Harald's Rooftop Bar, and stick around for lovely sunsets and nightly vibes.
Adress: 29 Heerengracht Street, Foreshore, 8001 Cape Town
Availability: Only guests at the hotel
Towels included: Yes
Additional information: Outside guests are welcome to the rooftop bar