Filled with a both urban and vibrant cities, as well as fantastic beaches and a majestic natural landscape, it is no wonder that South Africa is a highly popular travel destination.
In between the game reserves, national parks and wine tatings, you should not miss the chance to visit some of the best South Africa rooftop bars. Mainly found in the larger cities, like Cape Town and Johannesburg, up here you will get both smashing skyline views and panoramics over the ocean.
From luxurious rooftop lounges with rooftop pools, to more charming terraces for long and relaxing hours, here is our list of the 8 best rooftop bars in South Africa. Enjoy!
1.

Alto234

/ Johannesburg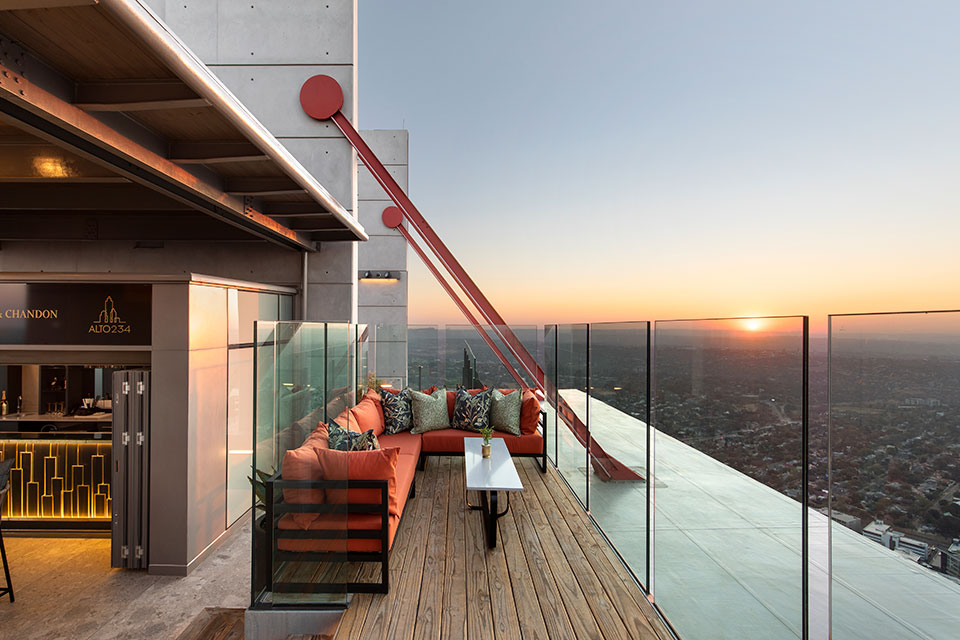 Alto234 - Photo: www.alto234.co.za/
With a name derived from the Latin word for height (Alto), and how tall is stands in metres (234), it is no big surprise that Alto234 offers some truly amazing 360-degree views over Johannesburg and its surroundings.
This is Africa's highest urban bar, and one of the most exclusive places found in South Africa. Especially to enjoy bites and drinks with a view.
Found on the 57th floor of the fabulous hotel The Leonardo, the modernly minimalist rooftop mixes interior and outdoor seating, as well as lounge suite spaces and dining areas.
Open daily for a variety of experiences, you can sip fun signature cocktails to daytime views during the 'Afternoon Experience', or enjoy something from the Moët Mini Machine and some luxury tapas to a glittering display during the 'Night Light Experience'. For a mix of both, there is also a 'Sunset Experience'.
ALTO234
75 Maude St, Sandown, Sandton, 2031
2.

16th by KOI

/ Pretoria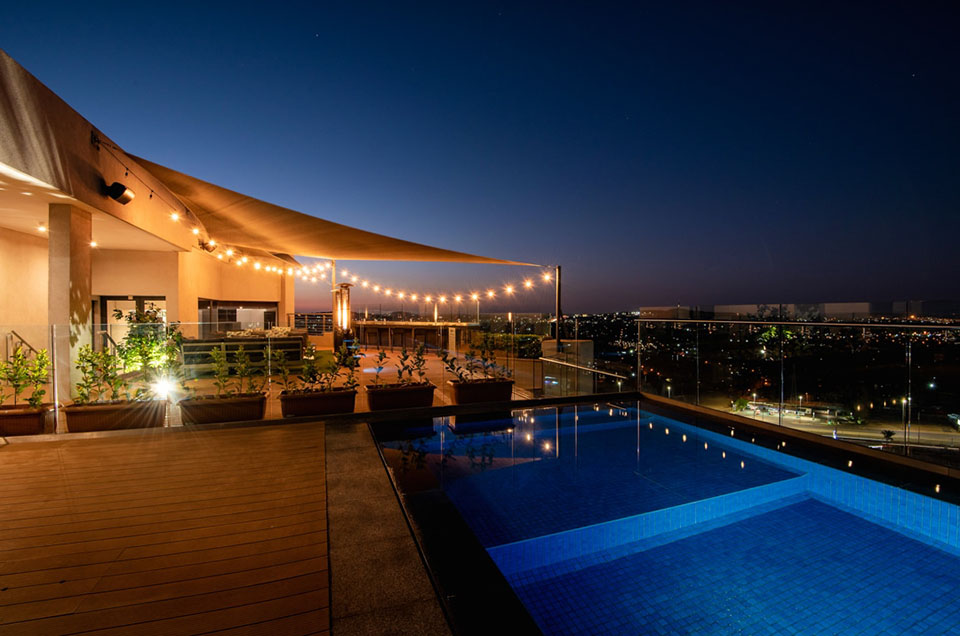 16th by KOI - Photo: www.koirest.co.za/
Perched on the 16th floor of the modern hotel The Capital Menlyn Maine Trilogy, just a few steps from Menlyn Maine Central Square and Time Square Entertainment Centre, 16th by KOI is an exclusive rooftop restaurant and bar, and the highest rooftop venue in Pretoria.
Set next to the hotel's rooftop pool, 16th by KOI blends sleek interior seating with a charming outdoor terrace, surrounded with uninterrupted and panoramic views over Pretoria.
In an intimate and luxurious atmosphere, here you indulge in Asian-inspired sharing plates and charcoal fired speciality dishes, complemented with handpicked wines, crafted cocktails and premium spirits.
A fantastic option for memorable and elevated experiences, be that a sunny lunch or a special night out, 16th by KOI is also an ideal spot to take your next private function to new heights.
16TH BY KOI
Menlyn Maine Residences, 202 Amarand Ave, Waterkloof Glen, Pretoria
3.

The Siloo Rooftop Bar

/ Cape Town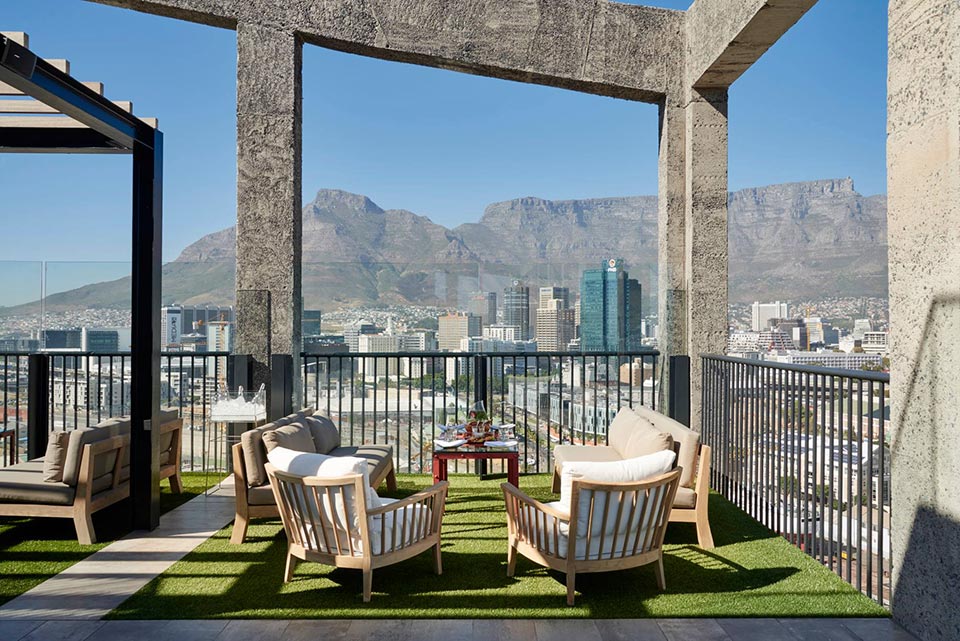 The Siloo Rooftop Bar - Photo: www.theroyalportfolio.com
Located on top of the luxurious The Silo Hotel, Silo Rooftop Bar offers some of the best waterfront views of Cape Town, as well as one of the best bar services in town.
Up here, you can find a fantastic infinity pool that blends spectacularly with the bar's awe-worthy brutalist style and gives visitors the perfect place to relax and have fun during South Africa's hot summers.
Open daily, weather allowing, The Silo Rooftop Bar serves fresh Oysters, pulled pork sandwiches, healthy snacks, and even features a tempura bar. Drink wise, expect to find premium spirits, fantastic signature cocktails, and a long list of South African wines, making it an ideal destination for group gatherings and afternoon drinks.
While the rooftop pool is open only to hotel guests, the rooftop bar is available to all; however, reservations are a must, so make sure to give The Silo a call before visiting.
SILO ROOFTOP BAR
Silo Square, V&A Waterfront, Cape Town,
4.

Living Room

/ Johannesburg
Living Room - Photo: www.livingroomjozi.co.za
With a name such as Living Room, it's clear that this locale holds no grandiose aspirations, and yet, it manages to deliver some of the best experiences in Johannesburg.
Featuring large tables and even larger lounge areas, the main goal of the Living Room is socialization, a goal achieved by inviting people to interact not only with their friends, but also with the stranger sitting right next to you.
That, coupled with the bar's lush greenery, eco-friendly business model, and cozy atmosphere, makes Living Room one of Johannesburg's most laid-back rooftop venues.
This relaxed attitude doesn't mean Living Room isn't exclusive on its own; in fact, this rooftop venue is open exclusively for private events from Monday to Tuesday, opening to the public only from Wednesday to Friday.
Saturdays and Sundays are reserved for 'Super Cool Saturday' and 'Sundays in the Living Room', respectively, both reservation-only events.
Food and drink-wise, living Room features gourmet tapas, salad bowls, and a variety of vegetarian options, as well as specialty cocktails, homemade mocktails, and more traditional drinks, including South-African wines and world spirits.
LIVING ROOM
5th Floor, Main Change Building, 20 Kruger Street, Maboneng, Johannesburg
5.

Baptiste Rooftop

/ Cape Town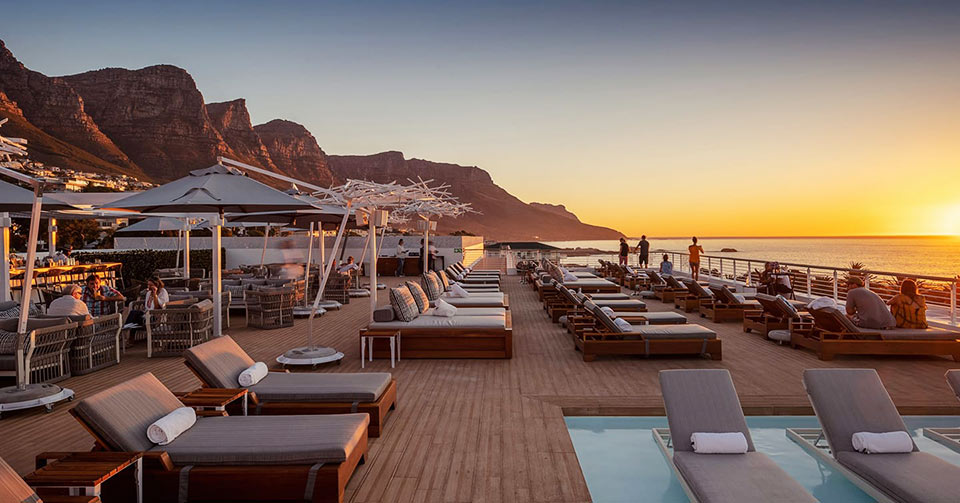 Baptiste Rooftop - Photo: https://baptisterooftop.co.za
A phenomenal and exclusive rooftop bar located in Camps Bay, Baptiste Rooftop is known for its jaw-dropping views, gorgeous infinity pool, relaxing ambiance, and dedicated staff.
This rooftop venue boasts some of the best ocean and mountain views in the entire city, as well as one of the most unique spots for sunbathing, turning a visit to this rooftop bar into an experience worth having.
Up here you can enjoy delicious cocktails, premium world spirits, and a small but tasty snack menu that pairs wonderfully with the bar's signature drinks. It's location on top of the Marly Boutique Hotel & Spa also ensures exclusivity, and quality, making it a fantastic choice for those looking to drink in style.
If you're walking down the picturesque Camps Bay strip in your next visit to Cape Town, a quick trip to Baptiste Rooftop is a must.
BAPTISTE ROOFTOP
The Promenade, 201 Victoria Rd, Camps Bay, Cape Town
6.

The Lighthouse Bar

/ Umhlanga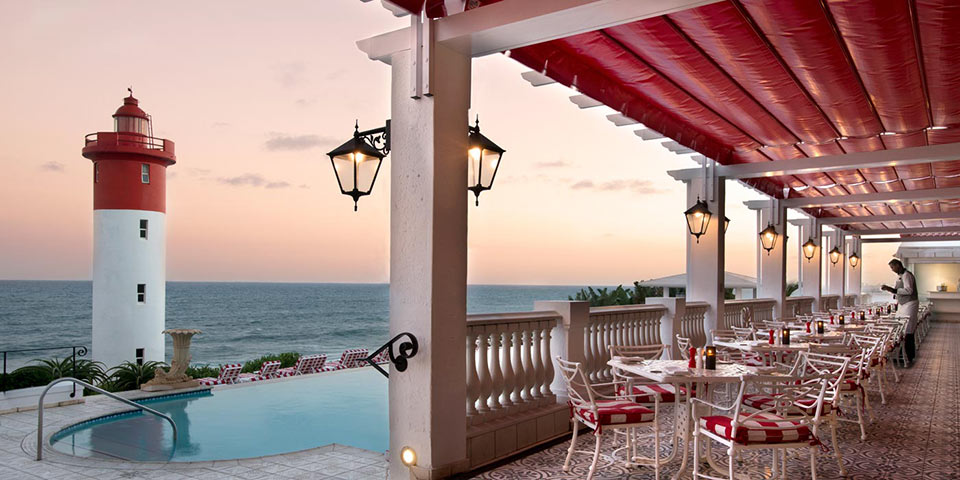 The Lighthouse Bar - Photo: www.oysterboxhotel.com
The Lighthouse Bar is part of The Oyster Box Hotel, a fantastic and luxurious resort, that actually holds three different bars: The Oyster Bar, the Lighthouse Bar, and Chukka Bar, all offering incredible views, spectacular interiors, and mouthwatering drinks.
Located in the heart of Umhlanga, just north of Durban, Lighthouse Bar is the crowning jewel of the hotel. With a bold red and white color scheme, an enormous rooftop pool, jaw-dropping views of the ocean, and a delicious food menu that features anything from breakfast to dinner.
Unsurprisingly, this makes the Lighthouse Bar one of the hottest spots in Umhlanga, making reservations a must if you want to score a table by the ocean.
While this magnificent terrace is open year-round and has something for everyone, it's particularly popular amongst sports fans during game nights, so if you're a soccer, cricket, or rugby fan, this is the perfect locale for you.
THE LIGHTHOUSE BAR
2 Lighthouse Road, Umhlanga Rocks, 4320 Durban
7.

Mountain Club Rooftop Bistro at Cloud 9

/ Cape Town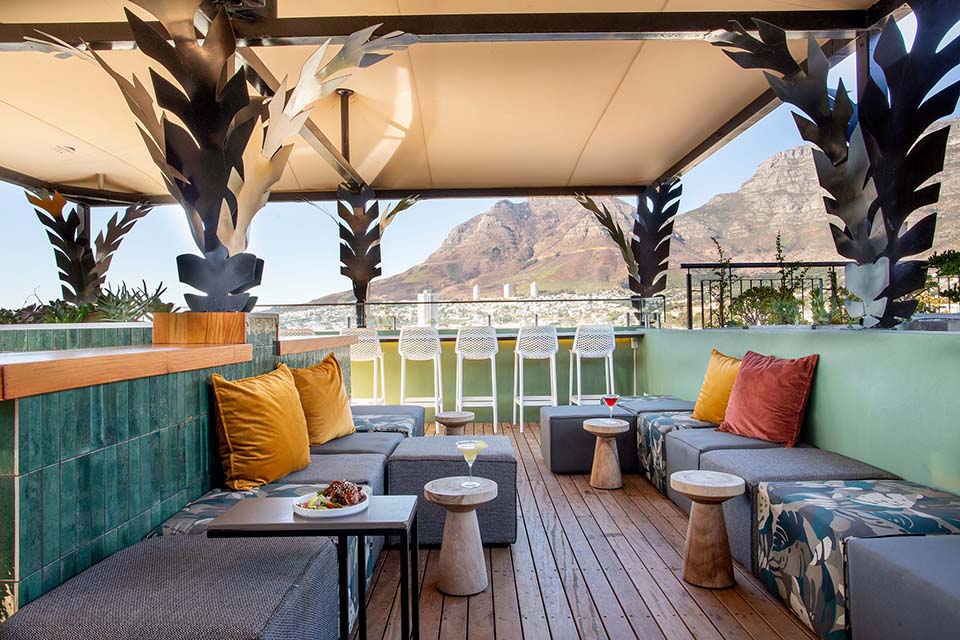 Mountain Club Rooftop Bistro at Cloud 9 - Photo: www.oysterboxhotel.com
Located on the aptly named Cloud 9 Boutique Hotel & Spa, the Mountain Club Rooftop Bistro is the perfect destination for those looking for a place to relax and enjoy great drinks.
This charming rooftop bar offers stunning 360-degree vistas of Cape Town, the Table Mountain, Lion's head, and the Atlantic Ocean. It also features a casual, laid-back atmosphere with comfortable lounge sofas, sun loungers, bar tables, and a crystal clear rooftop pool.
Set over two levels, the Mountain Club Rooftop Bistro is far from Cape Town's largest venue, but that only adds to the appeal, ensuring a visit to either of the bar's rooftop terraces will be a quiet and peaceful affair.
Mountain Club Rooftop Bistro comes equipped with a solid, retractable rooftop, outdoor gas heaters, and a small indoor lounge, which allows it to operate year-long, no matter how hot or how cold the day.
The bar's drinks reflect this versatility, with a large set of signature cocktails and an even more varied menu of South African wines, beers, and ciders. You can also find a small, yet filling, food menu, featuring tapas, sushi, and desserts.
MOUNTAIN CLUB ROOFTOP BISTRO
12 Kloof Nek Road, Tamboerskloof, Gardens, 8000 Cape Town
8.

San Deck, Bar & Restaurant

/ Johannesburg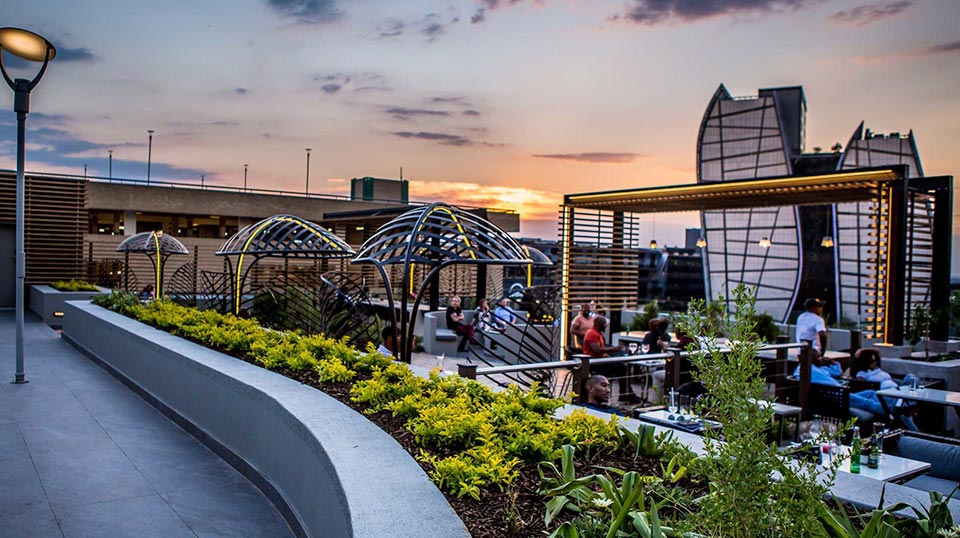 San Deck, Bar & Restaurant - Photo: www.tsogosun.com
Also known as SanDeck Rooftop, this all-day dining and drinking rooftop spot offers awe-worthy views, fresh drinks, and delicious food.
This large rooftop venue, located on the 6th floor of the five stars Sandton Sun Hotel, features both indoor and outdoor seating, a large al-fresco wooden terrace, comfortable lounge furniture, and tasteful, modern decorations that make a visit to this area a real pleasure.
SanDeck's location in Sandton, Johannesburg's business area of the city, makes it an excellent choice for after-work drinks and even an informal business meeting, which means reservations are encouraged, despite the venue's generous opening hours.
This stunning rooftop venue offers breakfast, lunch, and dinner, featuring a fresh take on traditional South African flavors, with a dash of international meals. You can also find a wide selection of South African beer, wines, and spirits alongside liquors from all over the world.
Modern and stylish, SanDeck provides a versatile experience, with a relaxed atmosphere during the late morning and most of the day, and a more vibrant party-like atmosphere come nighttime.
Live DJ shows are typical during the weekends, and while reservations aren't necessary to visit this rooftop locale, we still suggest you arrive early to be able to score the best seats in the house.
SAN DECK, BAR & RESTAURANT
Corner Fifth and Alice Streets Sandton Sun, Sandton