The city of Austin offers a unique blend of vibrant culture, live music and a thriving culinary scene for a perfect getaway. However, the collection of luxurious Austin rooftop pools truly sets this Texan city apart, elevating the idea of relaxation to new heights.
Whether you are a traveller seeking respite or a local looking for sun-kissed relaxation, the Austin rooftop pools promise a refreshing escape from the ordinary.
In this article, we explore the most exquisite rooftop pools in Austin, each offering its own distinct ambience and awe-inspiring views.
Here's our guide to the 9 best rooftop pools Austin
1.

The Westin Austin Downtown
Rooftop pool Austin at The Westin Austin Downtown | Photo: www.marriott.com/
Nestled amidst the bustling urban landscape, the Westin Austin Downtown boasts a rooftop pool that offers a serene oasis above the city streets. With its modern design and luxurious amenities, this rooftop pool provides an ideal respite for travellers and locals.
The top floor is known as Azul Rooftop, where you can unveil the city's splendour from the comfort of private cabanas, surrounded by the flickering allure of fire pits that paint the night with warmth.
The pool's strategic location provides sweeping views of Austin's skyline, creating a calming atmosphere perfect for relaxation. Whether lounging by the poolside with a cocktail or taking a refreshing dip in the water, the Westin's rooftop is a true urban escape.
As the sun dips beyond the horizon, Azul Rooftop truly comes alive, the paramount outdoor sanctuary - a testament to its unrelenting excellence.
The 20th floor pool is free for hotel guests, but if you are not staying at The Westin and still want to experience Azul Rooftop Pool, you can reserve a Resort Pass for daytime access.
2.

The Otis Hotel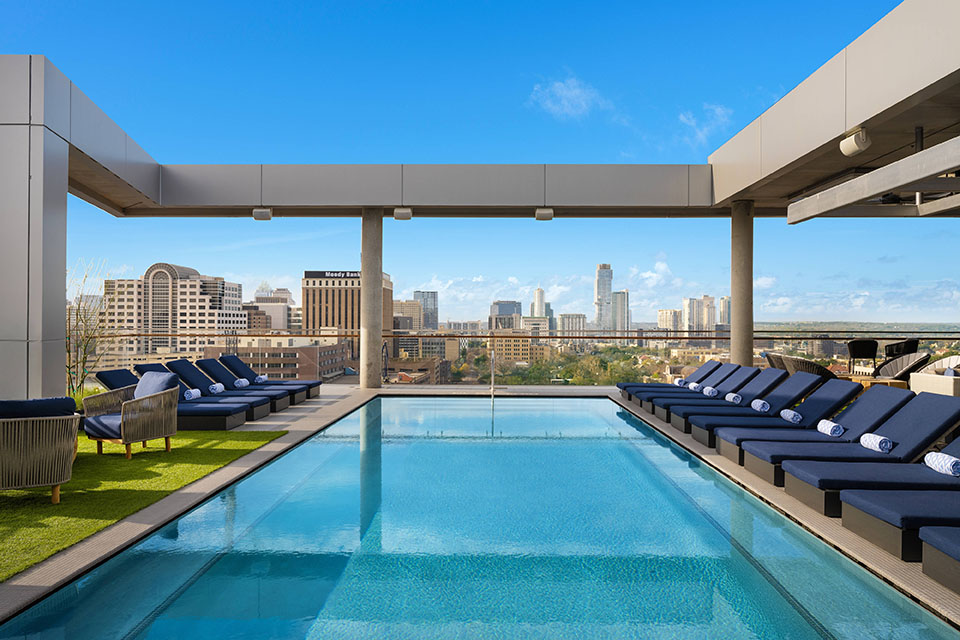 Rooftop pool Austin at The Otis Hotel | Photo: www.marriott.com/
Atop the Otis Hotel, Austin's skyline becomes a breathtaking backdrop for an exceptional rooftop pool experience. This Autograph Collection gem combines luxury and comfort, inviting guests to unwind in style.
The pool's design seamlessly blends with the surrounding urban aesthetics, creating an inviting and sophisticated ambience. As the sun sets over the city, the rooftop pool transforms into a tranquil haven illuminated by the city lights.
Known as Otopia, the rooftop pool and lounge indeed redefines leisure. You can experience the enchantment of basking in the sun's warm embrace as day turns to dusk at Otopia rooftop poolside.
Treat yourself to swims under the Texan sun during the day, and in evenings, enjoy a symphony of sophisticated cocktails and delectable light bites as you surrender to the marvel at the panoramic tapestry of Austin's skyline while perched atop this Campus District's exclusive oasis.
Adress: 1901 San Antonio St Unit 1100, Austin, TX 78705
Availability: Guests at the hotel / Resort Pass
3.

Austin Proper Hotel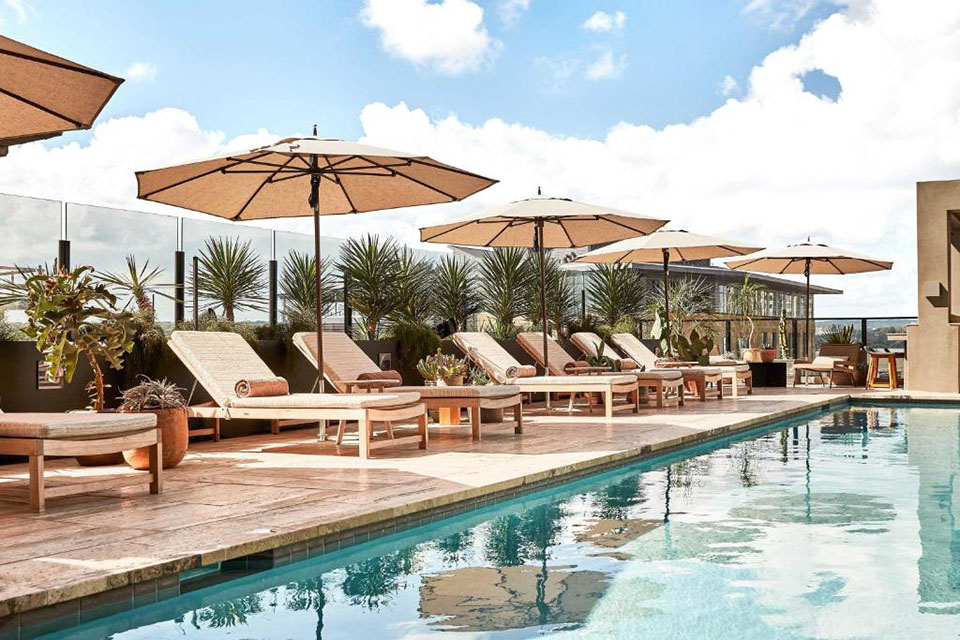 Rooftop pool Austin at Austin Proper Hotel | Photo: www.properhotel.com/
The Austin Proper Hotel takes rooftop pool experiences to a whole new level. With its sleek and modern design, this rooftop pool is a testament to the city's contemporary flair.
Located in the heart of downtown Austin, the pool offers a respite from the city's energy while still keeping you in the midst of it all.
As you lounge by the pool or take a refreshing swim, you'll be treated to panoramic views that stretch across Austin's skyline. It's a perfect blend of sophistication and relaxation that defines Austin Proper.
An exquisite tableau unfolds before you as the sun paints the sky with soothing hues during its descent. The glistening pool, luxurious loungers and its accompanying outdoor bar are sophisticated yet inviting perches, beckoning you to lose track of time.
From the adjacent La Piscina you can order an array of Texas-inspired Mexican cuisine, as well as a nice selection of frozen margaritas, signature cocktails, native Mexican spirits, small-batch tequila & mezcal, Mexican brews and refreshing wines.
4.

Austin Marriott Downtown
Rooftop pool Austin at Austin Marriott Downtown | Photo: www.marriott.com/
Found near Lady Bird Lake, the Austin Marriott Downtown is a chic urban retreat, offering a luxury rooftop experience, with both pool and rooftop bar.
Seven stories up and a world away, here you find Zanzibar, a tropical and lush venue where you can sip craft cocktails made with a tropical twist, and indulge in flavorful and island-inspired small plates.
Next door is The Pool at Austin Marriott Downtown, a refreshing and beautiful terrace where a glittering rooftop pool is cmoplemented with amazing skyline views.
Soak up the sun in a comfortable reserved lounge chair or a premium private cabana, while indulging in bites and drinks from Zanzibar.
Adress: 304 E Cesar Chavez St Unit 700, Austin, TX 78701
Availability: Guests at the hotel / Day Pass / Cabana
5.

Hotel Van Zandt
Rooftop pool Austin at Hotel Van Zandt | Photo: www.hotelvanzandt.com/
The Hotel Van Zandt combines Austin's defining features: music and a vibrant pool scene. This rooftop pool echoes the city's musical spirit while offering a haven of tranquillity. With its stylish design and lively atmosphere, it's the perfect place to unwind and soak in the sun.
The poolside cabanas provide a touch of exclusivity, allowing you to relax in privacy while enjoying the panoramic views that stretch across Lady Bird Lake.
Bask in the glorious sun atop the rooftop pool deck, where you can indulge in seasonal delicacies from Geraldine's next door, infused with the unique essence of Austin.
There is also a rooftop bar that stands ready to amaze, offering a curated collection of craft brews and invigorating cocktails, all expertly mixed with local spirits, adding that unmistakable Austin touch.
6.

Fairmont Austin
Rooftop pool Austin at Fairmont Austin | Photo: www.fairmont.com/
As one of Austin's most iconic luxury hotels, the Fairmont Austin offers a rooftop pool experience that embodies grandeur and relaxation. Situated amidst the city's skyline, the pool provides a refreshing escape from the Texas heat.
The pool's design pays homage to Austin's natural beauty, with lush greenery surrounding the area. Whether you're swimming laps or lounging by the water, the Fairmont's rooftop pool is a sanctuary of luxury high above the city.
Perched on the 7th floor of the opulent hotel, the rooftop haven boasts an expansive pool and a bubbling whirlpool, inviting you into a year-round sanctuary of relaxation and luxurious resort vibes.
Plunge into the refreshing waters, then bask in the sun's embrace on comfortable loungers, all while treating your taste buds to a symphony of flavours from a menu featuring revitalizing summer cocktails and tantalizing Latin American culinary delights.
Adress: 101 Red River St, Austin, TX 78701
Availability: Guests at the hotel / Cabana bookings (excluding weekends)
7.

Hotel Zaza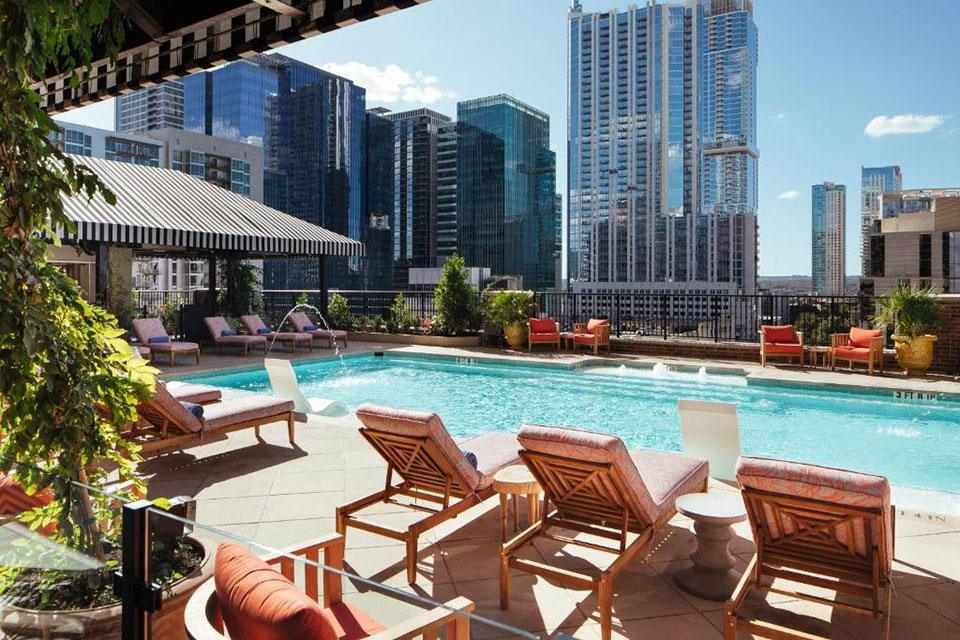 Rooftop pool Austin at Hotel Zaza | Photo: www.hotelzaza.com/
Hotel Zaza takes rooftop pool experiences to the next level, offering an equally glamorous and relaxing atmosphere.
The exclusive poolside area is a fusion of style and comfort, featuring plush loungers and cabanas. The panoramic views of the city's skyline serve as a picturesque backdrop for your relaxation.
Whether taking a leisurely swim or enjoying a cocktail under the sun, Hotel Zaza's rooftop pool offers an unparalleled escape from the everyday. It is located at 400 Lavaca Street, Austin.
8.

W Austin
Rooftop pool Austin at W Austin | Photo: www.marriott.com/
The W Hotel in Austin is synonymous with modern luxury, and its rooftop pool is no exception. With its sleek design and chic ambience, this pool area is a haven of relaxation and style.
The pool's location lets you take in the city's energy from a distance while providing a serene escape from the crowds. The rooftop pool at the W Hotel is a testament to Austin's unique blend of sophistication and laid-back charm.
Immerse yourself in luxury and leisure at the 4th floor Wet Deck, where the sun-soaked haven becomes your playground. Unveiling an exclusive opportunity, even for those not staying at the hotel. From the sun-kissed shores of the pool, a magical escape unfolds.
Adress: 200 Lavaca Street, Austin, TX 78701
Availability: Guests at the hotel / Day pass, cabana, or veranda reservation
9.

South Congress Hotel
Rooftop pool Austin at South Congress Hotel | Photo: https://southcongresshotel.com/
Tucked away in the heart of South Congress, the South Congress Hotel boats a rooftop pool that's a hidden gem above the city. This intimate pool area offers a peaceful retreat where you can unwind and take in the sights and sounds of Austin.
The pool's cosy atmosphere is complemented by the surrounding greenery, creating a sense of tranquillity that's hard to find elsewhere in the city.
Immerse yourself in a verdant haven that gazes out the bustling South Congress Ave - our rooftop pool stands as a genuine urban sanctuary. This elevated oasis offers respite whether you're seeking the caress of shade or the sun's warmth.
Indulge in delectable poolside treats and beverages thoughtfully provided by the renowned Cafe No Se.
Non-hotel guests can also access the pool with daily passes and cabana rentals during open season.
Adress: 1603 South Congress Avenue, Austin, TX 78704
Availability: Guests at the hotel / Day Passes / Cabana rentals
Final Thoughts
From luxury to sophistication to vibrant music-inspired havens, Austin's rooftop pools offer diverse experiences for those seeking a unique escape. These elevated pools allow relaxing and rejuvenation while soaking in the city's skyline and vibrant energy.
Whether you are a visitor looking to explore the city or a locale in need of a staycation, the rooftop pools of Austin are a must-visit destination that combines relaxation, luxury and breathtaking views in one unforgettable package.