The old British capital offers a wide range of experiences for locals and visitors to indulge in
The rich cultural diversity presents the best of the past and the present. While walking the streets of London, you can't help, but realize that you can never be bored while in London.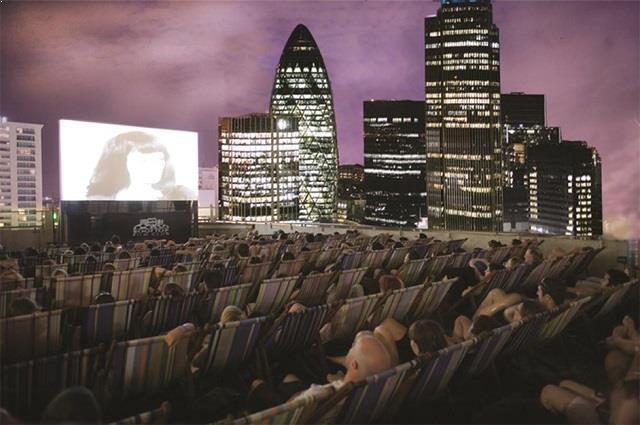 Photo: http://www.londontown.com
Considered to be an inspiration for many, London offers both a massive mainstream and underground art to be excited about. You can also find som rooftop bars in London along with a few luxurious London rooftop restaurants.
But where are the best places to crash for a nice and chill rooftop cinema night in London? We have this list. Enjoy the list of the best rooftop cinema London, here:
1. Rooftop Film Club, Stratford
The Rooftop Film Club invites you to a series of outdoor events, where you can take a few hours off to relax and enjoy a good movie. The director's chairs, warm blankets and wireless headphones bring the experience on another level. The season starts in May and continues until the very last good weather day in September.
Website: http://www.roofeast.com
2. Roof Gardens, Kensington
Kensington's Roof Gardens are a home to another series of movie screenings brought to you by the Rooftop Film Club. The bar welcomes visitors to access to the free BBQ and grab a quality drink in one of the best rooftop bars in London. The rooftop cinema experience in London here is definitely brought on another level.
Website: http://www.virginlimitededition.com/en/the-roof-gardens
3. Dalston Roof Park
The Dalston Roof Park hosts series of events, including rooftop yoga events in London. And Rooftop Cinema is certainly one of the film occasions you don't want to miss. The entrance fee is about 3 GBP. Movie events are usually held on the rooftop's main area.
To finish up the night, stop by the rooftop bar and grab a quick drink with your friends.
Website: http://www.bootstrapcompany.co.uk/community-event-spaces/dalston-roof-park
4. Peckham Rye
The Rooftop Film Club opens the doors for another rooftop venue in Peckham. The wonderful night skyline of London exposes breathtaking and picturesque landscape under the stars, while on the large screen; the movie selection varies from 80s classics to the latest Oscar nominees.
Website: http://www.peckhamryepark.org/
5. Queen of Hoxton
This boutique rooftop bar introduces to the public a combined rooftop experience, where you can both have a great time partying under the moon, while a live DJ set heats up the air, or have a laid-back movie night with your significant other or friends. The 3-level installation and the rooftop garden barbeque make the Queen of Hoxton a one of a kind experience in London.
Website: http://queenofhoxton.com/