While the traditional clothes in Singapore might not fit everyone's personal taste, people seem to find the perfect fit for both work and going out, regarding the Singapore dress code. There is not a specific dress code for Singapore rooftop bars, unless you know the dress code of the party way ahead of your visit. The same goes for the general dress code in Singapore.
The only place you dont have to think about how to dress is at any of the rooftop pools Singapore, as the dress code here is swim wear.
Casual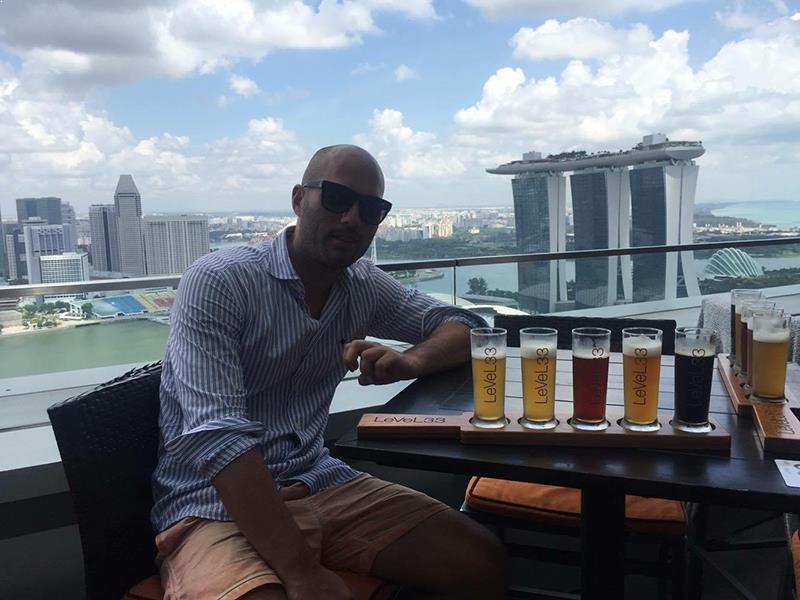 Casual dress code at LeVeL33 rooftop
Singapore's climate has a constant temperature levels. The range between 29 and 39 degrees enable people to hop in their summer clothes and gather some sun while walking the busy streets of the cities. While locals are used to the climate and are prepared for the typical temperature amplitude from 35 to 25 degrees (especially in places white heavy duty air conditioners), tourists are usually not prepared.
A casual outfit with an extra t-shirt or top in your handbag will do wonders. You will be allowed pretty much everywhere, and you will be able to quickly freshen up if you decide to spend a night out in a local rooftop bar in Singapore.
Office clothing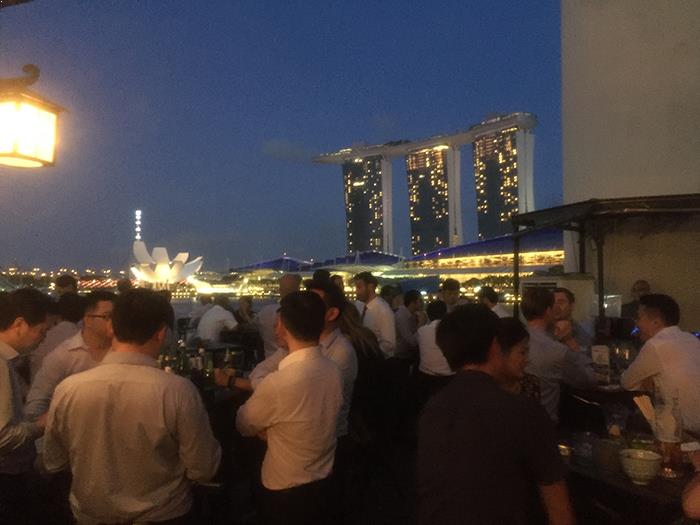 Office clothing at Kinkis Rooftop
While most young people go for the casual look, there are still people that are working in an environment where a certain look is required. In a bank, per say. So if you happen to find yourself in a situation where you need to run for a business meeting and cocktails afterwards, choose a decent, but closely located rooftop bar in Singapore and be sure to have something to freshen up with from the hot weather outside.
Essential flip-flops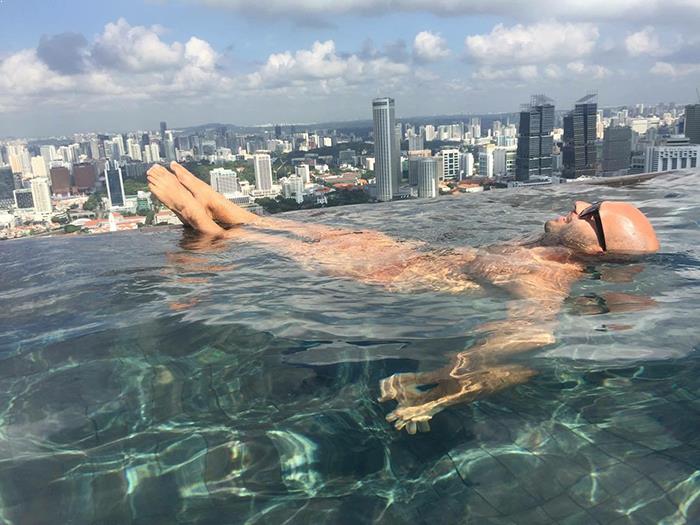 Swim shorts and flip flops at Marina Bay Sands rooftop pool
For a simple walk downtown to grab a bite or a drink, you might want to consider having a pair of comfortable flip-flops with you. As we have mentioned, the Singapore weather is very warm, so being comfortable is an added bonus. Always. So a simple pair of flip-flops might do wonders if you have spent a decent amount of time in high heels or formal clothes.
Most rooftop bars have unwritten rules for dress code for a rooftop bar in Singapore, so a casual outfit will sure get you in, but flip-flops won't. Still, there are a few places that let tourists or simply people with sports clothing indulge on some great drinks and food while spending their time in Singapore.
Formal clothing
A more formal dress code at Sky on 57
Singapore has a nightlife a lot of cities around the globe can only dream of. The endless party, the bright night lights and the loud music make the Malaysian town a dream destination for party heads and rock and rollers at heart. While visiting Singapore, prepare a fancy and sparkly outfit, as you might want to experience an unforgettable, glamorous and fun night out with your friends.
Be sure to check our guide for rooftop bars in Singapore and make sure you do a reservation before arriving, as most hip and modern places are hard to find a table, especially during weekends.