Having found yourself in Thai's capital and biggest city – Bangkok? Well, congratulations! This buzzing metropolis is one of the very best rooftop-cities in the world, so there is a lot of sky-high places for you to explore and experience.
While Bangkok overall is still an affordable destination, the rooftop bars are often the most luxurious venues, and prices are more towards what you expect in 'western' cities. But we have good news for you. There are also plenty of very affordable and absolutely fantastic cheap bars in Bangkok where you can enjoy a decent meal and spend some time over a drink or two.
Often found a bit outside the most central parts of the city, the more casual rooftop bars Bangkok can be reached with evening tuk tuk tours, making for a complete and fun night of adventures. These kind of rooftops are a great substitute for the more luxurious Bangkok rooftop restaurants.
Many of these cheap rooftop bars in Bangkok are also kid-friendly. On that note, here's a great article, if you're looking for other things to do with kids in Bangkok. But, back to the list of affordable rooftops.
1.

Legend Roof Bar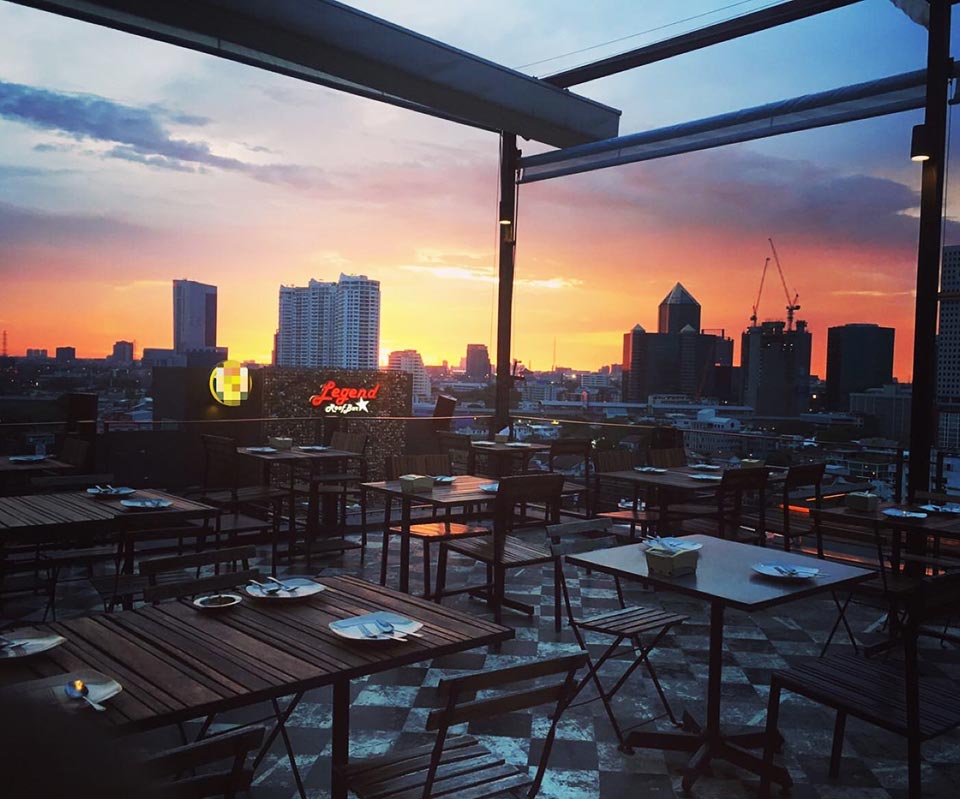 Cheap rooftop bar Bangkok - Legend | Photo: www.facebook.com/LegendBKK/
Located in the northern parts of Bangkok, Legend Roof Bar is a casual, multi-level rooftop bar with an amazing 360 view of the skyline. Frequently visited by the locals, so a perfect spot to get a more genuine experience.
Speaking of genuine, the very affordable menu at Legends Roof Bar includes a wide selection of tasty Thai food. Along with all you can wish for when it comes to beer, wine and classic cocktails.
Youthful, casual and vibrant in atmosphere, the rooftop often have live bands bringing up the ambience even more. And for the soccer-fans, weekends mean live screenings of the biggest games.
2.

Jham Jun Bar & Bistro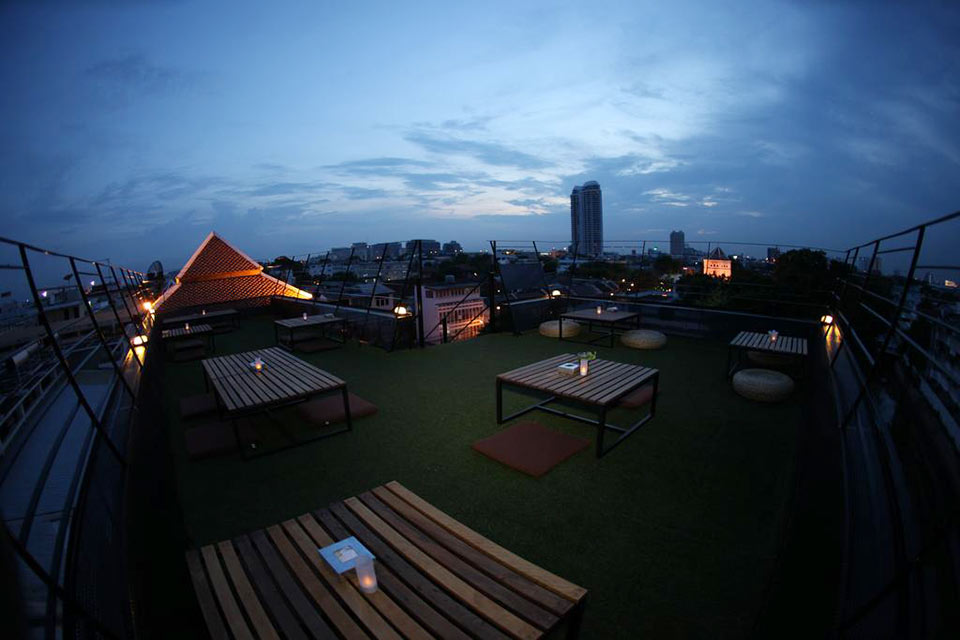 Cheap rooftop bar Bangkok - Jham Jun Bar & Bistro | Photo: http://jamhostelbangkok.com
The Jham Jun Bar & Bistro is hip, modern, cheap and cozy. Located on top of the Jam Hostel, it is in other words, a perfect cheap sky bar Bangkok.
Perched five floors up and within walking distance from Khao San Road, the rooftop terrace comes with a fake-grass lawn, comfy cushion-floor seating and cool views over the Old City rooftops and landmarks.
The traditional Thai food served from the rooftop bar is both absolutely delicious and friendly on the wallet. Complemented with generous size beers and cocktails, it is bound to keep you happy for a full night.
To reach the rooftop you have to take a really old elevator, which is an experience in itself. When you finally reach the top you can expect a local, relaxing and comfy atmosphere.
If you are a sports fan, the place often hosts a variety of events including football games, which you can watch on the large screen.
3.

Swing Bar by ChingCha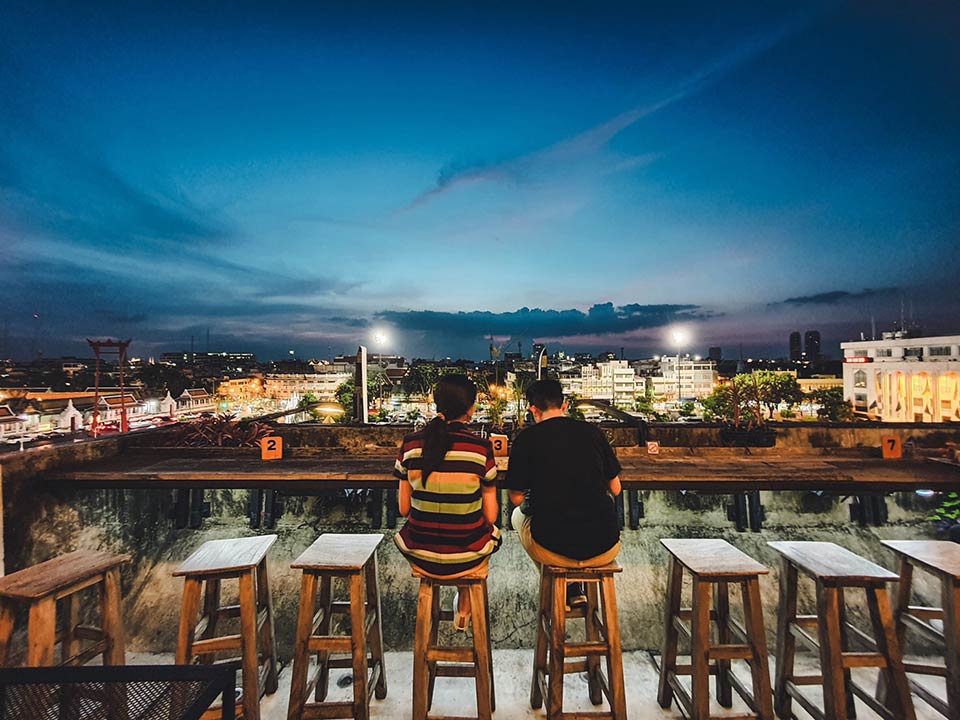 Cheap rooftop bar Bangkok - Swing Bar | Photo: https://www.chingchabangkok.com/
Located in the Bangkok Old Town district in Bangkok, Swing Bar is perched on the top and 6th floor of the lovely ChingCha Bangkok hostel.
While Ching Cha means "swing" in Thai, the rooftop bar is also named after its magnificent view over The Giant Swing. You can also enjoy panoramics over old town and the buddhist temple Wat Suthat Thepwararam, one of the hidden gems in the heritage area of Bangkok.
Open nightly, the rooftop bar serves an impressive seletion of local and international craft beer, along with signature cocktails, mocktails and a variation of Thai and International dishes.
With a charming, playful and swing-like design, along with a friendly atmopshere, Swing Bar is a fantastic and affordable Bangkok rooftop bar for some truly relaxing drinks and bites.
4.

Heaven Rooftop Bar & Lounge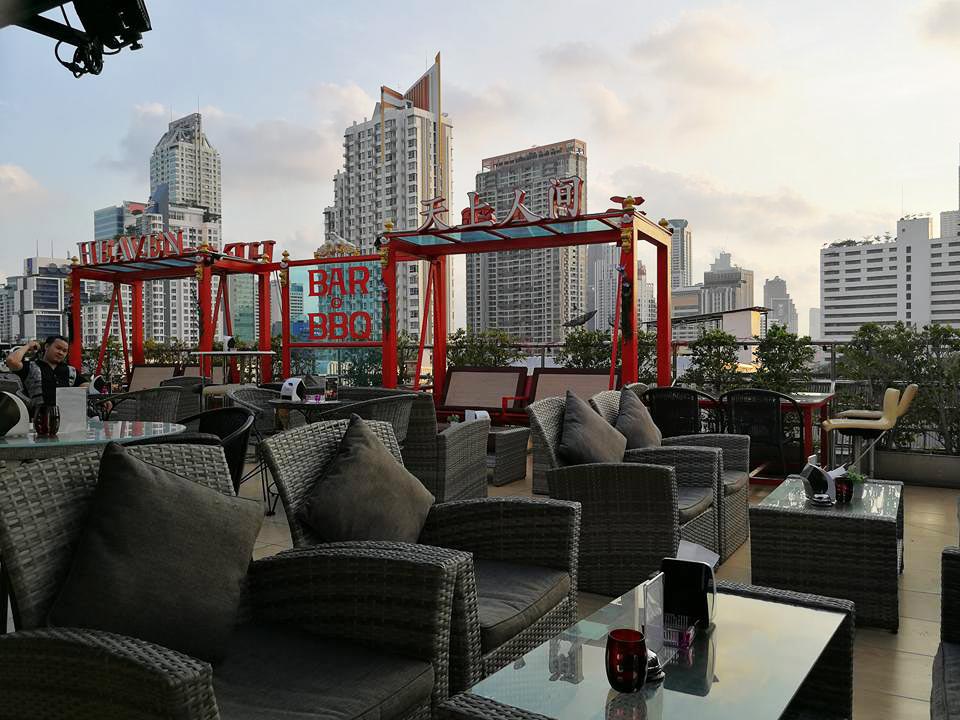 Cheap rooftop bar Bangkok - Heaven | Photo: https://www.chingchabangkok.com/
With both a 7th floor lounge and an 8th floor rooftop terrace and bar, Heaven Rooftop Bar & Lounge is a spacious hidden gem in the heart of Bangkok. Found on Silom Road, the rooftop also goes by the name Heaven Rooftop Bar Silom.
Offering cool views over the city skyscrapers, the most unique feature in terms of vistas is that this rooftop is one of the best places to gaze at the impressive King Power Mahanakhon building.
With beer starting at 120 baht and cocktails starting at 200 baht, Heaven Rooftop Bar & Lounge is very much an affordable rooftop with great vibes. Here you can sip drinks to the beat of live music daily, or maybe try something from the selection of local Thai Food.