Saigon, or Ho Chi Minh, is a city very well suited for rooftop activities. Sky-high buidlings and a pleasant climate, and here you can find many of the top rooftops in Asia. Both bars and restaurants.
The rooftop restaurants in Saigon are open all year round and come in a great variety. You can find terraces with upscale dining, steakhouses and more relaxed and casual venues.
Check our list of the 5 best rooftop restaurants in Saigon here. Made by the world's leading experts on rooftops.
1.

Mad Cow Wine & Grill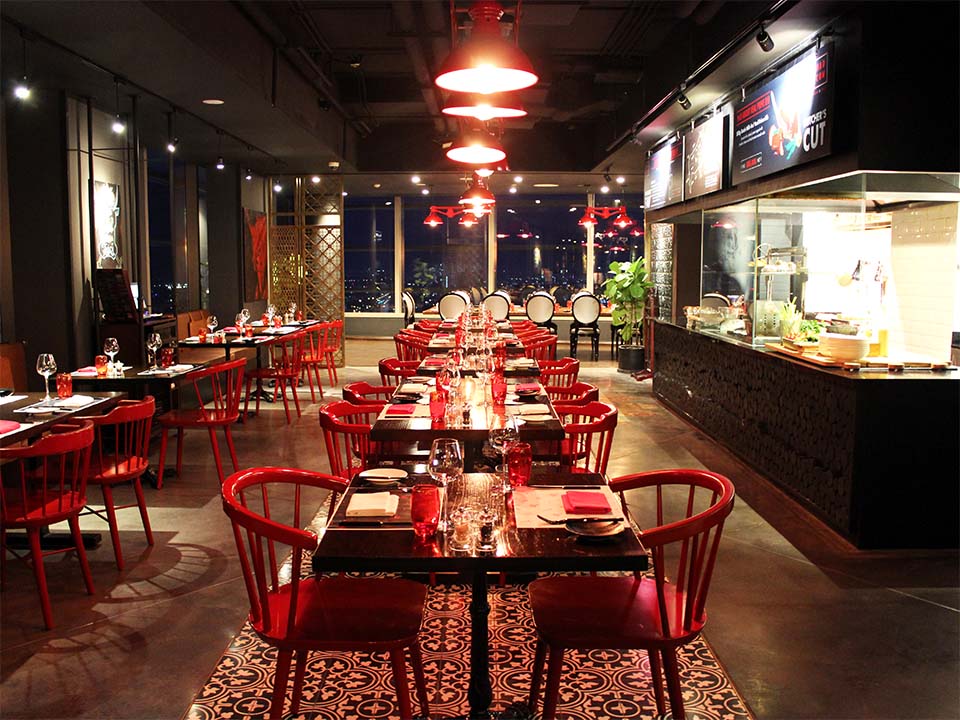 Mad Cow Wine & Grill | Photocredit: www.pullman-saigon-centre.com/
Perched high above Ho Chi Minh City, on the 30th floor of the award-winning Pullman Saigon Centre, Mad Cow Wine & Grill combines the best of an edgy grill with a casual urban wine bar.
Industrial-chic and modern in decoration, the spacious venue features an impressive bar, as well as plenty of dining tables. All surrounded with amazing views over Saigon's beautiful skyline.
'Serious about food and mad about wine', the Mad Cow menu features meat from some of Australia's finest beef producers, prepared to flavorful perfection on the handmade charcoal grill. Aside from grilled delights, there is also delicious tapas, sourced locally and created fresh daily.
Drink-wise, the love of wine is highly noticeable, featuring hand-picked favorites from around the world, with more than 50 labels to choose from. But there is also an impressive selection of crafted signature and classic cocktails.
Filled with a stylish yet laid-back atmosphere, Mad Cow Wine & Grill is a prime spot for elevated and tasty evenings in Ho Chi Minh City. And while the restaurant is all interior, the seekers of alfresco fun can just head to the Rooftop Bar one floor above, for pre- or post dinner drinks with amazing views.
MAD COW WINE & GRILL
148 Tran Hung Dao, District 1, Ho Chi Minh City
Daily: Dinner
Grill / Tapas
2.

Shri Restaurant & Lounge
Shri Restaurant & Lounge | Photocredit: www.shri.vn
Located on the Centec Tower, right where District 1 and 3 meet, stands the Shri Restaurant & Lounge.
Up here, you can find a multi-concept place that boasts a dining room, a bar, a whiskey library, a lounge, a glasshouse, and a fantastic rooftop terrace, all with stunning views of the Saigon's skyline.
The terrace, full of lush furniture and comfortable seating, even comes with a mini-river, giving it an authentic rooftop oasis feel.
The rooftop bar is a perfect place to visit for all kinds of occasions, thanks to its laid-back atmosphere, fantastically crafted cocktails, extensive wine menu, and lounge vibes.
The restaurant is the perfect place for a lunch under the sun, as well as fine dining showcasing Vietnamese cuisine.
Though each area offers something different, the entire rooftop has a sophisticated yet fun atmosphere that you're sure to love, as live music and entertainment draw entertaining crowds and visitors.
SHRI RESTAURANT & LOUNGE
72 Nguyễn Thị Minh Khai, 6, 3, Hồ Chí Minh
Daily: Lunch (only weekdays) / Dinner
À la carte
3.

M Bar at Hotel Majestic Saigon
M Bar at Hotel Majestic Saigon | Photocredit: www.majesticsaigon.com
M Bar is located on top of the classic and luxurious Hotel Majestic Saigon, a colonial-style landmark built in 1925. Situated right by the Saigon River, close to the Bach Dang Harbor Garden, M Bar is a fantastic rooftop restaurant in Saigon if you like river views and a cozy time with friends and family.
While the M rooftop bar, just as the hotel, is a classic place, it was refurbished during 2018 and now offers a new setting and a new decor. A perfect place for a rooftop dinner or just some evening cocktails starting from 4pm every day of the week.
The large rooftop terrace has both dining tables and bar stool seats all around the edge, perfect for taking in the panoramic views.
Complemented with a very stylish indoor lounge, you can visit M Bar for sunset cocktails, a romantic dinner or just to enjoy some live entertainment, including Philippinos and Flamenco bands. All in a sophisticated and harmonious atmosphere.
Worth noting is that M Bar is not the only rooftop at Majestic Saigon, on the 5th floor you also find Breeze Sky Bar, which is open 24/7 and works more as a bar than a restaurant.
M BAR AT MAJESTIC HOTEL
1 Đồng Khởi, Bến Nghé, Hồ Chí Minh
Daily: Dinner
A la carte
4.

Saigon Saigon Rooftop Bar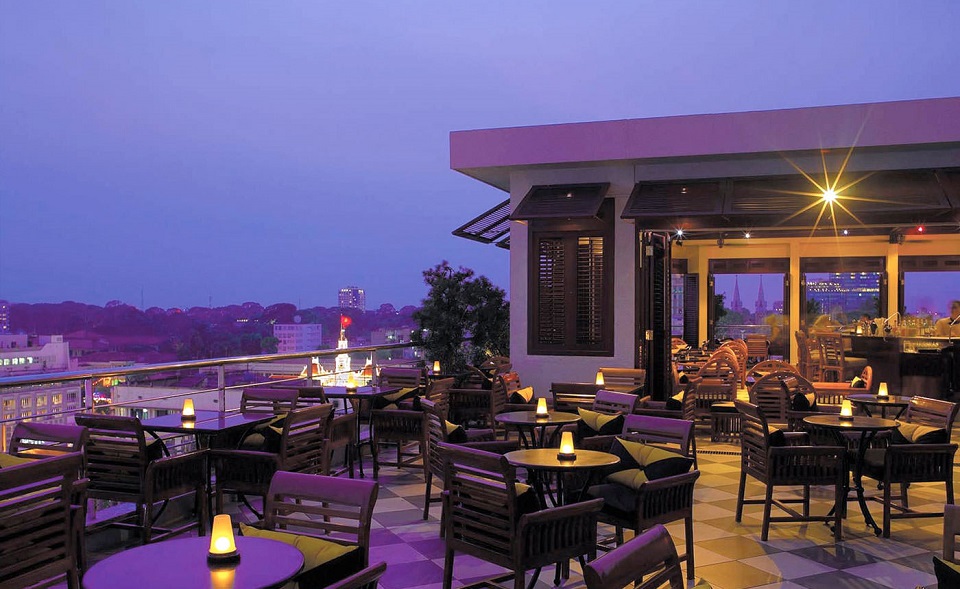 Saigon Saigon Rooftop Bar | Photocredit: www.caravellehotel.com
This Ho Chi Minh rooftop par is located on the 10th floor of the fabulous Hotel Caravelle, right in front of the Opera House.
The entire area is soaked in history, as many American reporters used to live here during the Vietnam War and spent plenty of time on this very rooftop.
The construction itself is simple, with an old-style rustic decor, sizeable wooden chair, and tables placed on the main terrace and private balconies surrounding the inside bar.
Up here, you'll be able to enjoy spectacular views of the city –including first row seats of the Opera House–, and genuinely amazing sunsets.
The bar offers an extensive drinking menu, with its very own signature beer, called Caravelle Terrace Draft, and several signature cocktails, all referencing the city's history and traditions.
Not all about drinks, Saigon Saigon also has a very tasty food menu, which features sharing plates, Wagyu Beef Burger, grilled eggplant, and much more.
The atmosphere is relaxed and sophisticated, with a professional and friendly staff, as well as live music shows and a lot of history.
No visit to the city could be complete without dropping by this fantastic rooftop venue.
SAIGON SAIGON ROOFTOP BAR
Caravelle Saigon, 19-23 Lam Son Square, District 1, Ho Chi Minh City
Daily: Lunch / Dinner
Sharing platters & sliders
5.

The Rooftop BBQ
The Rooftop BBQ | Photocredit: The Rooftop BBQ
Rooftop BBQ is a fantastic restaurant inspired by the tireless Saigonese life.
This American-style barbecue restaurant features great food and great beer, making it a fantastic choice for entire families or groups of friends.
The Rooftop offers pen space spots, lush greenery, glass walls, and steel beams to creat and almost greenhouse-like scenario, a detail that adds a touch of casualness to the entire affair.
While there are other food and drink options, the restaurant's delicious imported drinks and artisanal beers take the cake and are one of the main reasons The Rooftop BBQ is so loved amongst office workers and young crowds alike.
The other reason? It's location, as it's smack in the middle of the business district, making it a fantastic choice for a quick yet relaxing lunch or a laid-back business meeting.
The Rooftop BBQ's goal is simple and without pretenses: They want to provide fantastic service, great views, a relaxing atmosphere, and the best steaks and beer the city has to offer.
THE ROOFTOP BBQ
Mplaza, 39 Le Duan St, Dist 1, Ho Chi Minh City, Vietnam, Ho Chi Minh City, Vietnam 700000
Daily: Dinner
Vietnamese