Malaga is a popular city in the southern parts of Spain. Located on the sunshine coast, which makes Malaga a great city for open-air rooftop restaurants.
Most rooftop venues in Malaga are open all year round, which is great news for anyone visiting. And while most elevated venues with views are more bars with focus on drinks, there are a few places to dine with a view as well.
We've made a list of the 4 best rooftop restaurants in Malaga for you to enjoy. A list made by the world's leading experts on rooftop bars.
1.

AC Hotel Malaga Palacio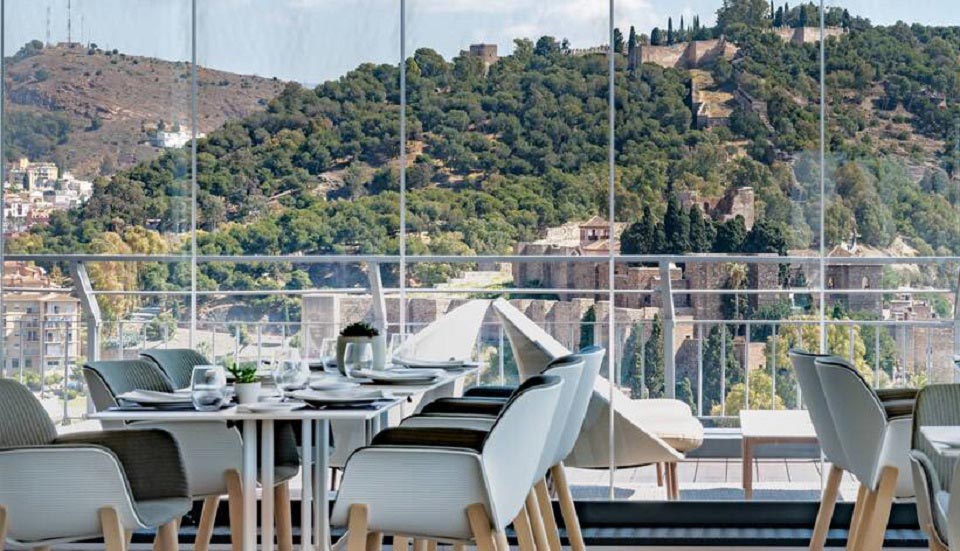 AC Hotel Malaga Palacio | Photocredit: www.marriott.com
This rooftop restaurant, called Ático Bar & Restaurant, is one of the oldest in the city, as well as one of the most luxurious.
Located on top of the AC Hotel Malaga Palacio, Ático offers stunning views of the city and the Mediterranean Sea.
With both indoor and outdoor seating options, long opening hours, delicious drinks, and Mediterranean-inspired food with a modern twist, Ático is the perfect location to start, or finish, a visit to the city.
Áticos rooftop bar is nothing to scoff at either. Handcrafted cocktails, delicious wines, and European beers are readily available.
The rooftop also has a fantastic pool, and while it is open only to guests of the hotel, it still adds to the terrace being a fantastic spot to chill out after a busy day exploring the city.
Occasionally, you'll be able to enjoy live music and flamenco shows, though those nights are always crowded, so reservations are a must.
If you're thinking about dining at Ático, call beforehand to ensure availability, as the venue can be rented for private events.
AC HOTEL MALAGA PALACIO
Calle Cortina del Muelle, 1, 29015 Málaga
Daily: Lunch / Dinner
Mediterranean
2.

Salles Hotel Malaga Centro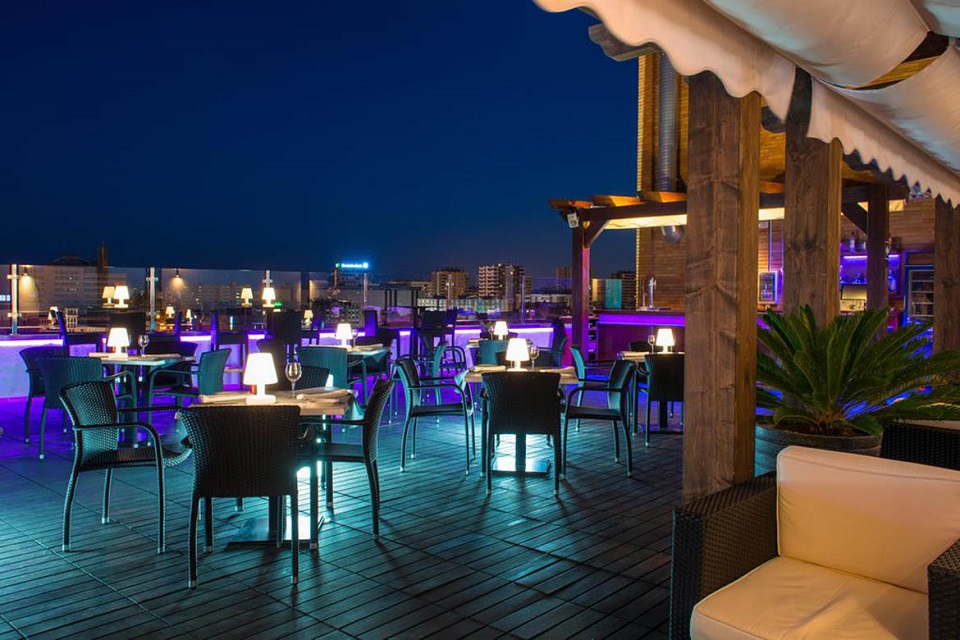 Salles Hotel Malaga Centro | Photocredit: www.hotelmalagacentro.com
The lovely rooftop terrace on top of the Salles Hotel is home to the Picasso Restaurant & Bar, one of Malaga's favorite musical destinations.
Known mainly for its beautiful rooftop pool and the numerous musical events celebrated on the premises, Picasso Restaurant & Bar offers panoramic views of the city, as well as Mediterranean lunches and dinners, all with a seasonal touch.
While the rooftop is open to the public, particularly during concerts, the pool is guest-only, so if you want to take a dip, make a reservation at the hotel.
If the chance to swim in one of Malaga's coolest pools isn't enough to convince you, keep in mind that hotel guests can attend all concerts for free.
SALLES HOTEL MALAGA CENTRO
Calle Mármoles, 6, 29007 Málaga
Daily for lunch / Dinner on weekends
Mediterranean
3.

Parador de Gibralfaro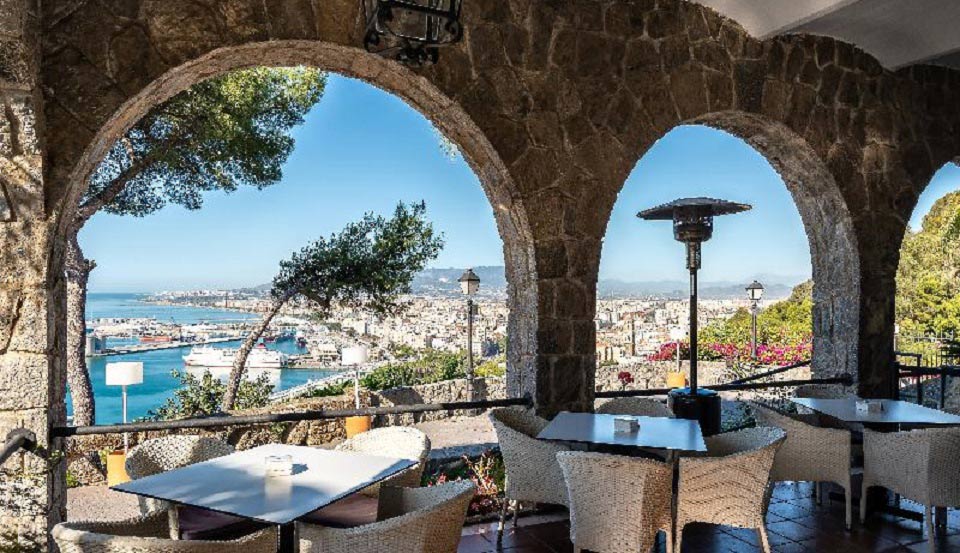 Parador de Gibralfaro | Photocredit: www.parador.es
Located on Mount Gibralfaro, just a few minutes outside of the city proper, the Parador is located only on a second floor. However, it still offers breathtaking views of the ocean and the city's skyline.
Offering traditional Spanish and Mediterranean dishes, including both some great fish and and some great meat optionsan, the rooftop also offers an extensive wine list, classic cocktails, and live music.
Parador is truly a fantastic rooftop restaurant for people looking for a classy venue, or for couples looking to impress.
Reservations are encouraged, as is dressing to impress.
PARADOR DE GIBRALFARO
Castillo de Gibralfaro, s/n, 29016 Málaga
Daily: Lunch/ Dinner
Spanish / Mediterranean
4.

The Top at Hotel Molina Lario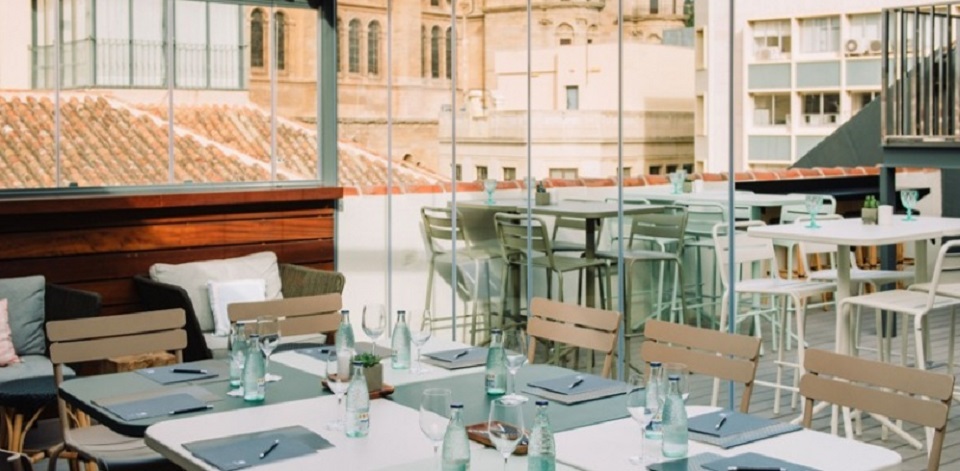 The Top at Hotel Molina Lario | Photocredit: www.hotelmolinalario.com
Considered one of the best terraces in the entire city, this restaurant is split into two areas; one on the 6th floor, which focuses on dining, and another on the 8th floor, which focuses on winning.
Both terraces offer stunning views of the city, the surrounding mountains, the Cathedral, and the Mediterranean sea.
Open year-round, The Top is widely regarded as one of Malaga's most popular restaurant-bars, so reservations are encouraged, both during weekdays and weekends.
In the restaurant you can enjoy creative and well-made Spanish and local dishes. And if visiting the bar, make sure to order one of The Top's signature cocktails, as they're are also as delicious as they're creative.
HOTEL MOLINA LARIO
Hotel Molina Lario, Calle Molina Lario, 20, 29015 Málaga
Wed - Sun: Dinner
Tapas and grill