One of the biggest countries in the world, and China is also the country with most inhabitants. Over 1,2 billion persons live here. The large amount of big cities with lots of skyscrapers make China a great place for rooftop bars.
Many of the best rooftop bars in China can be found in the most famous cities like Shanghai, Hong Kong and Beijing. The tall and iconic skylines help to make some of the China rooftops among the best in the world.
Here's our list of the best rooftop bars in China, made by rooftop experts from The Rooftop Guide. Enjoy!
8.

River Terrace at Regent Chongqing Hotel

/ Chongqing
River Terrace at Regent Chongqing Hotel - Photo: www.regenthotels.com
River Terrace at the Regent Chongquing Hotel is the perfect spot for a business drink or a social occasion with friends. Unwind with a glass of champagne, watching the sunset over Chongquing.
The premium rooftop space welcomes guests in a modern and jazzy environment, having the best alfresco decor - a jaw-breaking view of the city's urban skyline, Jialing River and Yuzhong.
Regent Chongqing is located atop the Jiangbeizui financial center, in the new bustling business district of Chogquing. Between the Jialing and Yangtze rivers, the rooftop bar is only 30 minutes away from the Chongqing Jiangbei International Airport and a 10-minute drive away from the Guanyinqiao centre.
RIVER TERRACE AT REGENT CHONGQING HOTEL
Chongqing Shi, Jiangbei, 金沙门路66号 邮政编码: 400021
7.

Eden Garden

/ Shenzhen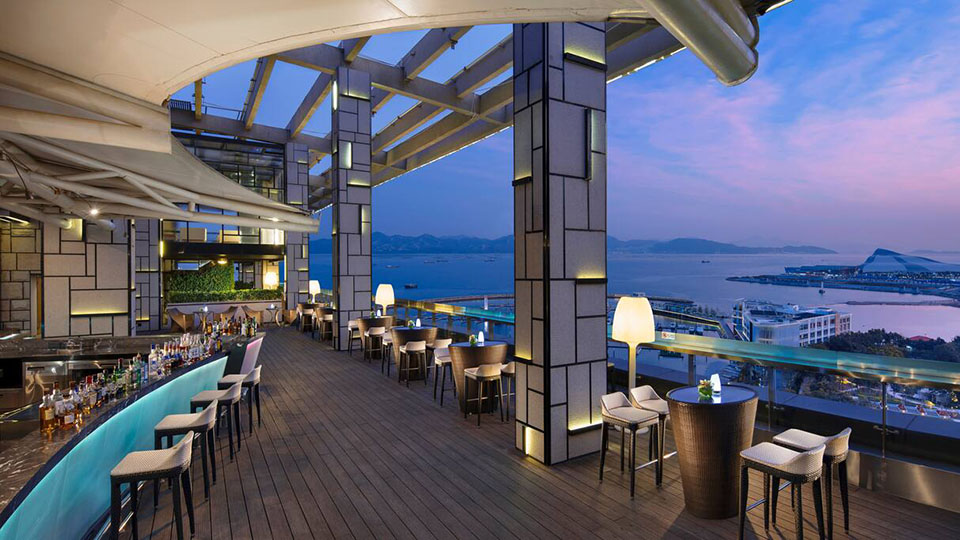 Eden Garden - Photo: www3.hilton.com
When in Shenzhen, book a table at the Eden Garden. It is very much what the name suggests it to be - an excellent and trendy place with some of the best live DJ parties in town. Guests can choose from cozy snug couches or have some fun at the dancefloor.
Sunlight chasers are welcome to join the rooftop terrace and enjoy the setting sun, while a barista prepares delicious drink behind the bar. Overlooking the Shenzhen Bay and the city, it is the perfect spot for a glam getaway afternoon rendezvous.
Looking for a special place to celebrate your birthday, or maybe have a romantic date? Eden Garden provides a robust of event services that cater to any occasion or type of client.
The rooftop bar boasts a 270-degree vistas overlooking Shenzhen. With a built-up area of 2000 square meters, the rooftop venue can fit up to 470 guests.
EDEN GARDEN
1177 Wanghai Rd, Nanshan, Shenzhen, Guangdong Province
6.

Char Bar at Hotel Indigo

/ Shanghai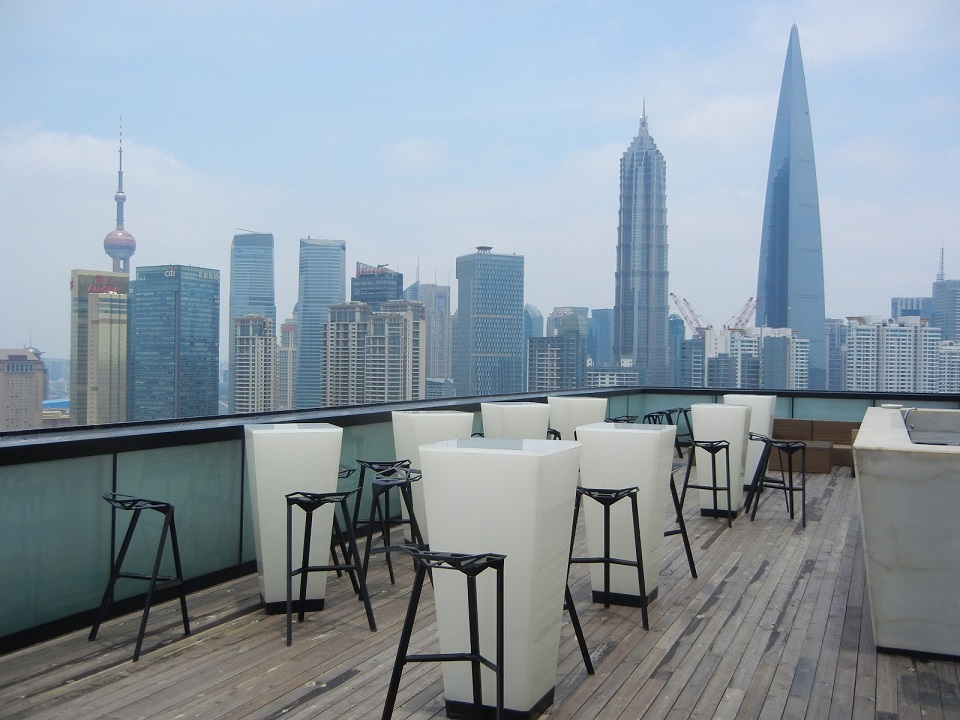 Char Bar at Hotel Indigo - Photo: www.ihg.com
If you're on the hunt for something glam and sleek, stop by the Char Bar at Hotel Indigo. Having saved the top three floors of the building, the rooftop bar is located riverside at Shanghai on the Bund.
Two of three floors are occupied by an indoor steakhouse and bar, whilst the top floor, rising 30 stories above, has a fantastic rooftop and airy terrace. With a top-notch 270-degree view of the Huangpu river and the Pudong skyline, you can choose from a mix of modern fusion and some old classics.
If you plan on visiting the restaurant, be sure to try the excellent steaks. The rooftop however, is an experience of its own. With a rich menu of classic tasting cocktails, and some contemporary mixologies, we guarantee you will have a delicious time while enjoying the vista.
Arrive early or call prior your arrival to save a front row seats. Otherwise you might not enjoy the clear-cut view over the river and the surrounding buildings.
CHAR BAR SHANGHAI
No.585 Zhong Shan Dong Er Road, Huangpu District| Shanghai | 200010| Mainland China
5.

TOPS at Banyan Tree

/ Shanghai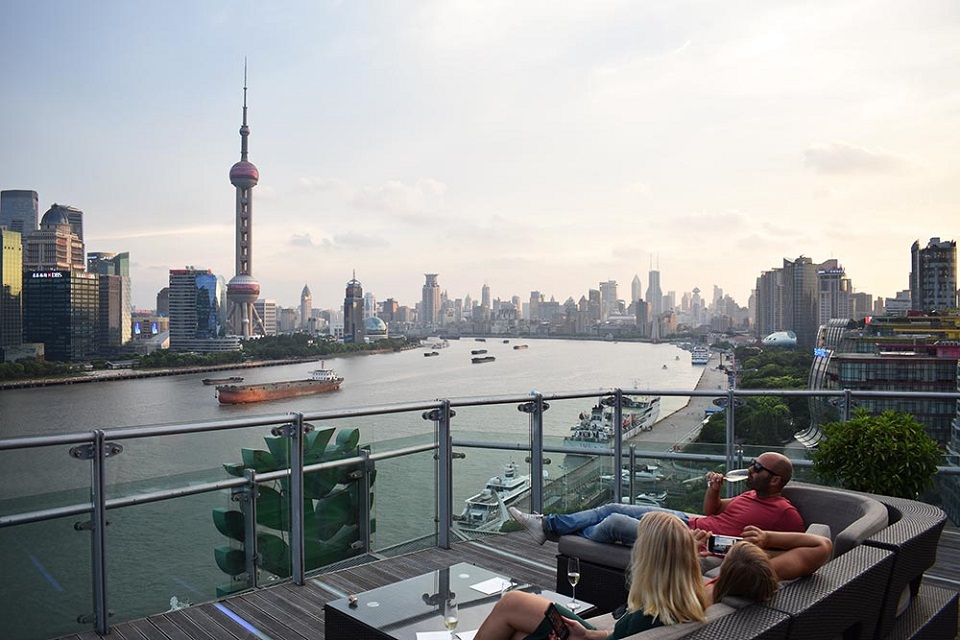 TOPS at Banyan Tree - Photo: www.banyantree.com
Shanghai is a real chest of wonders for travelers from afar. With bright neon lights, shopping centers, roaring business district and a ton of places to visit for lunch or a drink, it's tough to make a choice. We've eased you up by suggesting TOPS at Banyan Tree. With a spacious and airy terrace, the rooftop place gives an obstructed view of the Shanghai mighty skyline.
Banyan Tree is a hotel known for its premium services and first-class accommodation. That can be spotted on the rooftop terrace. Decorated with luxurious lounge sofas and a central focal point - a round bar, TOPS entices guests to try some contemporary drinks in the menu, and the selection of nouveau tapas.
The background music often brings chill vibes, making it perfect for a romantic date, or a relaxing night out. The rooftop bar opens its doors at noon.
TOPS AT BANYAN TREE
19 Gong Ping Road, Hong Kou District, Shanghai
4.

The Roof Bar

/ Guangzhou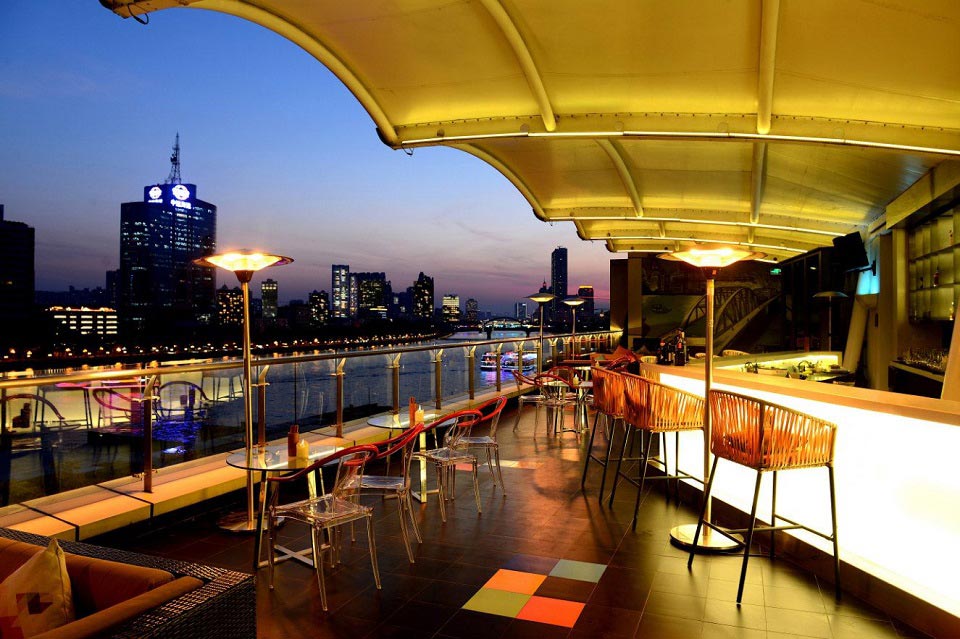 The Roof Bar - Photo: www.hyatt.com
70 stories above the ground, The Roof Bar has a home on the rooftop bar of Park Hyatt Guangzhou. It is as impressive as it sounds. With floor-to-ceiling windows and an airy outdoor terrace, guests can dive into the bustling city's views by day or enjoy the vibrant lights by night.
The Roof Bar is the perfect go-to happy hour location, pre or post-dinner cocktails and late-night drinks. The menu offers a refined palette of champagnes, vintage wine and premium beverages.
Fans of whiskies and cognacs will be extra happy, as the Roof Bar holds one of the best selections in the city. Professional mixologists will craft cocktails in front of you, while a selection of Asian and Western snacks will make your tummy happy.
Pro tip: try the fine oysters and imperial caviar. Those go perfectly with a glass of premium champagne.
THE ROOF BAR
16 Huaxia Road, Zhujiang New Town, Tianhe District, Guangzhou, China, 510623
3.

SKYE at Hotel de Park Lane

/ Hong Kong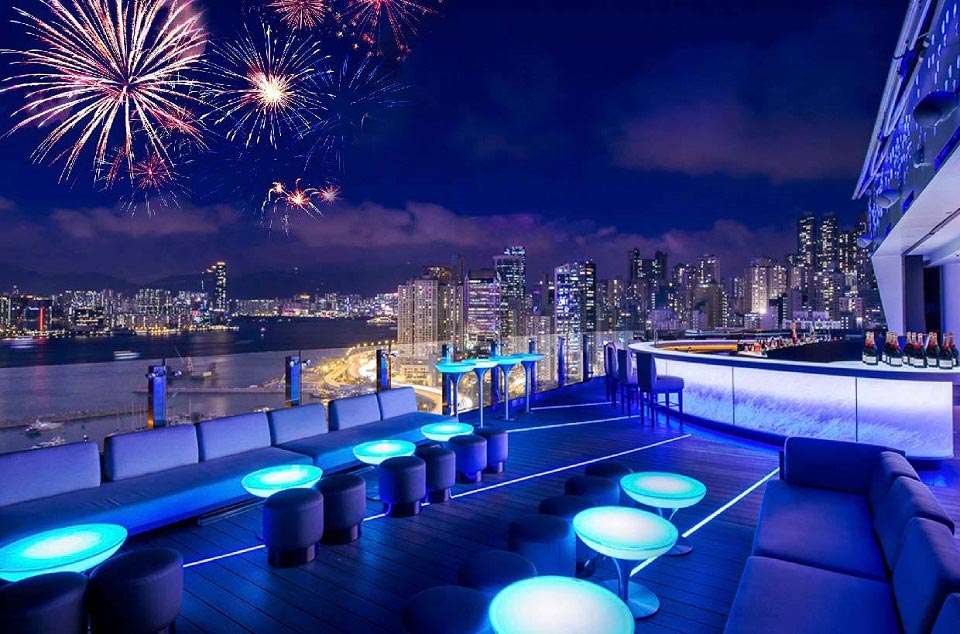 SKYE at Hotel de Park Lane - Photo: www.parklane.com.hk
Located atop the 27th floor of Hotel de Park Lane, right opposite to Victoria Park, SKYE is a high-class, high above the ground rooftop bar in Hong Kong. One of the best choices you can make while in the Chinese capital.
With a breathtaking scenery of the city's waterfront and skyline, they welcome visitors to a sophisticated space that lushes class before you even enter. Both a rooftop bar and a rooftop restaurant, SKYE Dining serves a selection of contemporary French dishes.
The elegant indoor setting has a comfortable yet very luxurious furniture, whilst the outdoor terrace features more futuristic and very sleek interior design. Bar guests can indulge in some delicious bites from the nearby kitchen, while sipping on any of the finely tuned cocktails the baristas prepare.
SKYE is the perfect place for wine aficionados, too. With a list of excellent fine wines, you will not get disappointed whatever your choice is. The rooftop bar opens up at noon hours. Should you wander around for an after work drink or a casual date, stop by and take your time enjoying the vibe.
Reservations can be made for the indoor restaurant, although the terrace has a walk-in policy. If you visit after sunset, it might be harder to get a spot outdoors. If you stop by during the weekend, be sure to check the 4-course menu and the free-flow of La M Oscheta Prosecco for HKD550.
SKYE AT PARK LANE
310 Gloucester Road, Causeway Bay, Hong Kong
2.

Migas Mercado

/ Beijing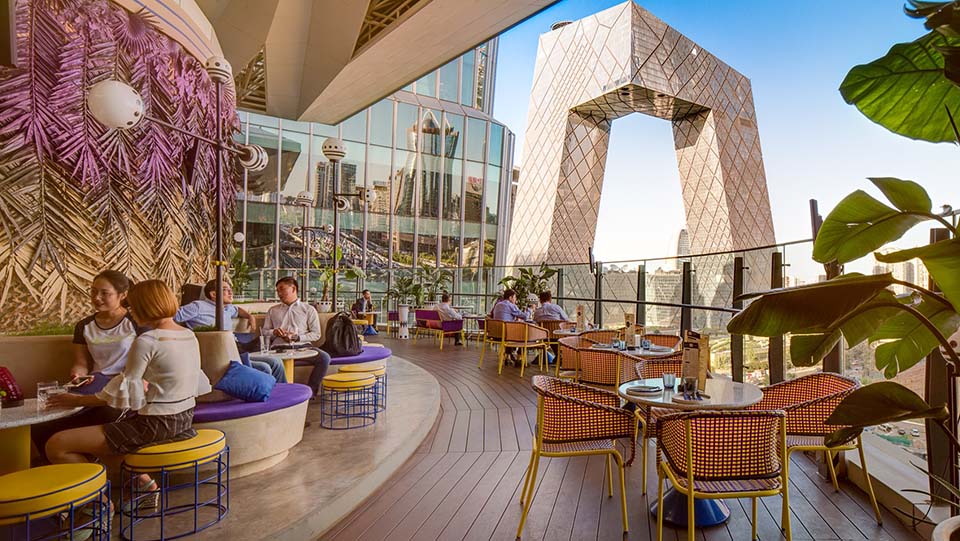 Migas Mercado - Photo: www.migasbj.com
Although foreigners go for a local dish when visiting a country for the first time, locals and other globetrotters like a bit of a change. Migas Mercado in Beijing is the perfect Spanish-influenced rooftop restaurant and bar.
Perched on the 7th floor of the China World Mall - one of the largest shopping centers, Migas Mercado serves stylish dishes and cocktails in a trendy and hip atmosphere. The rooftop space has a terrace and a cozy indoor space, both overlooking the Beijing skyline.
With the New CCTV Headquarters as a main focal point, and a few more iconic landmarks, a view to die for is guaranteed when in Migas Mercado. The restaurant offers a mix of spaces - comfy dining sets, and cozy lounge sofas.
With a strong Spanish presence, guests can order a typical Mediterranean dish such as tapas or paella, or try the excellent Iberian ham.
Migas Mercado works with lunch and dinner reservations and turns into one of Beijing's top-notch clubs after dark. With a DJ live sets and a party atmosphere, the crowd here is always hip and on point.
MIGAS MERCADO
7th Floor, North Zone, China World Mall, No.1 Jian Guo Men Wai, Chaoyang, Beijing
1.

Flair at The Ritz Carlton Shanghai, Pudong

/ Shanghai
Flair at The Ritz Carlton Shanghai, Pudong - Photo: www.ritzcarlton.com
The Ritz-Carlton in Shanghai is a home to a few restaurants and bars. Its 58th floor however, is saved for Flair Rooftop Restaurant and Bar, making its real flagship. The bar climbed both atop the building, and a bunch of lists featuring the best rooftop bars around the world. It is, to this day, the highest perched bar in China.
With a magnificent view of the Pearl Tower, rare views of the Huangpu district and the Pudong side, it is the IFC Tower's finest place to grab a drink at. Its large indoor space and a split-level outdoor terrace invite you get the best of both worlds - fine beverages and the best views in town, of the town itself.
With a sleek and stylish decor, Flair's comfy sofas invite guests for a long talk over a glass of champagne. There are a few upper level bar stools with a front row seats to what feels like all of Shanghai. The rooftop bar's menu is mostly inspired by Asian flavours, serving crafty signature cocktails with delicious finish.
The food comprises light dishes, served tapas-style. All Asia-inspired. With Indonesian, Indian, Thai and Vietnamese flavours, your options are truly endless when it comes to what to order. Don't forget to book your reservation prior.
FLAIR AT RITZ CARLTON
Shanghai ifc, 8 Century Avenue, Shanghai