"The Sunshine State" Florida is one of the best places in the US if you're looking for all year-round rooftop bars. The warm climate, along withthe beautiful cities by the ocean, make Florida a dream for all rooftop lovers out there.
Obviously, most of the best rooftop bars Florida offers are located in the bigger cities, but you can also find some great ones in smaller towns along the fantastic coastline.
To combine ocean activities with some rooftopin is one the best travel combos imaginable. And this is a great place for it, as both a Florida sky bar and the ocean usually is within easy reach.
Here's our list of the best Florida rooftop bars. Check it out!
1.

Giselle

/ Miami
Giselle Miami - Photo: www.gisellemiami.com/
Found in the heart of the Arts & Entertainment District of downtown Miami, above the famous 24/7 nightclub E11even E11even, Giselle offers a truly elevated rooftop experience.
Reached by a private elevator, the modern indoor-outdoor rooftop is exquisite and extravagant, featuring a 14-seat marble-adorned bar, stylish dining tables and comfy lounge spots.
Equipped with a fully retractable roof, you can enjoy seductive nights with views over the Miami skyline no matter the weather.
The Giselle Miami menu includes a great selection of Asian, Mediterranean & French-inspired cuisine, as well as a unique and elevated cocktail programming.
Expect the best of hospitality-driven service, and a sophisticated yet eclectic and seductively captivating atmosphere, promising Miami nights out of the ordinary.
GISELLE
15 NE 11th St, Miami, FL 33132
2.

AC Sky Bar

/ Orlando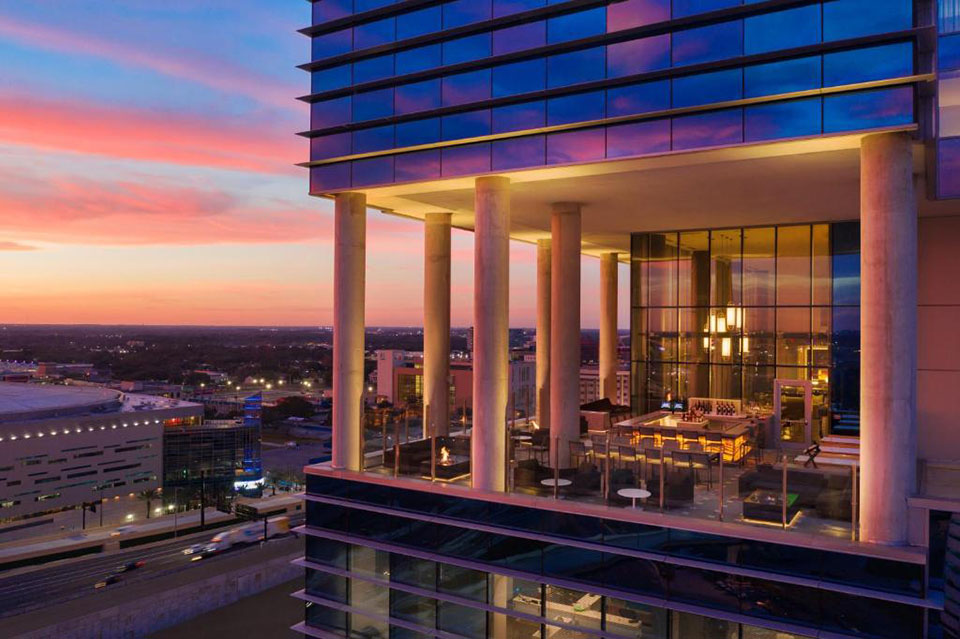 AC Sky Bar - Photo: https://www.acskybar.com/
Located at the fantastic AC Hotel By Marriott Orlando Downtown, the AC Sky Bar offers the perfect mix of 360° city views and creative mixology.
Perched on the 18th floor, here you find an interior with floor-to-ceiling windows, complemented with an elegant outside terrace, so the panoramic vistas are available all around.
Both rooftop bar and restaurant, the AC Sky Bar serves everything from Spanish-inspired small plates to larger bites, like the AC Burger and Flat Iron Steak.
There is also a fine selection of artisanal signature cocktails, local craft brews, and an international wine list.
A perfect spot for sunset happy hour, pre-game drinks or twinkling night caps high above Orlando. You can also start any Sunday in the very best way, with the juicy rooftop brunch.
For nightly visits at AC Sky Bar no reservations are required, but for the Sunday Brunch you need to make bookings in advance.
AC SKY BAR
333 S Garland Ave, Orlando, FL 32801
3.

Rooftop @1WLO

/ Fort Lauderdale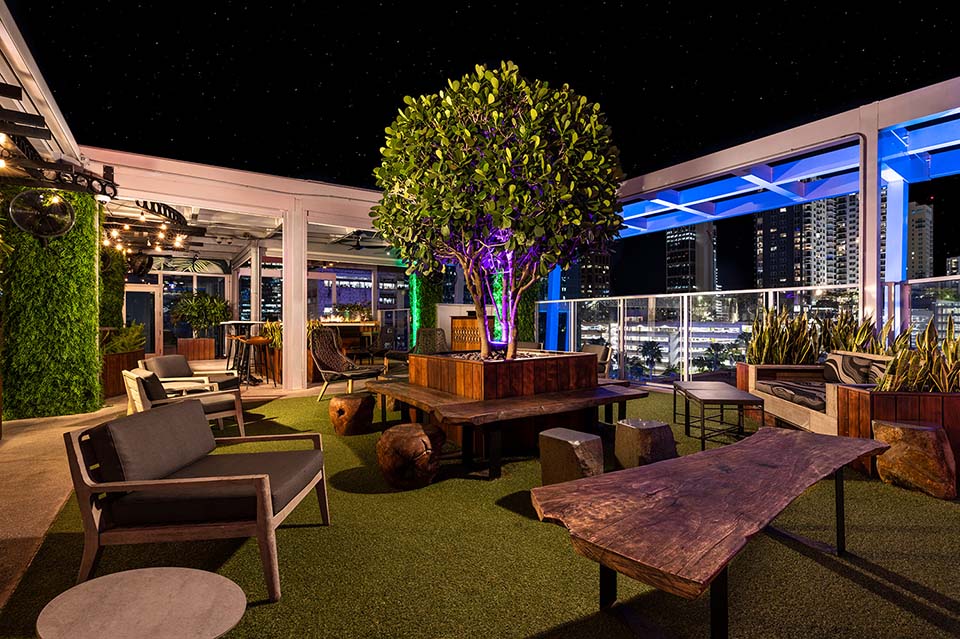 Rooftop @1WLO - Photo: http://rooftop1wlo.com/
Located in Fort Lauderdale's famous Las Olas Boulevard, this rooftop bar is a green and relaxing place known for its patio-like environment.
With astroturf as floor and greenery as far as the eye can see, you'll have the opportunity to enjoy this real-life oasis in the middle of the city.
Electic lounge seats and a large bar makes for comfortable indoor and outdoor seating, and the views of Fort Lauderdale's skyline only adds to the experience.
Drink-wise, you'll be able to enjoy the expected wines and beers, but what really makes 1WLO stand out is its mixology.
With a vast collection of cocktails, both classic and signatures, you'll be transported into a trendy new world of fresh ingredients, innovative flavors, and unique techniques that make each drink genuinely special.
Drop by during the early afternoon to enjoy a truly magnificent sunset. Or Sunday's for a bottomless rooftop brunch.
ROOFTOP @ 1WLO
1 West Las Olas, Fort Lauderdale, FL
4.

Rosa Sky Rooftop

/ Miami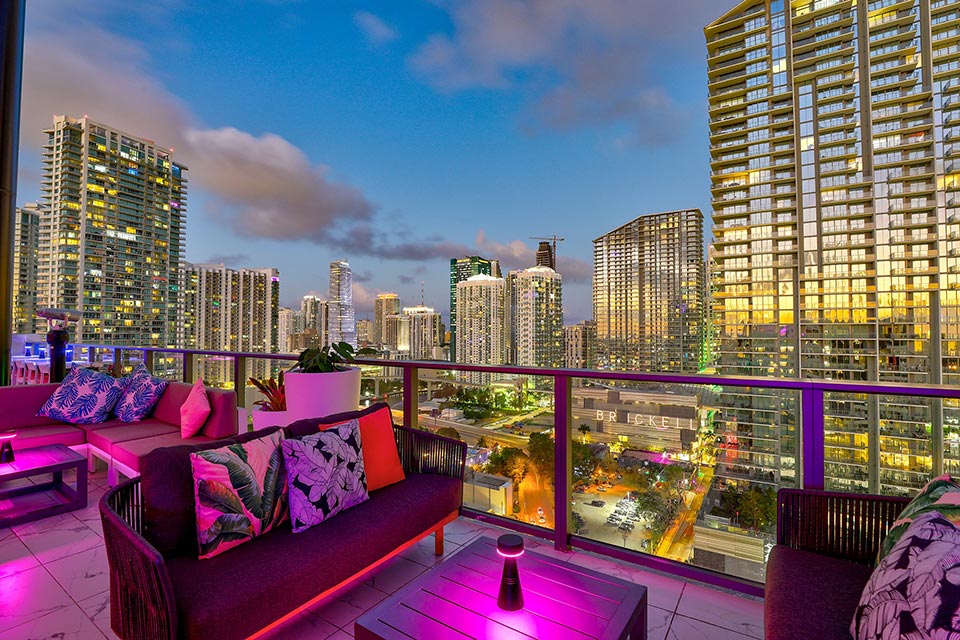 Rosa Sky Rooftop - Photo: https://rosaskyrooftop.com/
Rosa Sky is Miami's newest and hottest rooftop lounge, perched high above the Brickell city center.
Surrounded with panoramic views over the city skyline, here you can enjoy a globally inspired tapas menu that is both eclectic and exciting, featuring plenty of reinvented classics made perfect to share.
And while the food selection is exciting, the drink menu is even more sparkling. A hand-crafted and seasonal cocktail program, with colorful and whimsical creations, is complemented with plenty of rosé, bubbles, a selection of craft beers and bottle service.
Boosted by a bold music lineup and digitally mapped light choreography, Rosa Sky is made for fun and vibrant nights high above Miami.
Just follow the motto: "When the sky turns pink, it's time for a drink".
ROSA SKY
115 SW 8th St 22nd Floor, Miami, FL 33130
5.

Sparrow

/ Fort Lauderdale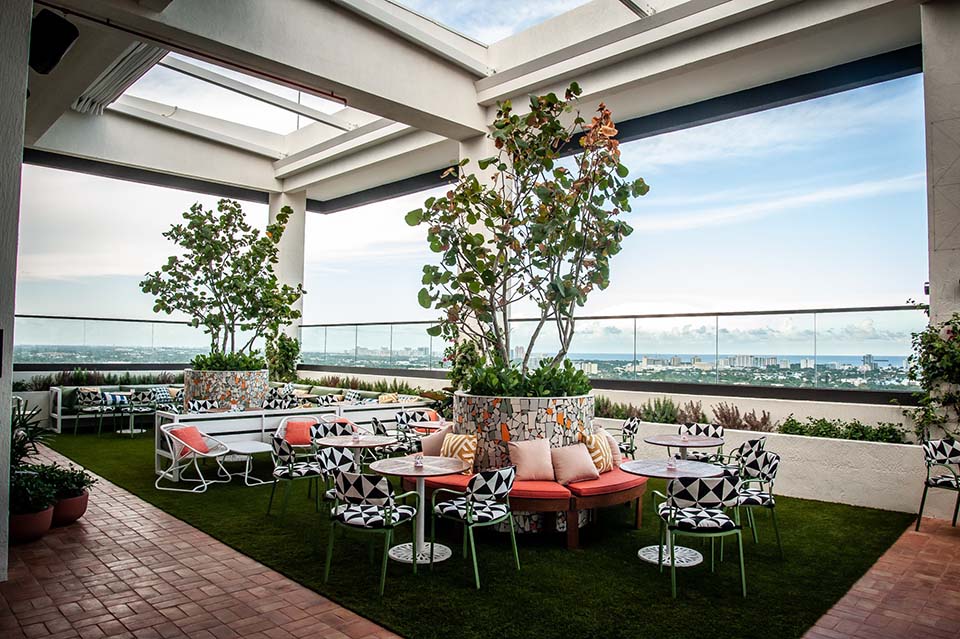 Sparrow - Photo: www.sparrowbar.com/
Perched 25 floors above Fort Lauderdale, on top of the luxurious The Dalmar Hotel, Sparrow Rooftop is an intimate urban hideaway designed with adventure in mind.
Half inside and half outside, the rooftop evokes a stylish and funky 60's flair, and the colorful and airy coastal patio also offers sweeping views over the city and ocean.
High above it all, here you can indulge in an unexpected and playful selection of food and drinks, including fresh & colorful cocktails, craft beers, and an ingredients-driven array of creative shareable plates with Asian flavours.
Grab you friends and enjoy elevated Fort Lauderdale nights out of the ordinary, filled with retro vibes and an urban atmosphere.
SPARROW
299 N Federal Hwy, Fort Lauderdale, FL 33301
6.

SkyBar at The Edge

/ Destin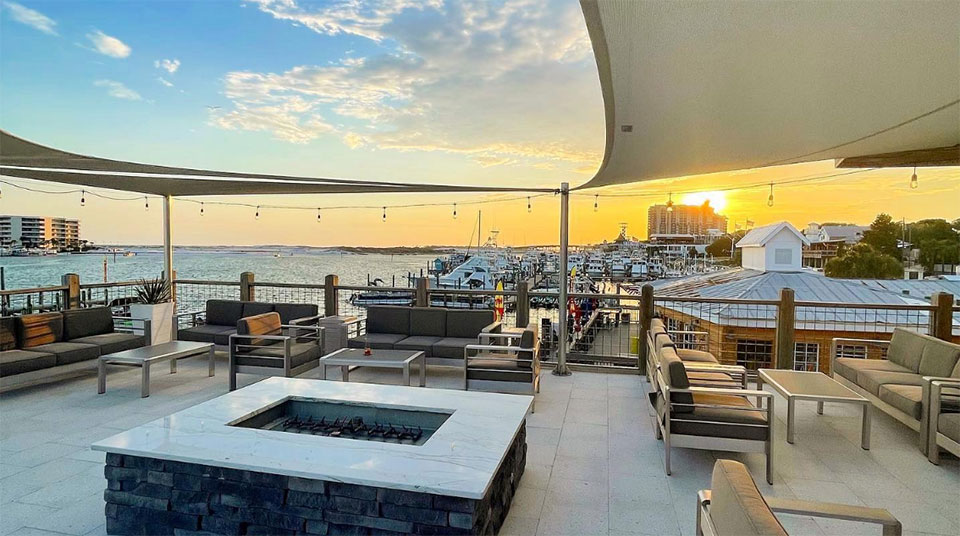 SkyBar at The Edge - Photo: https://edgeseafood.com/
Named after a fishing spot in the Gulf where the continental shelf drops off along the famed 100-fathom curve, The Edge Seafood Restaurant & SkyBar is a modern venue to enjoy the best of waterfront dining and drinks.
Built directly on top of the water, right by the Destin Harbor, here you find an open and spacious restaurant downstairs, with great views of the harbor and beyond.
But the vistas gets even better on floor above, at the stylish Skybar at The Edge, where the amazing panoramics stretches all the way to the Gulf of Mexico.
Equipped with a charming firepit and plenty of patio seating and comfy lounge sofas, this is a prime spot to make yourself at home in true laid-back Florida style.
The Edge Restaurant is available to all for upscale casual dining from lunch to late dinner, while the SkyBar is an adults only venue.
To smashing sunset views, here you can indulge in signature cocktails and crafted small plates, as well as daily happy hour, plenty of live music and other fun-filled events.
SKYBAR AT THE EDGE
302 Harbor Blvd, Destin, FL 32541
7.

Pier 6 Rooftop

/ Pompano Beach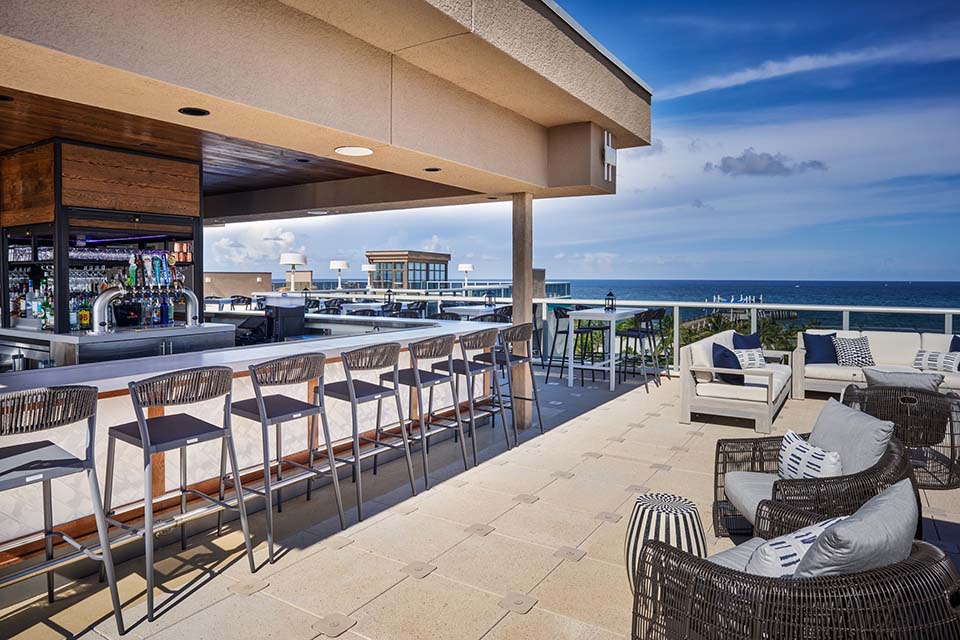 Pier 6 Rooftop - Photo: http://rooftop1wlo.com/
Found in Pompano Beach, just north of Fort Lauderdale, Pier 6 Rooftop is a spacious and modern rooftop bar, lounge, and event space.
Surrounded with amazing and panoramic views over the Atlantic Ocean and the Pompano Beach Pier, the airy rooftop terrace comes with plenty of comfy loungers, cozy fire pits and a stylish bar.
Open daily, Pier 6 Rooftop is a perfect spot for to enjoy breezy bites and drinks. Visit for the daily happy hour, live music Sundays and Thursdays, or to catch the game at the bar.
The rooftop menu includes everything from unique specialty cocktails and refreshing Mojitos, Margaritas and Daquiris, to tasty bites perfect to share.
On a monthly basis, Pier 6 Rooftop also host fun-filled theme party's. Ftom nostalgic 80's and 90's Nights to vibrant Latin Nights.
PIER 6 ROOFTOP
200 N Ocean Blvd, Pompano Beach, FL 33062
8.

Pescado Seafood Grill & Rooftop Bar

/ Rosemary Beach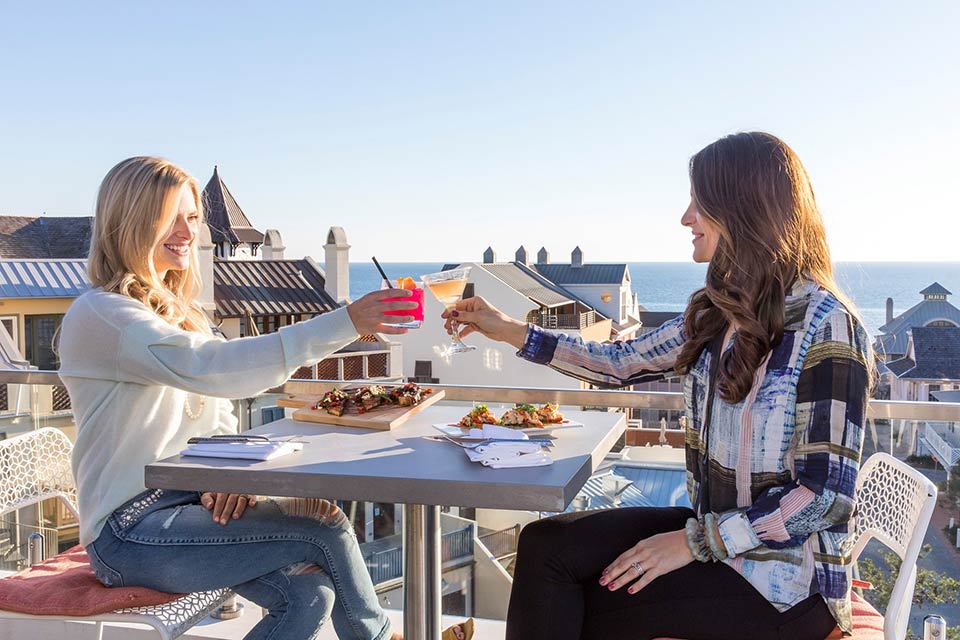 Pescado - Photo: https://rooftop30a.com/
Overlooking the Gulf of Mexico, this Rosemary Beach-based restaurant is an excellent choice for those looking for a memorable dining experience.
This 18+ only restaurant has three areas: A dining room, indoor bar, and the rooftop bar, all as exclusive as the rest.
The food can best be described as an Asian and New American fusion and features seafood heavily, but there are other options available.
The bar offers signature cocktails alongside an impressive wine list and a long list of spirits.
Though the dinner menu is delicious, the weekends are particularly popular thanks to Pescado's Sunday Brunch, which is open to all ages.
Reservations are encouraged, though the restaurant also accepts walk-ins, after a waiting period, of course.
Dress to impress and show up early. It'll be worth it.
PESCADO
74 Town Hall Rd #4b, Rosemary Beach, FL
9.

Ara Rooftop Pool & Lounge

/ Sandestin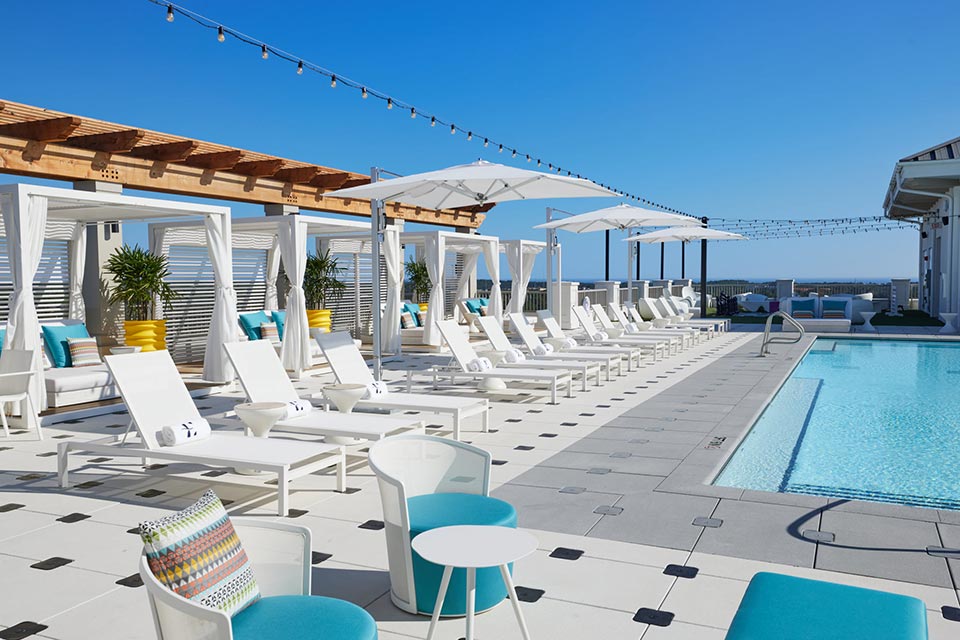 Ara Rooftop Pool & Lounge - Photo: www.hoteleffie.com/
In the golf and beach resort area Sandestin on the Emerald Coast you find miles of white-sand beaches and Gulf of Mexico-fun, but also one of Florida's hottest rooftop bars.
Perched on top of the Hotel Effie Sandestin, Ara Rooftop Pool & Lounge serves a great mix of elevated food, drinks, dips, vibes and views.
Surrounded with panoramic views over The Village of Baytowne Wharf and Choctawhatchee Bay, the bright and stylish rooftop is home to Northwest Florida's only rooftop pool, where guests can enjoy days of luxurious poolside relaxation. Either in the sun loungers, or even better, in one of the private cabanas.
But offering much more than just elevated swims, Ara Rooftop is also a cool rooftop lounge, with an inside / outside bar and plenty of comfy seats to enjoy food and drinks.
The rooftop menu includes hand-crafted artisanal cocktails and high-end wines, as well as tasty bites from famed chef Hugh Acheson.
In between sips and bites to nice lounge tunes from the live DJs, you can also challange your friends in a game of life-size chess, Connect 4 or cornhole.
ARA
1 Grand Sandestin Blvd, Miramar Beach, FL 32550
10.

Hollerbach's German Restaurant

/ Sanford
Hollerbach's German Restaurant - Photo: www.hollerbachs.com/
Found in historic downtown Sanford, north of central Orlando, Hollerbach's German Restaurant comes with a charming second floor rooftop biergarten.
As Sanford's first rooftop biergarten, the rooftop holds indoor and outdoor spaces available to enjoy Gemuetlichkeit in fun new ways.
Overlooking the downtown Sanford rooftops, here you can indulge in a truly authentic German food, beverage and entertainment experience.
The rooftop offers a full menu, including everything from Flammkuchen, Schnitzel and Sausages, to a large selection of draft beers, wine, schnaps and haus cocktails.
The Hollerbach's restaurant is open daily from lunch to late dinner, while the rooftop biergarten is more of a weekend hot-spot, open from 5pm Thursday-Friday, and from 11am Saturday-Sunday.
HOLLERBACH'S GERMAN RESTAURANT
201-205 E 1st St, Sanford, FL
11.

Area 31 at the Epic Hotel

/ Miami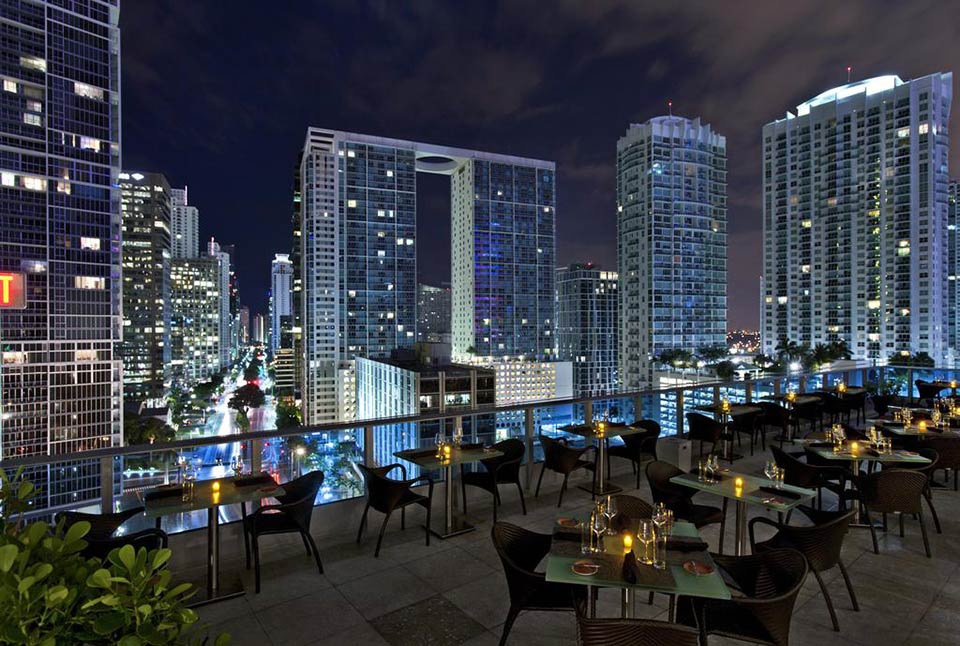 Area 31 - Photo: https://area31restaurant.com/
A modern and exclusive destination, the Area 31 is one of the trendiest bars in Miami, as well as one of the most popular restaurants.
With both seafood and meat dishes, this restaurant opens early in the morning and closes late at night, when it becomes a quasi night-club experience that you're sure to love.
Offering a wide selection of cocktails –both signature and classic– wines and champagne, this is an excellent choice for those looking to meet new people or impress a date.
Though there's a rooftop pool, it's reserved for guests staying at Kimpton EPIC Hotel. But every now and then, the Area 31 hosts pool parties, to which all visitors are invited.
The Area 31 doesn't have a strict dress code, but you might want to dress your best if you want to avoid feeling underdressed.
AREA 31
270 Biscayne Boulevard Way, Miami, FL
12.

360° Rooftop

/ St Pete Beach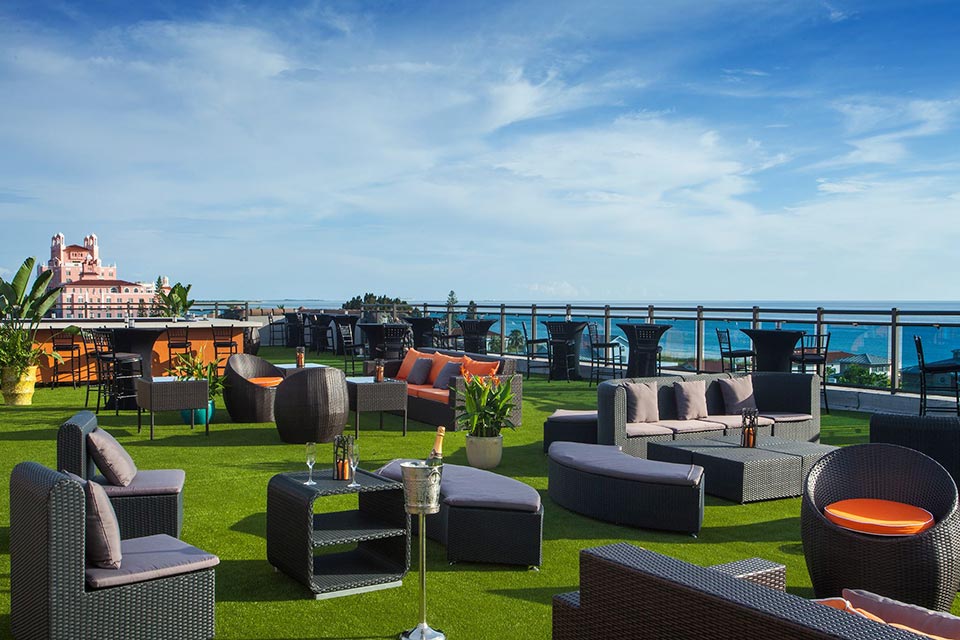 360° Rooftop - Photo: https://thehotelzamora.com/
For panoramic views and a stunning and colorful ocean sunset, head up to the 360° Rooftop on top of Hotel Zamora in St Pete Beach.
This spacious rooftop lounge offers a charming garden feel, and plenty of comfy sofas to enjoy the views.
Take a break from the beach and visit for the daily happy hour (3-7pm), with specials on domestic beer, house wine and house cocktails.
As darkness falls, fire-pits and hanging lanterns create a cosy setting, and weekly and monthly happenings turn up the atmosphere.
The 360° Rooftop Lounge always comes with a relaxing and friendly al freco atmosphere. For an extra special experience: book one of the VIP rooftop cabanas.
360° ROOFTOP
3701 Gulf Blvd, St Pete Beach, FL
13.

River & Post

/ Jacksonville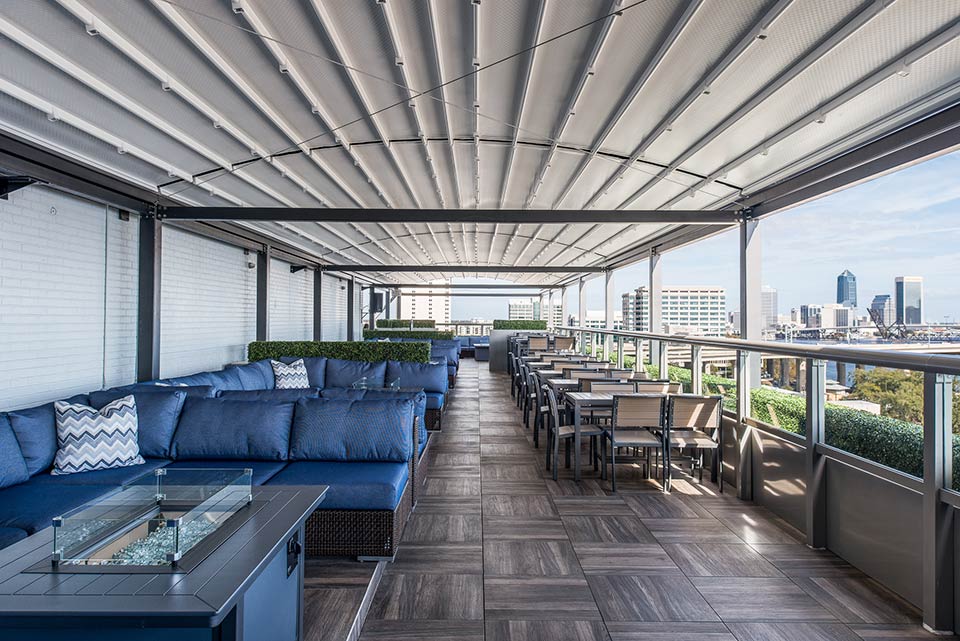 River & Post - Photo: www.riverandpostjax.com/
Self-described as "culinary-driven", the River & Post is a quite new restaurant-bar combination that seeks out to charm visitors with delicious food made with fresh and organic ingredients.
Located in the heart of Jacksonville, this restaurant offers beautiful views to the St. Johns River and a casual yet exclusive atmosphere that few restaurants can match.
With both indoor and outdoor seating, the River & Post is an excellent choice for those looking to impress their date, charm a business partner, or simply enjoy what the restaurant has to offer.
On the terrace, you can find large couches and small fire pits that ensure you're comfortable even in the rare nights where Jacksonville gets cold. And in the case of bad weather, there's a retractable roof to protect you.
What more could you ask for?
RIVER & POST
1000 Riverside Ave #100, Jacksonville, FL