As the headline says, it is a "must do". Not a "should do" or anything else with try or could or maybe, you MUST go up top of the Marina Bay Sands building if you visit Singapore. At least to catch the view and a drink at the CÈ LA VI rooftop bar.
But most preferably, book one or more nights at the hotel so you get the full rooftop experience. And really, you don't have to leave the complex for the whole day, we promise.
Here is what your day would probably be like:
Get up early, as we all know, the early bird gets the worm. The rooftop pool opens at 6 AM, and you are of course there 06.01, at the latest. Maybe not completely alone, but this is the best chance to get the absolutely amazing infinity pool somewhat by yourself. And while taking your morning swim you get to see the city wake up, which is cool.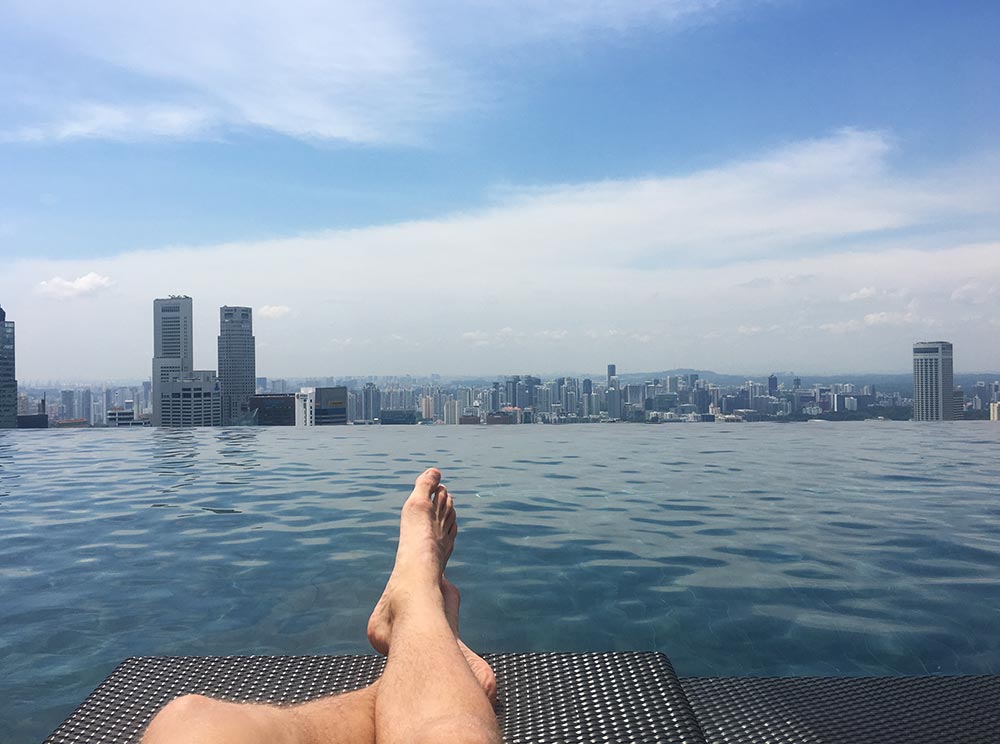 Just you, the pool and Singapore
After a refreshing dip, it's time for some breakfast. Preferably at Spago up on the rooftop, were you can have breakfast poolside between 7-11 AM. Or, if you feel like it is going to be a long day outside and you are big on breakfast, go buffet style on the ground floor of the hotel.
Your big work-load for the day will be picking up a towel from the towel-stand. That's about it. Then you are all set for full day in and around the rooftop pool doing some of:
Trying different sun loungers. One close to the pool, one in the pool and one a bit more calm and private in the shadows on the upper part of the terrace.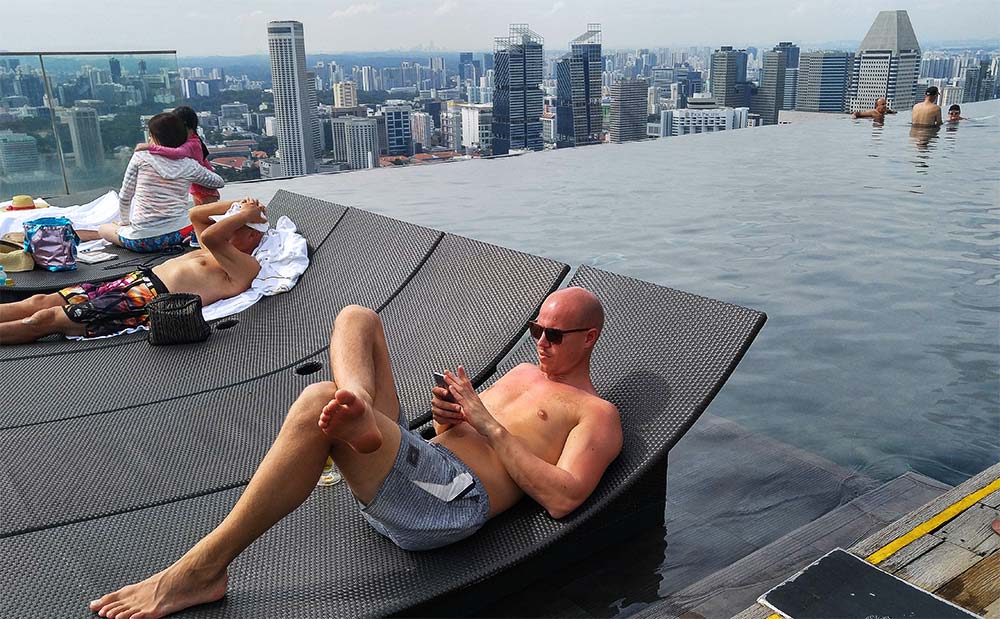 Loungers "in" the pool
Trying different pools. Mostly you will probably be in the main one, gazing over the city. But there are also a couple of jacuzzis you need to try, with views over the ocean and opportunity for a classic game of "try to count all the ships".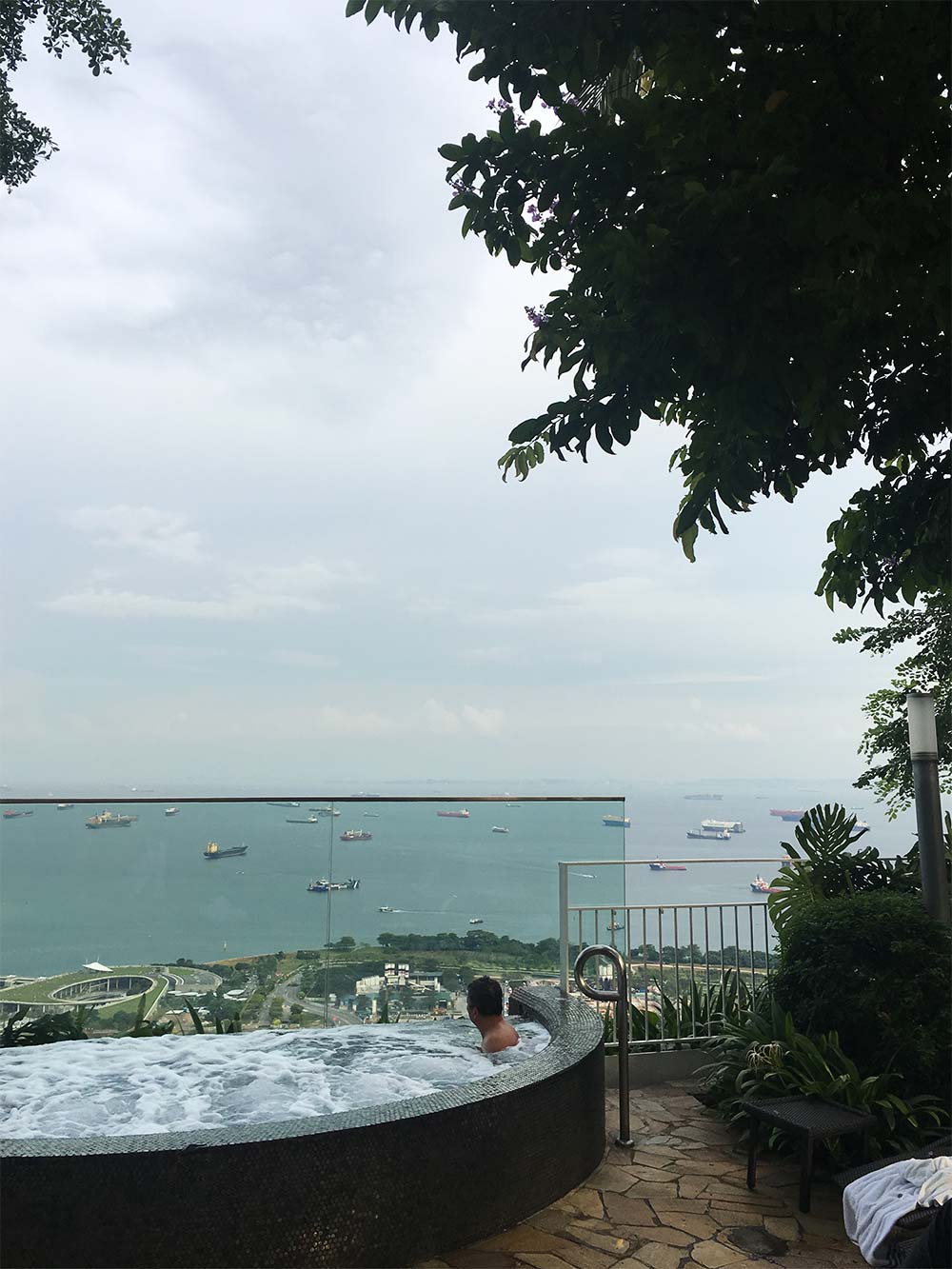 Jacuzzi
Just relax for a bit. Read a book or listen to some music.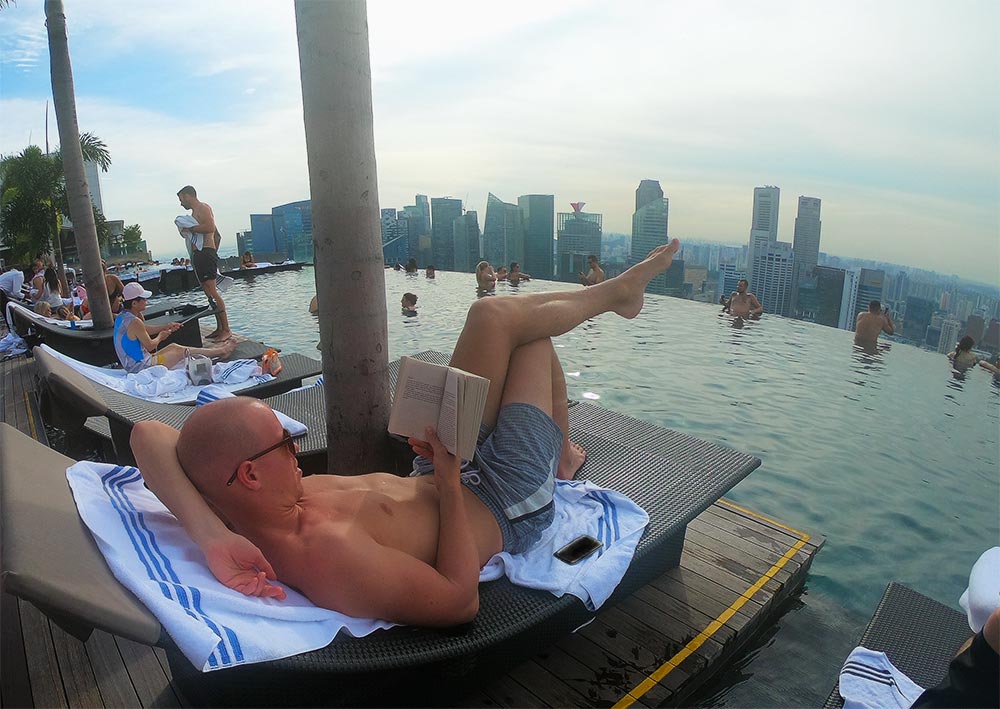 Relax
Have a quick work out. The gym is just two floors down (at level 55), and it is open 24/7 so you can use it whenever you feel like. And, it also comes with an amazing view.
Order a tasty drink from the staff. And get it delivered right to your sunbed. Hey, you went to the gym earlier so you shouldn't have to move too much.
Singapore Sling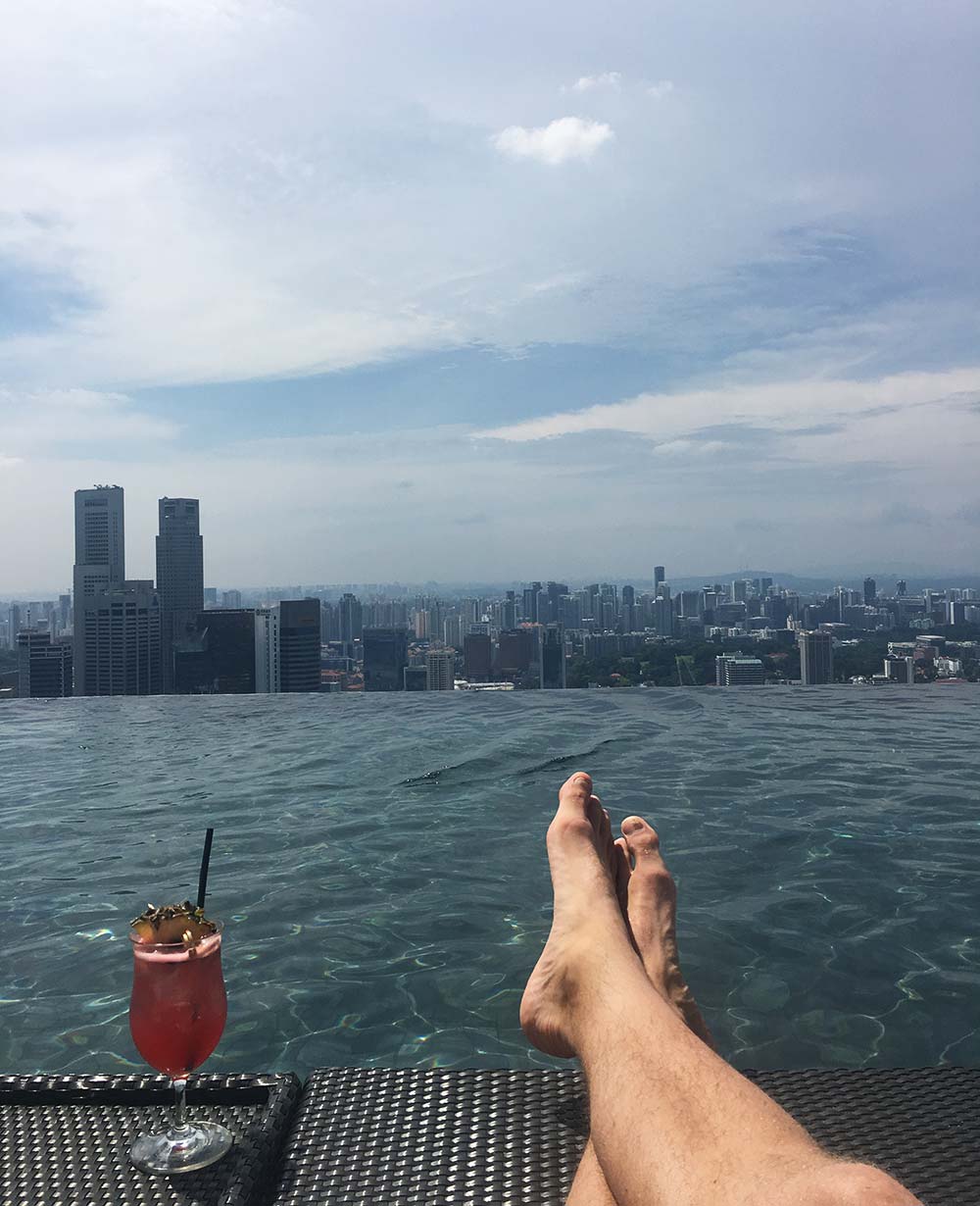 Try to take the perfect pool/skyline picture. Go selfie style or get someone to take it for you. Be satisfied for about 30 min, and then realize you can probably get an even better one. Try again and repeat throughout the day. Or use the professional a photographer swimming around taking pics that you can buy.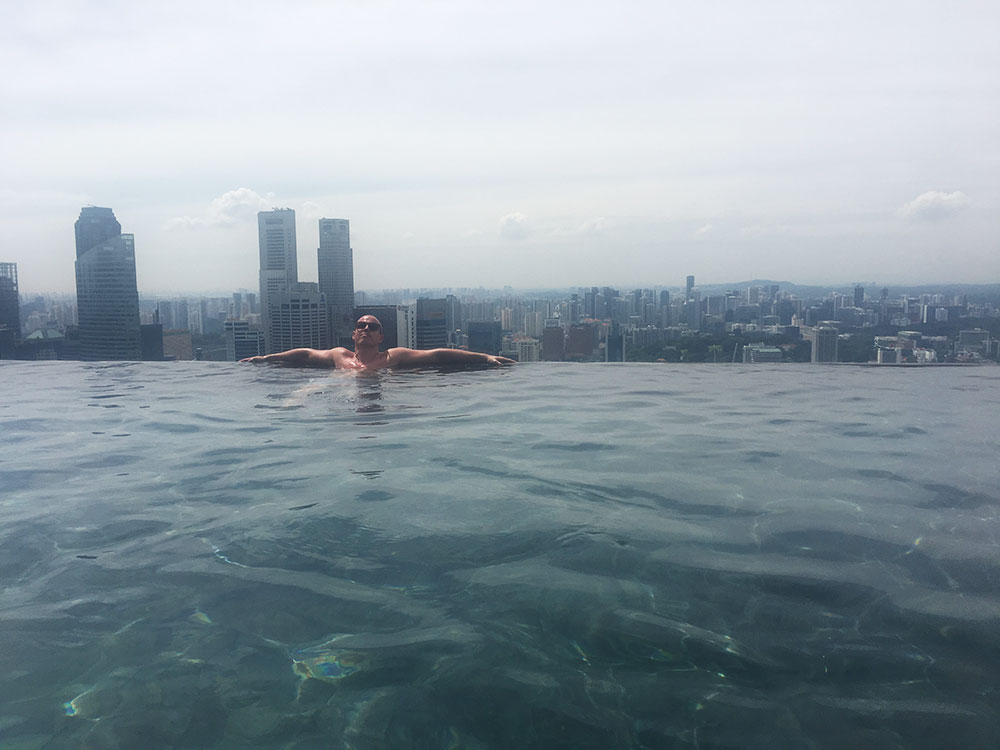 1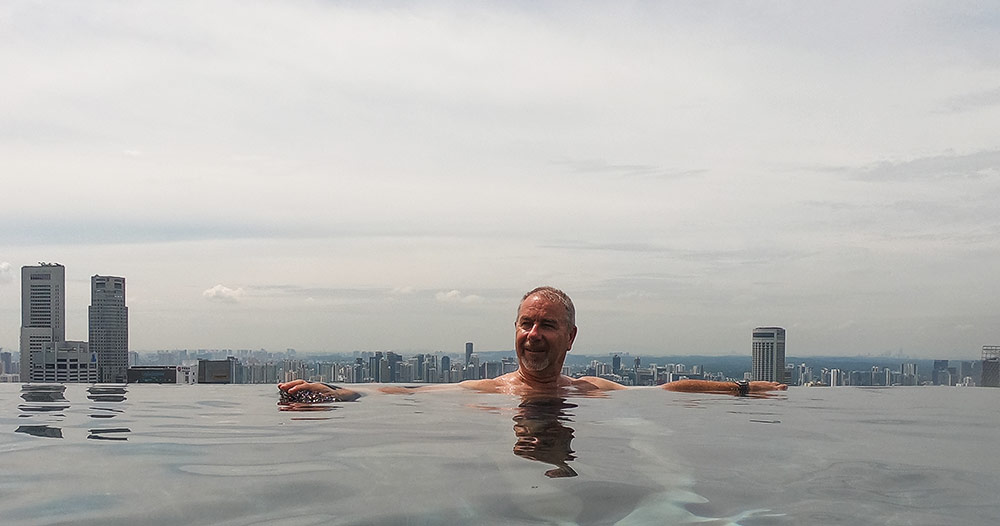 2
3 attempts of many
Have some lunch. Need to keep the stomach happy, and you can choose to have some salad, sandwich or sushi right at your sunbed, or go sit down at CÈ LA VI or Spago restaurant where lunch is served every day.
After a quick freshing up at your room, it's back up top to level 57. Head over to CÈ LA VI rooftop bar for a cocktail and to watch the sunset. It is absolutely perfect here, and popular, so be on time to get the best spot out on the sky deck.
CÈ LA Vi is both a skybar, a restaurant and a club lounge with several sections both outside and inside. Our favourite part is of course the outside skybar, situated above one end of the infinity pool and with amazing views of Singapore, even all the way to Malaysia and Indonesia.
There are bars both inside and out on the terrace, where the mixologists create some delicious cocktails. And, unlike the pool, all restaurants and bars up here are open to the public.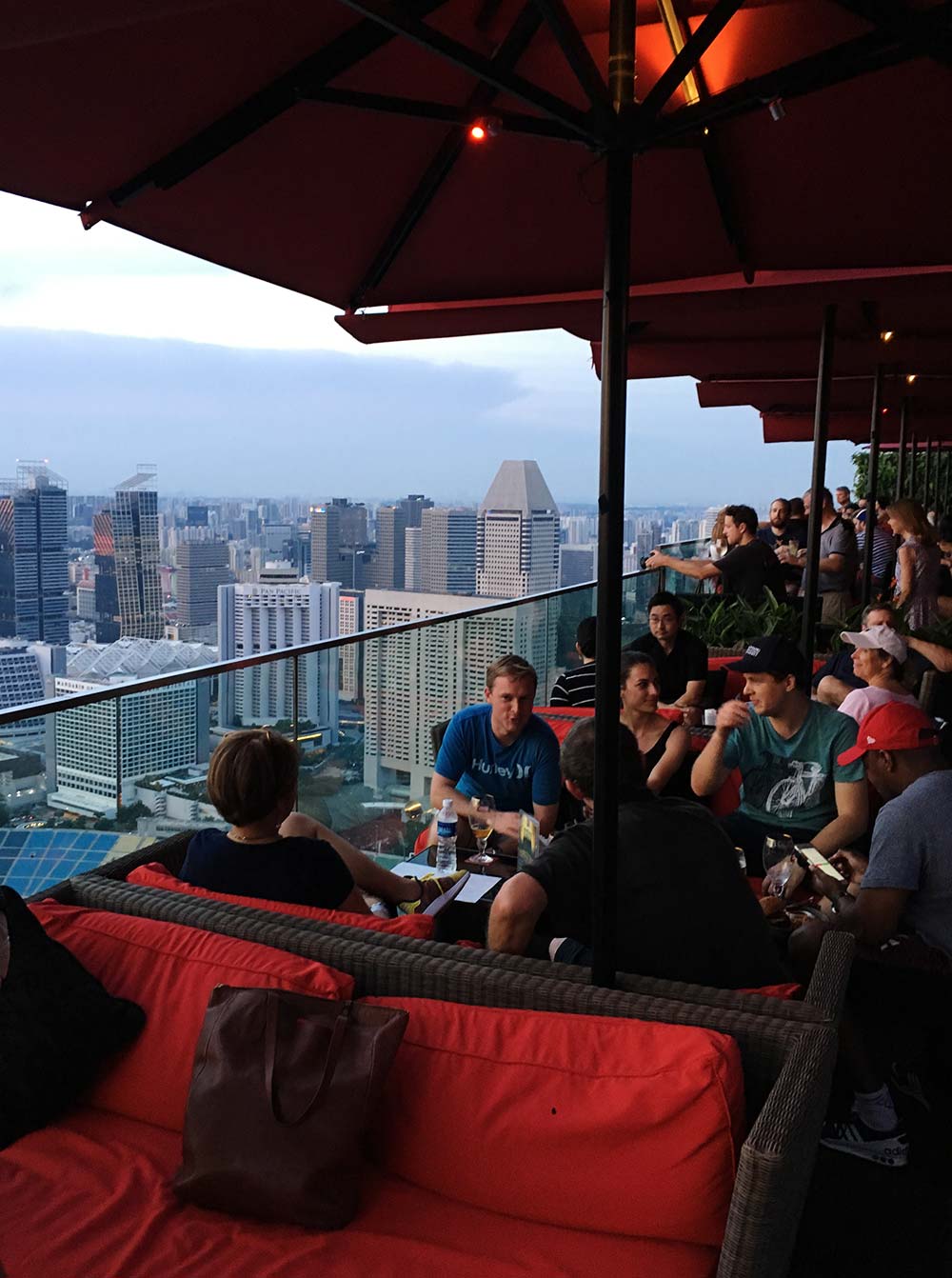 Sofas at CÈ LA VI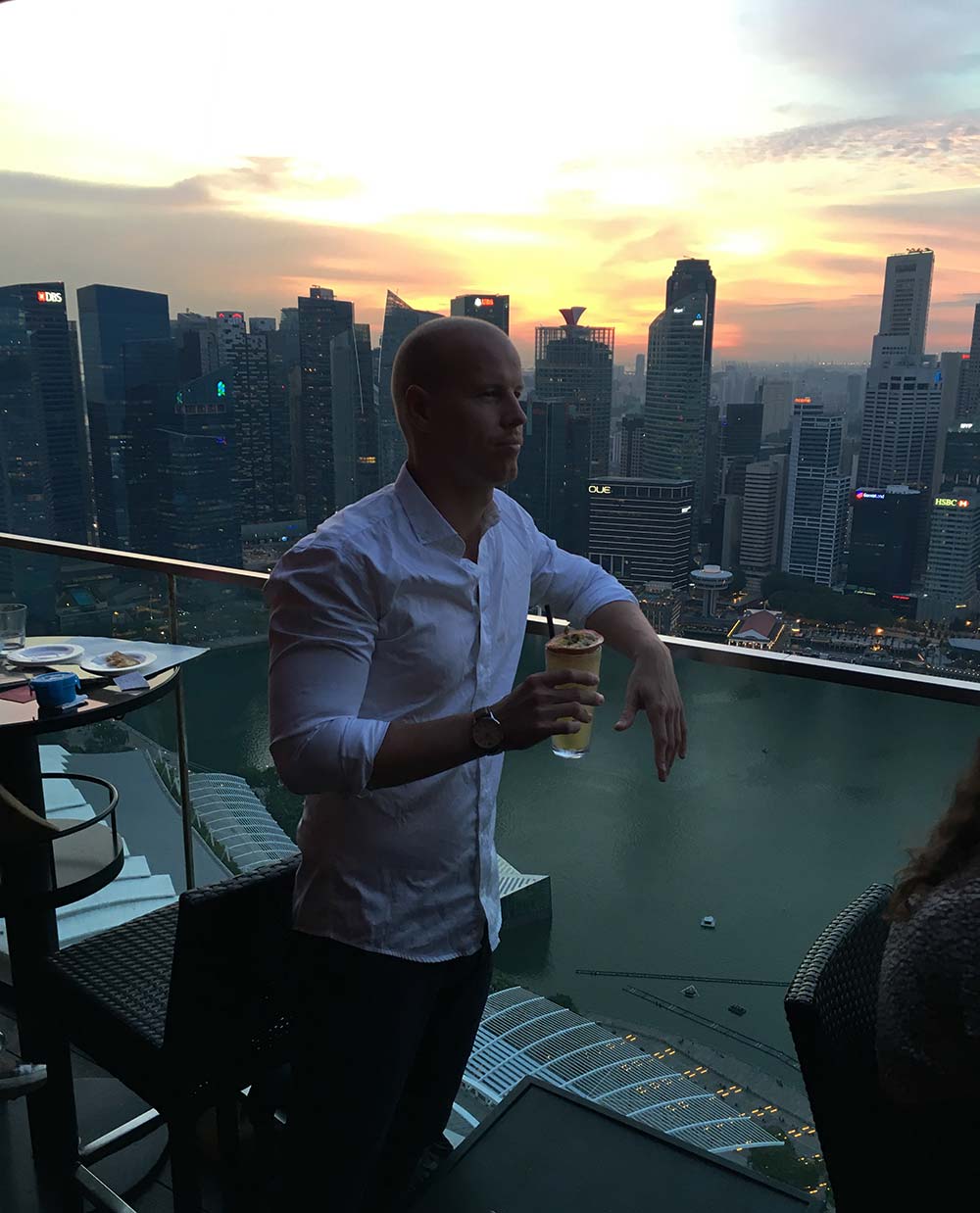 Sunset and sipping on Once upon a Thai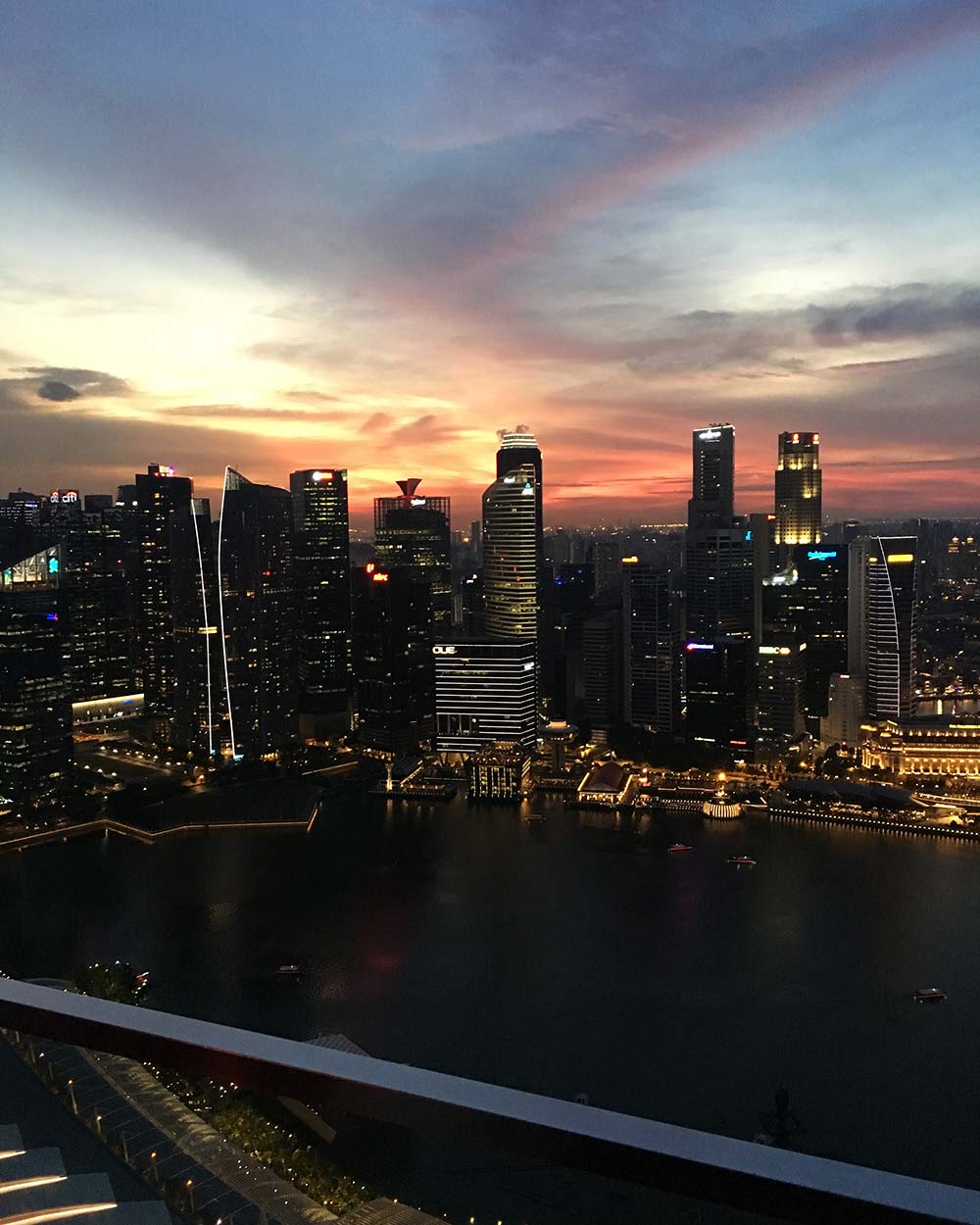 Skyline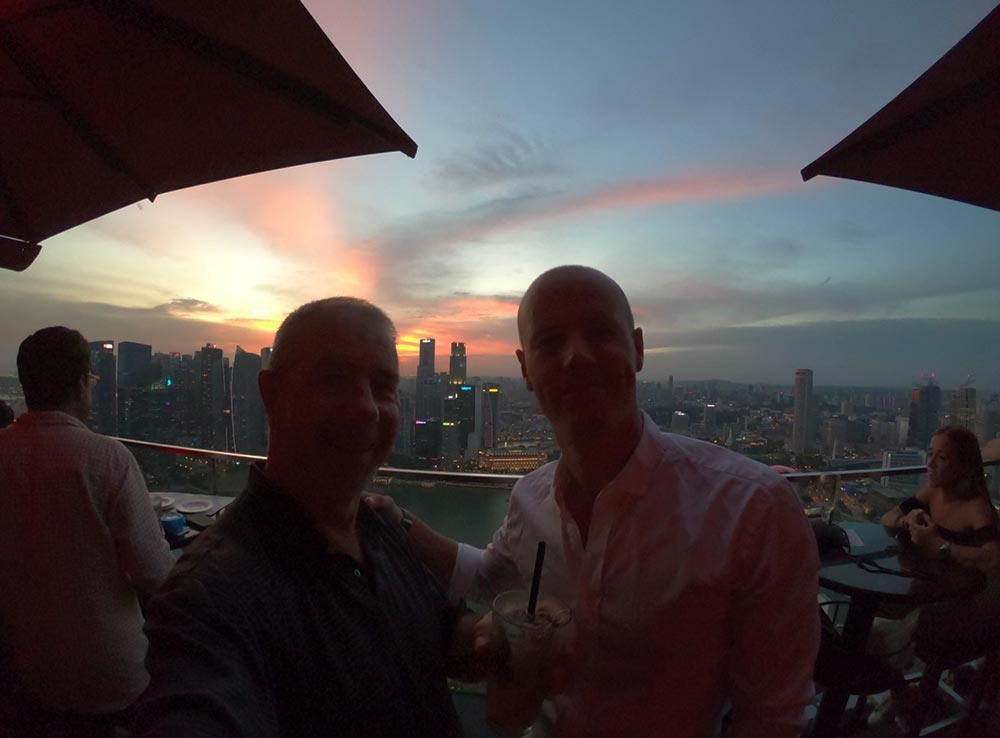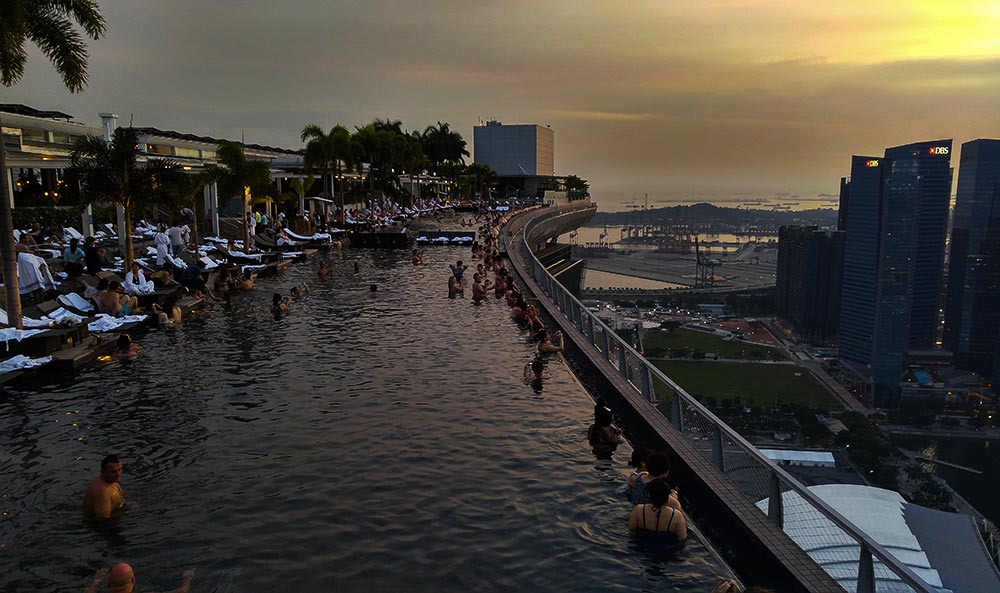 Pool-view from CÈ LA VI
Time for dinner, and you are not short of options up here. You could absolutely stay at CÈ LA VI and have something from the modern asian menu, and enjoy views towards the ocean. Or go to Spago, where celebrity chef Wolfgang Puck serves a Californian menu.
Our recommendation is however to head over to the opposite side of the skypark and have dinner at the newly opened LAVO Italian Restaurant & Rooftop Bar. The area itself is not new, it used to be a place called Sky on 57. But the setting, interior and food is all changed, and now you will have your Italian-American dinner here. Of course with a pre- or after dinner cocktail at the terrace, soaking up some more amazing skyline views.
At 8PM and 9PM (and 10PM Fri-Sat) you get great views of the Spectra lights and water show down in the marina. Catch it from CÈ LA VI or make a quick swap into your swim gear an watch it from the edge of the pool.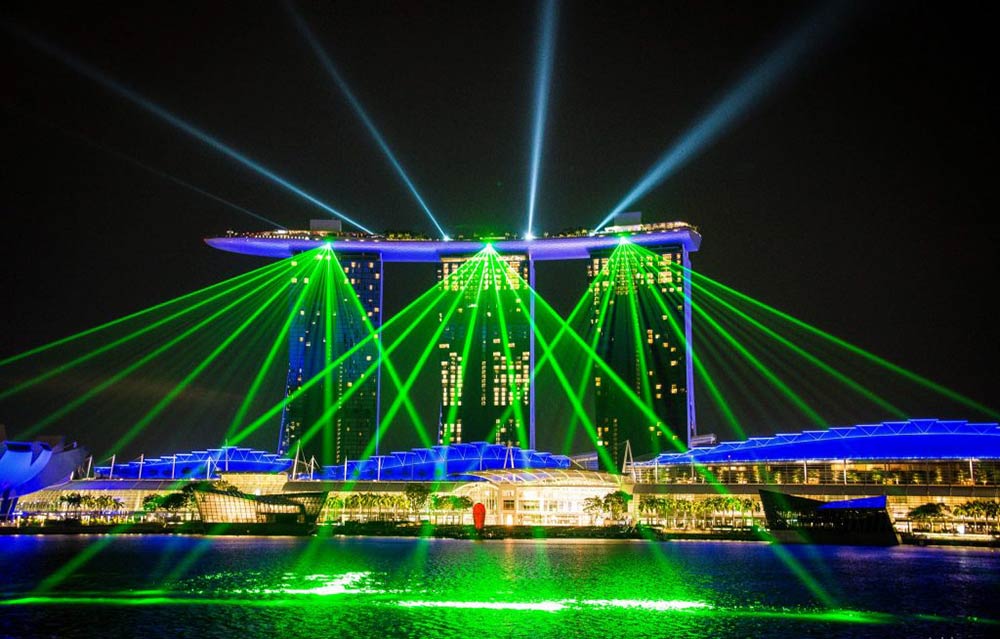 Light show / www.stevenield.com
Finish your amazing day strong by heading back to CÈ LA VI, where the party atmosphere picks up during the later hours and you can dance the night away before hitting the sack.
And, if you are lucky, wake up to repeat all over again.