Turkey is a country with many different environments. You can find rooftop bars located in the mountains, some by the sea and some right among the skyscrapers.
In other words, prepare to be amazed by the variety of Turkey rooftop bars found in this article. Many Instagram friendly venues that are popular among travelers and tourists from all over the world.
The Rooftop Guide has assembled the ultimate guide to the 10 best rooftop bars in Turkey. Enjoy!
10.

Mandarin Oriental

/ Bodrum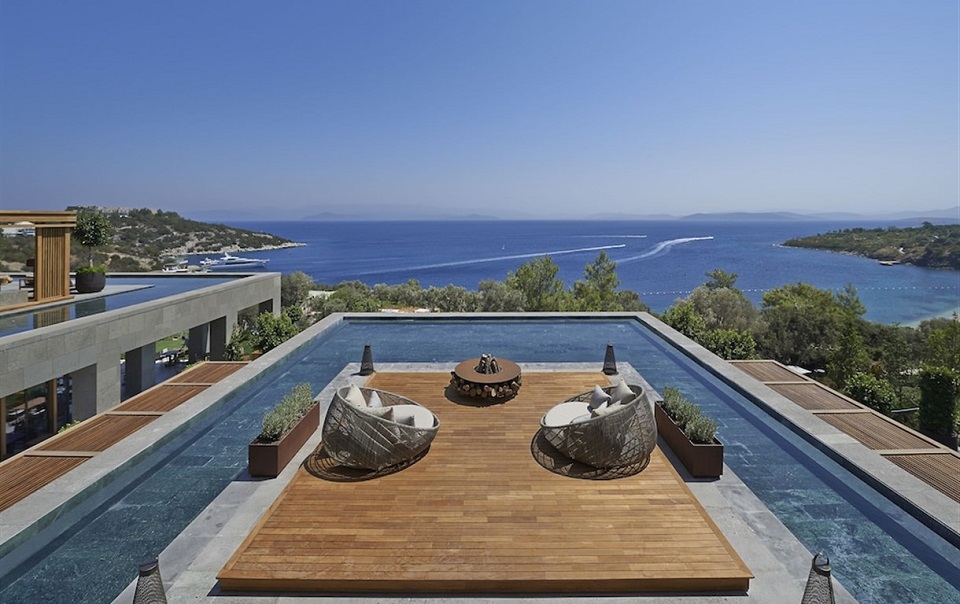 Mandarin Oriental - Photo: www.mandarinoriental.com
The Mandarin Oriental is known around the world for its quality, and its Bodrum location doesn't disappoint.
To call its dining and wining facilities a "rooftop bar" would be cheating, as all of them are not on a rooftop at all, but they still offer idyllic views of the ocean and Paradise Bay that you won't get tired of!
The Mandarin's talented team of mixologists and bartenders are trained to create amazing cocktails, mocktails and other signature drinks, and its extensively curated wine list is nothing to scoff at.
Though there are plenty of restaurants to choose from, the bars also offer small bite-sized aperitifs, perfect for getting your night started.
MANDARIN ORIENTAL
Yalıkavak, Çomça Mevkii, Cennetköy, 48400 Bodrum/Muğla
9.

Sultan Cave Suites

/ Cappadocia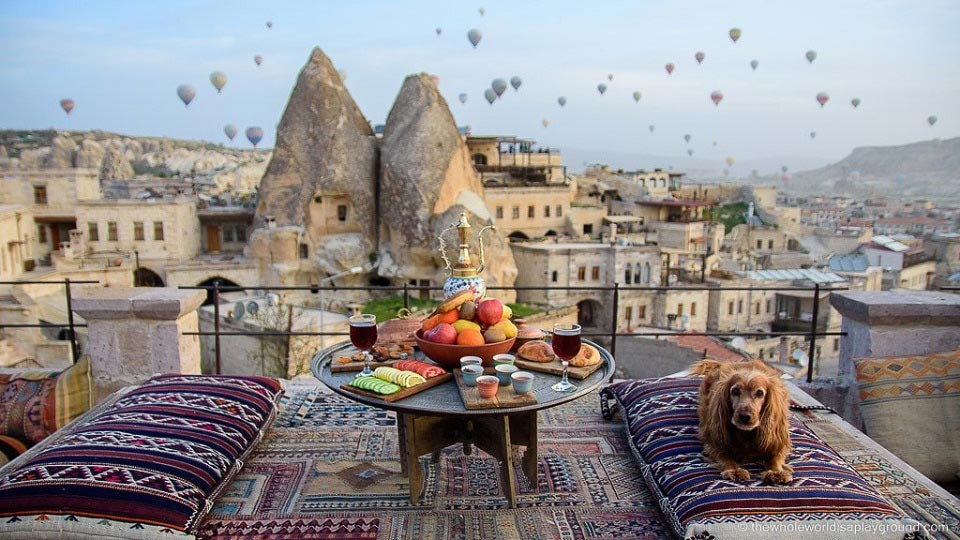 Sultan Cave Suites - Photo: www.sultancavesuites.com
While the Sultan Cave is a beautiful destination all on their own, its restaurant, the Seten Anatolian, is on a league on its own.
With the best seats of the house, this rooftop restaurant offers traditional local food, homemade wines you won't be able to enjoy elsewhere, and stunning scenery.
The Seten Anatolian offers both indoor and outdoor seating, with the latter being the most coveted, and is well-known not only for its traditional food but also its conventional cooking methods.
If you're looking for a culinary experience to go with the views, this is the place for it.
SULTAN CAVE SUITES
Aydinli Mah. Aydinli Sok. No:40, 50180 Göreme, Turkey
8.

5. Kat

/ Istanbul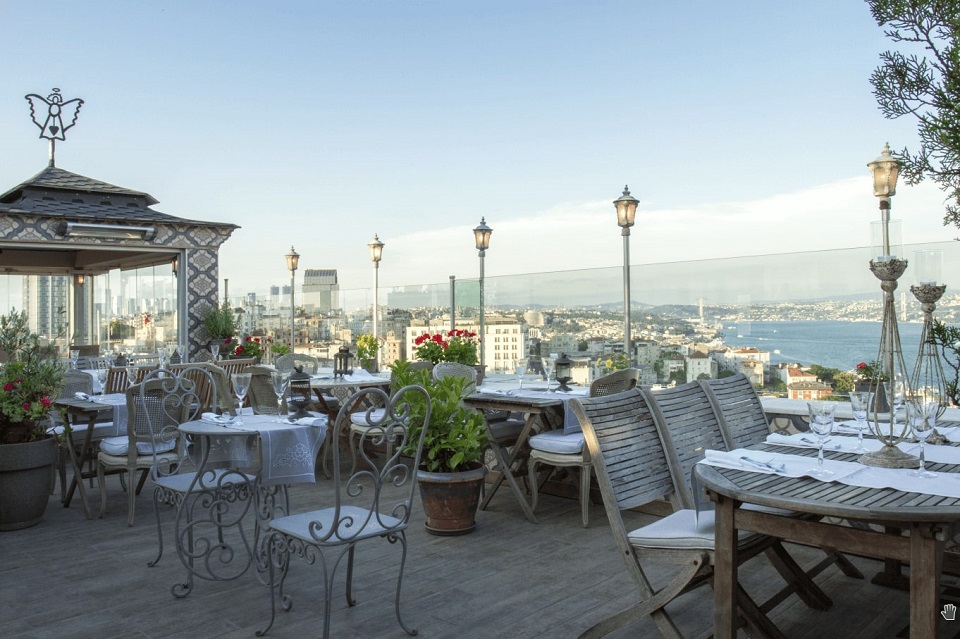 5. Kat - Photo: www.5kat.com
A more casual yet no less charming affair, Kat is a cozy little café that also works as a bar and a restaurant.
Offering jaw-dropping views of the Bosphorous and the bay, this is an ideal choice for when you're looking to relax away from the bustle and hustle of the city.
Its intimate setting and charming decorations make Kat an excellent choice for a romantic dinner, but it works just as well for when you wish to enjoy some drinks.
Breakfast, lunch, and dinner are available, as well as an extensive menu of drinks, including champagne, cocktails, wine, and more.
The food features pasta heavily, as well as meat and seafood, and for the caffeine lovers out there, Kat is well known for their aromatic coffee, so make sure to order that.
5. KAT
Cihangir Mh., Soğancı Sk No:7, 34427 Istanbul
7.

The Marmara

/ Bodrum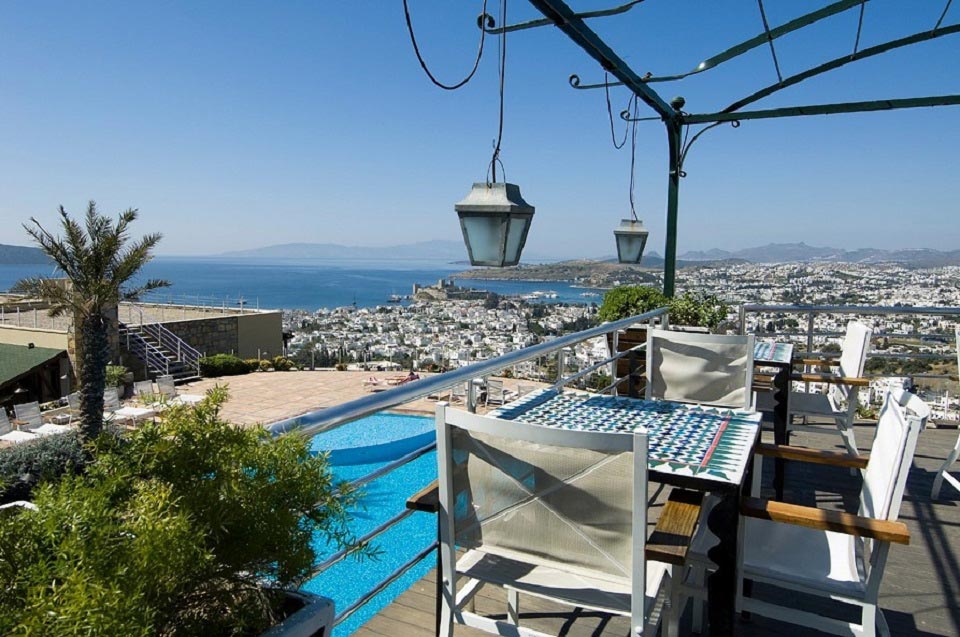 The Marmara - Photo: www.themarmarahotels.com
An exclusive and luxurious option, The Marmara is set on a hilltop and offers 180-degree views of the Bodrum Bay and part of the Kos Island.
The restaurant and the bar share space and offer both indoor and outdoor seating, as well as international and Turkish food, fresh bread, and an extensive drink menu.
This is an adult-only hotel, which means you'll be able to enjoy your drinks and watch the sunset without having to worry about children spoiling the moment.
THE MARMARA
Yokuşbaşı mah, Sulu Hasan Cd. No:18, 48400 Bodrum/Muğla
6.

16ROOF

/ Istanbul
16ROOF - Photo: www.swissotel.com
With its casual yet exclusive ambiance, it's no wonder that the 16Roof has gained the popularity it has.
This multi-level rooftop terrace, located on top of the Swissotel, offers a stylish dining experience and a comfortable lounge just for drinks.
International food is readily available and goes well with the impressively large drink menu the bar offers: Signature cocktails, wines, and beers from around the world and even cigars.
16ROOF's trendy atmosphere has turned it into a popular location, particularly during the weekends, when live music and a party atmosphere reigns supreme.
Walk-ins are welcome, but make a reservation if you hope to be guaranteed entry.
16 ROOF
Bayildim Cad. No.2 Macka, 34357 Besiktas, Istanbul
5.

Carus Cappadocia Hotel

/ Cappadocia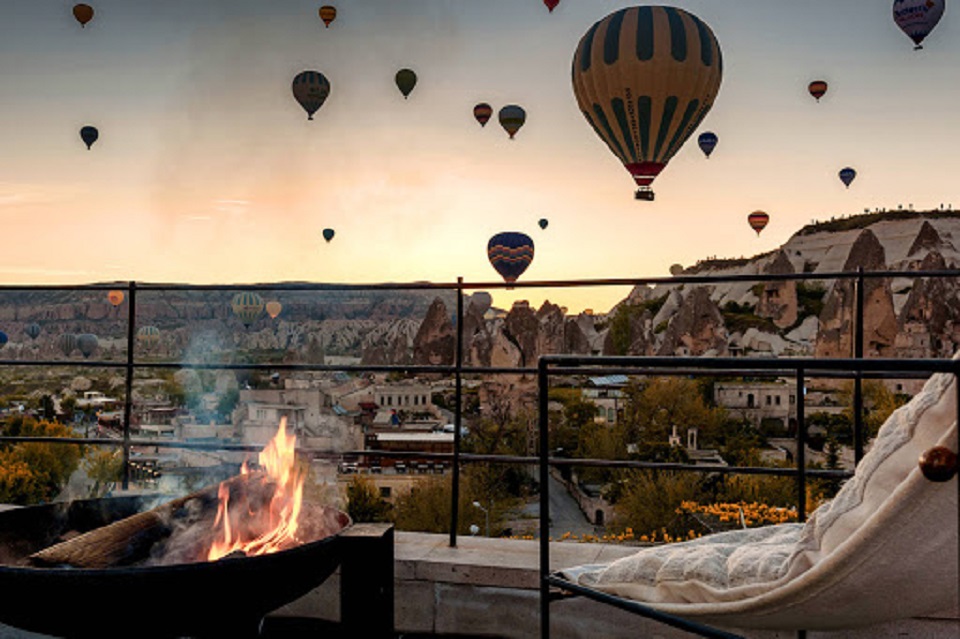 Carus Cappadocia Hotel - Photo: www.caruscappadocia.com
A one-of-a-kind experience from the moment you walk in, the Carus Cappadocia Hotel sure knows how to spoil their guests, and that extends to every aspect of the experience.
Its restaurant, HARUNA, mixes farm-fresh local cuisine with world influences, delivering fantastic breakfast, lunch, and dinner.
The terrace where the meals are served is well equipped with comfortable seating, fireplaces, and exclusive areas meant to give guests some extra privacy.
The views of Göreme's landscape are spectacular and come the yearly Hot Air Balloon Festival; you'll be hard-pressed to find a better spot to enjoy some drinks while watching the show.
CARUS CAPPADOCIA HOTEL
Gaferli Mahallesi Manav Çıkmazı sokak No:2 50180 Göreme
4.

Mikla

/ Istanbul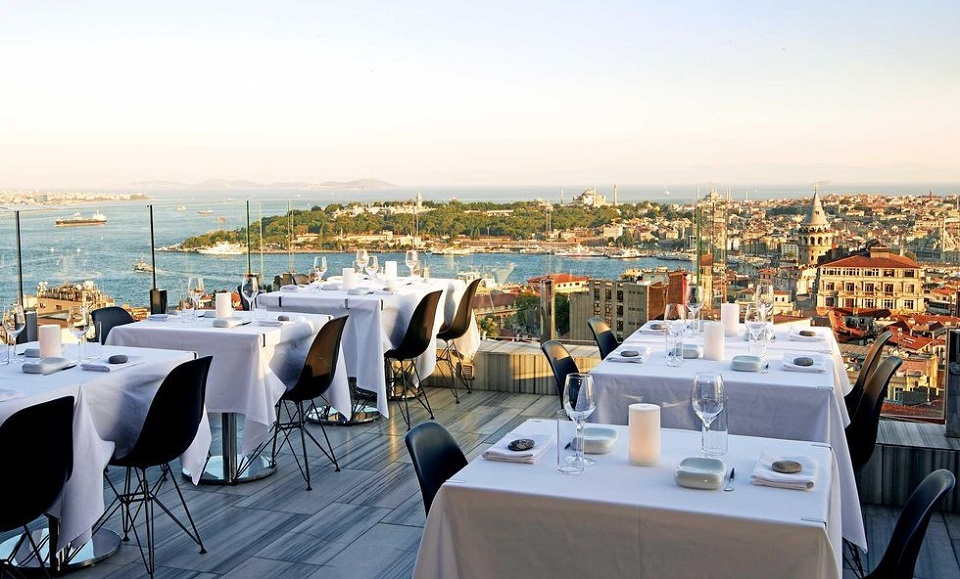 Mikla - Photo: www.miklarestaurant.com
Number 52 in 2020's Best Restaurants in the World ranking, Mikla serves modern Turkish food to go with jaw-dropping views.
Though food is the focus, the drinks don't fall behind in quality, with a long list of wines and beers, as well as excellent signature cocktails.
Reservations are a must if you're hoping to score a table, but they're not necessary for the bar, where you can enjoy your drink alongside relaxing and mellow music.
Though the restaurant is your typical high-end place, with black and white decorations and a minimalist approach, the bar seating is a lot more interesting, as it puts you right against the abyss.
If you're one to enjoy vertiginous views alongside your drinks, then Mikla is an excellent choice for you.
If you're a guest at the Marmara Pera Hotel, where Mikla is, you can also enjoy the pool right next to the restaurant.
MIKLA
The Marmara Pera, Meşrutiyet Caddesi 15, 34430, Beyoğlu, Istanbul
3.

GIO Rooftop

/ Kusadasi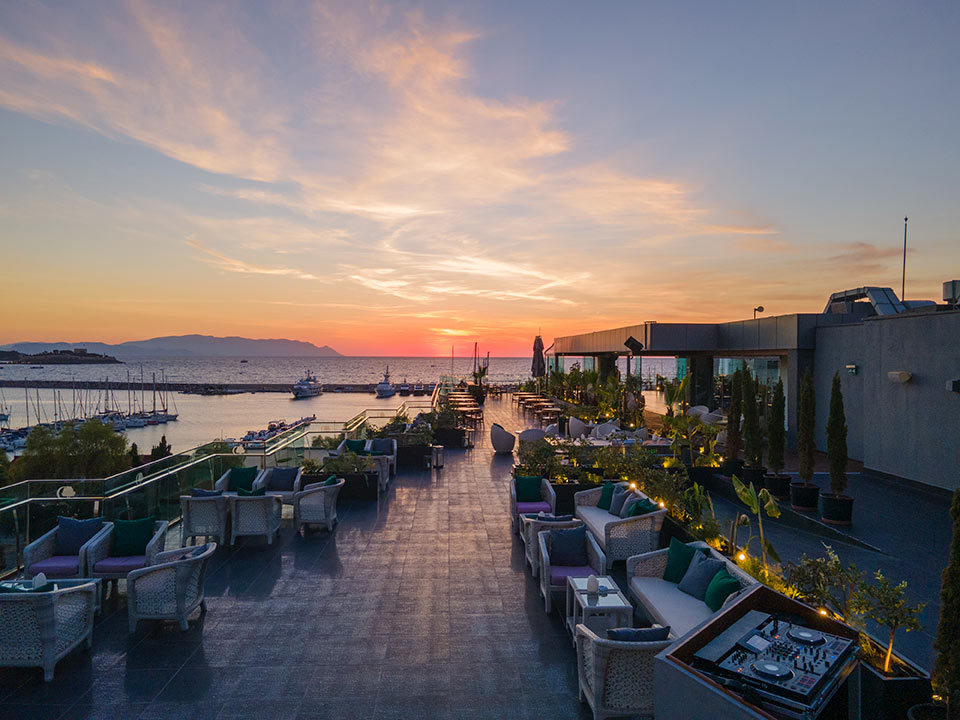 GIO Rooftop - Photo: www.giokusadasi.com/
Kusadasi is a beautiful beach resort town on Turkey's western Aegean coast, close to the famous and ancient city of Ephesus. With lots to see and do, there is one venue that offers a unique view over it all: GIO Rooftop.
Perched on top of the fabulous DoubleTree by Hilton, right across the sea, this modern and stylish rooftop restaurant and lounge serves both food and drinks to panoramic views over the Aegean Sea and pretty much all of Kusadasi and its surroundings.
With a menu described as 'Where Mediterranean and Asia Meet', here you can enjoy everything from risotto and sushi, to live Teppanyaki shows.
Visit GIO Rooftop for romantic dinners with live piano concerts at sunset, or enjoy refreshing signature cocktails to the beats of the nightly live DJs.
Aiming to provide a great mix of good music, good food and good times, any night up at at GIO is bound to be a good one.
GIO ROOFTOP
Türkmen, Atatürk Blv. DoubleTree Hilton Kuşadası, 09400 Kuşadası/Aydın
2.

Simone at RUZ Hotels

/ Istanbul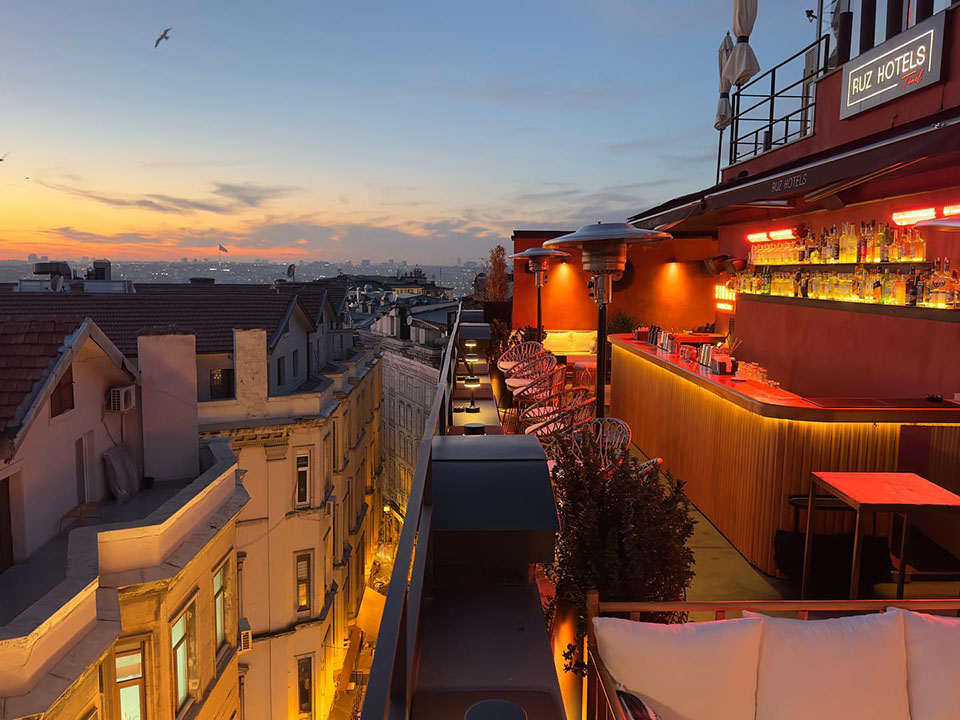 Simone at RUZ Hotels - Photo: www.simoneistanbul.com/
Perched on top of RUZ Hotels, a luxury boutique hotel right next to the famous Istiklal Street, Simone offers a beautiful setting to enjoy Istanbul from above. From morning to night.
Featuring both a rooftop bar and a rooftop restaurant, Simone blends panoramic interior seating with outdoor terraces, surrounded by breathtaking 360° views over Istanbul.
Overlooking the close by and majestic Galata Tower, here you can settle down by one of the intimate dining tables and indulge in a menu inspired by the Mediterranean cuisine and consisting of flavors specially prepared for the season.
Or, you head over to the fully stocked rooftop bar, where you can order everything from crafted signature cocktails, to a selection of gorgeous beers and some splendid wines.
Start the day with an elevated breakfast, sip drinks to a beautiful sunset, and just enjoy the laid back atmosphere with family, friends and colleagues.
SIMONE
Asmalı Mescit, General Yazgan Sk. No:6, 34430 Beyoğlu/İstanbul
1.

Asmani Restaurant

/ Antalya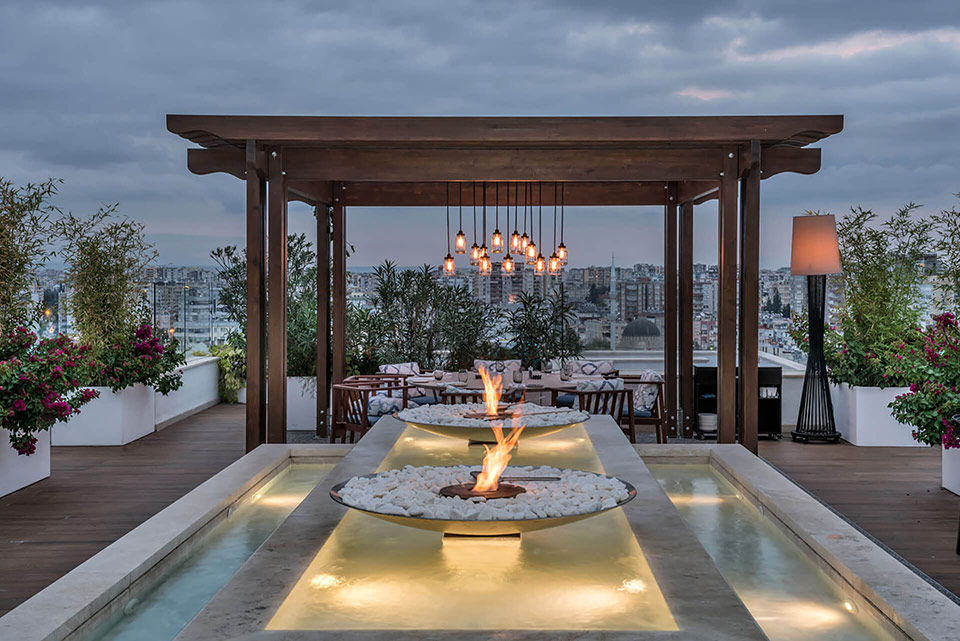 Asmani Restaurant - Photo: www.asmanirestaurant.com/
Asmani Restaurant, Bar and Terrace is one of the top-ranking taste-stops of Antalya, and all of Tureky.
Found on the 10th floor of the Akra Hotel, this is a fantastic venue to enjoy a drink or casual fine-dining, surrounded with panoramic views over the Mediterranean, the Bey Mountains and the Antalya skyline.
With a setting just about as impressive as the views, where stylish dining seats and lounge spots are complemented with plenty of elegant details, Asmani is the prefect loacation for a special night in Antalya.
Here you can indulge in a creative blend of traditional tastes from the Turkish and World cuisines, made from fresh, seasonal and high-quality ingredients.
Complementing the food is an impressive selection of wines, and from the rooftop bar you can order some great and crafted specialty cocktails.
With a unique atmosphere, where nice tunes and the peaceful sound of the waves of the Mediterranean Sea set the tone, Asmani Restaurant is the perfect host for unforgettable nights.
To mix great accommodation with a great rooftop exeprience, Akra Hotel offers a Gastronomy Accommodation Package, where you can crown your stay with extraordinary tastes during a dinner at Asmani.
ASMANI
Şirinyalı Mh. Lara Cd. No:24 07100 Muratpaşa, Antalya