Africa plus rooftop bars is a trend that's starting to get very popular nowadays. More and more hotels understand that you need a rooftop bar to be competitive in the business.
Most of the best rooftop bars in Africa can be found at luxurious hotels along a coastline. So, the view you'll get from these rooftops are often out over the ocean, which is indeed a very nice thing.
Here's our list of the 10 best rooftop bars in Africa. Made by the world's leading experts on rooftop bars – The Rooftop Guide.
1.

Alto234

/ Johannesburg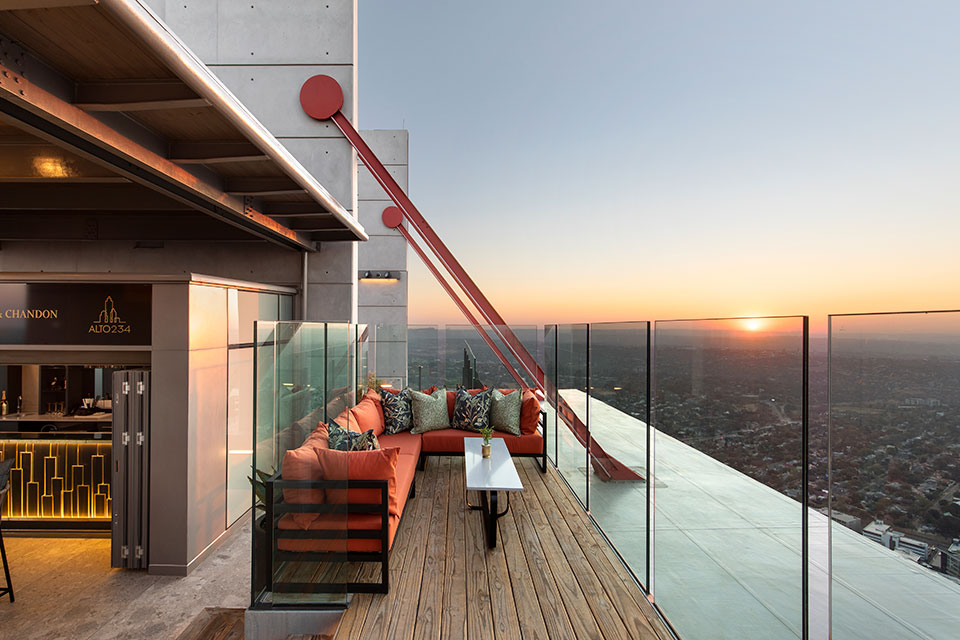 Alto234 - Photo: www.alto234.co.za/
Found on the rooftop of The Leonardo in Sandton, Johannesburg, Alto234 is the highest urban bar in Africa.
Redefining 'drinks with a view', this sky-high (234 meters to be exact) rooftop bar and viewing deck boasts amazing 360-degree views, overlooking the lush landscape of Johannesburg.
Serving only the world's finest when it comes to drinks, tapas and service, Alto234 is one of the most aspirational and exclusive places in all of Africa, quite simply described in three words: High. On. Life.
Alto234 has a variety of experiences on offer, each at a different time of day. From the relaxing 'Afternoon Experience' to a glittering 'Night Light Experience'.
ALTO234
75 Maude St, Sandown, Sandton, 2031
2.

Hero Restaurant

/ Nairobi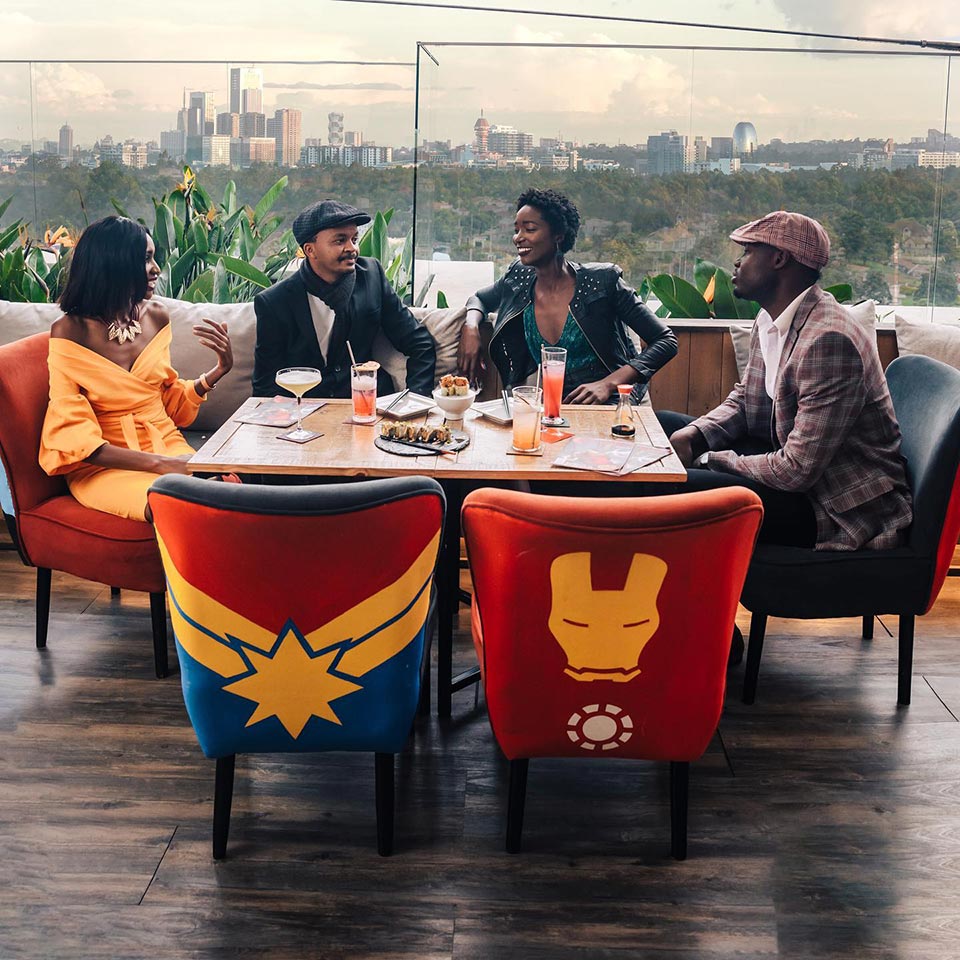 Hero Restaurant - Photo: www.hero-kenya.com/
What do superheroes eat? What do superheroes drink? Where do superheroes hang out? Your best chance of finding answers to these questions is probably to head up to Hero Restaurant, one of the most unique rooftop venues in Africa.
Located on 9th floor of the Trademark Hotel in Gigiri, Nairobi, Hero rooftop offers fantastic views over the city skyline, but also so much more.
Celebrating heroes from comics and from the community, the rooftop is built as a speakeasy with a discrete entrance and prohibition-style bar, surrounded with colorful murals on the walls and fun superhero details.
The rooftop menu is highly creative, and not easy to label. There is sushi, but taken out of its native context to give way to more flavor, color and fun, along with small plates filled with influence from the idea of the superhero, and their superpowers.
You just have to try it, just as you have to try the fantastic Hero cocktails, which earned them the #70 spot in the 2021 ranking of The World's 50 Best Bars.
HERO RESTAURANT
9th Floor, Trademark Hotel Village Market, Limuru Road, Nairobi
3.

E|Bar at Thaba Eco Hotel

/ Johannesburg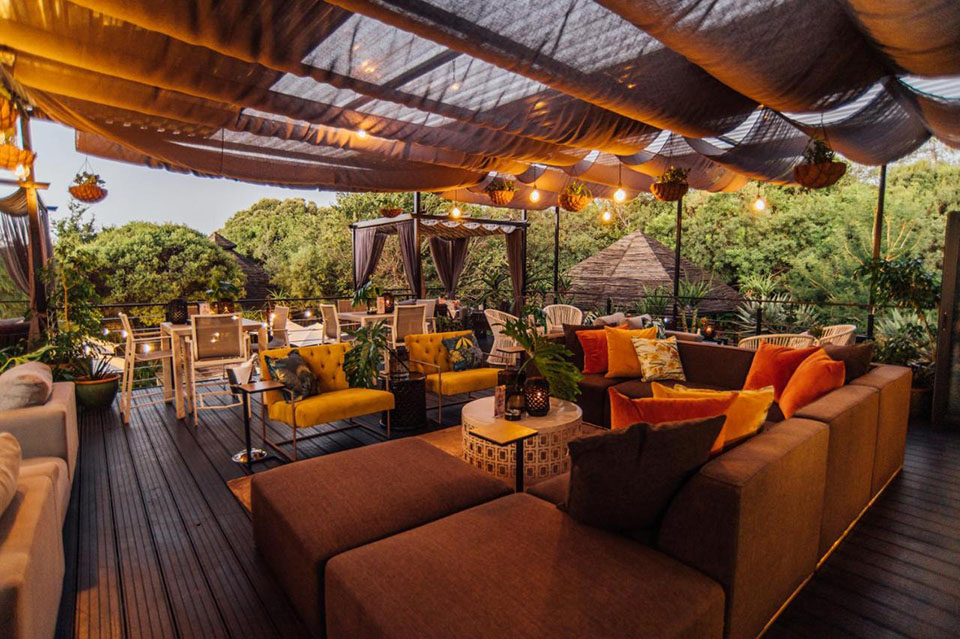 E|Bar at Thaba Eco Hotel - Photo: www.thabahotel.co.za/
For a natural yet luxurious setting, the E|Bar at the beautiful Thaba Eco Hotel is hard to beat.
Nestled in the majestic Klipriviersberg Nature Reserve area, in Johannesburg's green heart, this lush, natural and charming rooftop venue was created using three recycled shipping containers, and also has a number of other eco-friendly design features, like 720 glass bottles creating an eye-catching logo and living plant walls.
Here you can truly indulge in natural refinement and panoramic views, choosing from a menu filled with everything from chilled champagne, signature cocktails, craft beers and a large array of high-quality wines, to delicious bar bites, like pizza.
Offering a unique combination of modern luxuries and traditional atmosphere, E|Bar is an elevated spot to unwind in style. The rooftop also hostr live music performances monthly, and can be booked out for exclusive use.
E|BAR
Thaba Eco Hotel, Impala Rd, Kiblerpark, Johannesburg, 2053, South Africa
4.

Bulbul Rooftop Lounge

/ Naivasha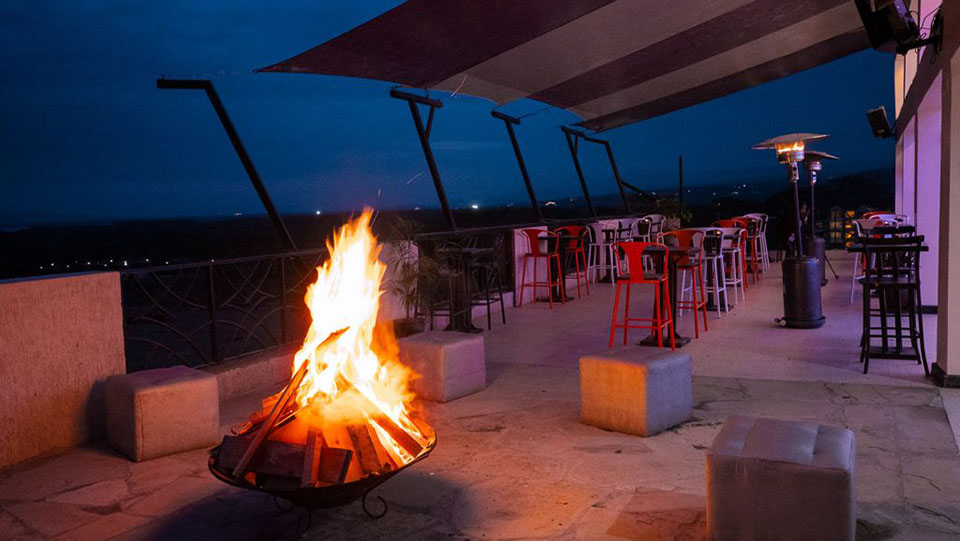 Bulbul Rooftop Lounge - Photo: https://thenestboutiquehotel.com/
The luxurious The Nest Boutique Hotel in Naivasha offers the perfect balance between relaxation and refinement, maybe best exhibited up at the top floor Bulbul Rooftop Lounge.
Mixing a bright and elegant interior lounge with a spacious open-air terrace, here you are surrounded with panoramic views over Lake Naivasha, Hells Gate National Park, Gorges at Ol Karia and pretty much all of the beautiful Naivasha scenery.
The Bulbul Rooftop Lounge menu includes everything from refreshing mixology cocktails and mocktails, a nice selection of wine and spirits, as well as tasty bar bites.
Visit to enjoy drinks to an amazing sunset, get cozy by the bonfires, challange your friends in a game of dart, or for vibrant nights under a starry sky.
All in all, pretty much any time is a good time for elevated hours at the Bulbul Rooftop Lounge.
BULBUL ROOFTOP LOUNGE
Moi South Lake Road, Opposite Villa Estate, Naivasha
5.

Rooftops at Z Hotel

/ Zanzibar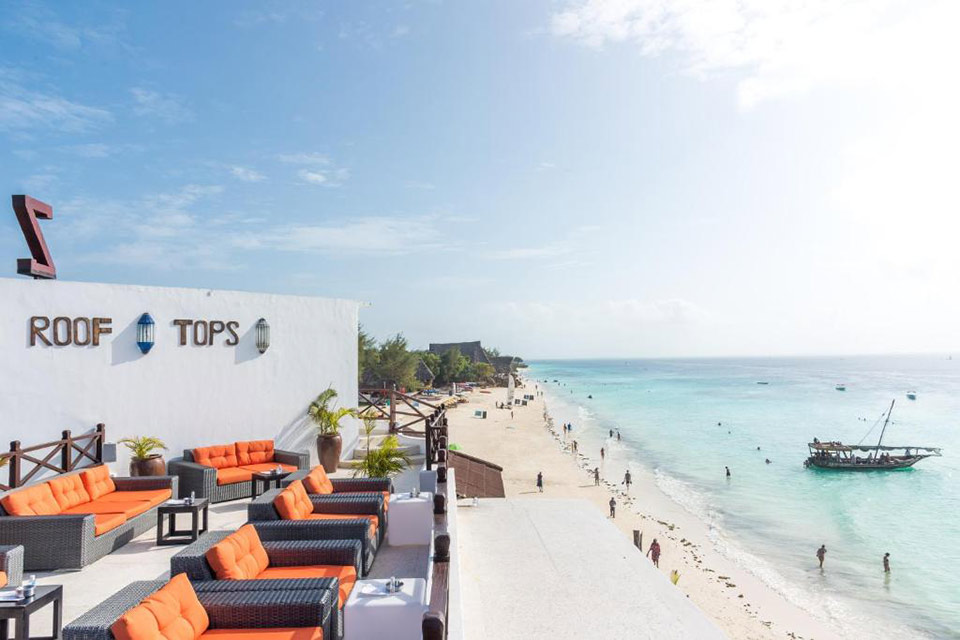 Rooftops at Z Hotel - Photo: www.thezhotel.com
While it's located only on a 2nd story, Rooftops has earned a spot in this list, not for its beautiful views but rather for the experiences it delivers.
This open-air rooftop cocktail bar is one of the most unique venues in Zanzibar, and as such, one you're sure to remember. After all, lying back on one of the bar's coconut wood loungers and enjoying the fully stocked bar and the beautiful sunset isn't something you'll forget any time soon.
Just below you also find the Cinnamon restaurant, serving a global food menu filled with everything from Asian inspired platters to western classics and a selection of Zanzibar dishes. If you wish, you can enjoy your food up on the rooftop.
Rooftops tends to appeal to a younger crowded, which means the atmosphere is vibrant and laid back, but that always goes well with the spirit of Zanzibar.
ROOFTOPS AT Z HOTEL
Nungwi Beach, Zanzibar City
6.

The Jame's Rooftop

/ Casablanca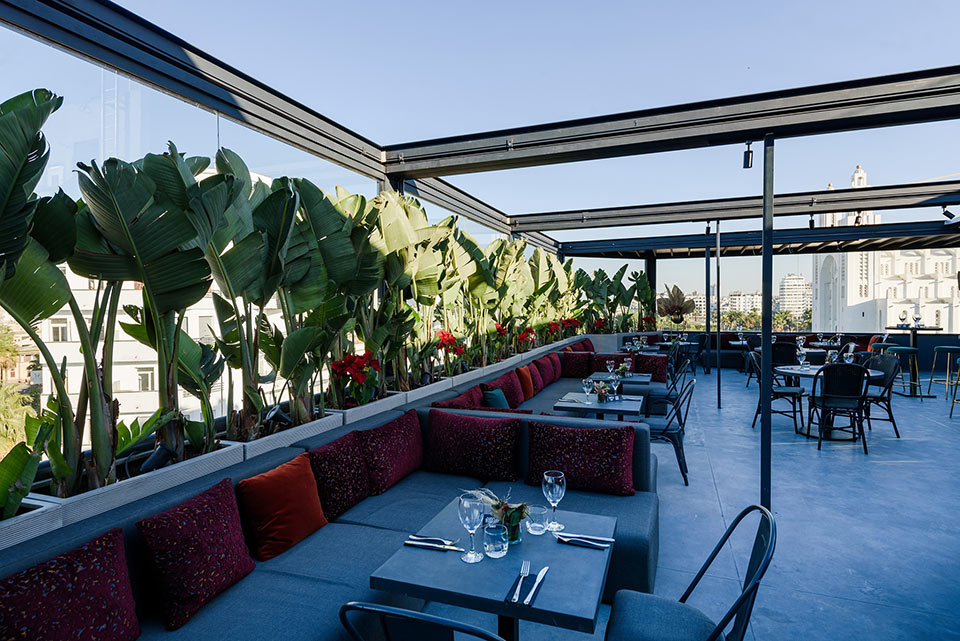 The Jame's Rooftop - Photo: www.thejamesrooftop.com/
Found in the heart of the Art-Deco district in Casablanca, The Jame's Rooftop offers an urban jungle experience with a view.
Set on the 5th floor of the JM Suites & Spa Hotel, the rooftop mixes the industrial-chic with the lush, all surrounded with amazing 360° views over Casablanca.
Overlooking the Hassan II Mosque and the Cathedral of the Sacred Heart, here you can enjoy a cosmopolitan menu, offering a nice selection of refreshing cocktails, wine and beers, as well as global food, from tacos and sushi to juicy burgers.
Open for lunch, after works with a relaxing lounge vibes, and nightly fun including great live DJs on weekends, The Jame's Rooftop is pretty much always a good option to experience Casablanca from above.
THE JAME'S ROOFTOP
161 Angle Bd Rachidi & Moulay Hassan 1er- Quartier, Bd Moulay Youssef, Casablanca
7.

Sky Lounge at Emara Ole-Sereni

/ Nairobi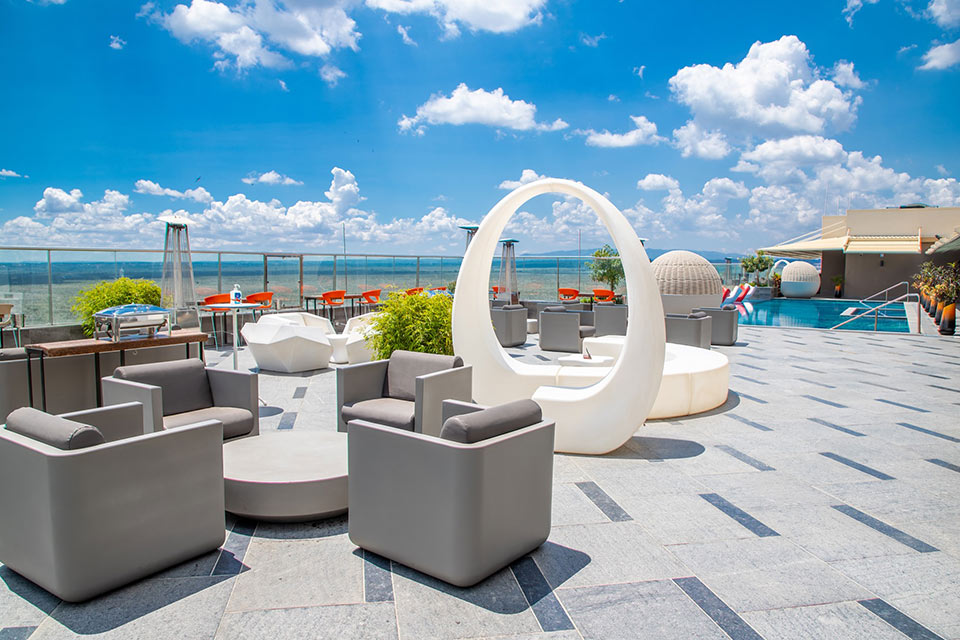 Sky Lounge at Emara Ole-Sereni - Photo: https://emara.ole-sereni.com/
Found right by the Nairobi National Park, the luxurious hotel Emara Ole-Sereni comes with a swanky 10th floor rooftop, that is not only one of the best in the city, but in all of Africa.
Given the location, it is no big surprise that the terrace comes with some amazing views over the National Park, continuing to the city skyline.
Equipped with comfy lounge furniture, colorful details and a lovely rooftop pool, the rooftop is definitely an Insta-worthy spot.
Surrounded with a sophisticated ambience and chill vibes, the Sky Lounge is perfect for hanging out, sundowners or anyone who wants to impress a date.
From the rooftop bar you can order crafted signature cocktails, mocktails, beers and wine, as well as tasty shareables and bites.
SKY LOUNGE
Off Mombasa Road Adjacent to Ole-Sereni, 00500 Nairobi
8.

The Silo Rooftop Bar

/ Cape Town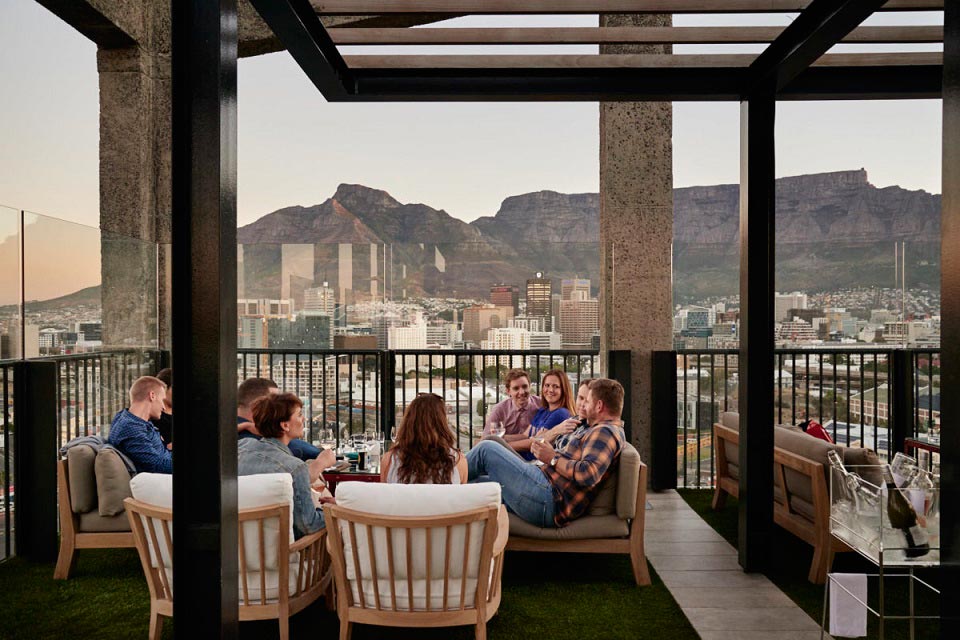 The Silo Rooftop Bar - Photo: www.theroyalportfolio.com
Perched on the fantastic five-star hotel The Silo, this rooftop bar offers incredible views of Cape Town's waterfront, as well as the city and the surrounding mountains.
Up here, you can enjoy one of the continent's coolest rooftop infinity pools, as well as comfortable loungers, luxurious decor, and a world-class staff.
While the pool is available only to guests, the rooftop bar is open to the public, but reservations are mandatory, as well as arriving in time.
Open daily, The Silo rooftop bar serves fresh oysters, pulled pork sandwiches, and even has a tempura bar.
Drink-wise, expect South African wines, classic cocktails, champagne, and more. If for any reason, you can't get a table at the rooftop bar, The Silo has a second bar, located on the sixth floor.
THE SILO HOTEL
Silo Square, V & A Waterfront, Cape Town, 8801
9.

Level 8

/ Dar es Salaam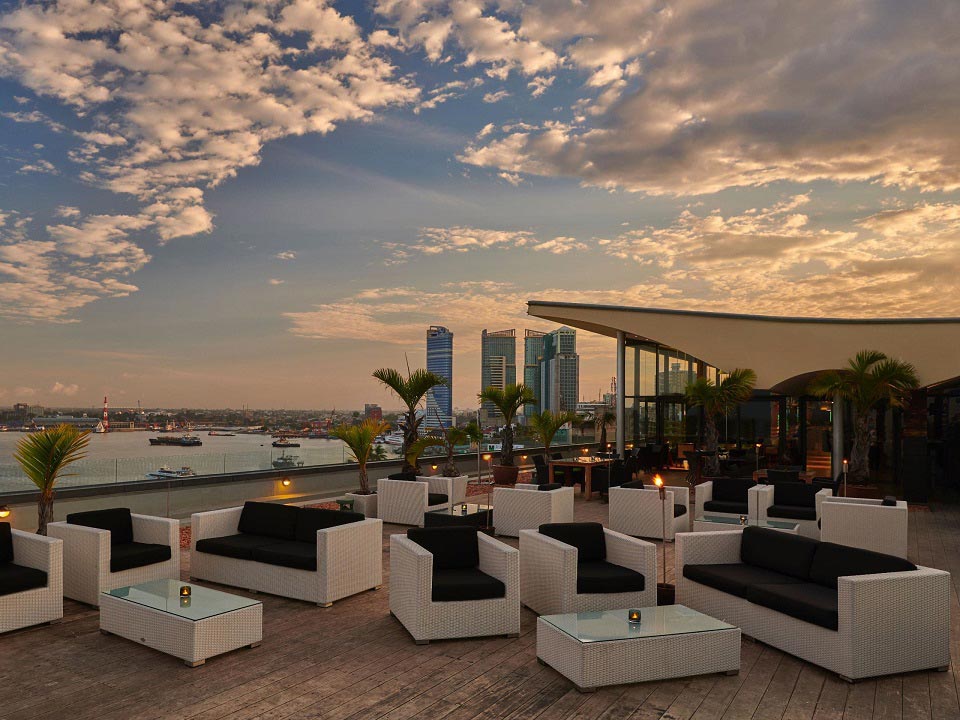 Level 8 - Photo: www.hyatt.com
One of the favorite rooftops in town, Level 8, offers jaw-dropping views of the harbor and the city skyline, as well as comfortable lounge furniture from which to enjoy.
Classic and exotic cocktails, beers, liquors, and more await you, alongside local beats and excellent service.
Located on the eighth floor of the Hyatt Regency Kilimanjaro Hotel, Level 8 is also the stage for various live music acts and some of the best sunsets in the world.
LEVEL 8
24 Kivukoni Rd, Dar es Salaam
10.

Nomad

/ Marrakech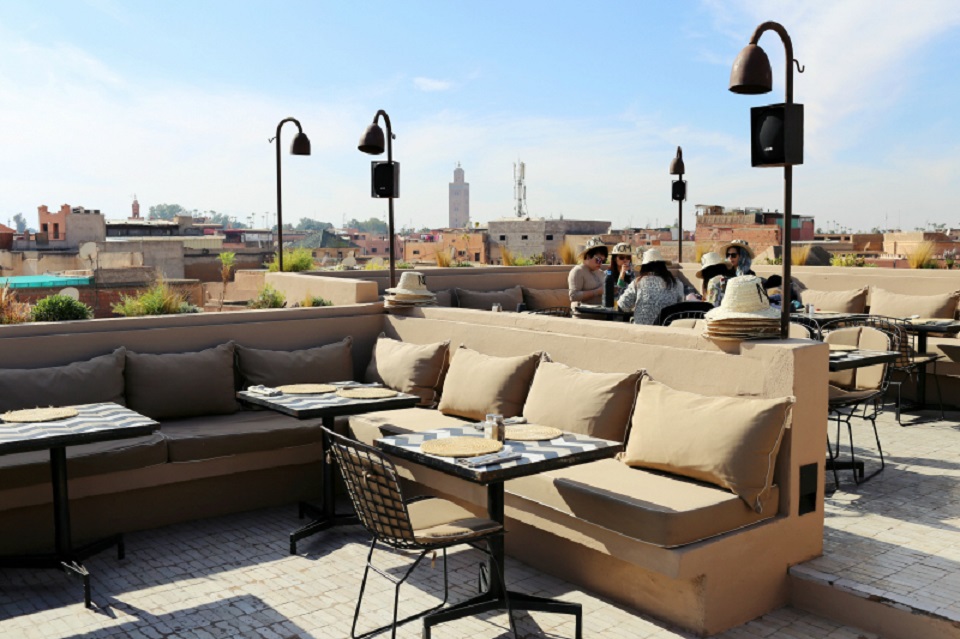 Nomad - Photo: www.nomadmarrakech.com
A modern Moroccan restaurant overlooking the Rahba Kedima Spice Square, Nomad is a vibrant and lively venue, perfect for those looking to immerse themselves in the city.
This chic bar mixes tradition with urban spirit, with comfortable furnishings, indoor and outdoor seating and trendy, yet relaxing music.
Featuring traditional local cuisine for lunch and dinner, as well as tasty drinks with a local twist, Nomad is a must-visit for those looking for a modern, yet still undeniably local venue.
Reservations are highly encouraged, and when you're making them, don't forget to ask for a spot on the top terrace, where you can get the best views of the Atlas Mountains.
NOMAD
1 DerbAarjane, Medina, Marrakech 40000