Africa plus rooftop bars is a trend that's starting to get very popular nowadays. More and more hotels understand that you need a rooftop bar to be competitive in the business.
Most of the best rooftop bars in Africa can be found at luxurious hotels along a coastline. So, the view you'll get from these rooftops are often out over the ocean, which is indeed a very nice thing.
Here's our list of the 7 best rooftop bars in Africa. Made by the world's leading experts on rooftop bars – The Rooftop Guide.
1.

Level 8

/ Dar es Salaam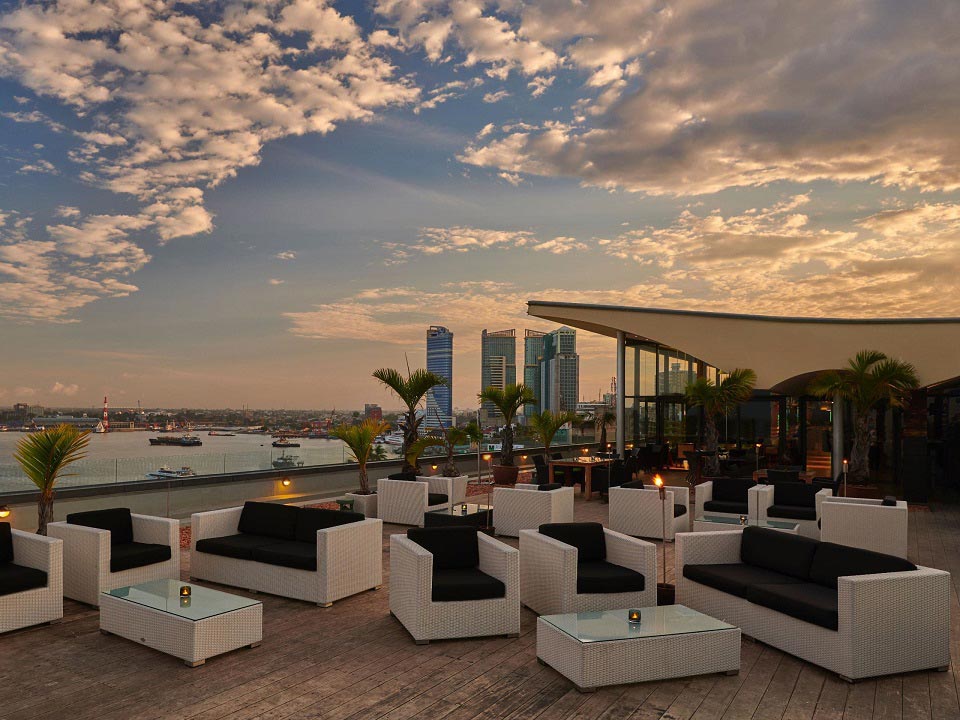 Level 8 - Photo: www.hyatt.com
One of the favorite rooftops in town, Level 8, offers jaw-dropping views of the harbor and the city skyline, as well as comfortable lounge furniture from which to enjoy.
Classic and exotic cocktails, beers, liquors, and more await you, alongside local beats and excellent service.
Located on the eighth floor of the Hyatt Regency Kilimanjaro Hotel, Level 8 is also the stage for various live music acts and some of the best sunsets in the world.
LEVEL 8
24 Kivukoni Rd, Dar es Salaam, Tanzania
Daily 17:00 - 01:00
2.

The Silo Rooftop Bar

/ Cape Town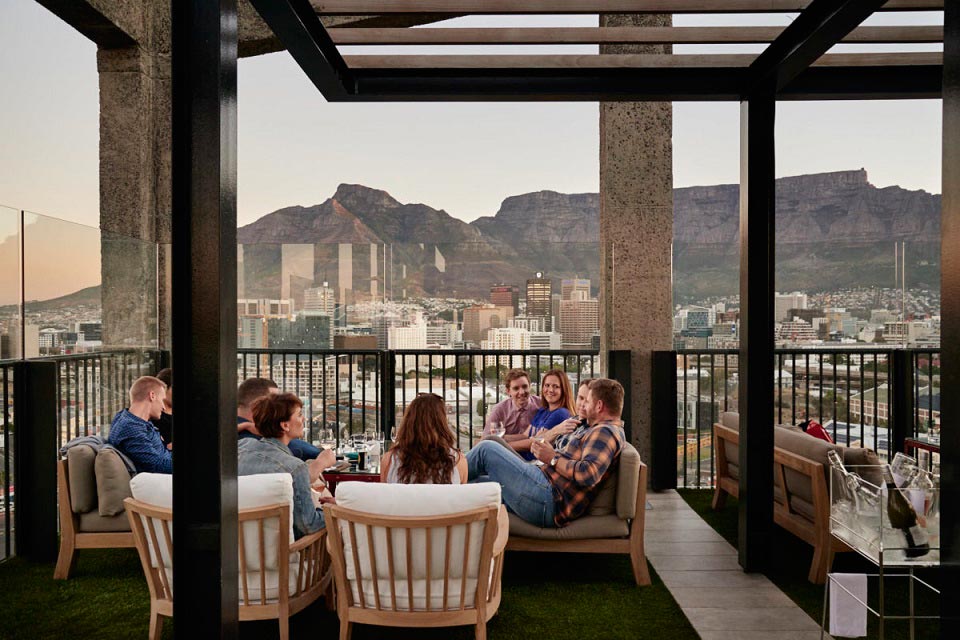 The Silo Rooftop Bar - Photo: www.theroyalportfolio.com
Perched on the fantastic five-star hotel The Silo, this rooftop bar offers incredible views of Cape Town's waterfront, as well as the city and the surrounding mountains.
Up here, you can enjoy one of the continent's coolest rooftop infinity pools, as well as comfortable loungers, luxurious decor, and a world-class staff.
While the pool is available only to guests, the rooftop bar is open to the public, but reservations are mandatory, as well as arriving in time.
Open daily, The Silo rooftop bar serves fresh oysters, pulled pork sandwiches, and even has a tempura bar.
Drink-wise, expect South African wines, classic cocktails, champagne, and more. If for any reason, you can't get a table at the rooftop bar, The Silo has a second bar, located on the sixth floor.
THE SILO HOTEL
Silo Square, V & A Waterfront, Cape Town, 8801
Daily: 12:00 - sunset
3.

Nomad

/ Marrakech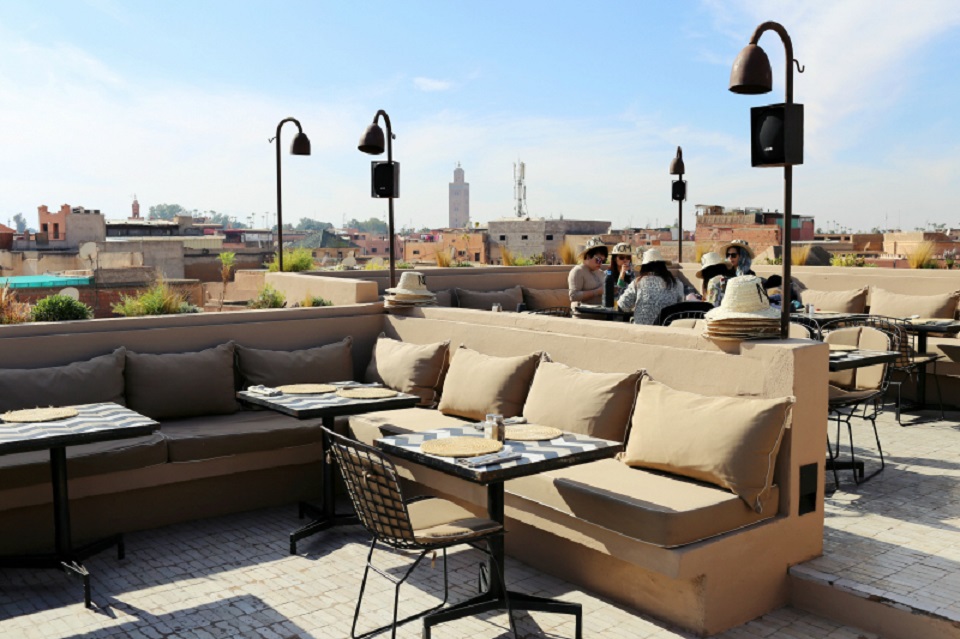 Nomad - Photo: www.nomadmarrakech.com
A modern Moroccan restaurant overlooking the Rahba Kedima Spice Square, Nomad is a vibrant and lively venue, perfect for those looking to immerse themselves in the city.
This chic bar mixes tradition with urban spirit, with comfortable furnishings, indoor and outdoor seating and trendy, yet relaxing music.
Featuring traditional local cuisine for lunch and dinner, as well as tasty drinks with a local twist, Nomad is a must-visit for those looking for a modern, yet still undeniably local venue.
Reservations are highly encouraged, and when you're making them, don't forget to ask for a spot on the top terrace, where you can get the best views of the Atlas Mountains.
NOMAD
1 DerbAarjane, Medina, Marrakech 40000
Daily: 11:00 - 23:00
Collaboration
4.

The RooPh

/ Abidjan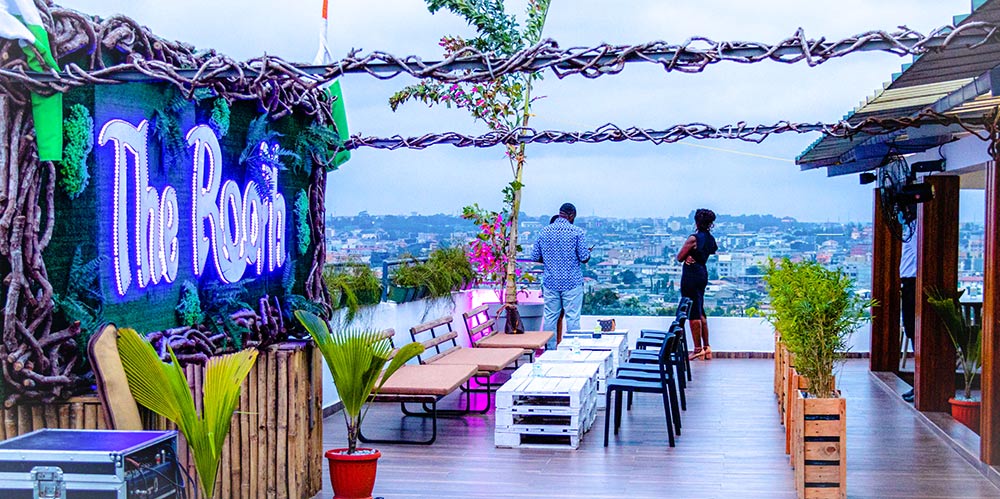 The RooPh - Photo: www.facebook.com/TheRooPh
Found in Abidjan, the largest city in Ivory Coast, The RooPh is a modern and trendy rooftop lounge, offering visitors a journey through the flavors of the five continents and offers a unique experience.
The spacious rooftop comes decorated with a stylish decor of wood and and plenty of greenery, all opening up to some amazing views over the Riviera Bonoumin.
The RooPh menu includes both a fine array of cocktails and an impressive selection of exceptional spirits. To go with the drinks, there is a simple but effective food menu, including both seafood, meats, salads and ivorian specialties.
Open daily, this rooftop is a perfect spot for some good times, with a relaxing and varied musical atmosphere surrounding the venue.
THE ROOPH
Riviera Bonoumin, Immeuble Le Phare Coworking, Abidjan 01, Ivory Coast
Mon-Wed: 10am-11pm / Thu-Sat: 10am-2am / Sun: 7pm-11pm
5.

Rooftops at Z Hotel

/ Zanzibar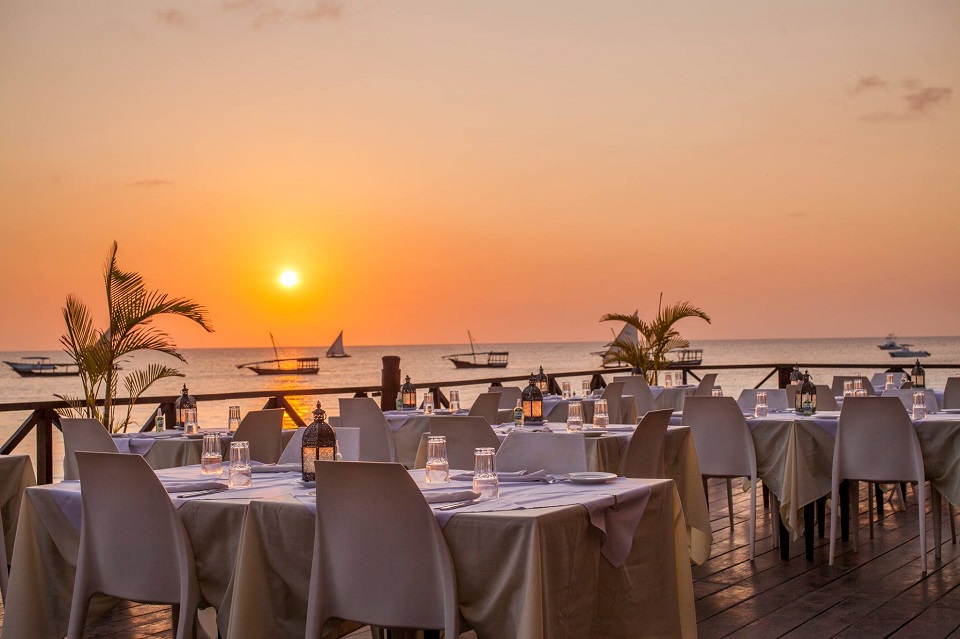 Rooftops at Z Hotel - Photo: www.thezhotel.com
While it's located only on a 2nd story, Rooftops has earned a spot in this list, not for its beautiful views but rather for the experiences it delivers.
This open-air champagne and cocktail bar is one of the most unique venues in Zanzibar, and as such, one you're sure to remember. After all, lying back on one of the bar's coconut wood loungers and enjoying cold champagne while watching the night sky isn't something you'll forget any time soon.
Rooftops tends to appeal to a younger crowded, which means the atmosphere is vibrant and laid back, but that always goes well with the spirit of Zanzibar.
ROOFTOPS AT Z HOTEL
Nungwi Beach, Zanzibar City, Tanzania
Daily
6.

San Deck, Bar & Restaurant

/ Johannesburg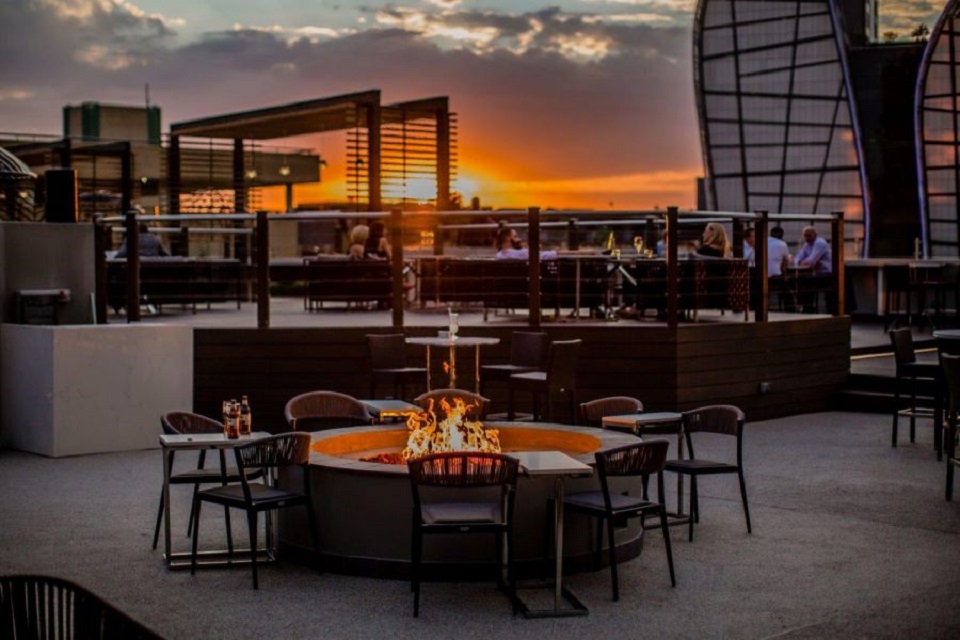 San Deck, Bar & Restaurant - Photo: www.tsogosun.com
This beautiful all-day dining and drinking rooftop terrace features scenic views of the city center and Johannesburg's skyline.
Open from early morning to late at night; this rooftop bar is perfect for a quick visit, no matter the time of the day.
San Deck serves breakfast, lunch, and dinner, with the food featuring South African flavors and culinary traditions.
The same goes for the drinks, as you'll be able to enjoy South African beers and wines, as well as signature cocktails featuring the local flavor.
Stylish and modern in decoration, furnished with cozy bean bags and a large fireplace, this roof terrace works as both an urban oasis and a party rooftop. It all depends on the time of the day.
Come early in the day for relaxation, and late in the afternoon for a more vibrant atmosphere.
SAN DECK
Corner Fifth and Alice Streets Sandton Sun, Sandton, 2196
Daily: 09:30 - 22:30
7.

The Roof Pool Bar at Kempinski Nile Hotel

/ Cairo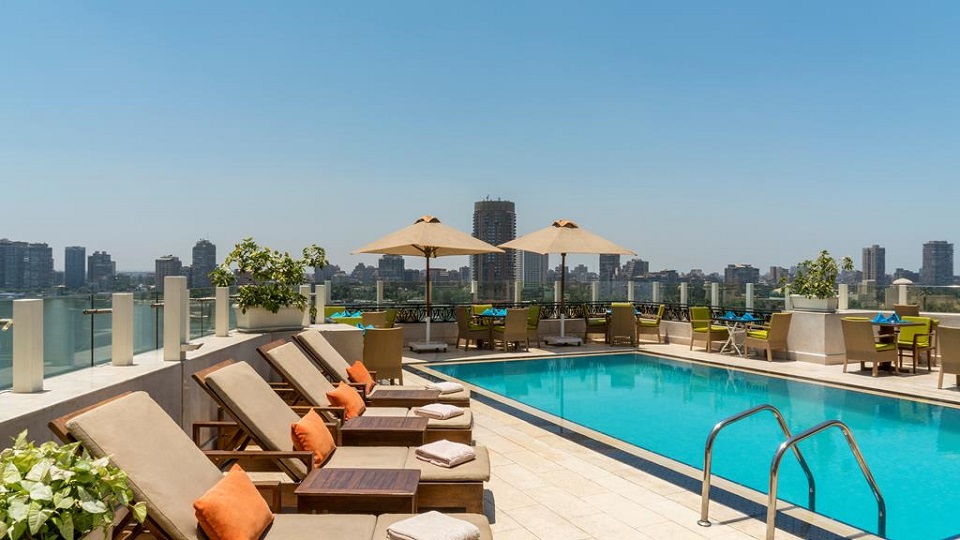 The Roof Pool Bar at Kempinski Nile Hotel - Photo: www.kempinski.com
Located on an 11th floor and overlooking the Nile and Cairo's skyline, The Roof Pool Bar is the perfect location for taking a dip while enjoying refreshing drinks.
While the rooftop pool is available only for guests, the bar, the restaurant, and the bar are open to the public, making this venue an excellent location for romantic dates or a night out with friends.
The drink menu is small, but varied, offering wines, beers, juices, martinis, and other cocktails; The food menu is also short, but features tapas, sushi, and more filling dishes, like Lobster and Beef Tenderloin.
You can also enjoy a shisha service, which features many different flavors.
KEMPINSKI NILE HOTEL
Kempinski Nile Hotel, Corniche El Nil, 12 Ahmed Raghab Street, 11519, Garden City, Cairo
Daily
Collaboration