Toronto probably have the best skyline view in Canada. And it would be a shame to not be able to enjoy the fantastic rooftop views here during winter as well.
Not to worry, there are many rooftop bars - or rooftop patios as many calls them here – open also during the colder months. Many of them with enclosed roofs and heating.
Check out our list of the 5 best winter open rooftop bars and patios in Toronto.
1.

Drake Sky Yard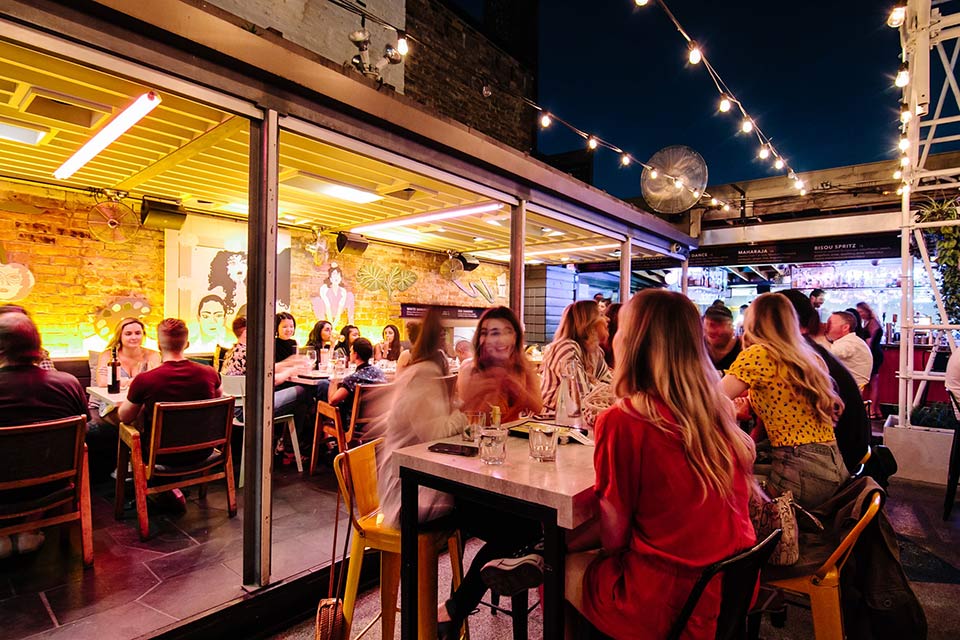 Drake Sky Yard | Photo: www.thedrake.ca
With a unique and colorful design that speaks of a lot of creativity, this restaurant/bar has everything a sky bar needs to be memorable.
Creative and delicious signature cocktails, tasty dishes perfect for sharing, a variety of comfortable seating options, and a great atmosphere makes the Drake Sky Yard a must-visit.
Best described as "colorful industrial chick," the Sky Yard offers both indoor and outdoor seatings and is open year-round.
While the construction is fairly airy, the bar transforms during the winters, setting up small tents and firepits to keep you warm.
Whether you're looking for sunny cocktails or warm drinks, the Drake Sky Yard has something for you.
Make sure to charge your phone before getting here, because you'll want to take plenty of pictures.
DRAKE SKY YARD
Queen St W, Toronto
2.

Gusto 101
Gusto 101 | Photo: https://gusto101.com/
A spacious and comfortable location, the Gusto 101 is a restaurant with amazing bar options and a cozy roof terrace.
With only two-stories in height, the views aren't particularly noteworthy, but the food more than makes up for that!
Pair up traditional southern Italian cuisine with delicious wines –including the house wine, at $1 per ounce– or classic hand-made cocktails.
Gusto 101 has three areas: the street seating, indoor seating, and the terrace.
The terrace is the most popular and the one that fills the fastest, so make sure to arrive in time or make reservations.
The terrace is also equipped with a retractable roof, perfect for rainy or snowy days.
GUSTO 101
101 Portland St, Toronto
3.

Hemingway's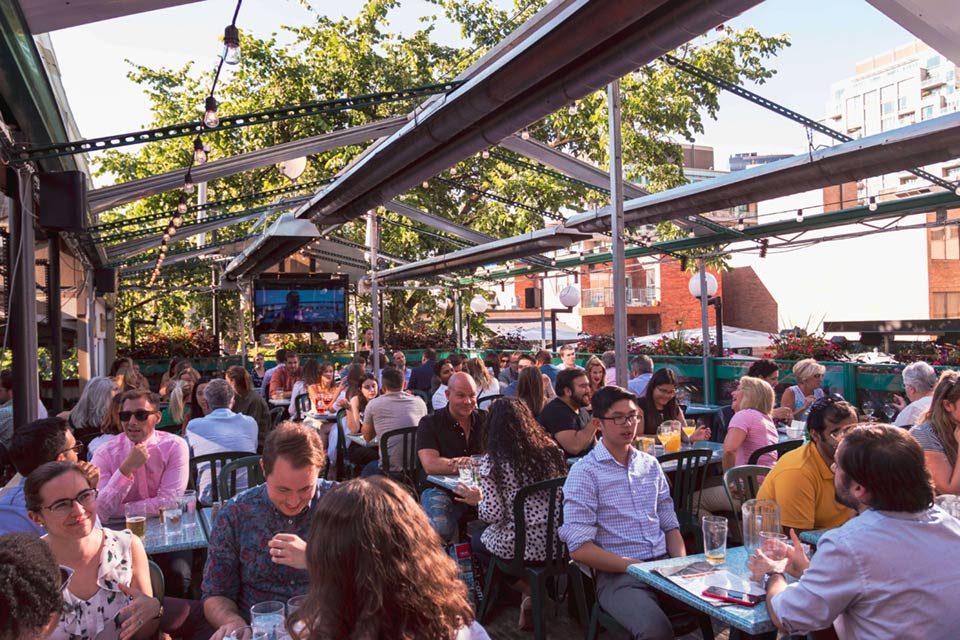 Hemingway's | Photo: https://hemingways.to
With a casual and relaxed atmosphere that invites you to chill with your friends, Hemingway's is a perfect little getaway for when you want to take a break.
Inspired by New Zealand, in both looks, food, and drinks, Hemingway's is a lot larger than it initially looks.
Equipped with four patios, all stacked with simple yet comfortable furniture, retractable roof and heaters, there's plenty of space to hold live DJ events, "silent disco nights," trivia nights, and all kinds of fun events.
Another thing that sets Hemingway apart is its tap system, as they offer up to 24 different draught beers. Perfect for the beer lovers!
If beer isn't your thing, don't worry, though it's the focus of the bar, Hemingway has an extensive drink menu that you're sure to enjoy.
Reservations are not needed, nor any specific dress style. Come as you are and get ready to have fun!
HEMINGWAY'S
142 Cumberland St, Toronto
4.

The Pilot Toronto
The Pilot | Photo: www.thepilot.ca
The Pilot is a well-known bar around Toronto, thanks to its large terrace bar and comfortable atmosphere.
The "flight deck", as the terrace is called, offers simple but straight to the point decoration that seats plenty.
All while offering some pretty impressive views of the city.
The Pilot is split into two levels:
The lower level is entirely roofed, is open year-round, and is the perfect spot to watch sports games, listen to music and enjoy delicious bar-bites.
The terrace is officially only open from March to December, but it do come with heaters and retractable awnings, so as long as the weather is not to bad, it might just be available.
Don't let the eventual lack of an actual rooftop bar for a few winter months stop you, though.
The people at The Pilot certainly know how to have fun, and they're amazing at organizing seasonal events to keep the party going.
No specific dress code is required. This is a casual bar for casual people.
THE PILOT
22 Cumberland St, Toronto
5.

Lavelle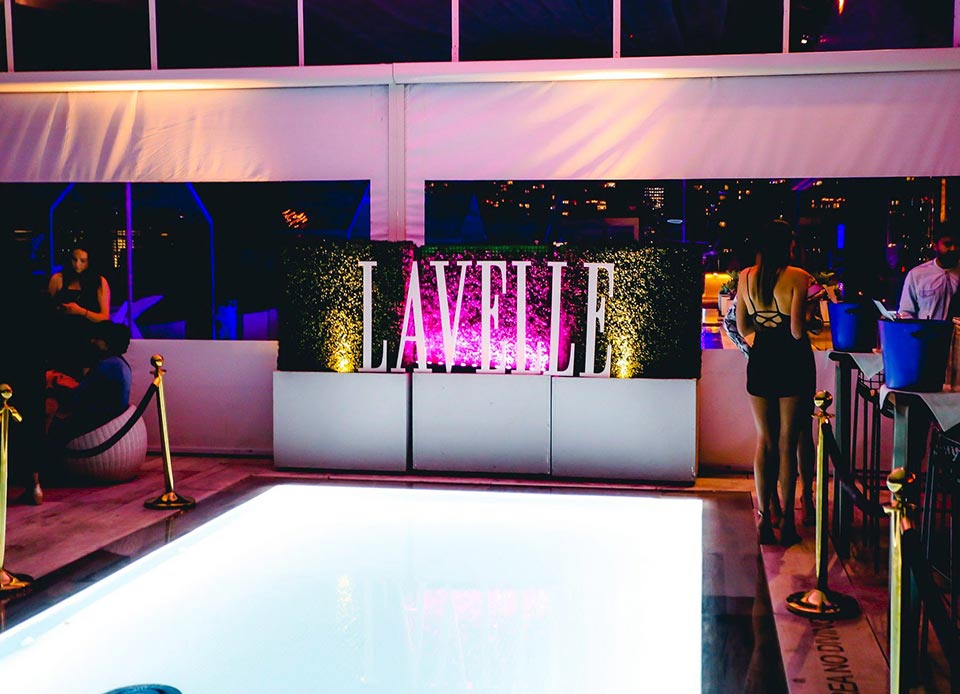 Lavelle | Photo: www.facebook.com/chezlavelle
If you're looking for a more exclusive yet equally enjoyable destination, then head out to 627 King Street West, where you can find Lavelle.
Though it's located on top of a condo building, this bar is open to the public, and what a good thing that is!
Proudly displaying not one, or two, but three rooftop pools, Lavelle is a preferred spot during the summer, but it's a great destination even during the chilly winters!
During the coldest months of the year, Lavelle undergoes a transformation.
The pools are enclosed to create three different areas, all with comfortable pool-side seating, and the ultramarine cabanas become tiny cottages.
If you're still not convinced by the changes, Lavelle offers indoor seating as well, making it an ideal place to visit no matter the season.
Though this isn't the most luxurious bar in Toronto, it's still up there, so make sure to dress to impress whenever visiting this rooftop bar.
LAVELLE
627 King Street West, Toronto