North America have some of the best rooftop bars in the world. The large number of big cities is of course one of the main reasons for this.
Here you can find rooftop bars at high altitude, rooftops with ocean view and rooftop bars perched right among the skyscrapers.
The Rooftop Guide have assembled a list of the 10 best rooftop bars in North America, well worth a visit during 2023. A list made by the world's leading experts on just rooftops.
1.

Harriet's Rooftop

/ New York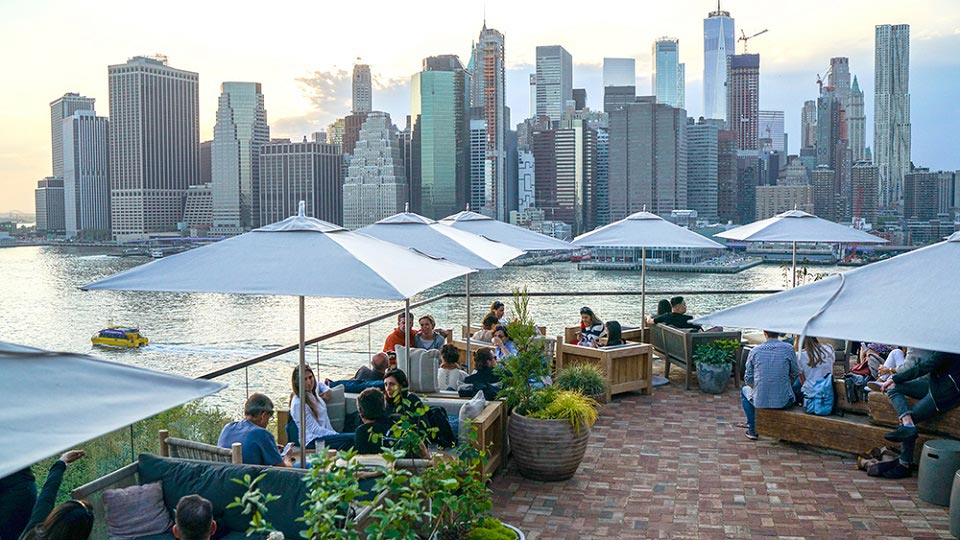 Harriet's Rooftop - Photo: www.1hotels.com
Located in Dumbo, right by the Brooklyn Bridge, Harriet's Rooftop & Lounge is a casual, urban chic location where you can enjoy gorgeous views of Manhattan and a fantastic atmosphere.
Offering both indoor and outdoor seating, lush greenery, and comfortable lounge furniture, Harriet's Rooftop is best known for its large selection of signature cocktails, though they also offer other drinks.
Food-wise, Harriet's has a small but delicious bar-bite menu meant to share, which you can enjoy in any area of the rooftop, which comes in handy when the sun sets.
Live DJ music, a vibrant atmosphere, and a trendy crowd make Harriet's one of the best rooftop bars in New York, and this translates to plenty of visitors, so reservations are encouraged.
HARRIET'S ROOFTOP
60 Furman St, Brooklyn, NY 11201
2.

High Rooftop Lounge at Hotel Erwin

/ Los Angeles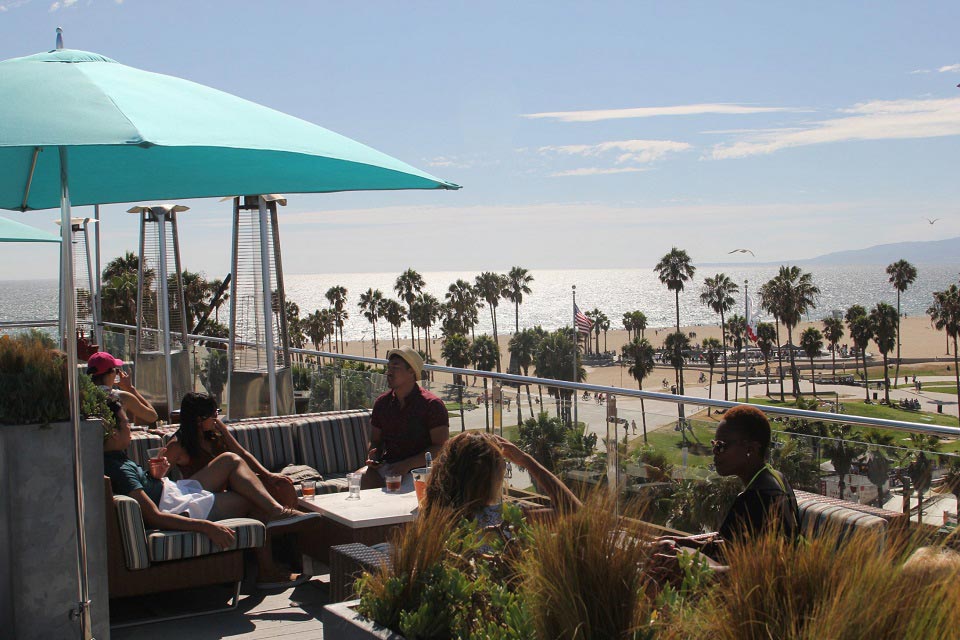 High Rooftop Lounge - Photo: www.hotelerwin.com
Offering incredible views of Venice Beach and the Pacific Ocean, this beautiful rooftop bar works as an extension of the beach.
Lounge sofas, giant umbrellas, an exclusive atmosphere, and a fantastic drink menu make this bar a favorite amongst locals and visitors alike.
Drink-wise, expect an extensive menu of Caliiforniian beers, excellent signature cocktails, and delicious wines.
Food-wise, you'll be able to find a weekend brunch and delicious bar bites.
While the atmosphere is relatively relaxed during the day, it does pick up during nighttime, with live DJ shows and a lively atmosphere ready to dance the night away.
High is a large terrace, so it doesn't get cramped, but due to its popularity, you'll want to make reservations if you want to get the best seats of the house.
HIGH ROOFTOP LOUNGE
1697 Pacific Avenue, Los Angeles, CA 90291
3.

Deck 12 at YOTEL

/ Boston
Deck 12 at YOTEL - Photo: www.deck12bos.com/
Floating above the Seaport District, the rooftop at YOTEL Boston offers amazing 360-degree views over Boston.
Called Deck 12, after its 12th floor location, this is a year-round rooftop serving a rotating series of seasonal dishes and craft cocktails for brunch, lunch and dinner.
Part sleek indoor lounge with floor-to-ceiling windows, and part spacious open-air terrace, equipped with heaters, plush blankets and hot water bottles during the colder months.
With prime location and prime views, Deck 12 is a versatile place to get an elevated Boston experience. Come for late afternoon snacks and cocktails, a sunset dinner or to munch on the weekend rooftop brunch.
DECK 12
YOTEL Boston, 65 Seaport Blvd, Boston, MA 02210
4.

LH Rooftop

/ Chicago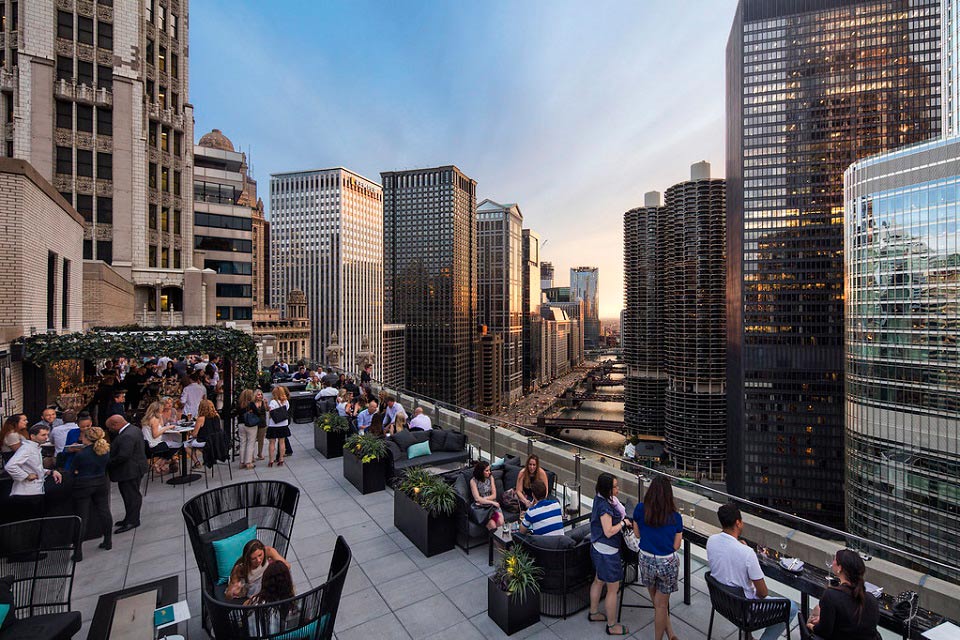 LH Rooftop - Photo: www.londonhousechicago.com
This fantastic tri-level rooftop bar is located on the Hulton Hotel, right by the Chicago River.
Equipped with an indoor lounge, a large terrace, and a delicious restaurant, the LH Rooftop is the perfect spot for when you want to enjoy your evening in a single place.
Offering a superb view of the city's skyscrapers, the Chicago River, and Lake Michigan, the entire place has a luxurious and exclusive atmosphere that will make any visit a night to remember.
The terrace is luxurious and modernly furnished with both bar stools and lounge areas; The restaurant, called Cupola, is smaller and more reserved.
Up here, the ambiance is always vibrant, with trendy crowds, live music, and trendy festivities, though the place still feels luxurious and unique.
This is a very popular rooftop, so reservations are encouraged.
If you're visiting this rooftop bar during the summer, you might also want to bring extra sunscreen, as the sun loves this place ass much as the locals.
LH ROOFTOP
85 E Upper Wacker Dr, Chicago, IL 60601
5.

Kost

/ Toronto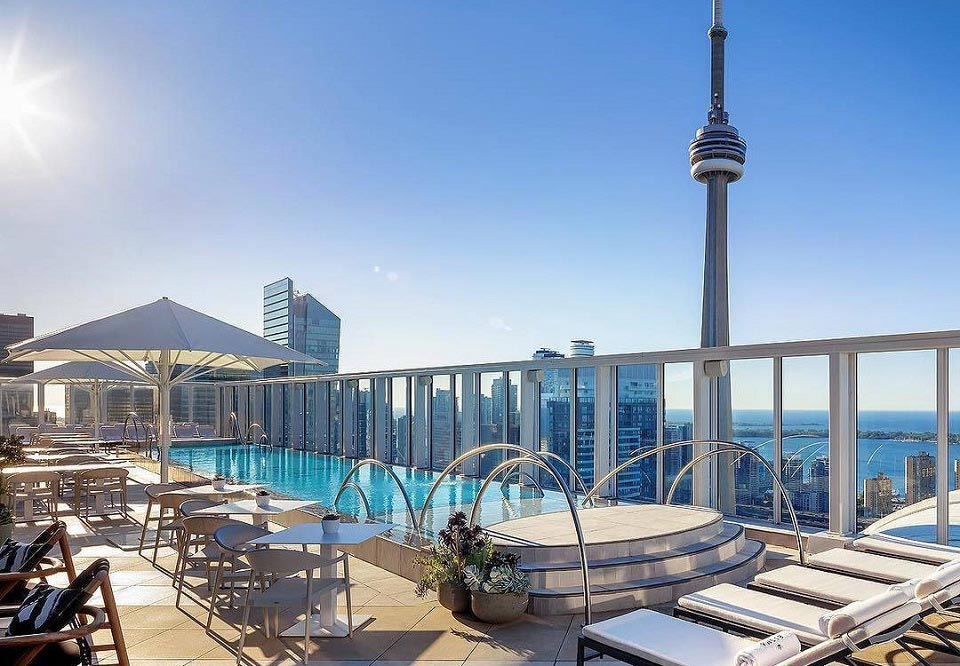 Kost - Photo: www.kosttoronto.com
44 stories above Toronto's bustling entertainment district sits Bisha Hotel's rooftop restaurant Kōst. Inspired by the Baja Peninsula, Kōst offers a quick escape to the California coastline, with al fresco dining, a world-renowned infinity pool and unparalleled city and lakeshore views.
Featuring seasonal menus with modern cuisine and refreshing cocktails, guests are welcome seven days a week for breakfast, lunch, midday snacks and dinner.
The rooftop restaurant carries through the feel of the outdoors. It's light and open with lovely wicker chairs and white couches surrounding tiled and wooden tables, with design by Studio Munge.
Everything about this coastal inspired restaurant in the sky feels like floating on air, even though you're sitting atop floor after floor of world-class hotel rooms and residences.
KOST
80 Blue Jays Way 44th Floor, Toronto, ON M5V 2G3
6.

Mama Shelter's Rooftop

/ Los Angeles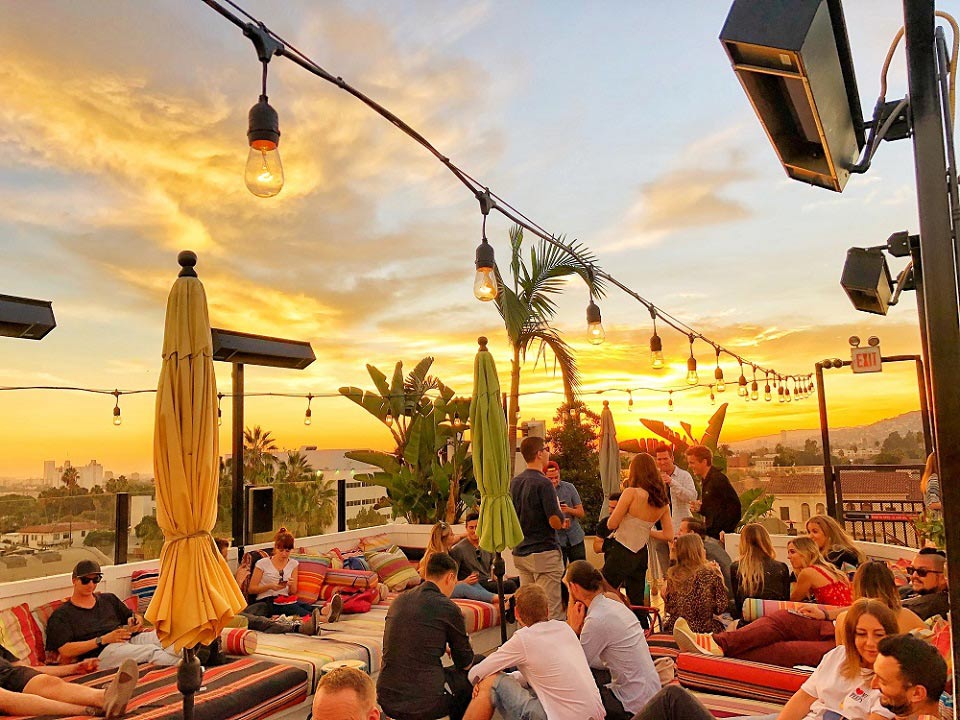 Mama Shelter's Rooftop - Photo: www.mamashelter.com
A casual, colorful location that embraces Los Angeles' Latino heritage, Mama Shelter is a fantastic place to visit for afternoon cocktails, and nights out with your friends.
Furnished with large lounge sofas, colorful tables, and huge umbrellas, this venue is a perfect spot for lazying the afternoon away, catching up with friends while enjoying a Los Angeles sunset.
From up here, you can enjoy stunning views of the Hollywood sign and the Los Angeles skyline while enjoying fresh and creative cocktails, a variety of bottled beers, a large selection of Californian wines, and delicious dinner.
Homemade dishes meant for sharing, burgers, and seasonal delights make up the food menu, turning Mama Shelter into an ideal location for after-work drinks.
The bar operates on a first-come, first-served basis, so visit early to get one of the best seats in the house.
MAMA SHELTER
6500 Selma Ave, Los Angeles, CA 90028
7.

The Press Lounge

/ New York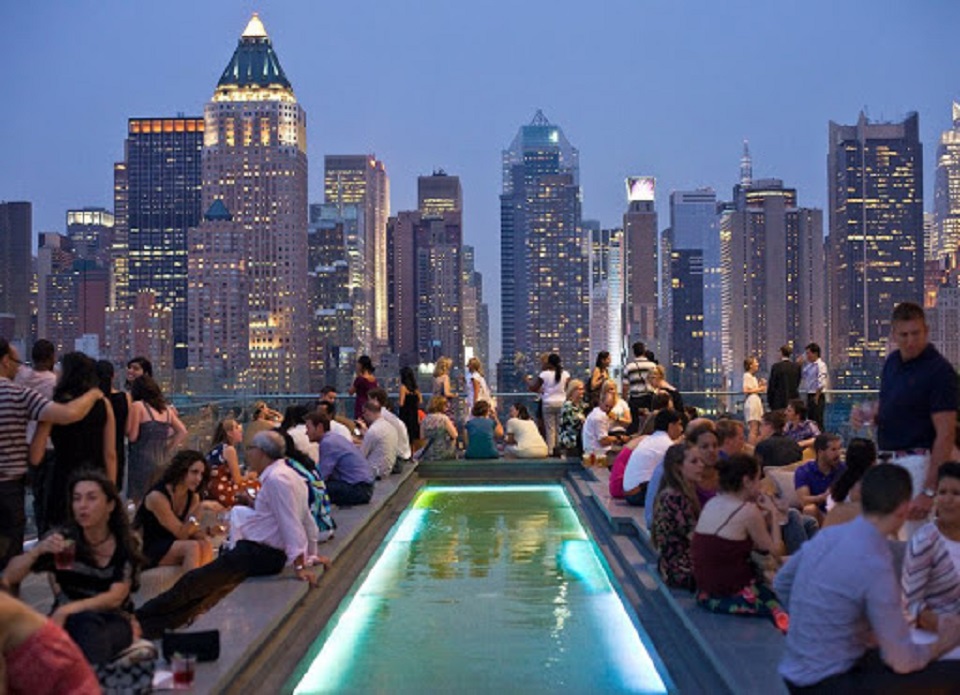 The Press Lounge - Photo: www.thepresslounge.com
A favorite amongst locals and tourists alike, The Press Lounge can be found on top of the Kimpton Ink48 Hotel in Hell's Kitchen.
From up here, you can enjoy stunning views of the Manhattan skyline and the Hudson River, as well as spectacular sunsets and a fantastic atmosphere.
Known for its exceptional service and top-notch quality, The Press Lounge offers a small but fantastic menu focused on quality and craft.
Draught and artisanal beer, carefully curated wines, champagne by the glass, and expertly crafted cocktails go hand in hand with delicious bar bites that complement each drink.
With enough room to accommodate around 100 people, The Press Lounge is one of the largest roof lounges in New York, as well as a favorite venue to enjoy post-dinner cocktails and gorgeous views.
Reservations aren't available, as the bar works on a first-come, first-served basis, so make sure to arrive early if you want to score the best seats in the house.
Dress code is elegantly casual, so you'll want to dress to impress.
THE PRESS LOUNGE
Ink 48 Hotel, 653 11th Avenue, New York, NY 10036
8.

Area 31 at the Epic Hotel

/ Miami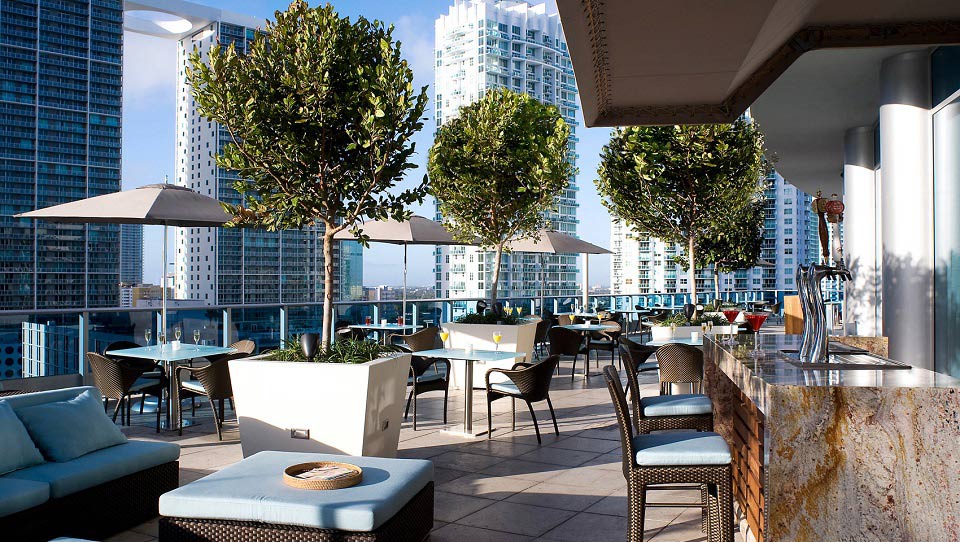 Area 31 at the Epic Hotel - Photo: www.area31restaurant.com
Perched on a 16th floor, Area 3 offers incomparable views of the Miami River and downtown Miami.
This fantastic venue works both as a restaurant and a bar, offering delicious food and exotic drinks, though the food takes center stage more often than not.
Created by Chef Wolgang Birk, the food served at Area 31 consists mainly of seafood and meat, all cooked to perfection with innovative techniques.
Weekend brunch is also available, but you need to make reservations. The rooftop bar offers a fantastic selection of wines, beers, champagne, and signature cocktails.
Area 31 offers both indoor and outdoor seating, with comfortable lounge sofas, colorful and modern furnishing, and a vibrant yet luxurious atmosphere that makes Area 31 a perfect place for a first date.
AREA 31
270 Biscayne Boulevard Way, Miami, FL 33131-2123
9.

RoofTop at Exchange Place

/ New Jersey
RoofTop at Exchange Place - Photo: www.rooftopxp.com
A swanky and fashionable multi-level location, RoofTop at Exchange Place, is located on the 13th floor, and it's a fantastic choice for those looking for new experiences.
Offering stunning views of Jersey City, the Manhattan skyline and the Hudson River, this beautiful venue offers both indoor and outdoor seating options, retractable glass roofs and walls, and a vibrant atmosphere year-round.
Open for lunch, happy hour and dinner, this is the place to visit for relaxing sunset cocktails or a weekend night out.
Live DJ music, an indoor cocktail lounge, a self-playing piano, trendy lounge furniture, and a large firepit make this rooftop bar one of New Jersey's favorites.
ROOFTOP AT EXCHANGE PLACE
1 Exchange Pl, Jersey City, NJ 07302
10.

Terrasse Place D'Armes

/ Montreal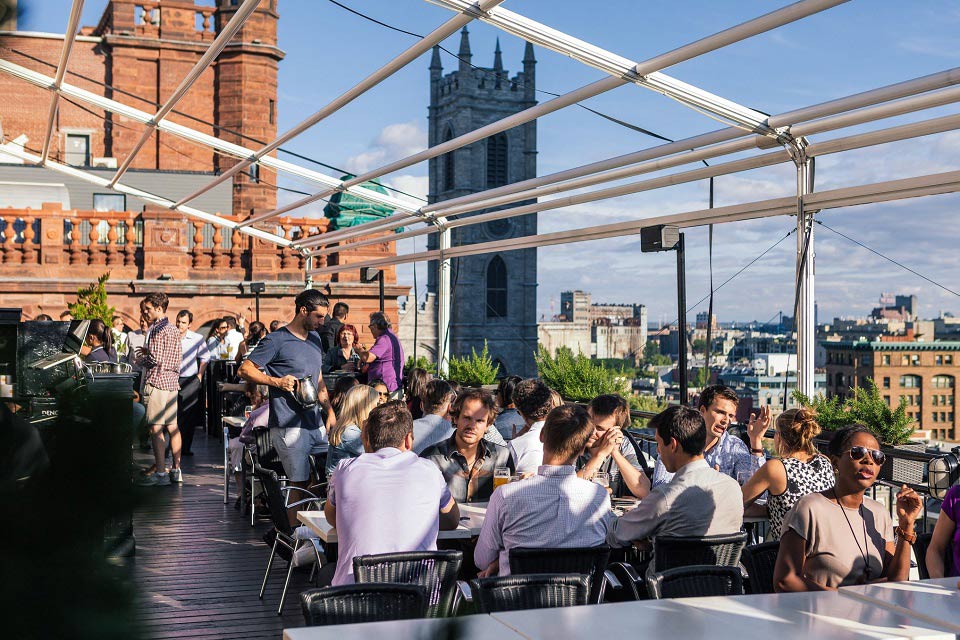 Terrasse Place D'Armes - Photo: www.terrasseplacedarmes.com
Located on the luxurious Hotel Place D'armes, right in the heart of Old Montreal, stands this rooftop bar, an urban oasis, and a great summer destination.
This beautiful and stylish rooftop bar is equipped with a retractable roof, which means you'll be able to enjoy your visit no matter the weather, and it offers stunning views of downtown Montreal's skyline.
Known for its modern decorations and eclectic furnishing style, which mixes dining tables, bar tables, comfy lounge sofas, and an outdoor bar, the Terrasse Place D'Armes is a fantastic choice for people from all walks of life.
The bar offers a large selection of wines, delicious champagne, and world-spirits, but they're better known for their cocktails and signature creations, like the Raspberry Mojito and their boozy ice pops.
Thanks to its versatility, Terrasse is a fantastic choice for all kinds of occasions: Post-work drinks, lunch with a client, fun night out with friends.
The Terrasse Place D'Armes is a popular spot, so you'll want to make reservations in advance. There's also a dress code, which can be quite strict, so we suggest you dress to impress.
TERRASSE PLACE D'ARMS
55 Saint-Jacques Street, 8th floor, Montreal, QC H2Y 3X2