Istanbul is one of the most beautiful cities and also one of the biggest in Europe. Everything that happened in Istanbul during recent years has hit the city quite hard when speaking of tourism, but slowly Istanbul starts to get popular again.
You can find some amazing hotels with rooftops here. Most of them are luxurious 5-star hotels, resulting in some rather fancy terraces.
Here's our list of 5 great hotels with rooftops in Istanbul.
1.

Marmara Pera Hotel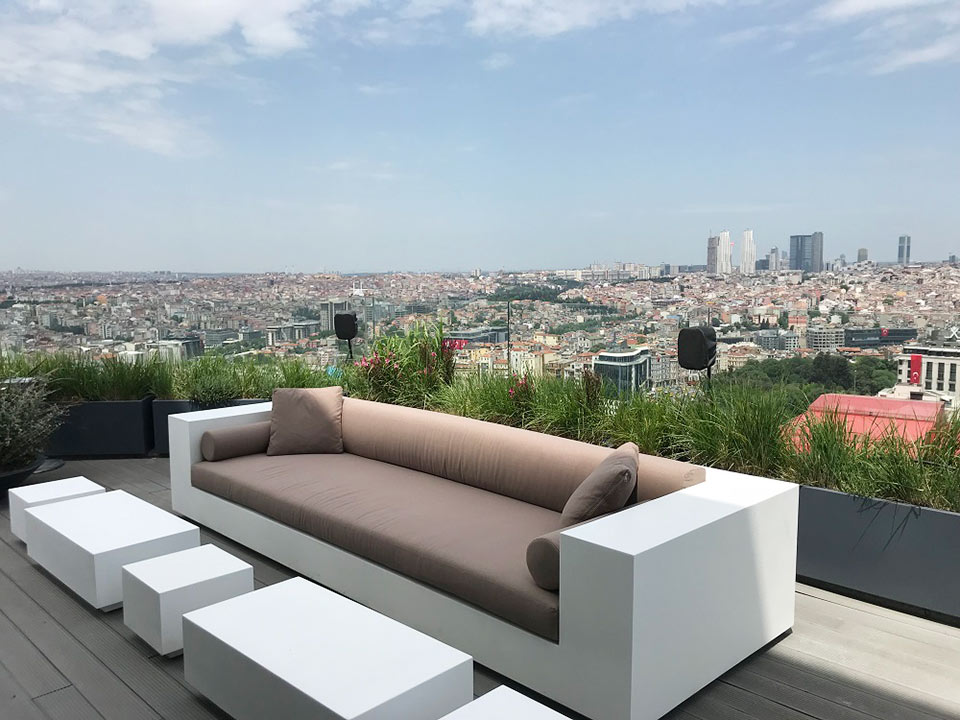 Marmara Pera Hotel / Photo: The Rooftop Guide
Hotel
A family-friendly hotel located just a short walk away from the Galata Tower, the Marmara Pera features two restaurants, an outdoor swimming pool, a kid's swimming pool, a business center, a fitness center, valet parking, and airport shuttle.
Complimentary buffet breakfast is available from 6:30 am 10:30 am, and all public areas are equipped with high-speed WiFi connection.
Each of the hotel's 205 rooms features well-stocked minibars, premium bedding, high-speed internet, safes, and in-room dining service.
Mikla, one of the hotel's restaurants, offers delicious Turkish cuisine as dinner.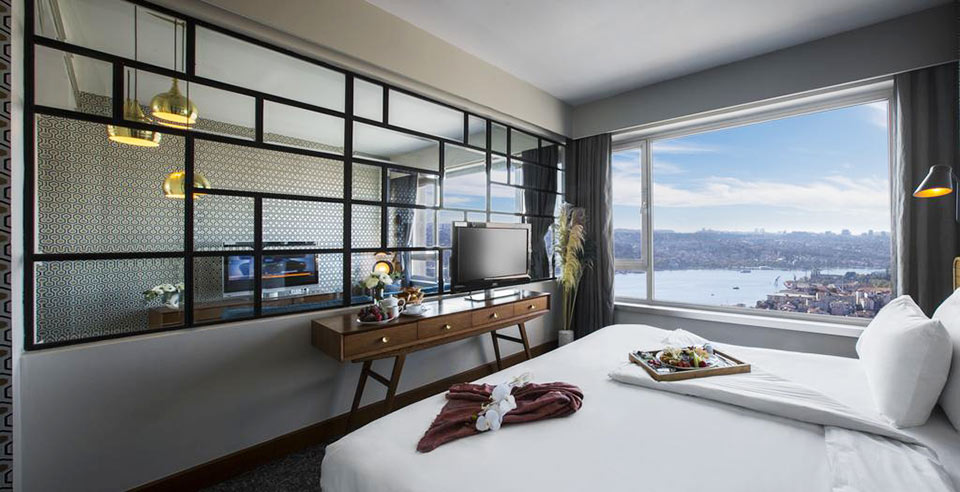 Marmara Pera Hotel / Photo: www.themarmarahotels.com
Rooftop
Marmara Pera's rooftop offers everything you could ask for in a rooftop terrace.
A bar, a restaurant, a pool, and jaw-dropping views have earned this spot a place not only in our list but also a place in the 2019's Worlds 50 Best Restaurants ranking, which means a visit here is a must.
Serving modern and creative Turkish cuisine, Mikla is an open-air, fine dining restaurant with a comfortable yet exclusive atmosphere, delicious food, fantastic drinks, and top-notch service.
Though the bar isn't as popular as the restaurant, it's still something to behold. With standing tables, live DJ music, a minimalistic lounge setting, and a vibrant atmosphere, this is one of Istanbul's favorite locations for relaxing before going out.
Completing the trio, Marmara Pera's infinity pool allows guests to enjoy stunning views while taking a dip, all while enjoying the drinks served at the cocktail bar.
Available only to guests, and completed by sun loungers and large lounge areas, this rooftop pool is the perfect place to start, or finish, your day.
Adress: Meşrutiyet Caddesi 15, 34430, Beyoğlu, Istanbul
Price: Rates for a double room starts at €75
2.

Georges Hotel Galata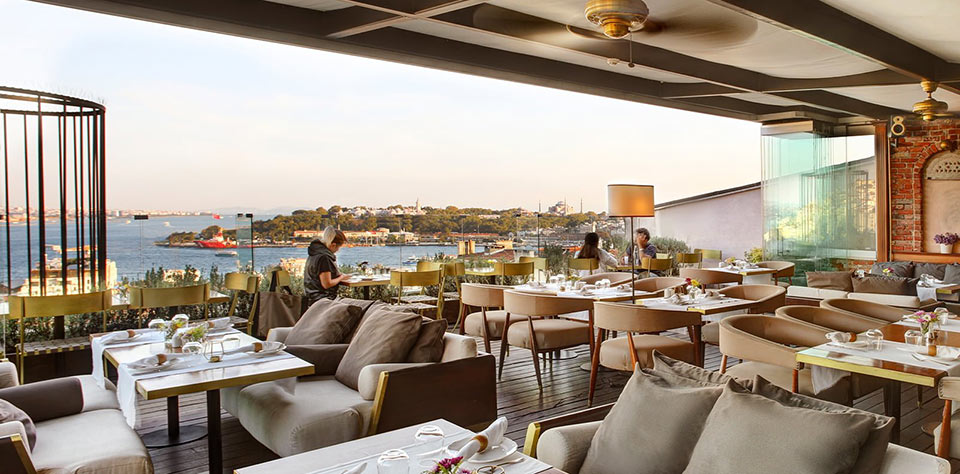 Georges Hotel Galata / Photo: www.georges.com
Hotel
Located in the heart of Istanbul, just a few steps away from the Galata Tower, and a short walk away from the Istanbul Modern Art Museum; this charming hotel features a restaurant, a rooftop terrace, a bar, and excellent, personalized service.
With only 20 rooms, this is a rather small hotel, but what it lacks in size it makes up in service.
All rooms are soundproofed and come with espresso makers, pillowtop beds, Egyptian cotton sheets, and pillow menus that make your nights and mornings more pleasurable.
Rainfall showerheads, plush bathrobes, premium toiletries, and in-room childcare make for a comfortable stay, and the hotel's fine-dining restaurant only adds to the experience.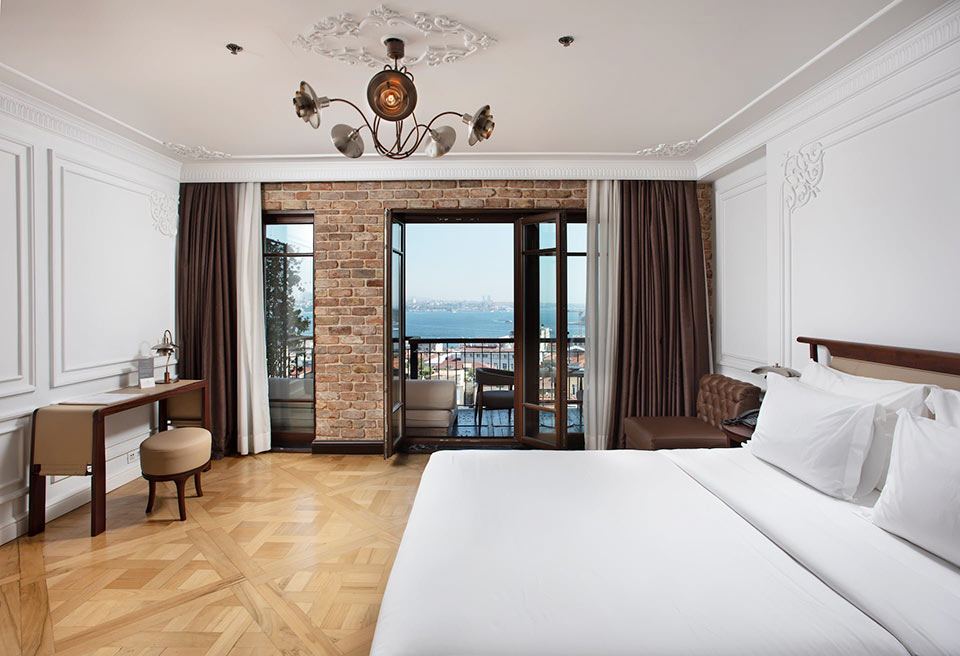 Georges Hotel Galata / Photo: www.georges.com
Rooftop
Overlooking the always fashionable Serdar-i Ekrem street, sits Restaurant 24, Hotel Galata's pride and joy.
Serving delicious local cuisine with a touch of Mediterranean inspiration, furnished with comfortable dining areas and extra-large lounge sofas, and offering stunning views of the city, Restaurant 24 is the perfect place for a romantic date, or a fun night out with friends.
With a relaxing and sophisticated atmosphere, top-notch service, a fantastic collection of wines, and an expertly-mixed menu of signature and classic cocktails, Hotel Galata's rooftop has earned its place as one of the best in the city.
Adress: Müeyyedzade Mh., Serdar-ı Ekrem Cd No:24, Beyoğlu, Istanbul
Price: Rates for a double room starts at €95
3.

Swissotel The Bosphorus Istanbul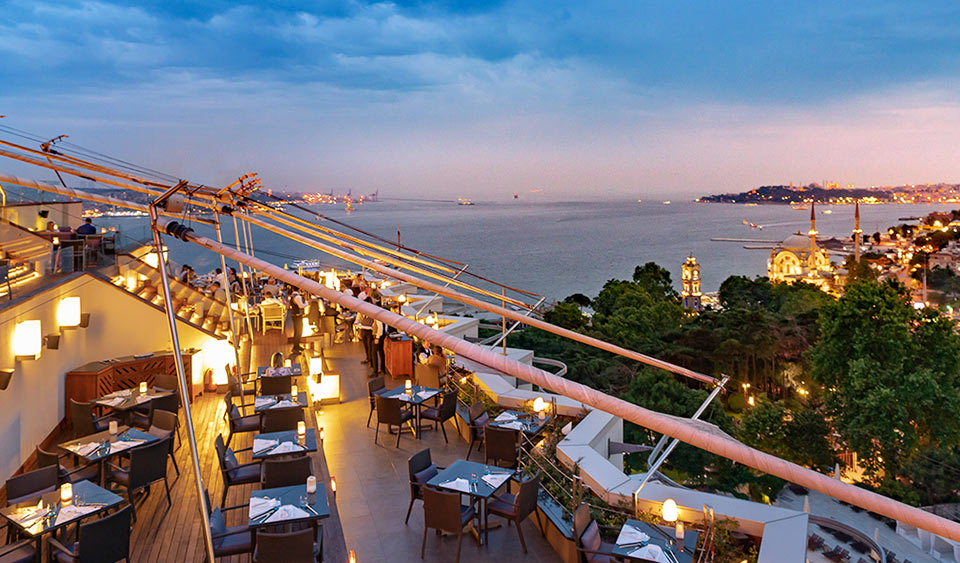 Swissotel The Bosphorus Istanbul / Photo: www.swissotel.com
Hotel
This luxurious hotel might not be as close to Istanbul's most famous landmarks as others in this list, but what it lacks in walkability it more than makes up for in sheer comfort.
Each of the hotel's 566 rooms features high-speed internet, in-room childcare, well-stocked minibars, 24-hour room service, plush bathrobes, comfy slippers, designer toiletries, expresso makers, free bottled water, and premium beddings.
The hotel has a full-service spa, five restaurants, a vast indoor pool, and a fantastic and talented staff.
Pürovel Spa & Resort offers deep-tissue massages, Turkish baths, hot stone massages, body wraps, and hydrotherapy, to name a few services.
Swisshotel's largest restaurant, Sabrosa Restaurant, focuses on international cuisine and is open for breakfast, lunch, and dinner.
Swissotel The Bosphorus Istanbul / Photo: www.swissotel.com
Rooftop
A chich and popular location amongst locals and visitors alike, 16ROOF is a multi-level terrace that offers stunning views and fantastic service.
From here, you'll be able to enjoy jaw-dropping views of the Bosphoren, the Besiktas soccer team home arena, and Istanbul's skyline.
Located on the lower level of the terrace, the bar features a lengthy cocktail menu, a remarkable wine collection, a cigar menu, and a vibrant and trendy atmosphere.
The cocktail menu, also known as 'Sky Menu', includes smoked cocktails and many signature creations.
While this is a popular location 24/7, the weekends are particularly busy, as live DJs and the party crowd come together to transform this rooftop into one of Istanbul's hottest night-clubs.
Adress: Bayildim Cad. No.2 Macka, 34357 Besiktas, Istanbul
Price: Rates for a double room starts at €219
4.

Four Seasons Hotel Istanbul at Sultanahmet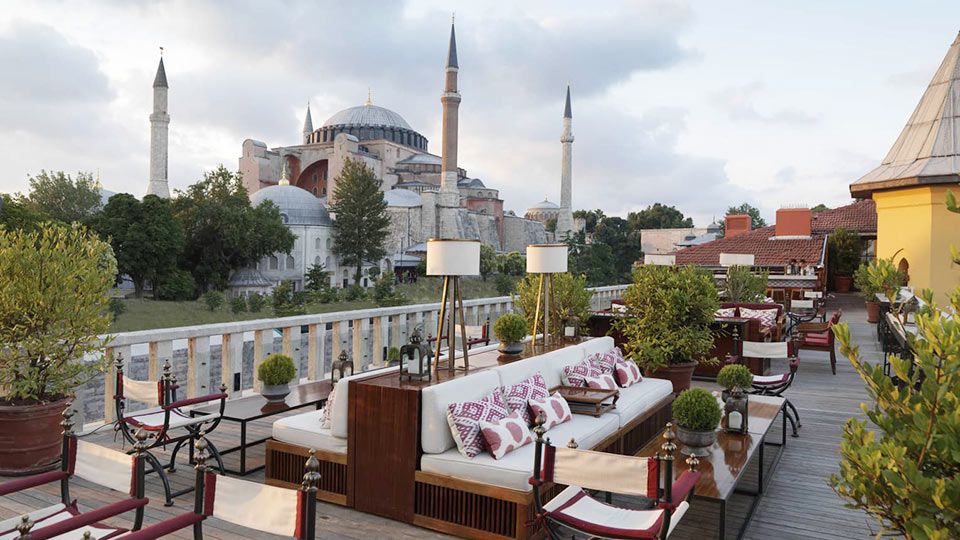 Four Seasons Hotel Istanbul at Sultanahmet / Photo: www.fourseasons.com
Hotel
The Four Seasons is a brand known for its quality, and Hotel Sultanahmet is no exception.
Recipient of the prestigious Conde Nast Top 100 List award in 2012, this stunning hotel comes with a restaurant, a fitness center, a sauna, event facilities, a huge business center free valet parking, and a fantastic health-club.
Each of the hotel's 65 rooms features high-speed WiFi, soaking bathtubs, rainfall showerheads, premium beddings, down comforters, premium toiletries, plush bathrobes, smart TVs, espresso makers, 24-hour concierge service, and well-stocked minibars.
The restaurant, Seasons, is open throughout the day, as is A'YA, the hotel's bar.
If that wasn't enough, the hotel has a privileged location, being just a few steps away from the Sultanahmet Square and the Hagia Sophia.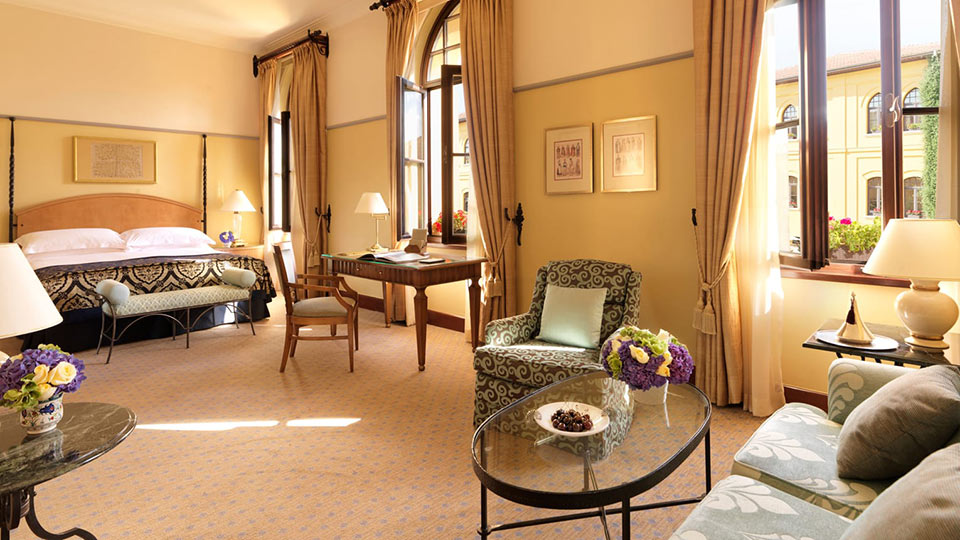 Four Seasons Hotel Istanbul at Sultanahmet / Photo: www.fourseasons.com
Rooftop
Hotel Sultanahmet's terrace is the perfect place to kick back and relax, thanks to its relaxing atmosphere, comfortable furniture, tasteful decorations, and top-notch service.
Known as the A'YA Terrace, the al-fresco restaurant and lounge bar provides delicious food, a fantastic collection of drinks and a unique five-star experience that few hotels in the city can match, and the looming presence of the Hagia Sofia dominating the area only adds to the experience.
Enjoy delicious mocktails, Turkish wines, world spirits, delightful food, and Four Season's quality service while enjoying one of the best views Istanbul has to offer.
Adress: Tevkifhane Sok., No:1, Sultanahmet, Fatih, 34110 Istanbul
Price: Rates for a double room starts at €490
5.

The Ritz-Carlton
The Ritz-Carlton / Photo: www.ritzcarlton.com/
Hotel
Found in the heart of the city, the elegant and five-star The Ritz Carlton offers modern Turkish luxury, while still letting tradition appear in enchanting ways.
Recently redesigned, the 243 guest rooms and suites capture the best of European and Middle Eastern traditions. Here you can relax in an oversized marble bathroom outfitted with Iznik ceramic tiles, sleep in feather beds with luxurious 300-thread-count linens, and enjoy views over Istanbul and the Bosphorus.
In the Spa at The Ritz-Carlton you find a hammam, an outdoor infinity pool and an indoor pool under a ceiling of twinkling lights, a soaking tub (28°C), sauna, steam room and fitness center.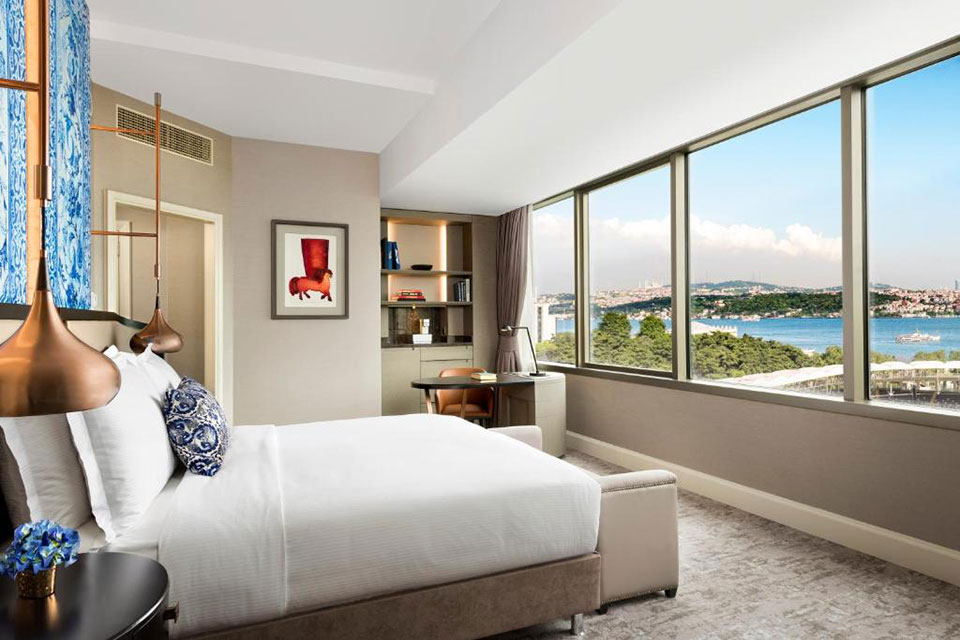 The Ritz-Carlton / Photo: www.ritzcarlton.com/
Rooftop
Already offering several top class option to dine and drink, The Ritz-Carlton elevated its selection even more during 2021, with the opening of The Roof.
This urban oasis is a real retreat from the hectic streets below, and the open-air terrace comes with both comfy loungers, a sleek bar and a truly amazing rooftop infinity pool.
Surrounded by lush greenery and magical views of the Bosphorus and the entire Istanbul, here you can indulge in a menu including everything from breakfast and bowls to seafood platter and steak tartar, as well as fine signature cocktails, healthy smoothies and an impressive selection of wines.
With an intimate and cozy atmosphere, any day or night at The Roof is bound to be a special one.
Adress: Suzer Plaza, Askerocagi Caddesi, No:6 Elmadag/Sisli, 34367 Istanbul
Price: Rates for a double room starts at €242