Thanks to its stunning architecture, Budapest is an excellent spot for rooftop bars. However, since the winter in Hungary can get incredibly cold, many of them close their doors during the winter.
Luckily, not all bars follow this trend. Equipped with heaters, igloos, open and closed terraces, and the knowledge that parties don't wait until winter is over, these excellent rooftop bars are in service year-round.
1.

High Note SkyBar at Aria Hotel Budapest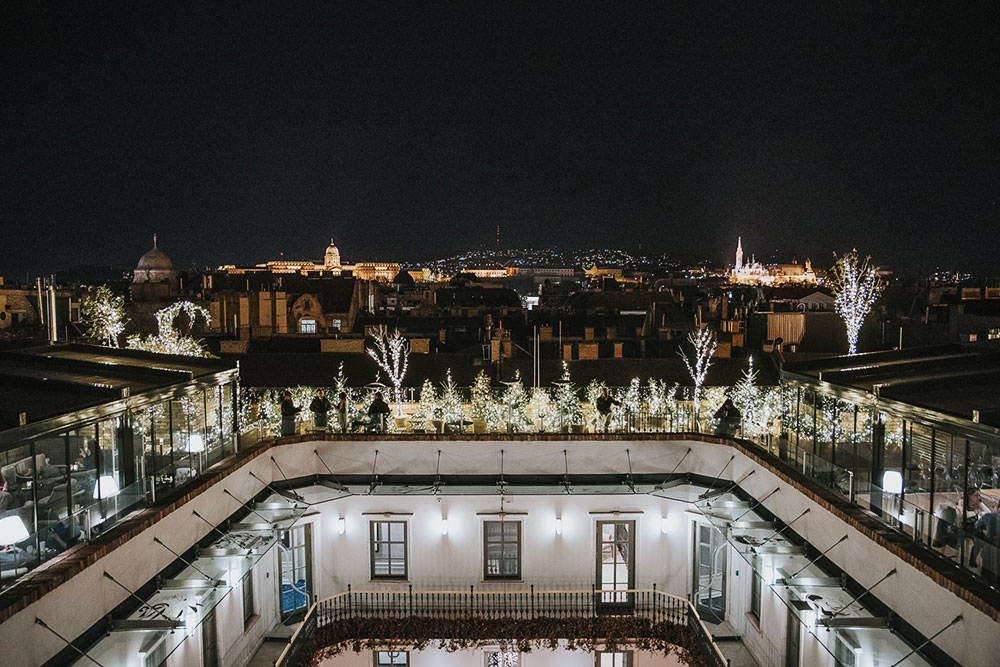 High Note SkyBar | Photo: https://highnoteskybar.hu
If what you're looking for are incredible drinks and even better views of the city, then head out to the High Note Skybar, because you won't be disappointed.
Located on the terrace of one of Budapest's best hotels, the Aria Hotel, no bar will give you better views of the St. Stephen's Basilica, which looks stunning when covered in snow.
If the fantastic sights aren't enough to get you to visit, then the atmosphere certainly will. Casual, yet sophisticated, this is the kind of place that will deliver top-notch service while remaining welcoming and comfortable.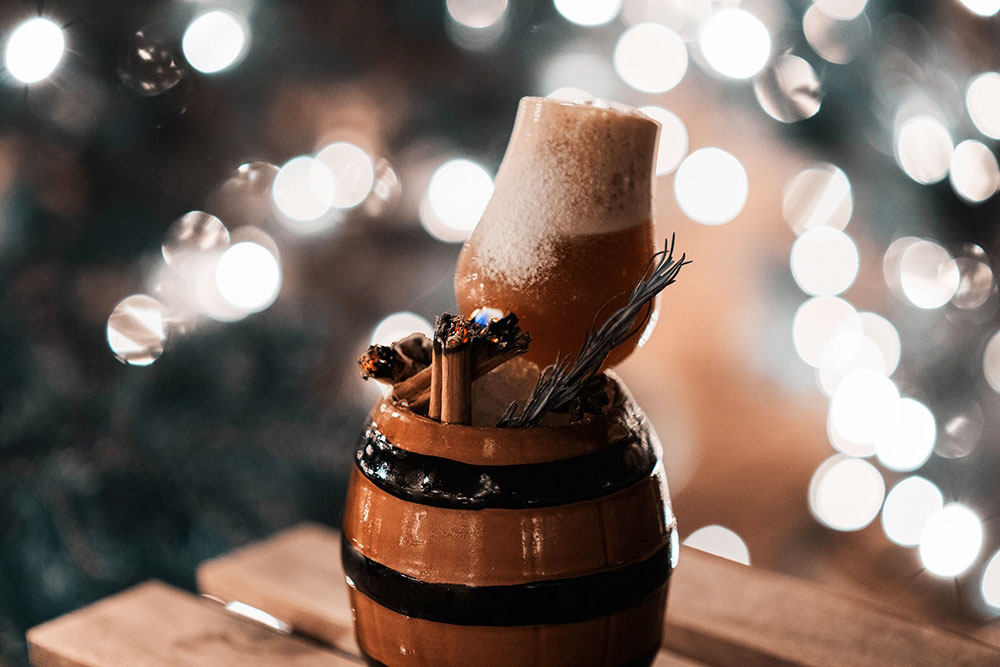 High Note SkyBar | Photo: https://highnoteskybar.hu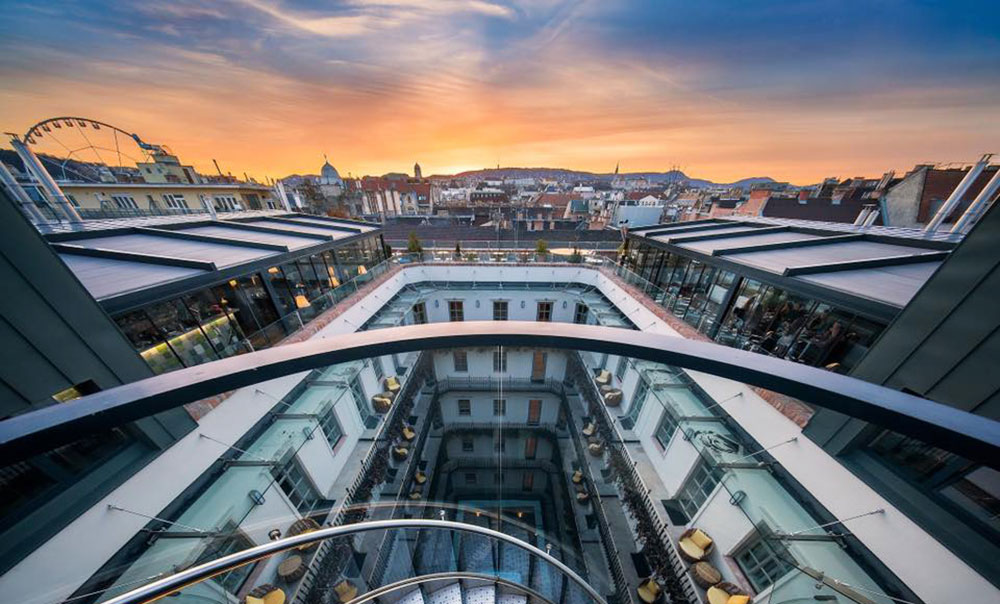 High Note SkyBar | Photo: https://highnoteskybar.hu
One of the best things about this sky bar is that it doubles as a fantastic lunch/brunch spot from 12-3pm, which gives you the perfect excuse to visit this roof garden both during the day and during the night.
The High Note is split into two sections, with the outdoor one being the larger of the two. The large terrace is a crowd favorite year-round, turning into a very cosy winter garden during the colder months. Twinkling lights and a wooden hut makes you want to stay outside no matter the temperature.
But if the weather gets particularly cold, you can always slip into the roofed area, which doesn't offer the same views but is just as beautiful.
Undeniably, this is the place to visit if you want to finish your time in Budapest in a high note.
HIGH NOTE SKYBAR
Budapest, Hercegprímás 5, 1051
2.

360 Bar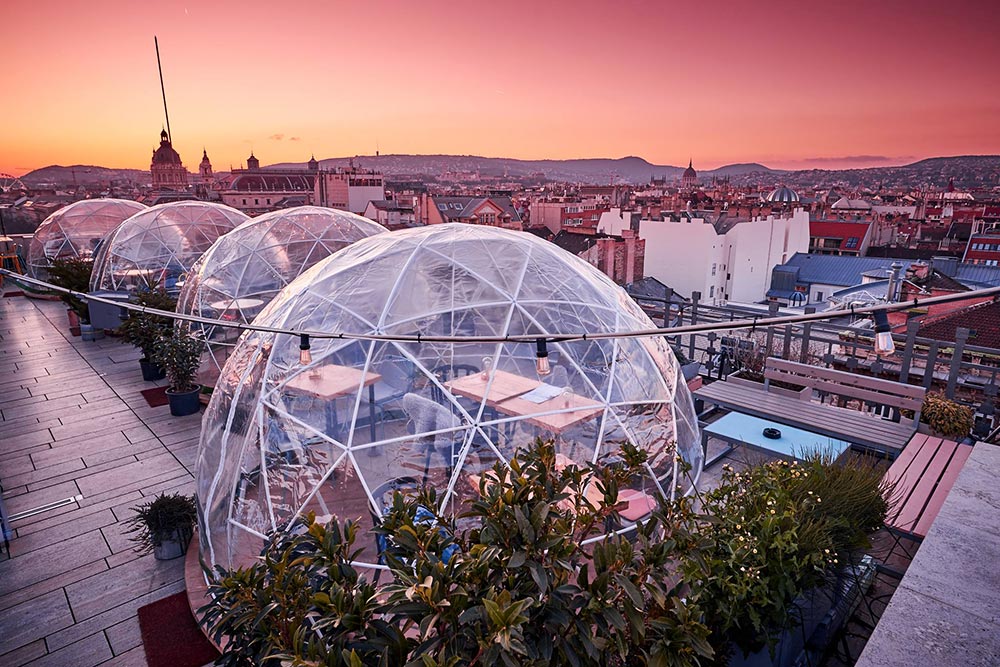 360 Bar | Photo: http://www.360bar.hu/
Also known as Rooftop 360, this bar offers an amazing 360-degree view of the city, coupled with a relaxed atmosphere suitable for most tastes.. Located in Pest, and offering stunning views of the Budapest Operetta Theater, this is the place to go if you want to see the snow-blanketed city at your feet.
With no roofs to speak of, this terrace offers plenty in the way of freedom; During the day, you can sit here, and sunbathe for hours, enjoying the almost park-like feel of it while sipping one of their many wines.
At night, when the city and the parties are in full blast, you can enjoy live music and art shows, alongside the bar's wonderfully crafted signature cocktails.
The 360 Bar also offers food options for those looking to grab a bite, including delicious Angus burgers worth every chew.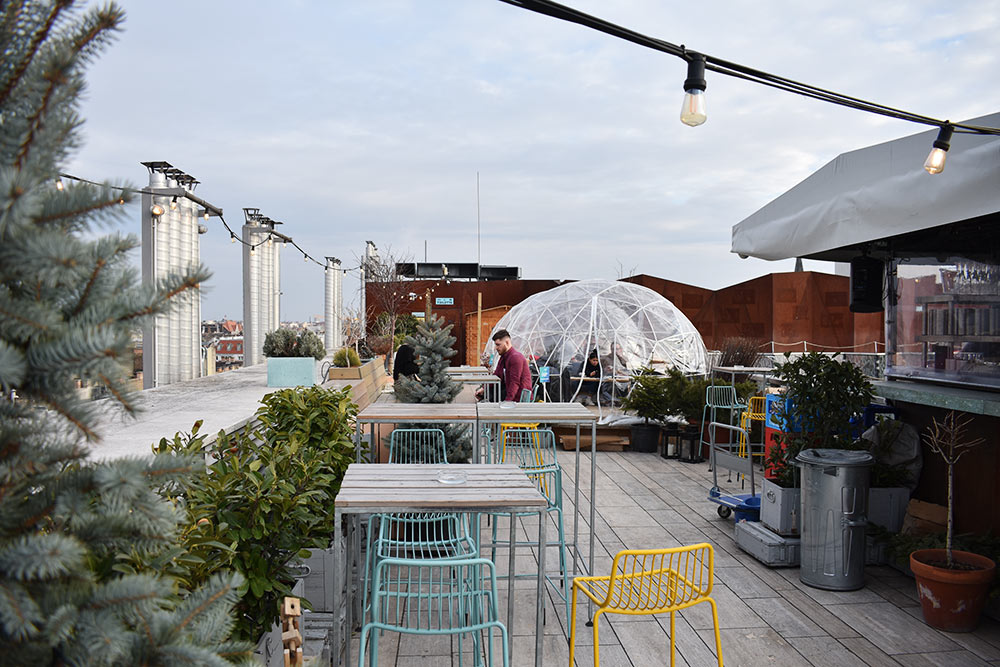 360 Bar | Photo: www.therooftopguide.com
360 Bar | Photo: www.therooftopguide.com
Are you worried about the cold? Don't be!
The terrace is large enough to house several plastic rooftop igloos, and in winter turn into Bar 360 Igloo Garden. The igloos not only give the place a magical look but also provides visitors with both warm and extra privacy.
There is also a special winter-menu, including Chilled Winter Cocktails and Signature Hor Drinks.
The 360 Bar is particularly popular amongst the younger crowd of the city, so if you're planning to visit, make sure to arrive early or book a reservation before arriving.
360 BAR
1061 Budapest, Andrássy út 39
3.

St. Andrea Wine & Skybar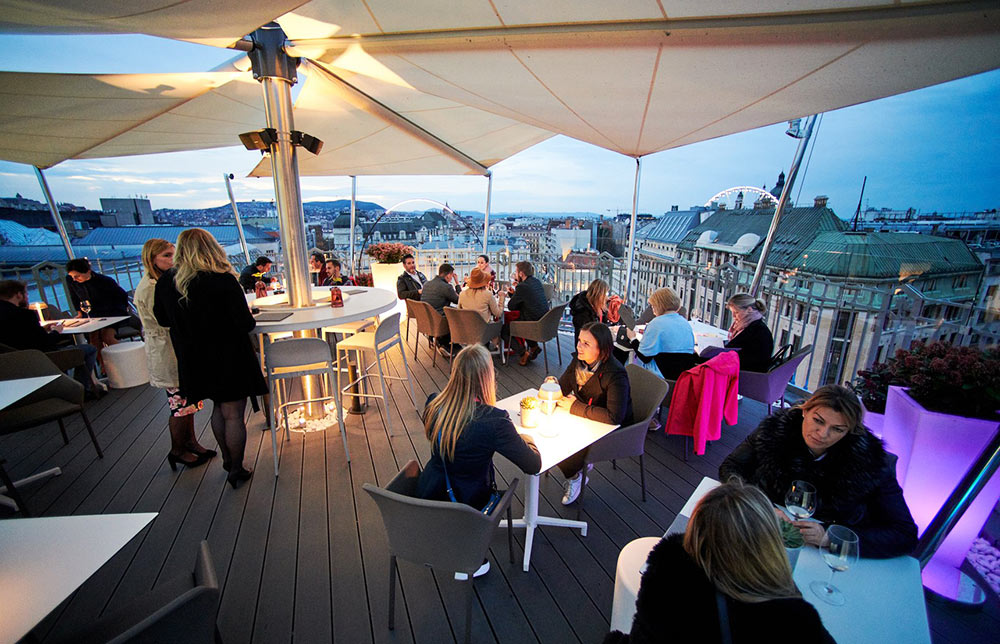 St. Andrea Wine & Skybar | Photo: https://standreaskybar.hu/
The brainchild of the local sweetheart, St. Andrea winery, this rooftop bar focuses on high-end drinks and even better service.
Modern, elegant, and stylish, this fantastic rooftop bar is located on the Vörösmarty square, one of the most iconic areas in the city, and provides stunning views of the wintery Budapest skyline.
This bar's stunning views of Budapest's skyline are far from the only noteworthy thing, as the Skybar offers not only well-crafted classic and signature cocktails, but also a small but well-crafted menu from the mind of a world-renowned chef.
St. Andrea Wine & Skybar | Photo: https://standreaskybar.hu/
As its name implies, the St. Andrew Wine & Skybar has a sizeable and exquisite collection of fine wines that pairs perfectly with the live music this bar is well-known for.
The St. Andrea Wine & Skybar offers both indoor and outdoor seating, with the latter being the most popular, in no small part due to the views. Open year round, you just have to hope that the winter-sun is shining so you can enjoy the terrace. That said, the indoor, glass walled seating area is as cozy as they come, and the tasteful decorations provide a relaxed and exclusive atmosphere you're sure to love.
As you can imagine, such quality comes at a price. This is one of Budapest's most expensive sky bars, as well as one of the most popular, so make sure to be ready to spend and to make a reservation.
Worry not, however, as a visit to this bar is more than worth it.
ST. ANDREA WINE & SKYBAR
Budapest, Deák Ferenc u. 5, 1052