Many rooftop bars take pride in their crafted cocktails or impressive wine list, but not as many focus to much on the liquid gold (also known as beer). There are however a few exceptions.
From sky-high rooftop breweries to elevated bars just serving lots of great hops, we have assembled a list of 11 fantastic rooftop bars from around the world, perfectly suited for all the beer lovers.
We know there are many out there who long to enjoy their beer with a beautiful view instead of in a dark basement. We know we sure do. So here it is, the ultimate listing of the best rooftops for beer lovers.
1.

LeVeL33

/ Singapore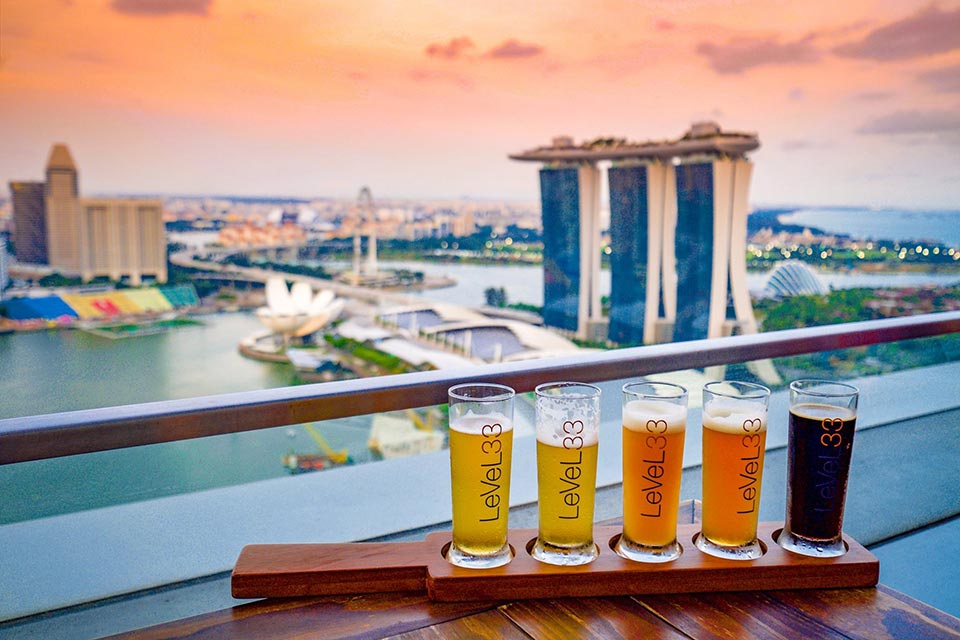 LeVeL33 - Photo: www.facebook.com/LeVeL33CraftBrewery/
Known as the highest microbrewery in the world, LeVeL33 is the kind of place beer lovers have to visit at least once in their lives.
This craft-brewery offers both indoor and outdoor seating options, a beautiful terrace that wraps around the entire venue, and also operates as a restaurant and a lounge.
LeVeL33's brewing tanks are part of the decoration, which is complemented by bar stool seats, stylish dining tables, and minimalist wooden accents.
Up here, you can experience stunning views of the Marina Bay and the Singapore skyline, all while enjoying brewed on-site artisanal beers, and the house's truly unique signature beer cocktails.
Though LeVeL33 is first and foremost a brewery, it also offers a small but fantastic menu of boutique wines, as well as traditional cocktails.
With its comfortable and sophisticated atmosphere, beautiful decor, and delicious beers, LeVeL33 is the perfect venue to relax and catch a beautiful sunset and a brew.
LEVEL33
8 Marina Boulevard #33-01, Marina Bay Financial Centre Tower 1, Singapore
2.

Brewski

/ Bangkok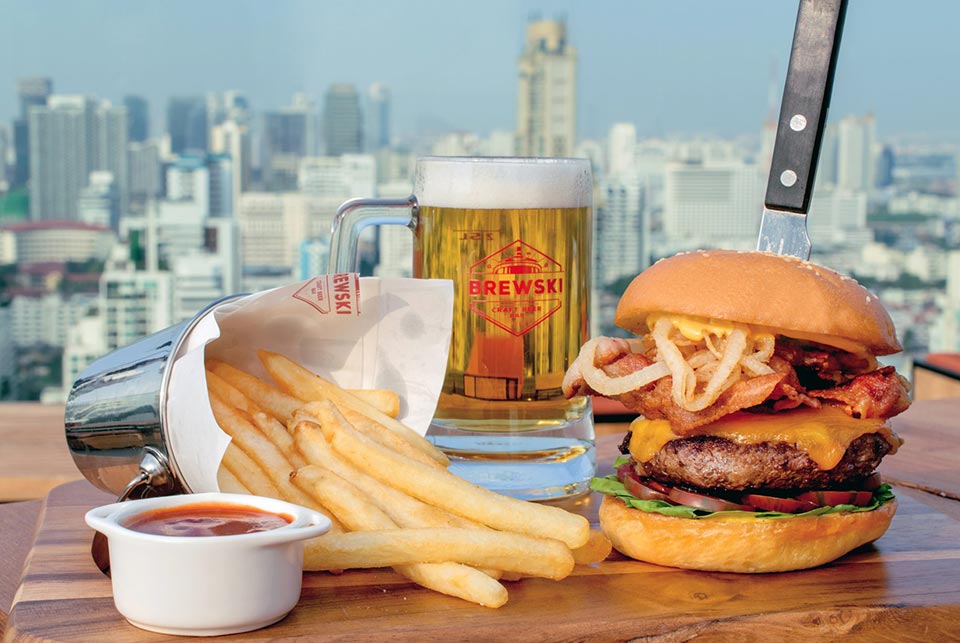 Brewski - Photo: www.facebook.com/brewskirooftop/
Located up on the 29th and 30th floor of the excellent Radisson Blu Plaza Bangkok, Brewski is the place to visit when you're looking for beautiful vistas over the city skyline, and even more memorable drinks.
With 18 taps and over 100 craft brews and ciders to choose from, you won't find a better beer-lover destination in the entirety of Thailand.
As if the incredibly varied beer menu wasn't enough, you can also enjoy a one-of-a-kind local craft beer buffet from 7.00pm to 10.00pm, which will cost you a reasonable THB 399 per person (around $12).
With a stylish, 'brewery-inspired' indoor lounge and spacious, open-air terrace, Brewski also offers full coverage of international sporting events on multiple screens, as well as food perfectly matching the brews. Like the signature 'Brewski Double Dog' and 'Brewski Fries'.
BREWSKI
Radisson Blu Plaza, 489 Sukhumvit Rd, Khlong Toei Nuea, Khlong Toei, Bangkok
3.

Beer Park

/ Las Vegas
Beer Park - Photo: www.facebook.com/BeerParkLV/
With just the name making you thirsty, Beer Park is located on a 10.000-square-foot and astro-turfed rooftop deck, set above the Paris Las Vegas.
Overlooking the famous Las Vegas Strip and the Bellagio Fountains, here you can indulge in more than 100 draft, can and bottle beer selections, including 36 beers on tap.
From mainstream brands to local and regional craft favorites, the draft's are available as half-pints, pints or pitchers, and the bottle one's can be ordered as buckets. Beacuase sharing is caring.
Apart from all the brews, the Beer Park menu aslo include craft beer cocktails, signature cocktails, wines on tap and a large food menu, ranging from burgers and sandwiches to BBQ entrées, served 'picnic style' and meant to be shared.
While the drinks, food and views should be reason enough to lure you up to Beer Park, the fun games like pool and giant Jenga, and all the TVs showing games, might keep you staying longer than expected.
BEER PARK
3655 S Las Vegas Blvd, Las Vegas
4.

Ocean Beach Brewery

/ San Diego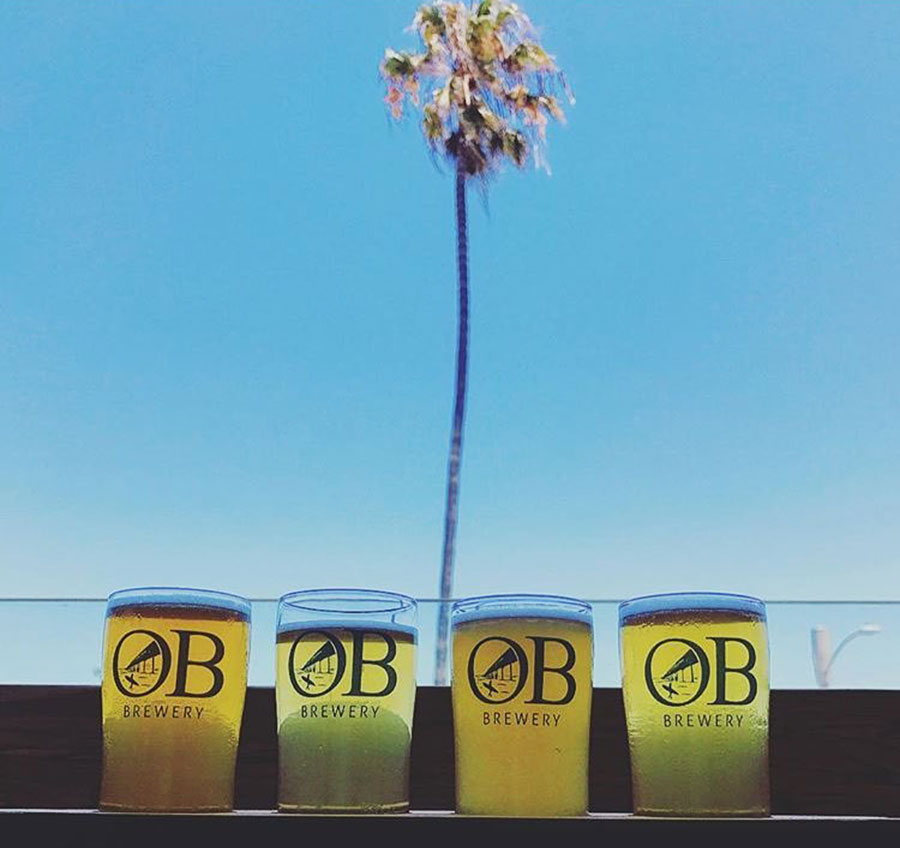 Ocean Beach Brewery - Photo: www.facebook.com/obbrewingco/
When it comes to craft breweries, San Diego is well-known around the world as one of the world's foremost destinations for craft lovers.
With that in mind, Ocean Beach Brewery aims to provide a distinctly local craft beer that reflects the spirit of the community and the local brewing practices.
This innovative microbrewery is three stories tall, with the top floor rooftop terrace being the true gem. Boasting a rustic yet modern decor and atmosphere, here you get some truly spectacular views of Ocean Beach, the water and Newport Avenue.
The menu is wide and varied; the atmosphere is vibrant without being over the top, and the entire place is dedicated almost exclusively to beer, which makes this a fantastic destination for beer lovers.
OCEAN BEACH BREWERY
5041 Newport Ave, San Diego
5.

GAPP

/ Amsterdam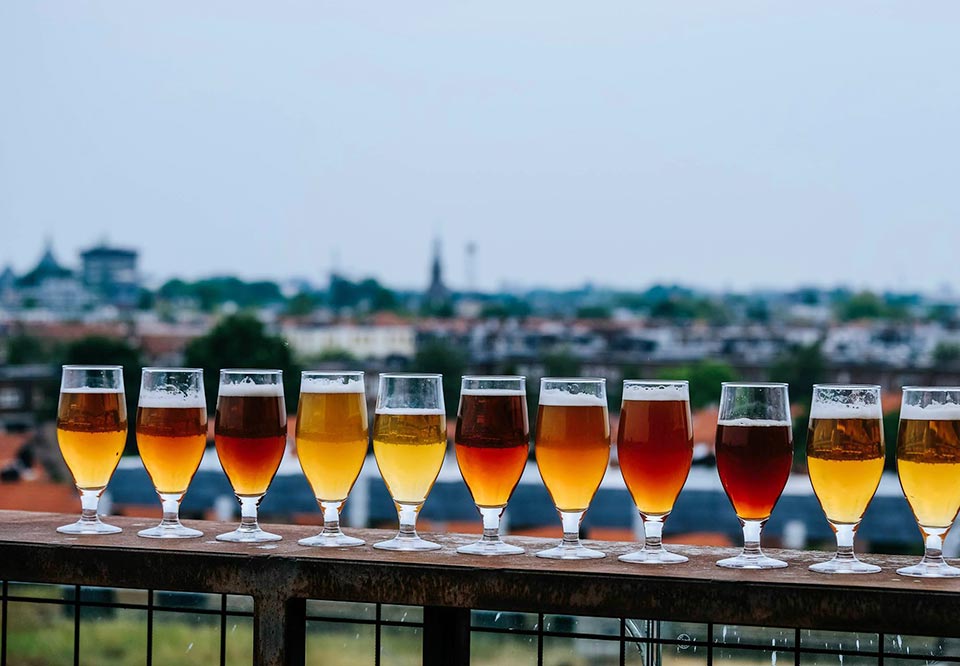 GAPP - Photo: www.facebook.com/GAPP.Casa.Amsterdam/
Perched on top of the lovely Hotel Casa Amsterdam, the Dakterras GAPP is a lush and open-air rooftop beergarden, offering panoramic views over the Netherlands capital.
Surrounded with flowers and greenery, the spacious terrace come with charming community tables, benches and some comfy lounge sofas, perfect for both sunny and sunset drinks. Preferably something from the extensive beer menu.
The selection of brews ranges from the very own house brew 'Gabbe', to a bunch of other local and fun options, served as both draft and in bottle. The menu is divided into sections, from Bitter to Angel Pee. That's right, Angel Pee, which is described as: 'Surprising and full of flavour. These beers make your mouth party. It's like an angel pees on your tongue'.
Friendly and relaxing in atmosphere, GAPP is a great venue to gather with a group of friends for some sunny drinks and great views. Apart from the brews, the rooftop menu also include, wine, lemonade and refreshing cocktails, as well as a nice selection of healthy eats.
GAPP
Eerste Ringdijkstraat 4, Oost-Watergraafsmeer, 1097 BC Amsterdam
6.

Greenpoint Beer & Ale Co.

/ New York
Greenpoint Beer & Ale Co. - Photo: www.greenpointbeer.com/
Found in Greenpoint, the northernmost neighborhood in Brooklyn, Greenpoint Beer & Ale Co. re-opened at a new location on 1150 Manhattan Ave during early 2020. And the new location comes with a fantastic open-air rooftop deck.
Easy to spot thanks to the green stained glass water tower found on the rooftop, this is a colorful, relaxing and laid back venue, perfect to enjoy the mix of sun, views and some good brews.
Aiming to make beer with respect and honor for the great brewing traditions of England, Belgium and Germany, while embracing the creative spirit for which the U.S. craft beer movement is known and loved, Greenpoint serves flavorful small batch ales, lagers and brett beers from the in-house brewery, as well as selections from other local breweries, vineyards and cideries.
Complemented with tasty comfort food, Greenpoint Beer & Ale Co. is a place easy to spend more than a couple of hours.
GREENPOINT BEER & ALE CO.
1150 Manhattan Ave, Brooklyn, New York
7.

Hotel Sweeney's

/ Sydney
Hotel Sweeney's - Photo: www.facebook.com/HotelSweeneys/
Hotel Sweeney's is a three-story, fun-filled venue, located right in the heart of Sydney. With a ground floor sports bar and a second floor Thai restaurant, the true gem is the third floor rooftop bar.
Quite classic and simple in decoration, the rooftop bar offers a beer selection that is anything but simple. Here you find a rotating lineup on eight different taps, often serving something from local and independent brewers, along with different tap takeovers every now and then.
So Hotel Sweeney's is really a perfect Sydney rooftop bar for anyone who wants to try out different and exciting brews. And if you don't, there are cocktails and wine available as well.
With a great and relaxing atmosphere, Hotel Sweeney's rooftop is an urban hideaway and a popular spot among the local crowd, turning extra vibrant during weekends, with live DJs creating the soundtrack.
HOTEL SWEENEY'S
236 Clarence St, Sydney
8.

Brixton

/ Washington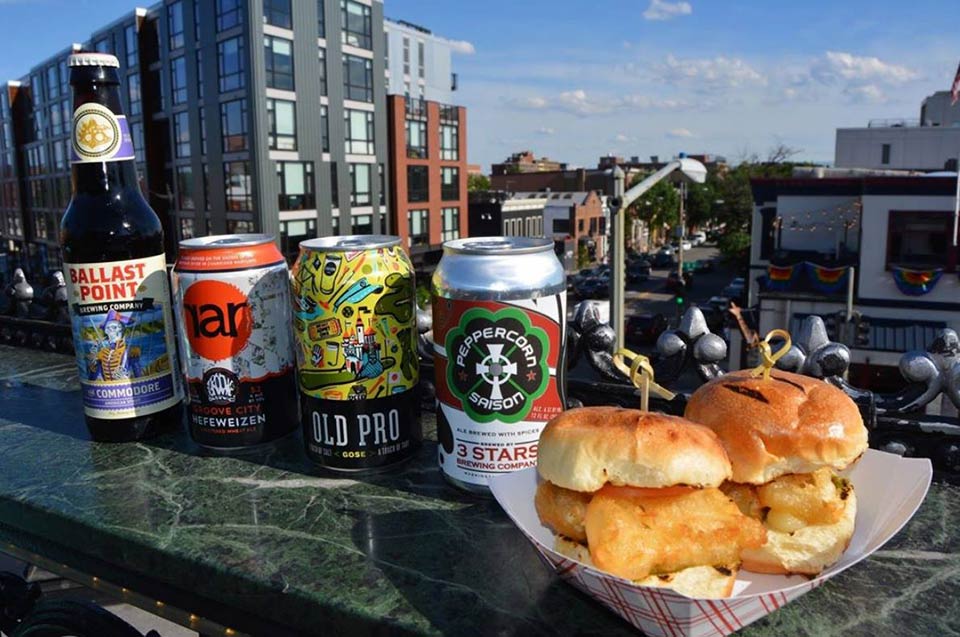 Brixton - Photo: www.facebook.com/thebrixtondc/
This peculiar British Pub offers food and drinks to Washington's visitors and locals, as well as a peaceful place to get away from the hustle and the bustle of the busy U-Street where it's located.
Spacious and equipped with numerous tables, lounge areas, and bar-stools, Brixton features simple decor and a relaxed and casual ambiance that invites you to have fun with your friends.
What makes Brixton such a fantastic location for beer lovers is its rotating tap menu, featuring local drafts and beers from all over the world. Best enjoyed (of course) at the rooftop beer garden.
You can also find classic cocktails and, to honor the spirit of the place, exotic beer-based cocktails that you're sure to remember.
Heated and partly covered, Brixton is a wonderful destination no matter the time of the year and one of Washington's favorite venues for post-work drinks.
BRIXTON
901 U St NW, Washington, DC
9.

Broma: Not a Bar

/ Saigon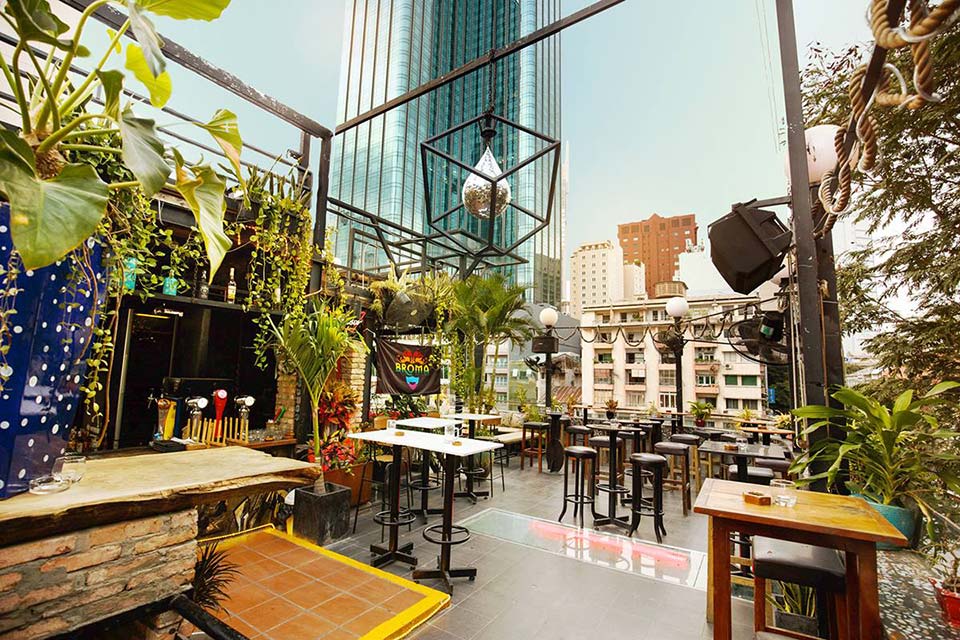 Broma: Not a Bar - Photo: www.facebook.com/broma.not.a.bar/
With a rather mysterious name, Broma: Not a Bar is a small and eclectic rooftop bar in Saigon, focused on building the community spirit.
Located on a 4th floor and overlooking the Saigon River, it's also a wonderful destination for afternoon drinks and post-work fun.
Split into three different levels (one indoor and two terraces), Broma: Not a Bar also features weekly specials, such as "Afro Tuesday" "Open Mic Night" and more.
Drink-wise, expect to find exciting signature cocktails, a small wine menu, and also over 30 quality brews to choose from. Ranging from international best-seller to a selection of local crafts, there is enough to keep most beer lovers intrigued.
For food, you can also find a delicious mixture of Eastern and Western cuisine, though Broma's drinks are what really draws in the crowds.
BROMA: NOT A BAR
41 Nguyễn Huệ, Bến Nghé, Quận 1, Hồ Chí Minh
10.

Berry Park

/ New York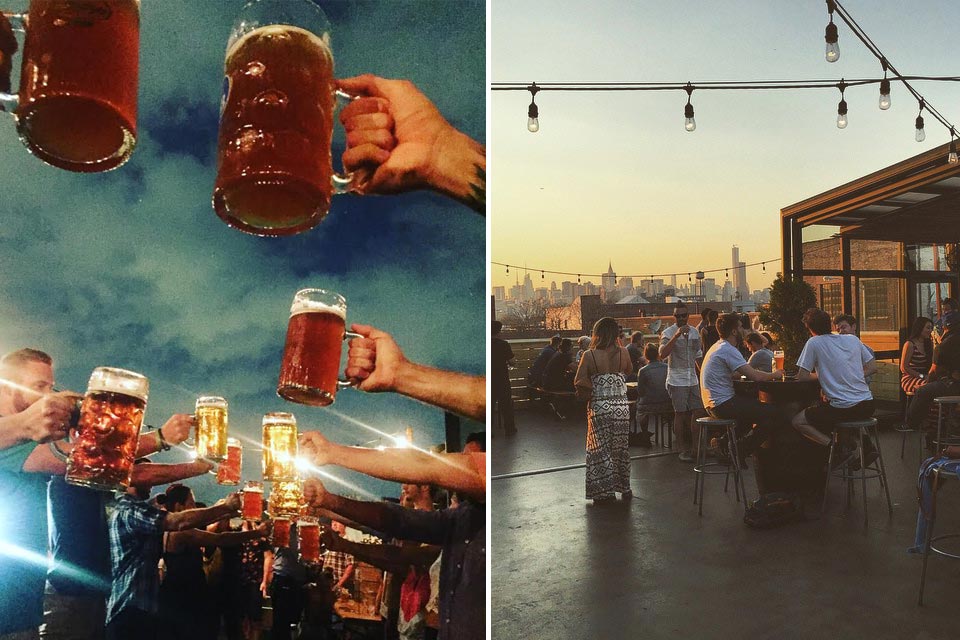 Berry Park - Photo: www.facebook.com/Berry-Park-227514720829/
The Berry Park Williamsburg is not only one of New York's best beer gardens, but also one of the largest rooftop bars in the city.
Up here, you can enjoy jaw-dropping views of the Manhattan skyline, as well as live transmissions of soccer in one of the bar's many screens.
There is also a Fussball table and live DJ shows during the weekends, making Berry Park a fun option no matter the day, and a remarkably popular choice for post-work drinks.
The Berry Park menu includes a wide selection of beers, with mainly German and Belgian brands, served as both draughts and in bottles & cans.
Not only about brews, the menu also includes cocktails, wine and food, such as Bratwurst, Fries, and American pub classics. On weekends also served as brunch, which is one of Brooklyn's favorites.
This rooftop venue boasts a casual and laid-back atmosphere, with no dress code or reservations needed. Just drop by, grab a table, and relax.
BERRY PARK
4 Berry St, Brooklyn, NY
11.

Hoptinger Bier Garden & Sausage House

/ Jacksonville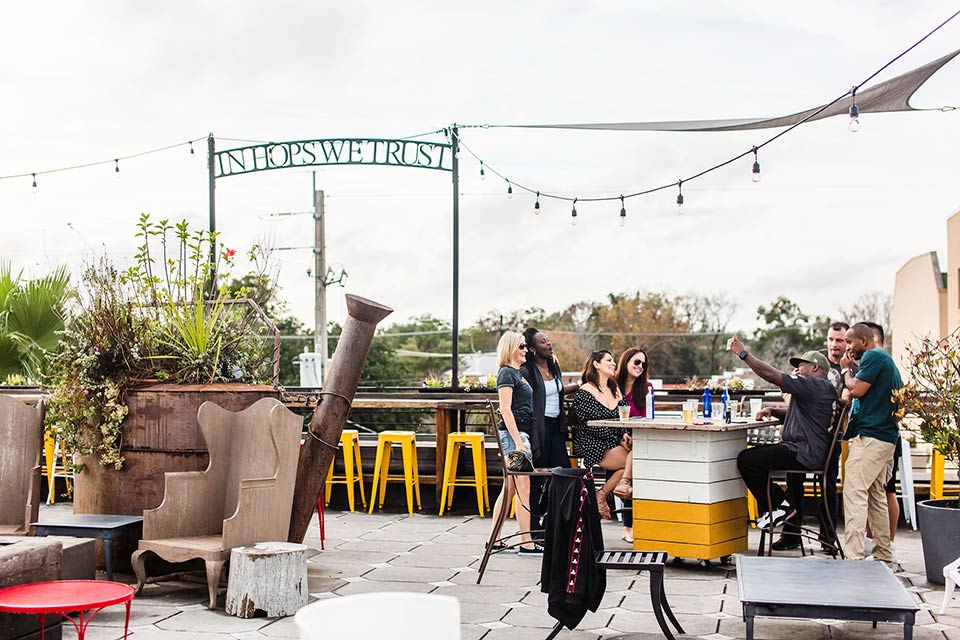 Hoptinger Bier Garden & Sausage House - Photo: www.facebook.com/hoptingerfivepoints/
Also known as Hoptinger 5 Points, this Florida rooftop venue operates as a mixture of a gastropub and a Bavarian beer garden.
Located on a 3rd floor, the Hoptinger may not be the highest rooftop bar in Jacksonville, but with its spacious terrace, lush greenery eclectic furniture choices, it certainly is one of Jacksonville's most striking beer gardens.
Up here, you can enjoy a wide selection of crafted beers, with more than 60 taps devoted to carefully selected brews. Alongside the beer, you also find delicious signature cocktails and a small, but fantastic, food menu featuring classics such as burgers and hotdogs.
Though Hoptinger is known mainly for its rooftop terrace, it also has a beautiful indoor lounge and a restaurant, where you can enjoy sports, billiards, foosball, and shuffleboard.
HOPTINGER
1037 Park St, Jacksonville, Florida