10 best rooftop restaurants in the world
Published: April 13, 2020
10 amazing rooftop restaurants worldwide you should visit in 2020
To have drinks on rooftop bars is something all people love, but even better is to have a full dinner with these spectacular views in front of your eyes.
Here's a list of the 10 best rooftop restaurants in the world. A list of both fine dining restaurants and casual restaurants – all with the common feature of having a grand view over a city or ocean.
If you want a unique and memorable rooftop experience, you should definitely book a table at one of these rooftop restaurants.
1.

Quince Rooftop

/ San Miguel, Mexico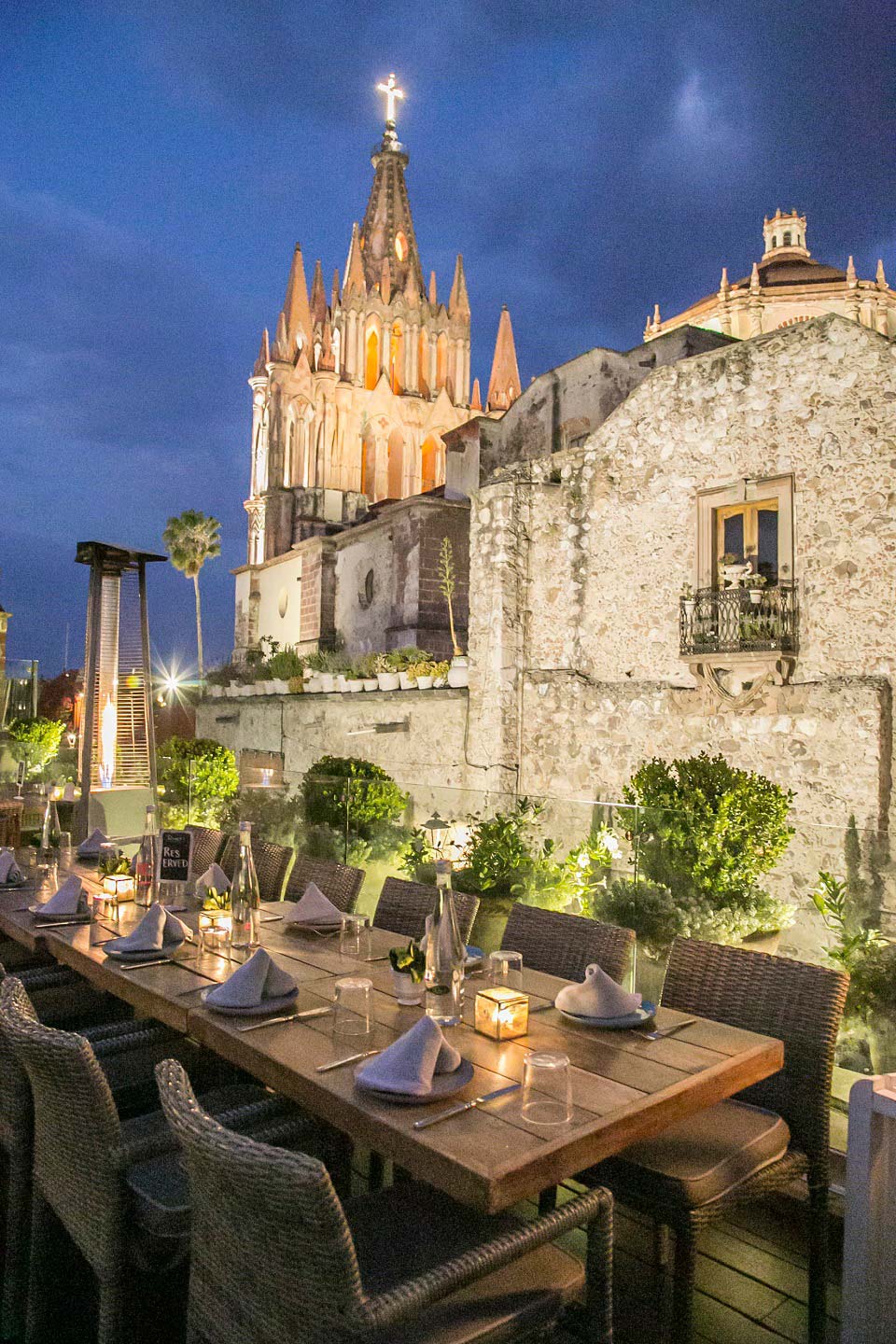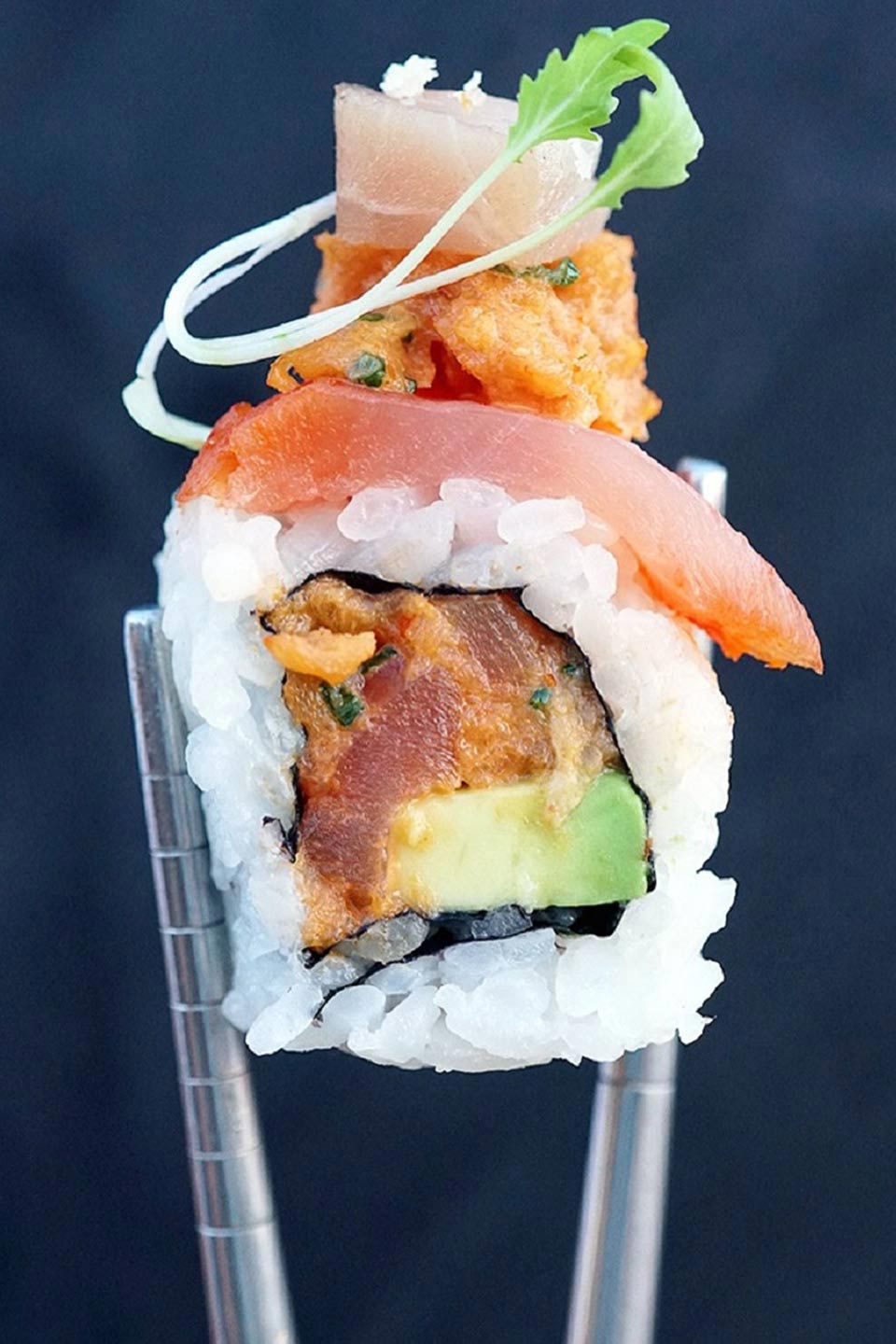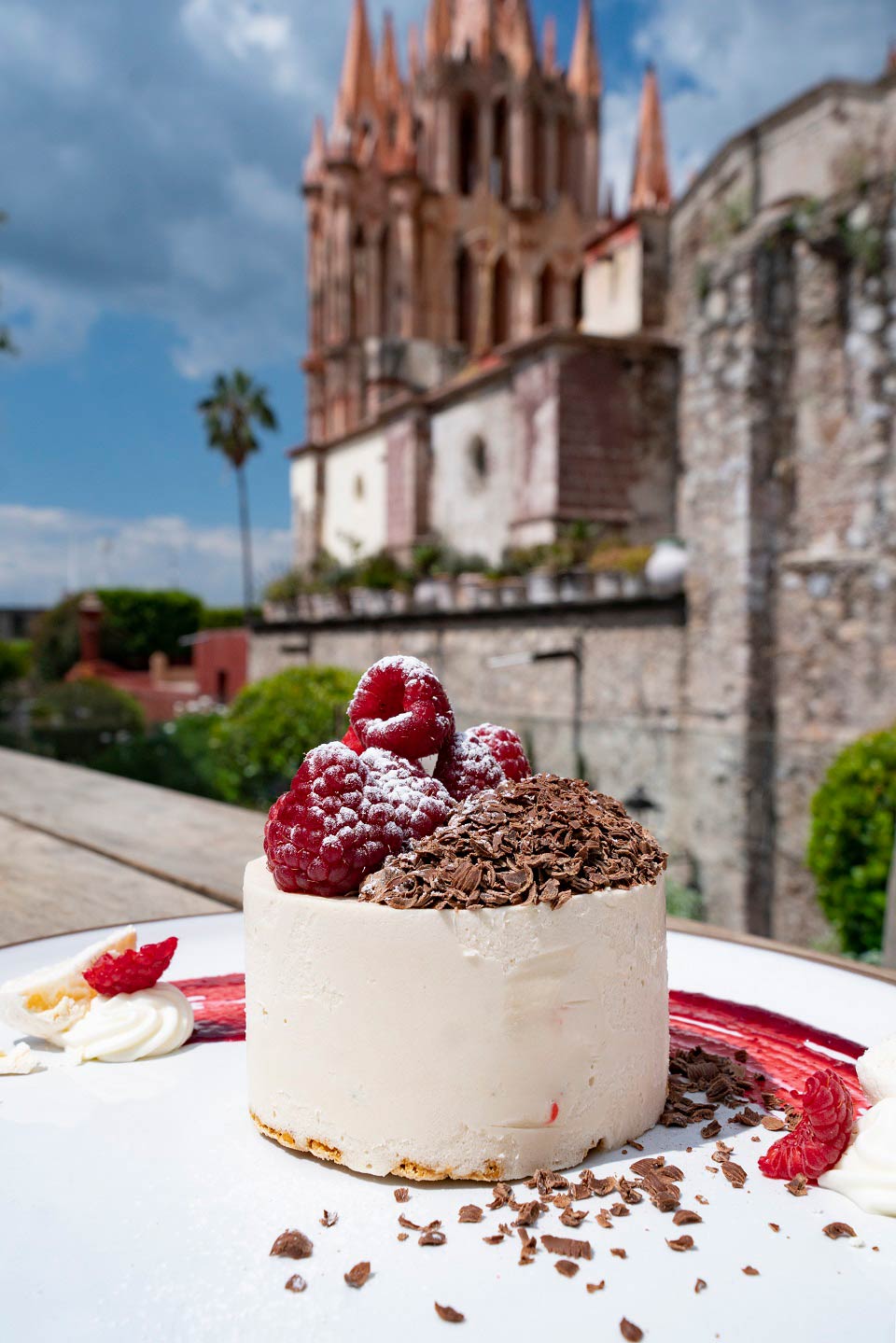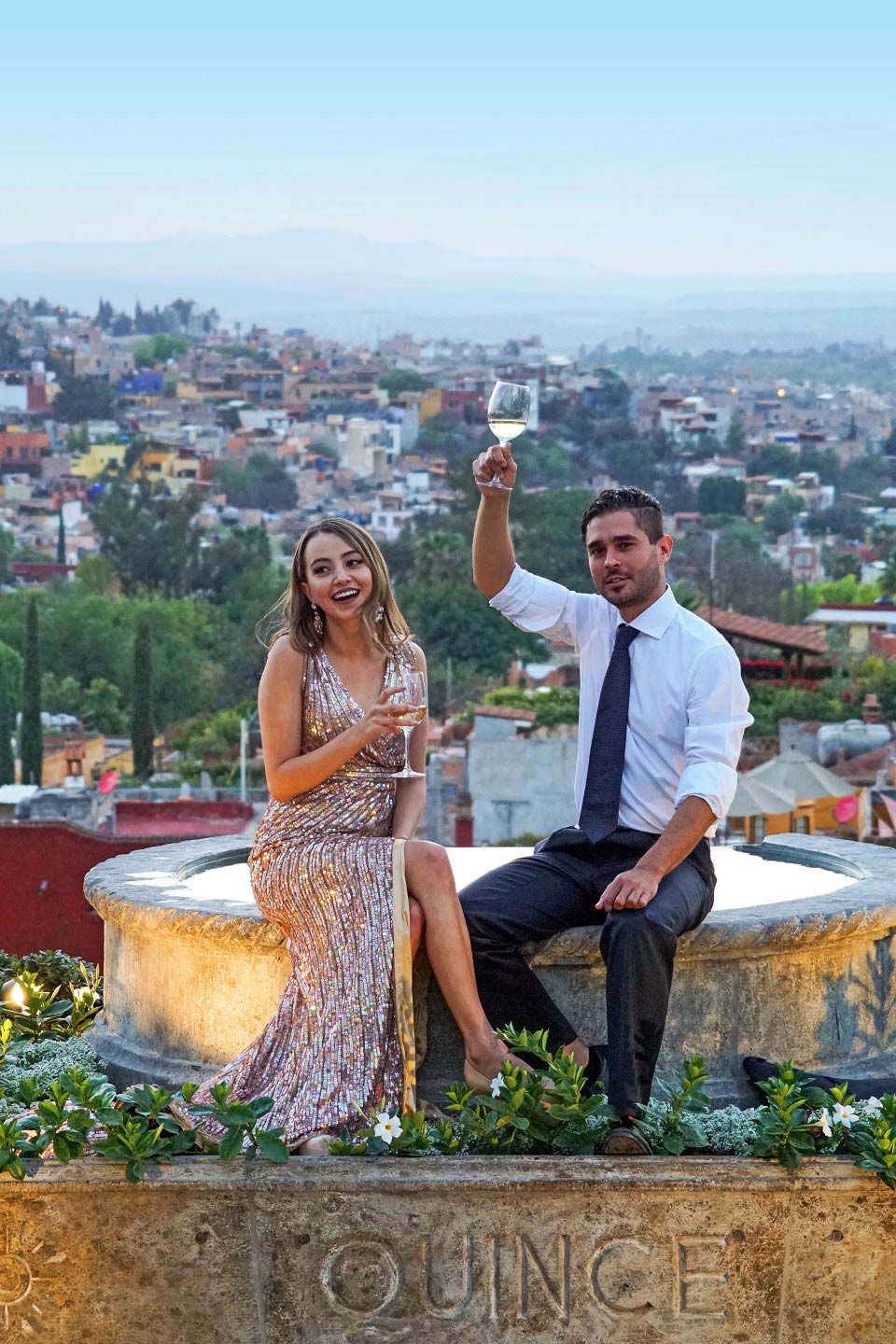 Earning top spot on this impressive list of the best rooftop restaurants in the world is Quince Rooftop in San Miguel de Allende, Mexico. Incidentally, San Miguel also was rated by Travel and Leisure #1 city in the world two of the past three years.
Quince is so much more than a restaurant, it is a true destination. With perfect views in all 250+ seats, this rooftop has it all.
First-time guests who come for lunch often end up staying all day and eating late-night sushi while dancing to the beat of the DJ. The food, music, service, cocktails, atmosphere, and clientele come together to make "The Quince Experience." Both elegant and hip, Quince caters to a diverse crowd offering casual fare, fine dining and French pastries.
After helping to make Quince "the #1 Rooftop Destination in the World", according to Robb Report, the owner and chef have continued to evolve Quince's "global collective" menu. Stuffed lobster drizzled with chile Manzano cream, crispy kale leaves atop black truffle risotto, and the Texas steakhouse filet are just some of the highlights of the menu.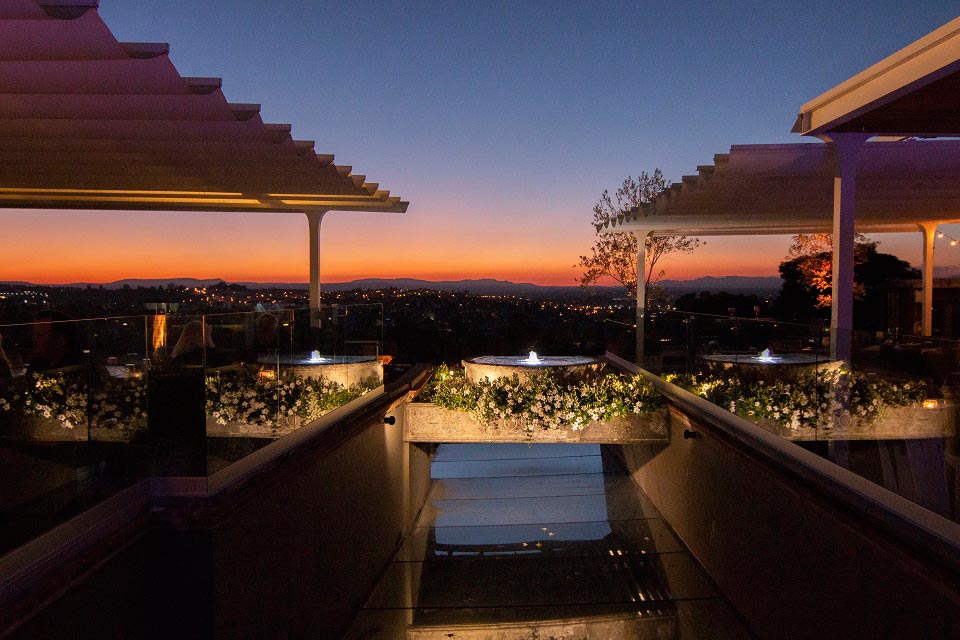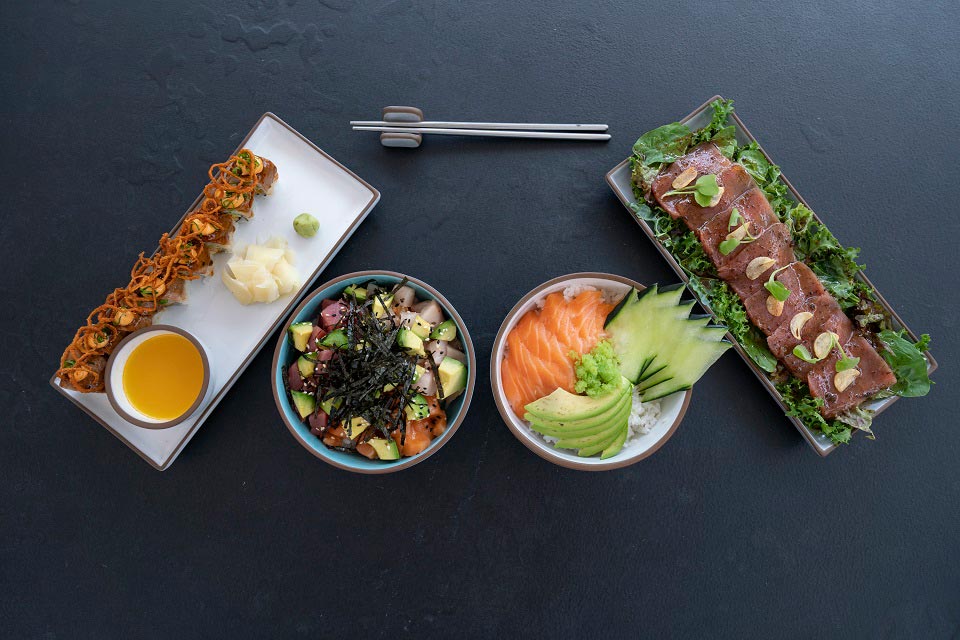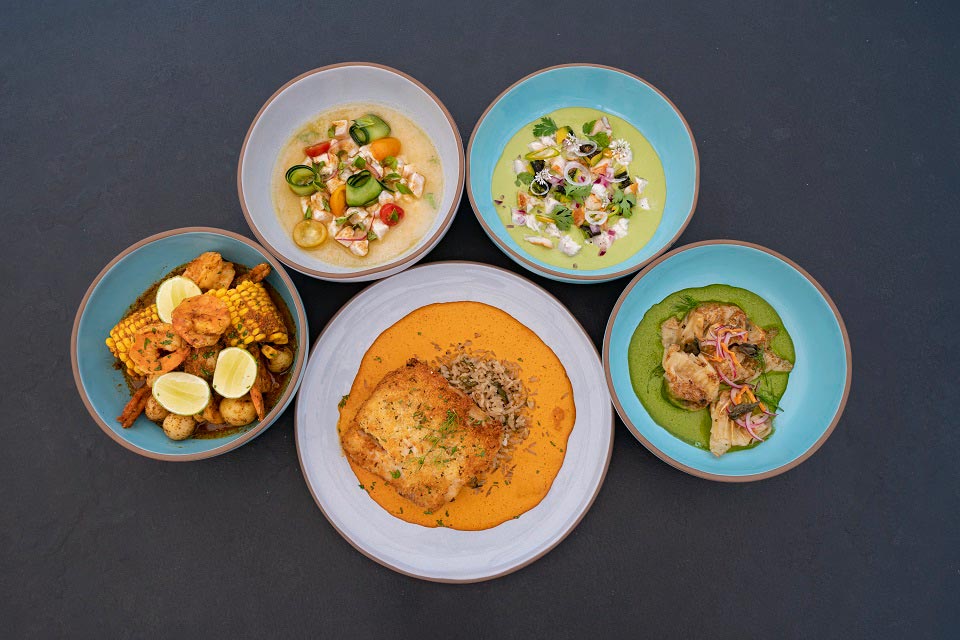 Quince's lead partner hosts his chefs every few months to one of his favorite culinary cities, including Lima, New Orleans, New York and Mexico City, just to name a few. These global stops have provided unique inspiration for Quince's menu. After visiting Peru, Quince's culinary team created a menu of delectable sushi creations that use Japanese techniques, Peruvian spices, and sometimes include some Mexican pepper heat or Texas-style accents.
As the evenings progress at Quince, stunning sunsets appear, and the energy escalates. The music is always happy, hip, and familiar to most generations, and ushers a multicultural clientele into the night. Quince's mixology, rated top 10 in Mexico, is prepared while the mixologists showcase their tricks and impress guests with uniquely curated cocktails.
Quince is not only a restaurant or a rooftop destination, it's a complete experience and a gift to one's soul.
QUINCE ROOFTOP
Cuna de Allende 15, Zona Centro, Centro, 37700 San Miguel de Allende, Gto
Opening hours:
Monday – Thursday: 12:00 pm – 1:00 am
Friday: 12:00 pm – 2:00 am
Saturday: 11:00 am – 2:00 am
Sunday: 11:00 am – 1:00 am
Website: www.quincerooftop.com
Instagram: @quincerooftop
Facebook: Quince Rooftop
2.

SE.STO on Arno

/ Florence, Italy
SE.STO on Arno - Photo: www.sestoonarno.com
Located on top of the well-known The Westin Excelsior, this rooftop venue works both as a restaurant and a bar, offering guests delicious food, fantastic drinks, and inspiring views.
Overlooking the Arno river, SE.STO features modern Tuscan cuisine, a relaxed and casual atmosphere, a small outdoor area, and floor-to-ceiling windows, ensuring you get fantastic views no matter where you sit.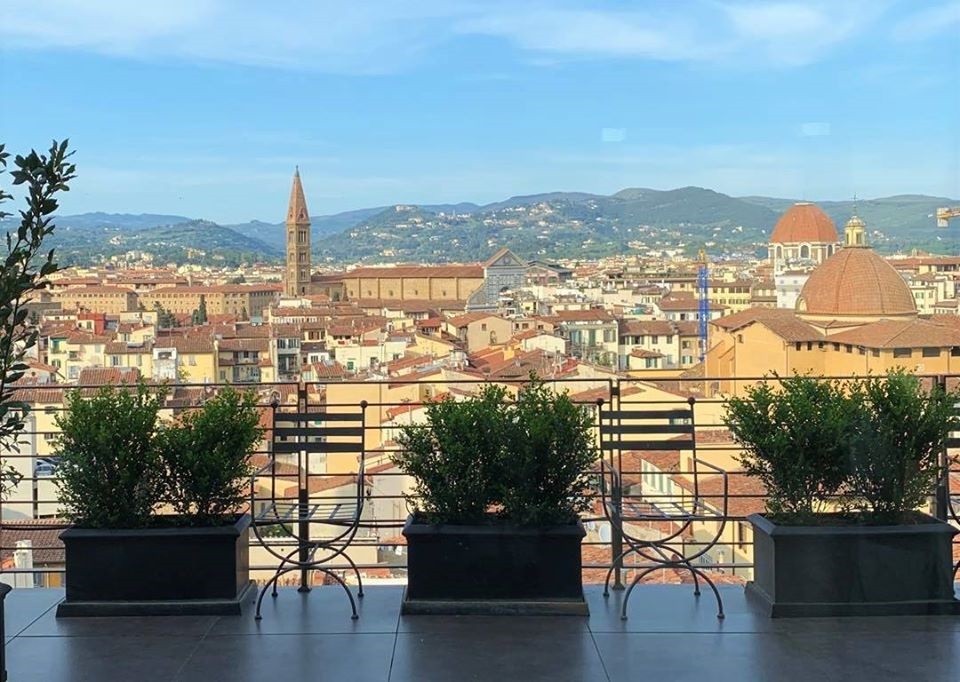 SE.STO on Arno - Photo: www.sestoonarno.com
Open for both lunch and dinner, and operating on a first-come, first-served basis, SE.STO is a fantastic location for those looking to eat delicious food in a modern environment while escaping Florence's crowds.
A perfect spot for a relaxing lunch in the sun, the bar features delicious wines, world-beers, and expertly mixed classic cocktails.
SE STO ON ARNO
Piazza Ognissanti, 3, 6th floor The Westin Excelsior, Florence
Daily: Lunch / Dinner
3.

Horizon Grill

/ Kuala Lumpur, Malaysia
Horizon Grill - Photo: www.banyantree.com
Located in the beautiful Banyan Tree hotel, this lovely terrace venue offers both a world-class grill and a high-end bar, both overlooking the city and the Petronas Twin Towers.
Horizon Grill is a fine-dining restaurant, known for its open-air terrace, relaxing atmosphere, stylish furniture, and unique style.
Decorated with its very own little river and plenty of lush greenery, Horizon Grill gives you the impression of being in an urban oasis up in the sky.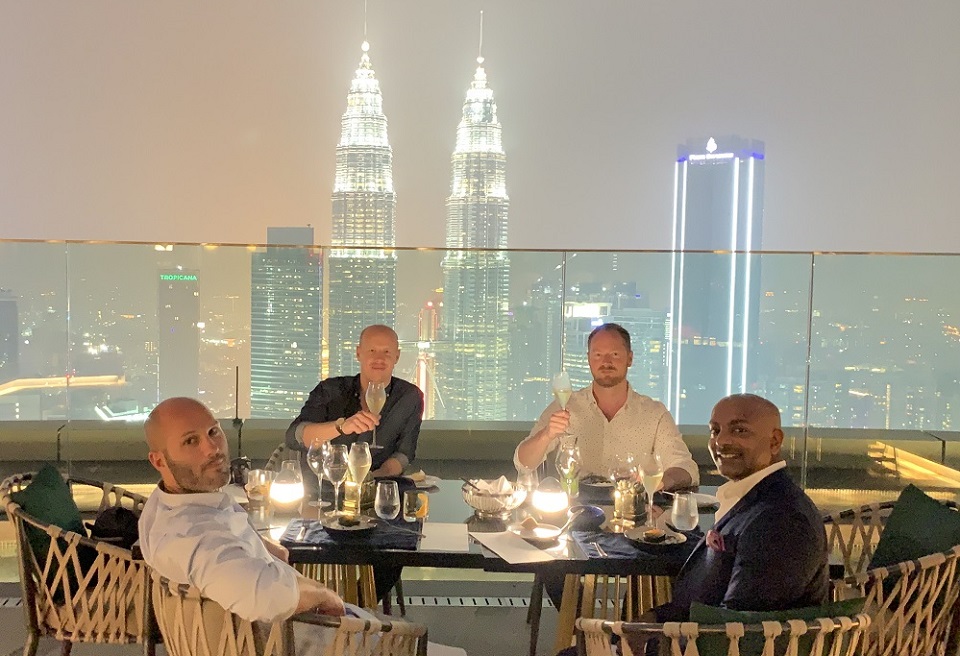 Horizon Grill - Photo: www.therooftopguide.com
Open for breakfast, lunch, and dinner; the Horizon Grill focuses on international seafood and meat cuts, as well as signature dishes meant to showcase the culinary wonders of Kuala Lumpur.
One floor above, you can find Vertigo Rooftop Bar, which offers both indoor and outdoor seating, as well as a spacious open-air terrace.
Comfortable lounge furniture, jaw-dropping views, a fantastic lounge-like atmosphere, and live music, make a visit to Vertigo a must, particularly if you're looking for cocktails inspired by local flavors.
HORIZON GRILL
2 Jalan Conlay, 50450 Kuala Lumpur
Daily Breakfast / Lunch / Dinner
4.

Tomo

/ Dubai, UAE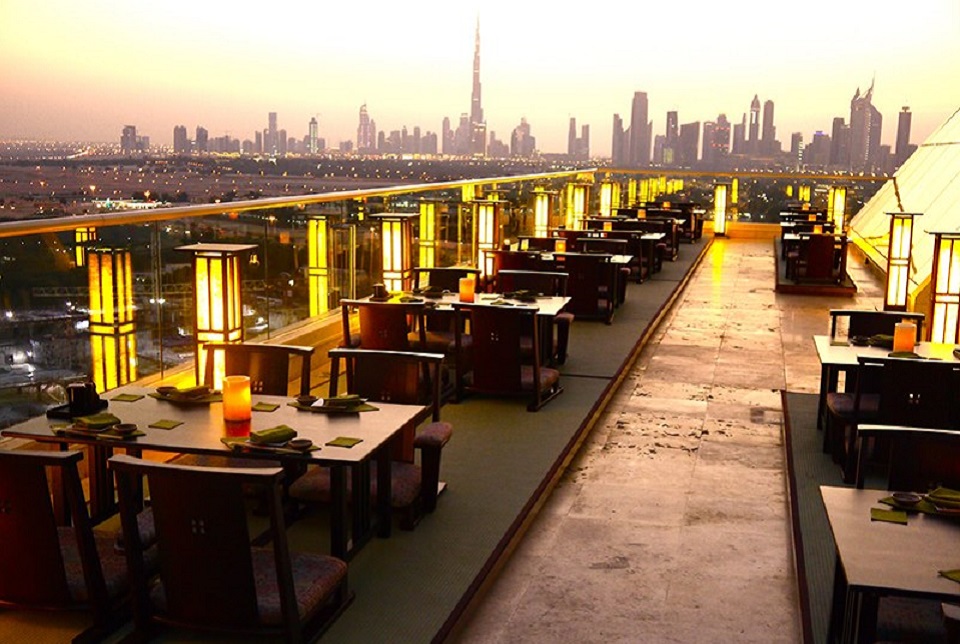 Tomo - Photo: www.tomodubai.com
Hands-down one of the best Japanese restaurants in Dubai, Tomo operates both as a restaurant and a bar and offers jaw-dropping views of Duba's new skyline.
Located on the 17th floor of the world-famous Raffles Hotel, this rooftop venue features both indoor and outdoor seating, delicious dishes, and expertly mixed cocktails.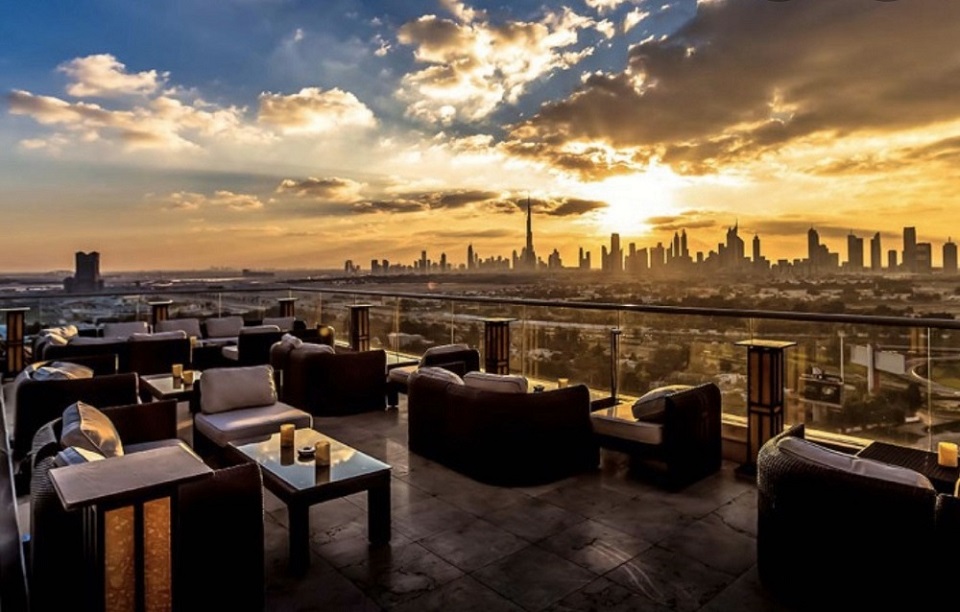 Tomo - Photo: www.tomodubai.com
Tomo's high-end Japanese cuisine is helmed by the talented chef Chitoshi Takahashi and features a wide variety of sushi dishes, noodle dishes, and the ever so popular Waygu Beef.
Drink-wise, expect traditional cocktails, world-spirits, sake, champagne, beer, and even wine, as well as a variety of signature drinks that mix Sake and Shochu with sophisticated ingredients.
As you can imagine, Tomo is a rather pricey destination, but the experience is well worth it.
TOMO DUBAI
Sheikh Rashid Road Wafi City, Dubai
Daily: Lunch / Dinner
5.

RedSky

/ Bangkok, Thailand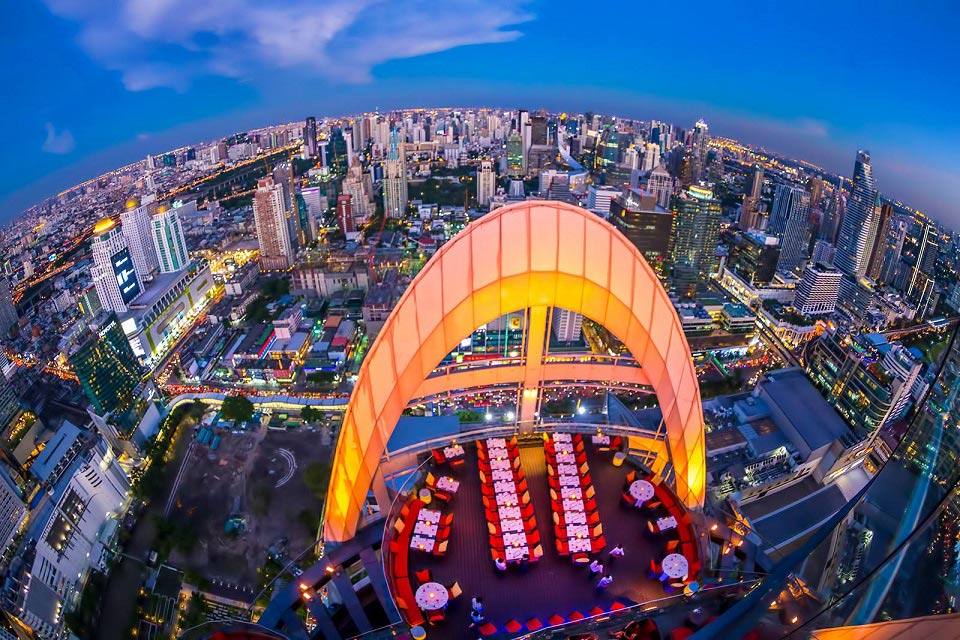 RedSky - Photo: www.bangkokredsky.com
Located amongst one of Bangkok's busiest streets, and within steps of world-famous shopping malls like the Siam Paragon, the MBK, and the Central World, this rooftop bar is the perfect destination to relax after a busy day shopping.
Located on a 5th floor, this multi-level venue offers a beautiful rooftop bar, a delicious rooftop restaurant, and superb views of Bangkok's skyline.
The rooftop bar features a diverse array of signature cocktails, classic cocktails, and world spirits.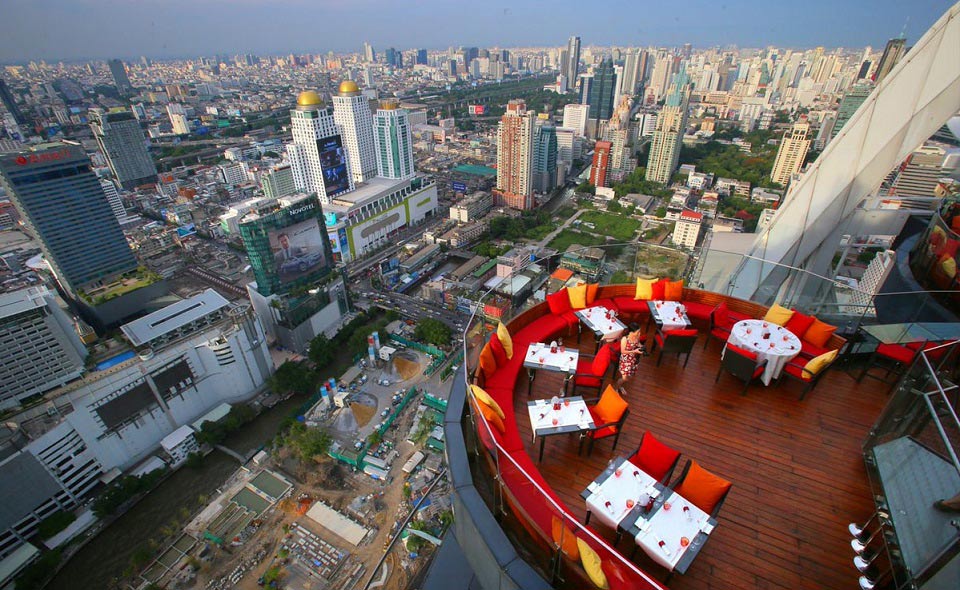 RedSky - Photo: www.bangkokredsky.com
The restaurant, which features both indoor and outdoor seating, features superb high-end cuisine inspired by local flavors, and it's easily one of the best restaurants Bangkok has to offer.
While the rooftop bar works on a first-come, first-served basis, you need to make reservations for the restaurants, so we encourage you to make those well in advance.
For the bar, arriving early will secure you good seats and even better service. Plus, the opportunity to enjoy a jaw-dropping sunset.
If you're looking for an even more exclusive experience, head one floor up and discover the CRU Champagne Bar, a wonderful experience even on its own.
REDSKY
Centara Grand, Central World, 195 Phayathai Rd, Bangkok
Daily: Lunch / Dinner
6.

Area 31

/ Miami, USA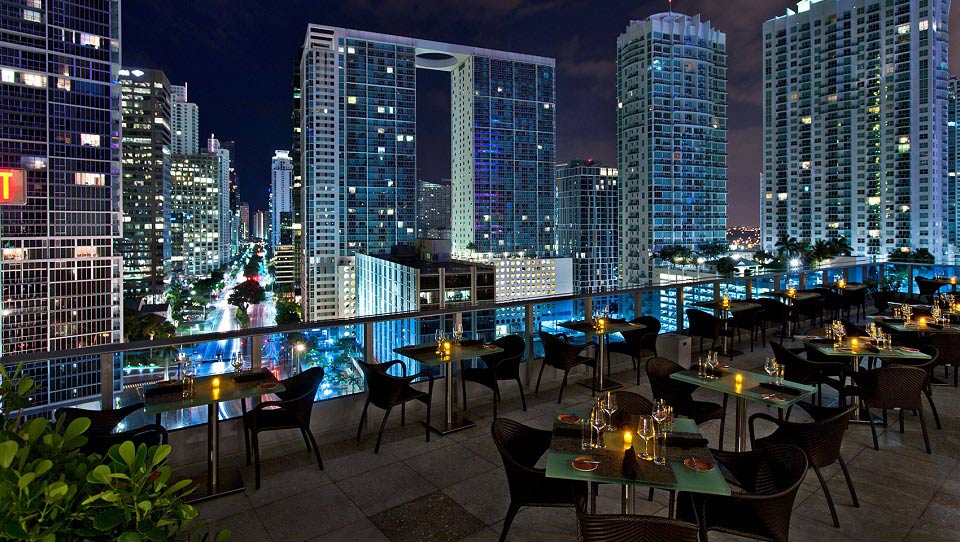 Area 31 - Photo: www.area31restaurant.com
Overlooking the Miami River, and offering some of the best views of the city Skyline, Area 31 is a fantastic restaurant-bar combo that aims to deliver excellent service and even better experiences.
Located on the 16th floor of the Kimpton EPIC Hotel, Area 31 offers both indoor and outdoor seating options, comfortable lounge furniture, spacious dining tables, a laid-back yet exclusive atmosphere, and attentive and dedicated staff.
Area 31 focuses on sustainable local dishes, made fresh from ingredients from the surrounding areas.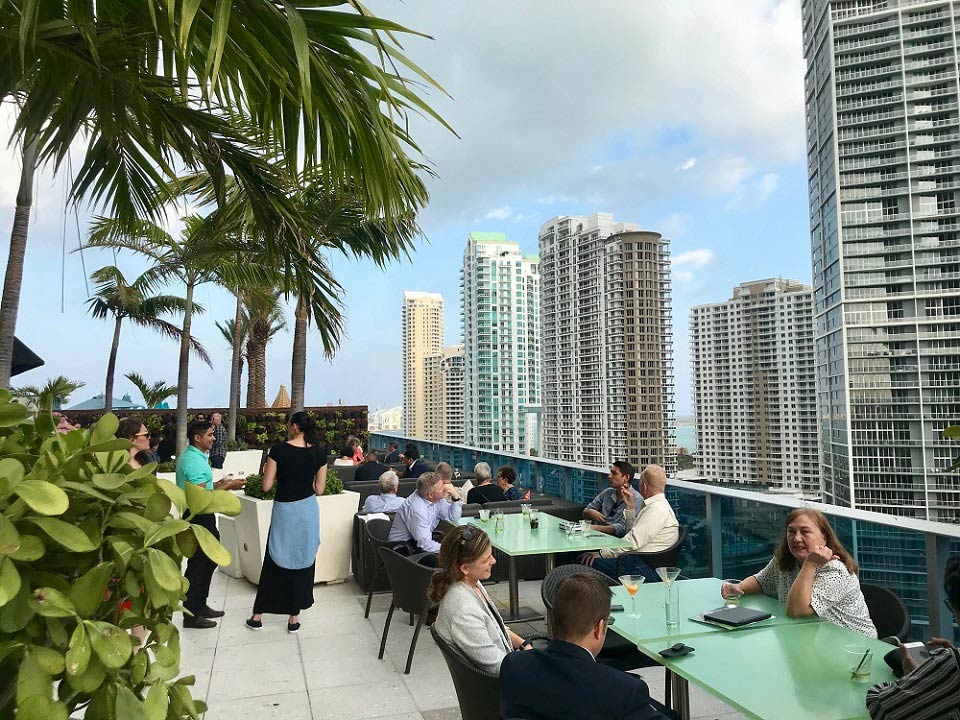 Area 31 - Photo: www.area31restaurant.com
This same principle expands to the bar's signature cocktails, which change according to the season to better reflect the venue's sustainable spirit.
Stylish, modern, and with a vibrant and sophisticated vibe, Area 31 is the perfect destination for a romantic date or a night out with friends.
Open from breakfast to late at night; Area 31 is also an excellent choice for when you're looking to escape Miami's heat and eat (or drink) something delicious.
AREA 31
270 Biscayne Boulevard Way, Miami, FL 33131-2123
Daily: Breakfast / Lunch / Dinner
7.

Aroma Restaurant

/ Rome, Italy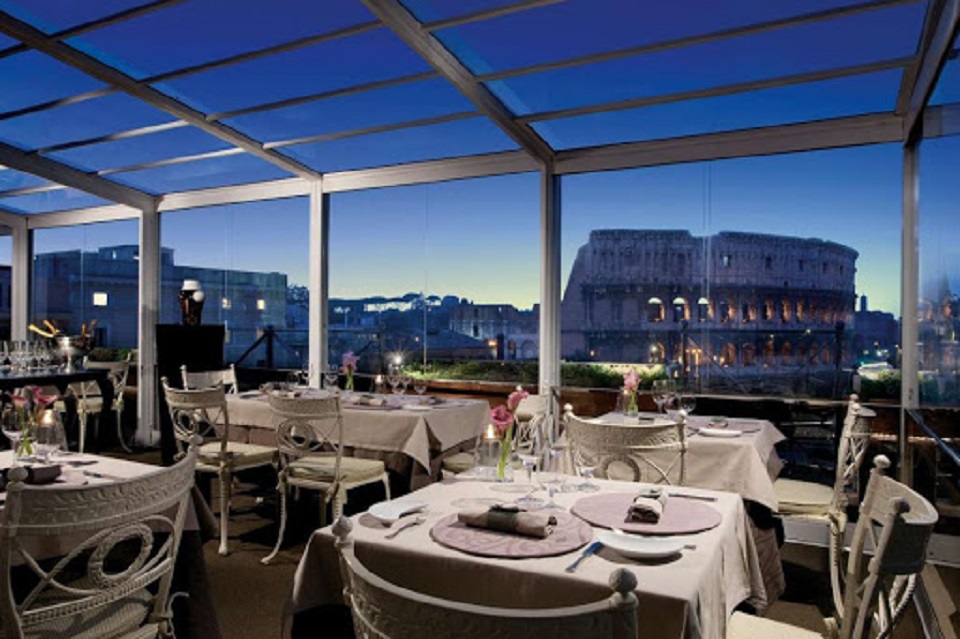 Aroma Restaurant - Photo: www.aromarestaurant.it
This Michelin starred restaurant is located on the luxurious Hotel Palazzo Manfredi and offers not only one of the best views Rome has to offer, but also some of the best food.
Up here, you can enjoy jaw-dropping views of the Colosseum and many other of Rome's historic sites; not only that, but with only 28 seats in the restaurant, you can rest assured the attention you'll get will be beyond compare.
Roman-born Chef Di Lorio's mouthwatering gourmet food comes in two varieties, á la carte or tasting menus, plus the option to wine pair following the recommendations of a premium sommelier.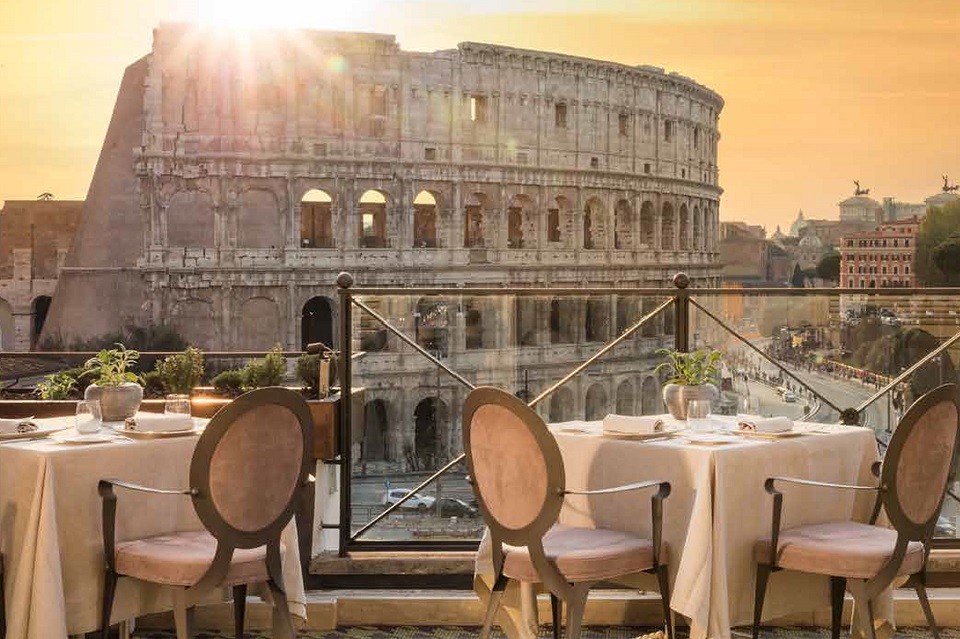 Aroma Restaurant - Photo: www.aromarestaurant.it
Both options will result in some of the best Italian cuisines you'll ever eat, as well as access to the restaurant's bar, which features a fantastic wine collection, as well as champagne and cocktails.
As expected, reservations in advance are a must, as you won't be able to visit this place otherwise.
AROMA RESTAURANT
Via Labicana, 125, 00184 Roma
Daily: Breakfast / Lunch / Dinner
8.

Lantern

/ Singapore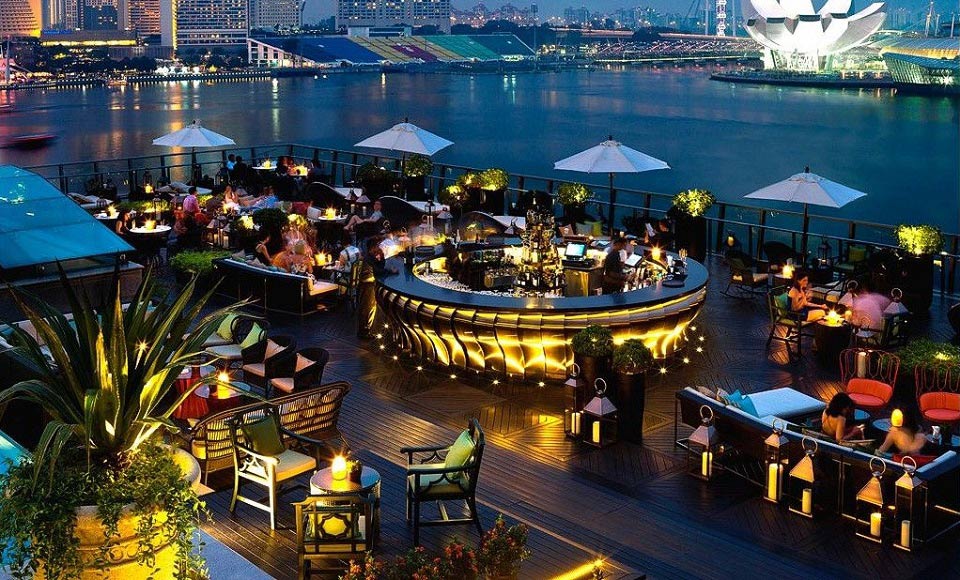 Lantern - Photo: www.fullertonhotels.com
Located on the 6th floor of the Fullerton Bay Hotel, Lantern may not be the tallest restaurant in this list, but it's still amazing.
Overlooking the Marina Bay and offering awe-worthy views of the city's skyline, Lantern provides both indoor and outdoor space, luxurious and stylish furnishings, comfortable lounge furniture, and lush greenery that give this venue an oasis-like quality that you're sure to love.
Open year-long, no matter the weather conditions, this classic lounge, and high-end restaurant focuses on mixing international and local cuisine, resulting in creative and delicious dishes and even better drinks.
Pizza slabs, Wagyu burgers, salads, steaks, and fresh seafood go hand in hand with well-crafted signature cocktails, a wide selection of wines and international beers.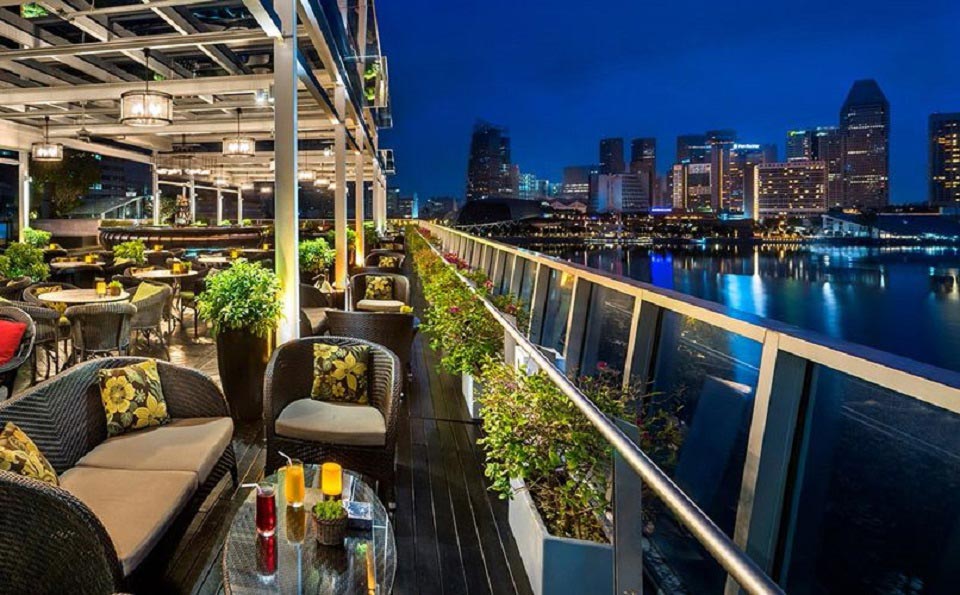 Lantern - Photo: www.fullertonhotels.com
Reservations for the restaurant are highly encouraged, particularly if you're planning to visit for dinner.
The bar, on the other hand, works on a first-come, first-served basis. From 11:00 am to 6:00 pm, you can enjoy a laid-back atmosphere, privacy and, come dusk, one of the most beautiful sundowns you'll ever see.
At night, and during the weekends, the atmosphere becomes livelier and more party-like, which makes it a perfect location for those of you looking for a fun experience.
LANTERN
Rooftop The Fullerton Bay Hotel, 80 Collyer Quay, 049326 Singapore
Daily: Lunch / Dinner
9.

Mama Shelter

/ Los Angeles, USA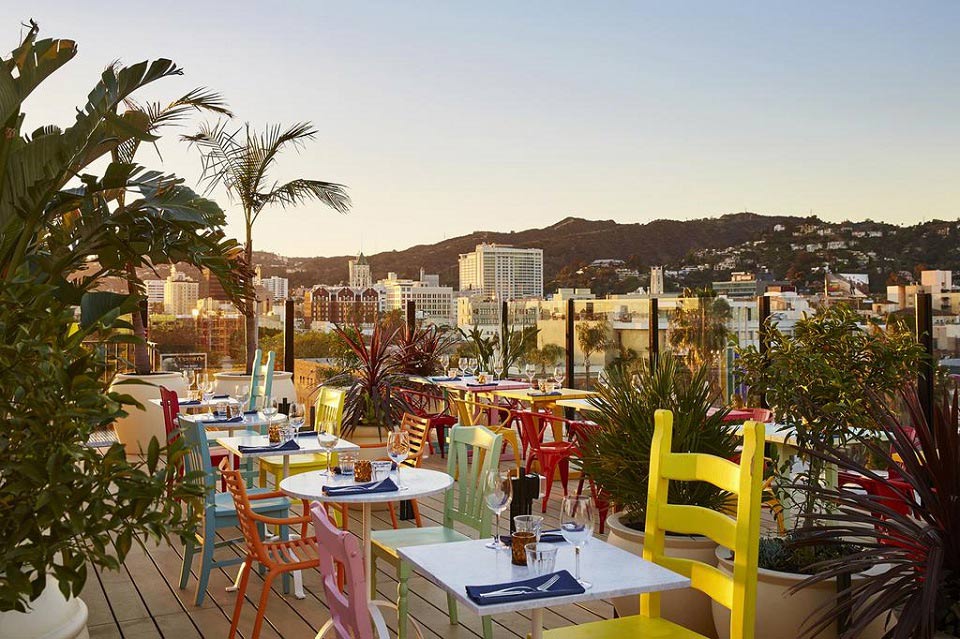 Mama Shelter - Photo: www.mamashelter.com
A colorful and unique destination, Mama Shelter is known for its delicious drinks, fantastic food, and jaw-dropping views of the city.
Overlooking the Hollywood sign and the Los Angeles skyline, this beautiful rooftop venue offers large lounge sofas, dining tables, and bar stools to sit in a variety of settings.
Mama Shelter operates on a first-come, first-served basis, so you'll want to arrive early to score a good table, particularly during the weekends.
Your reward for being punctual? Some of the best signature cocktails in Los Angeles, mixing international mixology techniques with Latin flavors.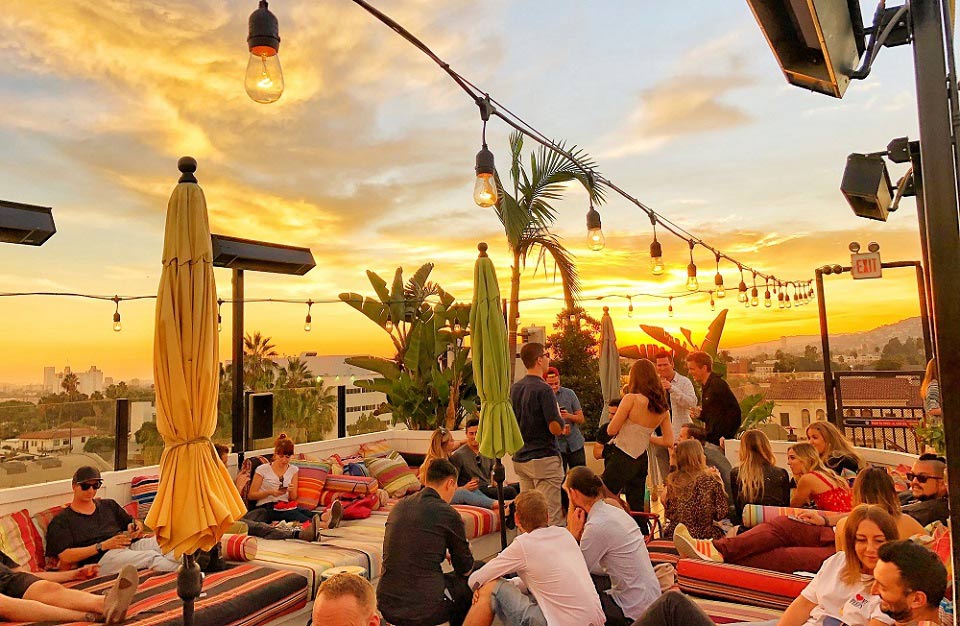 Mama Shelter - Photo: www.mamashelter.com
For the hungry, Mama Shelters offers hearty lunch offers from Thursday to Sunday, as well as dinners every night.
The food consists mainly of filling homemade dishes, all of them large enough to share, but so delicious you may be tempted not to.
With its laid-back and casual atmosphere, Mama Shelter is a favorite amongst locals, particularly those looking for a fun place to relax after a busy day working.
MAMA SHELTER
6500 Selma Ave, Los Angeles, CA 90028
Daily: Lunch / Dinner
10.

Double-Six Luxury Hotel

/ Seminyak, Bali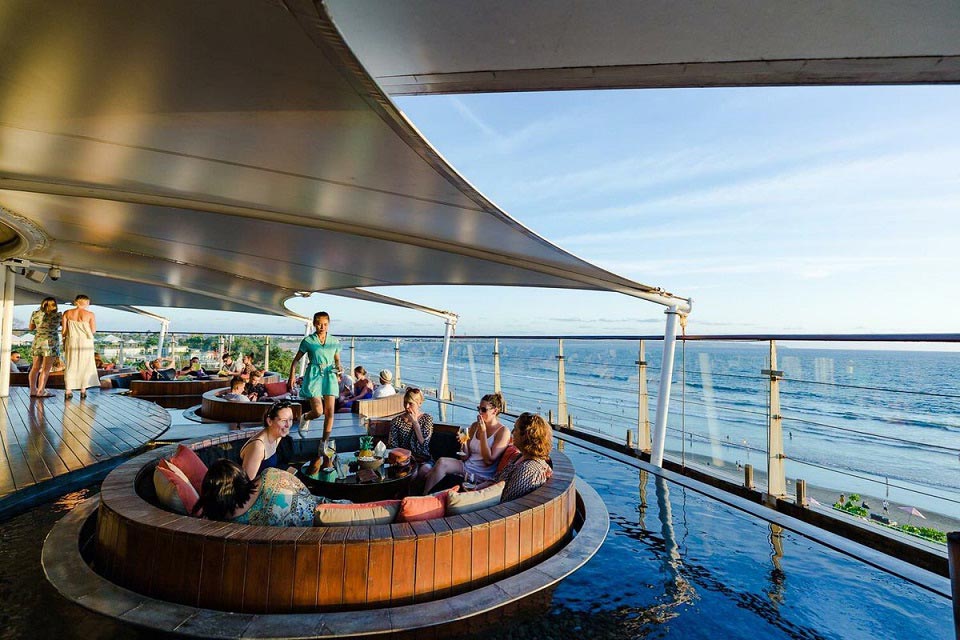 Double-Six Luxury Hotel - Photo: www.doublesixrooftop.com
Located on a gorgeous beachfront hotel, the Rooftop Sunset Bar is one of Bali's most well-regarded restaurant and offers world-class service, delicious cuisine, and breath-taking views.
Measuring 1700 square meters, this rooftop venue isn't only one of Bali's best, but also Bali's largest, offering numerous seating options, and tasteful furnishings that transforms any visit to this restaurant into a memory worth keeping.
Floating lounge pods, dining tables, lounge sofas, and regular bar seats means you'll always find a place to sit, though if you hope to score a place at one of the floating lounges, we encourage you to make a reservation.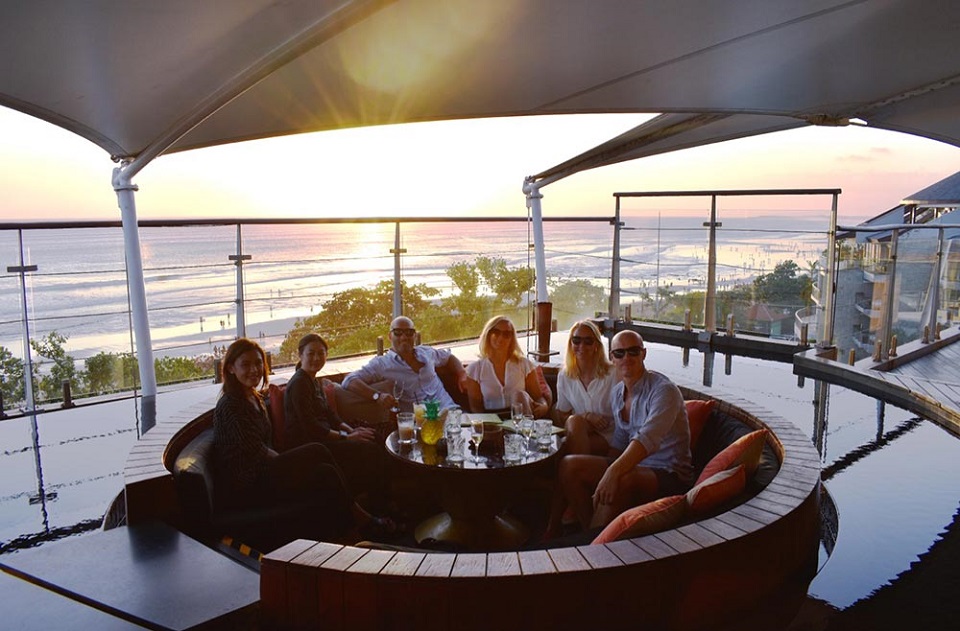 Double-Six Luxury Hotel - Photo: www.therooftopguide.com
Food-wise, you can find anything from tasty bar bites to filling dinner plates, both of which mix local and international flavors to provide a truly unique experience, and during Sundays, you can also enjoy a buffet breakfast.
Drink-wise, expect to find wines, champagne, beers, world-spirits, and a variety of cocktails, including signature cocktails that showcase the local mixology style and ingredients.
The venue offers both inside and outdoor seating, as well as a classy and sophisticated atmosphere that nevertheless manages to be quite laid-back, making it one of the best destinations in Bali for both casual and more formal visits.
DOUBLE-SIX LUXURY HOTEL
Double-Six Luxury Hotel, Jl. Arjuna No. 66, Seminyak, Bali 80361
Daily: Dinner