To have drinks on rooftop bars is something all people love, but even better is to have a full lunch or dinner with these spectacular views in front of your eyes.
Here's our list of the 10 best rooftop restaurants in the world. A list filled with both fine dining restaurants and more casual eateries – all with one thing in common: a grand view over a city or ocean.
If you want a unique and memorable rooftop experience, you should definitely book a table at one of these rooftop restaurants.
1.

Quince Rooftop

/ San Miguel, Mexico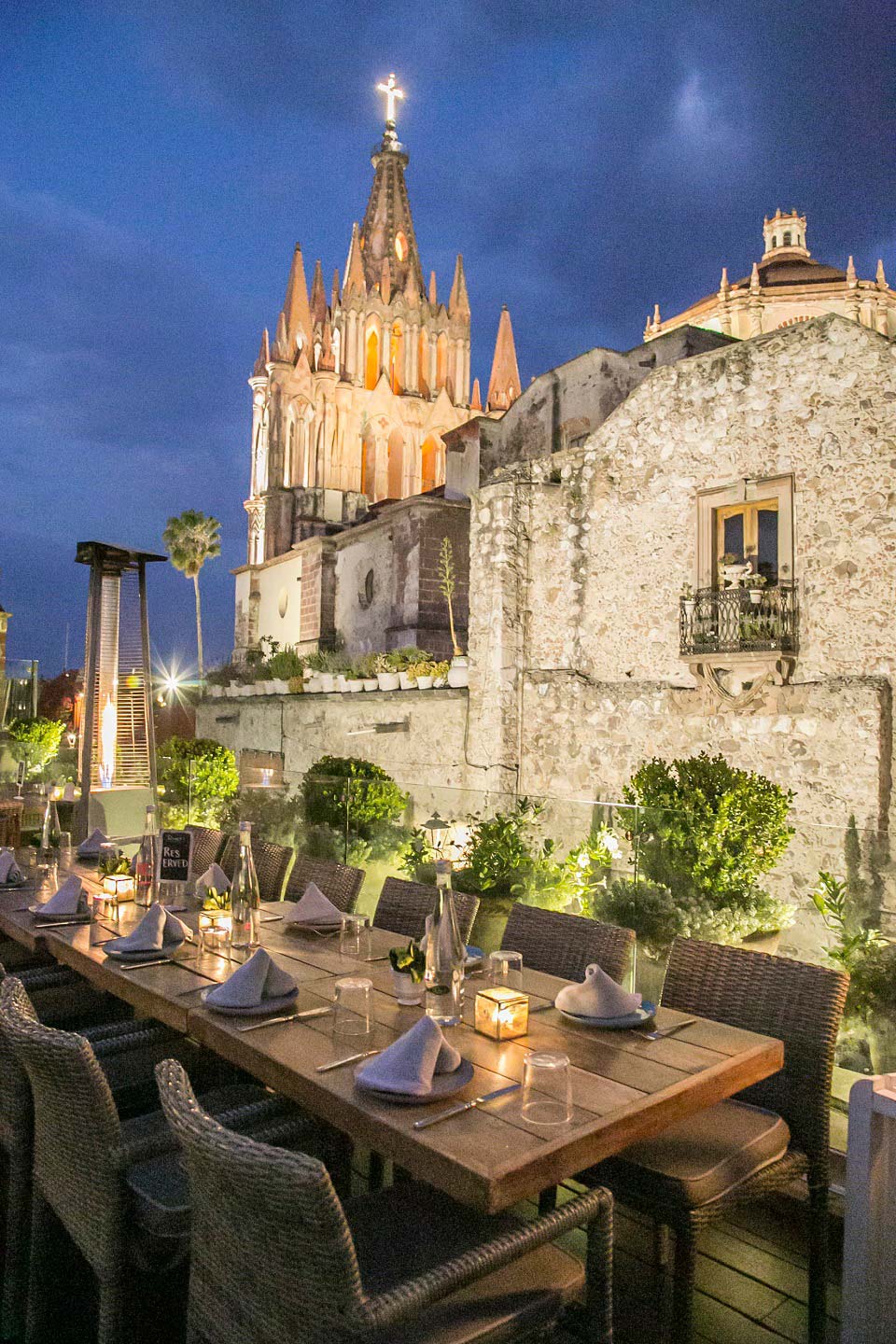 Quince Rooftop - Photo: https://quincerooftop.com/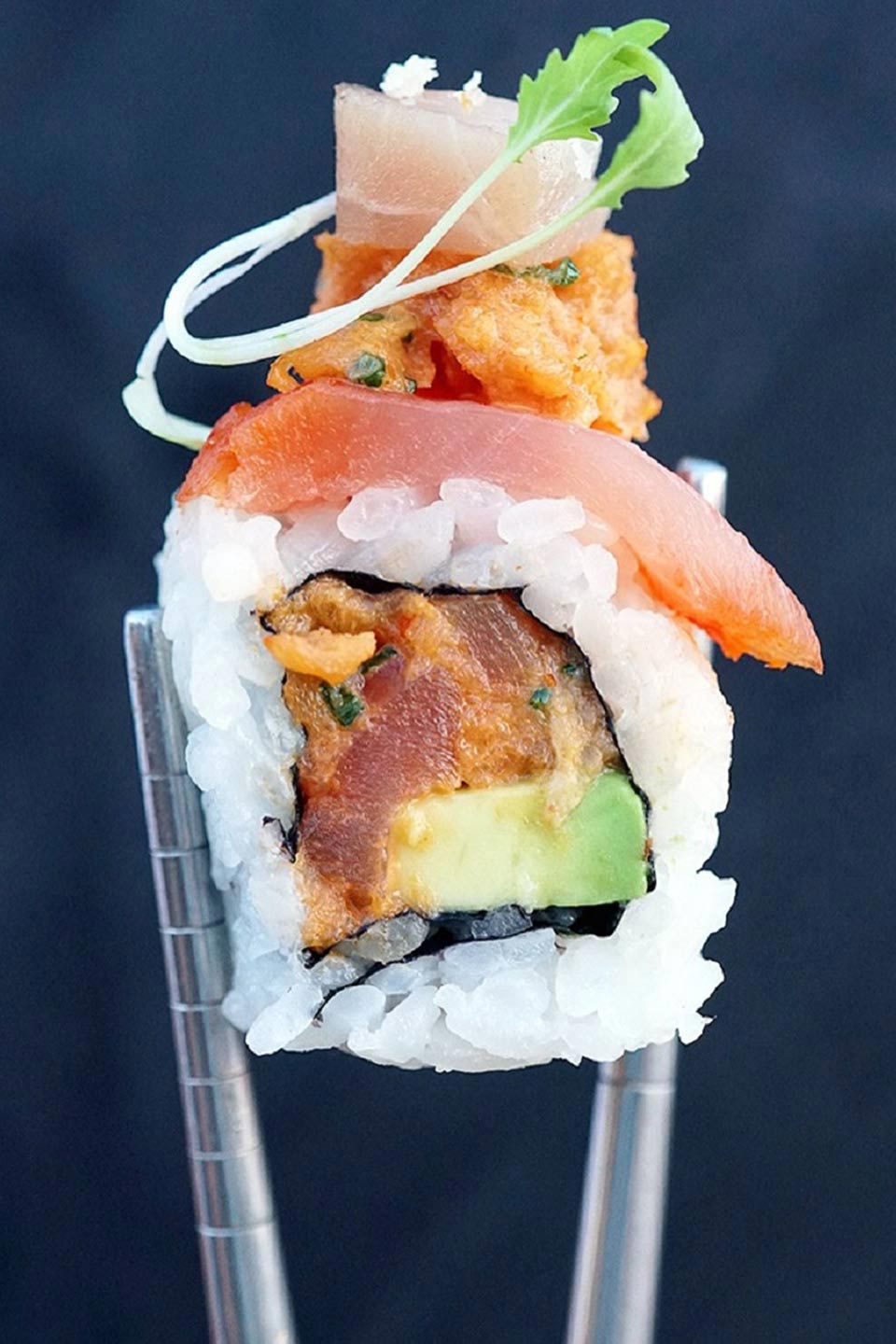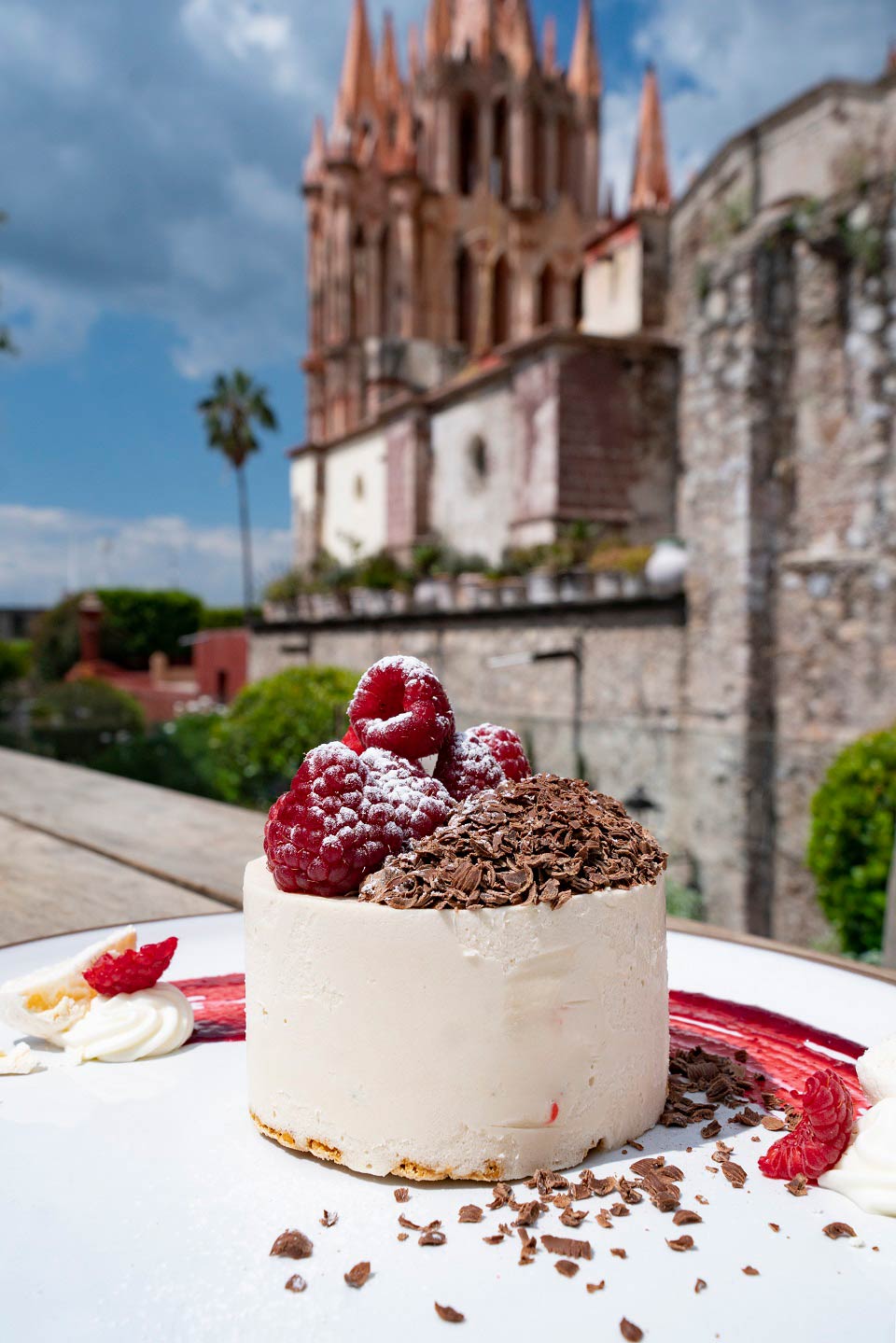 Earning top spot on this impressive list of the best rooftop restaurants in the world is Quince Rooftop in San Miguel de Allende, Mexico. Incidentally, San Miguel also was rated by Travel and Leisure #1 city in the world two of the past three years.
Quince is so much more than a restaurant, it is a true destination. With perfect views in all 250+ seats, this rooftop has it all.
First-time guests who come for lunch often end up staying all day and eating late-night sushi while dancing to the beat of the DJ. The food, music, service, cocktails, atmosphere, and clientele come together to make "The Quince Experience." Both elegant and hip, Quince caters to a diverse crowd offering casual fare, fine dining and French pastries.
After helping to make Quince "the #1 Rooftop Destination in the World", according to Robb Report, the owner and chef have continued to evolve Quince's "global collective" menu. Stuffed lobster drizzled with chile Manzano cream, crispy kale leaves atop black truffle risotto, and the Texas steakhouse filet are just some of the highlights of the menu.
Quince Rooftop - Photo: https://quincerooftop.com/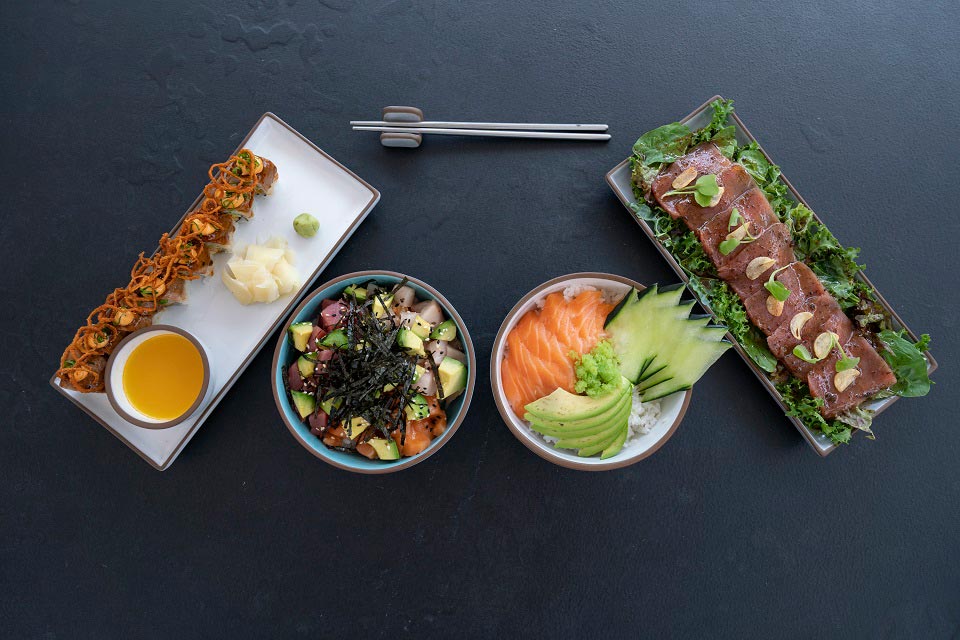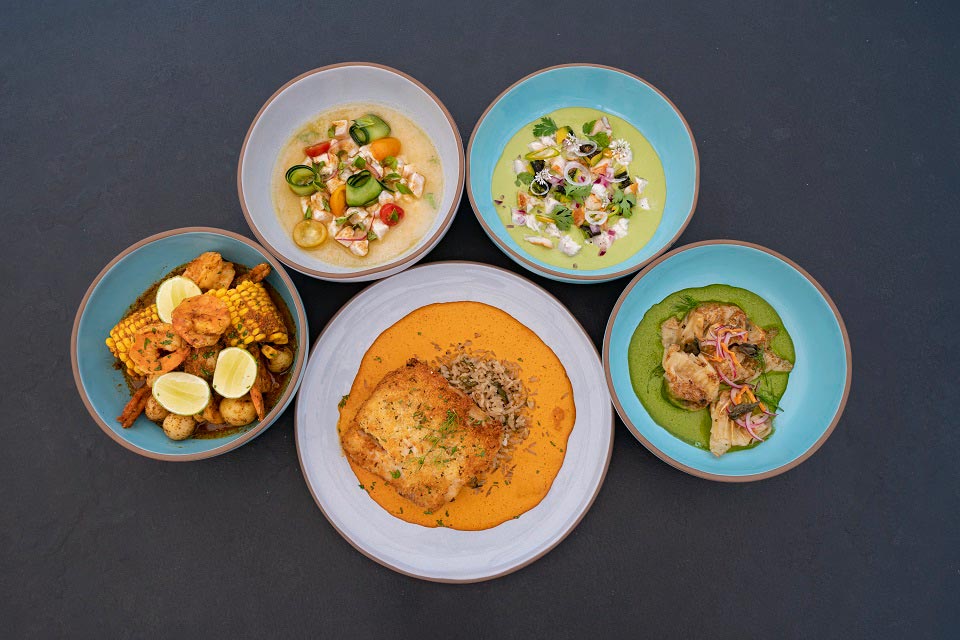 Quince's lead partner hosts his chefs every few months to one of his favorite culinary cities, including Lima, New Orleans, New York and Mexico City, just to name a few. These global stops have provided unique inspiration for Quince's menu. After visiting Peru, Quince's culinary team created a menu of delectable sushi creations that use Japanese techniques, Peruvian spices, and sometimes include some Mexican pepper heat or Texas-style accents.
As the evenings progress at Quince, stunning sunsets appear, and the energy escalates. The music is always happy, hip, and familiar to most generations, and ushers a multicultural clientele into the night. Quince's mixology, rated top 10 in Mexico, is prepared while the mixologists showcase their tricks and impress guests with uniquely curated cocktails.
Quince is not only a restaurant or a rooftop destination, it's a complete experience and a gift to one's soul.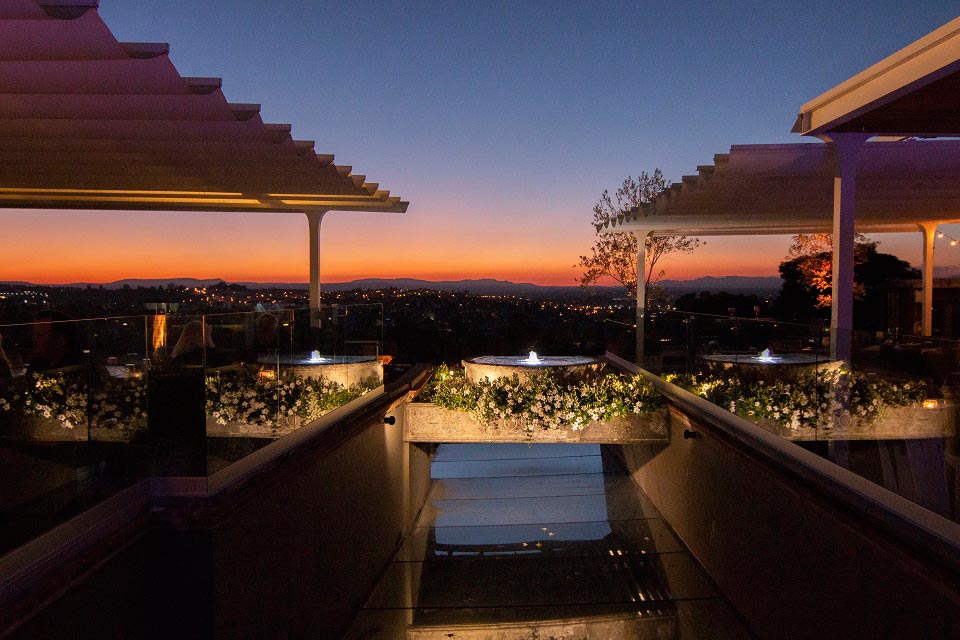 Quince Rooftop - Photo: https://quincerooftop.com/
QUINCE ROOFTOP
Cuna de Allende 15, Zona Centro, Centro, 37700 San Miguel de Allende, Gto
Monday – Thursday: 12pm–1am | Friday: 12pm–2am | Saturday: 11am–2am | Sunday: 11am–1am
Website: www.quincerooftop.com
Instagram: @quincerooftop
Facebook: Quince Rooftop
2.

Horizon Grill

/ Kuala Lumpur, Malaysia
Horizon Grill - Photo: www.banyantree.com
Located in the beautiful Banyan Tree hotel, this lovely terrace venue offers both a world-class grill and a high-end bar, both overlooking the city and the Petronas Twin Towers.
Horizon Grill is a fine-dining restaurant, known for its open-air terrace, relaxing atmosphere, stylish furniture, and unique style.
Decorated with its very own little river and plenty of lush greenery, Horizon Grill gives you the impression of being in an urban oasis up in the sky.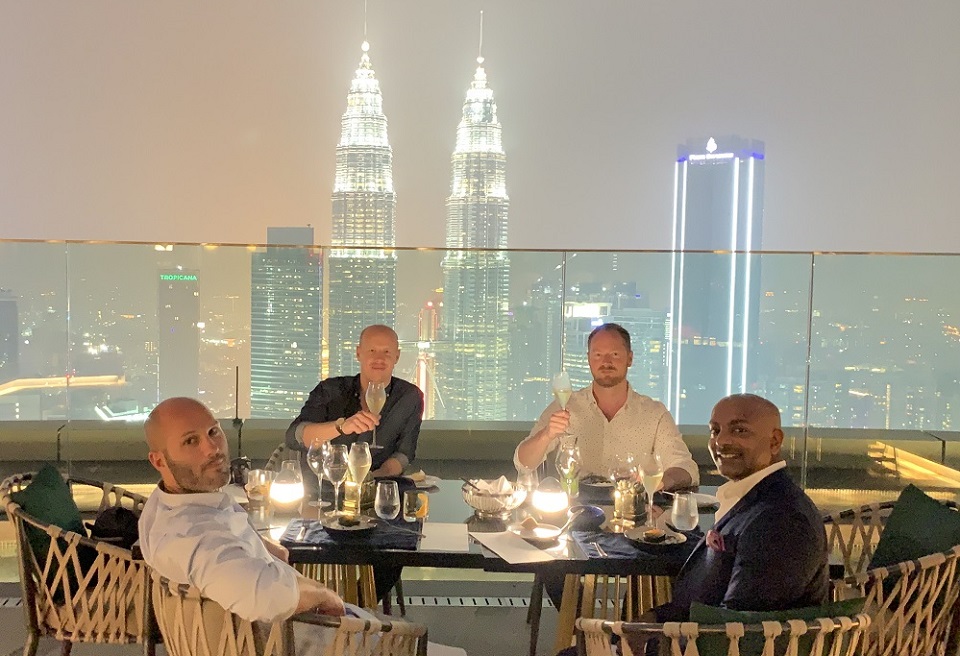 Horizon Grill - Photo: www.therooftopguide.com
Open for breakfast, lunch, and dinner; the Horizon Grill focuses on international seafood and meat cuts, as well as signature dishes meant to showcase the culinary wonders of Kuala Lumpur.
One floor above, you can find Vertigo Rooftop Bar, which offers both indoor and outdoor seating, as well as a spacious open-air terrace.
Comfortable lounge furniture, jaw-dropping views, a fantastic lounge-like atmosphere, and live music, make a visit to Vertigo a must, particularly if you're looking for cocktails inspired by local flavors.
HORIZON GRILL
2 Jalan Conlay, 50450 Kuala Lumpur
Daily Breakfast / Lunch / Dinner
3.

Scarlett Wine Bar & Restaurant

/ Bangkok, Thailand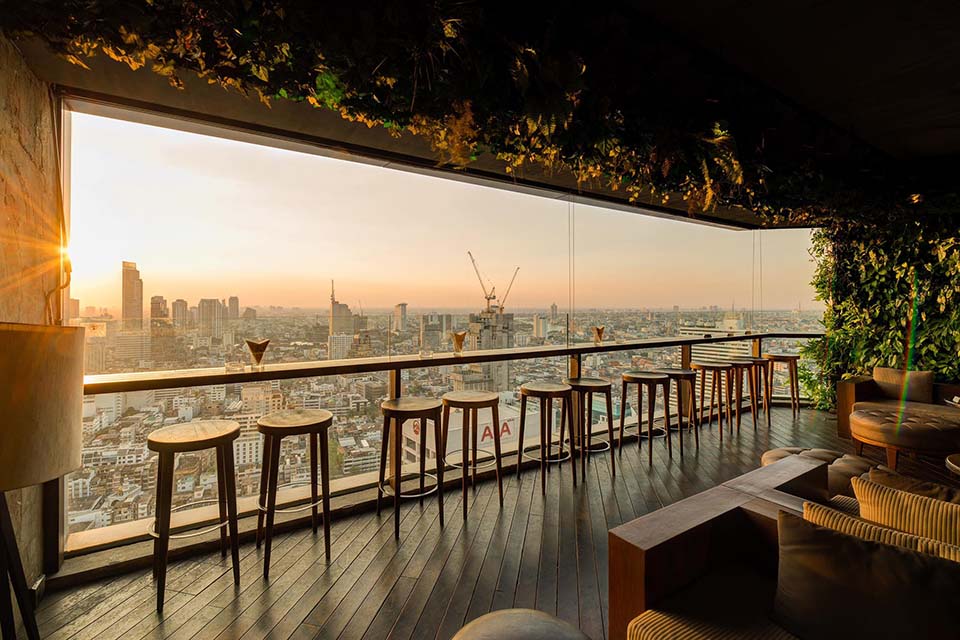 Scarlett Wine Bar & Restaurant - Photo: www.pullmanbangkokhotelg.com/
Set on the 37th floor of the lovely Pullman Bangkok Hotel G in the heart of Bangkok's Silom district, Scarlett is not only one of the best rooftop restaurant & bar in Bangkok, but also in the world.
Elegantly designed, with a spacious yet intimate ambience, the rooftop mixes panoramic windows with a lush open-air terrace, providing amazing views over the Bangkok skyline and the Chaopraya River.
Scarlett Wine Bar & Restaurant - Photo: www.pullmanbangkokhotelg.com/
High above the buzzing city, here you can enjoy mouth-watering and authentic French cuisine. The impressive menu includes cheese & cold cuts, tartares and fresh salads, as well as mains from both land and sea. And if you are looking for something a little more substantial, like an Australian Wagyu Beef, Scarlett offers that as well.
With 'wine bar' in the name, it should come as no big surprise that the food is complemented with an extensive wine list. Among the red & white's from all over the world you are sure to find something you like. But if you don't, there are well-made cocktails and cold beers as well.
Open nightly and for Sunday brunch, Scarlett Bangkok is a fantastic place for a special dining experience with a special someone.
SCARLETT
188 Silom Rd, Khwaeng Suriya Wong, Khet Bang Rak, Krung Thep Maha Nakhon 10500
Daily dinner & Sunday brunch
4.

Asmani Restaurant

/ Antalya, Turkey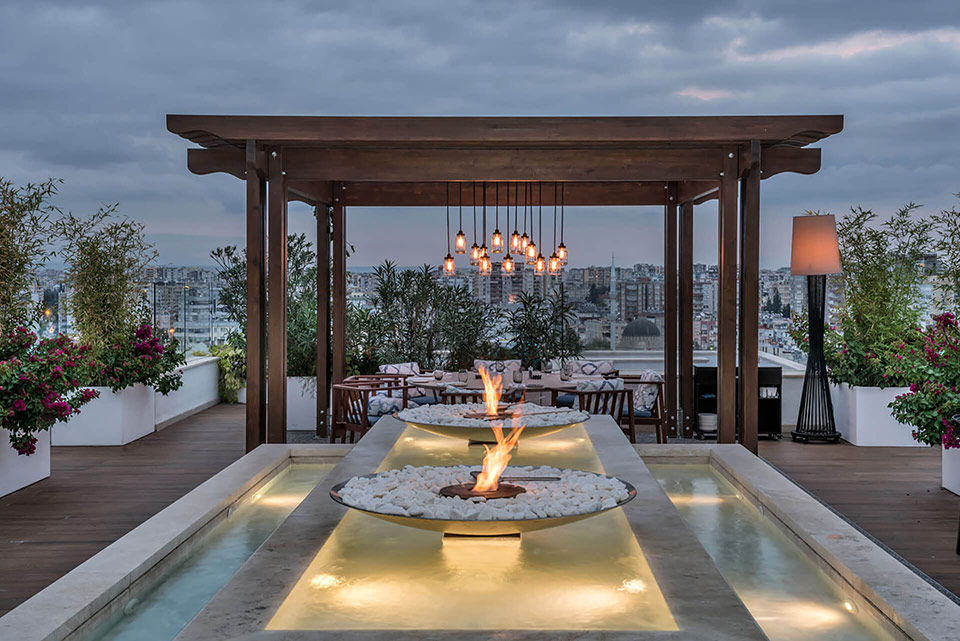 Asmani Restaurant - Photo: www.asmanirestaurant.com/
Perched on top of the suberb Akra Hotel, located on the seafront in Antalya, Asmani Restaurant, Bar & Terrace offers a fantastic mix of elegant dining and panoramic views.
Asmani means "a place that belongs to the sky, moon and sun" in the Ottoman language, and this fits perfect with the setting found on the 10th floor. With a soft and natural decoration, where stylish dining tables are combined with charming lights, fire-pits and water features, here you are surrounded with amazing vistas over both the Mediterranean and the city skyline.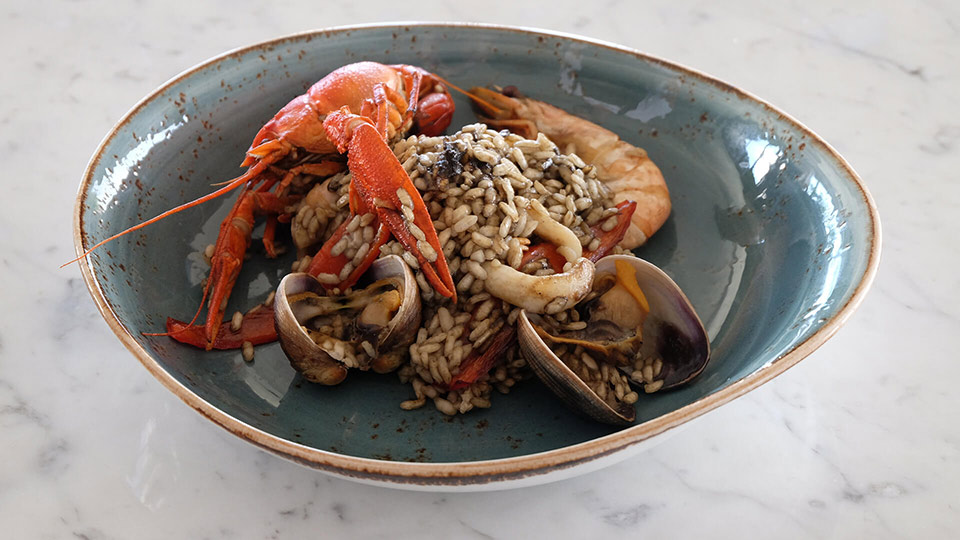 Asmani Restaurant - Photo: www.asmanirestaurant.com/
Using fresh, seasonal and high-quality ingredients, Asmani serves a menu offering a blend of traditional tastes from the Turkish and World cuisines, with a modern touch. From risotto, daily catch and kebab, to a menu filled with favorite sushi varieties. Complementing the food is a great selection of wines and special cocktails.
Open nightly, Asmani Restaurant is a fantastic venue for special moments with your friends and loved ones, as well as for business meetings and crowded celebrations. All night you will be accompanied by a great atmosphere and the peaceful sound of the waves of the Mediterranean Sea.
To mix great accommodation with a great rooftop exeprience, Akra Hotel offers a Gastronomy Accommodation Package, where you can crown your stay with extraordinary tastes during a dinner at Asmani.
ASMANI
Şirinyalı Mh. Lara Cd. No:24 07100 Muratpaşa, Antalya, Turkey
Daily: Dinner
5.

Ristorante Timeo / Otto Geleng

/ Taormina, Italy
Ristorante Timeo / Otto Geleng - Photo: https://www.belmond.com/
At the absolutely fantastic Grand Hotel Timeo in Taormina, Sicily, you find a rooftop terrace offering both a great bar, and two fantastic rooftop restaurants.
Surrounded with amazing views over Mount Etna and the Bay of Taormina, The Literary Terrace & Bar is a great spot to enjoy expertly crafted cocktails and aperitivos to an amazing sunset. But it is the to venues next door that offer a more filling dining experience.
Ristorante Timeo / Otto Geleng - Photo: https://www.belmond.com/
Ristorante Timeo is, just at the hotel, a luxurious and exclusive spot to embark on a culinary journey with a menu of locally sourced Sicilian favourites. Complemented with an expert menu of regional wines, this al fresco dream is available for both weekday dinner and weekend lunch.
Even more exclusive is the Otto Geleng. Seating just 16, and open only Friday and Saturday evenings, here you can indulge in a culinary sensation inspired by German painter and Taormina legend, Otto Geleng. The Michelin-star menu is created by Executive Chef Roberto Toro, offeringa culinary riff on classic Mediterranean fare, where each dish is an enticing play on tradition and innovation.
RISTORANTE TIMEO / OTTO GELENG
Via Teatro Greco, 59, 98039 Taormina ME, Sicily, Italy
Ristorante Timeo - Lunch: Friday to Saturday, 1–2:30pm, Dinner: Sunday to Thursday, 7:30–10:30pm
Otto Geleng - Dinner: Friday and Saturday, 8pm-10pm
6.

Tomo

/ Dubai, UAE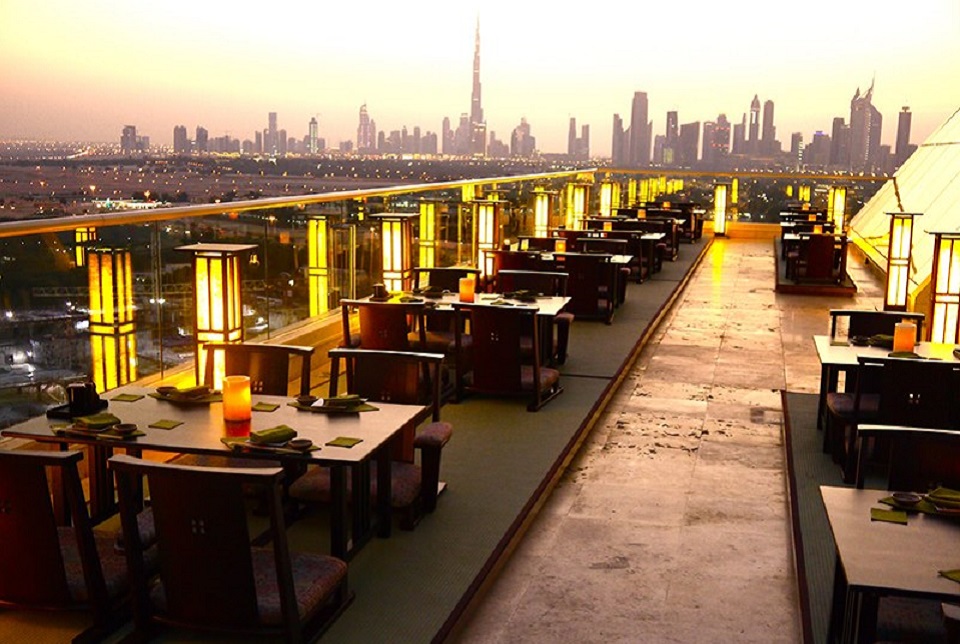 Tomo - Photo: www.tomodubai.com
Hands-down one of the best Japanese restaurants in Dubai, Tomo operates both as a restaurant and a bar and offers jaw-dropping views of Duba's new skyline.
Located on the 17th floor of the world-famous Raffles Hotel, this rooftop venue features both indoor and outdoor seating, delicious dishes, and expertly mixed cocktails.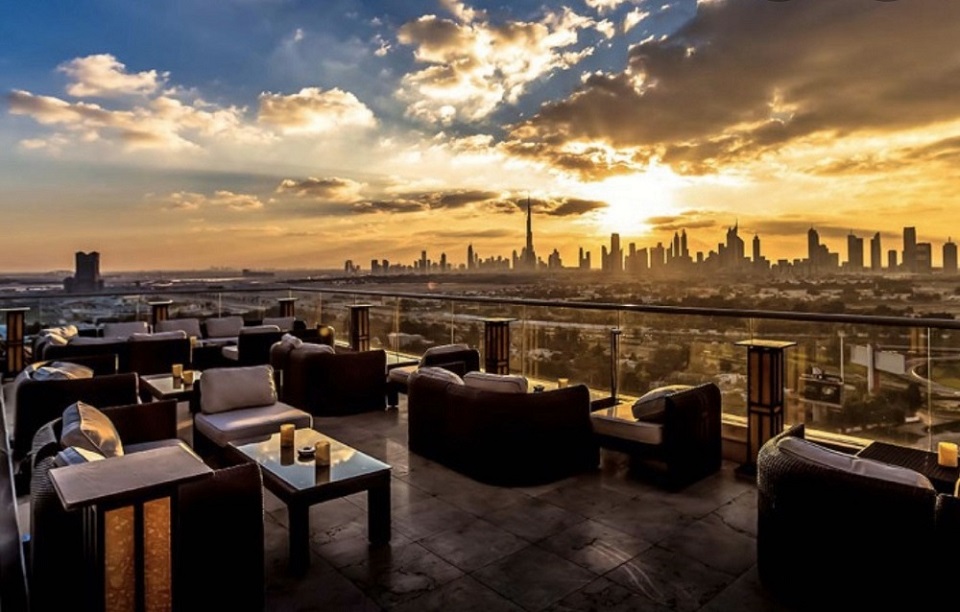 Tomo - Photo: www.tomodubai.com
Tomo's high-end Japanese cuisine is helmed by the talented chef Chitoshi Takahashi and features a wide variety of sushi dishes, noodle dishes, and the ever so popular Waygu Beef.
Drink-wise, expect traditional cocktails, world-spirits, sake, champagne, beer, and even wine, as well as a variety of signature drinks that mix Sake and Shochu with sophisticated ingredients.
As you can imagine, Tomo is a rather pricey destination, but the experience is well worth it.
TOMO DUBAI
Sheikh Rashid Road Wafi City, Dubai
Daily: Lunch / Dinner
7.

GIO Rooftop

/ Kusadasi, Turkey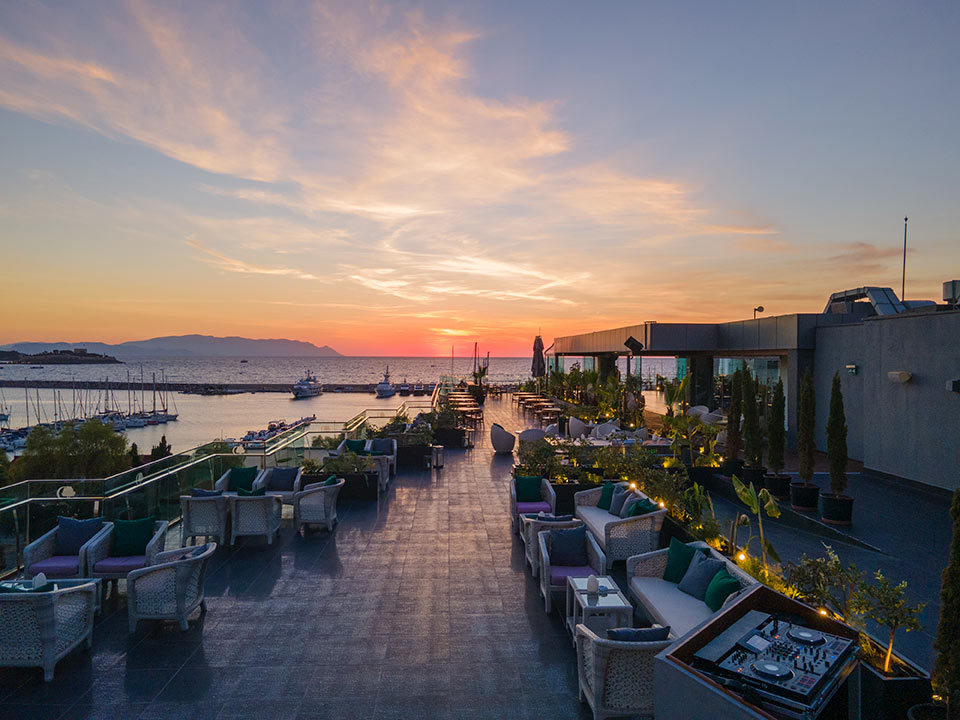 GIO Rooftop - Photo: www.giokusadasi.com/
Aiming to provide the perfect mix of great food, great music and great times, GIO Rooftop is definitely one of the elevated venues in the world for rooftop dining.
Found on top of the DoubleTree by Hilton in Kusadasi, the modern, stylish and breezy terrace offers panoramic views over the beautiful beach resort town, as well as the Aegean Sea.
GIO Rooftop - Photo: www.giokusadasi.com/
Serving a menu where 'the Mediterranean and Asia meet', here you can enjoy different risottos, Grilled Salmon and Dallas Steak, as well as a Teppanyaki & Sushi menu.
Reserve a seat at the Sushi Bar, and you can even enjoy Chef Ramesh's live Teppanyaki shows, which is a feast for both the eyes and the taste buds.
Complementing the food is a fine selection of wines, as well as refreshing signature cocktails and a large array of spirits. And to make the great times even better, pretty much every night at GIO Rooftop means live piano concerts, followed by live DJ sets.
GIO ROOFTOP
Türkmen, Atatürk Blv. DoubleTree Hilton Kuşadası, 09400 Kuşadası/Aydın
Daily: Dinner
8.

Serica Restaurant

/ Istanbul, Turkey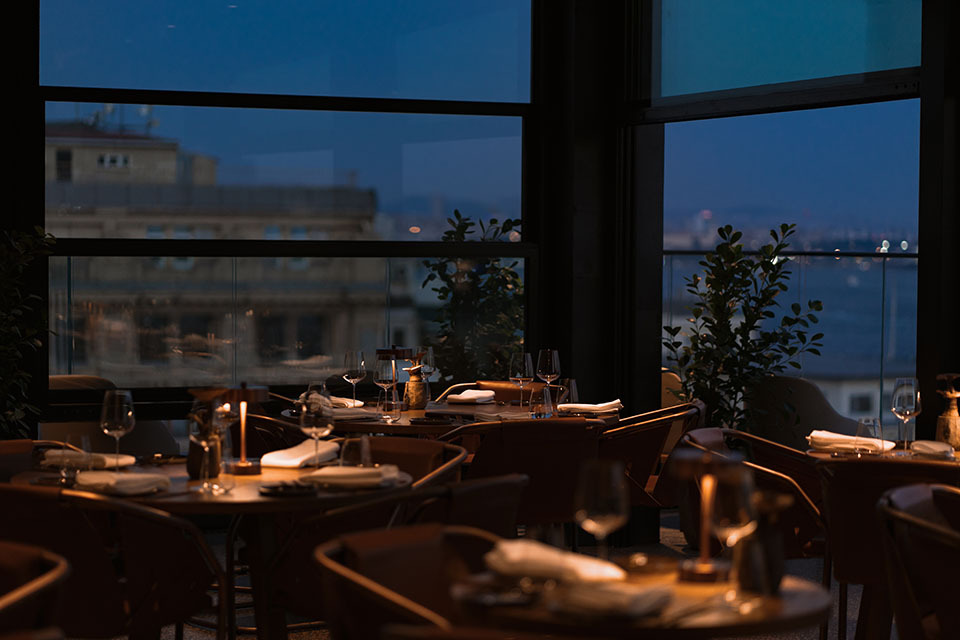 Serica Restaurant - Photo: www.sericarestaurant.com/
Located at the superb The Bank Hotel Istanbul, Serica Restaurant offerrs a new extension to the Silk Road Tastes.
Set above the up-and-coming district of Karaköy, the elegant rooftop restaurant features a stylish and sleek interior dining room with open kitchen and panoramic windows, as well as an outdoor terrace stretching around the venue.
Through the windows inside, and out on the alfresco terrace, you get beautiful views over the Old City.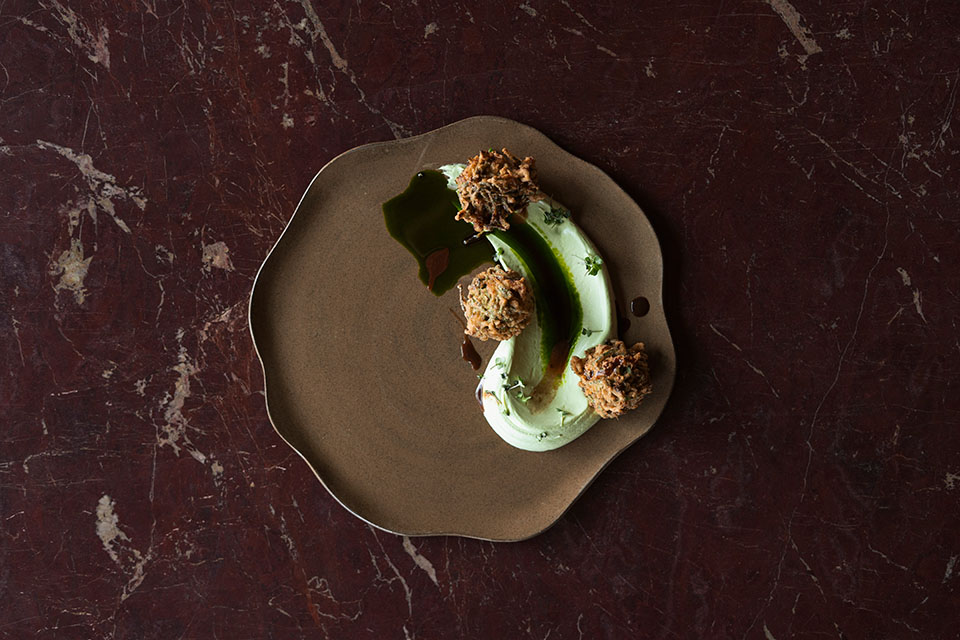 Serica Restaurant - Photo: www.sericarestaurant.com/
Serica's story is based on the lands of this geography, which is the cradle of different cultures, whose roots and origins reach back to centuries.
Chef Yiğit Alicioğlu says that the geographically marked local materials existing in these lands are the subject on the plates, and describes his adventure from soil to plate with his menu.
The Serica Restaurant menu, which takes the texture of each dish from the farmer, the color from the soil, and the taste from the chef's methods, re-presents flavors with up-to-date methods, while preserving its existing cultural richness.
While experiencing the fresh Aegean, the rich Black Sea, the cult Central Anatolia and the multicolored Southeast in this menu, you sense that the only climate is to protect the existing unique lands.
SERICA RESTAURANT
Azapkapi, Bankalar Cd. No:5, Karakoy, 34321 Beyoglu/Istanbul
Daily: Dinner
9.

RedSky

/ Bangkok, Thailand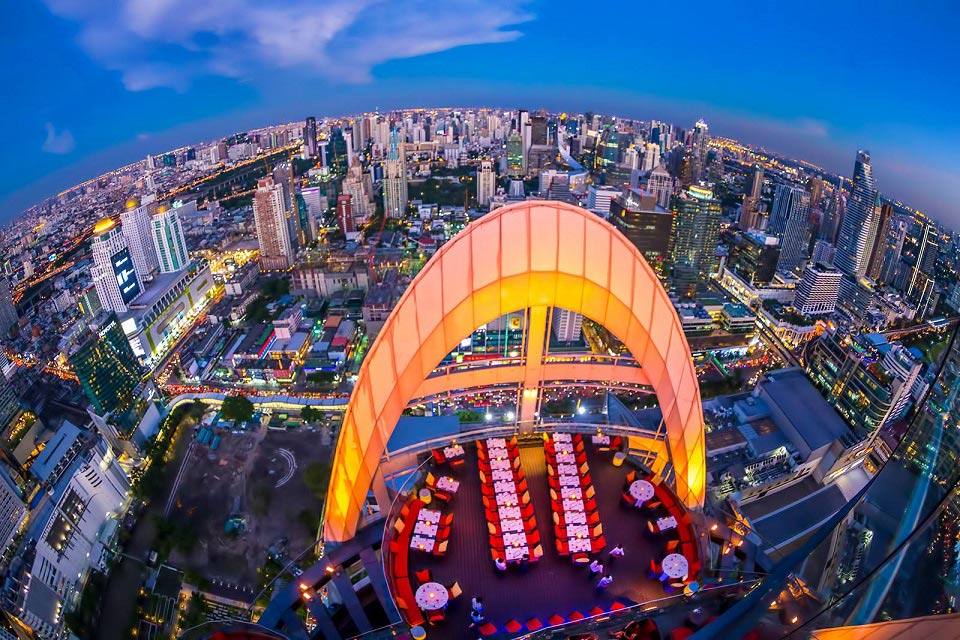 RedSky - Photo: www.bangkokredsky.com
Located amongst one of Bangkok's busiest streets, and within steps of world-famous shopping malls like the Siam Paragon, the MBK, and the Central World, this rooftop bar is the perfect destination to relax after a busy day shopping.
Located on a 5th floor, this multi-level venue offers a beautiful rooftop bar, a delicious rooftop restaurant, and superb views of Bangkok's skyline.
The rooftop bar features a diverse array of signature cocktails, classic cocktails, and world spirits.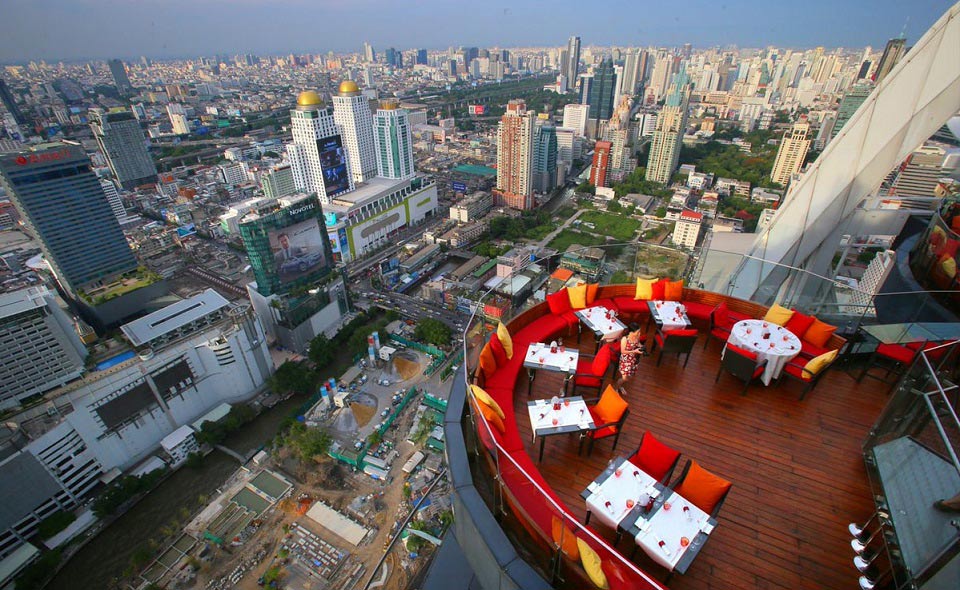 RedSky - Photo: www.bangkokredsky.com
The restaurant, which features both indoor and outdoor seating, offers superb high-end cuisine inspired by local flavors, and it's easily one of the best restaurants Bangkok has to offer.
While the rooftop bar works on a first-come, first-served basis, you need to make reservations for the restaurants, so we encourage you to make those well in advance.
For the bar, arriving early will secure you good seats and even better service. Plus, the opportunity to enjoy a jaw-dropping sunset.
If you're looking for an even more exclusive experience, head one floor up and discover the CRU Champagne Bar, a wonderful experience even on its own.
REDSKY
Centara Grand, Central World, 195 Phayathai Rd, Bangkok
Daily: Lunch / Dinner
10.

Aroma Restaurant

/ Rome, Italy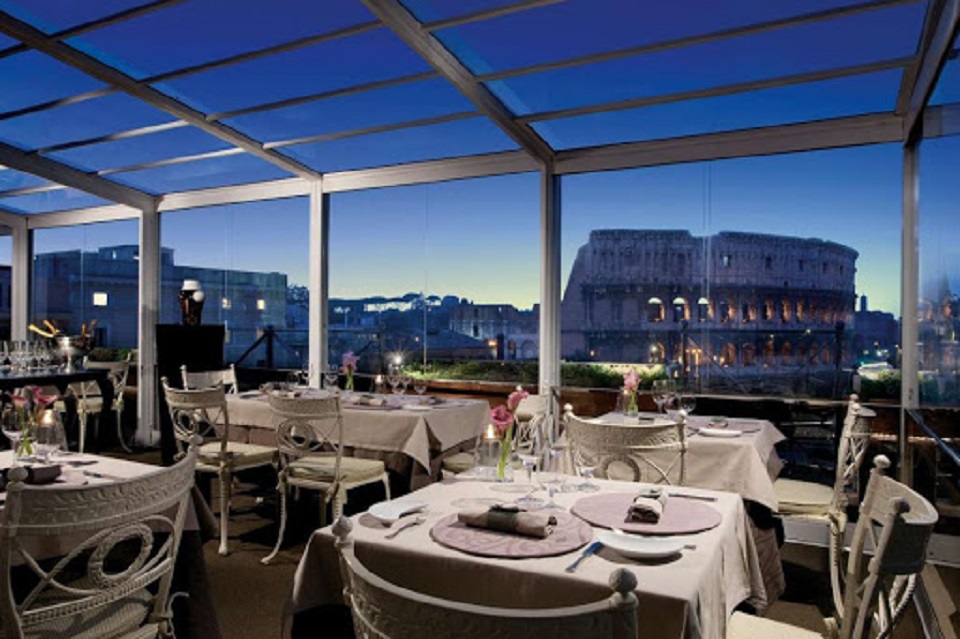 Aroma Restaurant - Photo: www.aromarestaurant.it
This Michelin starred restaurant is located on the luxurious Hotel Palazzo Manfredi and offers not only one of the best views Rome has to offer, but also some of the best food.
Up here, you can enjoy jaw-dropping views of the Colosseum and many other of Rome's historic sites; not only that, but with only 28 seats in the restaurant, you can rest assured the attention you'll get will be beyond compare.
Roman-born Chef Di Lorio's mouthwatering gourmet food comes in two varieties, á la carte or tasting menus, plus the option to wine pair following the recommendations of a premium sommelier.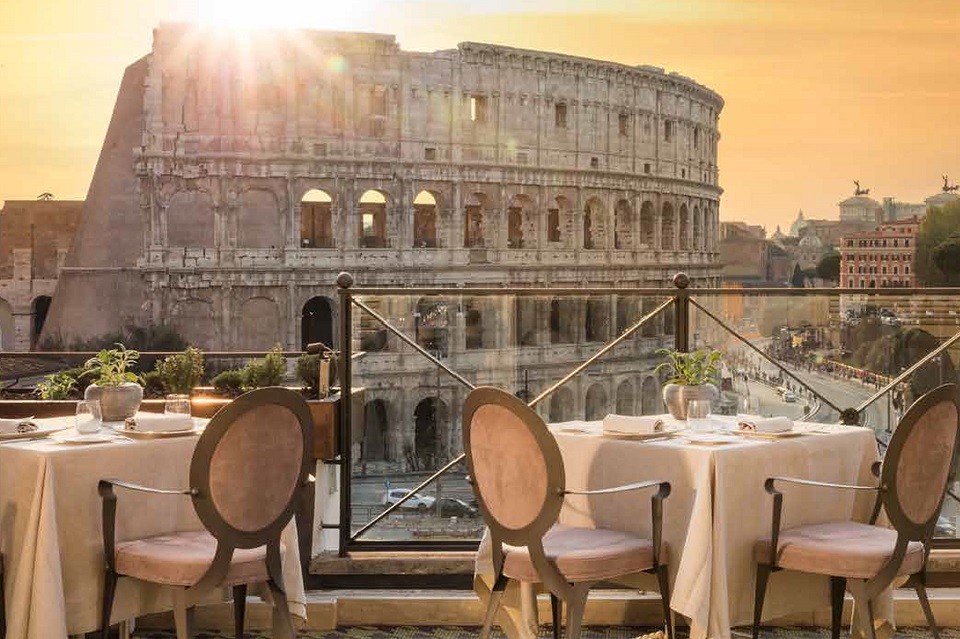 Aroma Restaurant - Photo: www.aromarestaurant.it
Both options will result in some of the best Italian cuisines you'll ever eat, as well as access to the restaurant's bar, which features a fantastic wine collection, as well as champagne and cocktails.
As expected, reservations in advance are a must, as you won't be able to visit this place otherwise.
AROMA RESTAURANT
Via Labicana, 125, 00184 Roma
Daily: Breakfast / Lunch / Dinner