Thailand have some of the best rooftop bars in the world. Much thanks to Bangkok, where you can find hundreds of amazing terraces inviting to elevated dining and drinks with a view.
But, there are several other places in Thailand well fitted for a great rooftop experience. Phuket, Pattaya, Hua Hin etc., all have some superb rooftops.
The warm climate and paradise-like enviroment makes Thailand one of the best countries in the world for finding great rooftop bars.
The Rooftop Guide have visited over 70 rooftop bars in Thailand, and here is our list of the 10 hottest rooftop bars in this beautiful country. Check it out!
1.

MOJJO Rooftop Lounge & Bar

/ Bangkok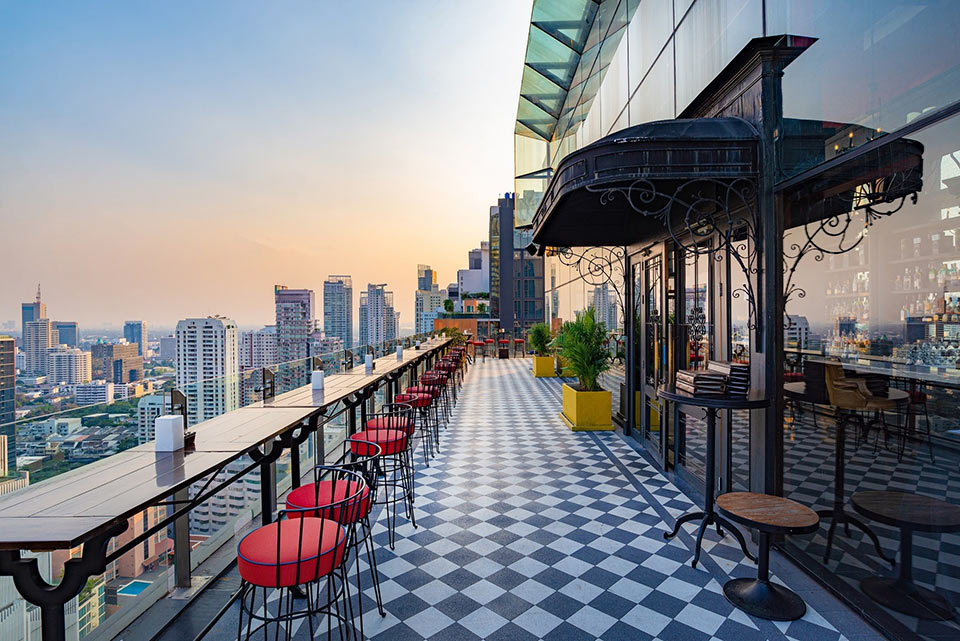 MOJJO Rooftop Lounge & Bar - Photo: http://champagnecru.com/
32 floors up at the fabulous SKYVIEW Hotel Bangkok, MOJJO Rooftop Lounge & Bar is an elevated and Latin-inspired destination, surrounded with breathtaking views.
Overlooking Benjasiri Park and the Bangkok skyline, the indoor / outdoor rooftop comes with very stylish mid-century Cuban furnishings, creating a unique setting.
Here you can indulge in a handcrafted rum and whiskey centric cocktail list, South American bar bites with a punch, as well as smooth cigars.
Get transport back to 1905 Havana, and enjoy a night full of the best Latin-inspired beats, atmosphere and Bangkok views.
MOJJO BKK
Compass SkyView Hotel, Sukhumvit 24 - 12 Sukhumvit 24, Klongton, Klongtoey, Bangkok
2.

Horizon Rooftop Restaurant & Bar

/ Pattaya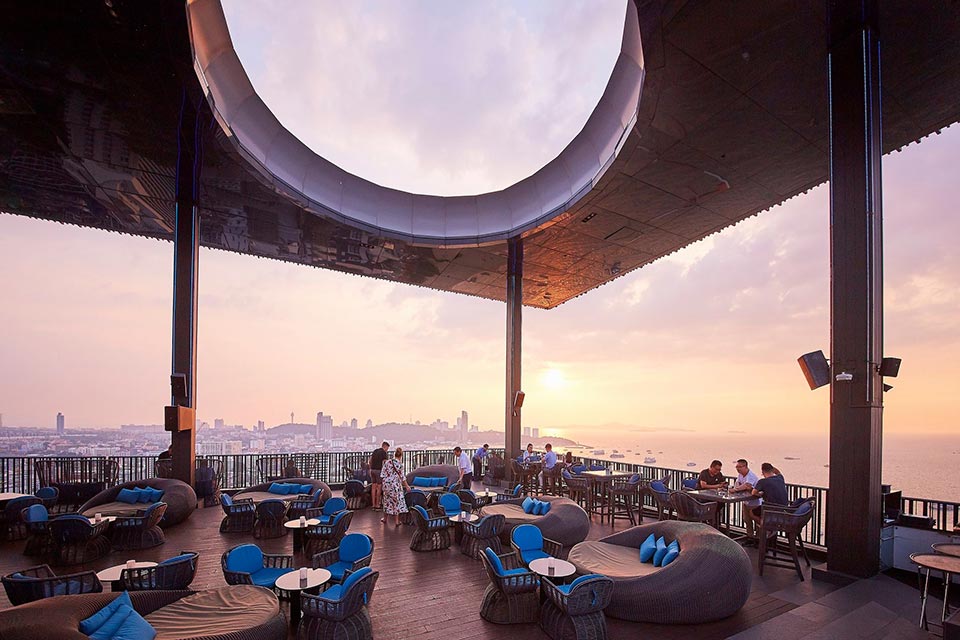 Horizon Rooftop Restaurant & Bar - Photo: https://www3.hilton.com
Sleek and modern, the Horizon Rooftop Restaurant & Bar is the kind of place you visit when you're looking to have a great night.
This restaurant/bar offers terrific drinks, delicious food, and stunning vistas of the Pattaya Bay, all while surrounded by a high-end atmosphere.
While you can eat and drink anywhere in the bar, the outdoor terrace is more conducive to drinking, while the indoor area is best for dining.
Food includes seafood and grills, as well as a variety of local bites.
The drink menu offers world-class spirits, delicious wines and beers, and a collection of cocktails, both classic and signature.
There's also a fantastic infinity pool nearby, though this one is reserved only for Hilton Pattaya guests.
HORIZON
333/101 Muang Pattaya, Bang Lamung District, Chon Buri
3.

137 Pillars

/ Bangkok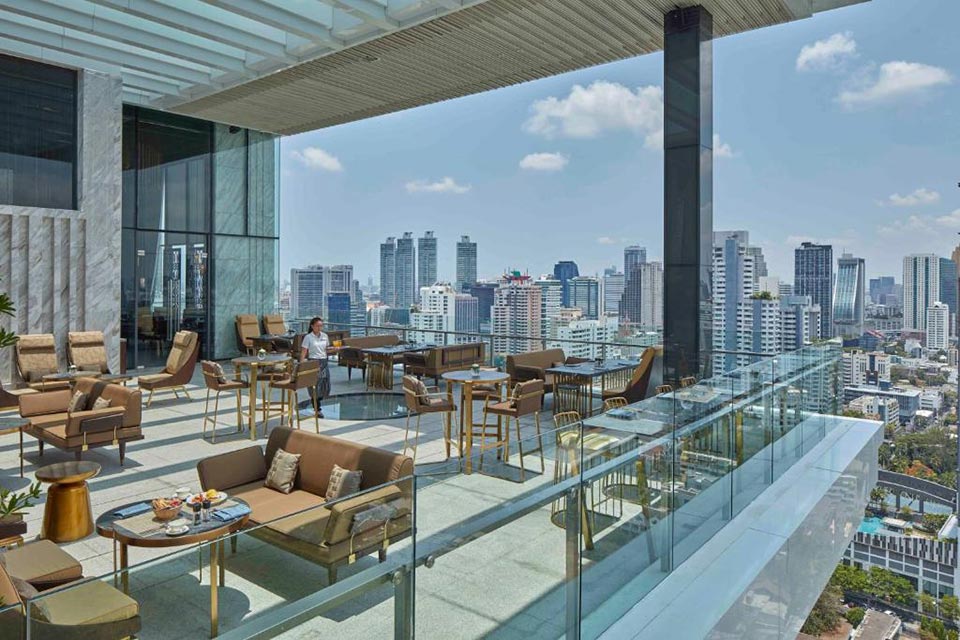 137 Pillars - Photo: www.137pillarsbangkok.com/
Floating high above Bangkok, the rooftop destinations at the urban and luxurious 137 Pillars Suites & Residences are both amazing and plenty.
On the 27th floor, surrounded with panoramic views of the Bangkok skyline, you find the Pool Bar. Stylish yet relaxing, this the perfect place to escape and unwind from the vibrant pace of the city.
The Pool Bar menu includes both fine wine and champagne, as well as creative signature cocktails and some culinary delights.
For more filling dishes, the next door Nimitr is a great option. Serving elegant Asian-inspired dishes, this fine dining restaurant offers seating both inside and out on the terrace.
Guests staying at the hotel can also enjoy swims with a view in the infinity pool located next to the Pool Bar. And if you book a suite, you will have access to the exclusive top floor rooftop pool and terrace, with amazing 360-views over Bangkok.
137 PILLARS
59, 1 Soi Sukhumvit 39, Khlong Toei Nuea, Watthana, Bangkok
4.

The Rooftop at Beach House Layan

/ Phuket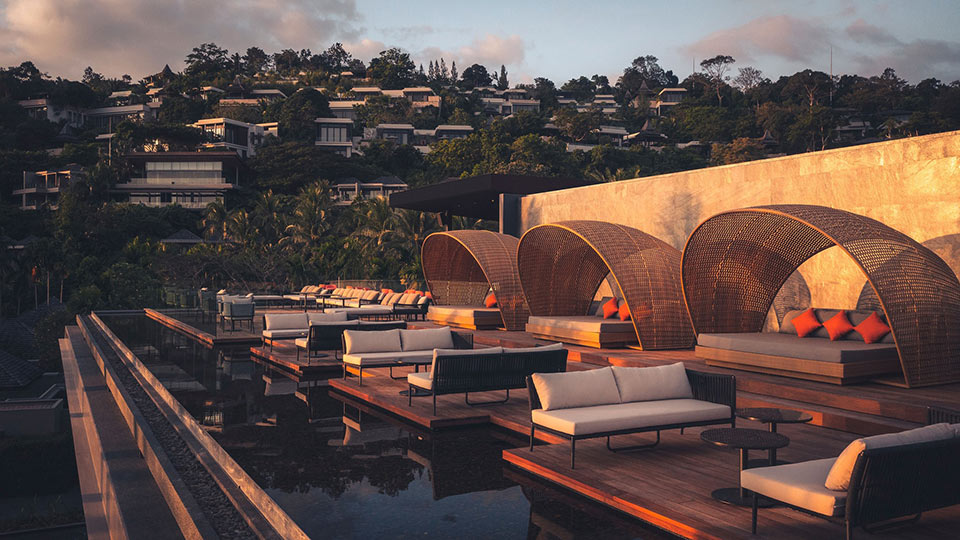 The Rooftop at Beach House Layan - Photo: https://www.beachhouselayan.com/
The beautiful Beach House Layan, found at the amazing Anantara Layan Phuket Resort, offers three levels packed with some of the best dining, drinking and luxury Phuket has to offer.
The ground floor Breeze is a beachfront pool bar, made for relaxing days enjoying refreshing cocktails and snacking on playful succulent dishes.
The floor above is a bit more stylish, with the world-renowned and multi award-winning Zuma restaurant serving modern Japanese izakaya flavours in an inside/outdoor setting.
Up at the very top you find The Rooftop, a glittering and open-air terrace, surrounded with panoramic views over the ocean.
Serving a wide selection of crafted signature cocktails, premium spirits, magnum bottles, cigars and fine wines, this is a prime spot for an unforgettable sunset soiree, or a night under the stars.
Settle down by the dimly lit tables or get comfy in one of the cabanas, and enjoy the both the beautiful rooftop and the equally beautiful surroundings.
THE ROOFTOP AT BEACH HOUSE LAYAN
168, Soi Layan 4, Choeng Thale, Phuket, 83110
5.

Vanilla Sky

/ Bangkok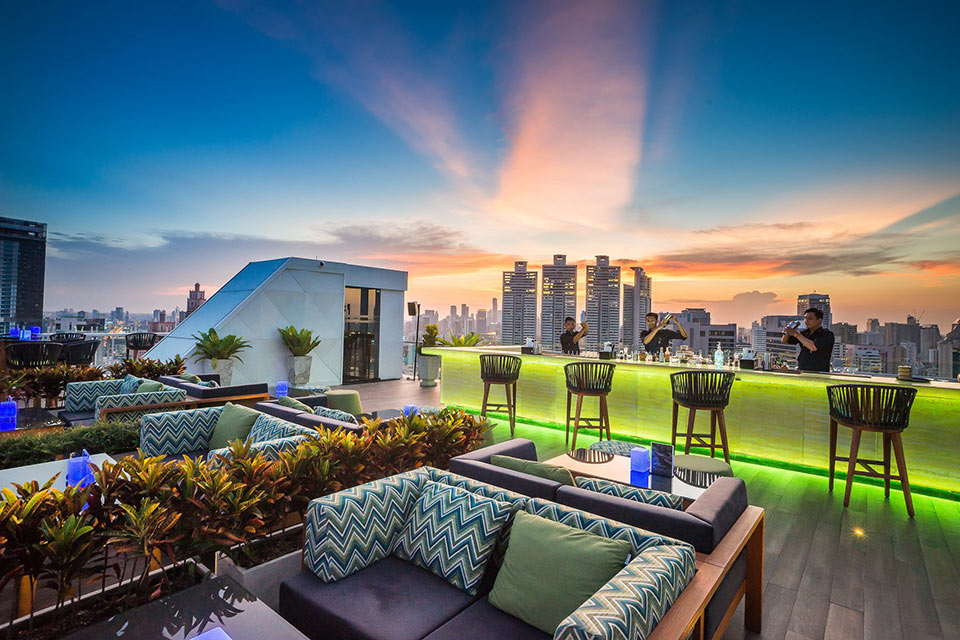 Vanilla Sky - Photo: https://skyviewhotel.com/
With panoramic 360° view over the Bangkok skyline, Benjasiri Park and Em District, Vanilla Sky rooftop bar in Bangkok offers both the best of views and atmosphere.
35 floors above the ground, this is a venue to enjoy everything from sunset cocktails to fun and vibrant nights, with live DJs during the weekends.
From the rooftop bar you can order handcrafted signature cocktails, beer, wine or a shake, as well as a tasty selection of bar bites.
High-end yet casual in ambience, Vanilla Sky delivers all the fun and vibes to make it one of the top rooftop bars in Bangkok, as well as in Thailand.
VANILLA SKY
SKYVIEW Hotel Bangkok, 12 Sukhumvit 24, Klongton, Klongtoey, Bangkok
6.

Octave Rooftop Bar

/ Bangkok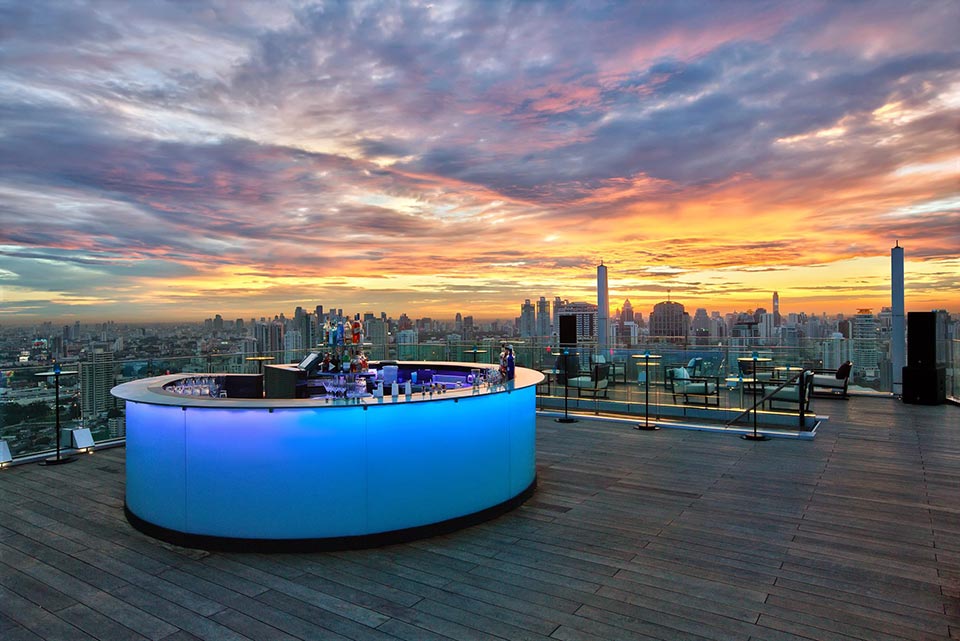 Octave - Photo: www.marriott.com
With a mesmerizing glowing bar, modern furniture, and 360-degree views of Bangkok, there's no wondering why the Octave Rooftop is considered one of the best in the city.
Local DJs create a vibrant atmosphere, inviting guests to drink and eat while partying the night away.
Available on their website for your viewing pleasure, Octave's drinks and food are both inspired and delicious.
Asian bar-bites, a seafood bar, and an active grill go hand-in-hand with signature cocktails infused with local flavors, giving you a chance to explore Thailand from the hights!
The terrace is split into three different levels, meaning there's plenty of space to mill around and getting to know new people.
This is one of Bangkok's most popular rooftop bars, so book a table in advance and dress to impress.
OCTAVE
Marriott Hotel Sukhumvit, 2 Sukhumvit Soi 57, Bangkok
7.

MOJJO Rooftop Bar

/ Phuket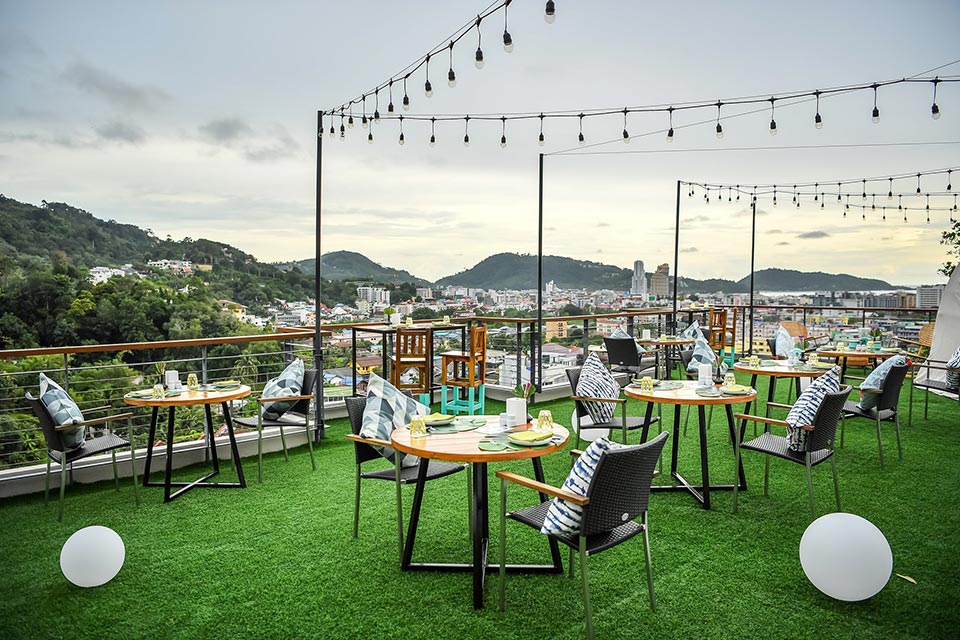 MOJJO Rooftop Bar - Photo: https://skyviewhotel.com/
Perched on top of the fantastic SKYVIEW Resort Phuket Patong Beach, MOJJO Rooftop Bar comes packed with Latin vibes and lovely views.
Surrounded with lovely vistas over Patong and the Andaman Sea, the charming and astro-turf covered terrace comes with a mix of dining tables, bar stools and comfy bean bags.
A venue easy to spend hour upon hour, here you can enjoy a Cuban-inspired cocktail menu with expertly crafted drinks, as well as a selection of flavourful South American fusion dishes.
Every night at MOJJO is a great night for drinks to a stunning Patong sunset, or to dance the night away to funky Latin beats.
The rooftop bar also host monthly events, themed parties, and social gatherings.
MOJJO ROOFTOP BAR
9, 19 Pisitkoraneee Rd, Pa Tong, Kathu District, Phuket
8.

Virgin Rooftop

/ Pattaya
Virgin Rooftop - Photo: www.pattayaseaviewhotel.com/
Floating on top of the Pattaya Sea View Hotel, Virgin Rooftop is a modern addition to the Pattaya sky.
Offering a magnificent view of Pattaya Bay, here you can enjoy delicious international cuisine and signature cocktails, along with bubbles and wines.
Get comfy in one of the cool bamboo-style huts or in the comfy daybeds floating in the rooftop plunge pool, and enjoy an elevated and tropical vibe.
Visit the Virgin Rooftop early for drinks and dinner to an amazing sunset, or during weekends for live DJ sessions.
VIRGIN ROOFTOP
115/8 Soi 4, N Pattaya Rd, Pattaya City, Bang Lamung District, Chon Buri 20150
9.

Sky Beach

/ Bangkok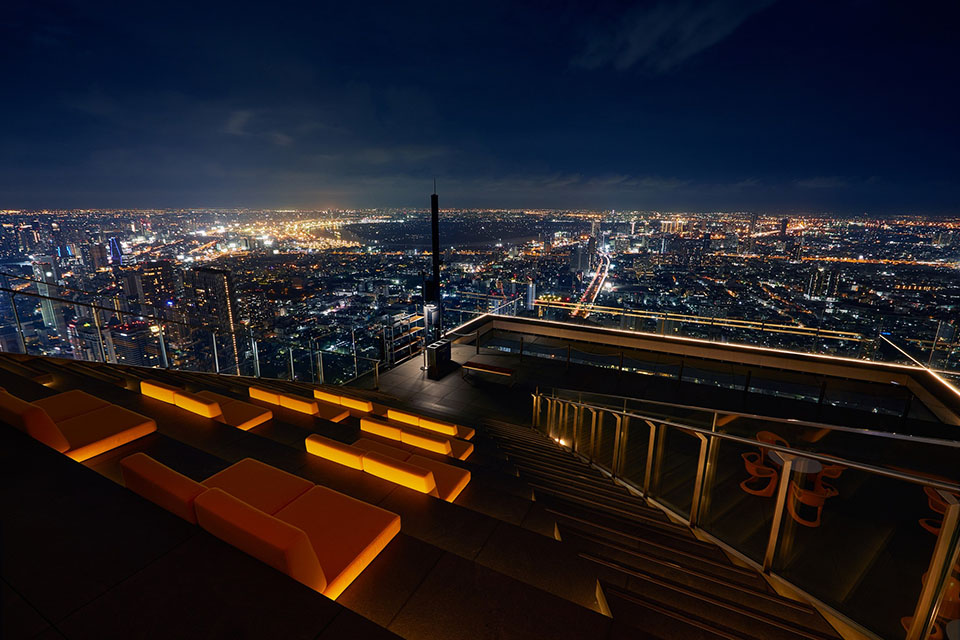 Sky Beach - Photo: www.standardhotels.com/
High, high above the city, the Sky Beach stands proud, offering guests a delightful food and drink experience that'll be the crown jewel of any visit to Bangkok.
With breathtaking 360° views of the city, a retro-chic and tropical decor, and top-notch service, this is the kind of venue you remember with fondness from the moment you set foot inside (or outside).
78 floors above the buzz, here you can indulge in American-style bites and a creative cocktail selection from Milk Thanaworachayakit, one of Bangkok's most celebrated mixologists.
Open for vibes and views every day and every night, Sky Beach Bangkok works on a first come, first served basis.
SKY BEACH
114 Naradhiwat Rajanagarindra Rd, Khwaeng Silom, Khet Bang Rak, Krung Thep Maha Nakhon
10.

Air Bar at InterContinental

/ Koh Samui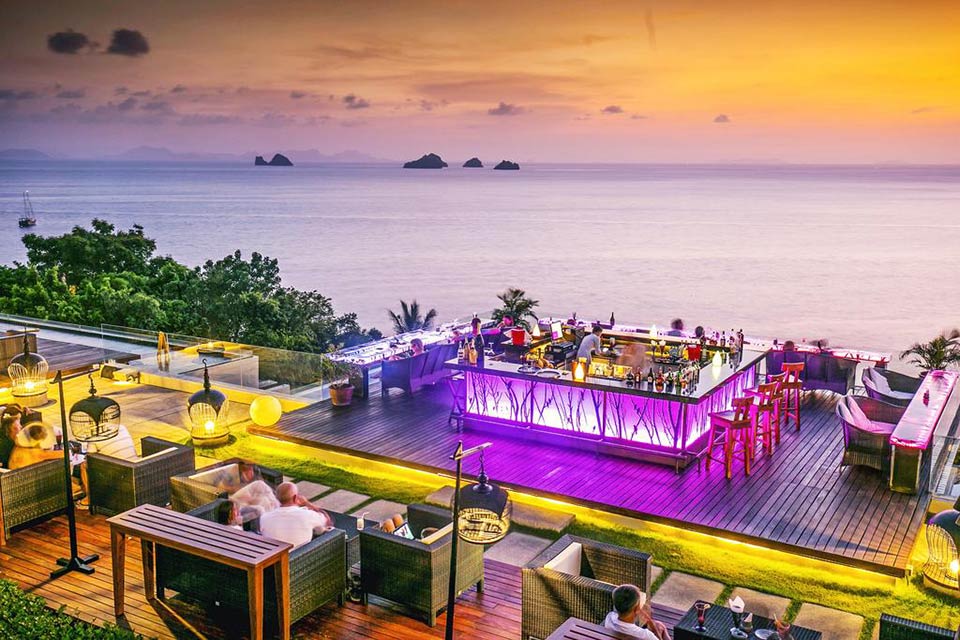 Air Bar - Photo: https://samui.intercontinental.com
Enjoy the Samui sunset while drinking delicious cocktails from the terrace of the Air Bar, a hip and relaxing rooftop bar located in Koh Samui.
This is one of the island's to-go destinations for parties, pre-dinner drinks, sunset watching, wedding receptions and more, so you can be sure of two things:
The views are amazing, and reservations are encouraged.
Known for its world-class mixology, amazing cocktails, extensive drink menu and proximity to delicious restaurants, it's no wonder that the Air Bar is often the starting point of some nights to remember.
Though the prices can be on the high side, the Air Bar offers a complimentary cocktail for every signature cocktail you order during the daily happy hour.
It's time to have fun. If not on a rooftop bar, you can also find the best beach clubs in Koh Samui here.
AIR BAR
295, Moo 3, Taling Ngam Beach, Koh Samui