Thailand have some of the best rooftop bars in the world. Much thanks to Bangkok, where you can find hundreds of amazing terraces where you can eat and drink with a view.
But there are several other places in Thailand well fitted for a great rooftop experience. Phuket, Pattaya, Hua Hin etc. have some superb rooftops.
The warm climate and paradise like nature makes Thailand one of the best countries in the world for finding great rooftop bars.
The Rooftop Guide have visited over 70 rooftop bars in Thailand, and here is our list of the 10 best rooftop bars in this beautiful country. Check it out!
1.

CRU Champagne Bar

/ Bangkok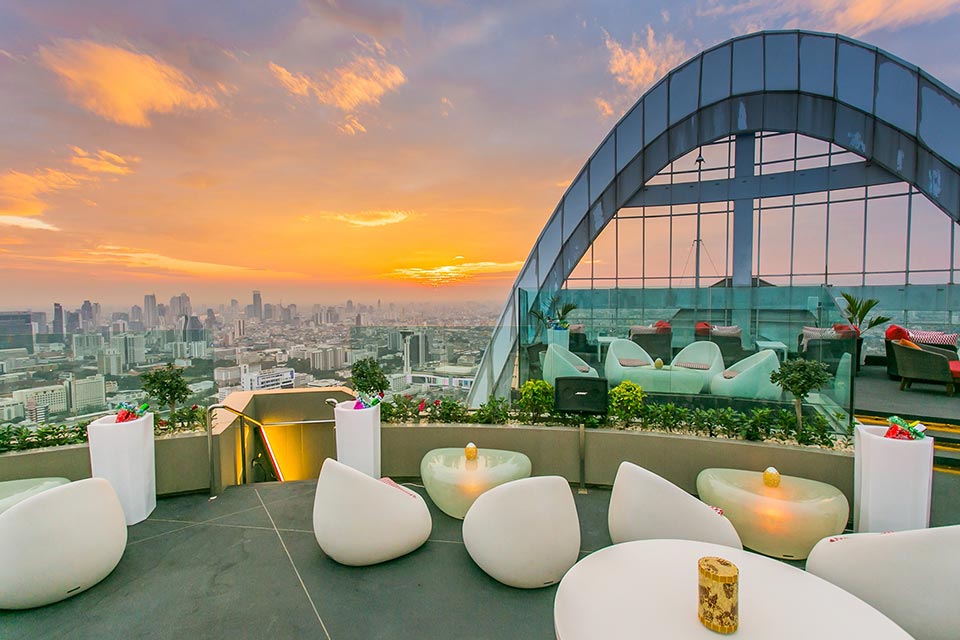 CRU Champagne Bar - Photo: http://champagnecru.com/
One of Bangkok's newer rooftop bars, CRU is located on top of Centara Grand and offers stunning views of the city.
This champagne bar is one of the highest in the world and is well known for its creative champagne-based cocktails and high-end drinks.
CRU also offers its in-house champagne, "Pink Mumm No.1", which can only be bought here, making it as exclusive as they come.
There's a small menu that offers tasty bar-bites, some inspired in local cuisine, some taking ideas from other countries.
The late afternoon is the best time to visit if you're looking to relax, while the night is better if you're looking to party.
CRU
Centara Grand at CentralWorld, 999/99 Rama 1 Rd, Phatumwan, Bangkok
Daily: 5pm–1am
2.

Horizon Bar at Hilton Pattaya

/ Pattaya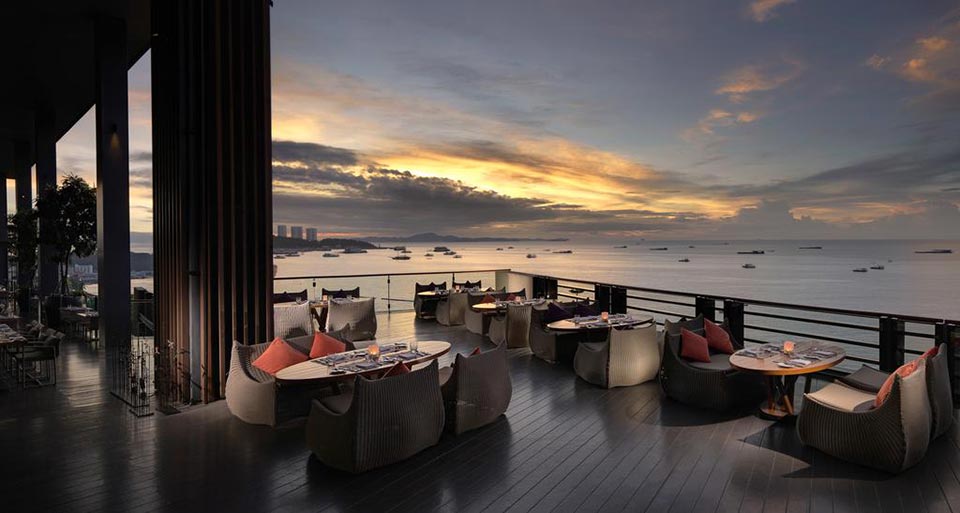 Horizon Bar - Photo: https://www3.hilton.com
Sleek and modern, the Horizon Bar is the kind of place you visit when you're looking to have a great night.
This restaurant/bar offers terrific drinks, delicious food, and stunning vistas of the Pattaya Bay, all while surrounded by a high-end atmosphere.
While you can eat and drink anywhere in the bar, the outdoor terrace is more conducive to drinking, while the indoor area is best for dining.
Food includes seafood and grills, as well as a variety of local bites.
The drink menu offers world-class spirits, delicious wines and beers, and a collection of cocktails, both classic and signature.
There's also a fantastic infinity pool nearby, though this one is reserved only for Hilton Pattaya guests.
HORIZON
333/101 Muang Pattaya, Bang Lamung District, Chon Buri
Daily: 5pm–1am
3.

Vertigo & Moon Bar at Banyan Tree

/ Bangkok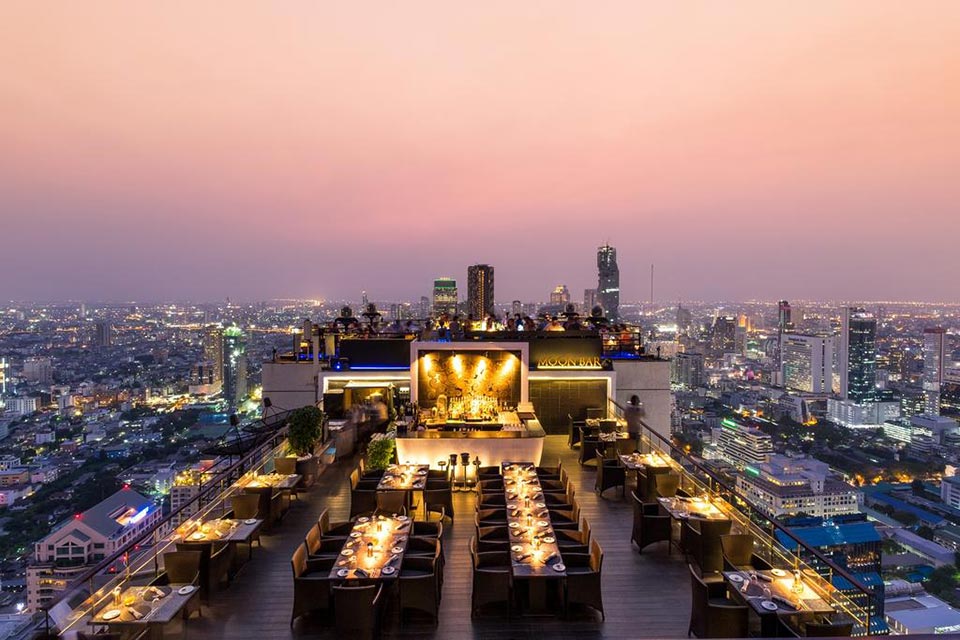 Vertigo & Moon Bar - Photo: https://www.banyantree.com
As the name implies, the Vertigo & Moon Bar offers vertiginous views of the city thanks to its location on the 61st floor of Banyan Tree Bangkok.
This stunning destination is split into two areas:
The restaurant, Vertigo, offers seafood, premium steaks, and top-notch Thai cuisine.
The bar, Moon Bar, offers a fantastic collection of premium champagne, wines, and exotic cocktails.
Considered one of the very best restaurants and bars in Bangkok, Vertigo & Moon Bar are both expensive, but they're worth every penny.
There's a strict dress code to be observed: No sleeveless shirts, no flip flops, shorts, beach bags, etc.
VERTIGO & MOON BAR
Banyan Tree Bangkok, 21/100 South Sathorn Rd, Sathorn, Bangkok
Daily: 5pm–1am
Collaboration
4.

Baba Nest at Sri Panwa

/ Phuket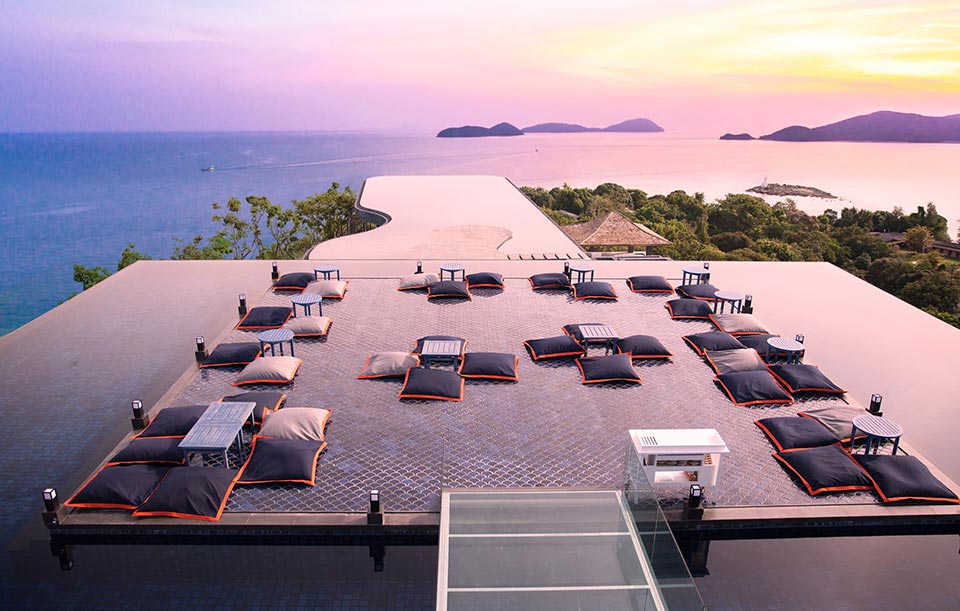 Baba Nest - Photo: www.babaphuket.com
A one-of-a-kind bar that's more inclined towards relaxation than partying, the Baba Nest is the perfect place for leisure drinking and meditation.
While far from the tallest rooftop bar in Thailand, Baba Nest offers awe-worthy views of the Andaman Sea and the surrounding islands.
Wave goodbye to chairs and bar stools. Here you'll sit in comfy cushion straight on the floor, which will let you stretch to your heart's content.
Fresh cocktails and premium drinks are readily available, as is a small but delicious Mexican-inspired menu.
The bar's location on a terrace in the middle of an infinity pool makes you feel like you're one with the ocean, but it also limits the available seating, so reservations are a must.
BABA NEST
Sakdidej Rd, Wichit, Mueang Phuket District, Phuket
Daily: 5pm-9pm
5.

Hilton Hua Hin

/ Hua Hin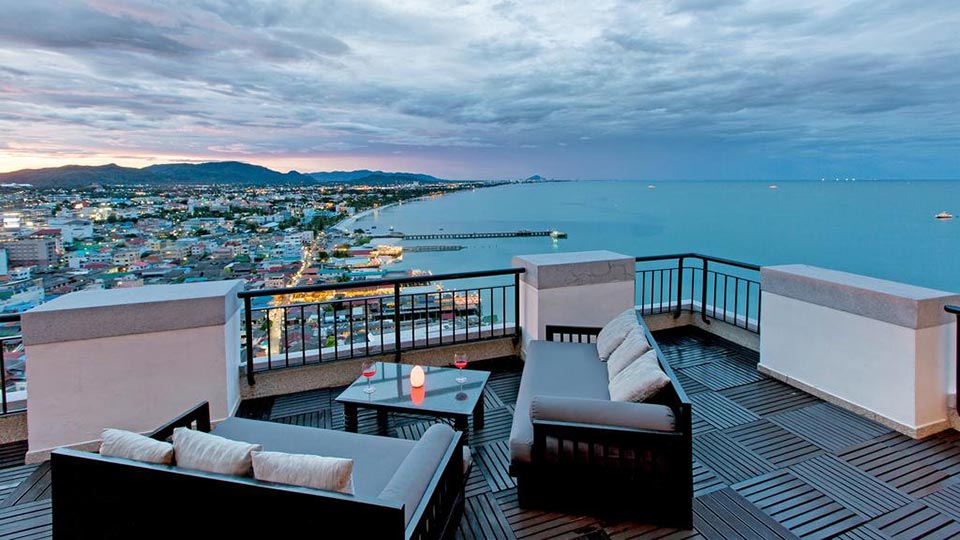 Hilton Hua Hin - Photo: https://www3.hilton.com
Located on the rooftop of the acclaimed Hilton Hotel, this rooftop is the perfect place for when you want to enjoy some peace and quiet.
Get comfy on one of the lounge sofas and enjoy the fresh breeze washing over you as you drink one of the bar's premium liquors.
With stunning views of your surroundings and modern yet relaxing music, you'll soon find yourself wishing to discard whatever plans you had in favor of enjoying the moment for as long as it lasts.
HILTON HUA HIN
33 Naresdamri Road, 77110 Hua Hin
Daily: 5.30pm-11.30pm
6.

Octave Rooftop Bar

/ Bangkok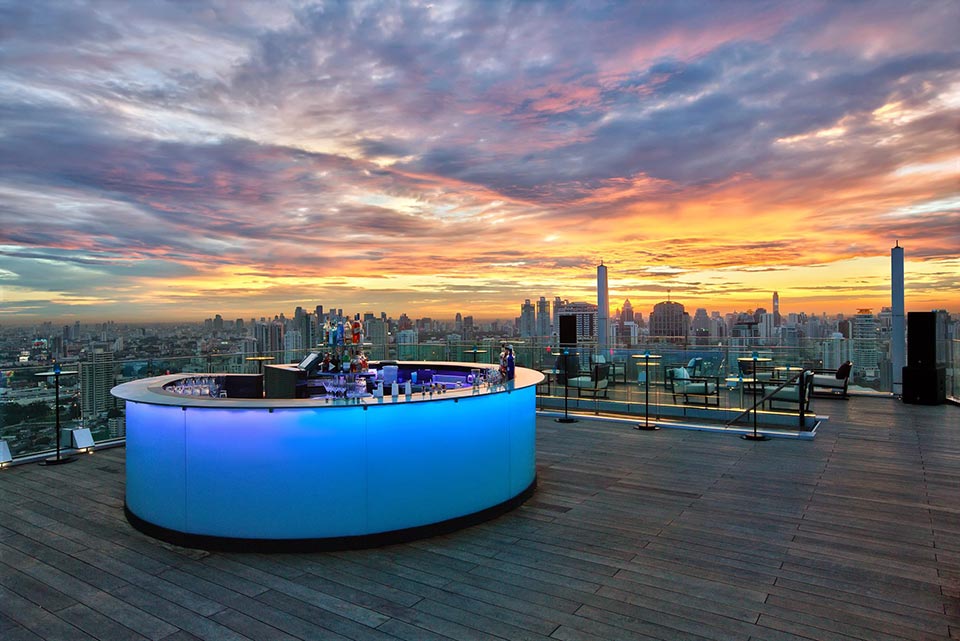 Octave - Photo: www.marriott.com
With a mesmerizing glowing bar, modern furniture, and 360-degree views of Bangkok, there's no wondering why the Octave Rooftop is considered one of the best in the city.
Local DJs create a vibrant atmosphere, inviting guests to drink and eat while partying the night away.
Available on their website for your viewing pleasure, Octave's drinks and food are both inspired and delicious.
Asian bar-bites, a seafood bar, and an active grill go hand-in-hand with signature cocktails infused with local flavors, giving you a chance to explore Thailand from the hights!
The terrace is split into three different levels, meaning there's plenty of space to mill around and getting to know new people.
This is one of Bangkok's most popular rooftop bars, so book a table in advance and dress to impress.
OCTAVE
Marriott Hotel Sukhumvit, 2 Sukhumvit Soi 57, Bangkok
Daily: 5pm-2am
7.

KEE Sky Lounge

/ Phuket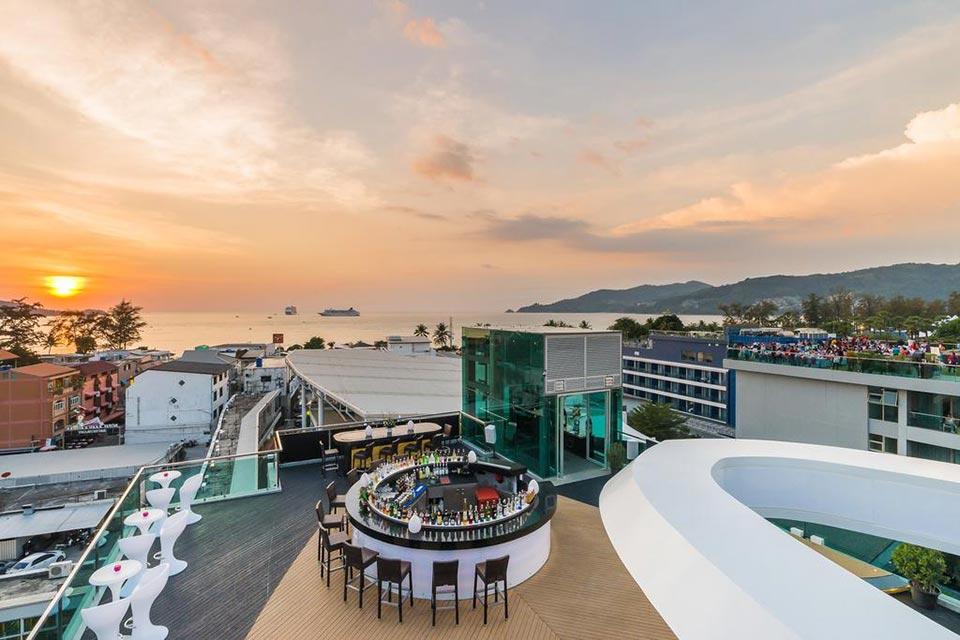 KEE Sky Lounge - Photo: www.thekeeresort.com
Located on the 6th and 7th floors of the beautiful Kee Resort & Spa, this sky lounge is both luxurious and fun.
Offering staggering 360-degree views of the Andaman Sea and the Patong Beach, the KEE Sky Lounge is well known for its flair and ability to impress.
The 6th floor feels like your traditional Asian rooftop, complete with lounge seating and bar stools.
The 7th floor reminds us of a yacht, with wooden floors, comfortable lounge areas, and a rooftop jacuzzi open for guests.
The KEE Sky Lounge has a small European-inspired food menu, as well as a versatile drink menu that includes cocktails, draft beers, and world-spirits.
Relaxed and friendly, KEE is also known for its themed parties and live music shows.
KEE SKY LOUNGE
152/1 Thaveewong Rd. Patong Kathu Phuket
Daily: 5.30pm-midnight
Collaboration
8.

Gravity Sky Bar

/ Hua Hin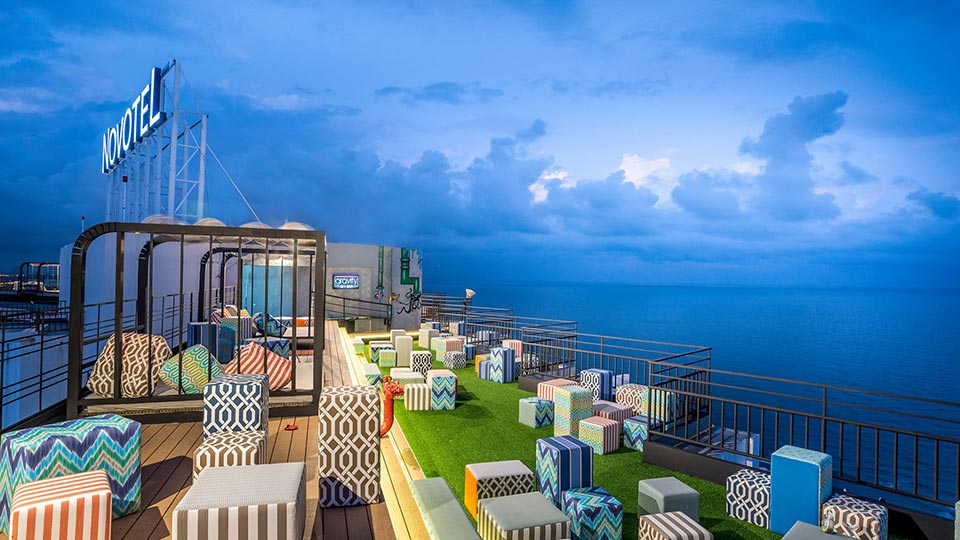 Gravity Sky Bar - Photo: https://novotelhuahin.com
Offering the best panoramic views of Hua Hin, the Gravity Sky Bar is a fun and exciting destination for all bar-lovers out there.
With eclectic, graffiti-inspired decoration, custom furniture that you'll want to take a picture of, and genuinely inspiring cocktails, Gravity is selfie central, and you'll be hard-pressed to leave without snapping at least one.
While Gravity offers more traditional drinks, its signature mixology is a must-try, thanks to such creations as the Sensory Cocktails, which promise to occupy all of your senses.
This bar can accommodate up to 110 people and can be reserved for special events.
GRAVITY SKY BAR
854/2 Burirom Road, Cha Am Beachfront, Petchaburi, 76120 Hua Hin
Daily: 4pm-11pm
9.

Mahanakhon Bangkok Skybar

/ Bangkok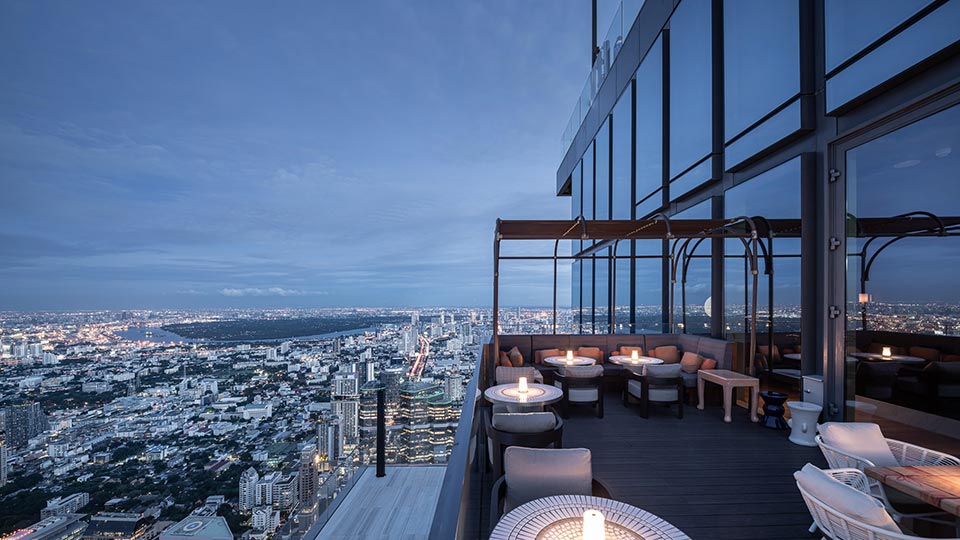 Mahanakhon Skybar - Photo: www.mahanakhonbangkokskybar.com/
High, high above the city, the Mahanakhon stands proud, offering guests a delightful food and drink experience that'll be the crown jewel of any visit to Bangkok.
With breath-taking views of the city, gallant decorations inspired by local handcraft, and top-notch service, this is the kind of venue you remember with fondness from the moment you set foot inside.
Designed by Tristan Auer, everything about this lavish destination invites you to enjoy your night.
From the world-inspired, excellent dining menu to the creative and high-end drinks, there's nothing you'll find that's not up to the lofty standards the Mahanakhon has set for itself.
This is an expensive destination, so not only reservations are encouraged, but we suggest you dress appropriately for your time here.
MAHANAKHON SKY LOUNGE
114 Naradhiwat Rajanagarindra Rd, Khwaeng Silom, Khet Bang Rak, Krung Thep Maha Nakhon
Daily: 5pm-1am
10.

Air Bar at InterContinental

/ Koh Samui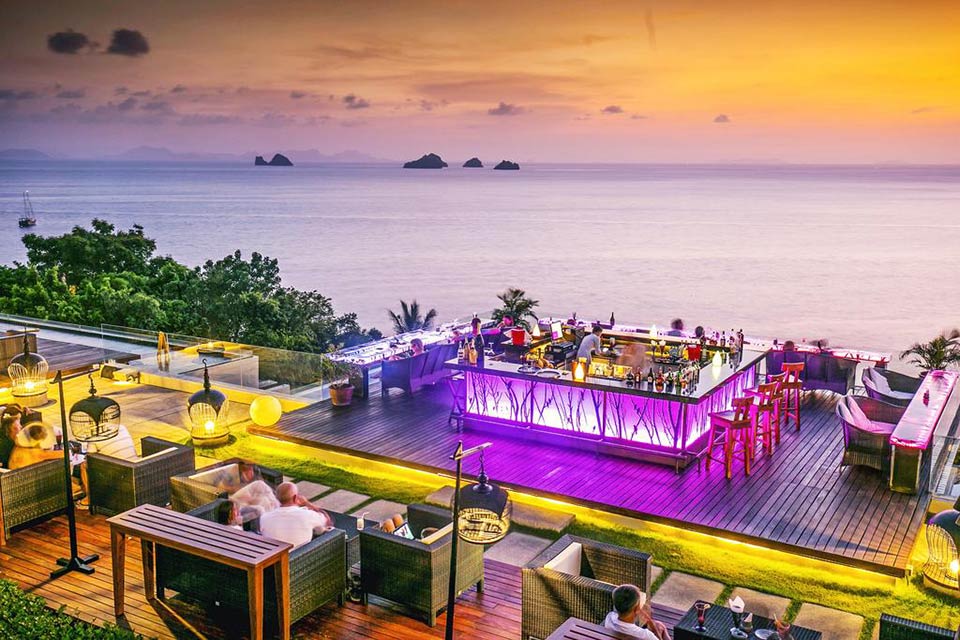 Air Bar - Photo: https://samui.intercontinental.com
Enjoy the Samui sunset while drinking delicious cocktails from the terrace of the Air Bar, a hip and relaxing rooftop bar located in Koh Samui.
This is one of the island's to-go destinations for parties, pre-dinner drinks, sunset watching, wedding receptions and more, so you can be sure of two things:
The views are amazing, and reservations are encouraged.
Known for its world-class mixology, amazing cocktails, extensive drink menu and proximity to delicious restaurants, it's no wonder that the Air Bar is often the starting point of some nights to remember.
Though the prices can be on the high side, the Air Bar offers a complimentary cocktail for every signature cocktail you order during the daily happy hour.
It's time to have fun. If not on a rooftop bar, you can also find the best beach clubs in Koh Samui here.
AIR BAR
295, Moo 3, Taling Ngam Beach, Koh Samui
5pm-midnight
Collaboration