Oceania's warm and pleasant climate is a big reason why there are many good rooftop bars in this part of the world.
There is a great mix of rooftop bars with beautiful ocean views, and other in the middle of the city, surrounded with impresswive views over the skyscrapers. Most rooftop bars in Oceania are open all year round and the warm climate is perfect for outside drinks and dinners.
Enjoy our list of the 10 best rooftop bars in Oceania.
10.

Imperial Hotel

/ Melbourne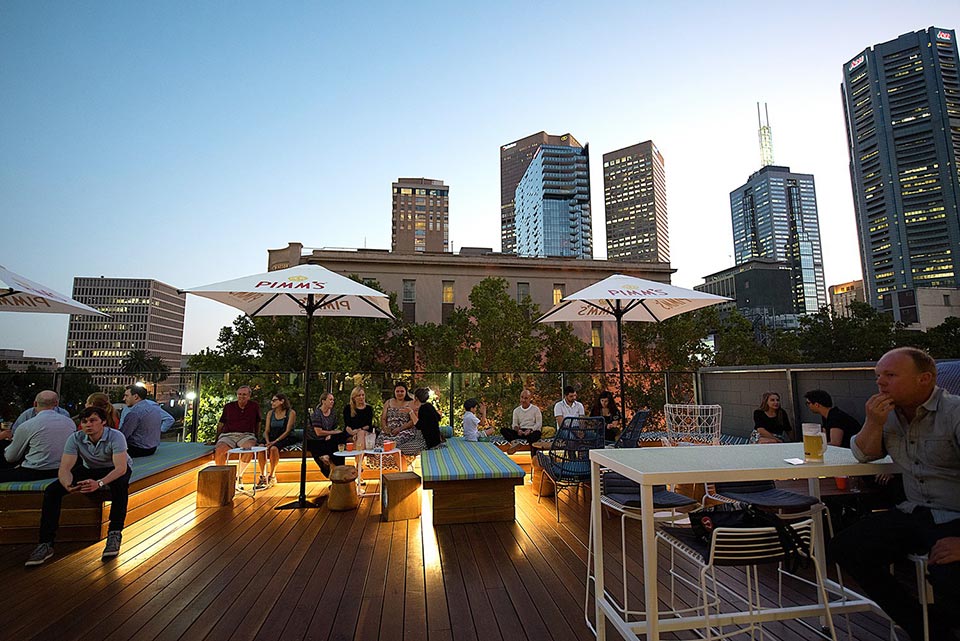 Imperial Hotel - Photo: www.bourkestreetimperial.com
Located only on a third floor, The Imperial isn't the tallest rooftop bar in this list, but it sure is one of the oldest, as it's considered Melbourne's 3rd oldest pub.
Offering beautiful views of the Parliament House and the city's skyline, as well as a classic and laid-back atmosphere, The Imperia is one of the locals' favorite bars, and with good reason.
With a large wooden deck terrace, a classic bar setting, and comfortable seating, this is the perfect bar to enjoy the warm summer nights completely al fresco.
The drink menu is quite classic, with beers, spirits, and wines, but you can also find innovative modern cocktails for those looking to explore something new.
The Imperial is also known for its sporting events, which are shown daily on large, flat screens, and for having both indoor and outdoor seating options, just in case the weather turns bad.
IMPERIAL HOTEL
2/8 Bourke St, Melbourne VIC 3000
9.

La Zeppa

/ Auckland
La Zeppa - Photo: www.lazeppa.co.nz
Know as La Zeppa Auckland Kitchen & Bar, this hip and modern rooftop restaurant is located in an old industrial warehouse and offers modest, yet gorgeous views of the city, including the Victoria Park and the Auckland Sky Tower.
Here, you can enjoy an extensive and varied drink menu, with a broad offering of beers on tap, wines, spirits, and fun and creative signature drinks, including their famous Toblerone cocktail, perfect for those who enjoy drinking their desserts.
As its name implies, La Zeppa also offers food, specializing in tapas meant to be shared. The concept of this restaurant is urban-chic with a laid-back and youthful atmosphere that promises fun every time you visit.
La Zeppa is also known for its events: Streets of Asia Food & Music Fest, Rooftop Beach Party, Summer Carnival, and more; Add live bands and DJs, and the fun becomes nearly endless.
LA ZEPPA
33 Drake St, Auckland, Auckland City
8.

The Aviary

/ Perth
The Aviary - Photo: www.theaviaryperth.com.au
Considered Perths' largest rooftop bar, The Aviary is located right in the middle of the city above the Perth Underground Station.
Its one-of-a-kind location makes The Aviary a trendy spot amongst locals and visitors alike, as it allows people to take a breather by downing a cold beer in the middle of their commute.
The Aviary's decoration evokes the feeling of an urban oasis, with lush trees, giant umbrellas, comfortable lounge furniture, and green AstroTurf that gives visitors the sensation of being in a garden.
During the winter, rooftop igloos are set up, giving The Aviary a magical appearance.
Open from noon to late at night; The Aviary boasts large drinks and food menus: tapas, pizzas, salads, and other bar bites go hand in hand with signature cocktails, local beers, and even a martini bar.
If the location and inviting atmosphere weren't' enough, The Aviary also organizes bi-weekly events, such as live DJ parties, long happy hours, and even pop-up shows, making it a great choice to kick-start any visit to Perth.
THE AVIARY
Level 1, 140 William St, Perth WA 6000
7.

Eagles Nest

/ Brisbane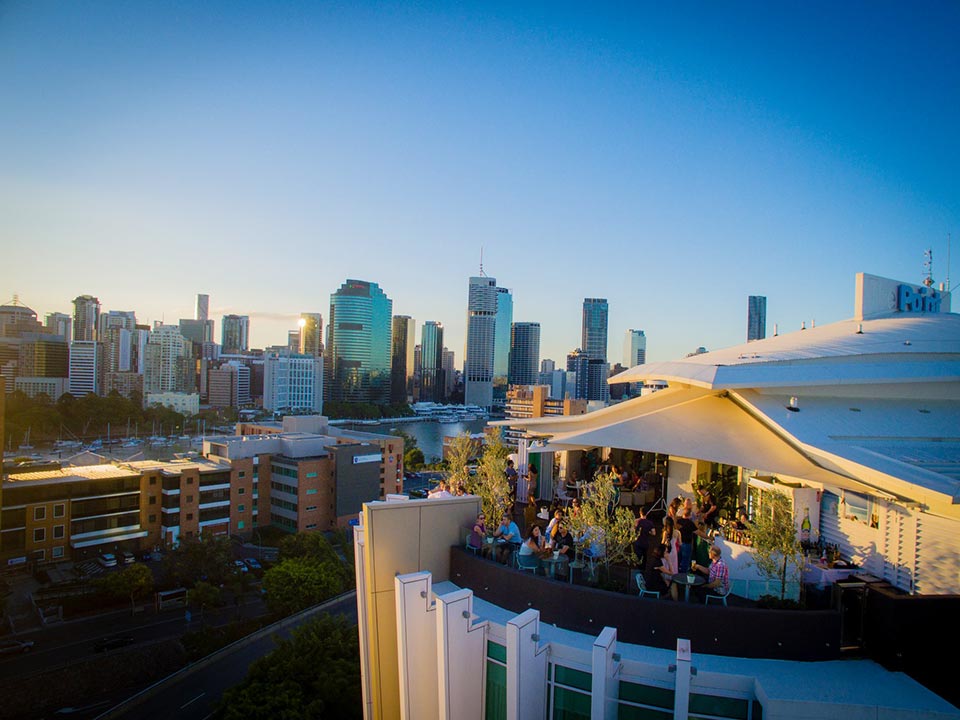 Eagles Nest Brisbane - Photo: www.eaglesnestbrisbane.com.au
Located at The Point, one of Brisbane's coolest hotels, the Eagles Nest is a bit of a hidden gem, thanks to its limited hours and exclusive clientele.
Open only on weekends, and serving a more upscale crowd that some of the bars in this list, Eagles Nest is known not only for its amazing service and delicious drinks but also for its excellent views.
Located on a 12th floor, this fantastic rooftop bar overlooks Brisbane's skyline, giving visitors one of the vantage points in the city and front-row seats to some of the country's best sunsets.
Drink-wise, expect to find expertly-crafted cocktails, ice-cold beers, and delicious sparkling wine; Food-wise, the Eagles Nest is known for its tasty menu of tapas and their cheese plates.
The food is light and meant to share, so come here before or after dinner. Just keep in mind the limited hours to ensure you get a spot.
EAGLES NEST BRISBANE
21 Lambert St, Kangaroo Point QLD 4169
6.

East Village

/ Sydney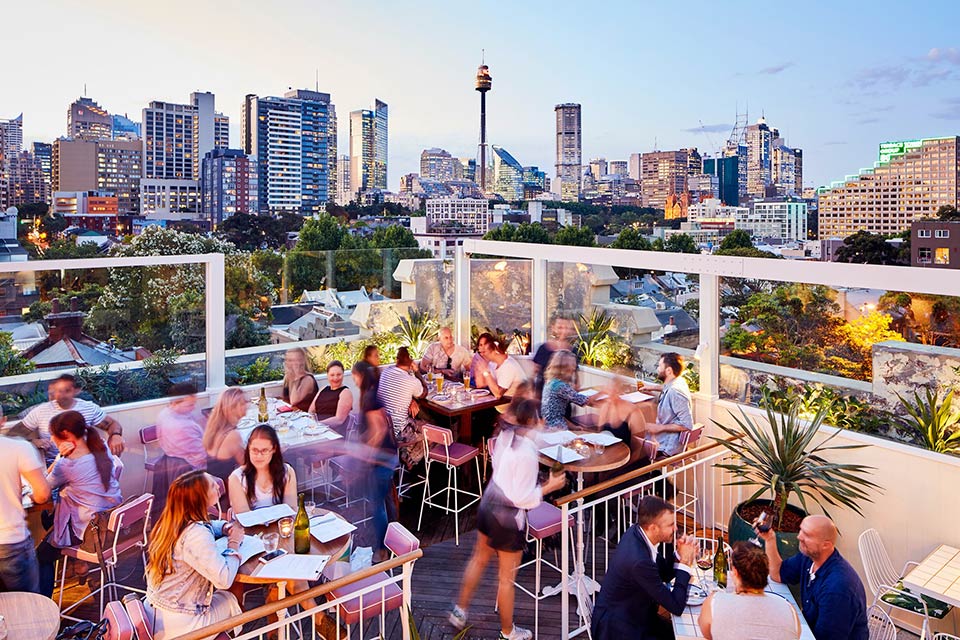 East Village Sydney - Photo: www.eastvillagesydney.com.au/
Situated on the corner of Palmer and Liverpool Streets, in the heart of Darlinghurst, East Village Sydney is set in a four-storey, 100-year-old heritage building. Here you find three floors of fun, where each level has a unique design and offering, but still are bound together with the warmth and approachability of a traditional Aussie pub.
The casual ground floor Public Bar is a venue mixing pub food and DJs, and the second floor Athletic Club is one of Sydney's best venues to catch a game. The true gem is however found on top, with the East Village Terrace Rooftop.
Offering one of the best views of the CBD skyline, the rooftop is open year-round and changes by the season. The warmer months mean a colorful and Mediterranean setting, with cooling mist jets and big umbrellas. During the colder months, the terrace turns into a cosy winter garden under the retractable roof.
The East Village rooftop menu is filled with modern and fresh dishes made perfect to share, complemented with tasty signature cocktails and an impressive selection of hand-picked wines.
Usually surrounded with a relaxed and friendly atmosphere, the East Village rooftop is a popular venue, so it is usually also quite crowded. For a more private affair, check out the rooftop semi-private dining room, which seat up to 20 guests.
EAST VILLAGE
234 Palmer St, Darlinghurst NSW 2010
5.

Maya Mexican

/ Brisbane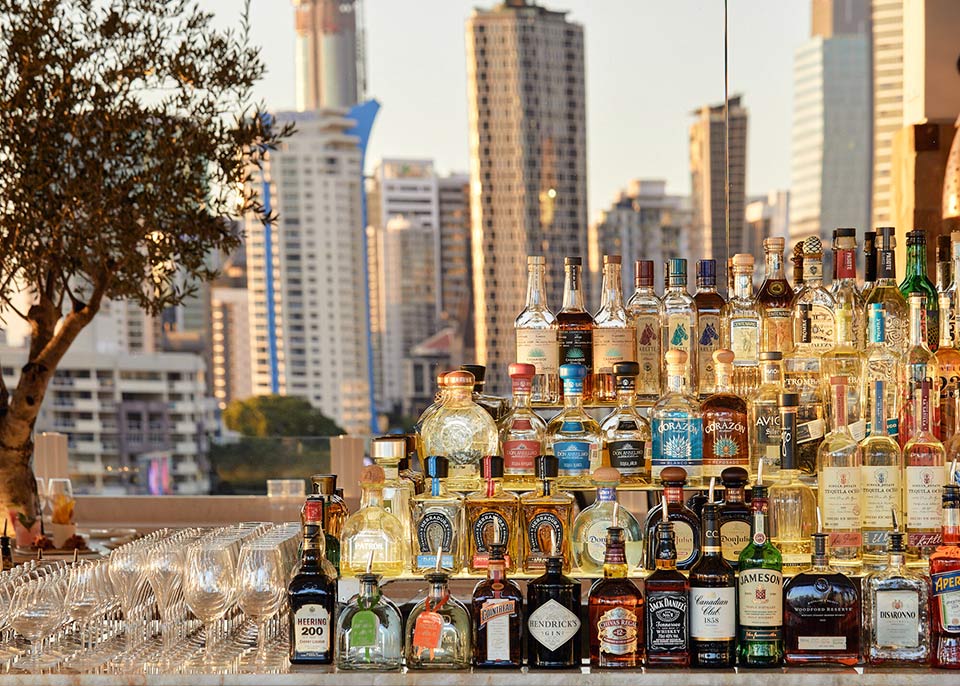 Maya Mexican - Photo: www.maya-mexican.com.au/
On the location where you usually find the highly popular Eleven Rooftop Bar, 2020 meant the venue turned into the pop-up restaurant and rooftop bar Maya Mexican.
While the plan is that Eleven eventually will return, Maya feels a lot more like a permanent venue then a pop-up. Here you are surrounded with olive trees and cactus gardens, as well as fantastic views over Fortitude Valley and the CBD.
Settle down in one of the cabanas or by the white marble bar and enjoy a rooftop menu inspired by the Maya region of Mexico, packed with both tasty small plates and larger dishes, as well as a large range of tequila, mezcal, seasonal cocktails and sangritas.
Embracing the temperate Queensland climate, Maya is a great spotfor relaxing drinks during the afternoon, turning into a sophisticated and bustling bar by night, with live performances by musicians and DJ's.
MAYA MEXICAN
757 Ann St, Fortitude Valley QLD 4006
4.

Glenmore Hotel

/ Sydney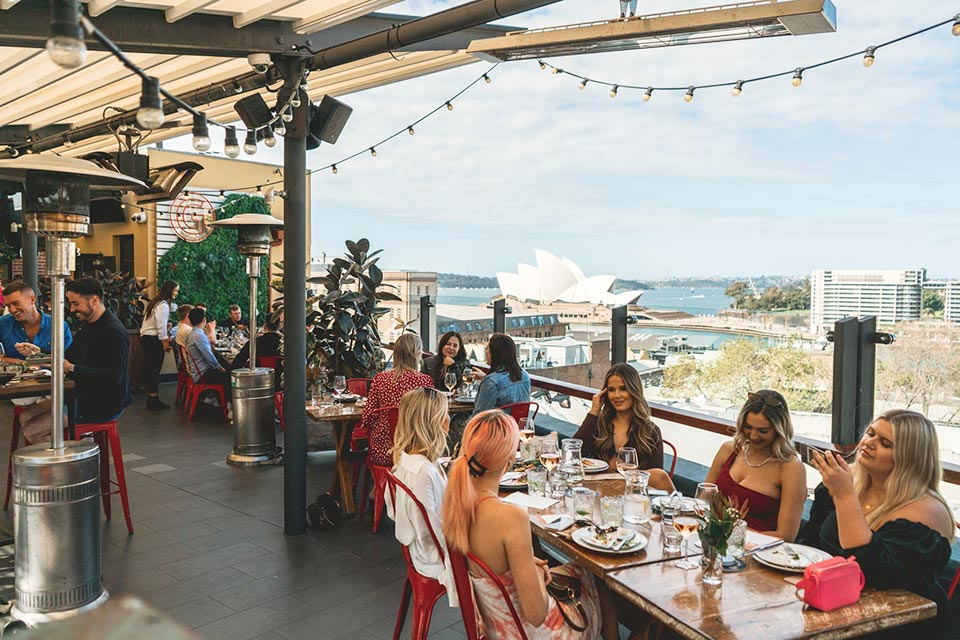 Glenmore Hotel - Photo: www.theglenmore.com.au
Built in 1921 and renovated in 2012, the Glenmore Hotel is one of Sydney's true classics and, as such, an obligated stop whenever you're visiting this beautiful city.
Don't be fooled by the word 'hotel' in its name, as the Glenmore is dedicated almost exclusively to drinks, a commitment reflected in the layout of the place.
This three-level establishment has a public bar, located on the ground floor, a cocktail bar, and VIP rooms, situated in the middle; and a gorgeous rooftop bar that offers incomparable views of the Sydney Harbour and the Opera House.
The whole place has pub-style vibes and a casual atmosphere, making it the perfect place to relax after a busy day exploring the city, or an even busier day of work.
While the Glenmore focuses heavily on drinks, you can also find food. Heavily featuring seafood, this incredible venue offers poké bowls, burgers, squid, and more.
While the Glenmore's drink menu is impressive in its own right, what really takes the crown is its beer menu, which is one of the largest in the city, if not the entire country.
The Glenmore is open-year round, and it usually works on a first-come, first-served basis, but if you're planning a visit, it'd be a good idea to call beforehand, as some areas of the bar can be reserved for private events.
THE GLENMORE HOTEL
96 Cumberland St, The Rocks 2000, Sydney
3.

The Churchill

/ Auckland
The Churchill - Photo: www.thechurchillauckland.co.nz
Found on the 20th floor of the fantastic Four Points by Sheraton Auckland, The Churchill is the highest rooftop bar in the city, and also in all of NZ.
Offering 'Gin With A View', The Churchill serves both panoramic skyline views and an array of almost 200 gins. Let the talented bartenders mix you a Gin-cocktail, or create your own Gin & Tonic by choosing from 10 varieties of gin, 10 artisan mixers and 10 pairs of botanicals.
Apart from all the Gin, the rooftop menu also includes a fine selection of champagne and a seasonal food menu with small plates of global cuisine.
Equipped with a stylish decor and a sopshiticated lounge atmosphere, The Churchill is to the most part an indoor lounge, but there is also an alfresco terrace where you can enjoy some breeze to go with the views and drinks.
THE CHURCHILL
396 Queen Street, Auckland CBD, Auckland 1010
2.

Nineteen at The Star

/ Gold Coast
Nineteen at The Star - Photo: www.star.com.au
If what you're looking for is a high-end venue where you can elbow with the best of the city, then head to the Nineteen at the Star and enjoy stunning views of the Gold Coast and incredible company.
Located on top of The Darling, a beautiful luxury hotel in its own right, and offering front-row seats to the Pacific Ocean, the Nineteen is the perfect place for a romantic dinner or to impress some clients.
Private poolside cabanas, VIP bottle service, lounge bars, velvet couches, a two-story wine cellar, sophisticated decoration, and relaxing music makes a visit to this uber-chic lounge bar one you will remember.
If the sheer amount of wines isn't enough to impress you, The Nineteen also offers champagne, beers from all over the world, traditional spirits, classic cocktails, and expertly-mixed signature cocktails that will have you asking for more.
The Nineteen's sophisticated and exclusive atmosphere relaxes somewhat during the evenings, where Australia's best DJs make an appearance to entertain the guests.
Fear not, though the bar does take a nightclub-like ambiance, the exclusivity remains firmly in place, so if you're visiting, dress to the nines and get ready to be impressed.
NINETEEN AT THE STAR
1, Level 19, The Darling at The Star Gold Coast, Casino Dr, Broadbeach QLD 4218
1.

Rooftop Bar

/ Melbourne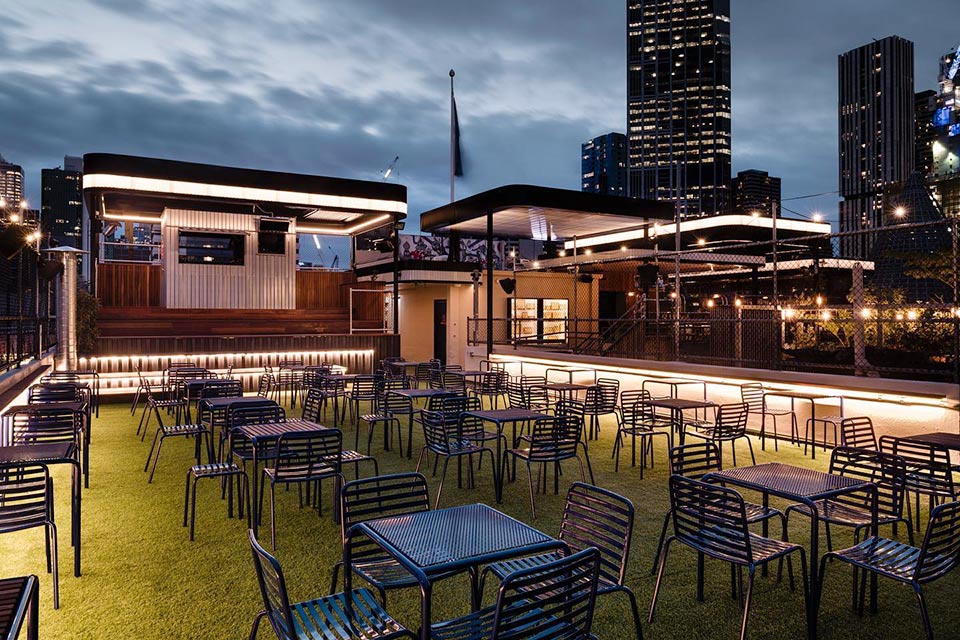 Rooftop Bar - Photo: www.rooftopbar.co
With a straightforward name and fantastic service, The Rooftop is one of Melbourne's most popular watering holes, and with good reason.
Offering urban and trendy decor, sweeping views of Melbourne's skyline, a vibrant yet welcoming atmosphere, and a fantastic drink menu, the Rooftop Bar is an ideal destination for when you want to enjoy a night with your friends.
Here, you'll be able to find a comprehensive selection of cocktails, both classic and signature, an extensive beer menu, and traditional spirits, as well as burgers, hotdogs, and other types of fast food.
The Rooftop is also home to a gorgeous rooftop cinema, which complements its casual, almost picnic-like decoration, and gives locals a new way to entertain themselves.
If you're visiting Melbourne with your friends, or you're looking to make new ones, the Rooftop Bar is hands down, your best choice.
THE ROOFTOP
252 Swanston Street, Melbourne